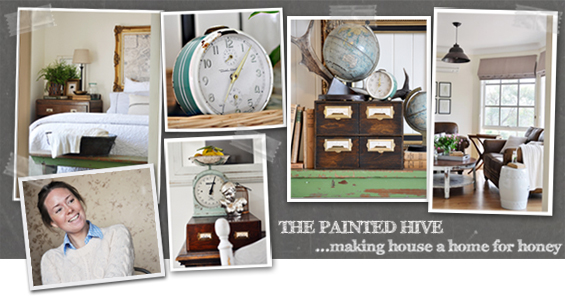 Thanks so much for your interest in working with The Painted Hive.
Founded in 2010, The Painted Hive is a popular DIY focused interior decorating blog dedicated to sharing real projects, fresh ideas and evocative inspiration relating to all things 'home'.
Sole author Kristine Franklin combines her natural creative streak with a fastidious approach to produce distinguished content of a consistent high quality.
The Painted Hive is open to collaborating with select brands in a variety of effective ways, including, though not limited to, those listed below.
Please take the time to read my eligibility criteria.

Perhaps my most preferred form of partnership, Product Integration will see your brand positively endorsed in a thoroughly organic way through the seamless incorporation of your products in my very own personal projects, culminating in prominent exposure through both blog and social media posts. I am always on the cusp of at least one hundred and twenty seven fresh projects, and also relish the challenge of constructing new and fun ideas around particular products. So provided we can work together in a genuinely authentic way I would love to partner with you.

An ad in my sidebar will expose your brand to thousands of prospective new clients each day. For its scheduled period, your ad will be prominently visible at all times on every single page of my site beneath the Sponsors header in my sidebar.
Sidebar ads are available in three standard sizes and durations with two different pricing plans.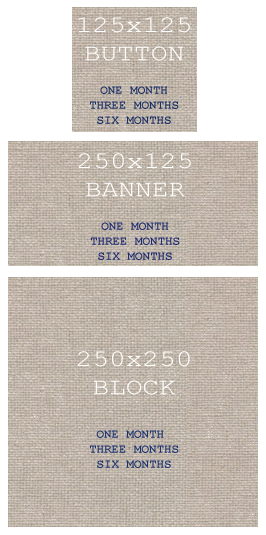 I'm happy to negotiate a custom size, duration or placement.
SMALL BUSINESS PLAN
Sidebar ads for small businesses may be purchased directly from my online store here. Please refer to my eligibility criteria to determine if your brand is suitable.
For the purpose of advertising on this blog, a 'small business' is any privately owned and operated entity with limited employees and a modest annual profit (such as an Etsy store, independent boutique, personal blog). Products offered for sale should be available in moderate quantities and non mass-produced in nature (preferably hand-made). A small business will be deemed so at my discretion.
I regard having the ability to make a modest revenue from my blog as a privilege, I appreciate your support and in turn offer very reasonable ad rates accessible to even the smallest of businesses. The affordability of my sidebar ads does not reflect the quality of my content nor level of monthly traffic (there are comparable blogs charging as much as ten times my rates). Rather, the fees are purposefully nominal to make advertising viable for very small businesses and to align with my own budget concious ethos.
LARGE BUSINESSES PLAN
Please contact me for rates and refer to my eligibility criteria to determine if your brand is suitable.

A dedicated post in the form of a giveaway is one of the best ways to obtain certain exposure for your brand. Everyone loves winning stuff! If you offer a fantastic product or service you think my readers would genuinely love, it would be my pleasure to host a giveaway on your behalf (subject to a minimum monetary value).

Promote fresh products, fabulous new sales, exciting upcoming events, or just your brand in general, via dedicated posts on Facebook, Twitter, Pinterest or Instagram. A great way to reach your target audience!






Do you have an awesome product or offer a fantastic service you think I would actually use and my readers will really love? Great! I would love to consider publicly reviewing it. Of course, my opinion can't be bought so in the interest of playing nice, if I find I don't genuinely love something, I will probably decline publishing a review.

If we're truly like birds of a feather perhaps a long term representative partnership might just be perfect. There is no set formula here. Depending on your goals, this mutually beneficial alliance could take many forms. I'm super keen to hear your ideas and and am very open to negotiation.

Like my projects and writing style? Perhaps you'd like to commission an article for your magazine or website?

If you're interested in combining several promotional techniques in one comprehensive campaign I would be more than happy to discuss tailoring a special package.

I understand all businesses are different and am happy to be accordingly flexible. If you are interested in a more innovate advertising experience, please don't hesitate to contact me with your ideas and preferences.

BRANDS I'VE WORKED WITH…
PUBLICATIONS I'VE BEEN FEATURED IN…

WEBSITES I'VE BEEN SHOWCASED ON…



Successful partnerships hinge on credibility. As such, authenticity and pertinence are essential. For that reason (and out of respect for my readers, for my own personal integrity and the long term viability of prosperous brand partnerships) I am incredibly selective about the brands I choose to work with and the ways in which I work with them. All potential advertisers are carefully vetted and accepted at my discretion based on several factors, some of which include; if they are a brand I do/would personally use, if they will enrich my reader's experience, how well they relate to the nature of my blog, if they reflect my own personal taste/style, how closely they align with my own personal ethos.
In essence, if I don't love something and think my readers will love it too, I simply won't consider promoting it.
I particularly relish the opportunity to promote small businesses and like-minded blogs.

In addition to the criteria outlined above, I do not accept third party content of any type. As such, please refrain from contacting me about the placement of guest articles. As a general rule I also avoid text links.
Think we're a good fit? Please don't hesitate to contact me to express your interest in working together, to request additional information (including my full media kit) or ask any further questions.


As a trusting consumer, you have every right to be informed about my position on monetisation and feel satisfied with the validity of any endorsements. This is for you.
Call me vague or naive, though when I began this blog I truly had NO IDEA that people actually earned a revenue from blogging! I simply wanted to help others by sharing projects, ideas and inspiration, and I had a genuine yearning to connect with a supportive, like-minded community.
It's important to note that I write this blog primarily for the love of it, not to make an income.
That said, running this blog does cost me money and consumes a lot of my time (and unfortunately I can't live on love alone).
For that reason, I might on occasion collaborate with carefully vetted sponsors. This enables me to:
One: make some 'pocket money' to help supplement my husband's teacher's wage.
Two: support brands (particularly small/independent businesses and blogs) by offering them affordable exposure.
Three: introduce my readers to relevant brands and products they may benefit from and enjoy.
Four: cover some of the costs involved with self-hosted blogging to help make this site viable and keep it running.
It's incredibly important to me that all sponsor engagement is as enriching and transparent as possible. In the interest of my cherished readers, my blog itself and my own personal integrity, I have, and will continue to, decline advertising opportunities (no matter how lucrative) I deem irrelevant, unsuitable or inappropriate. Any sponsor related activity will always be disclosed and any form of remuneration will never influence my opinion or adversely affect the content of this blog. I will never use sneaky contextual links or publish commercial guest articles. It's also important to keep in mind that the vast majority of my brand and product endorsements are in no way compensated.
I am extremely selective about the sponsor opportunities I accept. Amongst other factors, I make a deliberate effort to ensure they; relate to the nature of my blog, offer my readers some value, reflect my own personal taste/style, closely align with my personal ethos. In essence, if I don't love something and think my readers will love it too, it simply won't appear on my blog. Supporting small/independent businesses and blogs is a priority.
The relatively modest income I receive from engaging Google Adsense accounts for the vast majority of my humble advertising revenue and is what affords me the opportunity to offer incredibly reasonable sponsor rates for small businesses.