Whilst not necessarily in-keeping with my usual style I knew this was a special find.
A stunning 13 piece vintage Drexel dining setting comprising a table with three optional leaves, two carvers and ten standard dining chairs!
The enormity and repetition involved in the refurbishment led to two years of steady procrastination, but hey, I got there in the end, right? Right?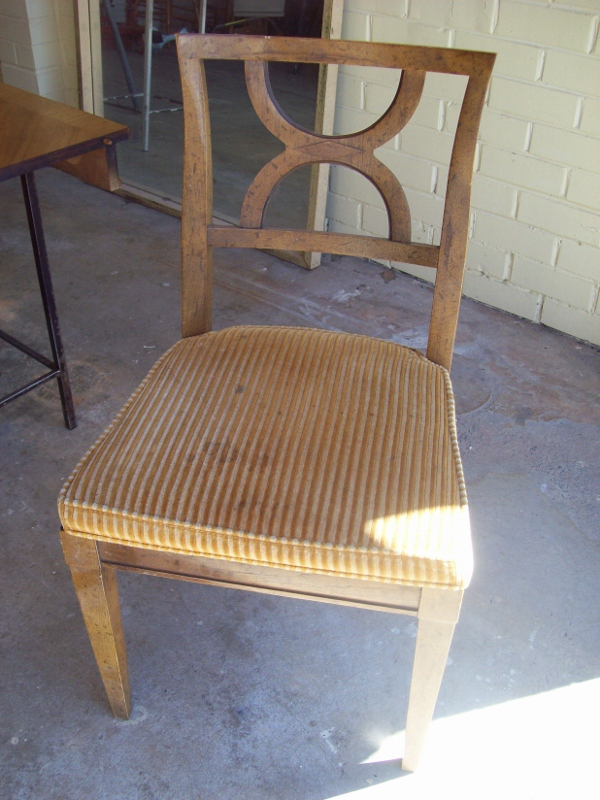 Given the heritage and mid-century styling of the setting I wanted to maintain as much of the original integrity as possible so decided on a sympathetic restoration rather than a full-blown renovation.
The table top was completely stripped, sanded then sealed with several coats of danish oil. The timber is really quite beautiful, I wish I knew what it was. Pecan, maple or walnut perhaps?
I decided to re-finish the apron and legs, which were in poorer cosmetic condition, with a few fresh coats of rich ebony satin acrylic.
The base of the legs were quite damaged (and I wasn't loving their bulbous shape) so as a solution I affixed some vintage brass cup castors for a more tapered line – the wheels also come in handy for rolling the table open when adding or removing leaves.
To accommodate the castors I used the inside dimensions of the cup as a guide then trimmed down each foot with a hack saw until it could neatly fit inside.
The chair frames were in great original condition so to retain the natural character of the timber I simply nourished them all using raw linseed oil tinted with a dash of teak stain.
The seats were originally upholstered in a 'lovely' mustard gold corduroy – well, I'm sure it was lovely at some time – which needed replacing so I unscrewed all of the seats from the frames then prized off the staples affixing the original fabric. A fresh layer of wadding was then layed over the existing foam (which was still in great nic) then my chosen fabric was positioned over that – I went with a very neutral mini houndstooth for a classic finish. I flipped the seat over, pulled the fabric sufficiently taught and staple-gunned it neatly in place before trimming away any excess (oh, and remember when recovering seats try not to staple or upholster over the holes needed to re-screw them to the chair frames!).
This was a pretty ambitious project and suffice to say I won't be attempting another one this big for quite some time!