CONTENTS
Introduction
Brief & Objectives
Before Images
Virtual Renderings (Over-Heads | Floor-Levels | Comparisons)
Interactive Models
Moodboards & Products
Design Notes
Sequent (Revisions | Add-Ons | Support)
Alterations
Conclusion
INTRODUCTION
Thank you for the opportunity to develop a design concept for your sitting room. It has been an enjoyable and rewarding project to work on and I hope you're as pleased with the results as I am.
Please take some time to study the concept visuals and read through the provided information. All questions and feedback are welcome and I'm eagerly anticipating your response.
Some notes regarding this document…
:: Most concept images can be enlarged with a click/tap for enhanced viewing/saving purposes.
:: Product images shown following the moodboards are linked to their respective online source. I ensure all products are available for purchase at the time of developing the concept however please understand that some items may be subject to manufacturing lead times, delivery delays or be low in stock.
:: Refer to the notes at the end of this page for concept particulars.
BRIEF & OBJECTIVES
To create a stylish and functional 'welcoming' room. Retain practical thoroughfare to main part of home yet provide an avenue for quiet relaxation as needed. Set the tone for the house by establishing an impactful look which feels inviting and well-resolved upon entry. Work with some of the existing pieces, bouncing off the ocean artwork, to develop a wholly intentional theme which relates to the era of the home.
BEFORE IMAGES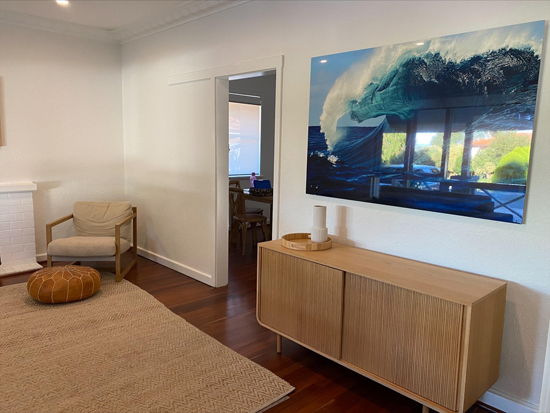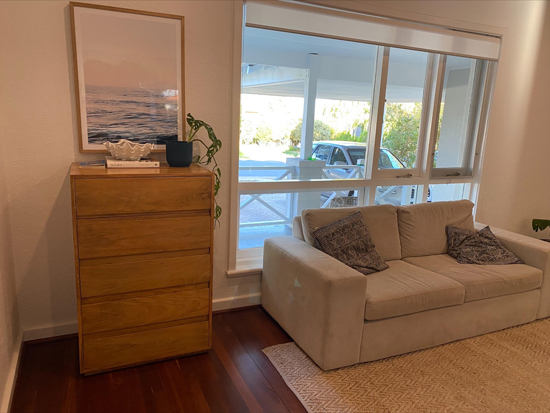 VIRTUAL RENDERINGS
OVER-HEADS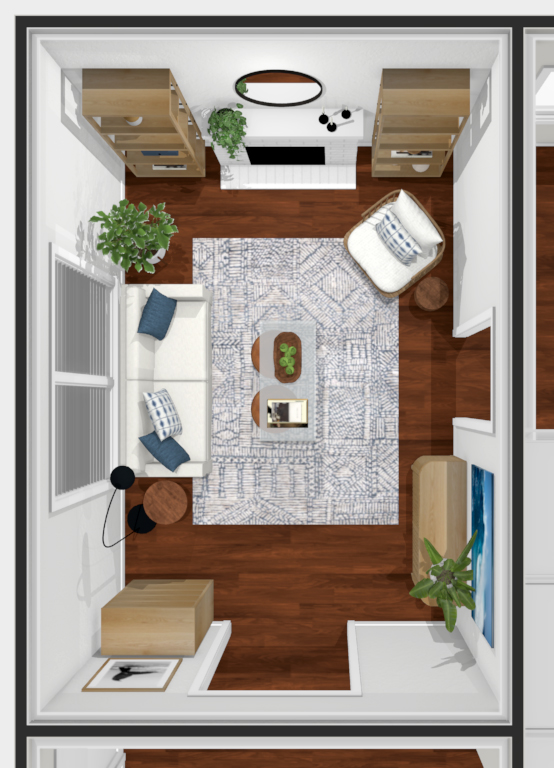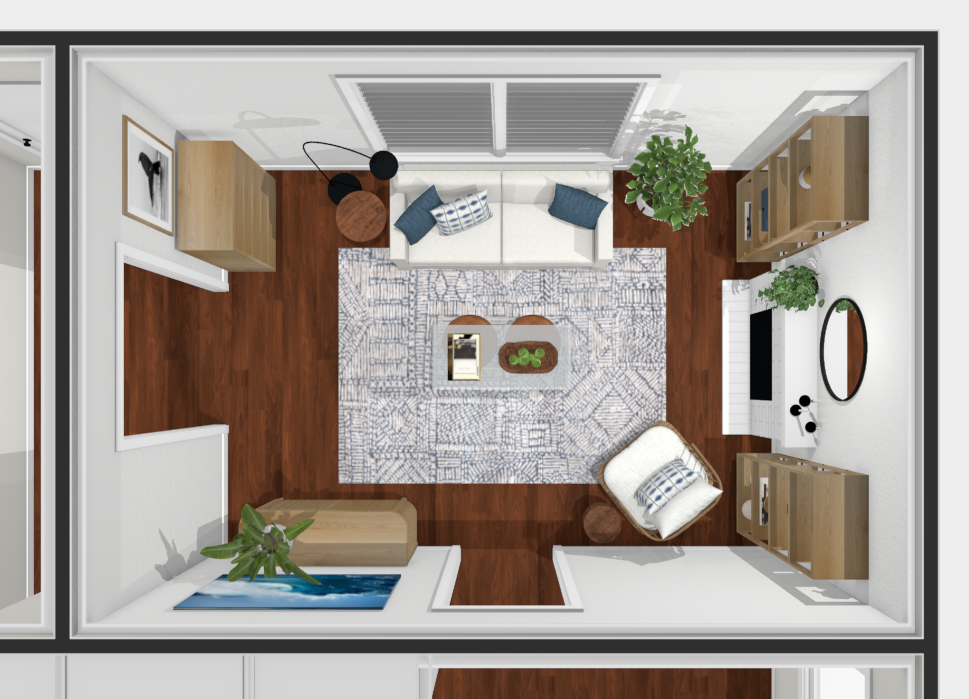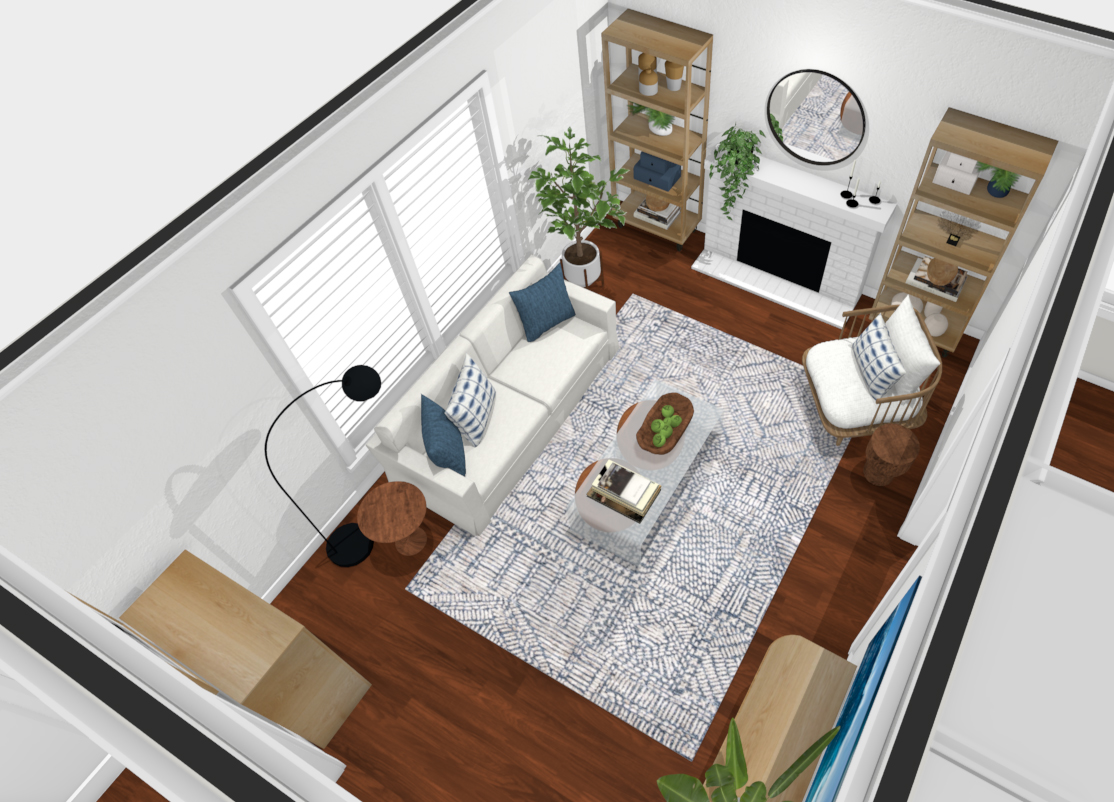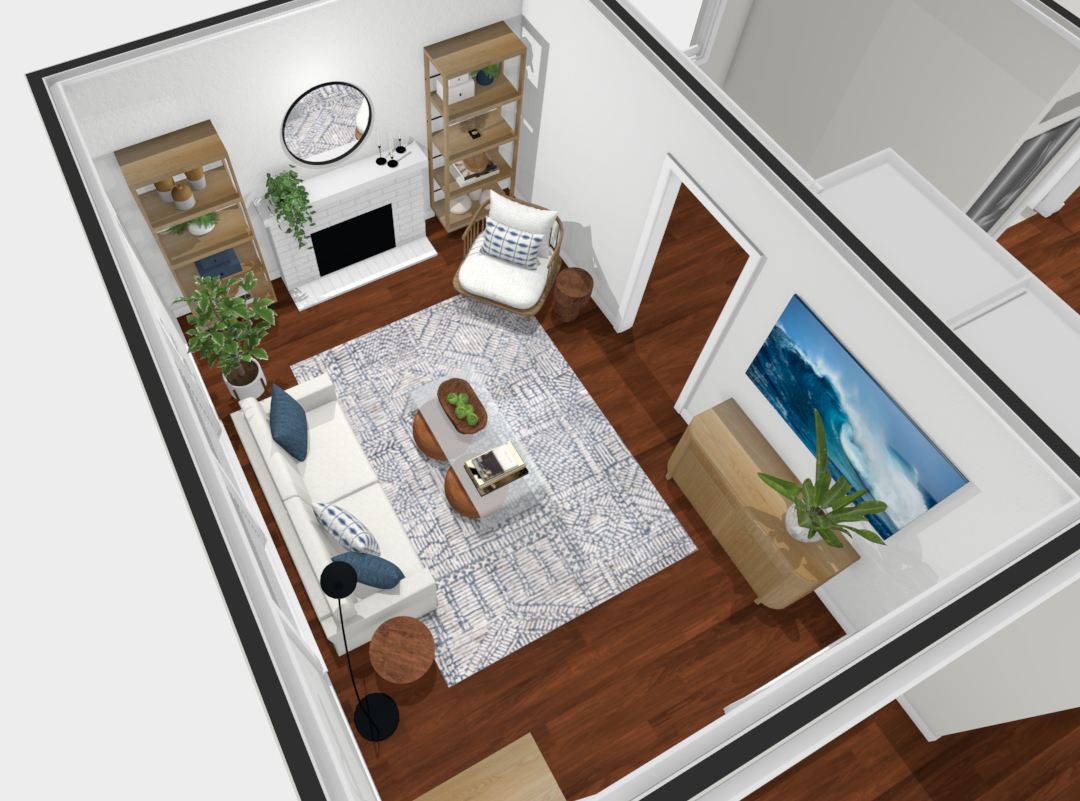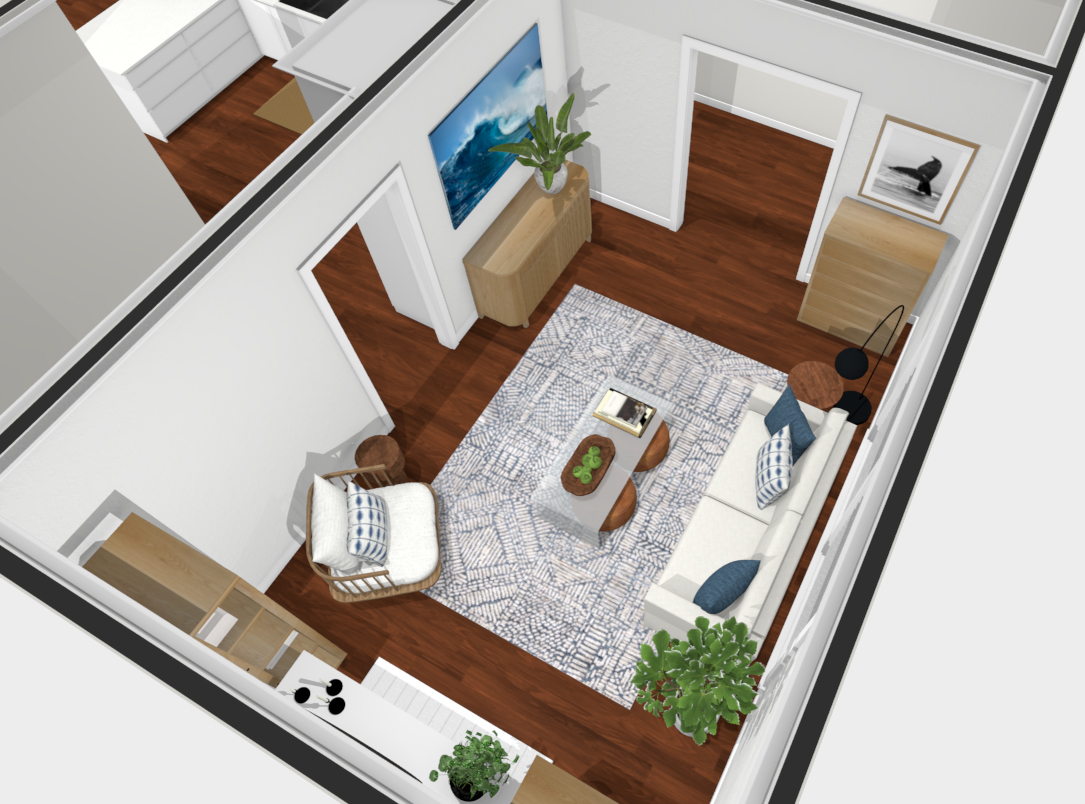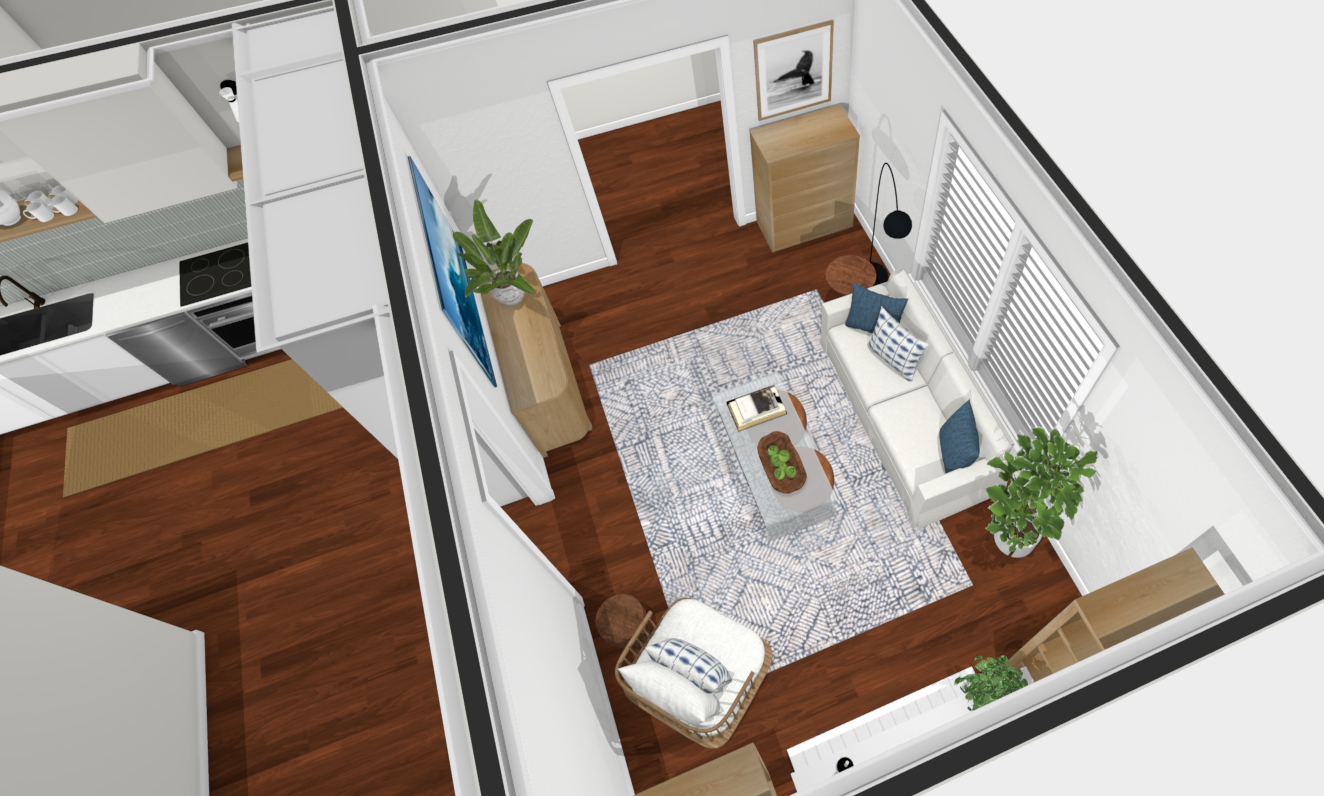 FLOOR-LEVELS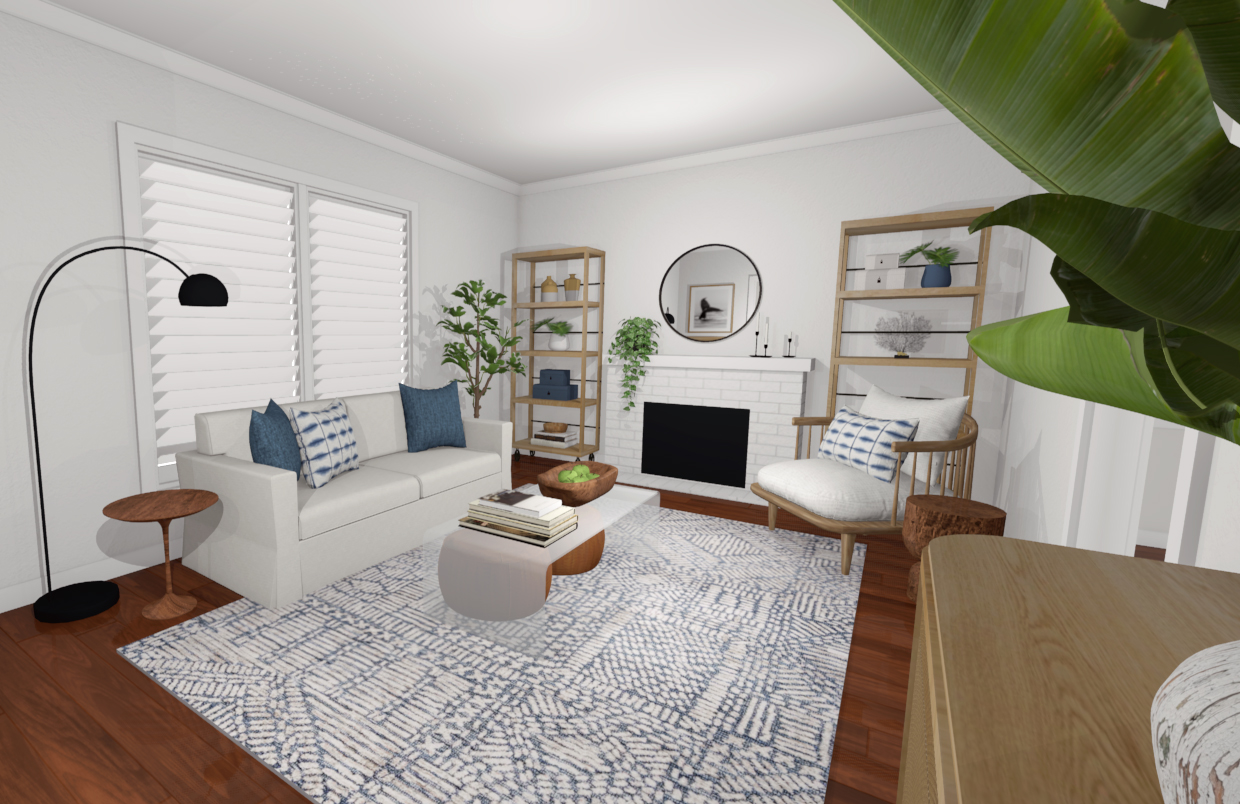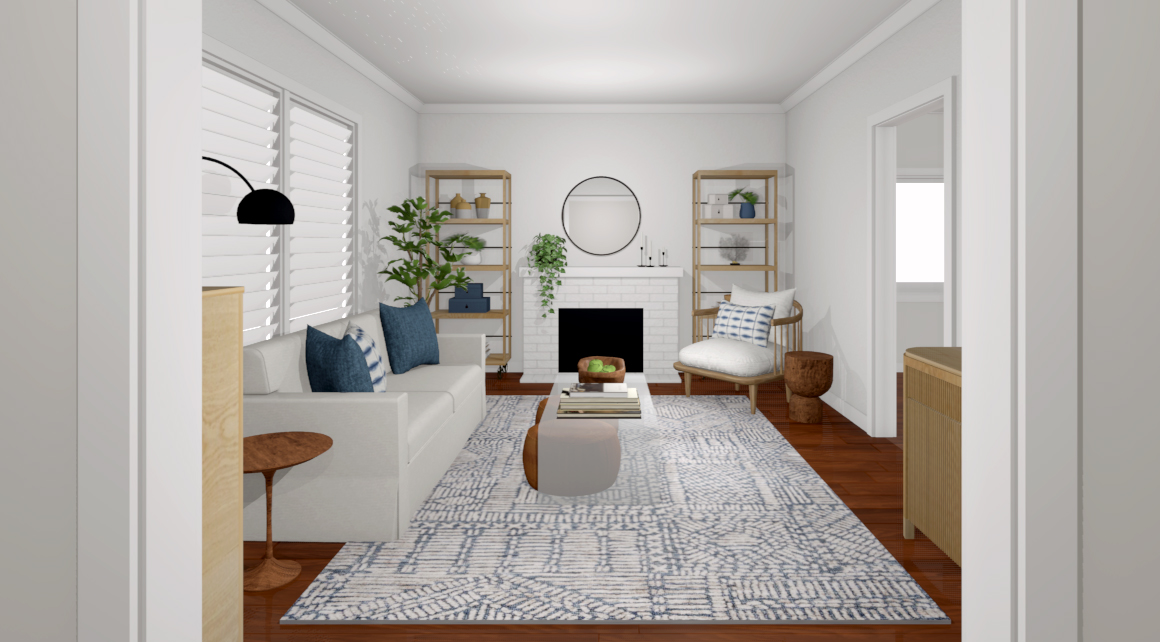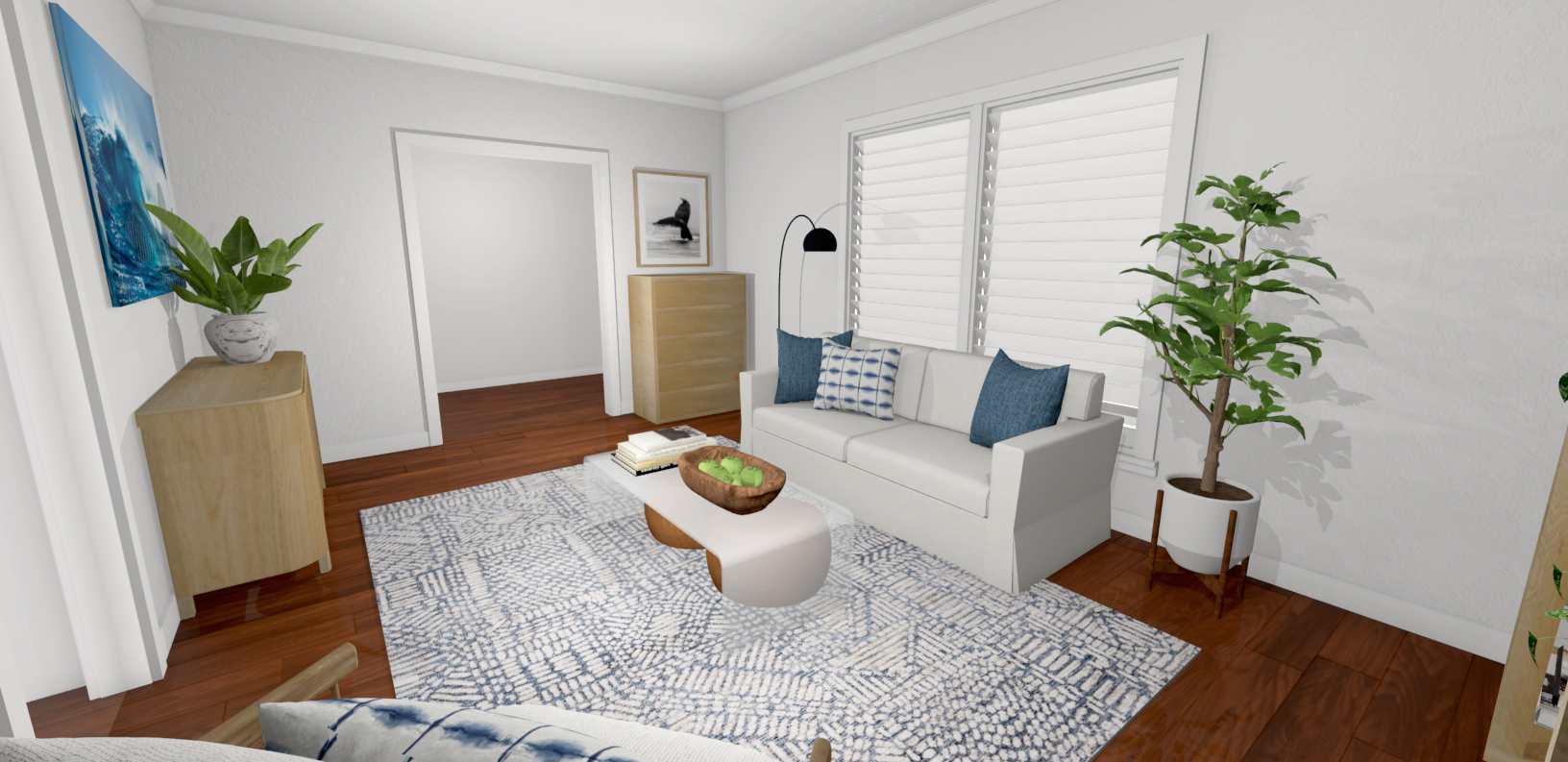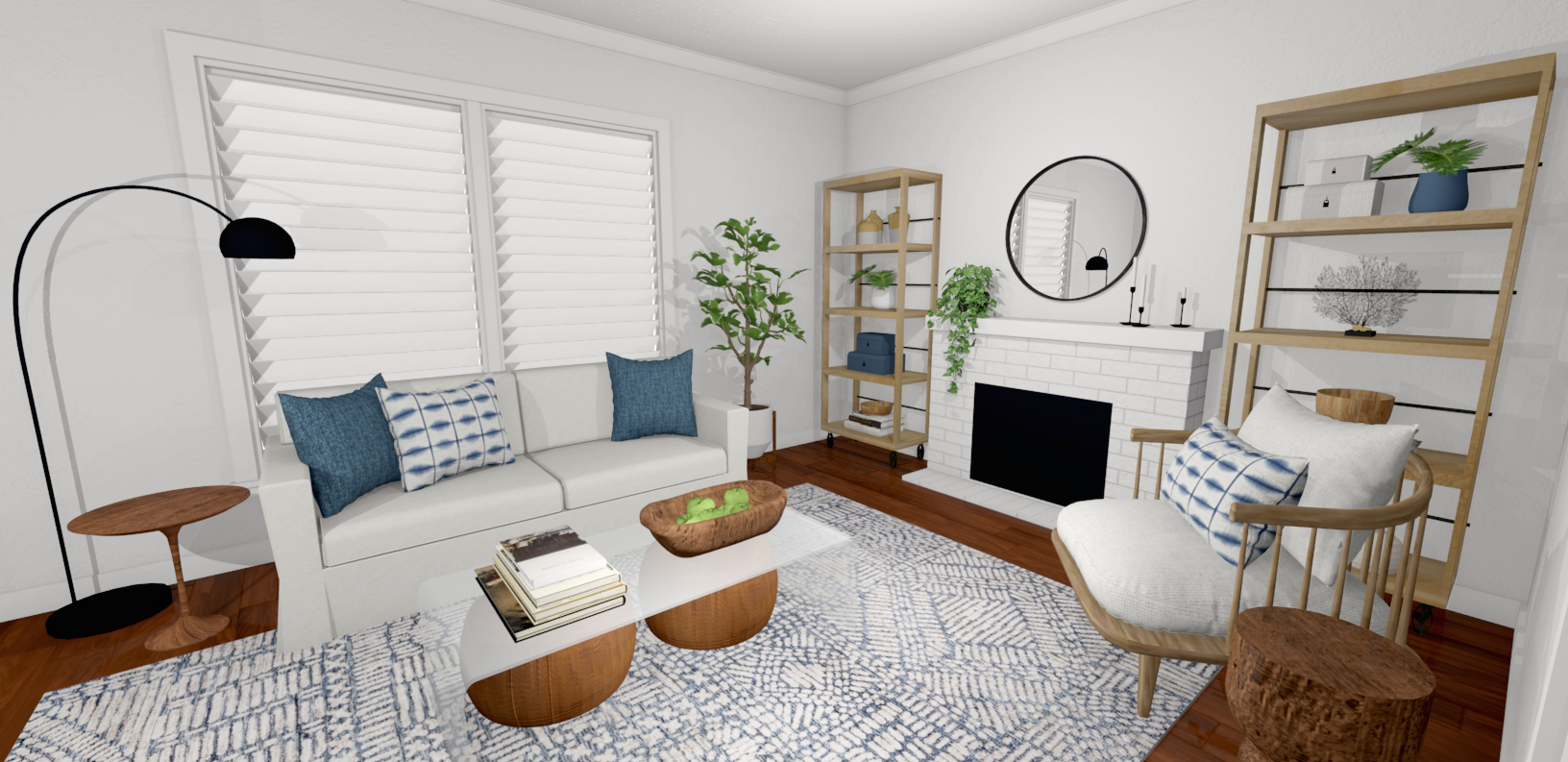 COMPARISONS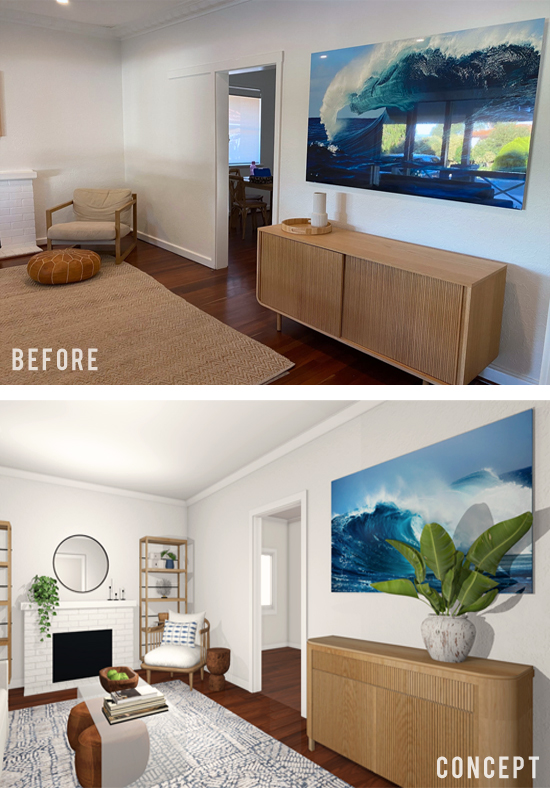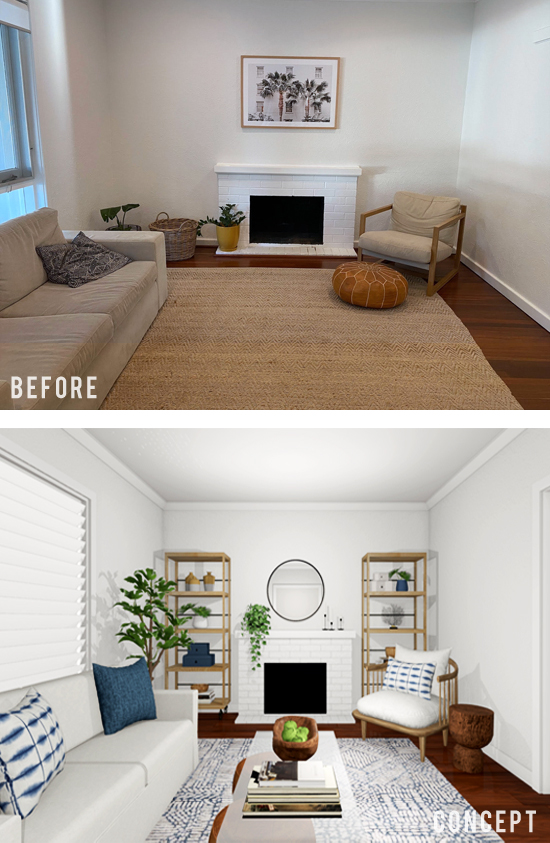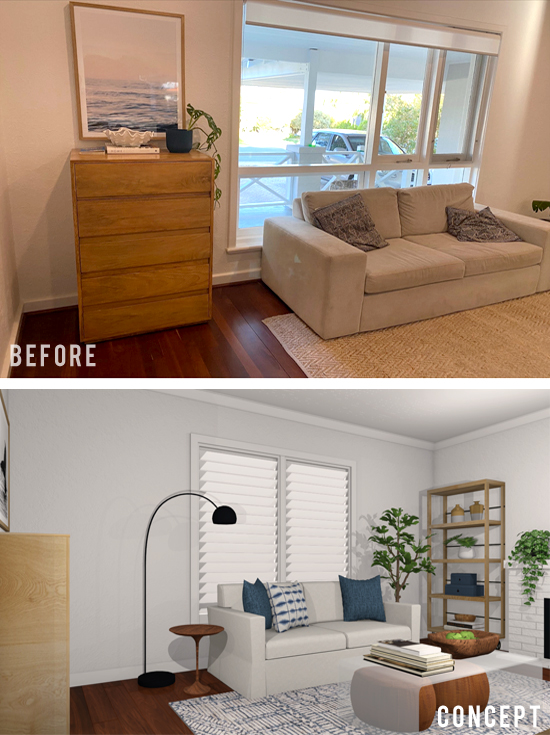 To best exhibit the room, comparison renderings may vary in angle, width and perspective from the original photograph provided. This may result in some common elements differing in apparent scale.
INTERACTIVE MODELS
MOODBOARDS & PRODUCTS
BOARD 1 (LOW – MID)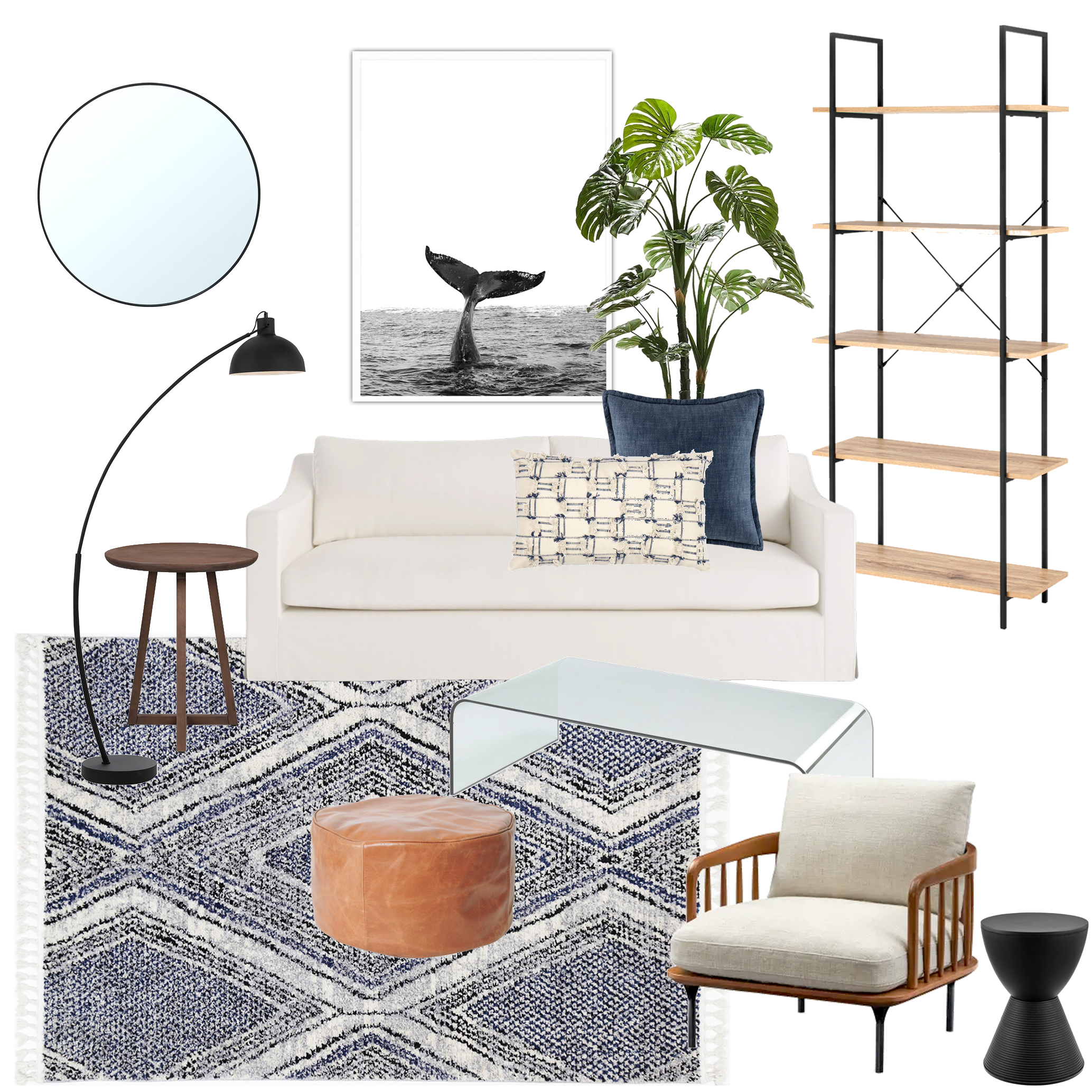 RELATED PRODUCTS
BOARD 2 (MID – HIGH)
RELATED PRODUCTS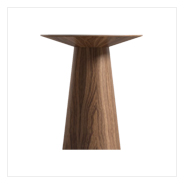 Although my product suggestions have been tailored for you, they are by no means intended to be conclusive. In most cases there are multiple alternatives on the market which you may wish to explore for reasons relating to budget, proportion/scale, quality, practicality, comfort, ethicality and personal preference. You may even like to consider shopping second-hand as a means of finding unique and affordable items, or supporting your local boutique businesses. Where possible I have included options from low-mid range price-points in order to accommodate any budget constraints. Of course, this means that product characteristics can vary. Depending on how important certain nuances are to you, I do suggest viewing items in person, or thoroughly researching particular products, prior to purchase.
Whilst I have created two separate moodboards you are of course free to mix-and-match elements from them both. For illustrative purposes, the virtual renderings includes a deliberate combination of items.
All recommended products are available at the time of developing this concept however please understand that some items may be subject to manufacturing lead-times, delivery delays or be low in stock. Certain items may be available from alternate suppliers with differing price tags. In general, unless previously agreed, decor items shown in the virtual renderings are for illustrative purposes only and not subject to product specification.
Please refer to the Design Notes for further information about product suggestions.
DESIGN NOTES
To introduce interest and a welcoming feel, yet still keep the space open as a throughway from the entry, I have flanked the fireplace with bookshelves. This provides the avenue to display decor, and also to store items (you can use a shelf with doors/drawers and may choose to add baskets for additional storage – you could even consider the IKEA Billy range). If you find the idea of tall shelves too much, you could opt for standard base cabinets with artwork above. Alternatively, you could even use artwork alone as a way of bridging the fireplace and giving the wall more presence. I have had to take an educated guess at dimensions but of course you can choose whatever pieces you like the scale of. Although I have shown timber shelves (as this helps bounce that tone around the room evenly), you could opt for a light neutral if you prefer the idea of them 'blending in' with the wall.
The mirror over the fireplace provides some relief from all of the square components. Mirrors are great because they bounce light around and add interest without competing with other pieces of wall art in the room.
I have swung your dresser over onto the entry wall, just to help open the space up and provide better balance for the sofa. Again, I've taken an educated guess regarding dimensions. If it won't work there you can certainly leave it where it is. Although I changed the artwork to a black and white print, you could leave the ocean image you already have. I just liked the idea of having the wave artwork as the unrivaled feature piece. The black and white also helps to reference some of the other elements I have included and lends a slightly more sophisticated feel.
You have endless rug options! The two I have shown are merely examples which will both work. To integrate the wave artwork an element of blue in the rug works well to tie the whole scheme together.
Flanking the sofa with a lamp and tall plant helps offer balance. The lamp is also practical in that it provides mood lighting, whilst the plant introduces life and freshness. Although I have suggested a faux tree for the sake of this concept you could certainly always try something real given the room seems to get plenty of natural light.
I have suggested light-toned sofas but both have removable covers for ease of cleaning. The blue cushions I have used help to further integrate the wave artwork, bolstering the entire blue/natural/wood/black scheme and making it feel intentional. Of course, cushions are a very easy element to chop and change in order to adjust the mood in a room. If you would like to explore different options, I suggest having a look at Etsy using search terms such as "navy/blue mudcloth/shibori/kilim cushion/pillow". You will find a huge range of unique options, just be mindful of shipping costs from some international sellers.
I have included a deliberate mix of timbers to inject an eclectic feel so things don't compete with your jarrah floorboards. Using different timber tones in this way helps add depth and a sense of personality.
In the low-mid scheme I have shown an acrylic coffee table and ottomans. The clear table works to keep the room feeling open, whilst the nested ottomans add a cosy feel with their warm leather finish – not to mention providing a comfortable place to rest your feet, along with portable seating for kids!
I have introduced leather in the mid-high scheme via the slung armchair, and used a different style coffee table to show you some options. You can even consider using a bench seat for the coffee table if you want it to be extra narrow.
SEQUENT
REVISIONS
If you would like to make any amendments to the design, I allow up to ten basic revisions (beyond this, revisions may be negotiated for an agreed additional fee). Basic revisions provide the opportunity to see alternate materials and/or objects incorporated into the plan. Please refer to the notes at the end of this page for clarification around basic revisions.
ADD-ONS
In the event you would like further visuals, I can provide additional drawings and renderings. This may include wall elevations, cross sections, orthographic and glasshouse views, and so on. I can also create concept videos.
If you would like to immerse yourself in the design we can arrange a digital (Zoom) meeting in order to allow concept engagement in full 3D! These meetings provide the exciting and valuable opportunity to explore floorplans in first person and experiment with variations in real time. Please don't hesitate to contact me if you would like to discuss these options, or any other ideas you may have.
SUPPORT
From the date of concept delivery I provide seven days of email support designed to cover basic enquiries (beyond this, support may be negotiated for an agreed additional fee).
ALTERATIONS
Please find following some concept edits which reflect your feedback.
As you will see, I have added a tan leather sofa and switched the ottomans to natural ones. Of course, depending on what you choose to use as a coffee table, plus your personal preference, I realise you may not end up including ottomans but I wanted to share the adjustment. Although I have provided product recommendations below there are multiple options for leather sofas and natural ottomans on the market which you may wish to explore instead. In order to accommodate the leather sofa, you may like to consider adding some light toned cushions to the originally suggested navy ones to help break things up and retain the airy feel.
Following are some links (in no particular order) to alternatives for the walnut side table which is sadly out of stock: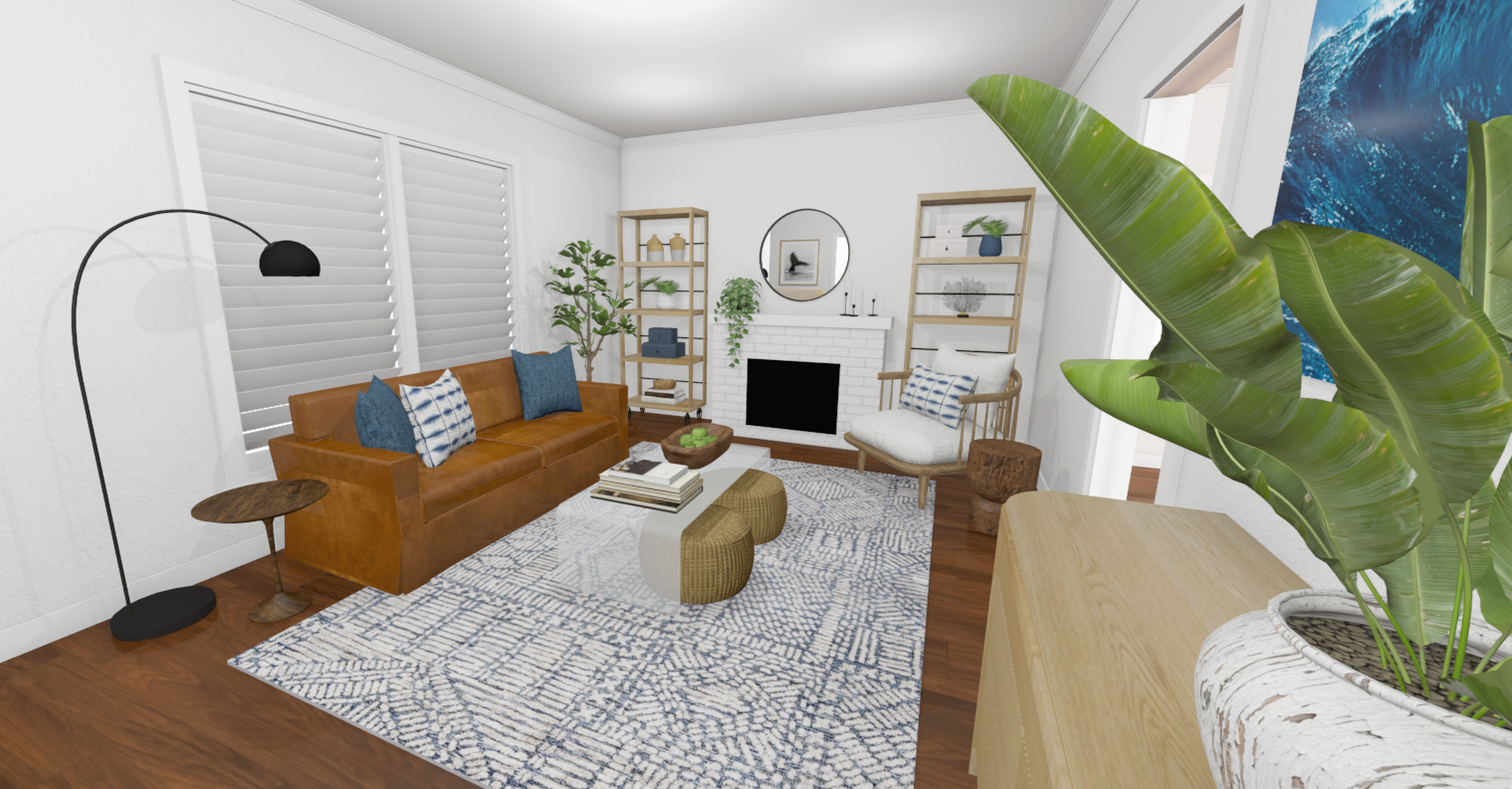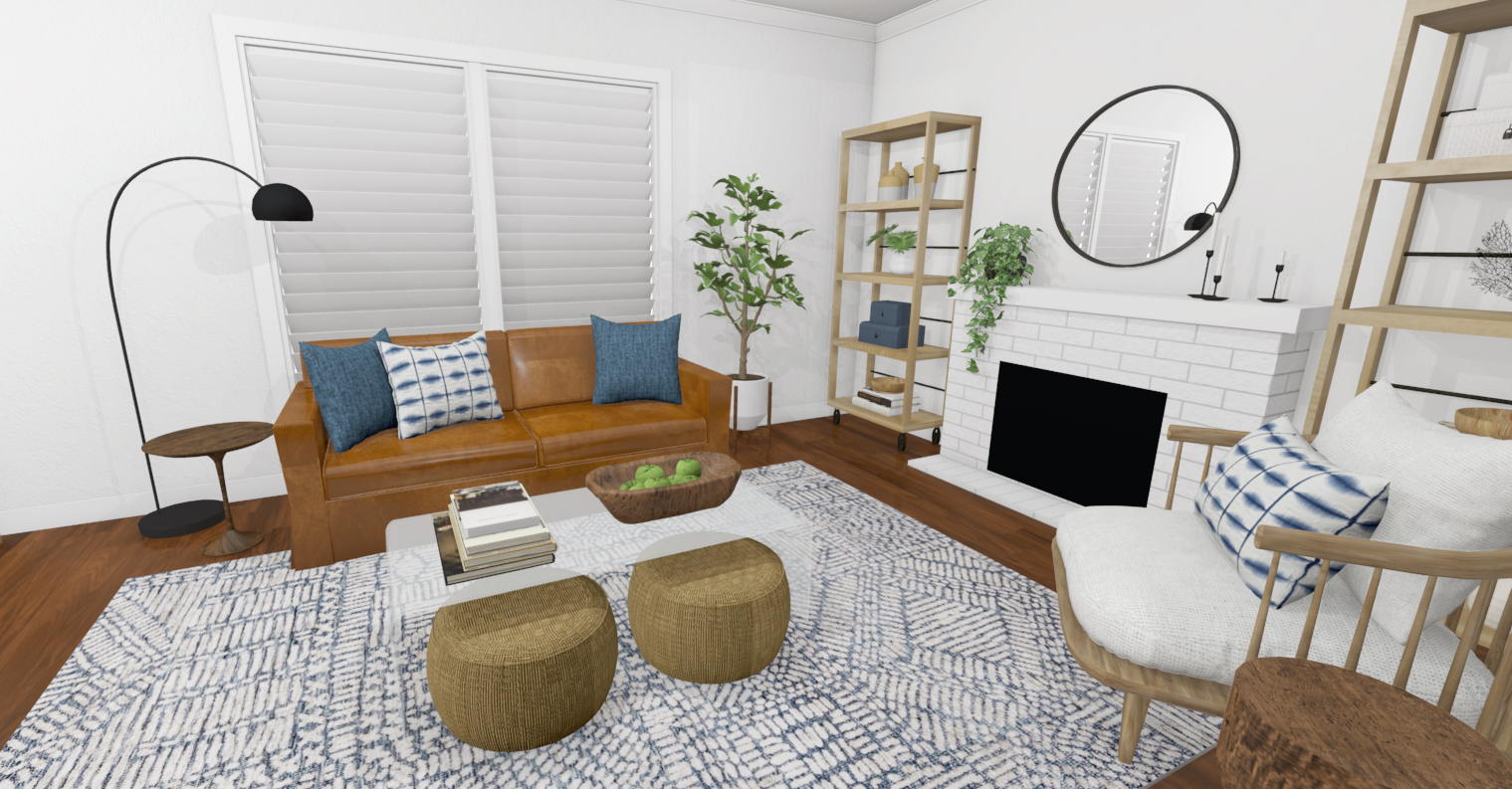 CONCLUSION
It has been a pleasure working with you. I hope the entire consultative process and resulting design have exceeded your expectations.
If you need to get in touch moving forward, please don't hesitate to contact me (thepaintedhive@gmail.com) with any revisions, questions or feedback. I would warmly welcome any future opportunities to work with you and am looking forward to seeing how you implement the design in your home. Have fun!

DISCLAIMER
Although my virtual designs are as realistic as possible, please bear in mind that they are intended as aspirational visual concepts only.
DIMENSIONS
As my designs are not technical drawings, dimensions are not provided. In the event that you require dimensions I can include a rough indication of them where possible for an agreed additional fee. If you require official dimensions for the purpose of building plans you will need to consider engaging a professional draftsperson or architect who can attend your home in person. All that said, I do develop my plans completely to-scale where dimensions for rooms/furnishings are provided/available.
COLOUR & MATERIAL ACCURACY
Although I will incorporate specific colours and materials where appropriate digital codes/swatches are available, they are intended to be representational only. Aside from the fact that screen settings can affect their appearance, particular environmental conditions in your actual space may also impact the way any colour or material will present in reality. As such, I always advocate trialling samples in situ before making your final decision. In the event that appropriate digital codes/swatches are not available then colours and materials will be represented as accurately as possible.
PRODUCT SPECIFICS
All recommended products are available at the time of developing this concept however please understand that some may be subject to manufacturing lead times, delivery delays or be low in stock. In the event that comparable digital material swatches and 3D models are not available or can't be created for virtual rendering purposes, then items shown in the virtual concept will be represented as accurately as possible. In instances where multiple products are recommended for a particular item, the virtual concept will show only one option. Please be aware that in reality this may result in minor scale discrepancies where products have differing dimensions. Unless otherwise agreed, decor items included in the virtual concept are shown for illustrative purposes only and not subject to individual product specification.
REVISIONS
A basic revision is any one simple alteration, such as changing a material (wall colour, flooring, fabric, etc.) or switching-out an object (piece of furniture, light fitting, decor item, etc.). Amendments exceeding the included ten basic revisions, or those which involve more substantial changes (such as floorplan reconfigurations or major style shifts, etc.) are beyond the scope of this package and will be quoted separately.