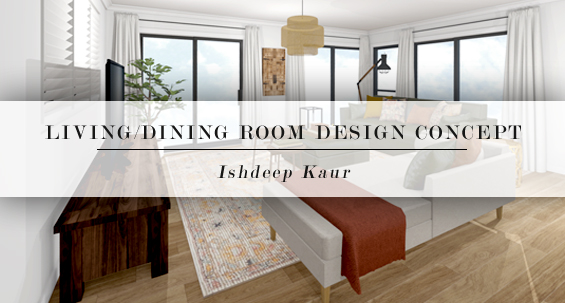 CONTENTS
Introduction
Before Images
Concept Visuals
Interactive Models
Product Suggestions
Design Notes
Revisions
Conclusion
INTRODUCTION
Thank you for the opportunity to develop a design concept for your living/dining space. It has been a fun and rewarding project to work on and I hope you're as pleased with the results as I am.
Please take some time to study the renderings and read through the Design Notes. Direct links are provided following each suggested product image.
All questions and feedback are welcome and I'm eagerly anticipating your response.
BEFORE IMAGES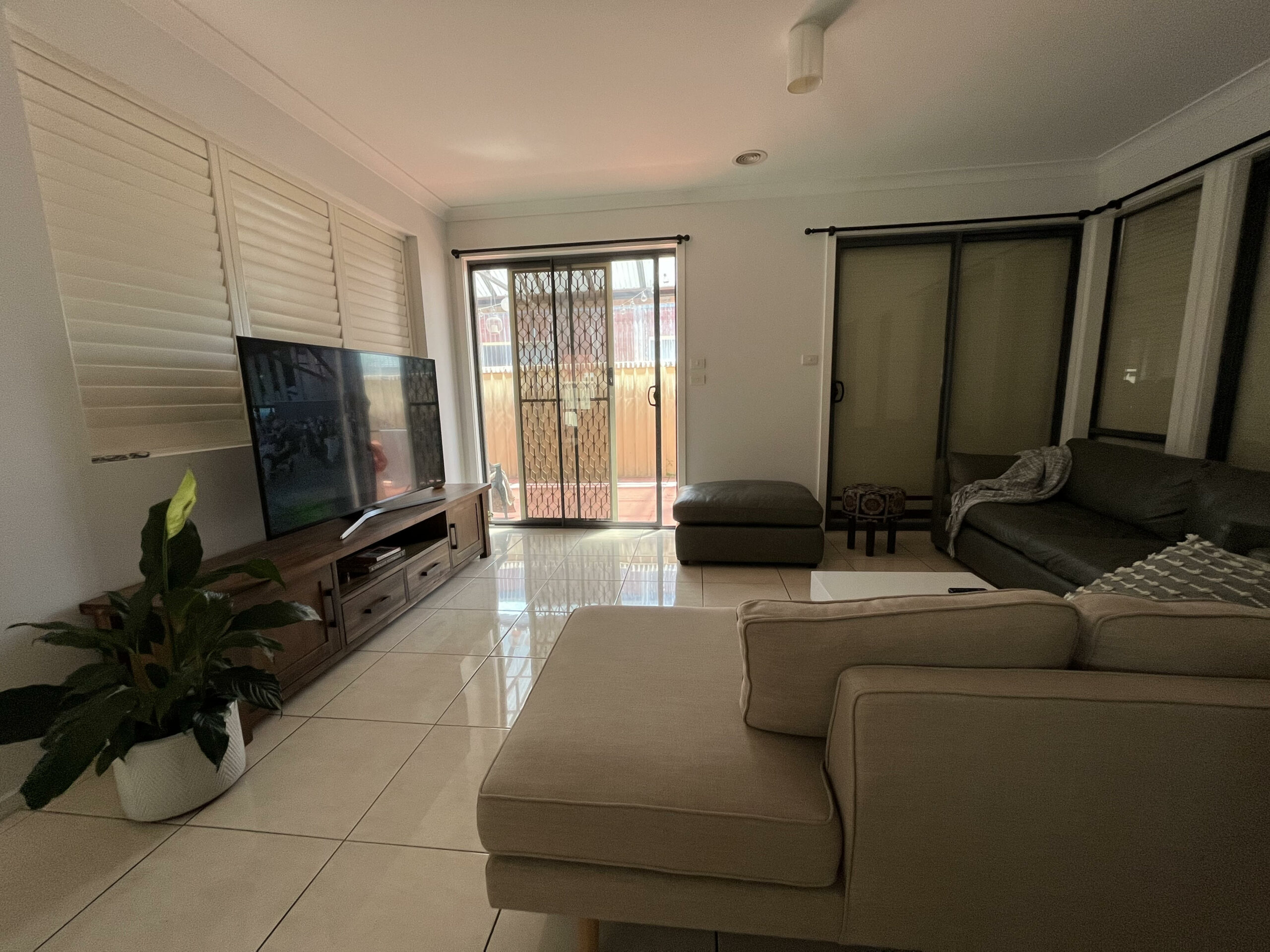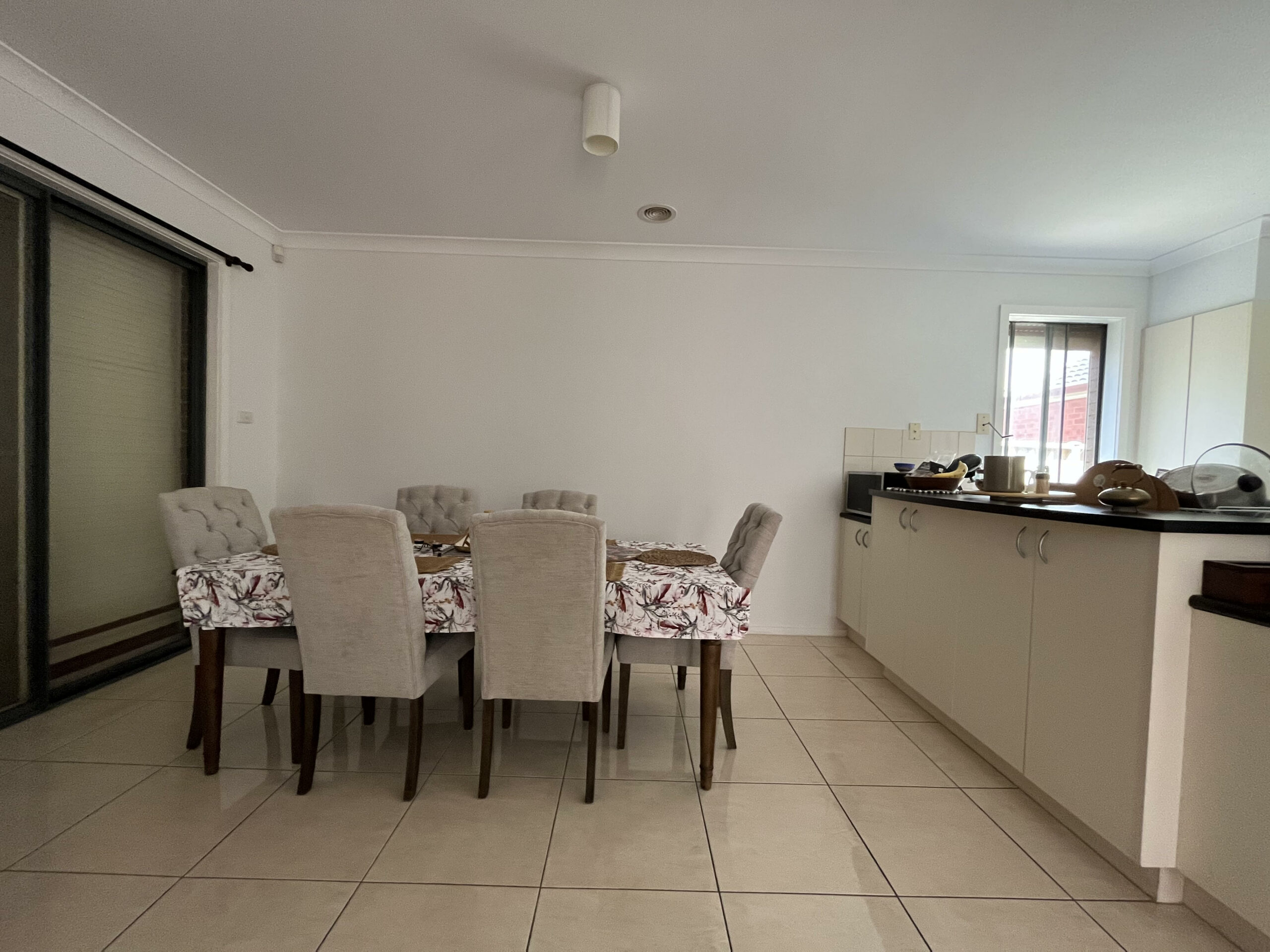 CONCEPT VISUALS
OVERHEAD RENDERINGS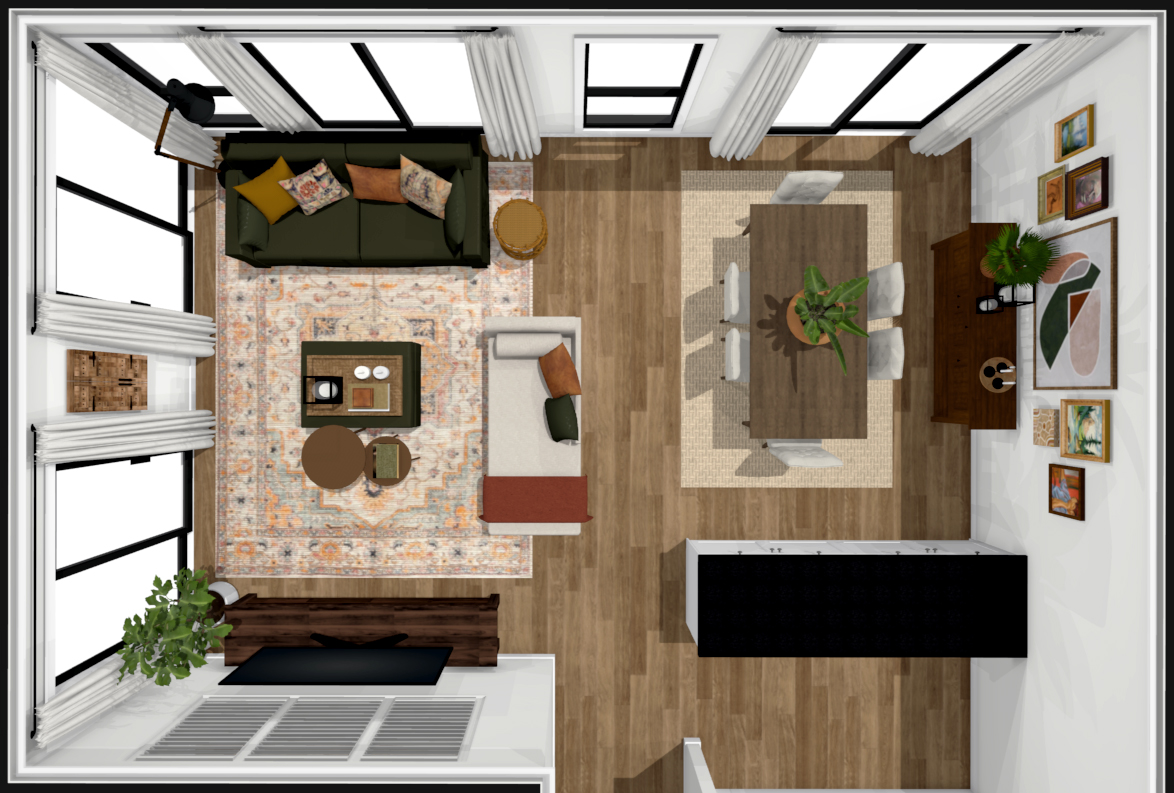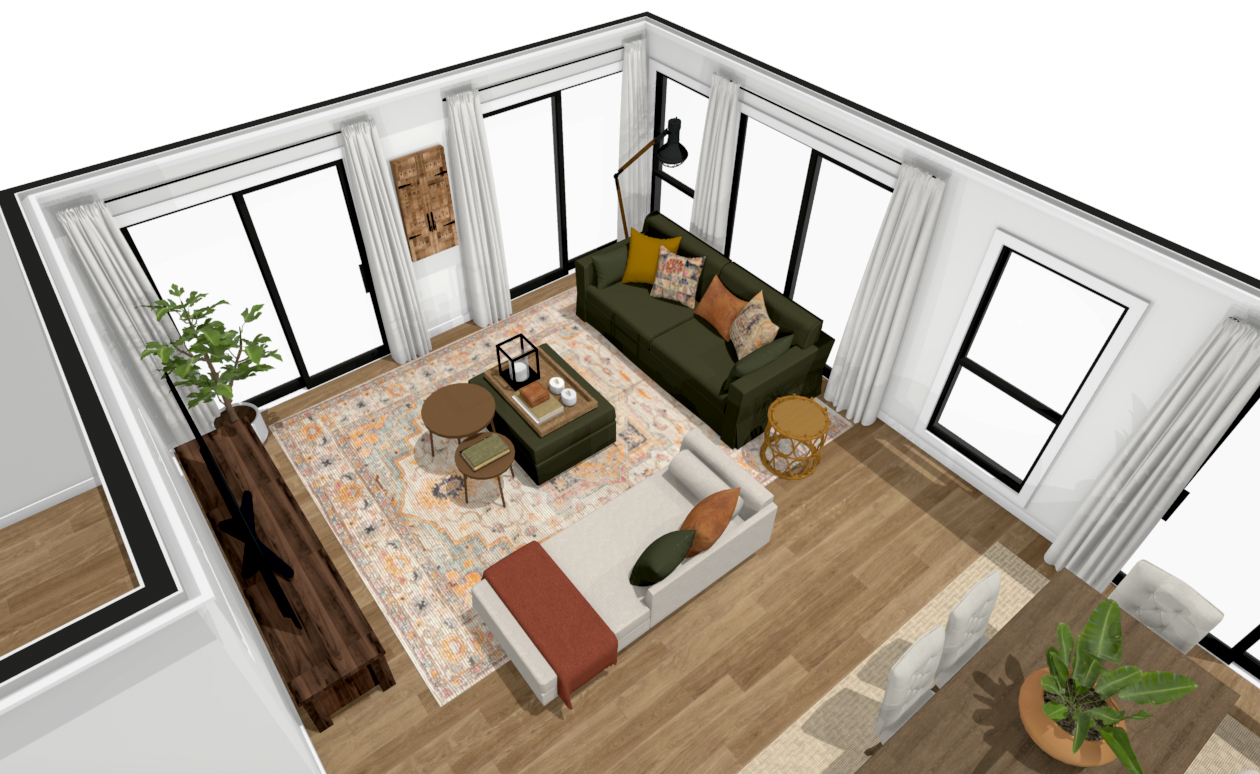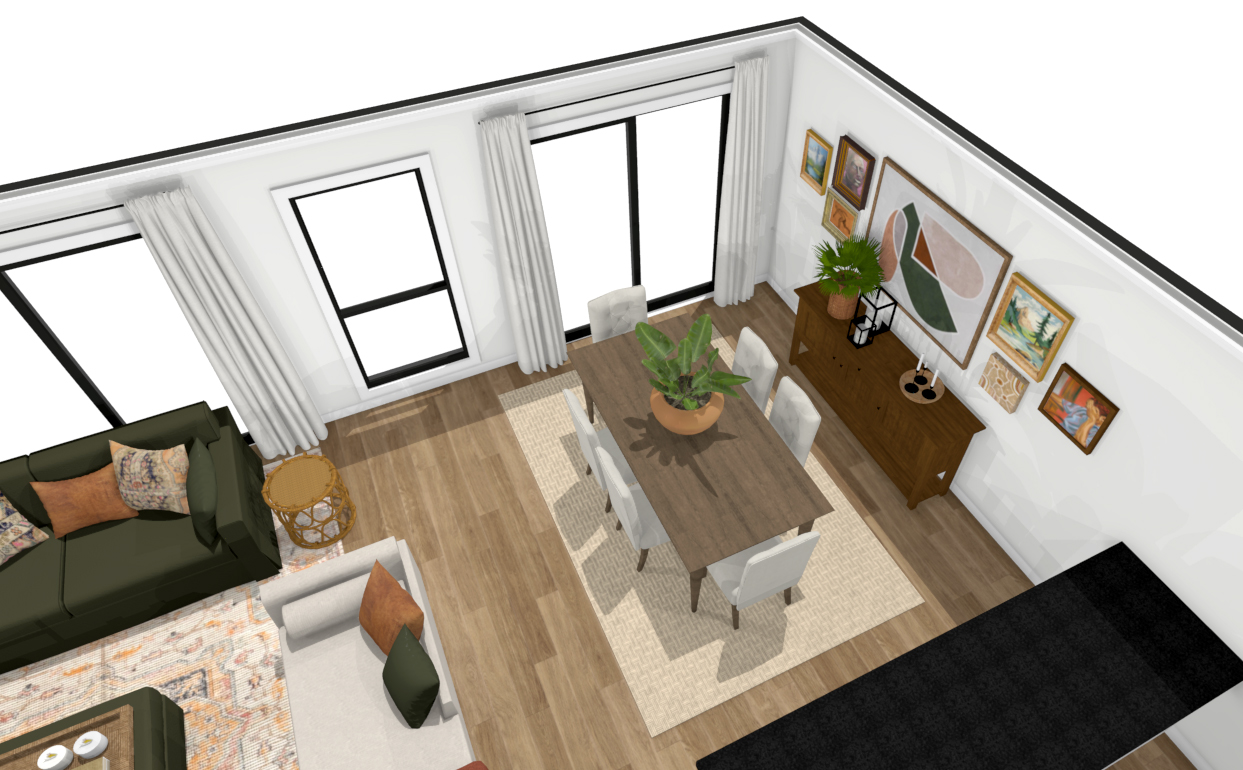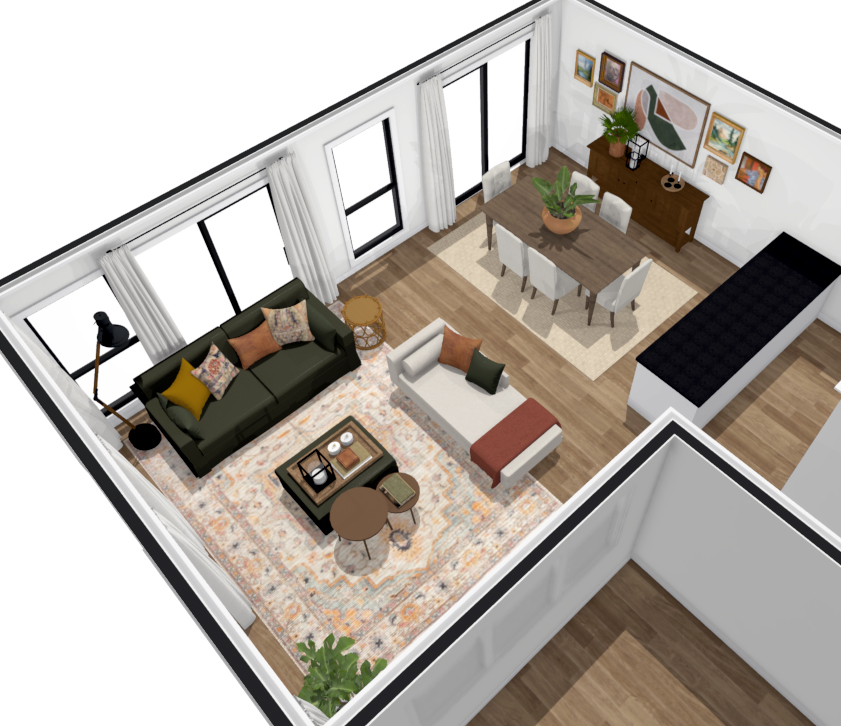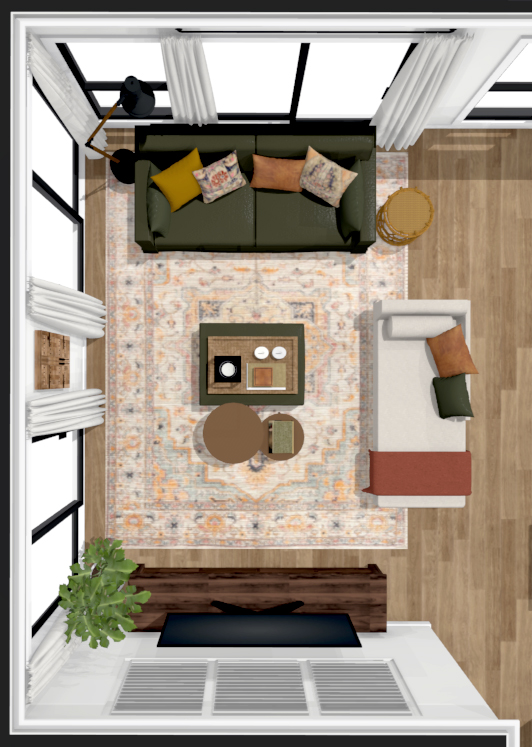 PERSPECTIVE RENDERINGS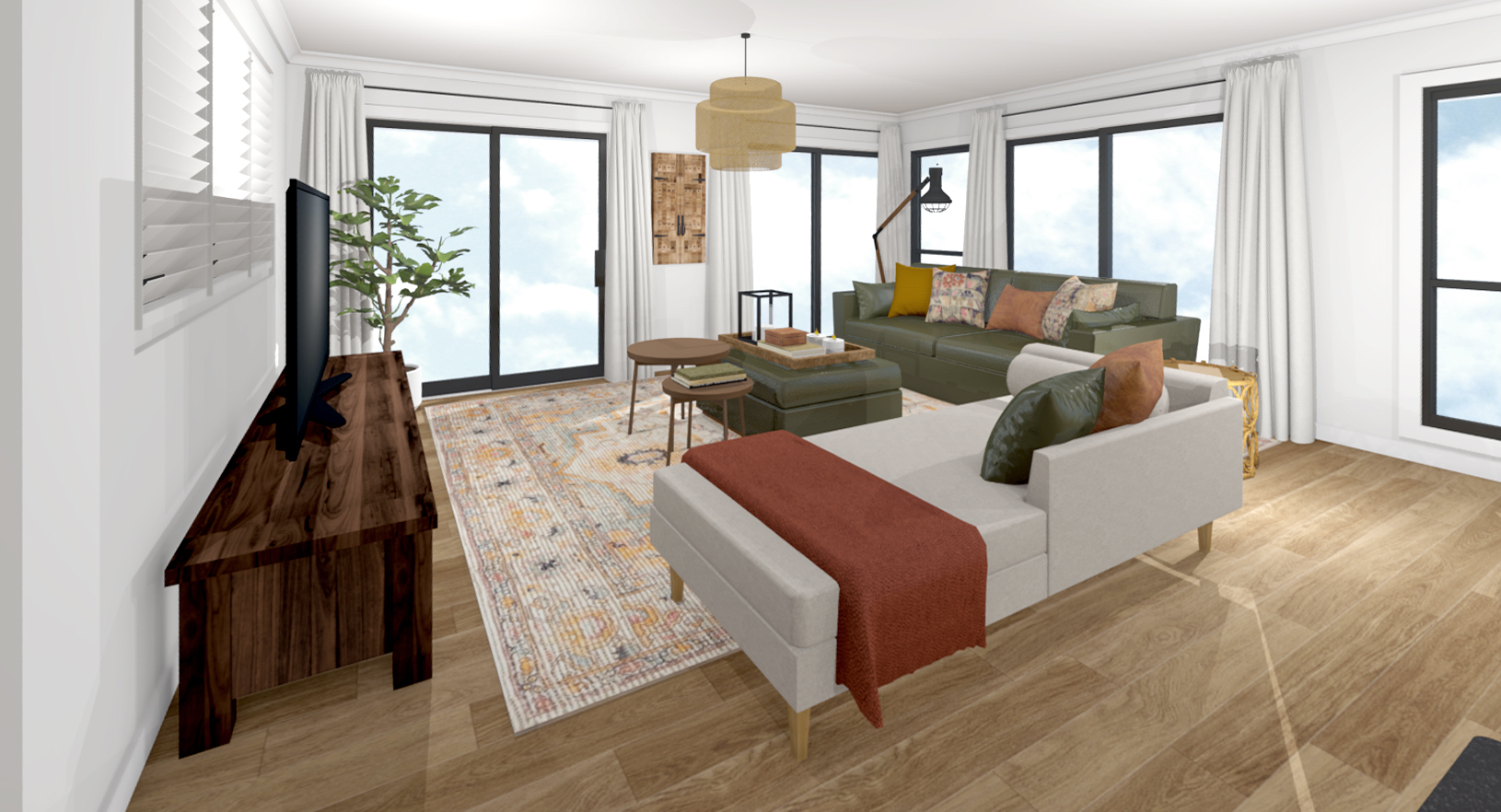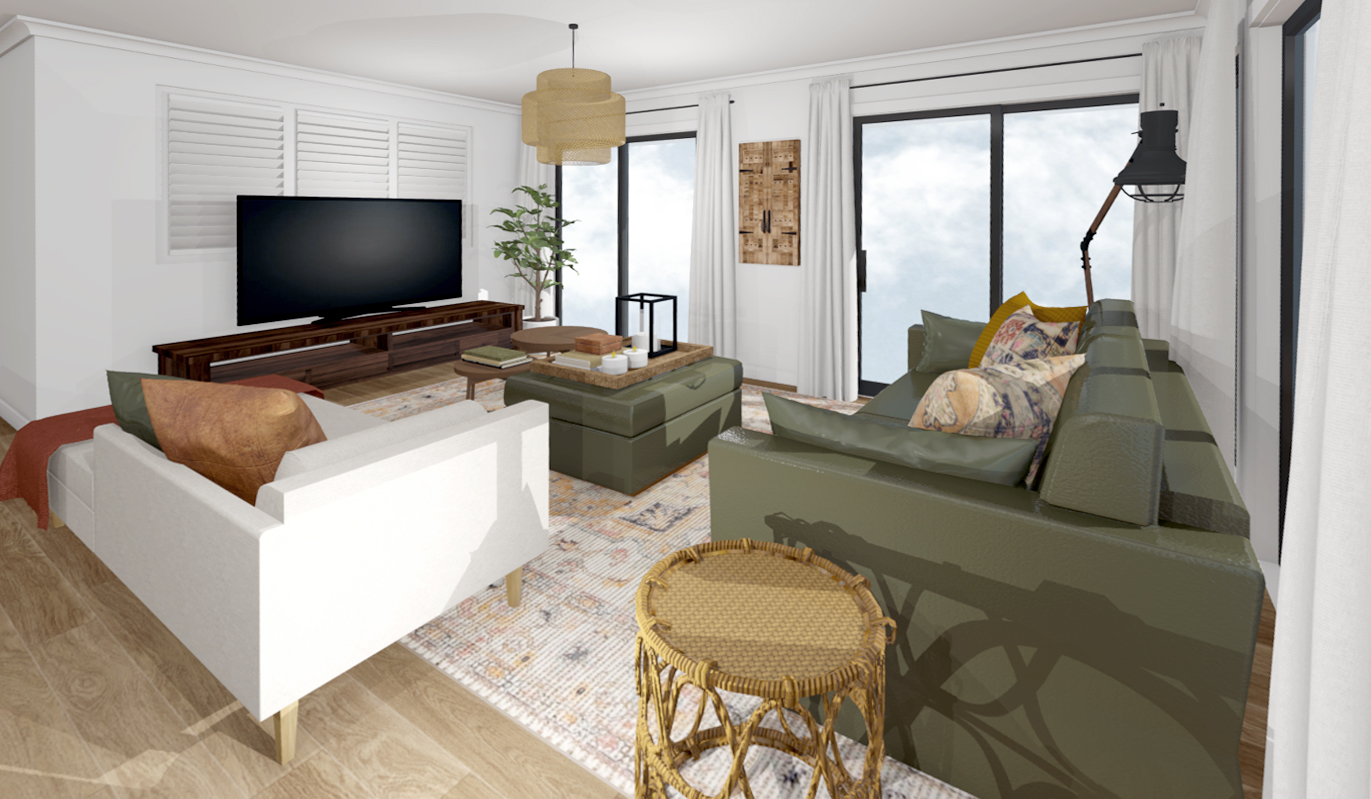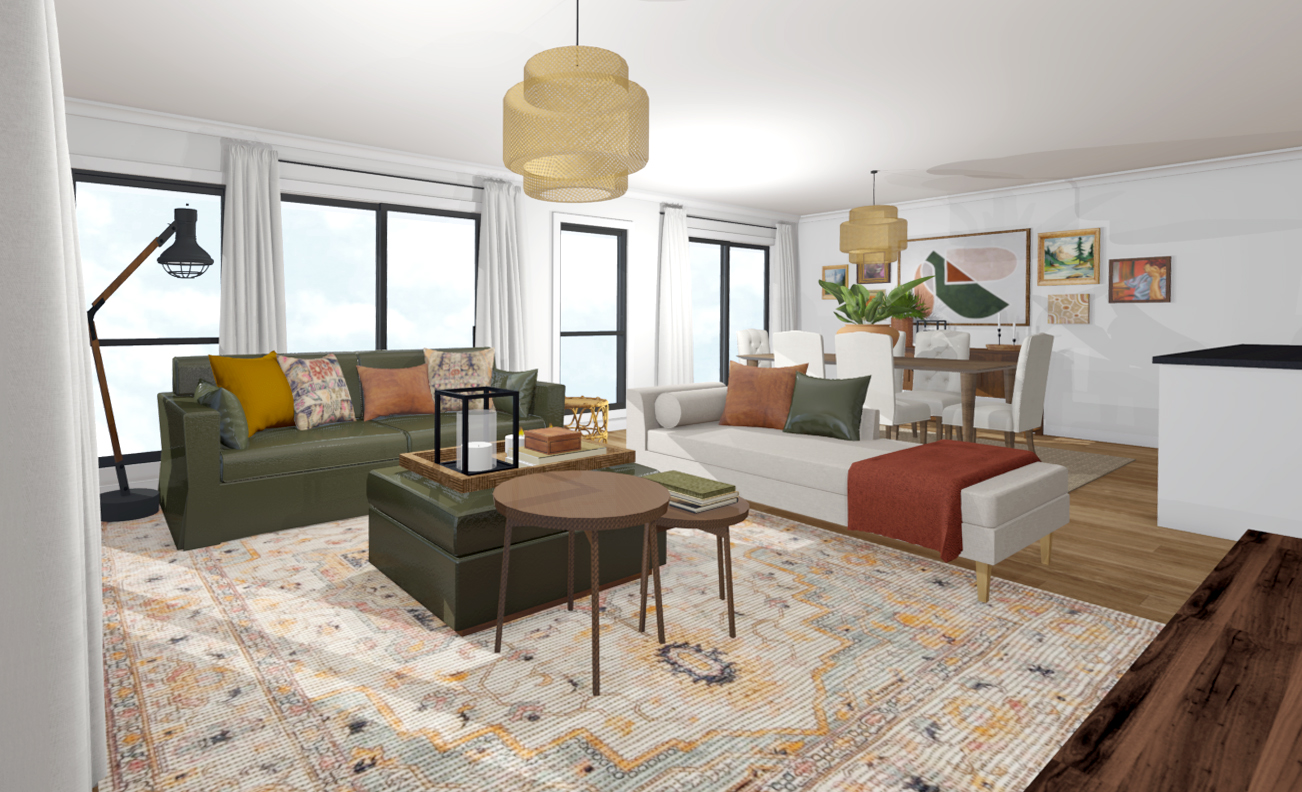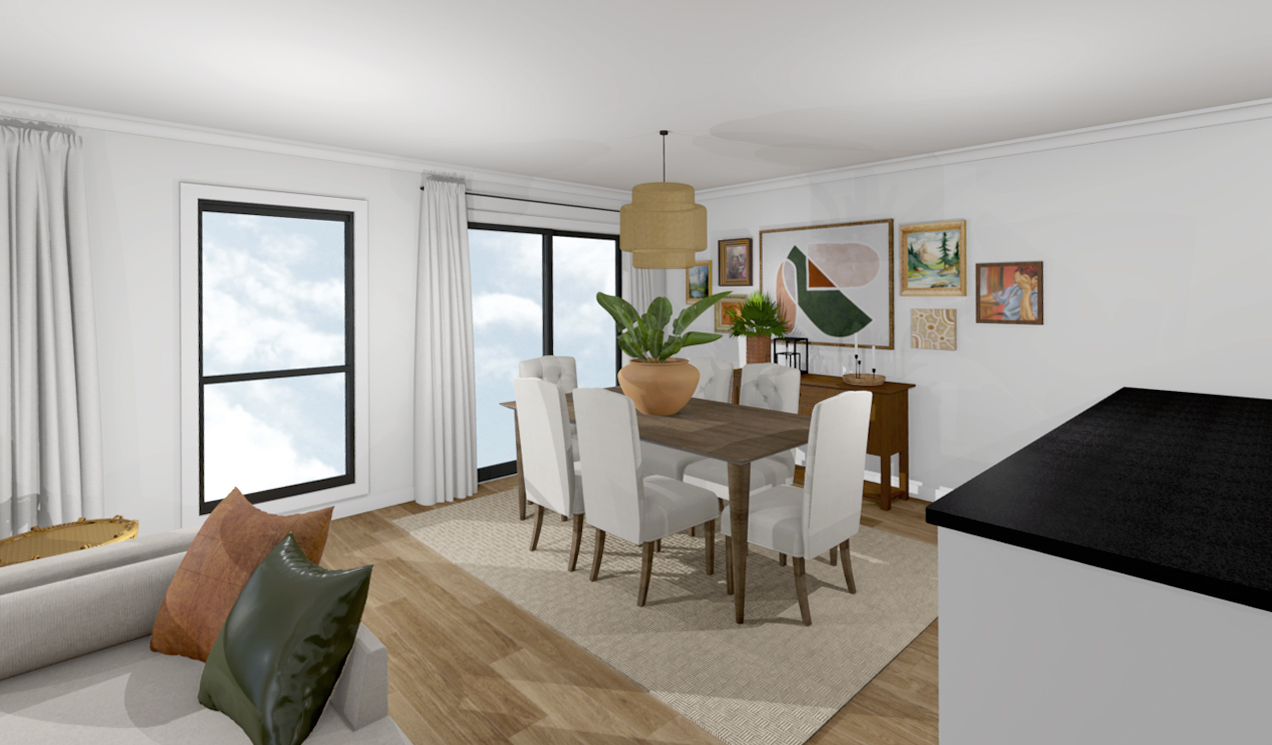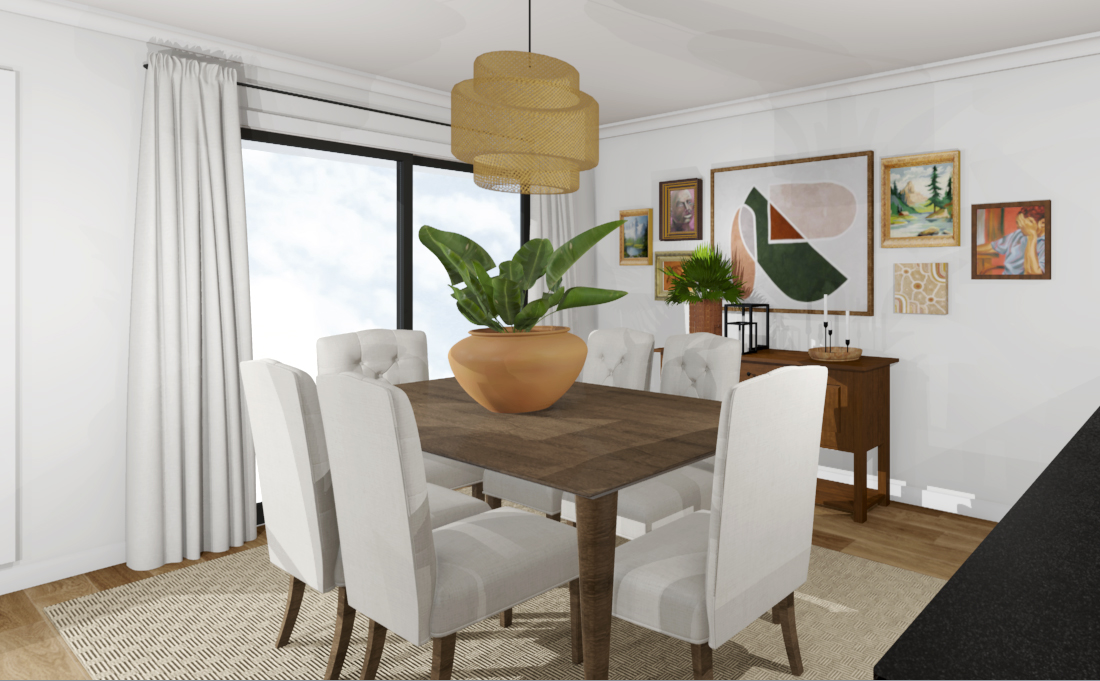 CLICK IMAGES TO ENLARGE
INTERACTIVE MODELS
PRODUCT SUGGESTIONS 
Although my product suggestions have been tailored for you, they are by no means conclusive. In most cases there are multiple alternatives on the market which you may wish to explore for reasons relating to budget, proportion/scale and personal preference. You may even like to consider shopping second-hand as a means of finding unique and affordable items. Where possible I have included options from low-mid range price points in order to accommodate any budget constraints. Of course, this means that quality may vary between products. If this is something which concerns you, please endeavour to view or thoroughly research particular products prior to purchase.
All recommended products are in-stock at the time of sharing this concept.
Please refer to the Design Notes for further information about product suggestions.
LIVING ROOM RUG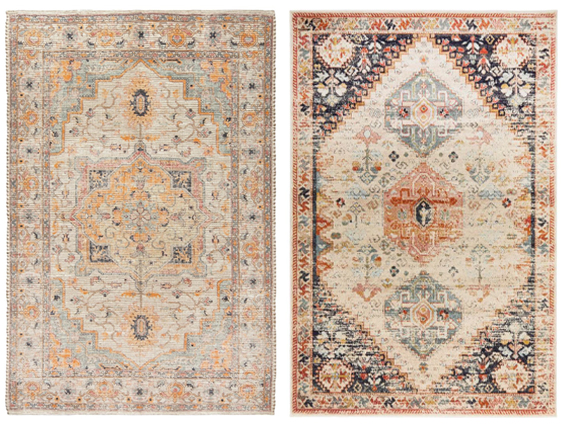 1 | Zola Blue Orange & Yellow Distressed Rug (300cm x 400cm)
2 | Tivoli Autumn Multi Colour Transitional Rug (300cm x 400cm)
COFFEE TABLE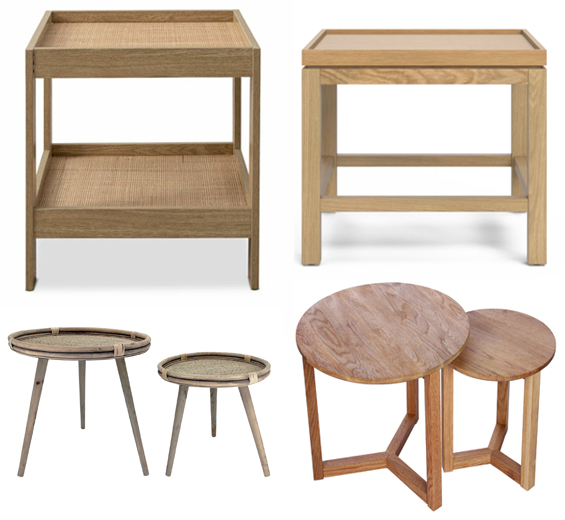 1 | Savannah Side Table x 2
2 | Finn Side Table x 2
3 | 2 Piece Henri Rattan Tray-Top Side Table Set
4 | 2 Piece Olwen Side Table Set (Natural Oak)
FLOOR LAMP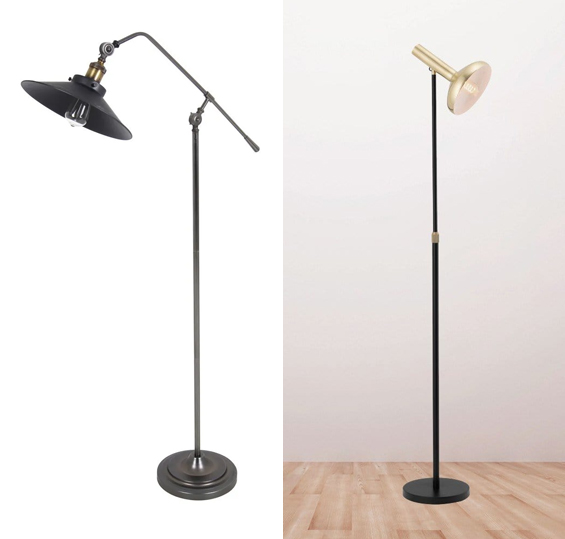 1 | Manor Floor Lamp
2 | Devore Adjustable Floor Lamp
SIDE TABLE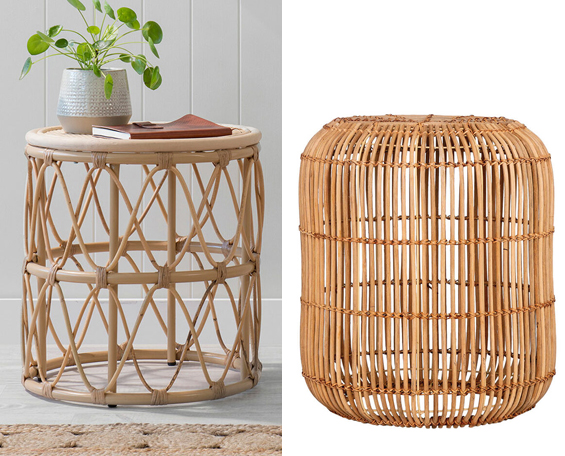 1 | Mocka Florence Side Table (Small)
2 | Salamander Side Table
OTTOMAN TRAY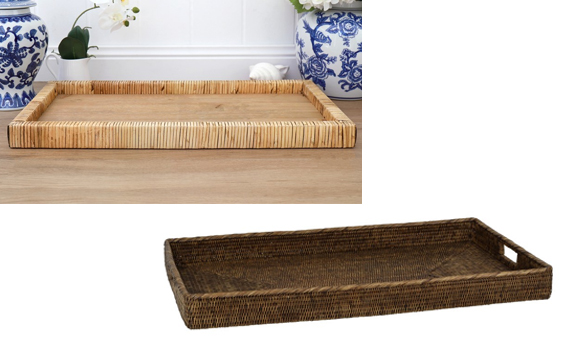 1 | Santa Fe Rattan Tray (Large) 
2 | Savannah Rattan Tray (Large/Tobacco)
CUSHIONS & THROWS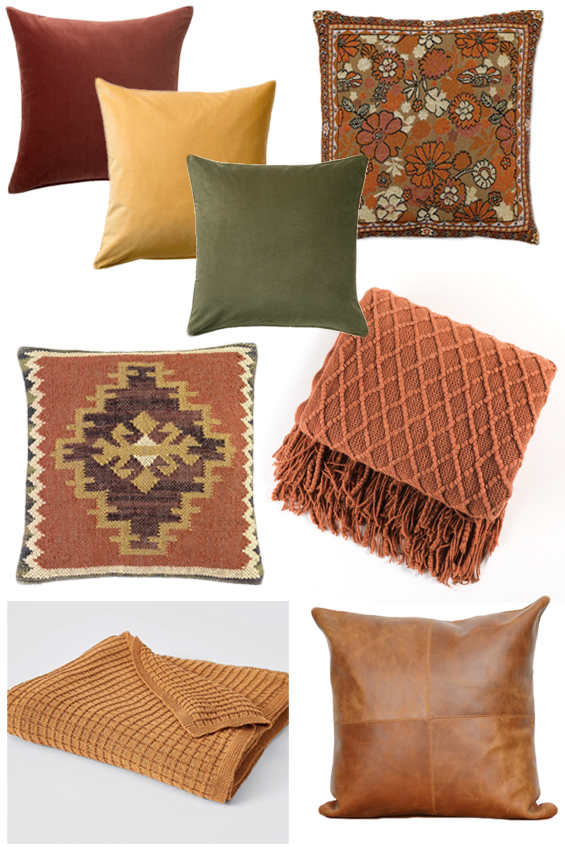 1 | Sanela Cushion Cover (Red Brown/Golden Brown/Olive Green) with Fjadrar Cushion Pad
2 | Hendeer Woven Scatter Cushion Cover (Assorted Styles)
3 | Woven Throw Blanket
4 | Jute Handwoven Cushion Covers Set of 4 (Assorted Styles)
5 | Hallie Knitted Throw (Meerkat)
6 | Vintage Tan Leather Cushion Cover 
LIVING ROOM WALL DECOR
1 | Letter Press Trays
2 | Letter Press Trays
PENDANT LIGHTS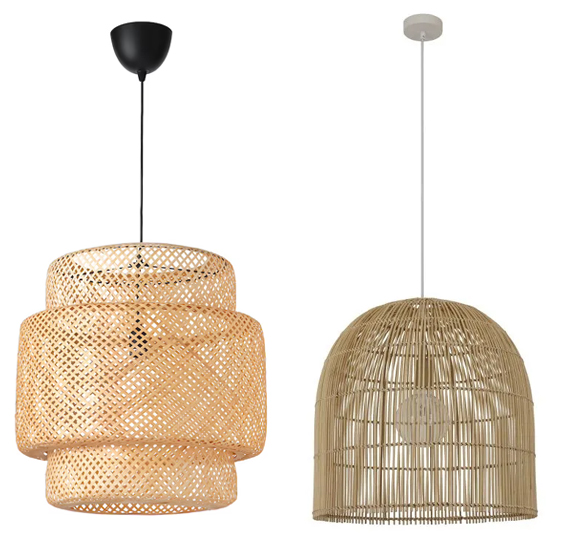 1 | Sinnerlig Pendant Light
2 | Herman Pendant (Natural)
CURTAINS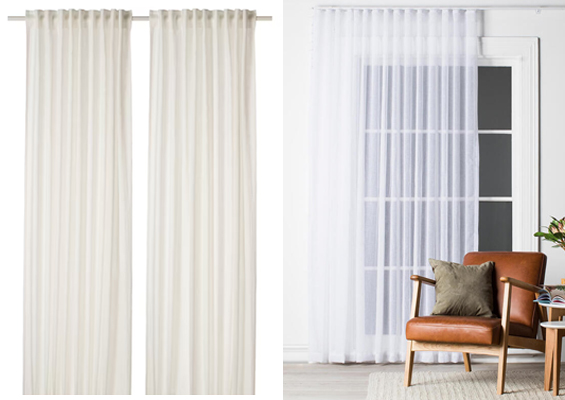 1 | Dytag Curtains (Multiple Colours)
2 | Mineral Sheer S-Fold Curtain (Multiple Colours)
DINING ROOM RUG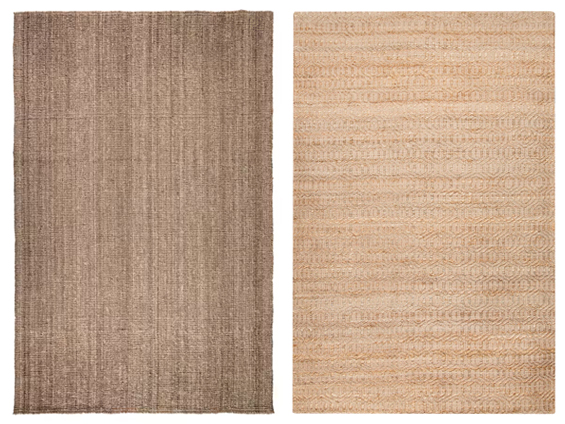 1 | Lohals Flatwoven Rug (200cm x 300cm)
2 | Stevie Tribal Natural Rug (280cm x 190cm)
SIDEBOARD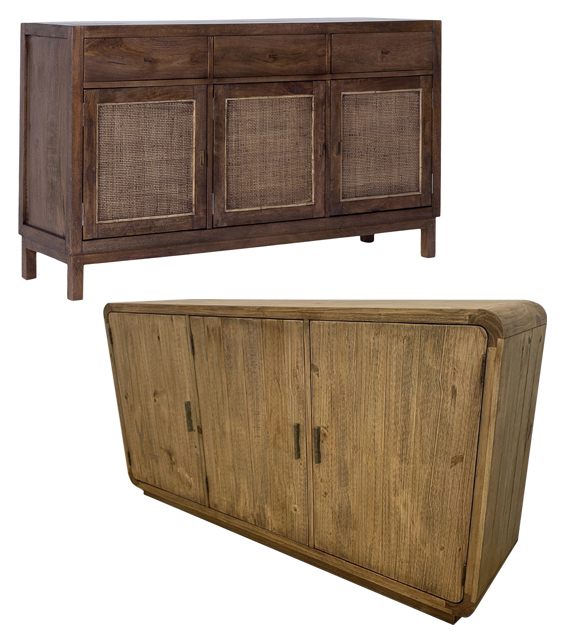 1 | Westham Mangowood Buffet (Natural)
2 | Milan Timber Indoor Buffet
DINING ROOM WALL DECOR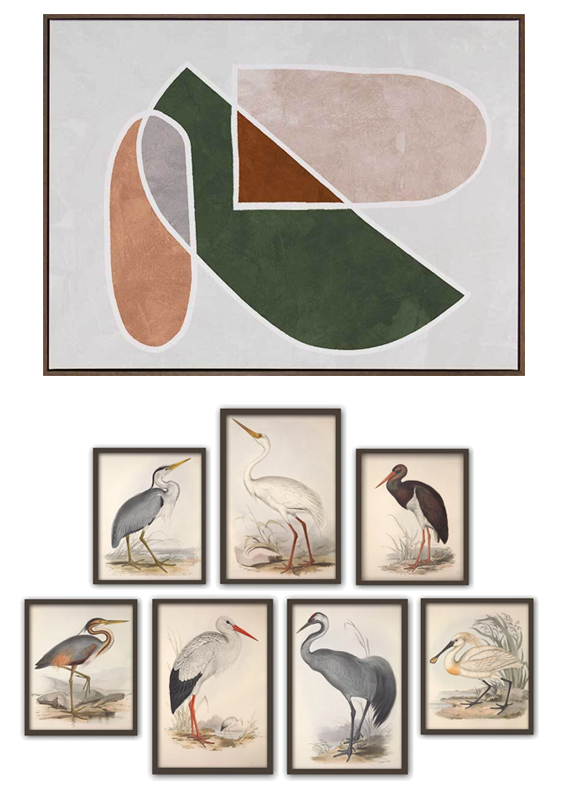 1 | Trilogy Art Print (Canvas/Landscape/90cm x 120cm/Walnut)
2 | Set of Bird Wall Art Prints
DESIGN NOTES
As you would have noted, for the purpose of this concept I have used timber floorboards, however if you choose to keep your existing tiles it won't impact on any of the deign choices.
I've included an eclectic mix of materials and your desired rust, forrest and natural palette to bring the space together as a whole and create the warm global feel you love.
For now I have added simple off-white curtains to the glass doors as you weren't sure what kind of window treatments you were after. Curtains help to add softness and cosiness to the room. If you would prefer more depth, you can opt for deeper coloured curtains. For affordability, I have suggested some off-the-shelf DIY curtain options however you could consider professionally installed options once you have decided what you would like to use exactly.
The pendant lights are quite bold and will certainly make a statement in the room. They will need to be positioned centrally over the dining table and coffee table to avoid being overly intrusive. You could consider just one pendant over the dining table and leaving simple downlights in the living room.
The bold patterned living room rug is complimented by the natural textured rug in the dining room. Of course, there are a multitude of similar rugs you could choose and my recommendations are merely suggestive.
I have expanded on the central coffee table idea and provided options to pair the ottoman with either two square tables to form a block, or two nesting round tables for a slightly more casual feel. Placing a large tray atop the ottoman will allow it to be used as a table. You may choose to switch the general configuration around and have the ottoman closer to the TV.
Again, the recommendations for soft furnishings are just suggestive as there are multiple options you can choose. As you are creating a collected boho feel, you have the freedom to clash patterns and be bold and brave.
To ensure the dining table doesn't need to be pushed over too far, I have suggested two narrow sideboards which are only 40cm deep.
As your only large available wall sits above the sideboard, I think it provides a great opportunity to use statement art. Not only will this provide an amazing sense of impact, you can use colour and character to link the two zones. In my virtual concept I have shown one large abstract piece which reflects the colours from your palette, and teamed it with a variety of vintage frames and art to add to the gathered eclectic vibe (these would need to be sourced from antique markets, vintage warehouses, op shops, etc.). If you find this too much, you could simply opt for the one piece of abstract art. Alternatively, I have suggested a gallery of vintage style prints. Again, there are numerous options available here so it would simply be a matter of selecting something you love.
Given your eclectic style, you don't need to be too concerned about matching wood tones or worry about your neutrals clashing. You really have lots of freedom to play with a wide range of tones and patterns.
REVISIONS
PENDANT LIGHT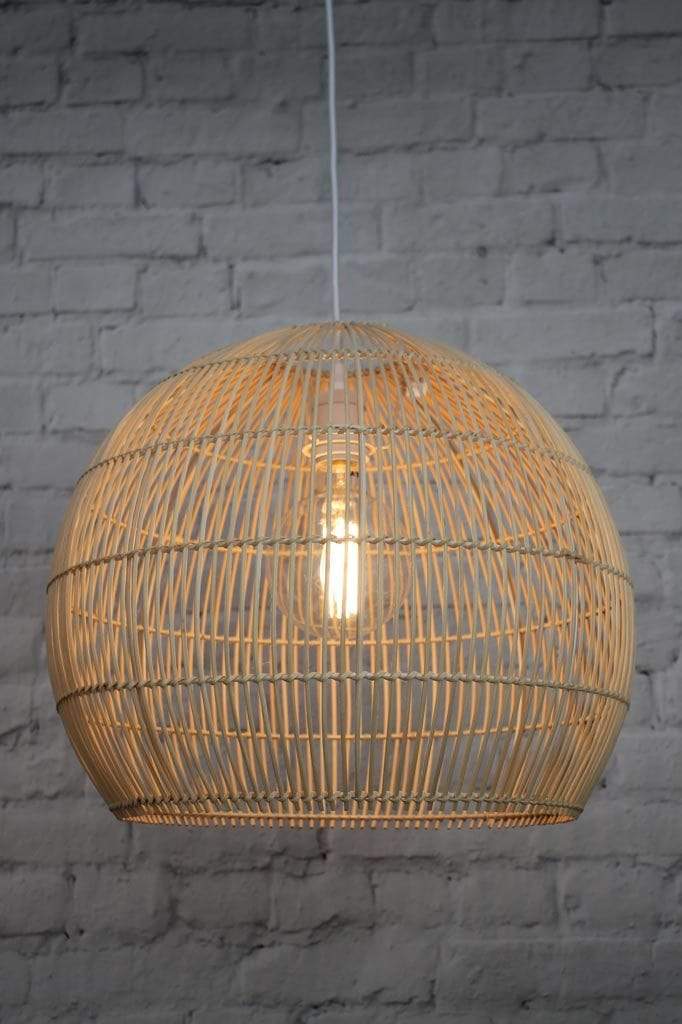 Meadowbrook Rattan Pendant Light (Large)
Fat Schack Vintage is an online lighting retailer however their warehouse is based in Melbourne. You can view their entire range on their website. Another store you could visit in person is Lamp City based in Ascot Vale.
DINING ROOM WALL DECOR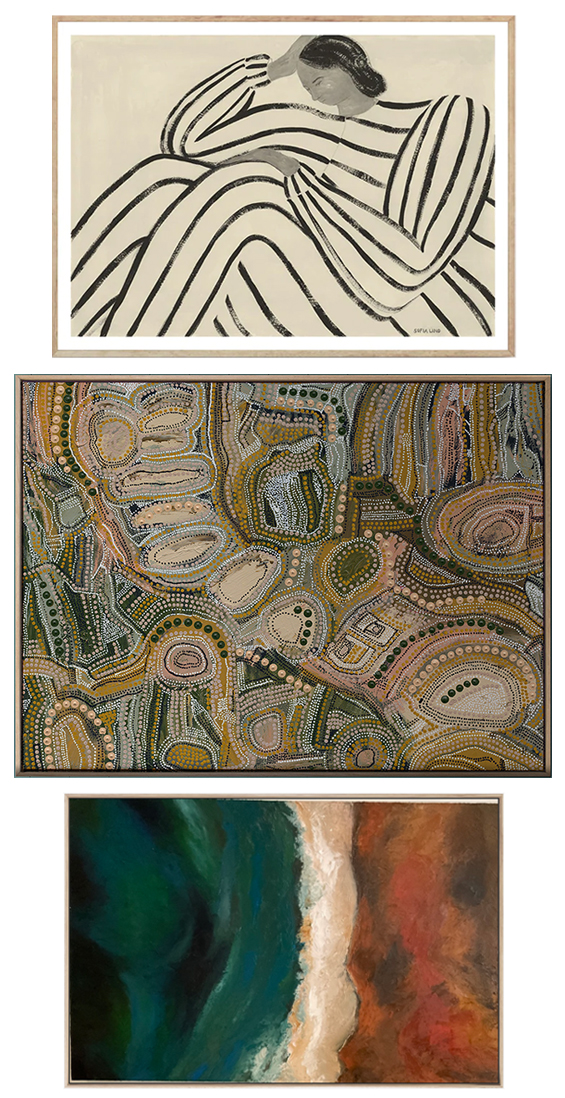 1 | Waiting Print (70cm x 100cm) plus Oak Frame
2 | Wiraywinhangin Marramarra Canvas Wall Art (Natural Frame/90cm x 120cm)
3 | Dusk Original Oil (61cm x 91cm/Custom Natural Frame)
Because art is so personal I have provided some very different options. Note that sizes vary. Option one is a print only which would need to be framed separately (I have provided a link to an off-the-shelf frame so you can choose to DIY). Option three is an original so is a little more expensive. If you don't love these options then please browse some online art stores. Look for a piece which is at least 90cm on the longest side. Alternatively, you can forgo the large artwork feature and use a variety of smaller gallery prints.
CLOCK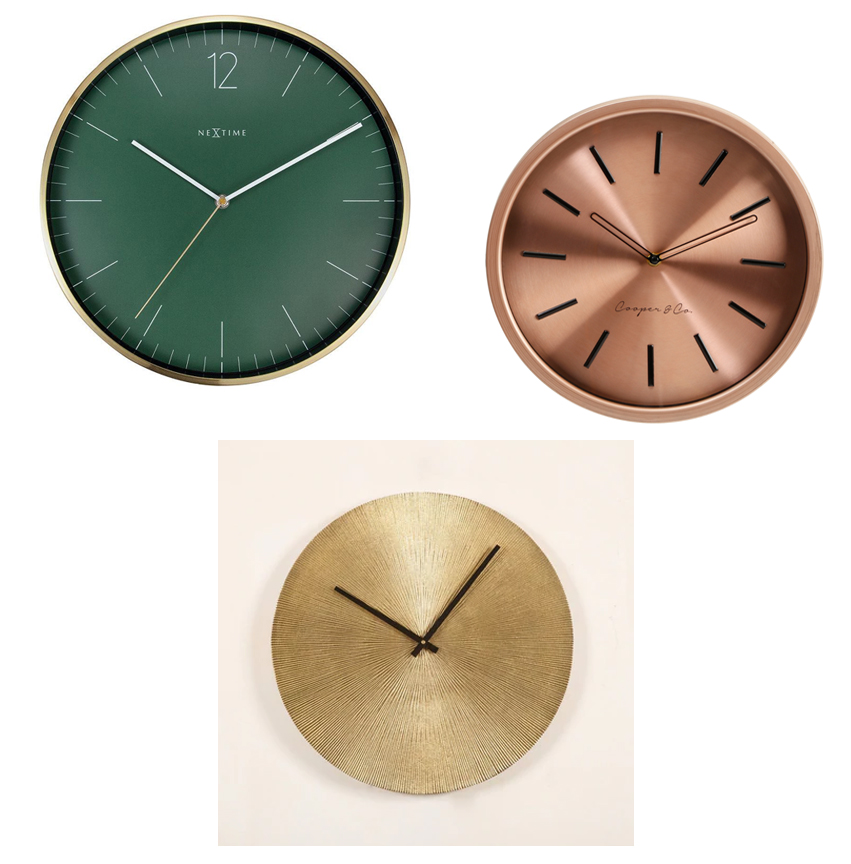 1 | Nextime Essential Gold & Green Wall Clock (34cm)
2 | Antoine Silent Wall Clock (Gold or Rose Gold/30cm)
3 | Antique Brass Wall Clock (40cm)
DECOR
Styling is a very hands-on aspect of interior decorating and is very hard to communicate virtually, especially for spaces which are quite layered and eclectic in style. I am more than happy to offer advice when you are ready to start accessorising so feel free to reach out. The process takes time and tweaking.
Some articles you may find helpful…
Better Homes & Gardens – Tips on Arranging Accessories
Houzz – The ABCs of Arranging Vignettes
The Spruce – Simple Tips for Decorating with Accessories
Houzz – Home Accessorising Made Simple
CONCLUSION
Thank you for being so fantastic to collaborate with. I hope the entire consultative process and resulting design have exceeded your expectations.
If you need to get in touch moving forward, please don't hesitate to contact me: thepaintedhive@gmail.com. I am more than happy to assist with general ongoing support enquiries, and would warmly welcome any future opportunities to work with you in the future.
If you would like to make any amendments, I allow up to ten basic individual revisions to the virtual concept. Beyond this they may be negotiated for an agreed additional fee. Revisions provide a great opportunity to refine product suggestions by amending the virtual concept as needed.
Please feel free to reach out if you have any questions or feedback.

DISCLAIMER
Although my virtual designs are as realistic as possible, please bear in mind that they are intended as aspirational visual concepts only.
DIMENSIONS
As my designs are not technical drawings, dimensions are not provided. In the event that you require dimensions I can include a rough indication of them where possible for an agreed additional fee. If you require official dimensions for the purpose of building plans you will need to consider engaging a professional draftsperson or architect who can attend your home in person. All that said, I do develop my plans completely to-scale where dimensions for rooms/furnishings are provided/available.
COLOUR & MATERIAL ACCURACY
Although I will incorporate specific colours and materials where appropriate digital codes/swatches are available, they are intended to be representational only. Aside from the fact that screen settings can affect their appearance, particular environmental conditions in your actual space may also impact the way any colour or material will present in reality. As such, I always advocate trialling samples in situ before making your final decision. In the event that appropriate digital codes/swatches are not available then colours and materials will be represented as accurately as possible.
PRODUCT SPECIFICS
All recommended products are in-stock at the time of sharing the concept. In the event that comparable digital material swatches and 3D models are not available or can't be created, then items shown in the virtual concept will be represented as accurately as possible. In instances where multiple products are specified for a particular item, the virtual concept will show only one option. Please be aware that in reality this may result in scale discrepancies where products have differing dimensions.