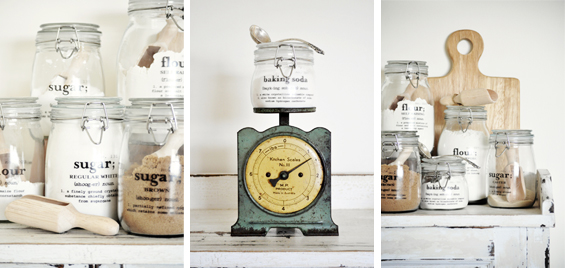 Give your pantry a unique edge with my dictionary definition inspired canister labels.
Practical yet attractive, I designed these labels as a storage solution for identifying and organising my own pantry contents.
Each label is printed at 300dpi in matte black onto clear waterslide decal paper then sealed with a durable invisible 'magic' coating. This coating protects the decal making it scratch, heat and water resistant.
Labels can be successfully applied to substrates such as glass, ceramic, timber, plastic and metal, however please be aware that they may not adhere equally to all materials.
Labels are trimmed to approximate size prior to shipping.
A free 'trial' decal and application instructions are included.
NOTE: Unlike vinyl decals, waterslide decals have a fine transparent backing film. This is what allows for the transference of intricate graphics (such as fine text). As such, completed labels are framed by a barely visible clear box which virtually disappears upon filling of the canisters.
APPLICATION INSTRUCTIONS
1. Dampen the back of the decal paper (watermarked side) with a cloth until it becomes translucent. Wait around 15 seconds then gently peel the paper away completely.
Important: ensure you remove the watermarked decal paper only at this stage.
2. Quickly immerse the decal in a shallow dish of water to dampen the other side then position it, image side down, on your item, smoothing it down with your fingers and a slightly damp cloth to remove some of the excess water.
Important: don't remove too much water at this stage. It provides slip and ensures the decal remains repositionable.
3. Carefully slide off the backing paper and manipulate the decal into its exact position then continue to smooth it until it is water and air bubble free.
Tip: work from the centre, out. Be patient and gentle. It takes a minute or so.
4. Finally, set the decal by either:
– Baking in an oven for 8 minutes at 150 degrees celsius (300 degrees fahrenheit).
– Cooking in a microwave for 5 minutes on low.
– Blowing with a hairdryer for 5 – 10 minutes.
CARE
Decals stick like glue to most substrates and set hard.
They are dishwasher resistant though hand-washing in warm soapy water is recommended.
They are heat resistant though avoiding very high temperatures is recommended.
Decals are not recommended for food-touch surfaces (such as on dinner plates or inside mugs).
Avoid abrasive cloths or harsh chemicals.
CUSTOM ORDERS
A 'Custom Label' is defined as a label which uses my existing template and a product name of your choosing (not already included in my pre-made selection). If you require customisation beyond this (i.e. size, colour, font, etc.) please contact me prior to purchase.
You simply need to provide the product name and subtitle (if applicable). Unless also provided, I will happily devise the definition on your behalf.
Specify your custom labels in the designated 'Order Notes' area on checkout.
SHIPPING & HANDLING
All labels are made to order and sent via standard post (to maintain reasonable costs) from Australia. As such, please allow sufficient delivery time (approximately two-four weeks for international orders). I ship once weekly.
Cost to:
Australia $3.00
New Zealand $4.00
United States $5.00
Canada $5.00
United Kingdom $5.00
Rest of World $6.00
If you would prefer for your order to be sent via registered post with a tracking number please contact me following your purchase. I will provide a quote and an invoice to cover the additional cost will be sent via PayPal.
Costs for registered mail are dictated by fees set by Australia Post (not me) and will usually be between approximately $15-$25 depending on package size and weight.
INFORMATION & CONDITIONS
By purchasing labels you agree to having read, understood and are in compliance with the following information and conditions:
– Prices are in Australian Dollars ($AUD).
– All transaction are conducted through PayPal.
– Dimensions provided are taken from the widest points (height x width) of the actual graphic (not the backing film).
– Maximum of 30 labels per order. Please contact me for bulk order enquiries.
– I withhold the right to cancel and refund orders (minus PayPal fees incurred) at my discretion.
– I hold no liability for items damaged or lost during shipping or for the supply of incorrect or inaccurate shipping details.
TESTIMONIALS
"Absolutely love them".
Debby, Florida
"Thank you so much. Arrived today and I've already applied them and filled my canisters. They look amazing!".
Chantelle, Wyoming
"I purchased some of your labels a little while ago. I just wanted to let you know that I love them and can't count the number of times people have commented on them!".
Kelley-Anne, Ontario
"Thank you so much for the labels. I was a little scared they would be difficult to apply so was relieved when I tested the trial decal and it was easy. I keep my baking canisters on open shelving and the labels make me smile every time I look at them".
Sarah, Melbourne
"They are adorable!".
Julie, Ohio
"I received my canister labels today! I have been checking my mailbox for a week in anticipation and was so excited today when they were there! I love them and already applied them to the canisters I purchased".
Jolene, Chicago
TO VIEW MY ORIGINAL CANISTER LABELS POST (COMPLETE WITH PICTORIAL TUTORIAL) PLEASE CLICK HERE.