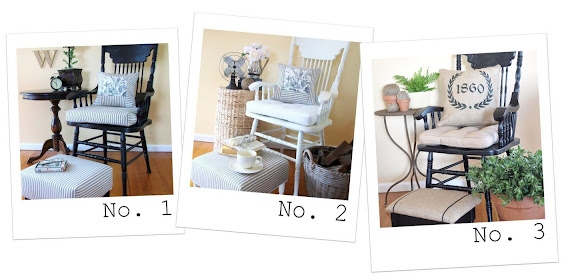 I figured this little blog was in need of a fresh 'afters' injection following all the 'befores' ugliness of my master bedroom in progress posts – it's slowly getting there though and I promise lots of (hopefully lovely) after shots to redeem myself.
Anyway, in the mean time, I thought I'd share this fun little comparisons refurb.
You may remember seeing these chairs before on my blog.

I scored a few of them for $5 each off eBay. I was hoping to use them in my dining room though when I went to pick them up and saw them in person I knew straight away that wasn't gonna happen. They were huge – and hugely wrong for my dining room.
Given they were big enough to be used as occasional chairs I thought I'd refurbish them individually and pair each one with a co-ordinating footstool to make cute little ensembles.
The first chair got a black 'toile and ticking' makeover.

The footstool was made from scratch and cute vintage castors were added to the feet.


I hand-painted a little french inspired emblem on the rear of the head rest just for something a bit different – and because I may, or may not be, slightly obsessed with anything resembling typography :-)


I decided to invert the colour scheme for the second chair and go with predominately white. It's amazing how just changing the colour of the chair frame has given such a different feel.

Again, the footstool was made from scratch and the feet are actually cut down old side table legs.

It was back to black for the for the third chair though in a more rustic style inspired by french grain sacks. Seriously, who doesn't love them some hessian (burlap)? Sigh…

The little stool was a curbside find. It just needed a fresh coat of paint and some new upholstery.

I hand-painted the stripes on the stool with craft paint after marking out some narrow lines with painters tape.

I designed the cushion artwork then printed it onto iron-on transfer paper. I cut around the outline of the graphic pretty exactly before transferring it so there was little visible transfer film.
All of the chairs have really beautiful, intricate pressed-backs.
So there you have it! Now, just for comparisons sake…
Which one do you prefer?

I'm a pretty neutral girl myself and these are all kinda conservative though I've still got one left I'm hoping to makeover in a more out-there theme.