Phew, it has been a busy few weeks around here!
Aside from all the regular hoo-hah, I spent a few whirlwind days updating, cleaning, styling and shooting a few of my rooms for inclusion in an upcoming home blogger's book! I don't want to say too much yet, just in case something falls through, though will be sure to divulge more details when things are a little more concrete (however, I should clarify that the book is not by me or all about me – by no means am I important or interesting enough for that – I'm simply contributing). In the mean time at least I now have some some tizzied-up spaces, complete with spanking new photos, which I can share over the coming weeks.
In other news, I finally finished refurbishing a set of six chairs I bought waaaay back in the Cretaceous period. Okay, so maybe not quite that long ago, though you get the idea.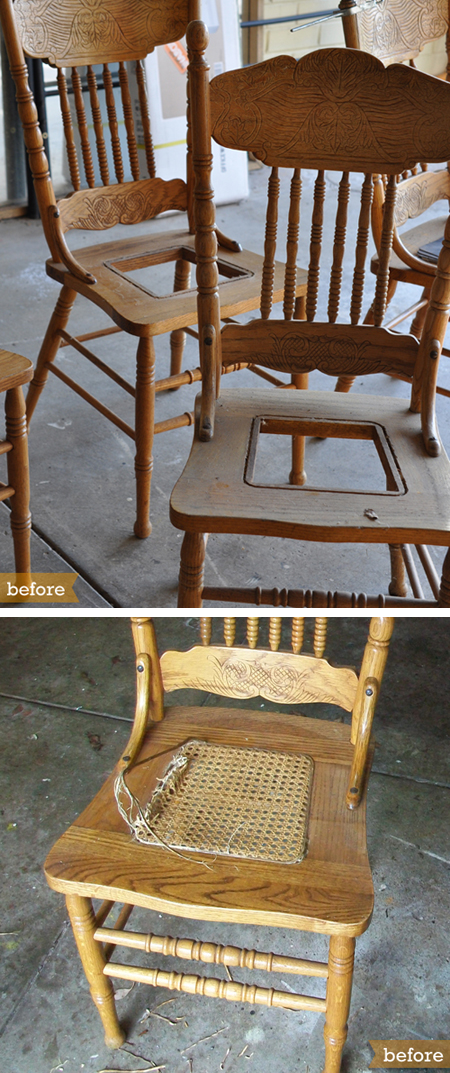 I originally found these chairs on eBay and picked them up for just $5.50! Yes, for ALL of them! They were in pretty rough shape, many of them with missing or loose dowel supports and most of them with badly broken or sagging rattan seat inserts.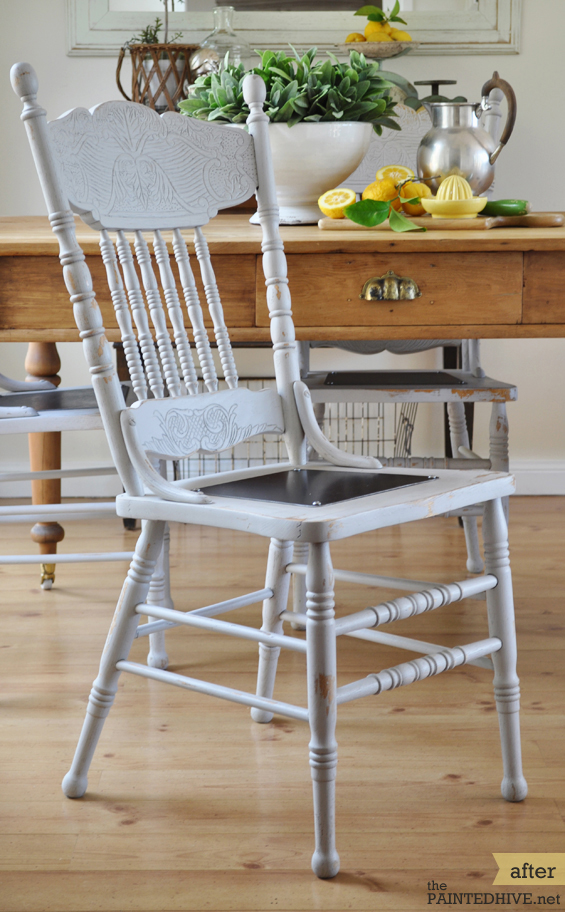 Being completely ill-equipped in the (to me, complex) art of re-caning, I decided to remove all of the rattan and cover the inevitable holes with padded seats instead. Though then, me being me, I had an idea (don't worry, it didn't hurt too much :-) What if, instead of conventional upholstered pads, I used metal plates? They could off-set some of the sweet cottage style with a subtle industrial edge and give the chairs that little point of distinction. Sure, they might not be as plush as cushioned pads, though we have some metal chairs and they are surprisingly comfy, plus they are super easy to clean (and the addition of topical seat pads is still always an option).
Anyhoo, firstly I re-glued and braced any loose joints. This included replacing a few of the missing and broken horizontal leg dowels completely. Once set, I gave the chairs a light all-over sand (I wanted to distress the chairs once painted so didn't worry about sanding too thoroughly). I did kinda like the original timber finish though considering I had to replace some of the dowels the wood was no longer completely consistent so I decided to paint the chairs in a soft blue-grey (sorry, though as usual I made the colour up using paint remnants so can't disclose an actual colour). With all their intricate spindles, to save time and frustration, I sprayed the chairs using my trusty air compressor.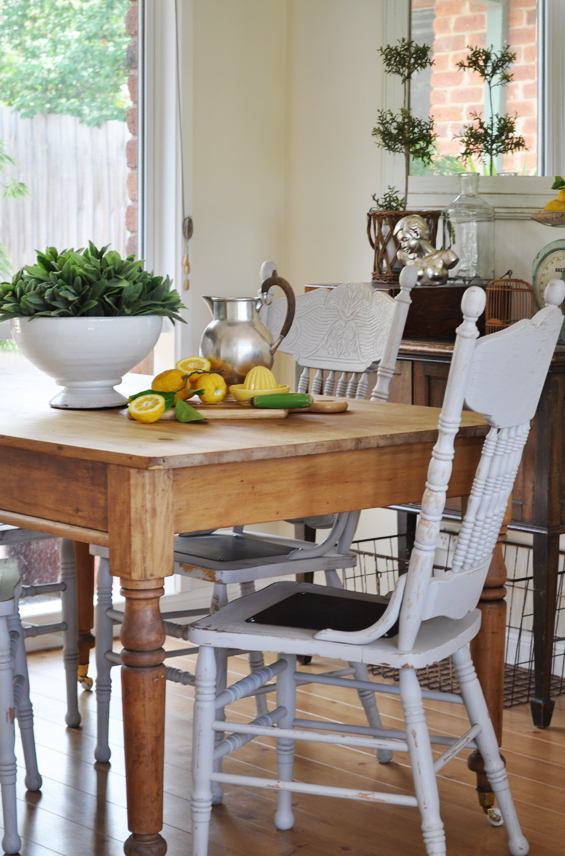 I'm lucky to have a brother-in-law in the metal industry so he machined the seat plates for me (thanks Joshy!) though I could have purchased some metal sheeting and cut them myself easily enough. I attached them to the chairs using simple little dome head screws. I then distressed the frames, rather heavily, by hand using a medium grit hard sanding block. I contemplated glazing the chairs to bring out some extra detail in the carvings though decided they were just right as is.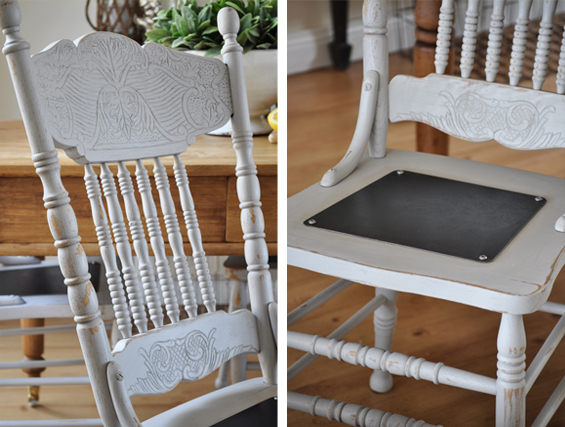 I have the chairs in my dining room temporarily and do really love them though will probably end up on-selling them. After all, how many sets of six dining chairs does a small family with one four seater dining table really need?