A few weeks ago I finally got to drag the mish-mash of plastic tubs and cardboard boxes out from under Charlotte's bed and roll in some new, perfectly proportioned timber drawers instead.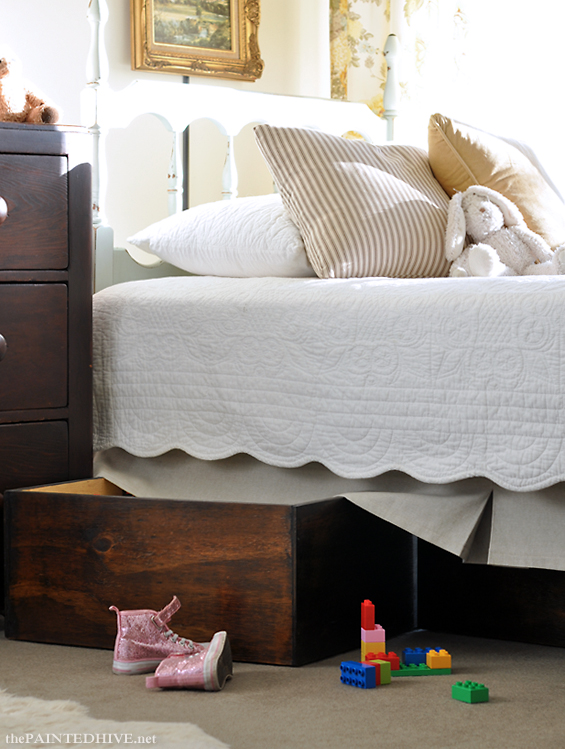 Although original said "mish-mash" was jammed in there pretty tightly the additional storage these custom-sized drawers provide is amazing!
When I first started planning the (sorely needed) under-bed storage for Charlotte's room, I had two main requirements; 1) it had to be pretty – as it would be somewhat visible, and 2) it needed to make the absolute most of the available space – because, heaven knows, we need all the storage we can get! With that in mind my initial idea was simple cane baskets. Surely I'd be able to find some appropriately sized ones which didn't cost one zillion dollars. Right? Failing that, I was confident about the prospect of hunting down something ugly (again, appropriately sized) which could at least be made more attractive. Right?
Ah, apparently not. I didn't go crazy with my search though everything I found was either too small, too big or waaay too expensive. Frown.
Sooooo, given my lack of success I decided it was time to pull out the power tools!
Now, if you're anything like me, creating from scratch is probably a last resort. I don't know what it is exactly, maybe the additional time it sucks, the likelihood of stuffing up or just the plain 'unknown' of it all, though something about it can feel all too hard. In this case, though, after months of fruitless searching, I came to the conclusion that custom building was actually the easier option. And, thanks to our new precision tools, it really was!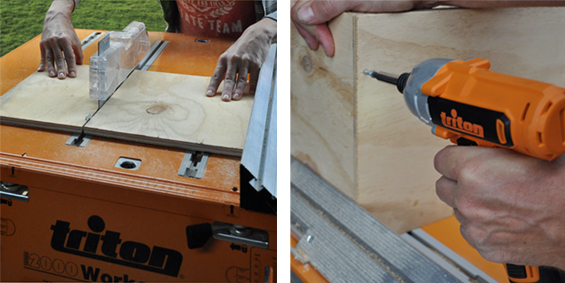 I didn't write a complete tutorial for these boxes because, well, they're boxes (I'm sure there are a heap of great tutorials out there already). On top of that, my husband actually did the bulk of the construction work whilst I kept the kids out of his hair and he employed some fancy techniques way beyond my usual cut, glue and screw comfort zone :-)
The boxes are made from ply (my go to), have provisions for dividers and neat little rabbet jointed corners (yes, I did just have to Google that!).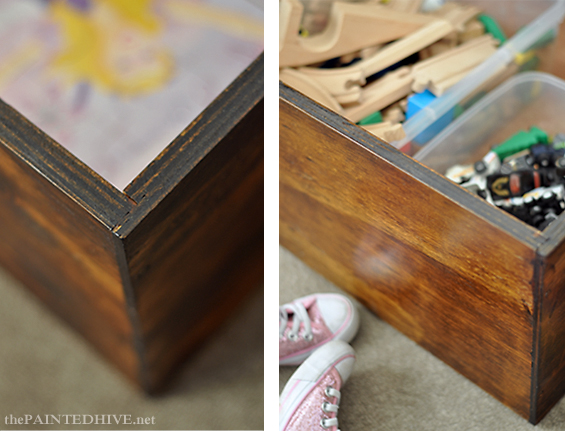 They also have recessed bases to accommodate clever spanning rollers – so they look like they actually rest on the floor though can be easily moved about.
Basic castors would suffice though I think my husband wanted to play around with our new tools. That's probably part of the reason he went all fancy in the first place!
I went for three boxes so they aren't overly heavy and can be maneuvered around one another and any overlapping furniture (a must given the tiny scale of the room).
I haven't added handles or anything yet, and am not sure if I will. Aesthetically it would kinda be pointless as when they're in place only the very bottoms are visible, and from a practical perspective it's easy enough to reach under the valance, grab the top of a box and pull it out. Speaking of the valance, it's a simple DIY made from an inexpensive linen-look tablecloth. We needed something to cover the metal bed rail and some ugly exposed brackets and although I really liked the idea of using a wooden rail I didn't want something solid which would restrict storage height. Having a flexible skirt ensures no vertical space is lost.
I have dreams of painting the box interiors with a fun pop of pink – maybe that will happen one day – though given the exteriors are visible I did stain and seal them for a nice, rich finish.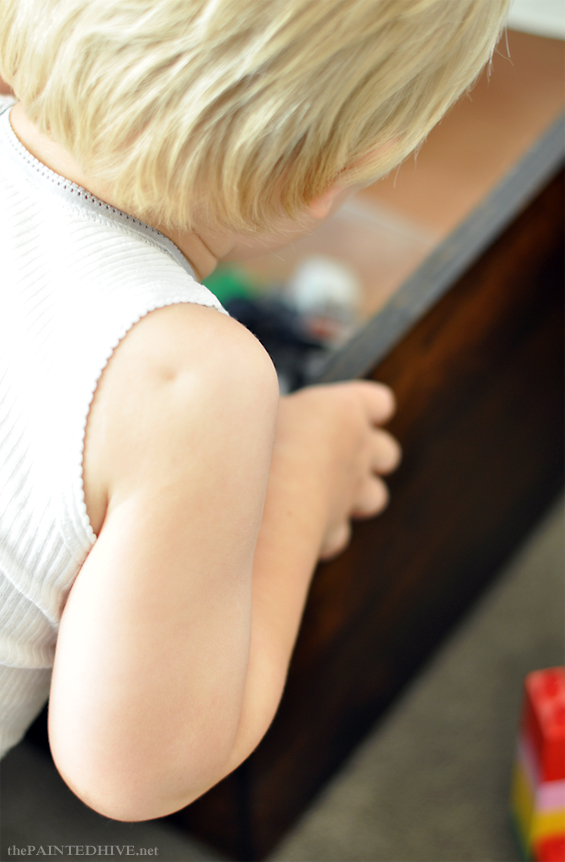 I used some left-over Feast Watson Brown Japan stain, which I initially thought was way too dark, though it mellowed out considerably when I applied some Scandinavian Oil (three coats) and it actually works really well with the existing antique dresser.
I'm loving how finished these boxes are making the room finally feel. That said, there is still a ways to go. When I started decorating this space Charlotte wasn't even two yet. Well, she's four next month. Four! When did that happen? Of course, with the ascent of her age comes the emergence of "her". As such, what was initially my solo vision of a relatively neutral and quite simple farmhouse style room has evolved into a collaborative concept which now accommodates her blossoming sense of self…and I love that! Truth is, I'm not smitten with the current feel anyway. It is pretty though perhaps a little too so, and all I keep thinking is how it would make a lovely guest room – for an adult. It definitely needs a bit more playfulness and spunk. Stay tuned!