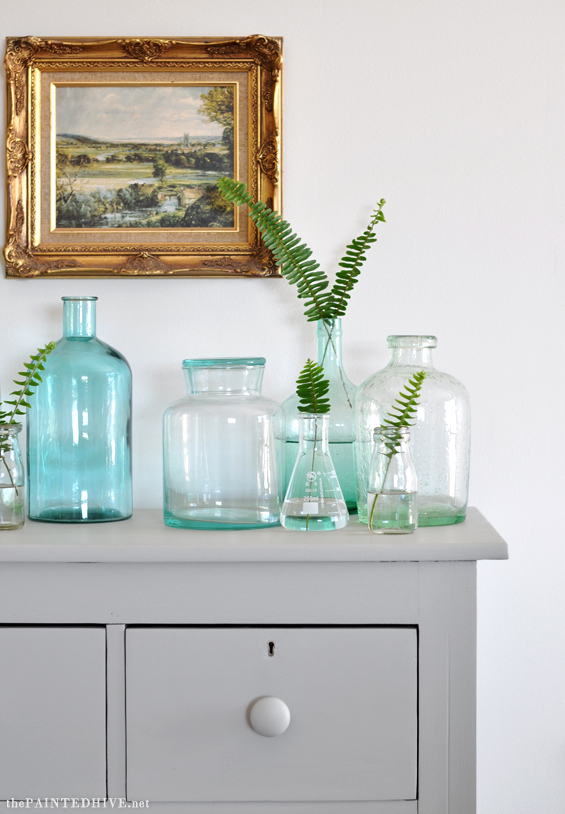 It feels like ages since I've put paintbrush to furniture.
In fact, I'd even forgotten just how therapeutic it can be!
If you've been following along with the makeover of my parent's living-dining room then you'll probably know the back-story to this dresser.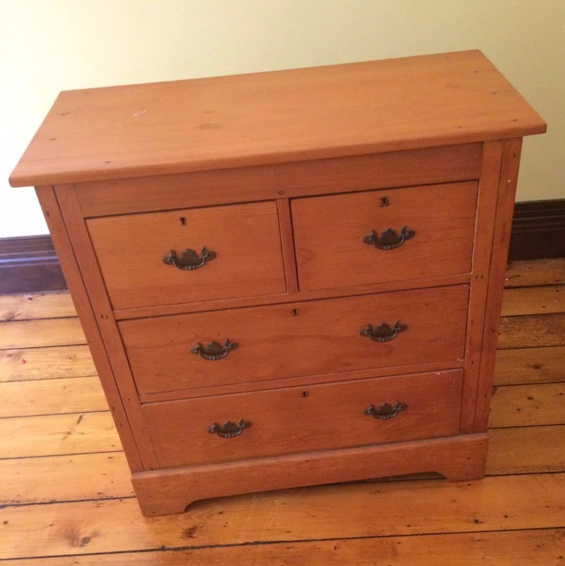 BEFORE
Sorry, not the greatest pic (taken from the eBay listing).
For anyone new here, and just to re-cap, I bought this baby from eBay for $80. I love old wood and generally shy away from painting anything with lots of natural character so it took me a while to find something antique in style which I was also willing to paint. Although far from new, I actually believe this dresser is a reproduction of sorts, possibly crafted by a home handyman.
I do like the warm pine of this piece, however knew I needed to re-finish it in a light neutral to help break-up all the wood already in the space. For a while I struggled with which sort of neutral exactly though…white, cream, grey, beige? Eventually, I decided to take my cue from the armchairs in the living room. Drawing the colour of their linen back into the dining space should not only help to keep the overall scheme consistent though should also create a gentle link between the two zones.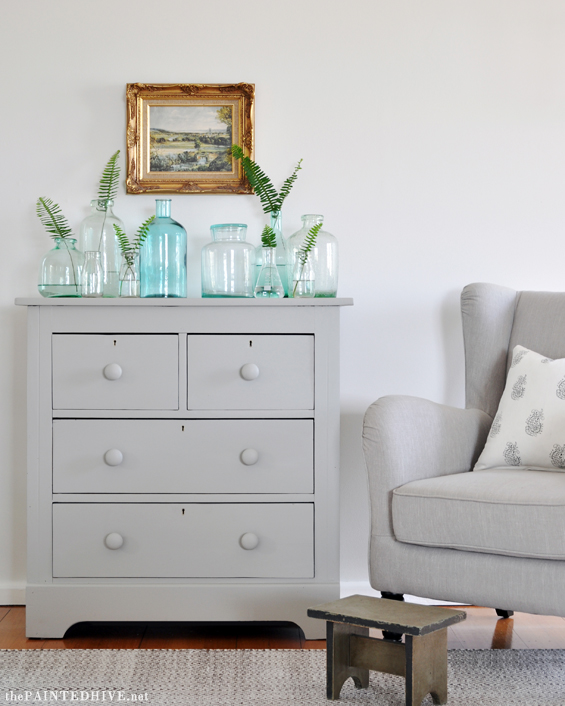 This was one of those no-fuss kinda makeovers.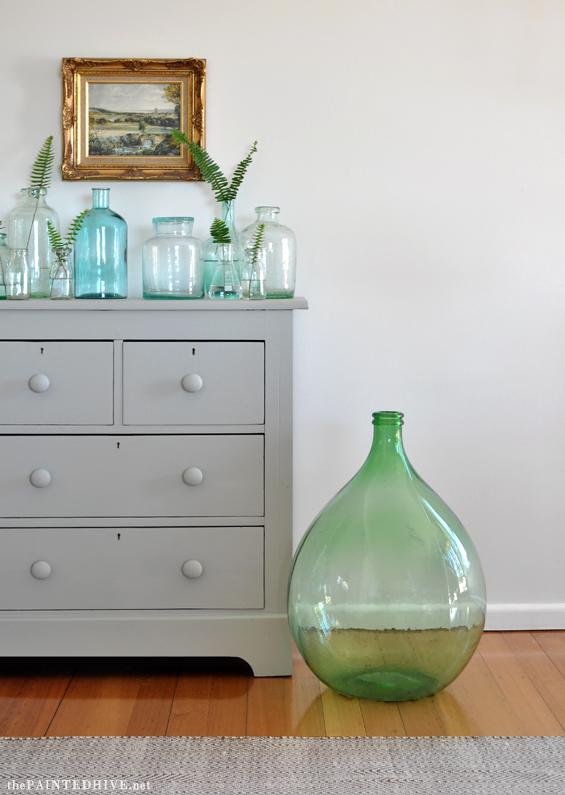 Check out my new massive green demijohn – always wanted one!
I used some left over acrylic wall paint we already had to mix up a warm grey-green (Dulux 'Alpine Summer' and 'Amazon Vine' are similar to my custom colour). I then simply removed the handles (and patched their holes), lightly sanded the dresser and slapped on two coats of paint.
No primer. No sealer.
The original metal drop handles were fine though for a more primitive look we replaced them with inexpensive wooden knobs (hence my need to patch the holes). We also polished-up the brass keyholes so they contrast nicely.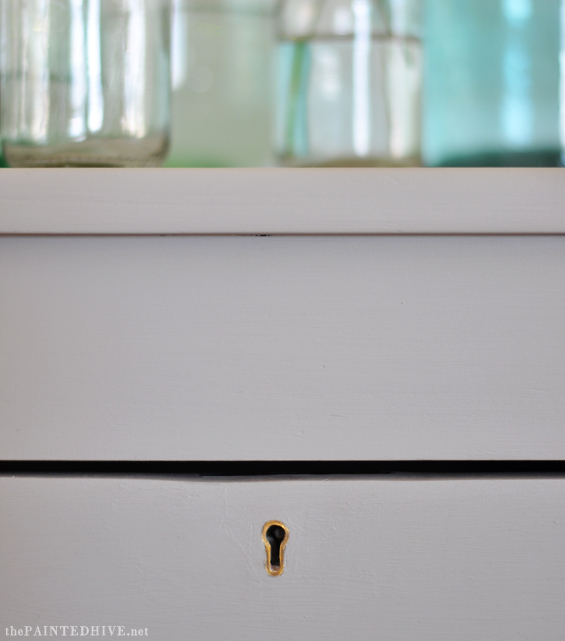 If you follow me socially, you may already have heard this little story, though as I was shopping my parent's house, gathering pretty jars and bottles to style the finished dresser, I remarked to mum that she had a heap of glassware.
She looked at me strangely.
"What?" she replied. "Only one of those is actually mine".
I looked over the collection more carefully and, sure enough, all but one belonged to me!
I have a habit of buying inexpensive pretty things (mostly glassware it would appear!), then finding I have nowhere to display them in my little house – at least, not all at once – so tend to rotate my decor through my parent's larger home.
Seems I had forgotten just how much stuff I actually have!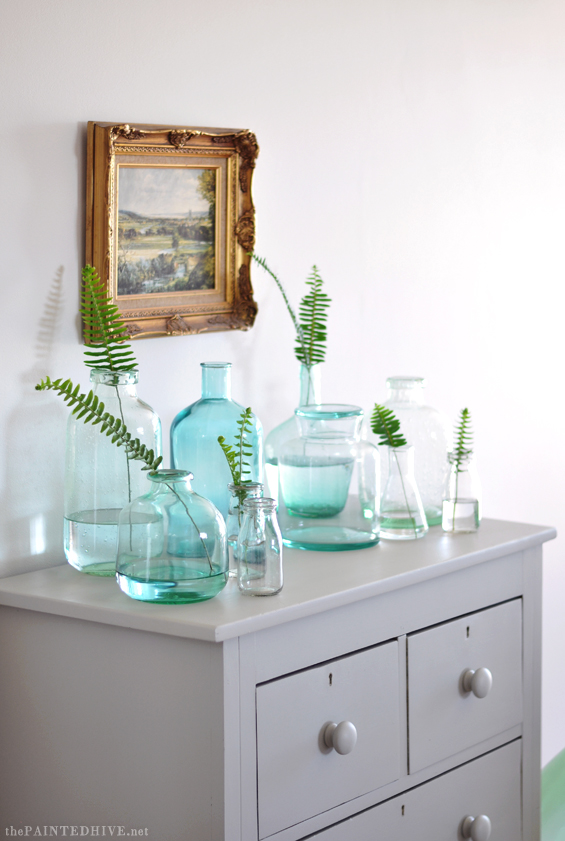 Like I already mentioned, this piece was fine as is. I just needed to change it up to better fit with our overall scheme for the room.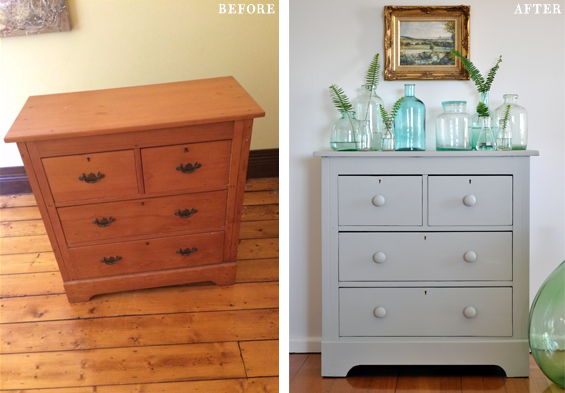 We're getting so close to finishing this space now. I'm a tad excited!