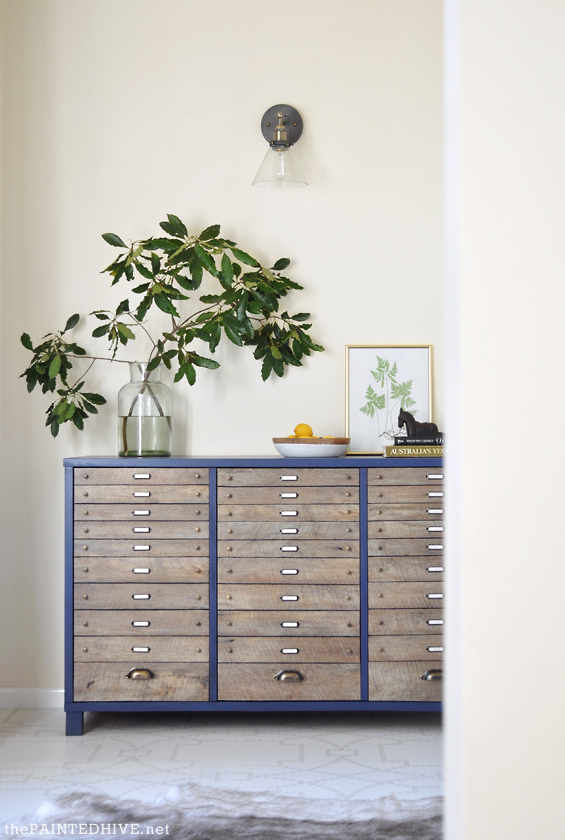 Don't you love it when an idea simply pops into your head?
That's just what happened with this sideboard makeover.
I was about to cut down a sheet of thin plywood to create some faux drawer fronts when I suddenly stopped.
"Hey, peel and stick floorboards are about the same thickness as this plywood", I thought. "Why don't I try using them instead? They can be trimmed with a utility knife so I can share a cool 'power tool free' method anyone can have a go at!".
Yay!
YOU WILL NEED…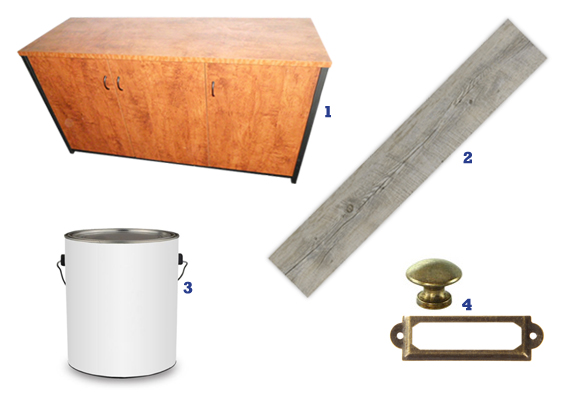 1 PIECE OF FURNITURE
You can affix faux drawer fronts to lots of different furniture items. From a dresser to an armoire to a nightstand, the options are almost endless. However, there are some attributes which will make things easier and produce better, more authentic-looking results. See my list of "What to Look For" towards the end of this post for some hints and tips.
I used a laminate office sideboard I found on eBay for just $35. Yes, that orange beast in the above pic is the actual piece of furniture I started with.
Now, I could pretend I bought this sideboard just last month. And that I refurbished it within a reasonable time-frame. 'Cause, you know, that's just how I roll.
Truth be told, it was sitting in my parent's garage for almost three years before I even looked at it. 'Cause, you know, that's actually how I roll.
I bought it just after I finished this faux drawer DIY because I had a hankering for another similar project. Turns out my hankering wasn't particularly pressing!
2 PEEL AND STICK FLOORING
Of course you can use whatever style you like. I went with Senso Self Adhesive Vinyl Planks in Rustic Walnut which I found at Bunnings. These have an amazing texture and look incredibly legit. Although the packet isn't super cheap at around $60 I only used half so technically my faux drawers cost just $30, plus I still have plenty of boards left-over for another project! In the past I've used thicker products (generally 6mm/0.2″ plywood) to create faux drawer fronts however I needed something thin in this case to allow the doors to continue to swing freely (so as not to catch when opened) and to sit within the recess of the side panels (so as not to protrude and expose the ends).
3 PAINT
I used some left-over paint I already had. It's Dulux Aquanamel in a navy colour called 'Diplomatic'. Of course, you can use whatever you like.
4 HARDWARE
Little knobs and label holders can be found in lots of places for super cheap nowadays. Etsy, eBay and AliExpress all have a good range, as do many discount cabinet hardware stores. I got my brass knobs from AliExpress (for just 20 cents a piece) and the label holders from eBay (for around 10 cents each). I also used three cup pulls which I also bought from eBay (for 60 cents each).
I was a bad blogger and didn't take progress pics of every stage of this project. That said, I'll do my best to explain things as clearly as possible.
STEP 1 Measure, trim and attach faux drawer fronts.
Decide how many drawers you'd like and their sizes. I went with ten drawers per door in a graduated formation; five small ones at the top, four medium ones in the center then one large one at the base. The large drawer front not only works to add interest, though also covers the toe-kick.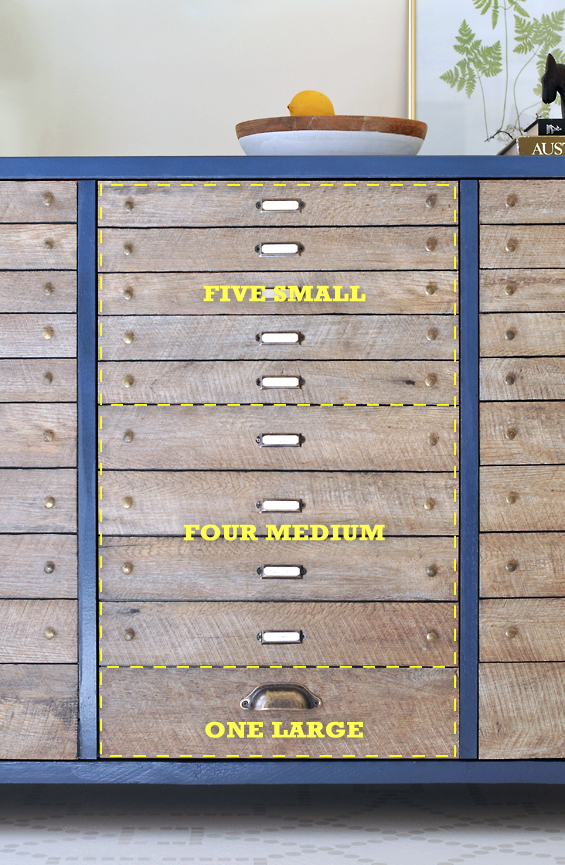 When you're working out the dimensions, remember to account for an approximate 2mm/.1″ gap in between each drawer. Also, be sure to consider the width of your peel and stick planks. Obviously, you want as little wastage as possible and can save yourself some trimming.
Because my sideboard had a continuous bank of doors with no dividing verticals, the first thing I did was add two pieces of trim to break-up the drawers. Obviously, if your item of furniture already has dividers, or if you simply don't mind if your faux drawers join, then you don't need to worry about this extra step. To make them I simply cut down a length of pine moulding, painted them to co-ordinate with the body of the sideboard then glued them to the edge of both end doors. As with the base drawer, they also extend down over the toe-kick.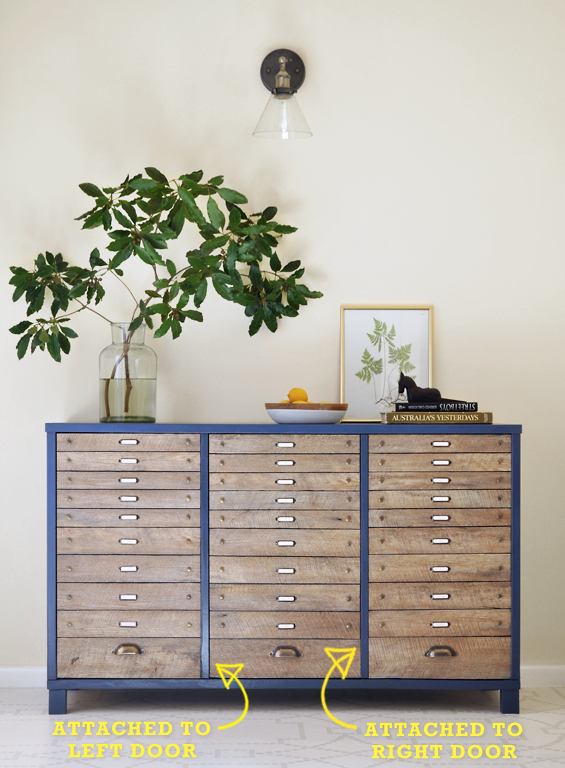 Due to the vertical dividers, the two flanking doors are slightly narrower than the central door though this doesn't detract from the look of the drawers at all.
Once you're happy with the drawer dimensions you've decided on, cut down the planks with a utility (stanley) knife as needed, using a steel ruler as a guide. Once the score line is deep enough the plank should simply snap apart. It's pretty quick and easy though you do need to concentrate somewhat to ensure your lines are nice and straight.
Note: You'll probably notice that the cut edges of your faux drawers have a white-ish grey appearance. If you like, you can colour them at this stage using a permanent marker, or some paint or stain, to co-ordinate with the surface tone of the planks. Otherwise, you could simply leave them or colour them black in Step 4.
I was keen to simply peel and stick these straight to my doors though I found there just wasn't enough grip for them to adhere properly. They seemed to attach nicely to begin with though after a little while some areas began to wave and bow out. This may be because my piece of furniture was slippery laminate, or simply because the boards are designed to be adhered to a horizontal surface. Regardless, I decided to add a few dobs of liquid nails to each faux drawer to ensure a firm bond (I knew attaching the handles would help hold them in place too though I didn't want to rely solely on those few screw points).
Tip: For ease, you can remove the doors and lay them flat whilst you're attaching the faux drawers.
As mentioned earlier, the base faux drawer also works to conceal the toe-kick. To achieve this I simply extended it (and the vertical divider) over the toe-kick, so it's longer than the actual door. The top half of the faux drawer is attached to the bottom of the actual door, the lower half of the faux drawer simply sits over the toe-kick. To cover the exposed adhesive and give the faux drawer more stability I attached some thick card to the rear of the over-hanging section.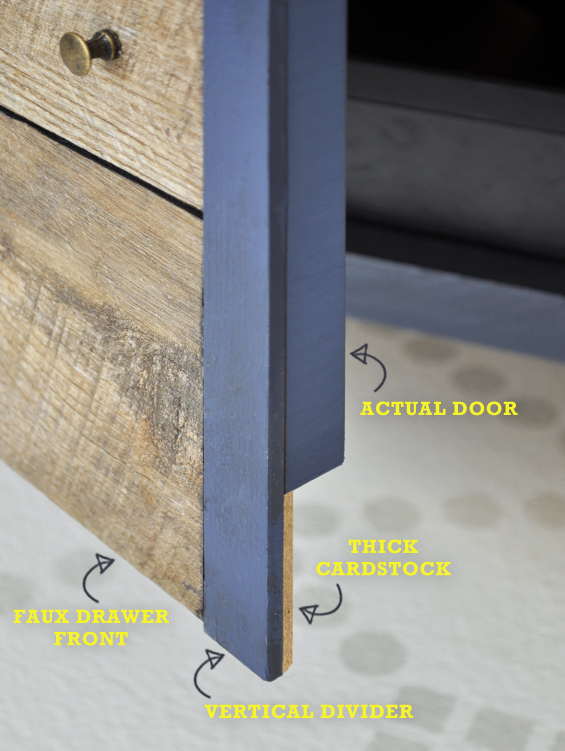 The last thing I did at this stage was add a proper base and some little feet.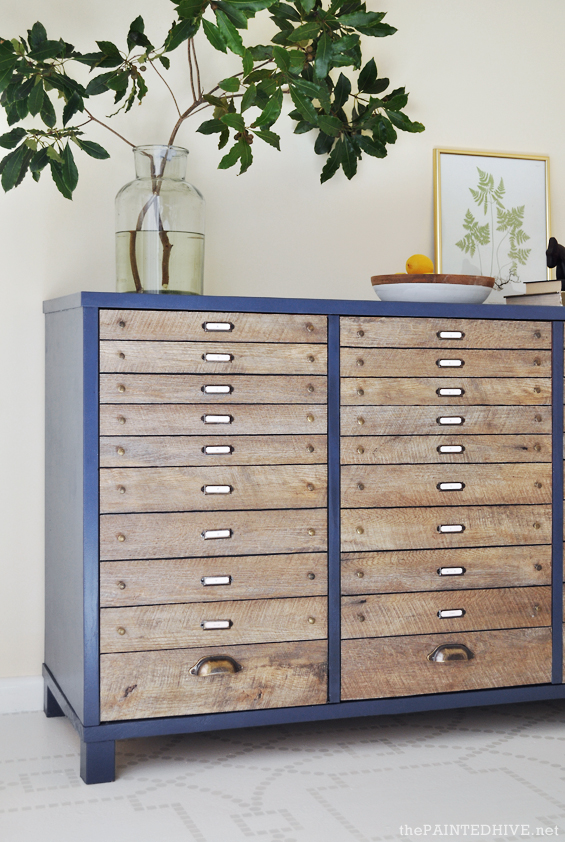 Obviously, this isn't essential and depends on the design of your particular piece of furniture and the look you personally want. To do this I cut down a plank of pine and attached it to the base of my sideboard along the front. I then cut down two smaller pieces from the same pine plank and attached them to the base along each side. To finish, I cut down a square length of pine to create four simple little feet and screwed them to the new base.
STEP 2 Paint.
Remove the doors (if you haven't already) and paint your piece of furniture as desired. As mine is laminate I sanded it thoroughly and used a good primer before applying two top coats.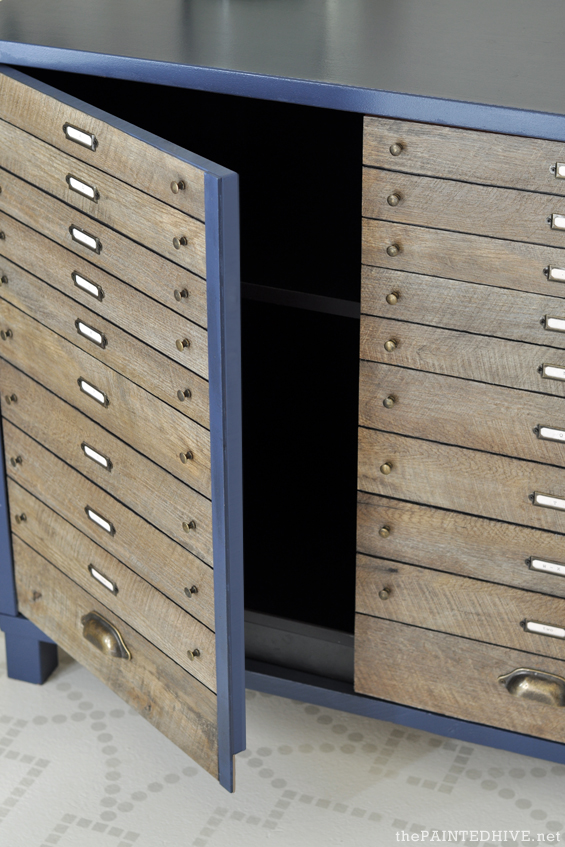 The vertical divider appears to over-hang the side of the door in this pic. I think this is because the edge of it looks darker which has created the illusion of a shadow. It's actually flush with the door.
Along with painting the entire body, I also painted the edge of the doors to ensure none of the original orange laminate could be seen peeking-out from around the sides.
STEP 3 Attach hardware.
This is when it all starts to come together!
If, like me, you have a million handles and holders to attach this step can get tedious. Don't feel like you need to do it all in one go.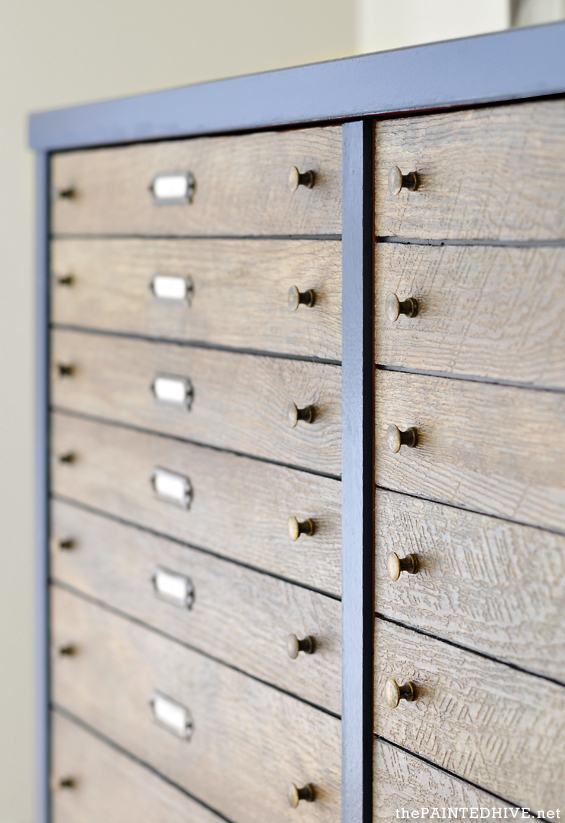 A cardboard template can make things quicker and more accurate. And, as always, I recommend drilling pilot holes for all screws, even the tiny baby ones. It just makes things easier (although the vinyl is pretty easy to screw into). Ensure you use a drill bit one or two sizes smaller than the screw itself for any pilot holes.
Tip: Check for any obstacles which might interfere with your hardware placement, such as hinges or internal shelves.
STEP 4 Finishing touches.
Use a long-tipped black marker or fine paint brush to colour the gaps between the faux drawers black.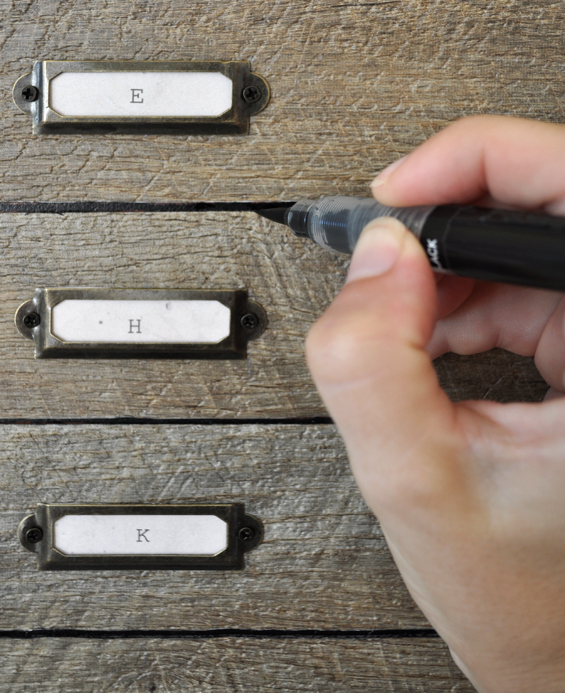 Of course, if your doors were already black or very dark you don't need to worry about this step. My doors were basically bright orange!
Note: I chose not to paint my doors before applying the planks because I was concerned the laminate wouldn't hold the paint well enough. If I had painted my doors first, then the planks would essentially have been attached to the surface paint, not the doors themselves, and I figured it was likely that the adhesive on the planks would easily pull the paint straight off. You could paint your doors first if they are made from something which will take the paint well.
As mentioned earlier, you can also colour the edges of the planks at this stage if you like. Any excess ink or paint should wipe off the vinyl with ease so keep a damp cloth on hand.
To complete the project, fill the label holders. You could hand-write your labels though I decided to print some letters and numbers onto aged paper.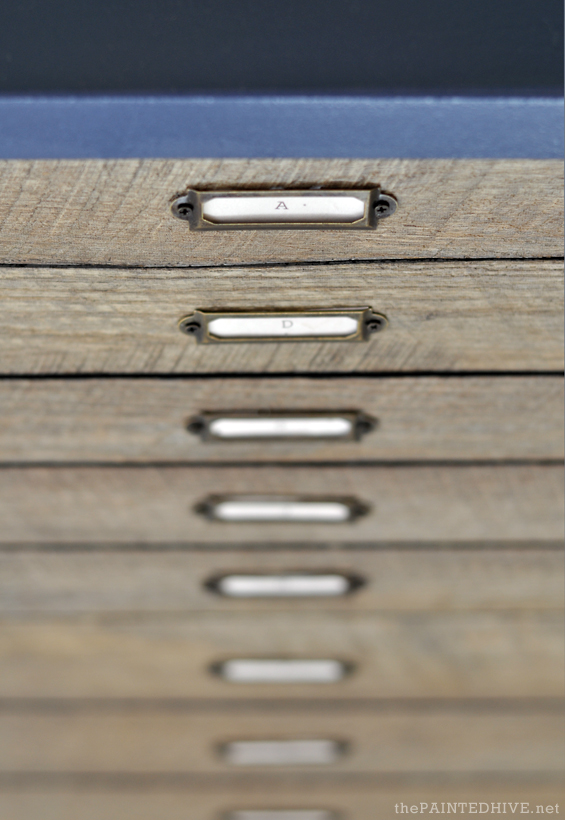 STEP 5 Done!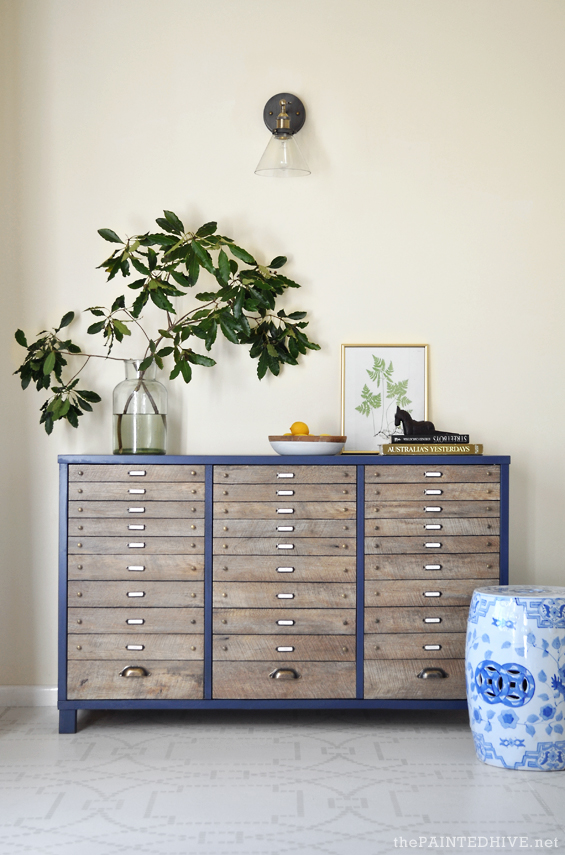 I couldn't be happier with the way this all came together!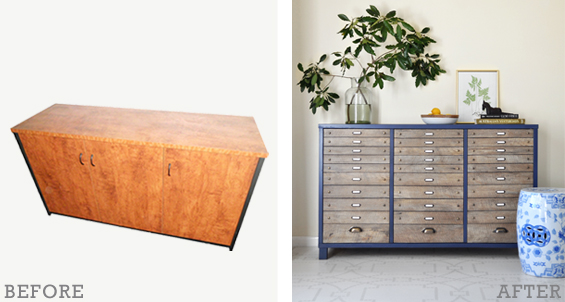 At first I was questioning my choice of paint colour (which was merely a left-over I figured I may as well use), though all styled-up it actually works really well!
I particularly love the way the faux drawers have slightly imperfect edges which mimic the rusticity of their finish.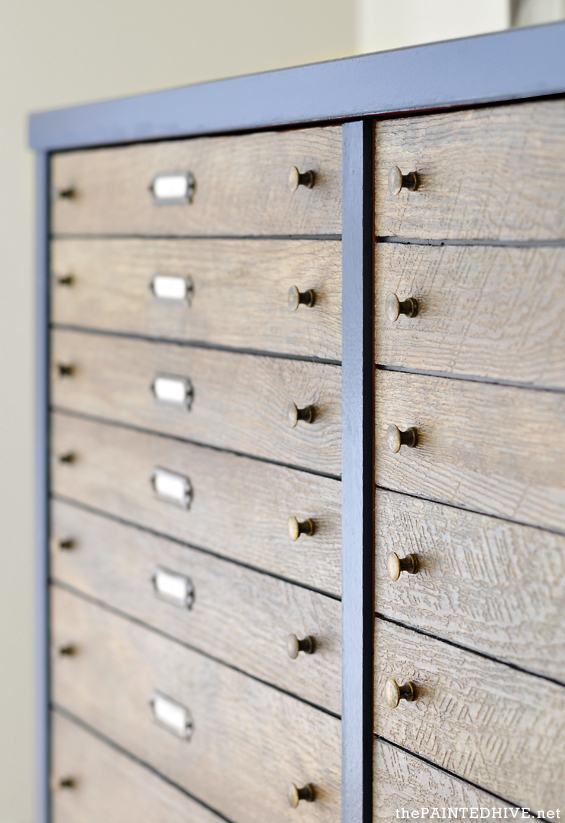 Oh, and just in case you're worried, opening the doors is a cinch. The little handles are easy to clasp and the doors swing really easily, no matter where you grab them from.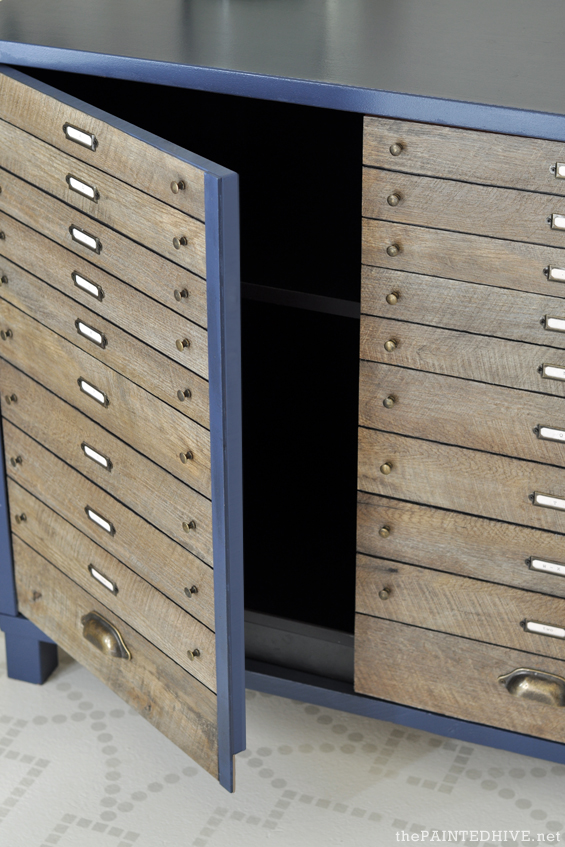 All up this project cost me around $60 (minus the price of my sideboard) which I think was definitely worth it. Such a difference!
As mentioned above, if you're interested in having a go at a project like this, there are some furniture attributes which can make things easier and produce better looking results…
WHAT TO LOOK FOR IN YOUR PIECE OF FURNITURE
:: CONCEALED HINGES Obviously, if you're trying to pretend a cabinet with doors is actually comprised of drawers, you don't want visible hinges giving the jig up.
:: SLIGHTLY RECESSED DOORS You need some space for the faux drawers to nestle into so that their ends aren't visible.
:: DIVIDING VERTICALS This is a matter of personal preference though I think cabinets like this look more authentic if the drawer rows are segregated.
:: FLAT PANEL DOORS For obvious reasons, it works best to attach the faux drawers to a nice flat surface. Doors with raised mouldings or engraved details may not work as well.
This sideboard will be used in my parent's bedroom retreat to store all of mum's sewing stuff. If you noticed the stenciled floor, you can read a bit more about that here. I've actually been working on refreshing this room for the past five-ish years. Isn't that ridiculous? It's a tiny space though mum keeps changing her mind about what it "needs to do". Yes, let's just blame her ;) I definitely think this is the year to get it done though. Right?
I love doing these faux multi-drawer cabinets and am already looking forward to my next one. I want to do something massive with heaps of really skinny drawers. Finger crossed it doesn't take me three years to get around to it this time!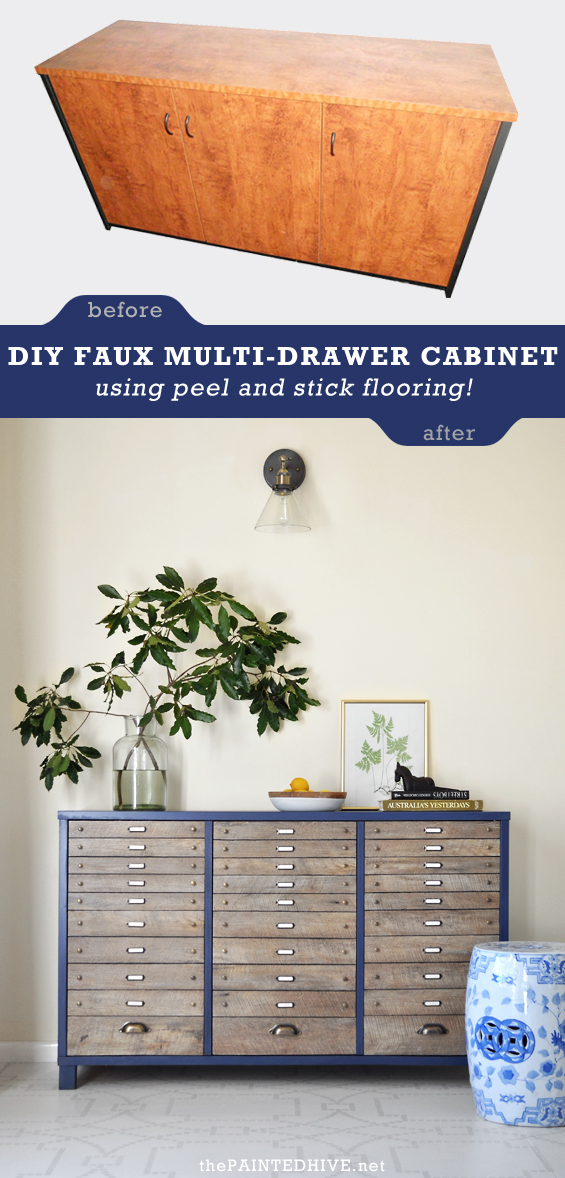 You can find my previous faux drawer makeovers here…