I'd walked through my brother's front door dozens of times before though for some reason, one day a few weeks back, it made me pause…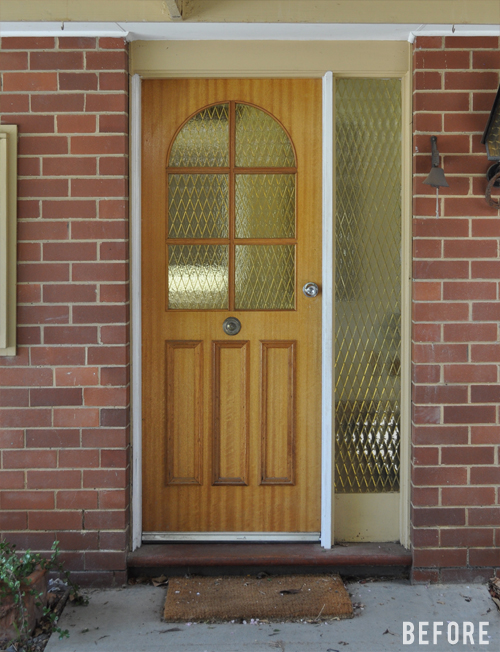 …and kind of burned my eyes.
I know he's not alone in having an ugly dated facade along with no real budget and limited aptitude to undertake a complete overhaul.
And I know a mere cosmetic update may seem totally fanciful…though there is hope!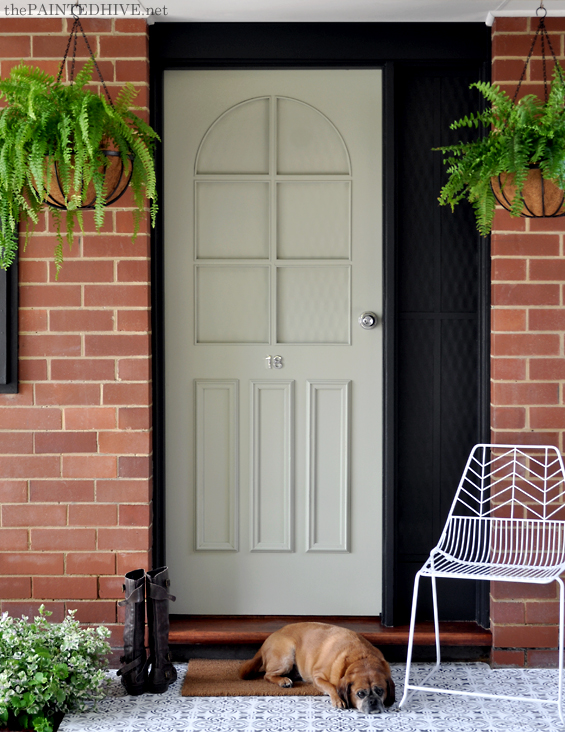 With just paint and some plants (and a cute gingerbread-coloured canine) you can totally transform the look and feel of a dated exterior entrance without replacing anything!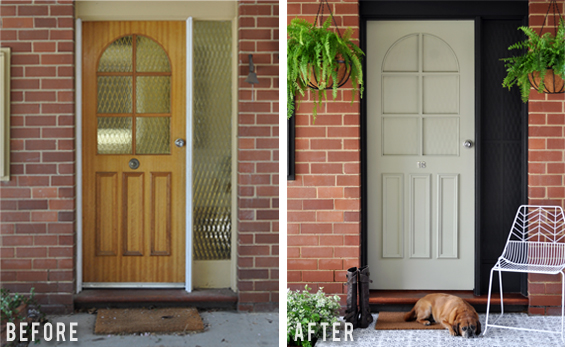 You might think that simply painting old glass is a total cheat (and, well, it kinda is) however it can also be a long-lasting and super effective fix.
This door opens into a large living space with three generous windows so blocking the light wasn't an issue. And although I don't currently have a pic showing the glass from the inside it looks totally fine.
To paint the glass I first cleaned and then primed it with ESP (Easy Surface Prep) before slapping on three coats of paint. To save on expense (and take choosing colours out of the equation!) I used left-over paint I already had. The black is Dulux Aquanamel in Domino and the sage is a custom mix. I decided on sage for the front door because green and red are complimentary colours which work to boost one another. The contrast beautifully highlights the old brick which could otherwise look a bit drab.
I wasn't sure how the diamond pattern in the glass would appear once painted though found that it imparts a subtle rippled effect with I think lends interest.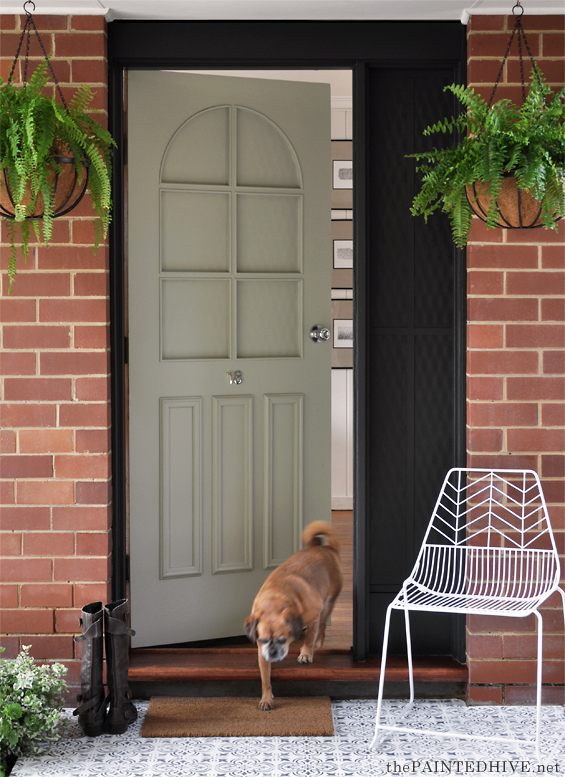 It's hard to make out in the pics though I also added some simple trim to the sidelight. The idea behind this was to make it look more like a timber panel and also to reference the moulding on the door. It's just two strips of masonite packers (75 cents each) attached with multi-purpose glue.
In the center of the door there was a weird old mounting plate (where the original handle used to be) so I replaced it with some simple house numbers. They are just basic self-adhesive ones though definitely do the trick.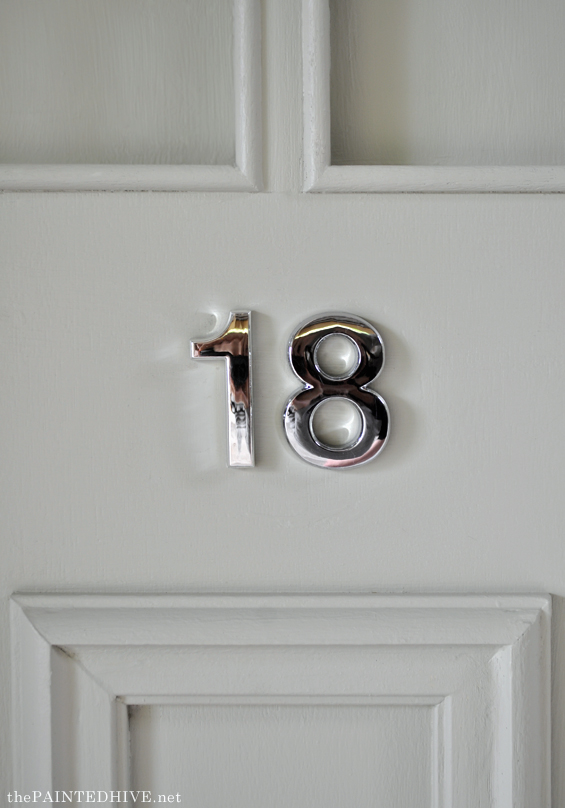 I loved the idea of introducing brass here, though given the existing door handle was chrome I decided to stick with that. And I think the silver works really well to add a touch of class.
A really easy change which packs a huge punch is the stencilled floor. It's hard to grasp the full impact in the before and after pics.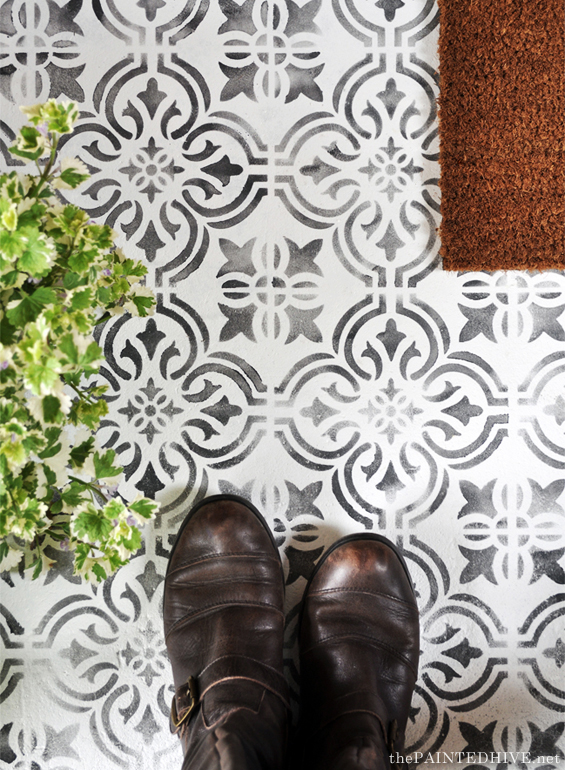 It was only a small area and took less than one hour to complete. I simply cleaned the concrete, applied one coat of white floor paint then stencilled over with charcoal floor paint. I used floor paint because I had it left-over from some previous projects however you could certainly use porch or concrete paint. I didn't document the process this time around though you can find more information about how I stencil a floor HERE. If you're interested, the stencil I used is from Gemini Creative.
To complete the area I painted the electrical box charcoal to tie-in with the sidelight and architraves, and re-varnished the redwood step before adding some simple decorative touches. Two traditional hanging baskets burst with blousy Boston Ferns (my favourite!) and a simple wire chair adds a slight modern kick.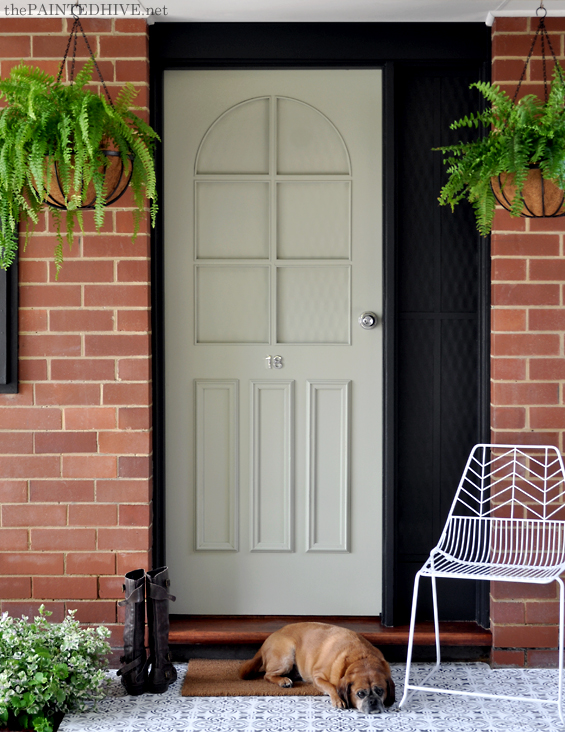 All up this project took less than a day and cost under $150! I know it's far from spectacular though I hope it helps inspire.