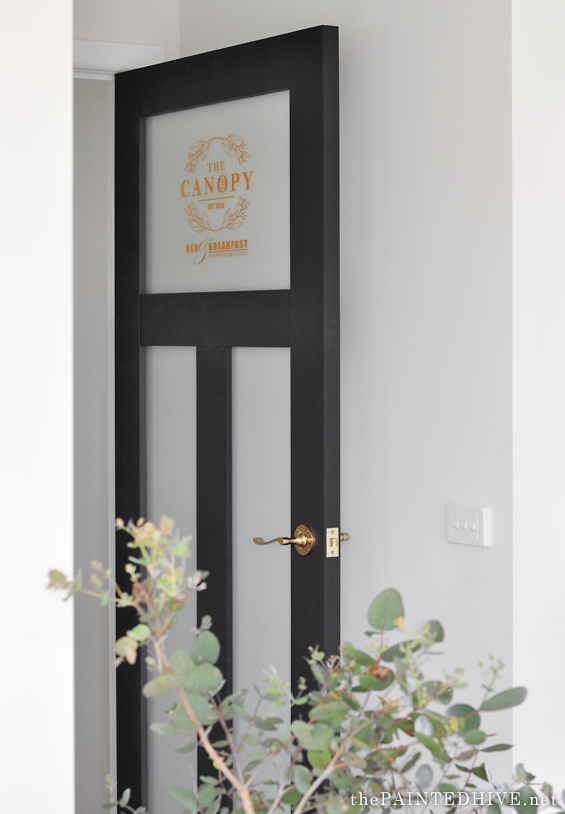 Bet you thought I'd totally forgotten all about my parent's suite extension?
Well, whilst I can't say it ever left my thoughts entirely, over the past six months it certainly managed to get buried in the depths of my mind.
But, now that things have finally begun to settle down a bit, it's time to address some of the unfinished aspects of that space.
Starting with the entry door!
In order to provide privacy and a sense of separation for the suite, adding a door at the top of the stairs was always a priority. In addition, it can be closed when the suite isn't being used to help with climate control in the main part of the house.
Here's the door my mum chose many, many months back…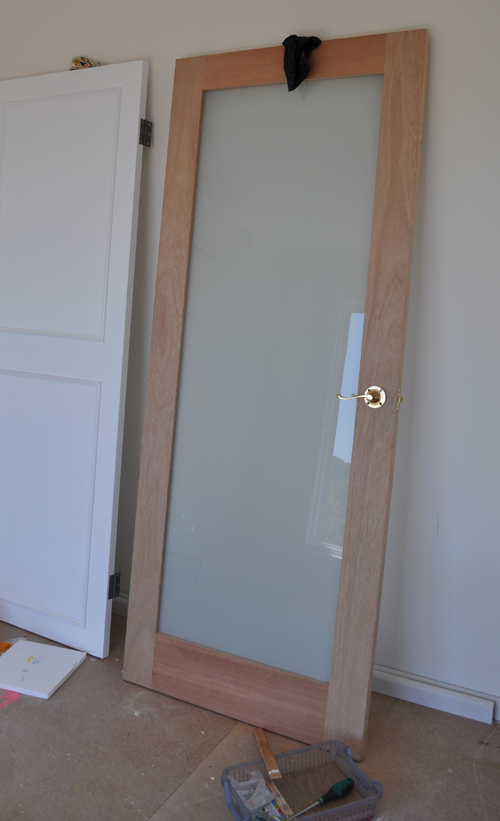 As you can see, it's nice and basic, with a timber frame and single frosted glass panel.
When it was originally purchased, we weren't sure what the end goal was exactly. Paint? Stain? Dress it up? Keep it simple?
But mum kept coming back to the idea of adding some trim to turn it into a three lite door, so we eventually decided to start with that.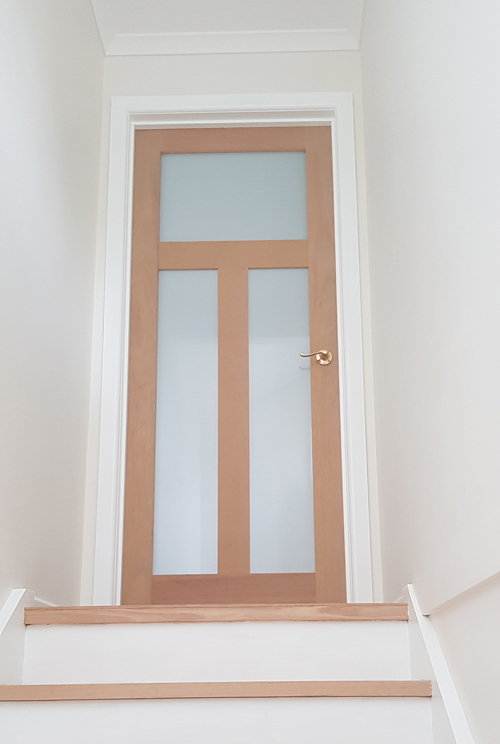 Yes, you can buy three lite doors like this off-the-shelf, and we could have purchased one instead, but at the time we were looking, the price difference was pretty extreme. From memory the three lite option was around $200 more than the single panel option!
All we did was trim some 12mm/.04″ MDF to size, then attach it to the glass with clear silicone. Of course, we did both sides of the door.
Using MDF meant we then needed to paint the door, but that was my secret preference from the start anyway! We already had plenty of timber in the space with the flooring, bathroom vanity, porch doors and some of the furniture, so painting the door was a nice way to break things up by introducing some impact and contrast.
And what colour works better for that than black?
We simply used some satin black exterior paint we had left-over from a past project, applied by hand with a brush.
And as you can see, I also added a typographic decal!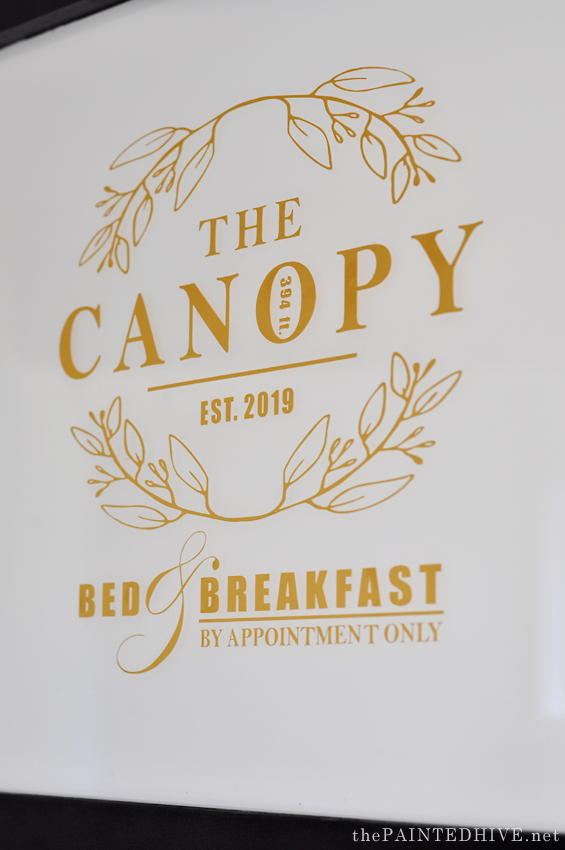 This was just for a bit of fun and whimsy, and can be easily removed or changed at any time. But I so love the way it turned out!
A few weeks ago I was lucky to get my hands on a Cricut Maker!  I've wanted one of these machines for years and years, so it was pretty exciting!

In the past I've had to out-source my decal cutting needs by engaging sellers on sites such as Etsy, and whilst it's lovely being able to support small businesses, as a creative I've always yearned to own the entire process.
I designed the graphic in Cricut Design Space which is purpose companion software devised to make things easy. I always dread having to learn how to use new design programs but this was super intuitive and simple to get the hang of – in all honestly, my biggest obstacle was my own style indecision!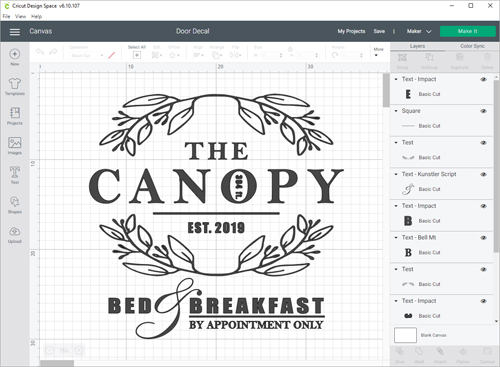 At first I was going to design something very simple, but once I started playing around with ideas I may have gotten a little bit carried away!
"The Canopy" is just something which popped into my head given the suite sits at the top of my parent's house, and the fact that it has sweeping views of the surrounding treetops. I added the elevation of the property to solidify the canopy reference, along with gumleaf wreaths which also lend a touch of pretty. The general idea was to give the door a sense of having been salvaged from a vintage building, so the Bed & Breakfast inclusion offers that business-ish note.
Yes, it's all a bit cheesy, but hey, I'm alright with that.
There are millions of Cricut decal tutorials out there from people waaaaay more accomplished than me, so I'm not sharing the full-how to in this post, but feel free to let me know if you'd like more info. What I will say is that it's in no way hard, however it is a little fiddly. But apparently the foil material I chose to use is one of the trickiest to work with!
I love the way the gold foil works to reference the brass door handle and off-set the black.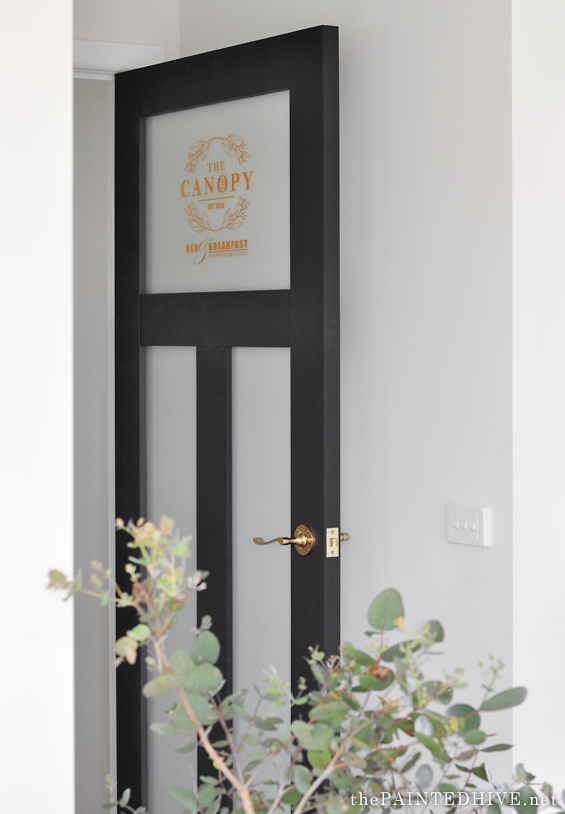 I was a little bit worried that it might not look great from the rear due to the frosted glass, but it's totally fine.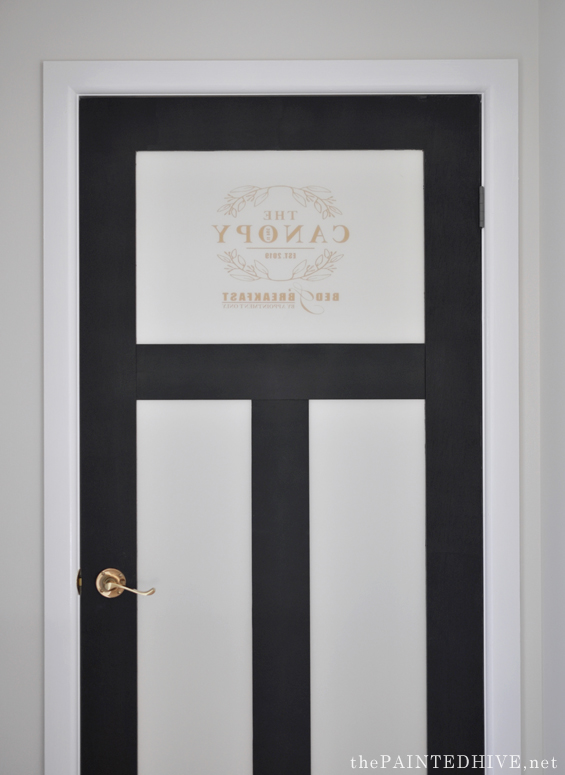 It's just a muted (and mirrored) version of the front, which actually has its own charm.
So, here's to one more project crossed off the list!