Design enthusiasts will have the chance to own one-of-a-kind statement furniture pieces, created by a group of talented designers as part of the Feast Watson Re-Love project; a collaborative campaign which aims to inspire DIY'ers to up-cycle and ultimately raise funds for the Salvos Stores.
Since April, top Australian design personalities have been busy, transforming tired timber furniture into unique designer pieces all in the name of charity. The reveal is a collection of outstanding designs, each reflecting a touch of personal style.
All eight 'pre-loved' timber furniture items have been given the ultimate makeover, each to be auctioned off for one lucky design lover to take home. Once worn wardrobes now sit strikingly, adorned with geometric honeycomb patterning while a simple white sideboard has been transformed into a pronounced piece with monochrome frontage, naked-timber top and triangle handle details.
Designers involved in this year's campaign include Mark Tuckey (Mark Tuckey furniture), Steve Cordony (Belle magazine), Tara Dennis (Better Homes and Gardens series), Olivia Shead (Interiors Addict), Kristine Franklin (The Painted Hive), Helen Edwards (Re-cycled Interiors), Simone Barter (Style Life Home) and design duo – Deb Bibby (Real Living) with David Moses (David Moses Design).
Those with an eye for design can show their support by launching a bid on eBay from Wednesday 8 July through to Friday 17 July, with all proceeds to benefit Salvos Stores.
Salvos Stores Chief Executive Officer, Allen Dewhirst, says the charity and beneficiaries are grateful for the thousands of dollars raised and donated since the inaugural campaign launch back in 2013.
"Salvos Stores are delighted to once again benefit from the outstanding efforts of Feast Watson and the Re-Love Project. We're incredibly grateful to the eight designers who have generously donated their time and talents to the project.  We can't wait to see the auction outcome," Dewhirst said.
While upcycling continues to lead as one of the more popular craft trends, it seems it hasn't quite extended to medium and large furniture pieces, with people still inclined to throw them away rather than consider their potential. The Re-Love Project shows just how a little TLC can inject personality into second hand furniture to give it a new lease on life.
Feast Watson's Brand Manager, James Fisher, says the designs showcase how timber furniture items of all sizes can be transformed into something truly special and unexpected.
"We're encouraging Australians to get behind the auction and make a bid to benefit a worthy cause in the Salvos Stores," Fisher said.
To find out more information about the project or for inspiration for an up-cycling project you can complete at home, visit the Feast Watson website.
To bid on your favourite item, between Wednesday 8 July to Friday 17 July, visit Feast Watson's eBay site.
DESIGNER BIOS
The eight designers participating in the Feast Watson Re-Love Project come from a variety of creative backgrounds, each with a distinct artistic signature and boasting an impressive repertoire of industry experience.
Mark Tuckey (VIC): Iconic furniture designer and maker, Mark brings a wealth of knowledge and experience having started his furniture design business in the early nineties. Passionate about using recycled or sustainably managed forestry timbers, his business proudly delivers simple yet striking timber furniture creations.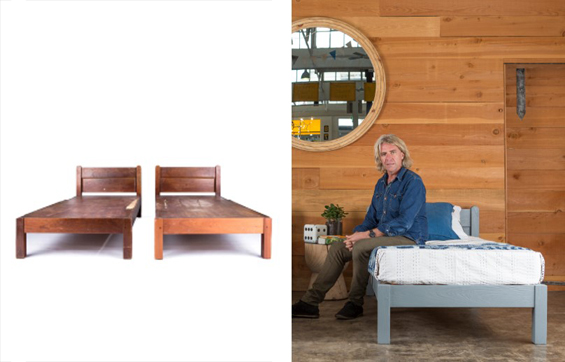 Steve Cordony (NSW): Steve is a leading Sydney based interior and event stylist, and Style Director at-Large for Australia's leading interior design magazine Belle.  Working across a range of areas in the design industry, Steve's talent and expertise has seen him create stunning events and interiors.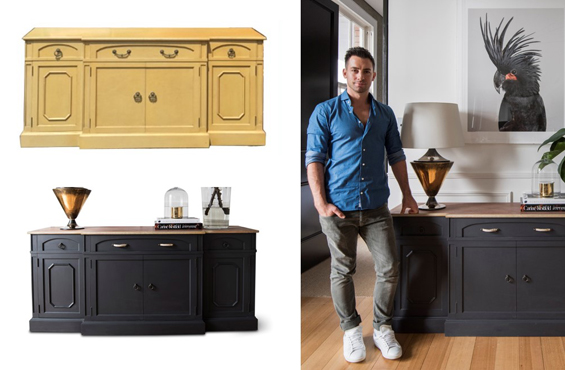 Deborah Bibby and David Moses (NSW):  Joining forces as the ultimate design duo, is Real Living Editor-in-Chief, Deb Bibby and dedicated craftsman David Moses. Deb comes armed with a keen eye for design from years of work in creative publications, while David, offers a deep understanding of the art from his works alongside leading architects. Together they plan to follow David's design process which is responsible, sensitive and uniquely Australian with inspiration from Deb's wealth of design knowledge developed over the years.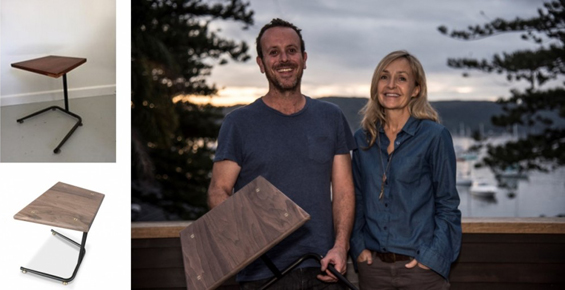 Tara Dennis (NSW): As one of television's most recognised faces, Tara is best known for her work on Australia's top decorating, style and craft segments for over fifteen years. In her time presenting Our House, Changing Rooms and Burke's Backyard, Tara has rightfully earned herself a reputation as Australia's sweetheart and DIY/decorating genius. More recently Tara is spotted sharing innovative design or craft ideas on Better Homes and Gardens.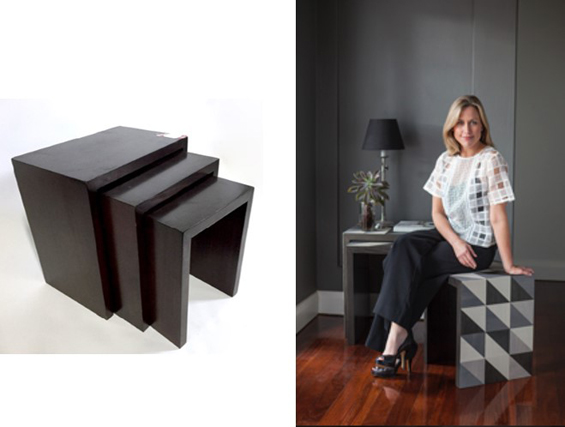 Olivia Shead (NSW): As an avid design lover and DIY enthusiast, Olivia loves nothing more than a fantastic op-shop find and an inspired upcycling project. With constant exposure to beautiful things through her work as staff writer for the Interiors Addict and Reno Addict blogs, Olivia also spent the second half of last year living in Copenhagen, where she fell in love with Danish design.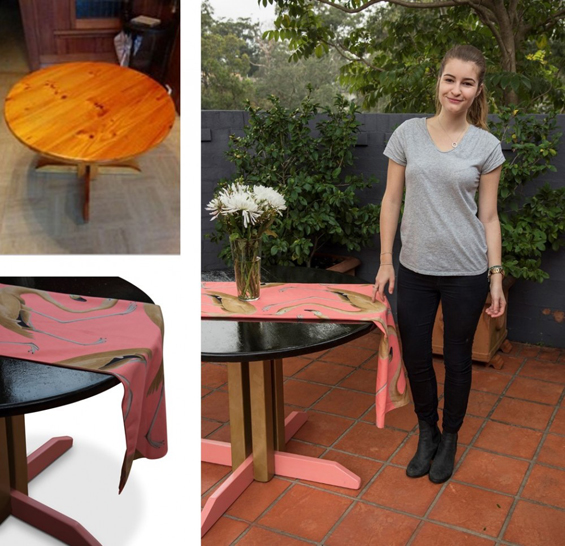 Kristine Franklin (VIC): Kristine is passionate about all things home, especially the creative challenge and self satisfaction which comes from decorating on a budget. Kristine's popular DIY blog, The Painted Hive, is her medium for divulging all that she discovers and learns on her quest for an affordable and beautiful home.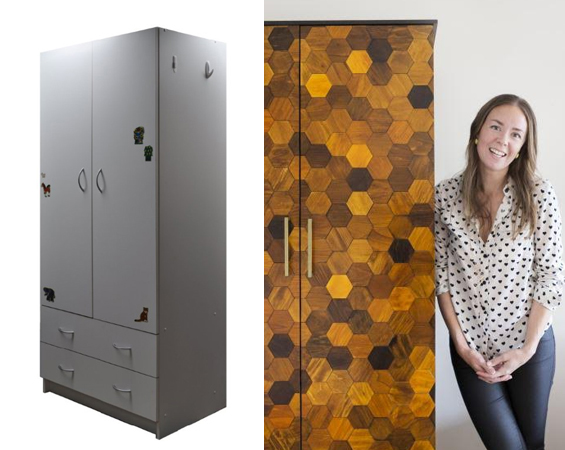 Simone Barter (QLD): Returning for a third year, Simone has a natural creative flair, evident in her work as an interiors and props stylist. Her specialty lies in the ability to de-clutter and decorate a space in a way that brings a stylishly relaxed ambience to any room in a client's house or office.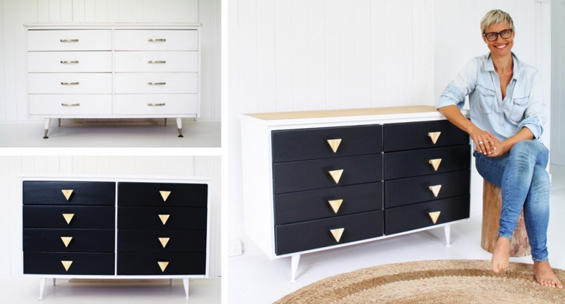 Helen Edwards (SA): Helen is a design blogger all-round making her mark as a DIY'er, blogger, stylist, author, wellbeing coach, human rights advocate, PhD candidate, ambassador and even charity founder. With a passion for local design, sustainable style and upcycling projects, Helen documents her everyday journey on her successful design blog, Recycled Interiors.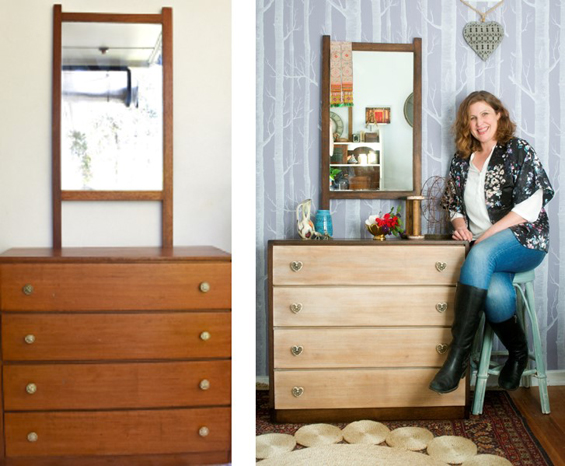 About the Re-Love Project
The Feast Watson Re-Love Project follows the up-cycling or 're-love' journey of Australian designers. Using a range of Feast Watson woodcare products, the designers transform a worn piece of timber furniture into a stunning, unique statement piece.
Design enthusiasts will have a chance to take home one of these beautiful timber creations, as when completed, all re-loved Feast Watson items will be auctioned on eBay with proceeds going to Salvos Stores. Thousands of dollars have been raised and donated to the Salvos Stores since the project's launch in 2013.
About Salvos-Stores
Salvos Stores have been helping struggling families and individuals for over 125 years, and have raised millions of dollars to support The Salvation Army. Pre-loved and recycled furniture, clothing and goods are donated to the stores and then sold at reasonable and fair prices.
All profits from these sales go towards running vital Salvation Army programs which assist the less fortunate.  Goods are also distributed free of charge to those in need through The Salvation Army's network of Community Services Centres. By donating to and shopping at Salvos Stores the community is recycling and reducing landfill. This is of great benefit to our environment.