At my parent's house, my brother's old bedroom has been converted into a nursery/playroom for their expanding army of grandchildren. To suit their evolving needs (and growing accumulation of toys!), Mum is constantly re-arranging the space and has found decorating with any sort of permanence a real inconvenience.
Though with her understandable reluctance to commit to anything enduring, wall décor in the room has suffered.
Sure, a few nail holes here and there is no real biggie (doesn't bother me one bit – if only you could peek behind my existing frames!), though she was after something a little bit different which could be easily and swiftly removed and repositioned. So, we put our heads together to come up with a simple, effective and thrifty DIY solution using some bits and pieces she already owned.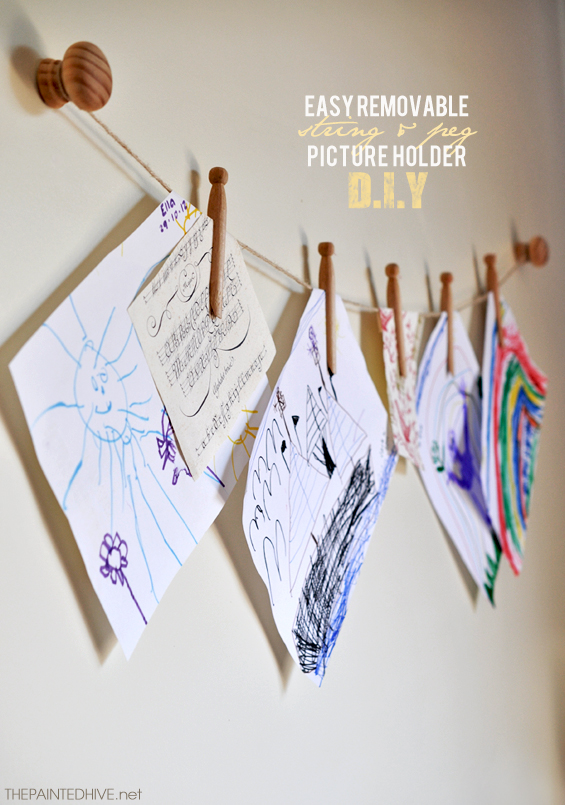 Certainly, string and peg artwork holders are nothing new, and there are loads of gorgeous variations out there, though here's how we chose to create our light-weight, semi-permanent alternative which is a great option for temporary seasonal displays (such as Christmas cards) along with for renters or the just plain fickle-minded!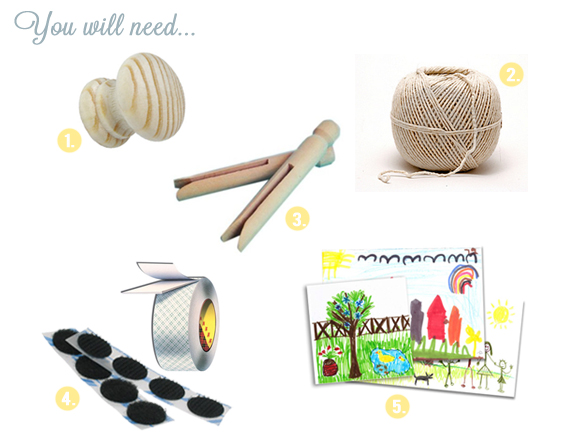 1. Cabinet knobs or similar.
Ensure they aren't too heavy and that their base has a large enough surface area to affix a reasonable amount of adhesive to. We used plain pine knobs and left them natural though you could easily paint or embellish yours or use some off-the-shelf decorative ones.
2. String or twine.
3. Clothes pegs or similar clips.
We used dolly pegs, and again, we left them natural though you could easily paint or embellish yours.
4. Good quality double-sided tape or similar.
You can try using just about anything, from blu-tack (sticky tack) to purposefully designed removable picture hanging strips – see the 'At a Glance' section at the bottom of the post for some links. We used adhesive velcro dots because that's what we had on hand. Depending on the surface area of the base of your knobs and the pre-fabricated size of your adhesive you may need to trim it slightly.
5. Artwork, photographs, greetings cards etc. to display.
As it's a kid's room we used some of my niece's and nephew's drawings along with a few scraps of decorative paper.


1. Simply cut your string to length and tie each end around a knob.
Don't make your string too long. You need to ensure your chosen adhesive can bear the weight of your art. Our string is around 1 meter (1 yard) long and comfortably holds five pieces of standard paper.
2. Determine where on your wall you want your holder to be positioned (both height and width wise) then mark each end point with a pencil.
Don't forget to allow space width-wise so the string can dip slightly.
3. In accordance with the manufacturers instructions, attach your adhesive and affix your knobs to the wall where marked, pressing firmly.
4. Allow a few minutes for the bond to settle before hanging your desired art!
Our holder has been up for well over a month now and hasn't shown any signs of budging. I'm actually tempted to convince Mum to hang an additional one (or two!) just above to create a tiered effect.

We found the gap in our dolly pegs was too wide to grip our paper, so neatly folded a corner of each sheet over the string first. Depending on the type of pegs/clips you choose to use this may be unnecessary.
Do note that our string and peg holder is being used purely for decorative purposes. I wouldn't recommend a semi-permanent solution like this for functional applications (such as for a memo holder in a home office) as constant use may weaken the adhesion over time, giving it a tendency to fall down.
The point of this particular project was to create a temporary display which negated any need to bang holes in walls. As mentioned above, a great solution for renters or the fickle minded and for semi-permanent décor such as Christmas cards. If you're not adverse to a few nail indents then there are numerous beautiful and inventive ways to create something similar.
To remove the knobs from your wall with limited risk of damaging the paintwork simply blow with a hair-dryer (or shoot with a heat gun) for around 30 seconds or so to soften the adhesive first then gently peel back.