Do you ever feel like your creative ideas are just gonna burst right out of your brain in the form of some crazy kinda full body fire stomping dance?
That's me at the moment.
Over the past few months my kid's nap times have been totally outta sync, or completely non-existent, which has meant lots of time for singing nursery rhymes, building gravity-defying block towers and reading 'There's a Wocket in My Pocket' (over, and over, and over, again) though zero time for any of my own satiating creative dabbling (and I'm beginning to get just a little bit nervous that random strangers are going to start mistaking my developing facial twitch for some kind of unorthodox flirtatious wink).
Enough already! It's finally time to make some time.
A few weeks ago I spotted a totally plain yet perfectly practical flat-pack (knock-down) set of drawers in a The Reject Shop catalogue. It reminded me of a long forgotten furniture 'hack' idea that I realised I'm still really keen to try out.
I won't give too much away just yet, though here's the general plan…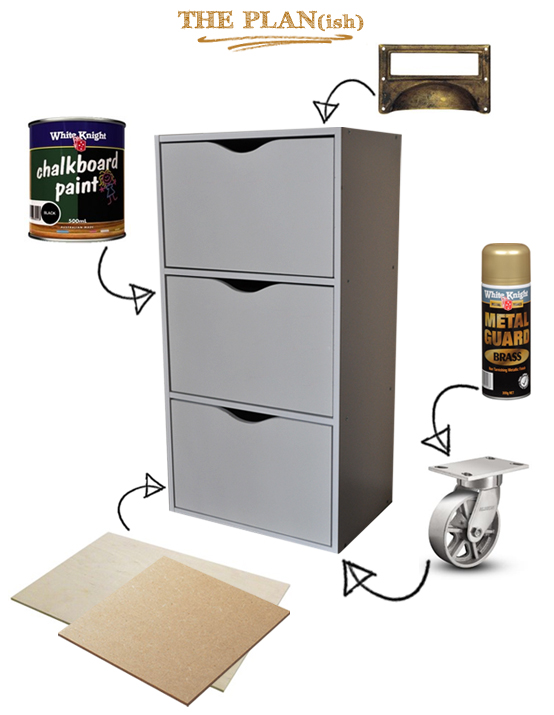 To really release all my pent-up creative tension, I'm going for a complete, and kinda experimental, transformation. That means I'm not totally certain how the whole thing will go down just yet, though I do know it will definitely involve some White Knight Chalkboard Paint and probably some White Knight Metal Guard in Brass. I can't wait to get started!
Now, just to find that paintbrush…



This post is sponsored by White Knight Paints. 
All ideas and opinions are my own.