If, when it comes to furniture, terms like 're-loved' and 'up-cycled' get your heart a-pumping, then this just may be the creative crusade for you!
I make no secret of my passion for transforming the 'drab' into something a little more 'fab' (if I do say so myself :-), so when I was invited to participate in the Feast Watson Re-Love Project, after I stopped looking over my shoulder for this 'designer' they kept referring to, my response was a big fat "YES"! Not only was Feast Watson a brand I already used and loved, though the campaign also provided an opportunity to 'give back'.
You see, more than mere product promotion, the Re-Love Project is actually a charitable collaboration between Feast Watson and Salvos Stores. The project follows eight designers (there's that word again!) as they each transform a neglected item of furniture. Things culminate in all completed pieces being auctioned for charity – so fantastic!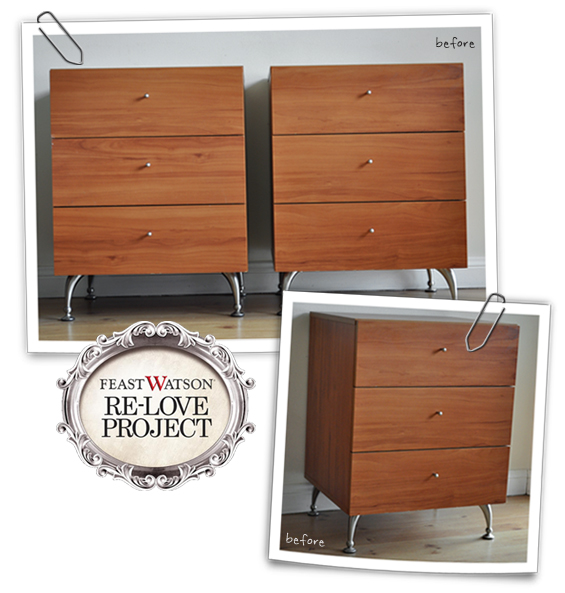 I picked up this pair of laminate bedside tables for just $25! Although they might look okay-ish, and are certainly structurally excellent, they actually have lots of cosmetic wear and, let's face it, are just plain 'meh'. I wanna take their current status from generic to unique – and hopefully demonstrate how anyone can do the same!
Being Feast Watson related, the refurbishment will have a focus on wood-care products.
Hang on. Hold up a second. Wood-care products? Didn't you just state these are laminate bedside tables?
Oh yeah, you've got me there, and I do realise laminate is far from timber, though I have (crazy) plans to completely clad the tables in a similar-ish fashion to my hacked flat-pack. Are you thinking what I'm thinking? This may be more of a re-invention than a re-love!
Regardless, I do want to keep things as do-able as possible and am so excited about sharing this journey with you.
You can check out what the other seven talented designers are doing here.

Pssst….the before and after reveal of my parent's refreshed bedroom should be coming up next week!