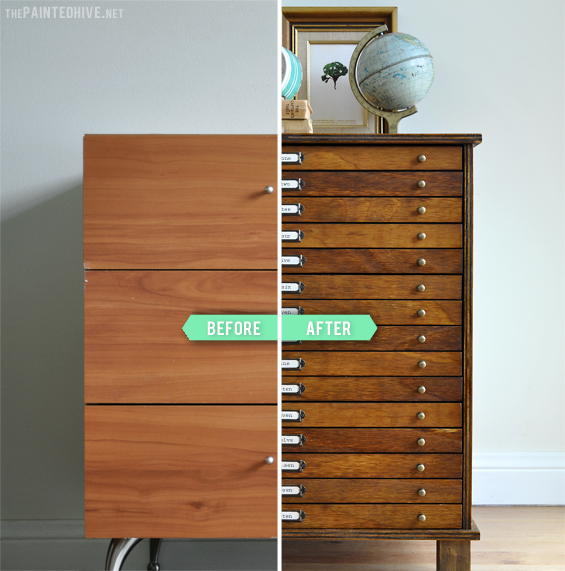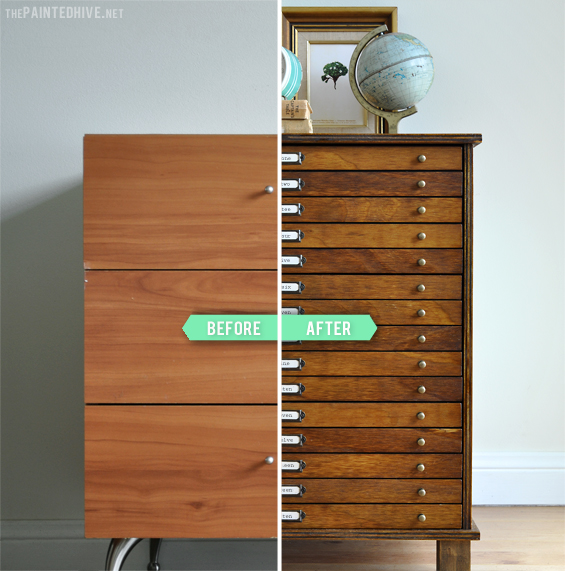 This was such a rewarding project.
If you're not new here, you're probably aware of my involvement in the Re-Love Project and what it's all about. For those of you who don't know, in short it's a Feast Watson campaign in collaboration with Salvos Stores which sees eight designers "re-love" a neglected item of furniture with the resulting pieces being auctioned for charity. Pretty cool, huh? You can read my first post about it here and learn more on the Feast Watson website here.
Anyhoo, as revealed in my previous post about the project, I started with a very basic laminate pair of bedside tables I picked up for just $25 (I know, they don't look too bad, though the edges were all chipped and they had misaligned panels)…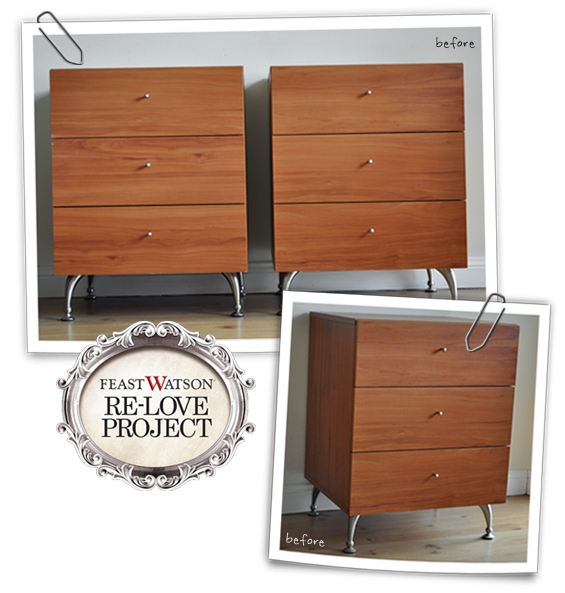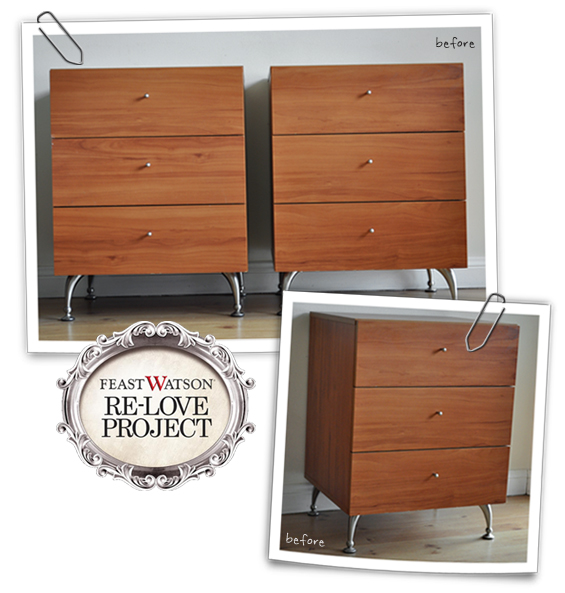 …and a kinda ambitious plan to completely transform them!
Basically, I wanted to "re-love" them into antique-style multi-drawer map cabinets in the same type of vein as my previous flat pack hack, though take it a few steps further and produce a truly authentic appearance. In doing so, along with challenging myself, I really wanted to encourage people to see the potential in those sometimes over-looked second-hand pieces of furniture (which are often affordable and abundant). I'm sure you're all aware just how pricey genuine vintage multi-drawer cabinets can be so having the ability to create our very own DIY budget-friendly versions is pretty cool, maybe even a little empowering.
Anyhoo, despite a few hiccups along the way, numerous vision adaptations and those customary moments of self-doubt, things actually turned out perfectly and I'm honestly stoked with the results! I can't wait for the auction (even if I am a little melancholy about having to let them go – at least I now know I can always create some more!).
Here's how the whole thing went down…


Note: As you'll read below, I cut all of my cladding from sheets of pine ply to save a bit of money and so I could completely customise the size. If you don't have the tools or confidence to create your own strips from sheets, you should be able to find suitable sized "off the shelf" planks of timber so you need only cut them to length.
I started by carefully measuring the bedside tables then pretty precisely cutting all of the cladding from large sheets of pine ply. This included the faux drawer fronts (30 pieces in total), the shaker-style side trim (20 pieces in total) and the tops and bases (four pieces in total). Remember, I've got two tables to work with so all of the pieces and processes are pretty much doubled, having just one item of furniture would probably make things quicker and easier. I used our plunge track saw (an invaluable tool for a job like this) for the long cuts, switching to a basic drop saw for the shorter cuts.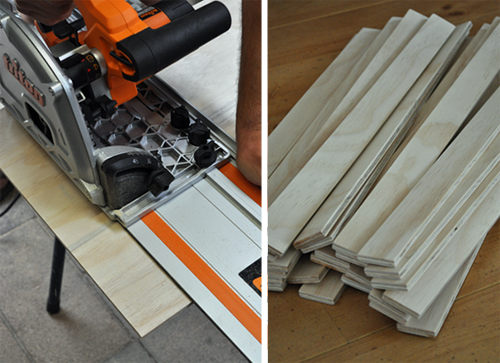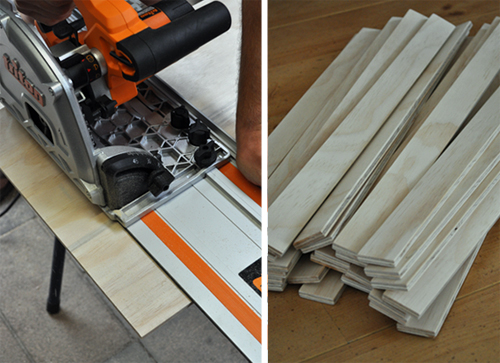 Once all the cladding was cut, I thoroughly sanded each piece, finishing with fine grit paper for a nice, smooth finish. Using a lint-free cloth, I then applied two coats of Feast Watson Prooftint (Teak) diluted around 50/50 with Feast Watson Prooftint Colour Reducer. Because ply is so porous it's easy for penetrating stains to come out looking way too dark. I tested a scrap of ply with undiluted stain and it appeared almost black (below pic)!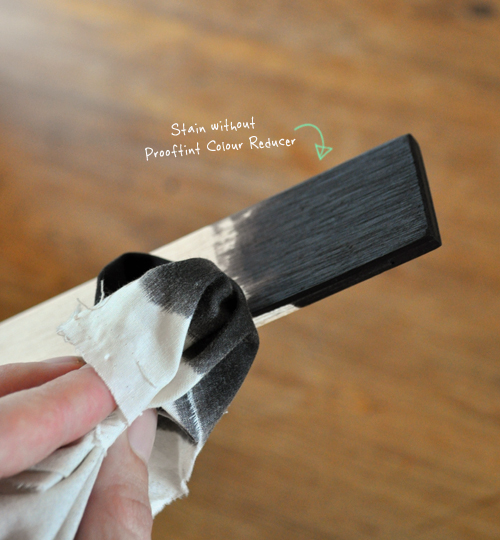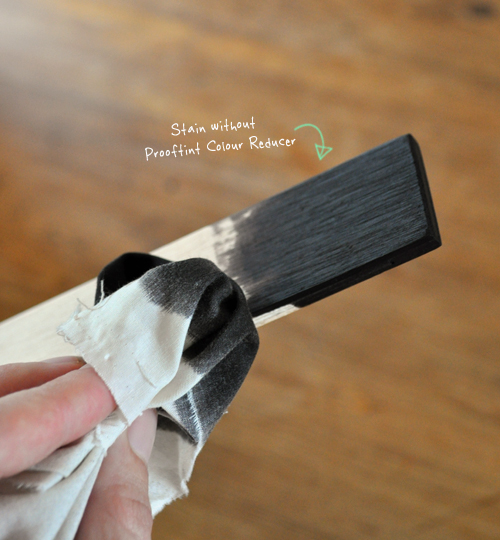 The colour reducer was perfect for achieving the exact tone I wanted, which, if I had to describe it, is kinda like a rich honey caramel – yummo! At this stage I also applied one coat of Feast Watson Scandinavian Oil (oh, how I love thee!) to easily seal all of the edges before attaching the cladding to the bedside tables. I used a brush and ensured it was well incorporated.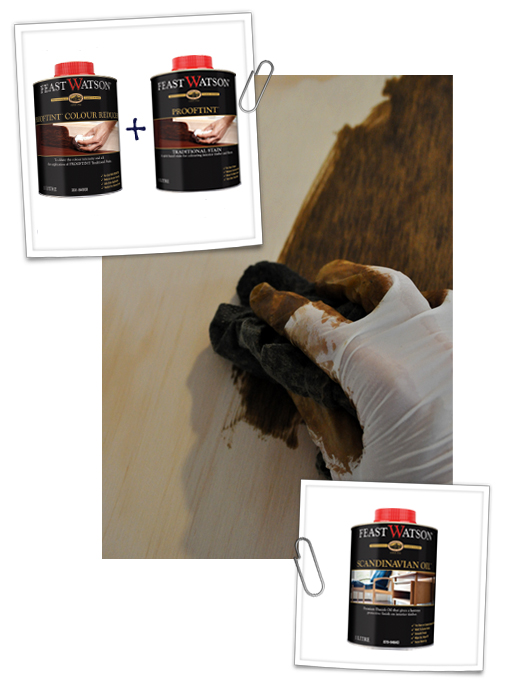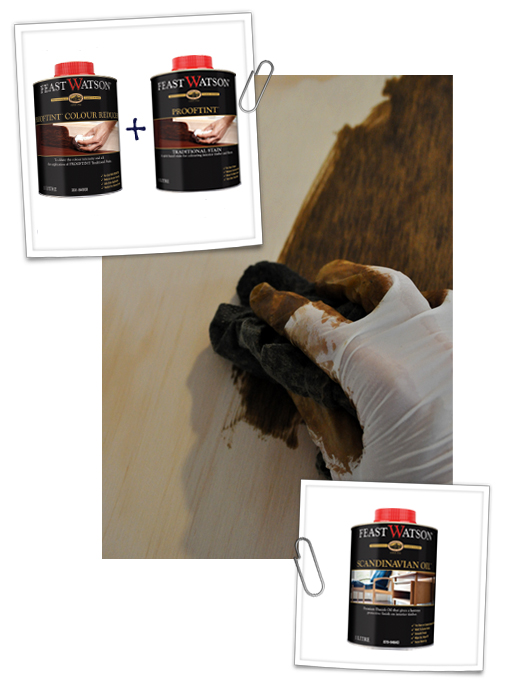 NOTES
:: Of course, you don't have to use ply. I did for a few different reasons; one) to keep costs down, two) because it's available in lots of different sizes and depths so I could completely customise my cladding, and three) because I wanted that slightly raw, industrial look – and contrary to what might be considered crude, I actually especially like the appearance of the multi-toned 'sandwiches' where the interior layers are exposed. If you don't have the confidence or tools to create your own cladding from sheets of ply, or if you'd simply prefer to save the time and effort involved, you should be able to find suitably sized "off the shelf" timber planks instead. It just might mean spending a little more money and maybe being a bit restricted in terms of size. Remember too that some hardware stores might even cut your timber for you.
:: If using ply sheets, take note of the grain direction. I ensured mine was always running lengthways. Also, it's likely your ply will have a "good" side so inspect your cladding and present the most attractive face. In addition, check your sheets prior to purchase and avoid those with notice