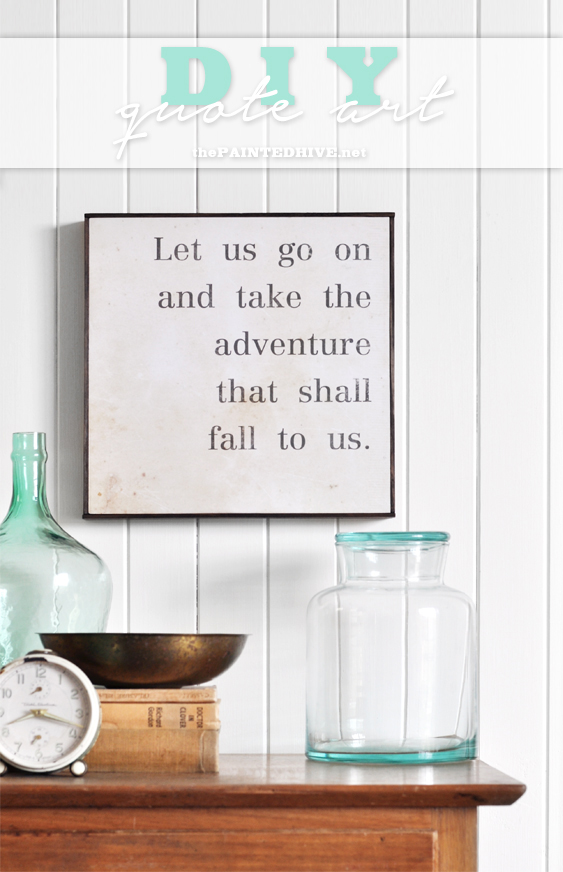 Ever since spying a collection of antique-style typographic signs in a boutique homewares store a few years back my love for their understated appeal has done nothing but blossom.
It seems the charm of these simple yet striking pieces also isn't lost on others, as over the last few months I've been seeing them more and more.
I was particularly smitten with these over-scale book page quotes I came across on Pinterest a couple of weeks ago…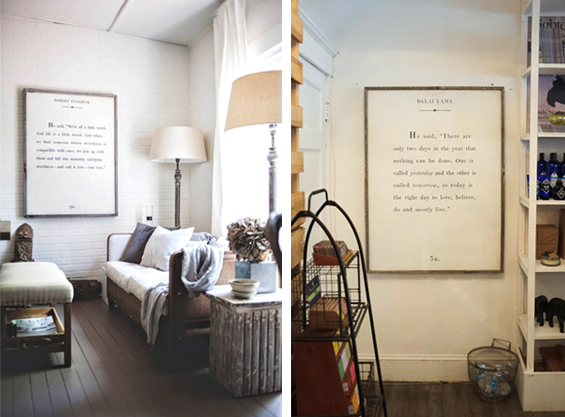 Fable & Flame | Unknown
And although I don't have a good spot for something quite like that right now, it settled it.
Enough was enough already.
I needed a typographic sign in my life.
Stat.
However with prices averaging in the hundreds I also needed to come up with an affordable (and easy!) DIY alternative.
Well, here it is…
OPENING NOTE
Although I created a relatively small (around 29cm/11″ square) sign with quite a "clean" design my basic process can be applied to a work of pretty much any size and style.
The affordable nature of the materials used means that even large-scale artworks can be created at very economical prices. My sign cost around $4 as I was thrifty and used timber off-cuts I already had though would have cost closer to $15 if I had bought everything new – still super cheap!  I've done the math and a large-scale (say 100cm x 140cm/40″ x 55″) sign should come in at under $60 if you're savvy. I can't wait to find a decent excuse to make one!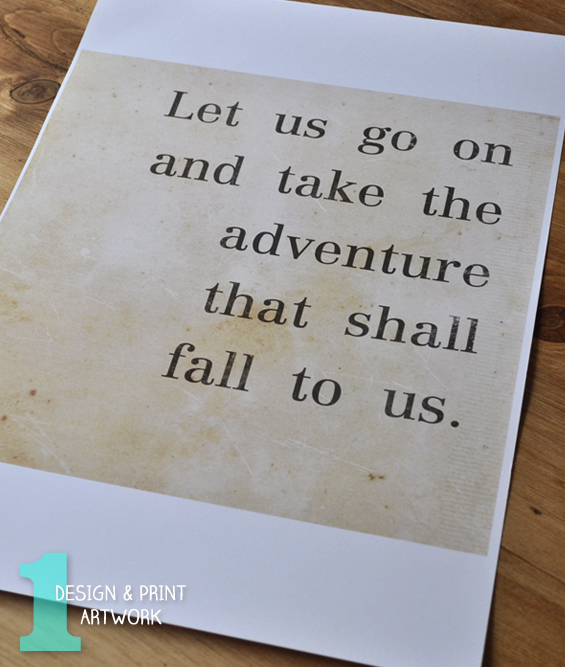 1 Design and print artwork.
This is the fun bit!
Decide on your words, and a rough size for your sign, then play around with formats and fonts in a graphic editing or word processing program.
I like the idea of creating a digital "artwork" and using a print, as opposed to hand lettering the sign, because it's just so dang quick and easy and anyone can produce a professional result – no real artistic ability (or patience!) required. It removes any room for error too and is especially handy if you plan to use lots of words. Imagine having to hand letter something really long with a heap of little text.
Anyhoo, your design can take any form you like. Here are just a few some examples…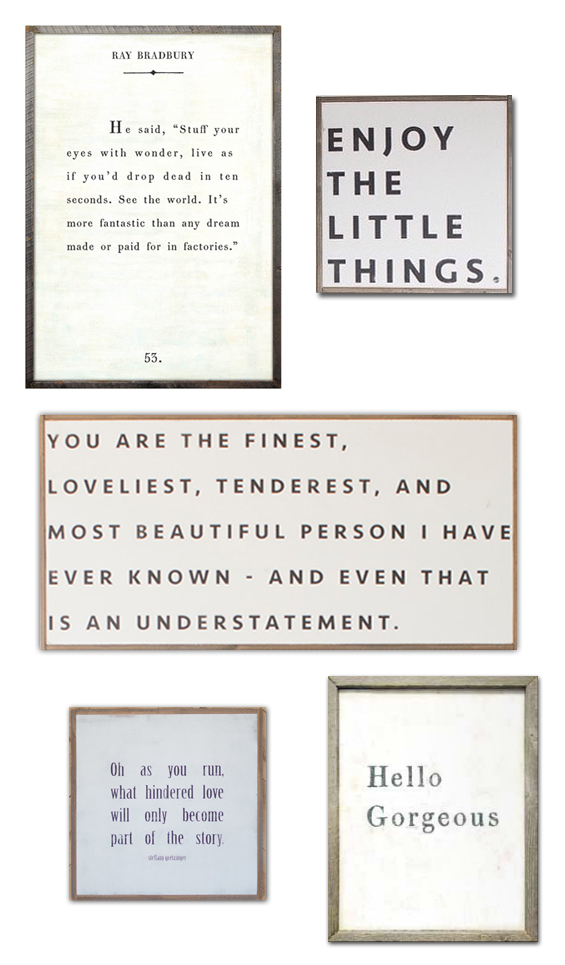 Above signs from Sugarboo Designs and House of Belonging.
If you'd like to use my art, there is a download link towards the end of this post.
Although you can design your artwork using a basic processing program (such as Word) I personally prefer a purpose editor (like Photoshop), especially for large prints. They just provide more flexibility and give you greater control. If you don't have a purpose program, GIMP is a great free alternative to try out.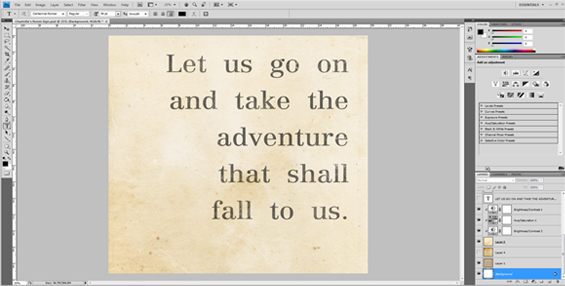 I designed my artwork using Photoshop.
Note: If you do use a word processing program, remember to customise your paper size as required. For Word the maximum page dimensions are 56cm/22″ square (this can be set in the Page Setup properties). Ensure you save your work as a PDF for printing purposes and up-scaling potential. If you decide to use a purpose graphics program though are a little unfamiliar with the software, feel free to refer to my three part in-depth Printables series to learn more about setting-up and and printing your artwork for optimal results.
I created an image to fit on an A3 (Ledger/Tabloid) sized sheet of paper (for printing purposes, be mindful of standard paper sizes when designing your sign). The font is Centennial Roman and the stoic words are taken from the novel 'The Lion, The Witch and The Wardrobe' by CS Lewis – love! I digitally distressed my text a little using some grungy eraser brushes though you could take to your printed sign manually with some sandpaper – and other implements – to achieve a time-worn look. My overall design is relatively sleek as I wanted it to have a clean and bold, almost modern, feel to contrast with the prettiness of Charlotte's room (where it will eventually live) though you can go as rustic as you like. As mentioned above, just play around with different formats and fonts.
This is entirely optional, though – because I'm lazy – I also used a free high resolution aged paper digital background (you can easily find numerous of these via a Google search). Ordinarily, I would simply apply this antique effect myself post-printing using a tea stain or tinted sealer (or similar).
Note: If you plan on creating a large-scale sign, you may find that most digital backgrounds simply aren't large enough. Try searching for "large scale paper texture" or "high resolution paper texture" in order to find something suitable. Depending on the size of your sign even a large-scale texture may need to be further enlarged. Just be mindful that over-enlarging can result in quality loss (bluriness, pixelation, etc.). If you can't find a large enough digital texture you like, you can play around with creating the effect yourself in your editing program using colour overlays, texture filters, grunge brushes, and so on.
If you'd like to save yourself some cash by using a black and white print service, as opposed to colour, though would still like the yellow aged look, you will have to apply the effect yourself. It's not difficult though you do need to be mindful that any moisture applied (through a tea stain or tinted sealer, etc.) may cause the paper to wave and/or the ink to bleed. 
If you have the capacity to print your image at home then feel free. I had my image professionally printed for just $2 through Officeworks via their online service. I selected "Document Printing" over "Photo Printing" and "Poster Printing" because it's cheaper though the quality is still really great (your choice of services may be limited depending on the out-put size of your image). I chose 200gsm white bond matte paper. This is a slightly thicker upgrade on the standard paper and for 30 cents is totally worth it.
Note: If you're looking to have a large-scale sign printed, simply check out some online print shops to get an idea of sizes and prices. If you're in Australia Officeworks offers full colour BO (100cm x 140cm) prints from $47.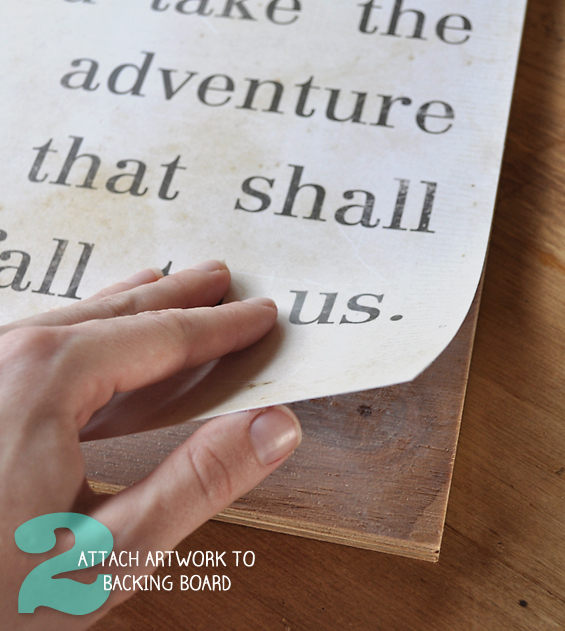 2 Attach artwork to backing board.
You can use anything thick-ish and rigid as a backing board (it needs to be relatively thick because, for ease, the frame is attached directly to it – see following step). I used a 12mm/1/2″ deep plywood off-cut I already had which I simply trimmed to size using our drop saw.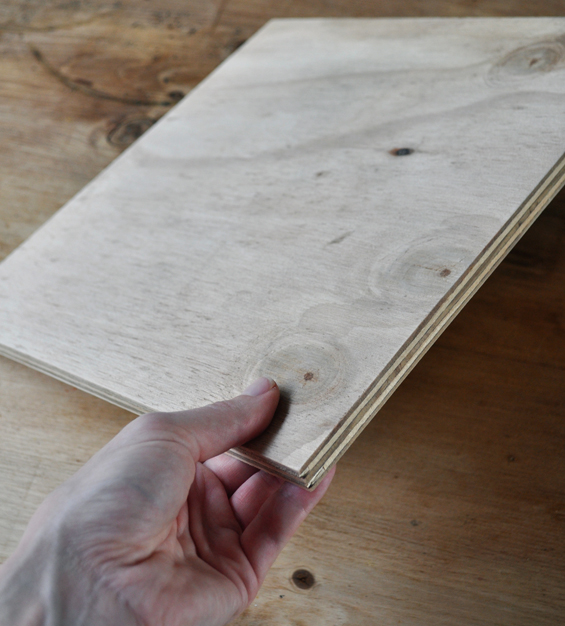 I used plywood as a backing board.
If you're not confident with cutting wood, your local hardware store will probably do it for you. Otherwise, use something which is already appropriately sized, like an inexpensive stretched canvas. Of course, if you do use something which can't be trimmed, purchase it first and then design your artwork to fit.
I cut my print using a steel ruler and craft knife to fit perfectly on top of my plywood backing board.
I then brushed some Mod Podge (you can use anything sticky, even double sided tape) onto the ply and pressed my print into place.
Ensure the edges, in particular, are well adhered. You might even want to spread some additional glue over them.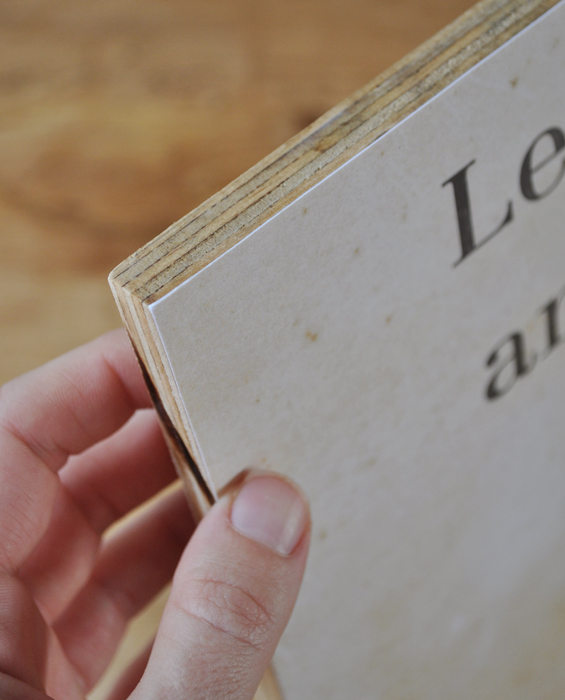 I made sure my edges were neat and well adhered.
The paper might bubble a little due to the moisture in the glue. Don't stress. Any waves should dry out.
You could stop at this step and leave your sign as is for a plaque-like finish. Maybe just paint or stain the edges of the wood.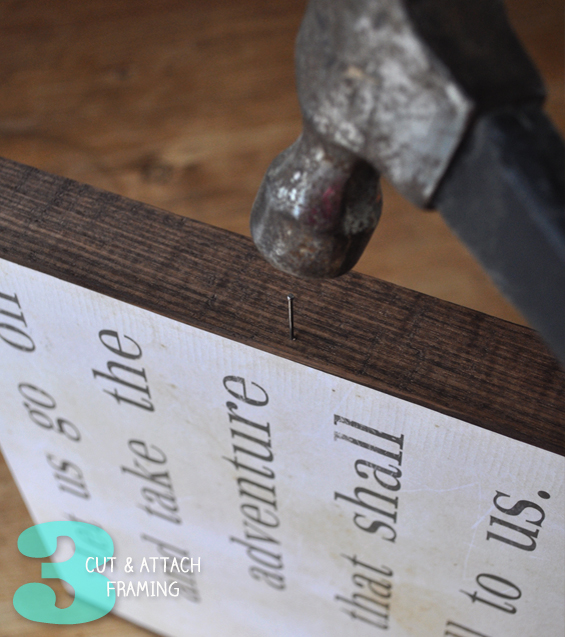 3 Cut and attach framing.
To give my sign that hand-made custom feel I created my own frame. It was cheap and easy though if you can find an affordable frame you like, you can certainly use it instead. Just remember, you don't need any glass (so for Step 2 attach your print directly to the provided frame backing).
I used a length of 3mm x 38mm/1/8″ x 1 1/2″ square pine trim (which was an off-cut I already had) to frame my artwork. It's probably a little thinner than ideal, though is still totally fine. I decided to butt, rather than mitre, the corners as I felt the simplicity of the join is more in-keeping with the primitive feel of the sign (as a bonus, butt corners are much easier anyway as mitres can be a little finicky). I simply cut my trim to size, gave it a light sand then hit it with two coats of walnut stain.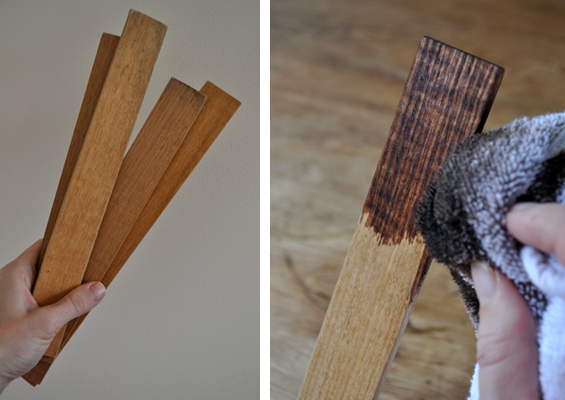 I stained my framing trim to give it some extra richness.
Note: My framing trim came from an off-cut I already had and was slightly worn and weathered. Using reclaimed wood to frame this style of sign is very common so before you head to the store, see if you can get your hands on some cheap (or free!) second-hand lengths.
To attach the trim, I applied a sparing bead of wood glue along the side of the plywood, smeared it with my finger to ensure it was smooth and even, positioned a piece of trim on top then drilled a very fine pilot hole through (I drilled my hole in the center of the length of trim, though toward the front, as shown in the below pic, to ensure I caught the ply). I then hammered in a little finishing nail, ensuring the head was slightly counter-sunk (you can use a punch to achieve this if needed).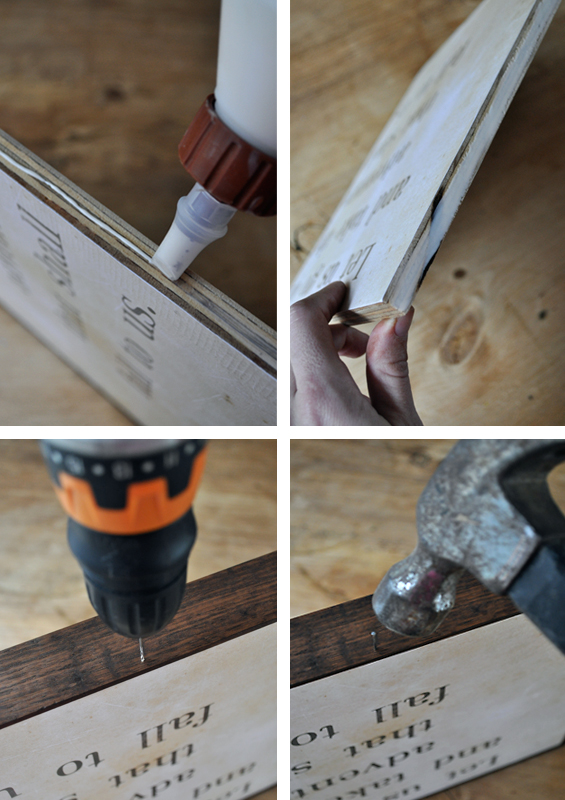 I glued and nailed each piece of framing trim in place.
Tip: You don't need to drill a pilot hole though I personally always find it easier. When creating the pilot hole, ensure you use a drill bit one size smaller than your nail and don't drill the entire nail length. You only need to create a guide as you want the nail itself to bite into the wood to ensure a good hold.
Although finishing nails are very inconspicuous, if, like me, your nails are silver, you can fill their small divots with tinted putty or simply colour the heads with a marker.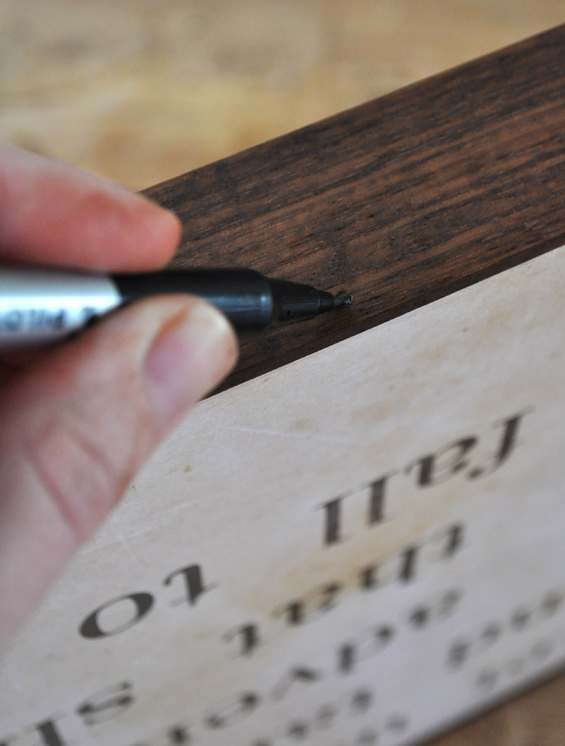 You can disguise any nail heads by colouring them with a black marker.
Note: I decided to use a nail and glue combo because I figured it was the fastest and easiest fastening method. If you don't like the idea of using nails, you can glue and clamp your framing trim. It just means a longer build-time as you need to allow for glue curing.
I wasn't sure if one nail would be enough to hold my trim flush along its entire length though it worked perfectly. Of course, if your sign is larger or if your trim is warped, you will require more nails or some form of clamping until the glue is dry.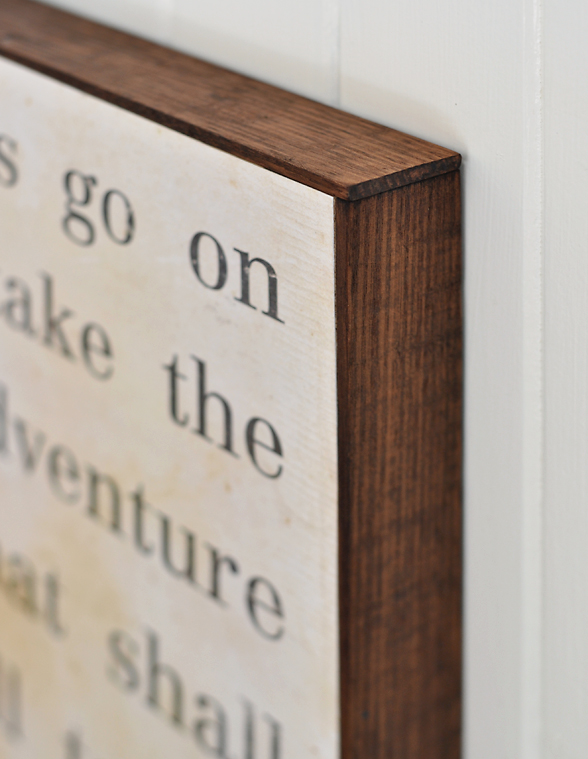 Above you can see the butt jointed corners. In hindsight, I probably should have made the side pieces the full length ones. Meh.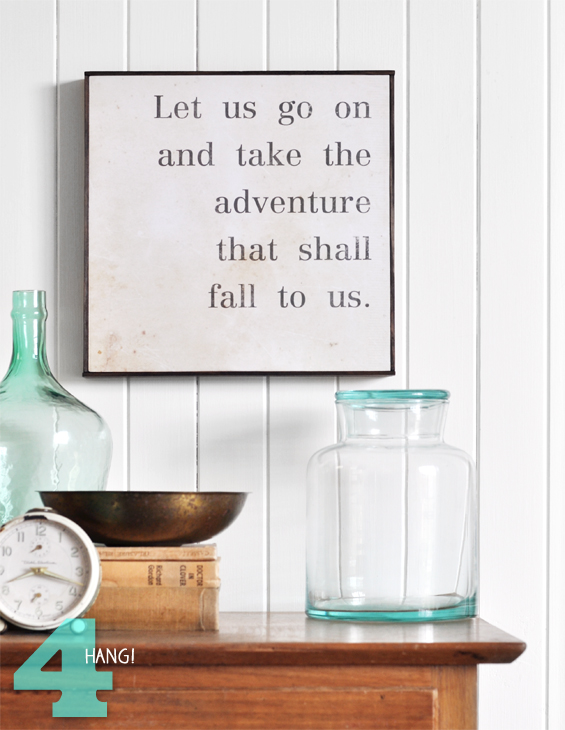 4 Hang!
Because the frame trim is much deeper than the plywood backing it protrudes by quite a lot.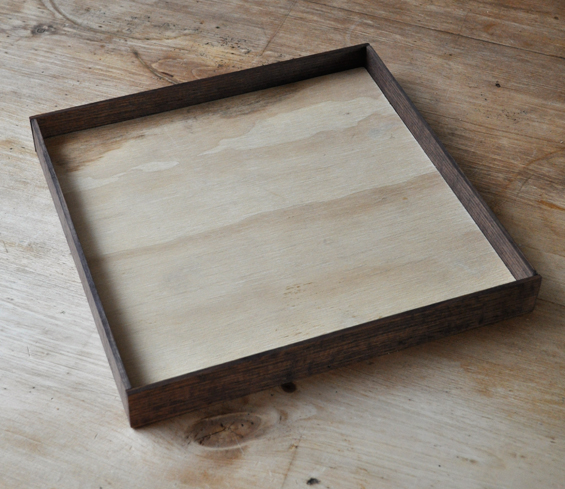 Above you can see the recessed back.
This makes it super easy to hang the sign straight from the top length of frame on two appropriately positioned nails. You could also choose to add some string and hang it wall chart style.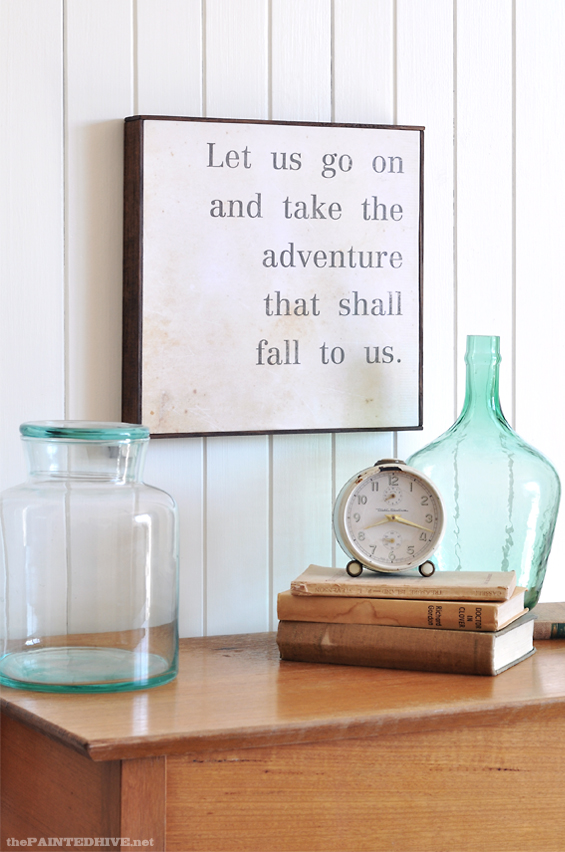 And here is your free printable! Simply click the below image to view and download.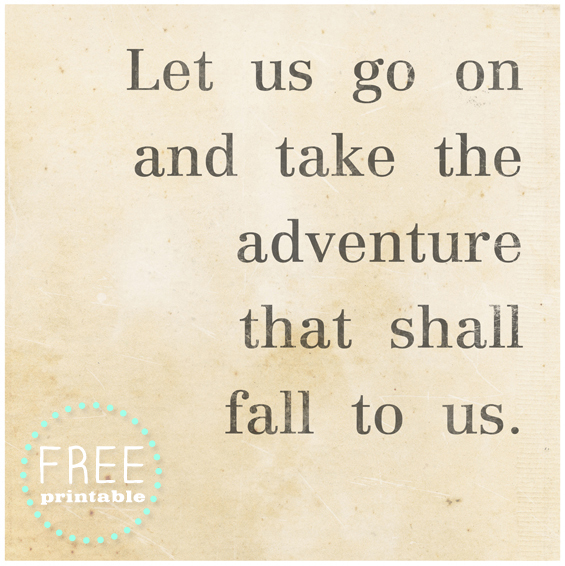 29cm x 29cm/11″ x 11″ at 300 DPI.
Designed to fit standard A3 (Ledger/Tabloid) sized paper.
Can be enlarged or reduced by around 50% with great quality retention.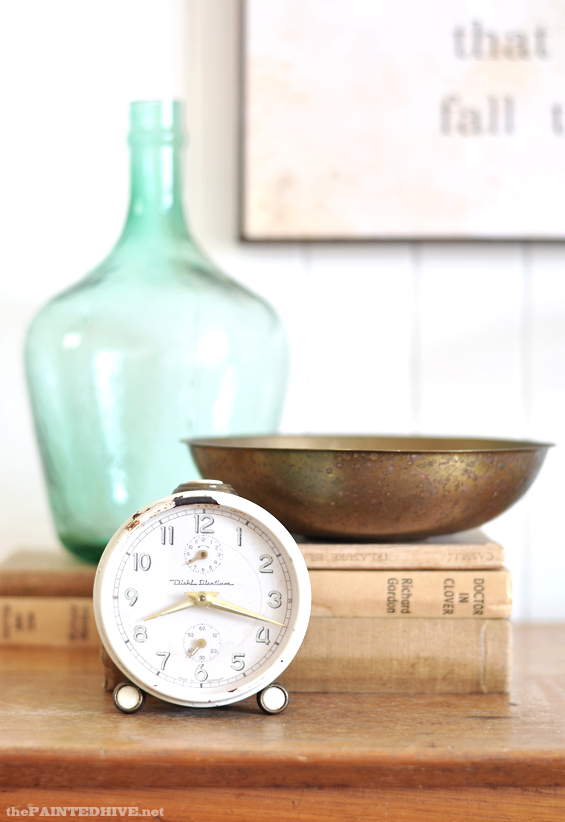 Making these signs is kind of addictive. They are just so easy and the possibilities are almost endless. Unfortunately, I don't really have a need for any more signs like this right now though do think they would make an awesome gift. Imagine creating something with a meaningful message just for the recipient – how special. Not only would it be thoughtful and personal, though also hand-crafted with love.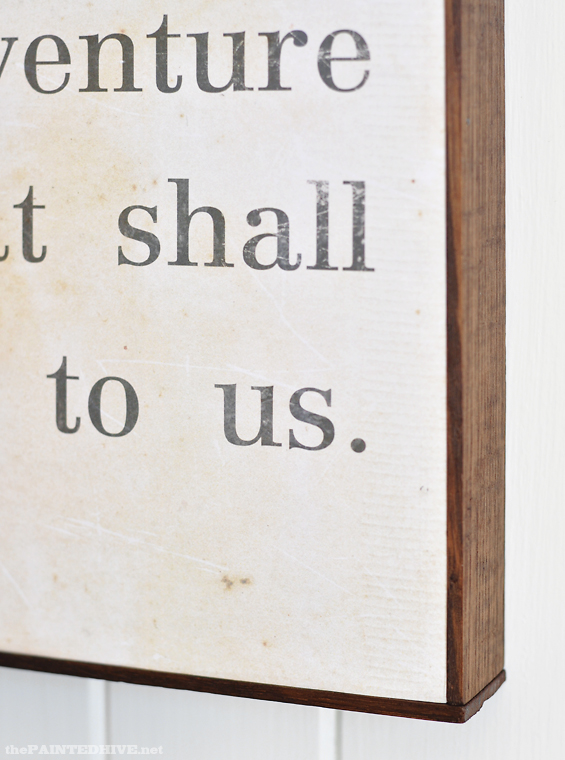 And, despite my need (or lack there of) for any further signs, due to their addictive nature I am looking forward to creating more free printables along this vein. Is this something you guys might like? I would love to be able to offer some large-scale ones, similar to those in my first two inspiration pics above.
This sign of mine will replace the rather grown-up landscape which currently hangs above Charlotte's bed. Although she can't read it for herself yet, I have told her what it says and means and where it's from. Her eyes lit up. Love that!

Free printable for personal, non-commercial use only.
Republication, reproduction or redistribution in any form is forbidden.