If you follow me socially you may have already seen a little snippet of this project.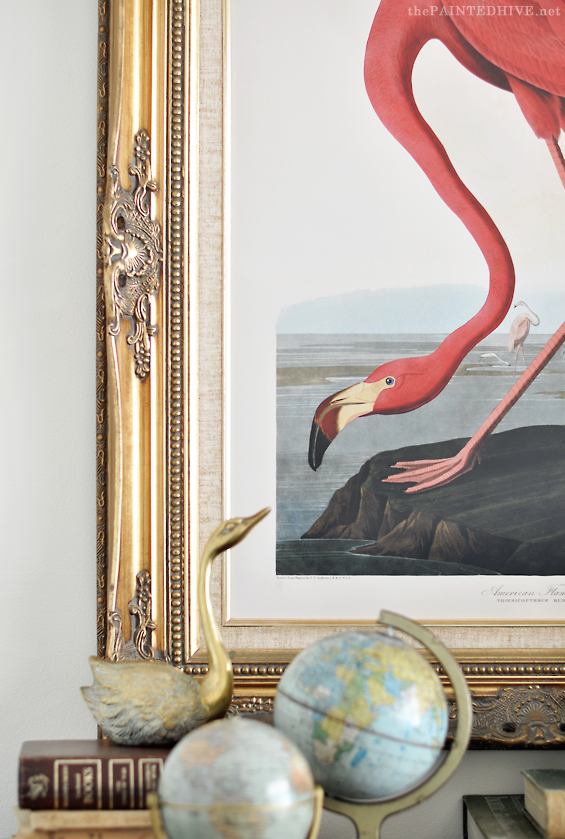 I wasn't going to dedicate a whole blog post to it, though in the end I decided it really does deserve one.
Ages ago you might recall I published a post about the work of naturalist James John Audubon which included a link to a great website where you can download high-res digital copies of his stunning illustrations for around $14. That's a bargain.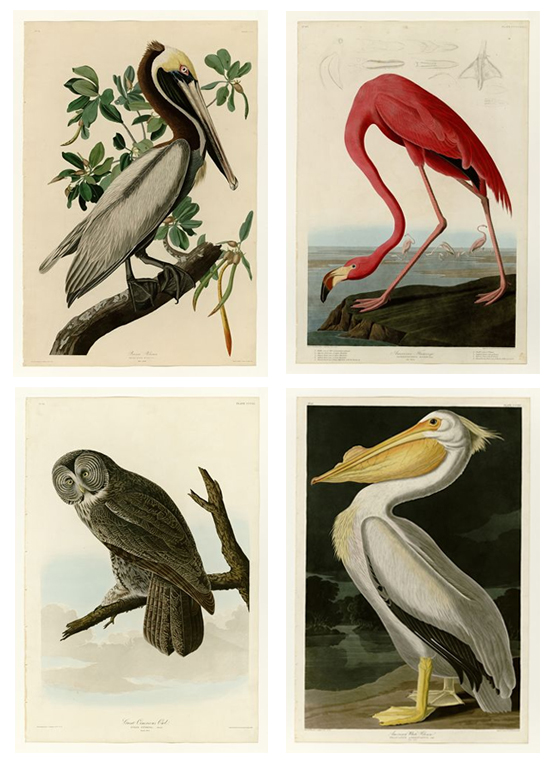 A little while later however one of my lovely Facebook friends informed me that the Audubon website also offers large-scale digital copies of his illustrations. For FREE. Now, that's really a bargain!
I had already purchased my $14 digital copy of his American Flamingo though decided to download one from the free source too (see the end of this post for full instructions on how to find and download your own). There were some slight differences (size, colour, noise) though nothing major.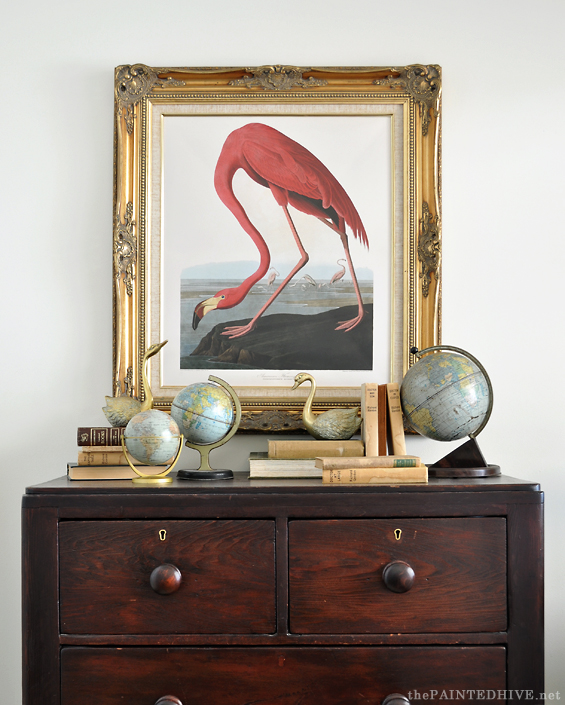 I LOVE this illustration. It's probably one of his most iconic works. And my little Charlotte loves it too (hey, flamingos are pink, what's not to like?) which is the main reason I acquired the digital image in the first place – to print a copy for her bedroom wall.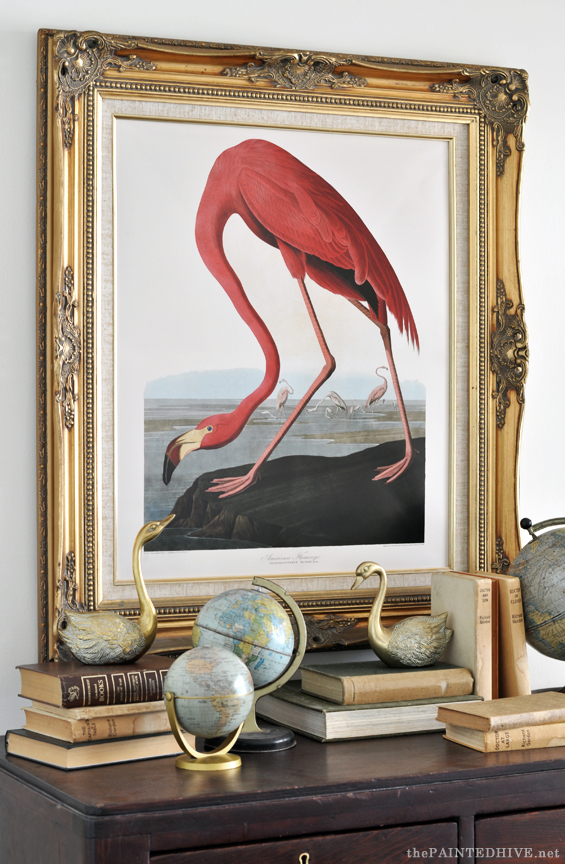 I was leaning towards creating a wall chart with it though decided instead to make use of a large gilt frame I already had (found for $30 on eBay a year or so back).
To format my image and have it printed I used the same process I always do for large-scale art (you can read about it in detail in my post here which contains a full tutorial).
Basically, I measured my frame opening, re-sized my image to fit (which included some cropping), made a few small edits (just to clean it up a bit) then ordered a print through the Officeworks online service.
It would have cost just $22 (for a 59cm x 84cm/23″ x 33″ full colour poster) though for an additional $10 I up-graded my paper from 160gsm Coated to 200gsm Satin. In my opinion it's totally worth it for a print like this which isn't behind glass.
I've seen much smaller Audubon reproduction prints being sold for triple the price of mine so please don't pay too much!
When it arrived I was blown away. The quality is superb! Really.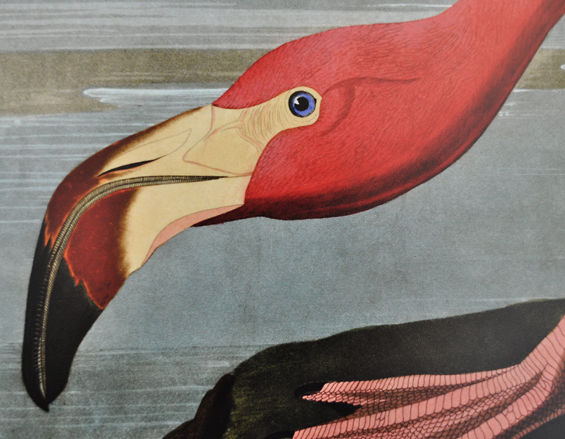 To frame it I simply removed the reproduction painting which was already in the frame and used it as a template to trim my flamingo print to perfect size. I then attached my flamingo to the rear of the existing artwork (that way I can always flip it over again if I feel like a change) with strong double-sided tape. You could also use spray adhesive or decoupage medium.
Note: If your frame is empty you can simply cut your own new backing sheet from a panel of thin MDF or thick card (or similar). I have a simple tutorial for filling "naked" frames here.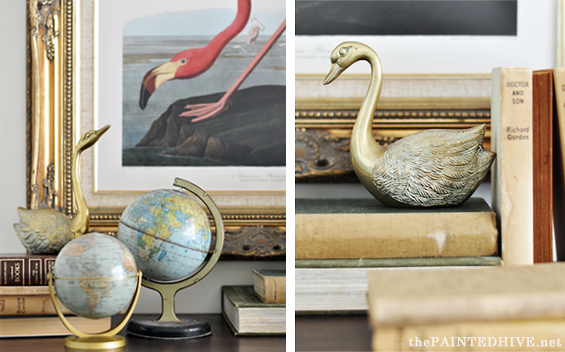 To hang it I avoided the need for any nails and screws by using some Command Hanging Strips. I love these things! There were no studs in the right place anyway so it saved me a headache.
I've styled the print with a copious amount of antique books, some old tin globes I've collected over the years and a pair of thrifted brass swans from my local op shop.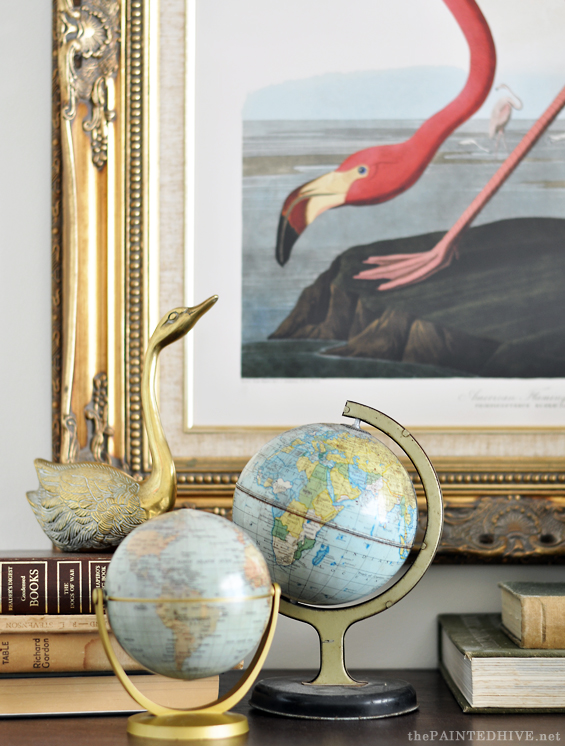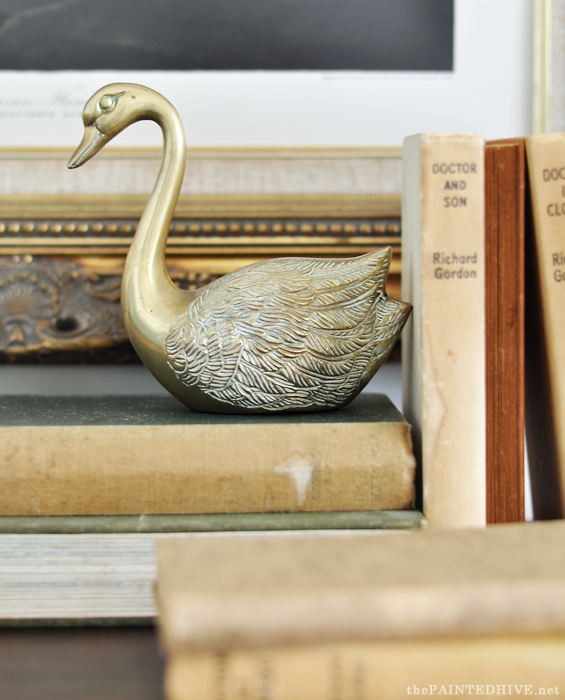 Only one more big-ish project and a few little details to go then Charlotte's room will finally be complete. Yay!
HOW TO FIND & DOWNLOAD YOUR OWN FREE AUDUBON ILLUSTRATION
1 Go to the Audubon website.
2 Hover over "Birds" in the horizontal menu (to the right of where it says "Audubon").
3 Click the option you want (for example "John James Audubon's Birds of America") and a new page will open.
4 Scroll down until you see thumbnails of all the illustrations.
5 Click the illustration you want and a new page will open.
6 Scroll down a little and click "Download high-resolution file" (in blue text beneath the small version of the illustration) and a new window will open.
7 Click the image which opens in the new window to enlarge it to its full size then right click and save it to your computer.
8 That's it!
You may be asked to subscribe to the website in return for downloading the image. This isn't a requirement though is a nice way to say thanks.