You guys!
I was totally overwhelmed by the response to my laundry room makeover. Thank you all so, so much for the sweet comments, and for your votes! Although I'm not sure I can compete with some of the other super talented and popular contenders, it's been heartening to see my numbers grow and I might still have a chance. You guys are the best!
Now, as promised, I'm back to start sharing more details about some of the DIY projects in the space and thought I'd begin with one of the most asked about elements – the glass door decal.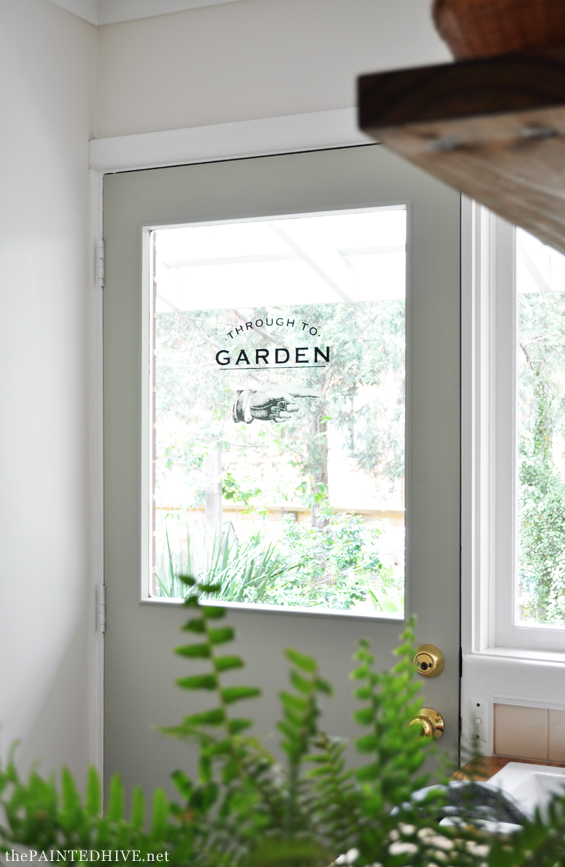 This was a really easy and affordable project which packs a heap of vintage punch.
I've been wanting to embellish a glass door for a while now so deciding to add a decal was a no-brainer. Settling on the graphic, however, was a little more tricky. I went back and forth between lots of ideas though kept coming back to a "beer garden" type feel. I almost wanted it to look like the door had been salvaged from an old hotel or something and just happened to suit its new home.
Anyhoo, here's how I did it…
You can find my graphic as a free download at the end of this post.
I used Photoshop however you can use almost any word processing or image editing program you like (please refer to my note below for some info about possible restrictions). The font I used is Copperplate Gothic Bold and I found the directional hand on a free clip art site. If my graphic isn't right for you, and you're not sure about designing your own, you can also search online for a free or premium digital one to use.
Note: Not all image types and file formats are supported by all vinyl cutting machines. 'Raster' images (such as JPG, PNG and GIF) may not perform as well as 'Vector' images (such as SVG, EPS and DRW). If you intend to use your own desktop vinyl cutter check the options first. If you plan to engage the services of a professional, inquire about what is accepted and/or whether they can help if needed. If you find you have a graphic which doesn't comply, it may be able to be made compatible through the use of conversion software. I have offered a few different versions of my free printable to (hopefully!) cover all bases.

Due to the nature of my particular design, I needed (well, wanted) to use two forms of decal; a vinyl decal (for the text portion – including the dots and underscore) and a waterslide decal (for the hand). I decided to use a vinyl decal for the text portion because it's crisp and clean and has no carrier film. I used a waterslide decal for the hand because the image was too intricate to be cut from vinyl, plus it would have been almost impossible to "weed" out neatly.
CREATING THE VINYL DECAL (FOR THE TEXT COMPONENT)
If you have a domestic vinyl cutting machine (like a Cricut or Silhouette) you can simply use that. As I don't have a machine I enlisted Vivid Wall Decals to cut the vinyl on my behalf. Custom vinyl cutting is a very common and super affordable service. My decal cost just $8.
CREATING THE WATERSLIDE DECAL (FOR THE HAND ILLUSTRATION)
Creating the waterslide decal is pretty easy. You just need a sheet of waterslide decal paper and a printer. Waterslide decal paper can be found online or in some craft/hobby stores. Be sure to purchase the "clear" paper in either "inkjet" or "laser" to suit your particular printer. Here's how to make the decal…
1 Print onto the smooth side of the waterslide decal paper and allow the ink to completely set (around 30 minutes).
2 Depending on the brand of waterslide decal paper you use, you will probably also need to seal the decal. For this, you can either mist with a few light coats of clear sealer OR laminate with some magic coating paper (find my tutorial about using magic coating paper here). As this decal is being used purely for decorative purposes, spray sealer should provide ample protection.
Note: I've never personally used it, however I believe Lazertran waterslide decal paper does not require sealing.
3 That's it!

Because I didn't stop to take notes and photos when I applied my decal to the door, for the purpose of this tutorial, I'm using picture frame glass (which is also a cute alternative if you don't have a door or window to apply the decal to). 
APPLYING THE VINYL DECAL
If you purchase your decal from a supplier, they will include full instructions. If you have your own cutting machine, you're probably an application pro already!
Vinyl decals generally come in three layers; backing liner (to conceal the sticky surface of the adhesive sheet), vinyl decal (the actual graphic), adhesive sheet (to help with the accurate placement of the decal). The process is pretty straightforward…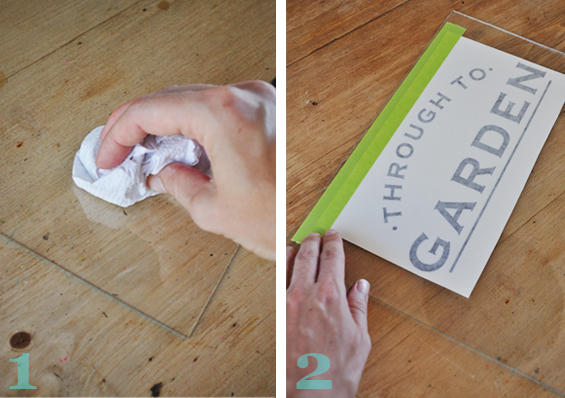 1 Ensure your surface is clean.
2 Fix the decal in position by running a length of masking tape, to act as a hinge, along the top edge.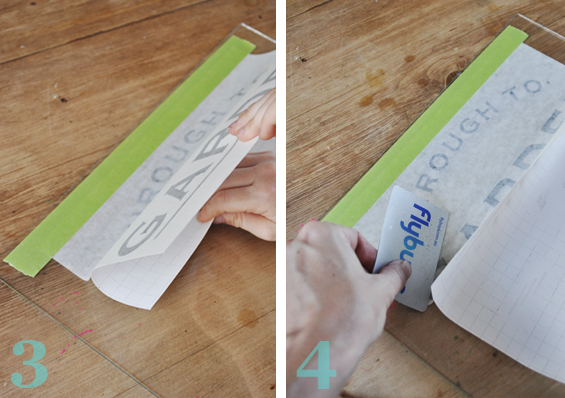 3 Hinge the decal out and peel the backing liner down a few inches (shout out to my little daughter for being my hand model here – I told her we were making a sign to a Troll's garden dance party!).
4 Continue peeling back the liner, a little at a time, and smoothing on the adhesive sheet with a credit card as you go.
5 Once the backing liner is completely removed, the adhesive sheet should be fully affixed. Smooth over the underlying vinyl decal with the credit card, ensuring it is well adhered.
6 Remove the masking tape and gradually peel back the adhesive sheet, keeping it on a tight angle to the surface. The vinyl decal should remain affixed. You can rub with a credit card as you go if needed.
7 That's it!
APPLYING THE WATERSLIDE DECAL
Unlike vinyl decals, which are silhouette cut, waterslide decals have a carrier film which results in a slightly translucent background. On opaque objects the film becomes almost invisible though I wasn't sure how it would look on the glass with the light shining through it. Although it does have a slightly frosted appearance, it actually works really well, almost like the hand has skin. Applying the decal is super simple…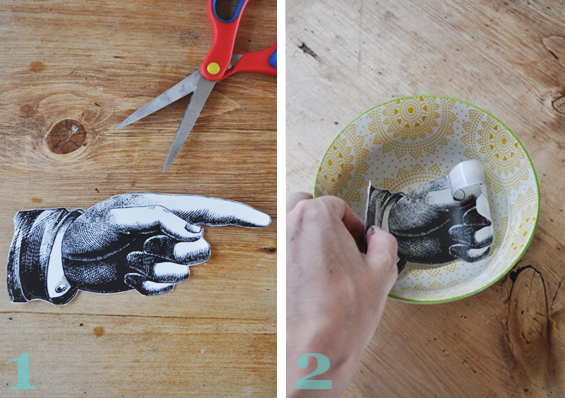 1 Cut as neatly and closely as possible around the image.
2 Immerse in lukewarm water for 30 – 60 seconds until the paper layer begins to release (the decal will probably curl though don't worry about that). Leave the paper attached at this stage.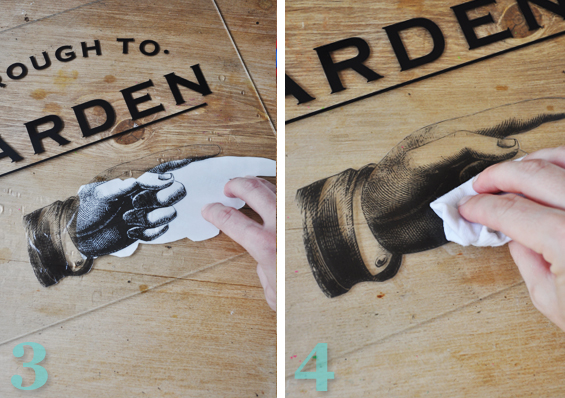 3 Position the decal as desired, with the paper layer on the underside, then gently slide the paper out. This can be fiddly and the decal will probably move around and might crease a little though it can be easily repositioned and flattened whilst still wet.
4 Use a soft damp cloth or small rubber squeegee to smooth out any air bubbles and creases, working from the center out.
5 That's it!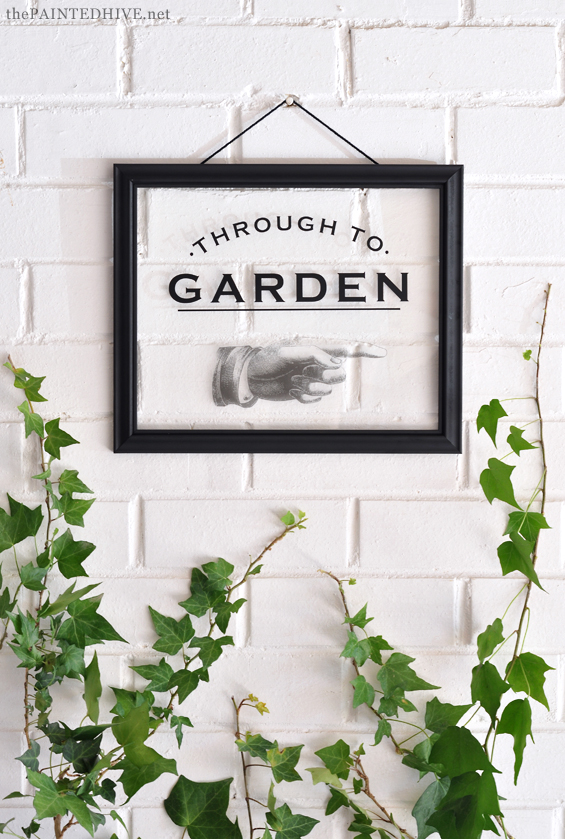 The picture frame turned out really cute though I adore the amount of charm the decal lends the door.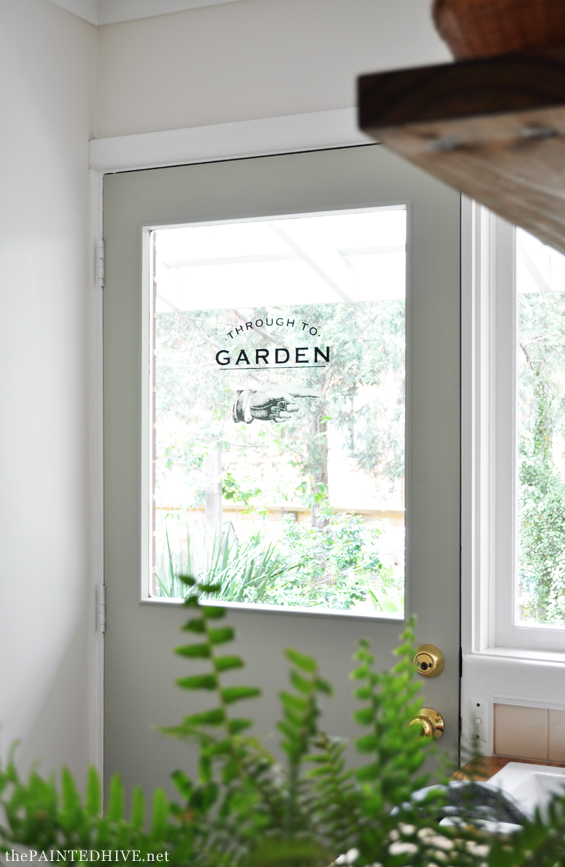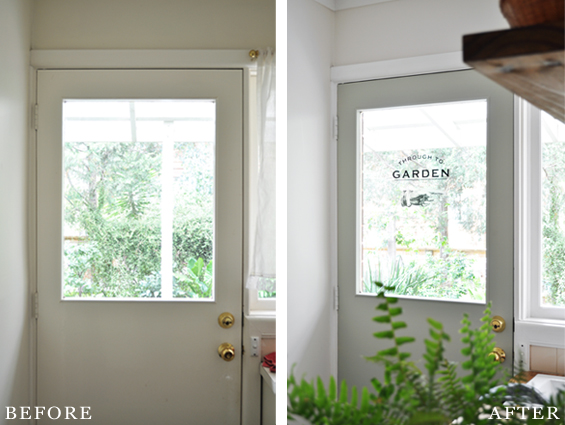 The new paint colour on the door is "Green Result" by British Paints.
Especially with all the greenery behind it.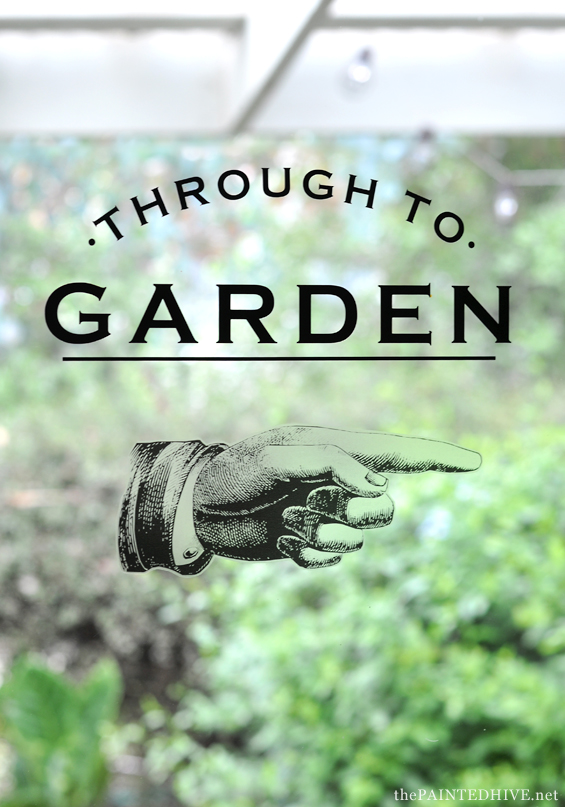 Mum and I kept standing back and saying "Wow, that actually looks really, really cool!". I think we stared at it for about ten minutes! Ha, ha.
The vinyl decal is deeper in colour and a tad sharper than the waterslide decal though they still work really well together.
And, in case you're worried, the glass door even looks charming from the backside too…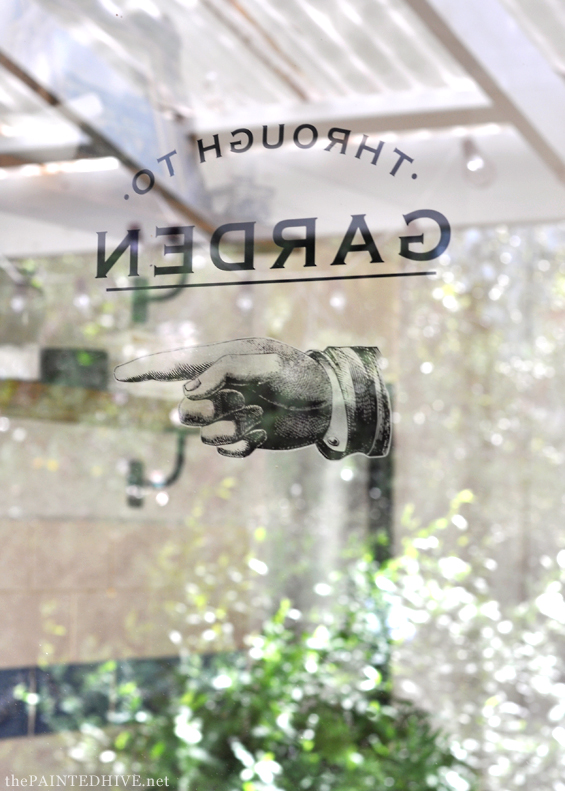 Although it is tricky to photograph!
You can download your free printable below.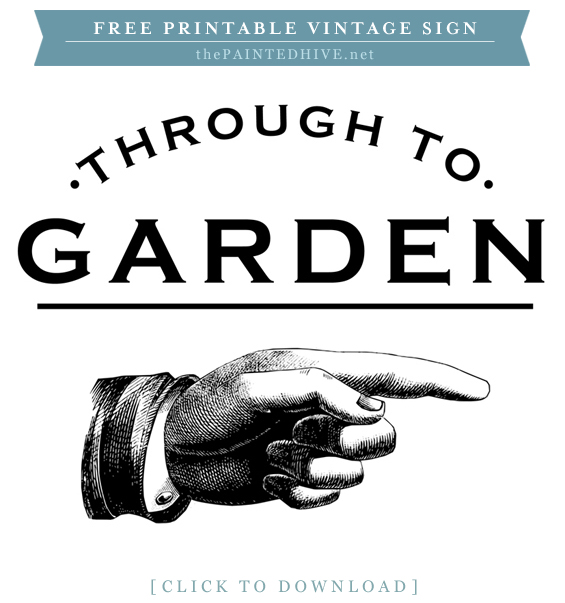 Note: I've created a folder complete with PDF, JPG and EPS files, including left and right versions of the hand. Choose the right file for your intended use.
If you don't have an appropriate glass door or window, you can apply the decal to almost any smooth surface using the same method I've described above. Or, you can do as I have for the tutorial and use the glass in a picture frame. Another option is to simply print the graphic onto regular paper and pop it into a frame, or create your own custom sign (I have a tutorial for that here). The possibilities are almost endless.
Have fun!
Free for personal non-commercial use only.