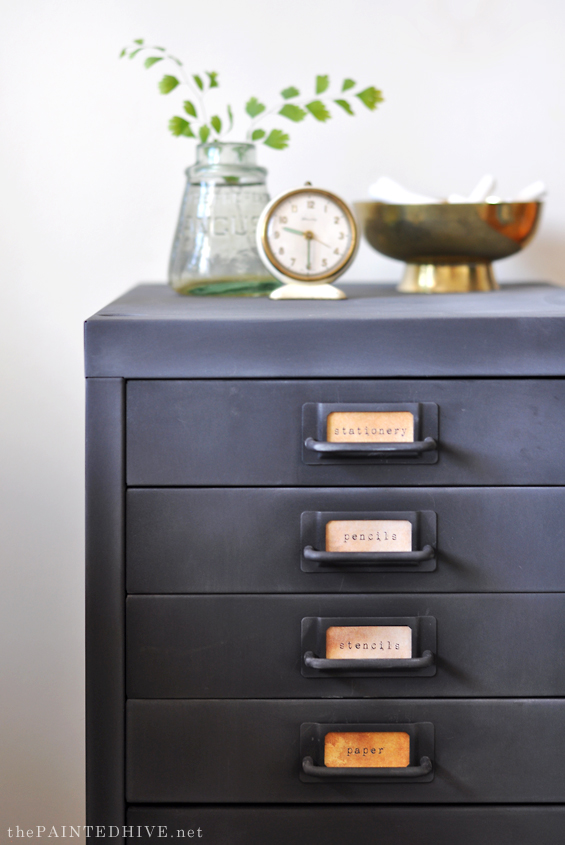 For the past four or so years, all of Charlotte's craft supplies have lived in a big plastic tub on the top shelf in her wardrobe.
Aside from the fact her room has limited storage space which means we can't be too picky about where things are housed, they were stowed away somewhat out of reach so that I could be the one in charge of when and where crafting would take place – I think we all know, or can imagine, just how prudent three year olds are with paint and glitter!
Though with Charlotte maturing, starting school and showing a growing interest in all things craft, it was clear she needed her supplies closer at hand.
Enter this little file cabinet…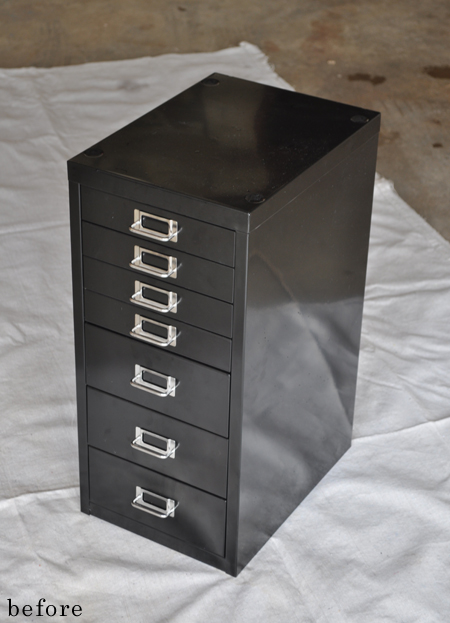 To be honest, I wasn't sure I'd be able to fit any more furniture in Charlotte's teensy room though when I saw this sweet cabinet at Officeworks it seemed just right. It's nice and compact yet still bursting with storage space. Seriously, this thing is like Mary Poppin's handbag! I even made my sister, who also has a tiny house, go out and buy one too and she was equally as impressed by its TARDIS-like qualities!
Of course, me being me, I couldn't leave well enough alone so decided to give it a little makeover. I know that altering a brand new piece of furniture may seem weird though the glossy black finish teamed with the shiny silver handles was just a tad too harsh and modern for Charlotte's cottage style room. So, this is what I did…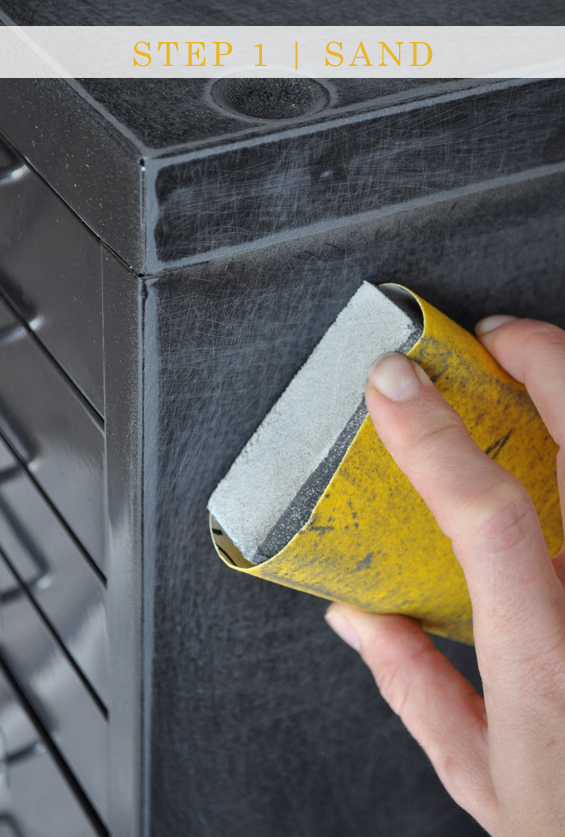 STEP 1 SAND
Using course grit sandpaper I thoroughly scuffed the entire cabinet. This gives the surface "tooth" which allows new paint to adhere well.
Now, I could have stopped here as sanding does create a nice distressed look, though it was just a tad too "scratchy" for my liking. Plus, it was difficult to get around the handles evenly so the distressing looked a little unnatural and linear in some areas.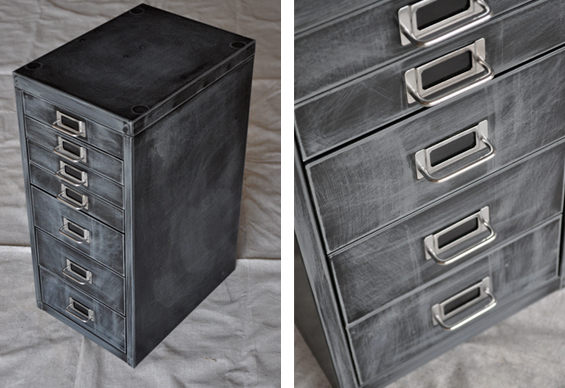 Note: I chose not to remove the handles because they are riveted on. Removing them would have meant breaking the rivets and probably having to replace the handles. For ease and the sake of 'making the most', I decided to keep them.
STEP 2 CLEAN
To remove any residual dust or grime I thoroughly wiped down each surface using isopropyl alcohol.
I've used isopropyl alcohol to clean metal prior to spray painting in the past and find it helps provide a fantastic, long-lasting bond.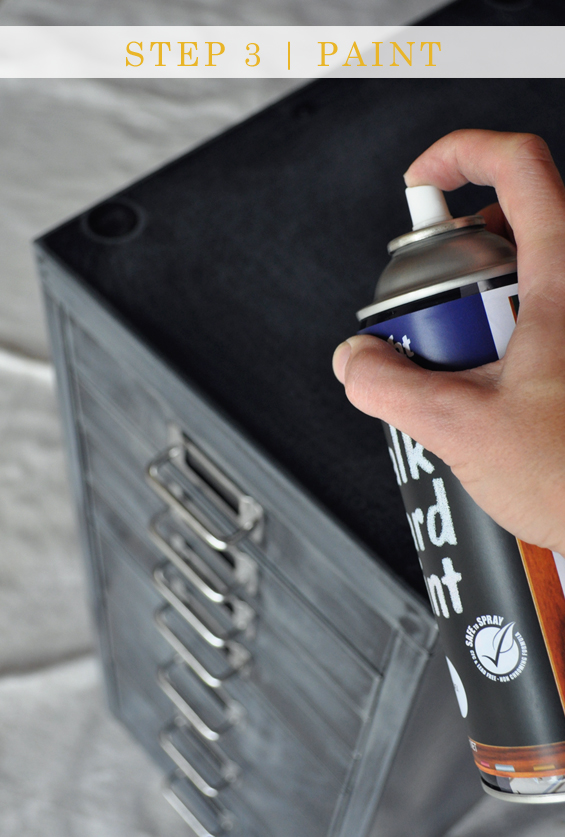 STEP 3 PAINT
I gave the entire cabinet two – three light coats of chalkboard spray paint.
Ordinarily I would have removed the drawers though this time around I decided to keep them in place. And it worked really well! To keep the finish consistent I did pull each drawer out, just to the end of the inner lip, and spray painted around all the edges.
As soon as the cabinet was coated with the chalkboard paint I knew it was going to look cool when finished. Phew! It instantly lost its modern edge and became all vintage-y.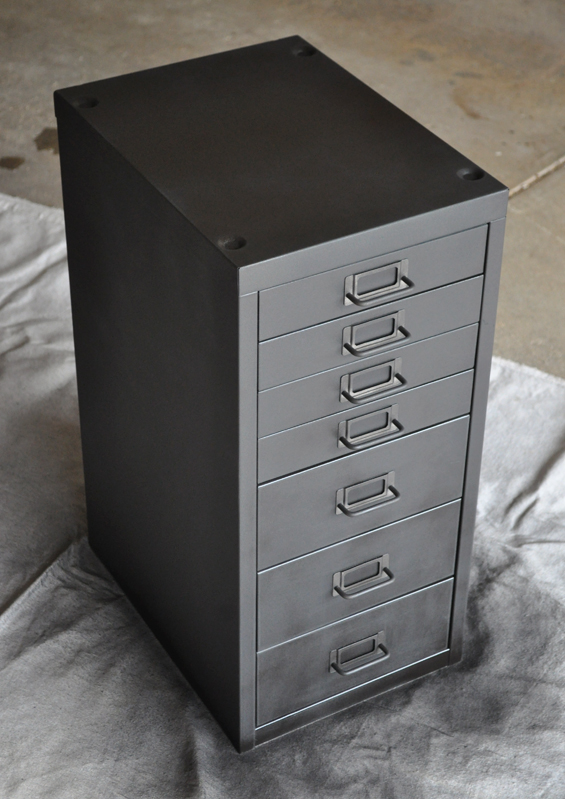 I love the matte finish with that slight graphite note.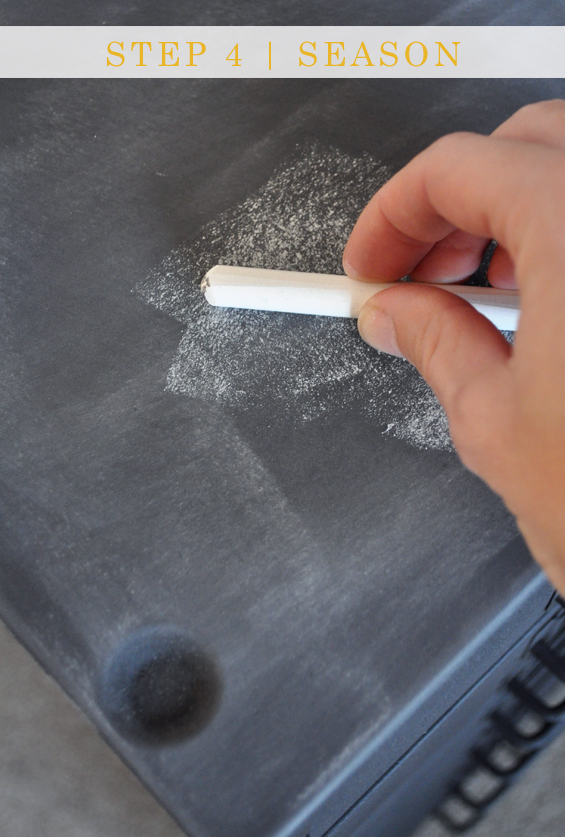 STEP 4 SEASON
To finish, I lightly rubbed the entire cabinet with chalk before dusting it off again. This creates that soft, multi-tonal look you see on old chalkboards. It's wonderfully textural and grungy and the gentle grey is a great neutral.
Oh, and don't worry, it's not dusty or anything to touch. The texture in the chalkboard paint holds the residual chalk dust in place.
STEP 5 DONE!
Seriously, that's it! And I'm so in love with this easy transformation!
To complete things I added some aged paper labels to the handles.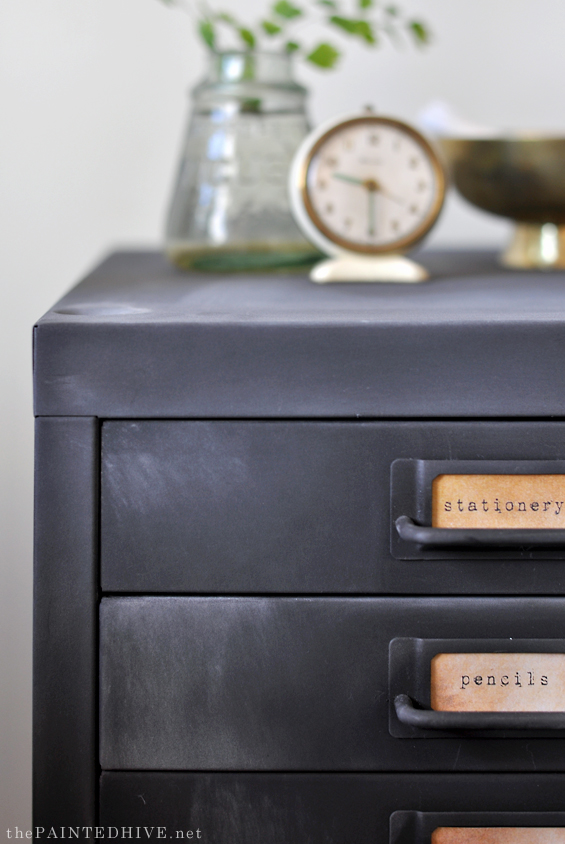 The cabinet came with generic plastic castors which I chose not to attach. I contemplated adding vintage wheels instead though decided I quite like it sitting flush on the floor. Plus, it doesn't need to be moved around so wheels aren't really required anyways.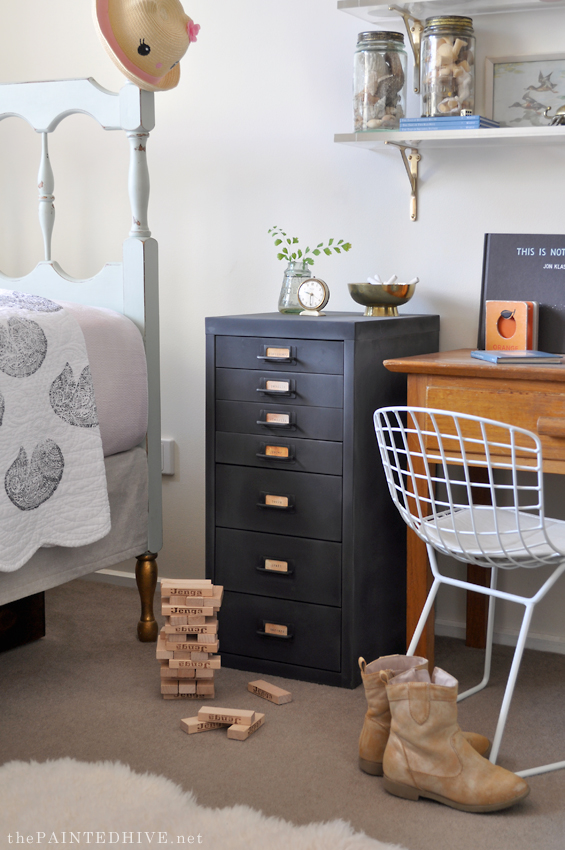 As mentioned above, the chalkboard paint knocked-back the modernity of the glossy metal beautifully and now the cabinet suits the overall vintage scheme of Charlotte's room perfectly.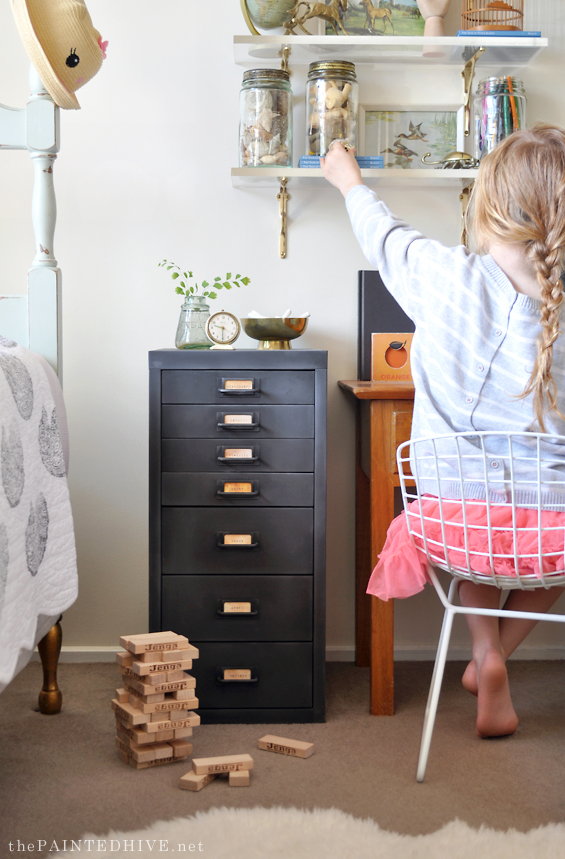 I was unsure how the handles would look being painted to match the cabinet itself. I thought they might get a little lost however the labels provide just the right accent.
Here's a close-up pic to show the texture and variation of the chalkboard paint…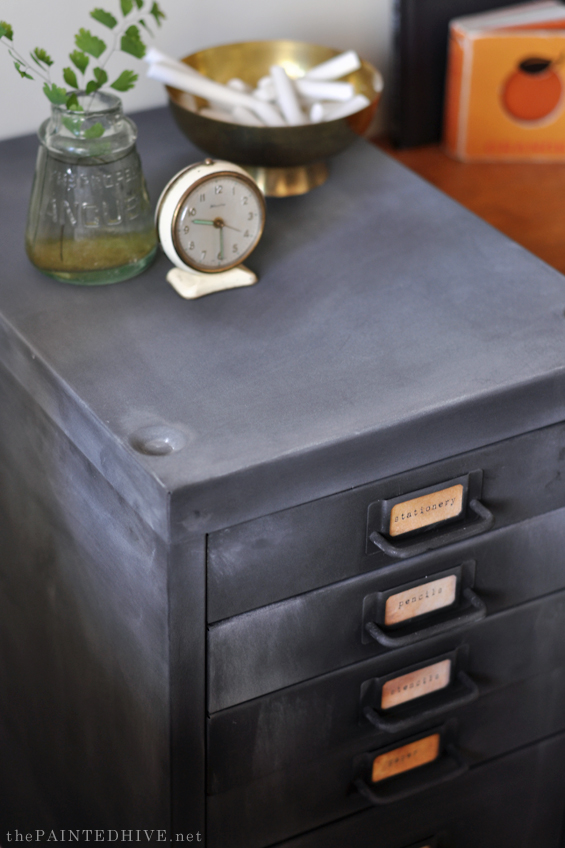 So yum!
As with all of the projects I complete for Charlotte's room, this one was tricky to photograph due to the tightness of the space. No jokes, at one stage I was being harassed by dangling dresses as I stood inside the wardrobe to take some of the pics! The things we I do.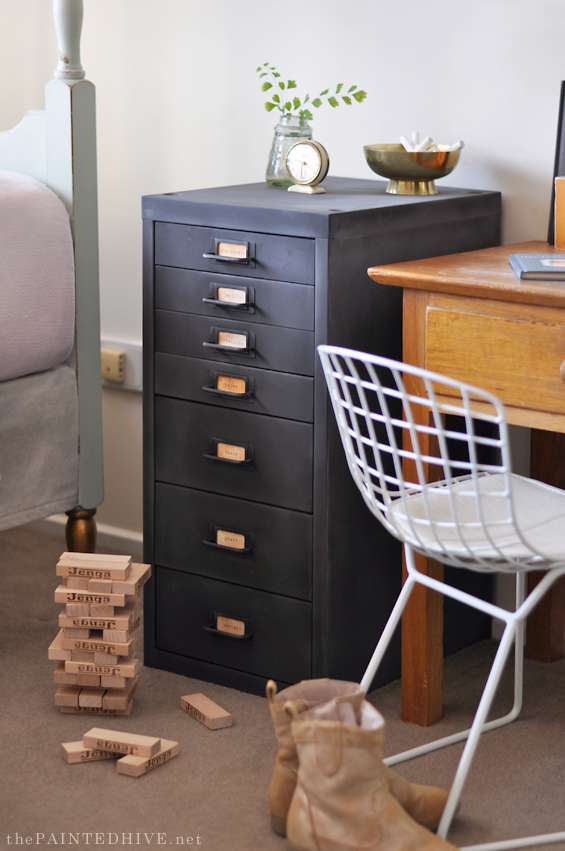 I actually have a matching cabinet with five small drawers which I plan to sit on top of this one. It will house Charlotte's Lego and create a nice tall bank of drawers. Unfortunately, it will be too tall to sit beneath the lowest wall shelf so I have to move them all over a bit. It's not a hard job though I keep putting it off.
When I do work up the motivation it will be the final project before this room is complete. Yay! Can't wait to share the full reveal.