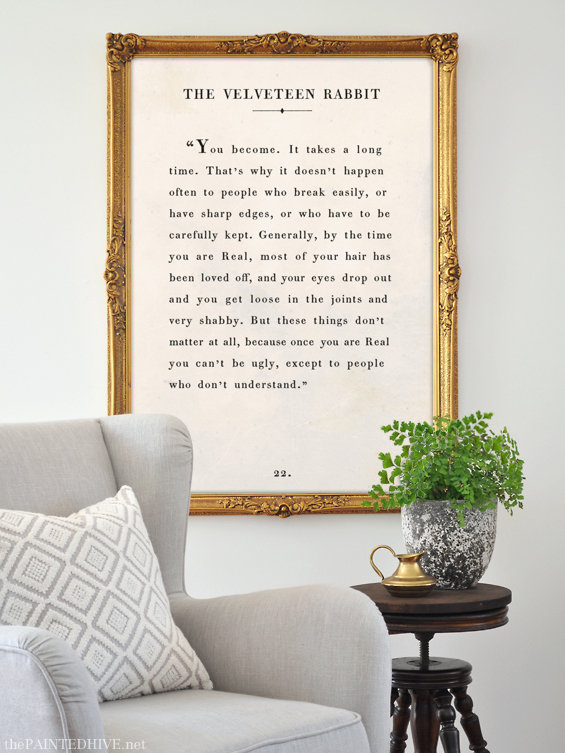 Following the response I received to my original release of free printable quote art it seemed only natural that I should share some more!
I was totally inundated with new quote suggestions (thanks everyone!) and, though it wasn't easy, I've finally managed to narrow things down.
I have selected quotes which were requested numerous times and today I'm offering 15 printables in total – five different quotes in three different colourways!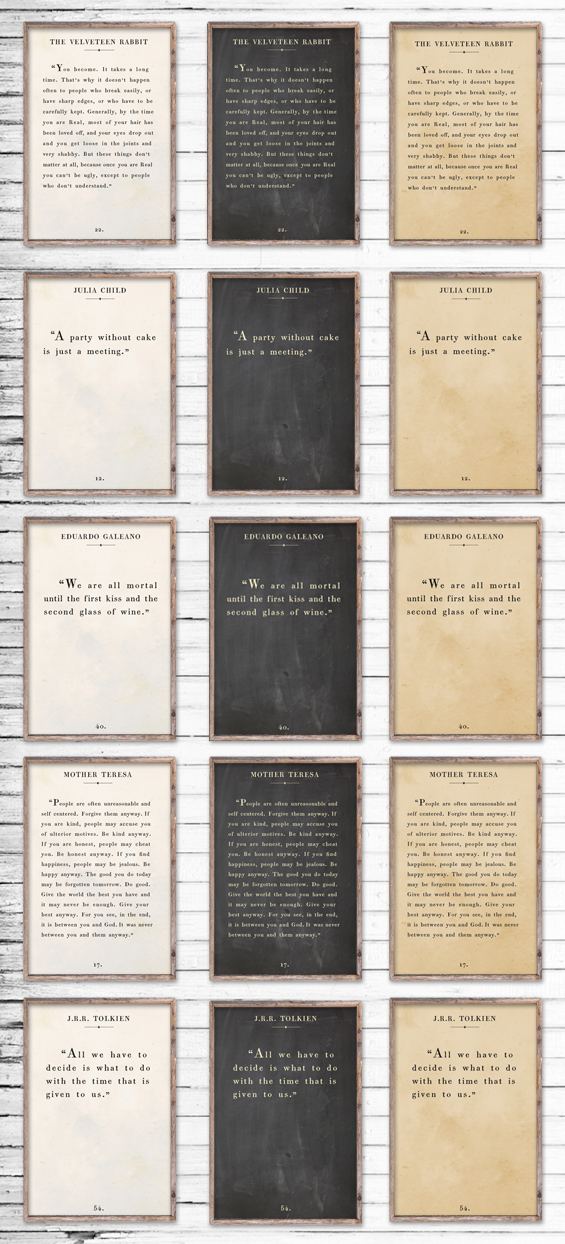 As always, each image has been fully optimised for print and, for your convenience, designed in 2:3 ratio to fit standard frames.





CLICK A BUTTON ABOVE TO DOWNLOAD & VIEW
Due to the size of these files I am hosting them on Google Drive. You will be redirected there to complete the download process. 
Files are saved in zipped folders. Depending on your operating system they may need to be extracted prior to viewing. Due to their large size, some mobile devices may fail to load them.
As mentioned in my previous quote art post (refer to the 'note' toward the end of the article), I have chosen to amend the format of these signs slightly so they do differ marginally from those I originally shared. This is to ensure they somewhat vary from those being offered by other artists as I would hate to knowingly replicate the work of a fellow creative.
I've spoken about printing and framing options in my previous quote art posts though for anyone new here I thought I'd share the information again…
PRINTING
You can have these signs printed at any store which offers a good-quality, large-format printing service. Prices for a 60cm/24″ x 90cm/36″, full-colour print on poster paper generally range between $20 – $40. Black and white engineering prints on bond paper can be as inexpensive as $5. If you're unsure where to start looking, try Googling "print and copy services". Otherwise, some stores include; Officeworks, Vista Print, Staples, Office Depot, Costco, Walmart. Along with having your image printed in-store, many companies also offer an online upload service. This can be handy if you live in a remote area or simply want the convenience of shopping from home. I have some basic instructions for ordering online from three different companies here.
FRAMING
For ease, I have designed these signs in 2:3 ratio to fit standard poster frames. You can find large 60cm/24″ x 90cm/36″ frames in lots of places with prices generally starting from around $15. If you're unsure where to start looking, try Googling "poster frames". Otherwise, visit dollar and discount stores, affordable department and homewares stores or Ikea. For a more authentic sign look, I recommend removing the glass/perspex from your frame and affixing the print directly to the backing board using spray adhesive. If you would prefer to DIY your own farmhouse style frame, you can find my basic tutorial here.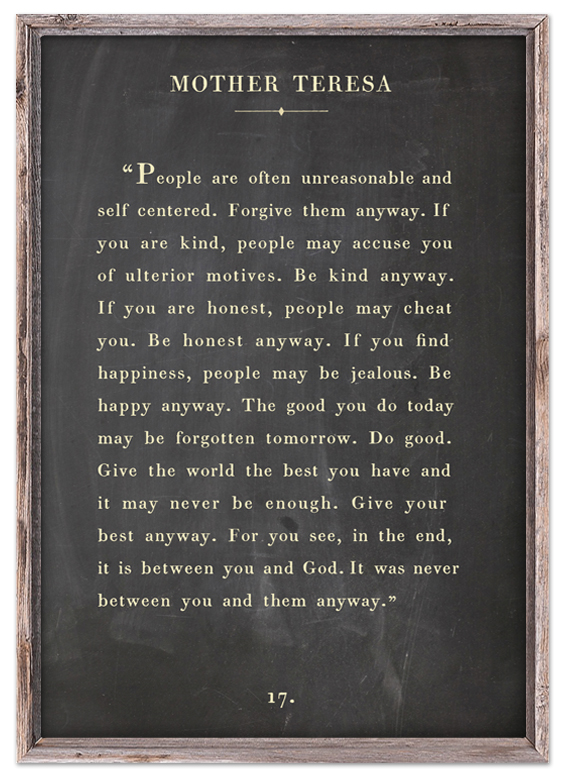 The Mother Teresa quote was the most desired. I think I received around 40 requests for that one!
I plan to share more quote art over the coming months and will be sure to keep referring back to any previously suggested quotes. So, if your suggestion wasn't featured this time around it may still be used in the future. And, if you're yet to recommend a quote, please share it in the comments below.
If you'd like to save this post for later, feel free to pin the image below.

If you're after something custom, I also offer a very affordable bespoke service. You can order a personalised quote art sign through my little shop here.
Or, find my other FREE printable quote art by clicking a pic below…
Free for personal non-commercial use only.