So, I know it's basically December and publishing a post without any hint of pine needles or flocked snow is seemingly akin to impudence, though let's be rebels!
Over the past few weeks I've been chipping away at Riley's bedroom re-do, with the most recently completed project being his new desk.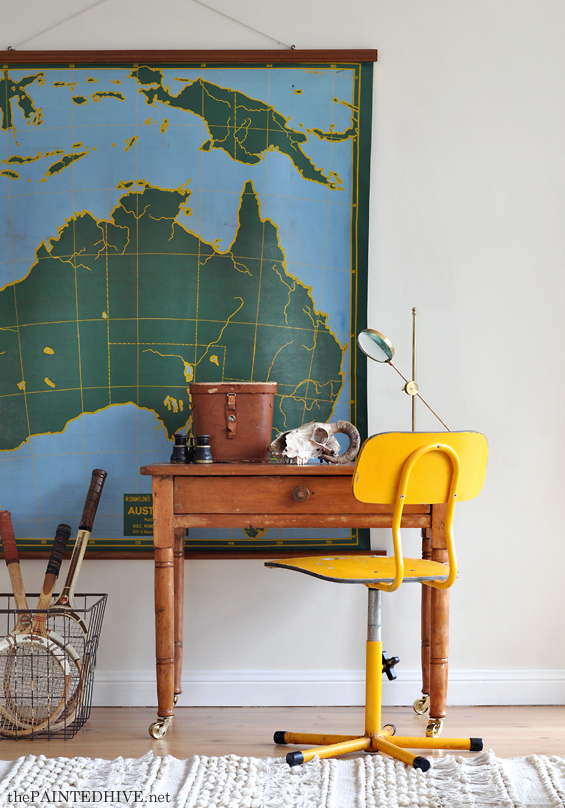 A month or so back I found this old hall table at a local antique warehouse for $120.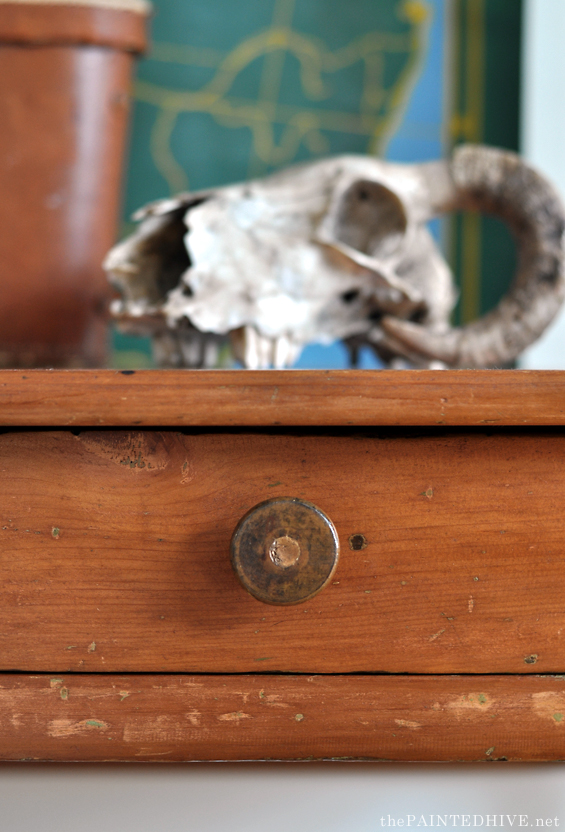 It was perfect though, being standard table height, just a tad too tall (sorry, I don't have a before pic). You see, along with operating as a functional desk for a four year old, I also needed this item to act as his bedside table.
Fortunately, curtailing fully grown furniture is in my repertoire! In the past I've already shortened a hall table to become a desk (for my daughter), a console table to become a TV cabinet, a dining table to become a coffee table, a dresser to become a bench seat, and I could probably go on!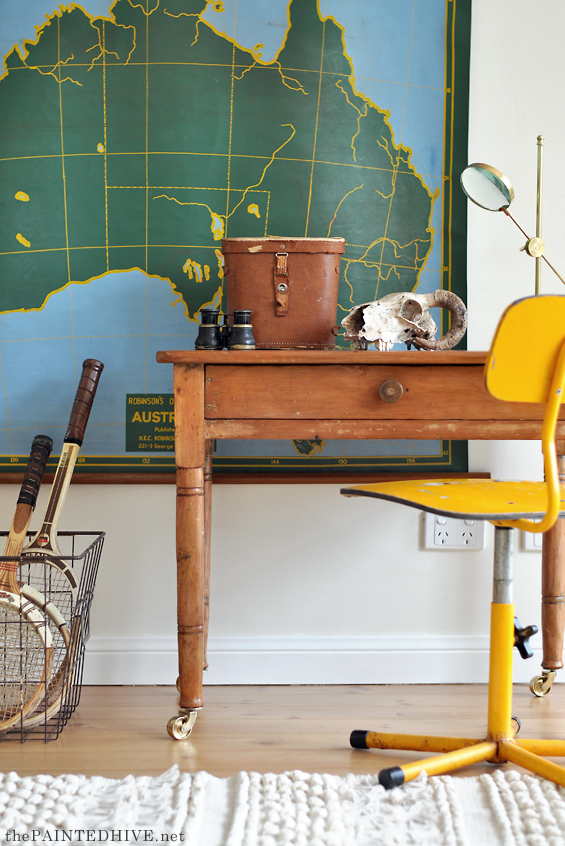 Anyhoo, it's a very easy process as I'm sure you can imagine. I simply used a basic hand saw to trim off an equal portion of each leg (around 18cm/7″).
Because my desk legs were turned (as can be seen in the photos – notice the two pairs of bands, well, there used to be three pairs), I chose to use the lowest turnings as my trim point due to the fact they were set at around the right height. This made my cutting easy and created a nice flange on the end of the "new" feet. However, because the turnings were only set at around the right height, it also meant that the desk ended-up a little shorter than ideal.
Luckily, this was actually a blessing in disguise as it gave me the idea of adding these castor wheels from Early Settler. They boost the height a tad and complete the desk perfectly!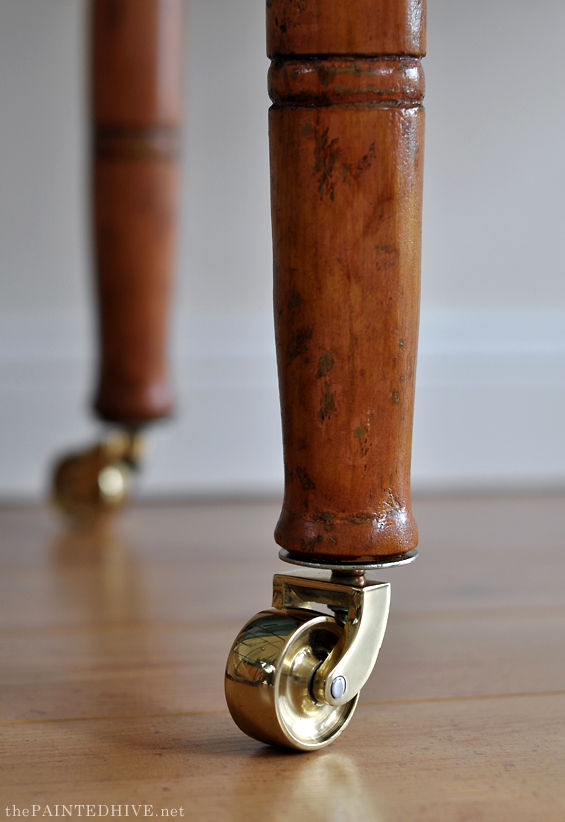 I love furniture with little wheels! Don't you?
On the same day I bought the desk I also picked-up this sweet vintage swivel chair.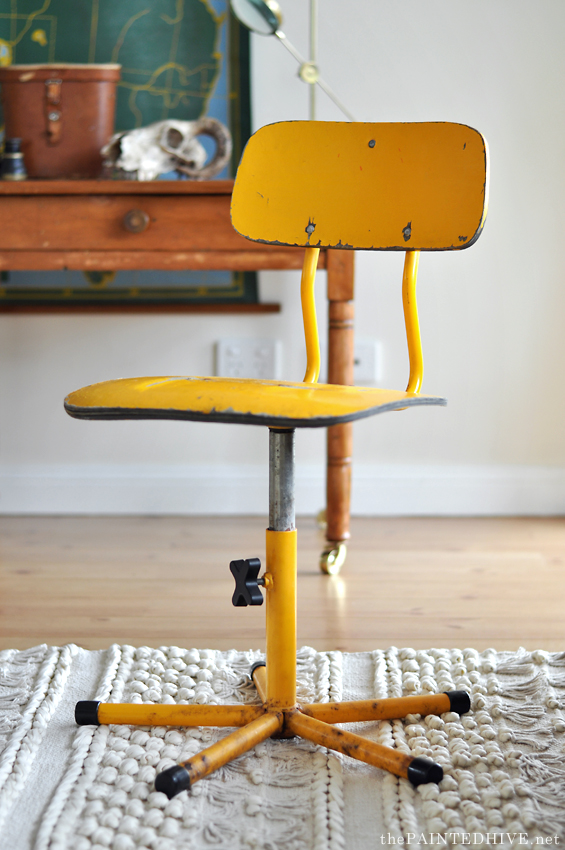 I found it on eBay for just $19 and I LOVE it.
It's got the perfect amount of grunge, is a bit unusual and is even height adjustable.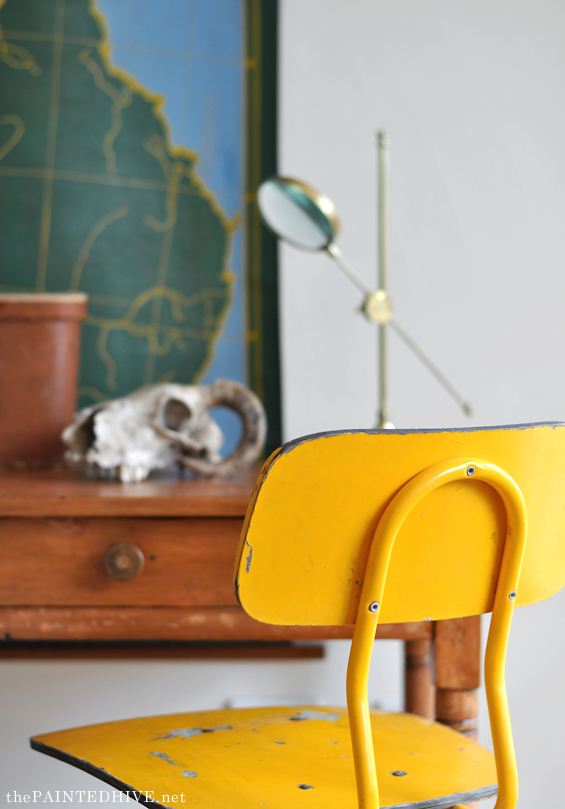 Initially I thought I was going to have to paint the desk because the yellow of the chair seemed to clash with its golden wood. Though the colour combo is growing on me. I guess I'll reserve judgement until the whole room is pieced together.
Speaking of the whole room, if you've been following along with the makeover, then you'll know that these pics have clearly been taken elsewhere. I've staged my living room for this shoot because in Riley's bedroom the desk sits right in front of a full length window which makes it almost impossible to get a decent photo.
It also meant I could use the HUGE vintage wall chart that was going to be thrown away from the school my husband works at! Seriously, what were they thinking? I honestly have nightmares about all the cool stuff schools must have thrown away over the years.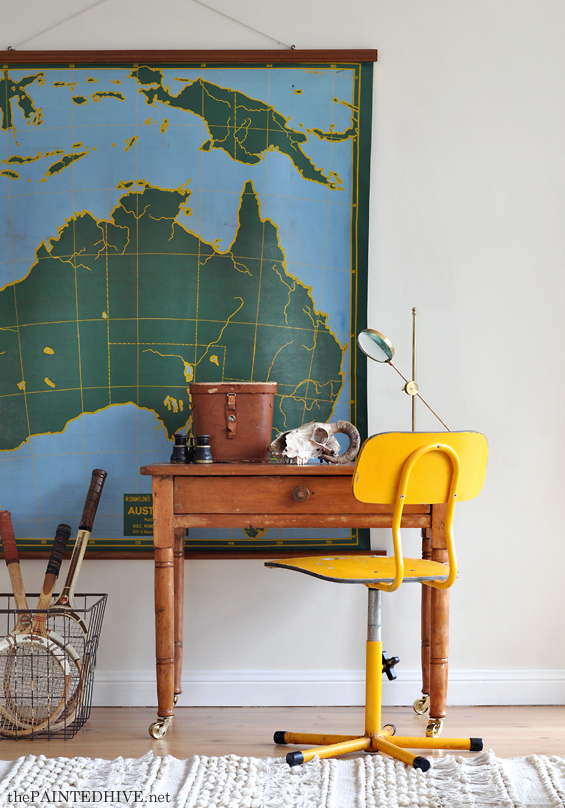 Although there won't be space for the wall chart in Riley's room, the new textured rug and tennis rackets will eventually live there. So too might the brass magnifying stand and ram's skull. We'll see.
Catch up on all my posts about Riley's bedroom makeover here.