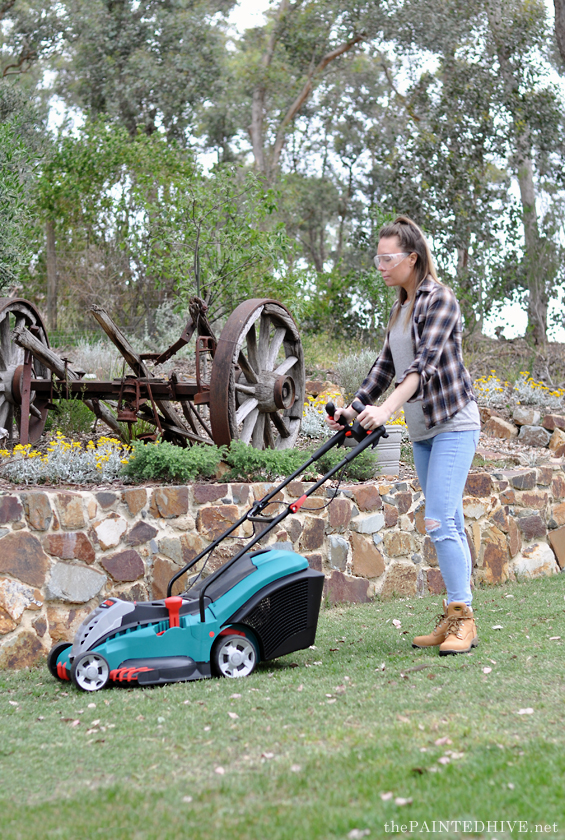 When you're no longer willing to sacrifice twenty minutes of your life to the lawnmower-starting-gods, it's probably time for something new!
No jokes, we've been using my grandpa's old 1950's mower for years now, and whilst it might be cool to have a mid-century coffee table, I can't say the same for a lawnmower. You honestly don't realise just how decrepit and inefficient something is until you upgrade!
We live on incredibly rocky soil (in fact, I could probably take the word 'soil' right out of that statement!) and although our grass isn't the most magnificent in the world, it still needs to be mowed. In fact, we've spent lots of time and effort getting the grass to the point it's currently at and frequent mowing plays a big role in its continued improvement. Having never owned a new mower, let alone a battery-powered one, I really had no idea what to expect from the Bosch Rotak 43 LI. To say I was pleasantly surprised is an understatement!
LIGHTWEIGHT
The first thing you notice is how light it is. I can actually pick it up, pretty easily, with just one arm! Of course this is super handy for steep or sloping blocks as it makes maneuvering easy. Plus it's great if you ever need to transport it, or for people like my parents who have to negotiate stairs to get between their back and front yards. There is even an integrated carrying handle.
EASY START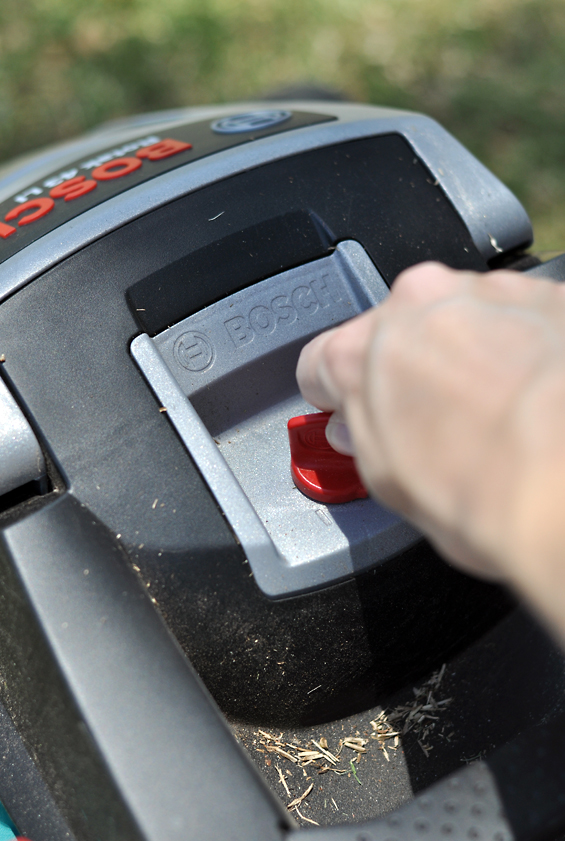 The next thing you'll appreciate is just how easy it is to start. That's right, no more yanking cords until your arm is about to fall off. Simply turn the switch, press the start button, hold the triggers and away you go!
QUIET
I was expecting it to be much quieter than a petrol mower, though not this quiet. You could almost hear our old lawnmower in the next suburb however the other day I was preparing dinner in the kitchen and didn't even realise hubby was mowing the lawn until I looked out the window!
POWERFUL
Now, I must admit, I was ready to be disappointed by just how much guts the battery-operated motor would actually possess. In fact, I even found I was holding my breath in certain anticipation of some kind of mocking comment from hubby. Turns out, my skepticism was totally unfounded and the first words out of hubby's mouth were, "It's a ripper!".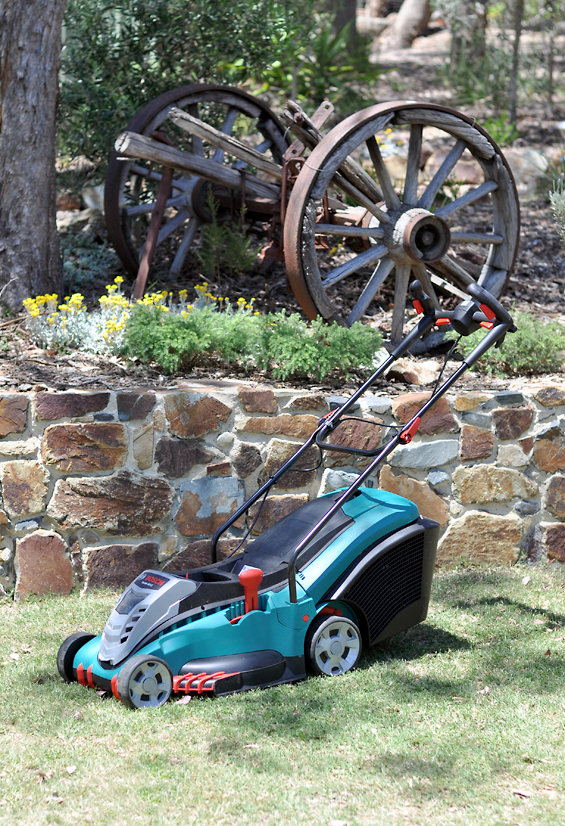 It actually has higher torque than our previous petrol mower and the hardened steel blades make quick work of all grass varieties. The battery reaches full charge in just 140 minutes and can effortlessly mow an area of up to 800 square meters.
EDGE TRIMMING
Unlike our old mower, which had wheels wider than the body (meaning getting close to any obstacles was little more than a dream), this machine is designed to trim right up to edges and comes equipped with special extended grass combs to make short work of those pesky areas.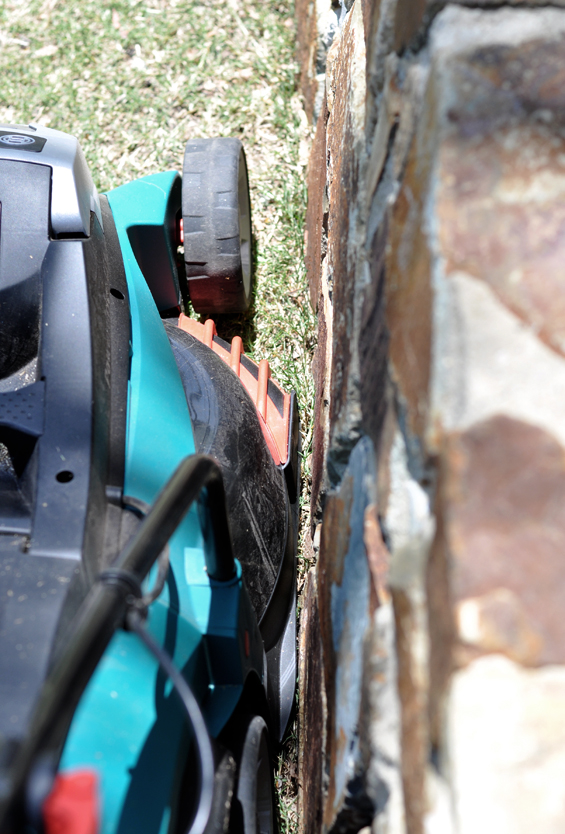 I'm not gonna say it completely eliminates the need for separate edging, though it does a pretty decent job.
GRASS BOX
If you like catching your clippings, this mower come with a large removable grass box which clips on and off super easily.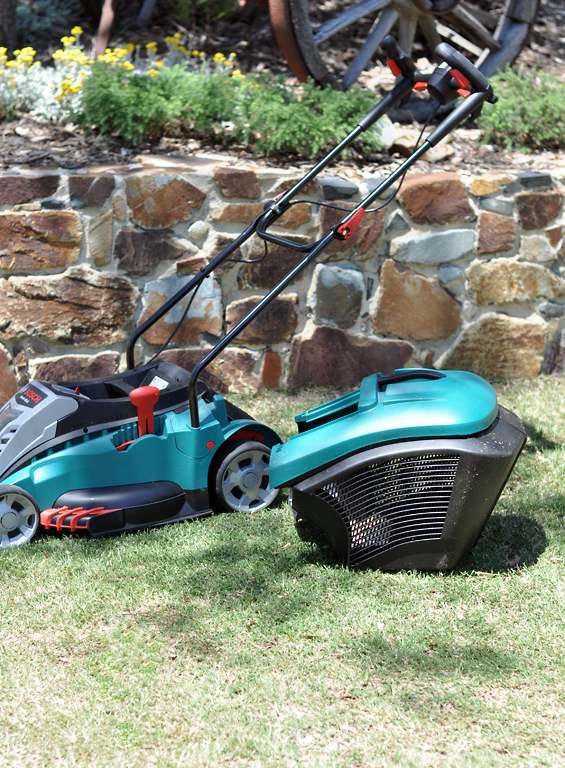 Whilst it might be true that I don't have much to compare this mower to, in the words of my husband I truly have no hesitation stating, "It's a ripper"! Not only does it do the job – easily, quickly and efficiently – though the compact form, lightweight nature and simple start makes it so unintimidating. I just felt like I was outside doing the vacuuming!
If you've never contemplated the idea of a cordless mower before, maybe it's time to reconsider.
I was super grateful to be gifted the Bosch Rotak LI Cordless Lawnmower for the purpose of an unbiased review.
All images and opinions are my own.
PS I'll be back soon with a suite extension update. Things are really moving along now!