Why, hello there! Remember me?
I'm sorry I've been so absent.
Things have been busy, just not in a super productive way. With summer holidays comes lots of family time which means completing projects and writing blog posts isn't always a priority, or sometimes even a possibility.
Still, I have quite a bit of suite extension progress to share and thought I'd ease into things with this simple stool hack I finished a few days ago.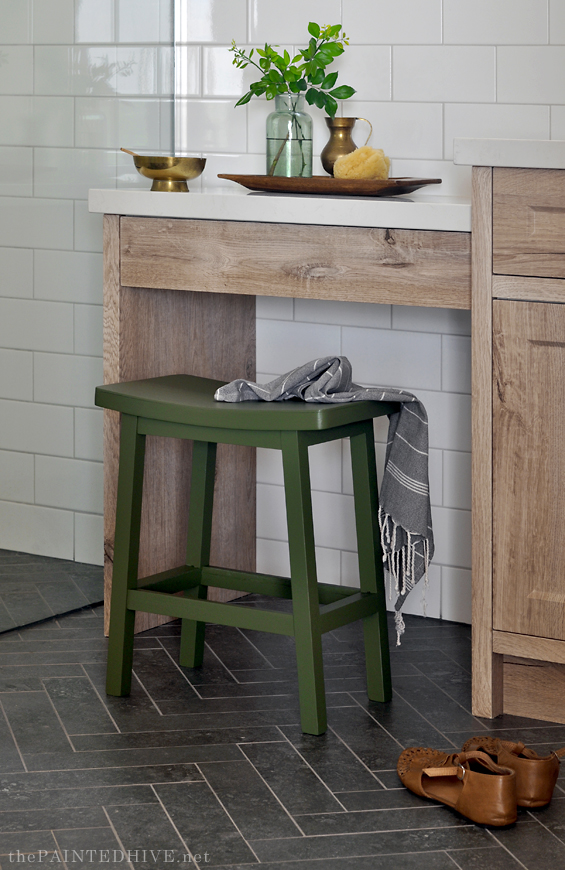 From the start we knew we needed some kind of seat in the bathroom to partner the make-up vanity we had designed.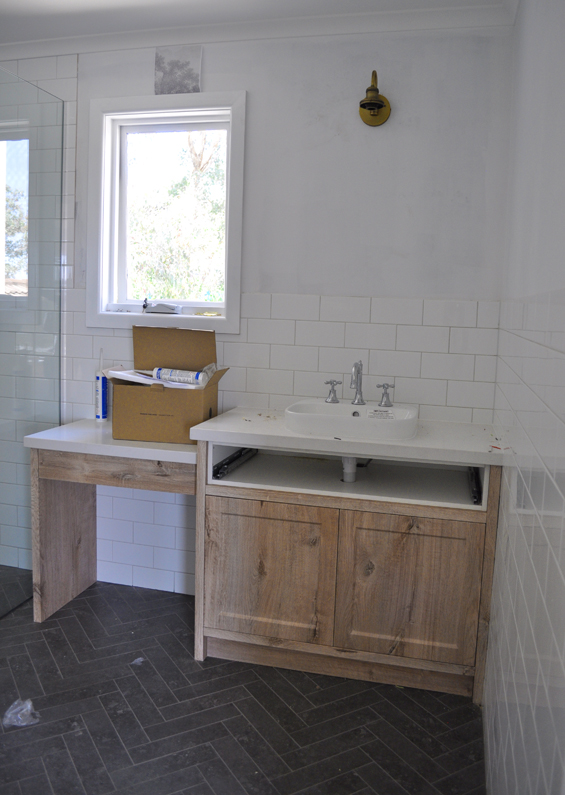 I was envisioning a gorgeous primitive style stool – like the eastern elm ones you often see – but man, those things aren't cheap!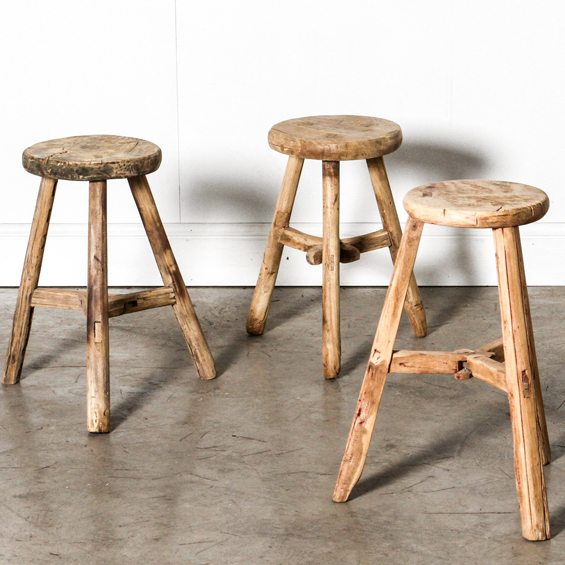 Plus, I didn't love the idea of painting over the lovely rustic timber (as I knew we needed something with some colour to off-set the wood vanity).
In my rendering I had included a basic curved milking style stool.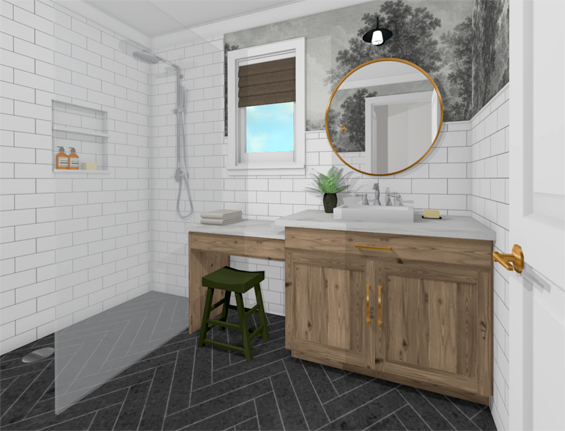 And although I never really considered it ideal, just by chance I happened to notice a very similar stool at Kmart which got me thinking.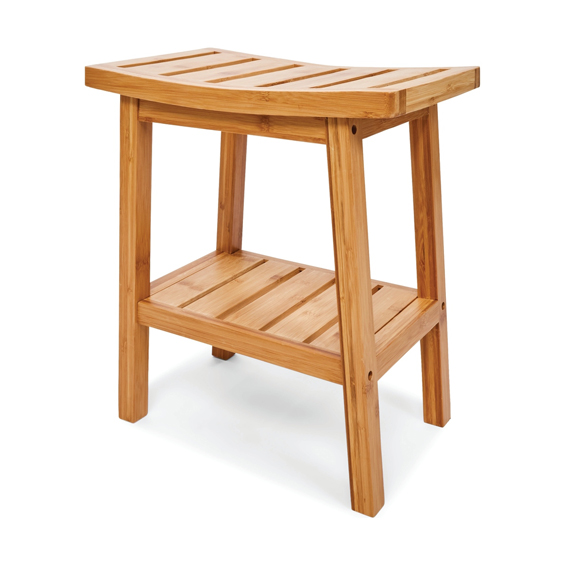 Whilst it wasn't perfect, it was only $25, so I figured I didn't have much to lose by playing around with a few modifications.
This was a super easy, and very affordable, little project.
All I really wanted to do was lose the slats and paint the bamboo.
Not that there was anything wrong with either of those elements, they just weren't what I wanted in this case.

1 | REMOVE SLATS FROM LOWER 'SHELF'
The stool comes unassembled which is handy. The first thing I did was cut the slats out of the lower 'shelf' component using a jigsaw.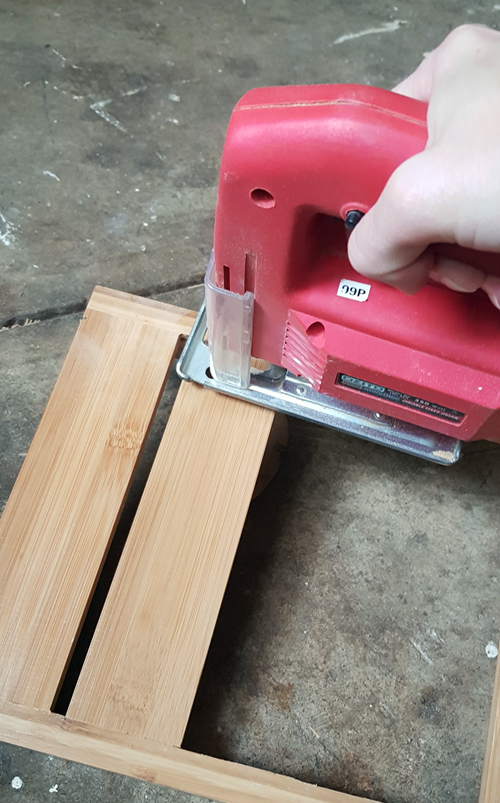 I was hoping they might just tap out though they are partially glued.
This left me with just the two side rails.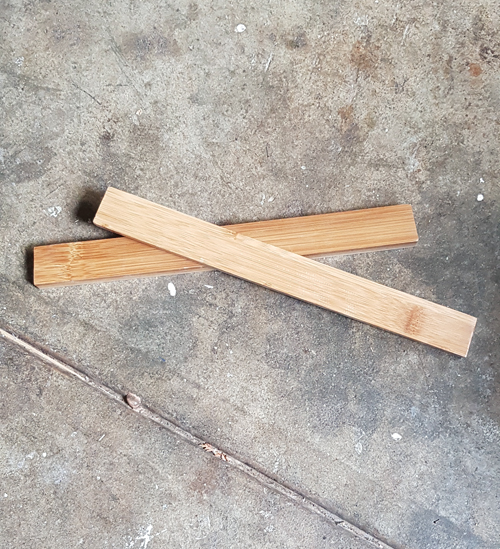 2 | ASSEMBLE STOOL AS PER USUAL
Next I simply assembled the stool as per the instructions. Not having the lower slats made no difference. It was really easy.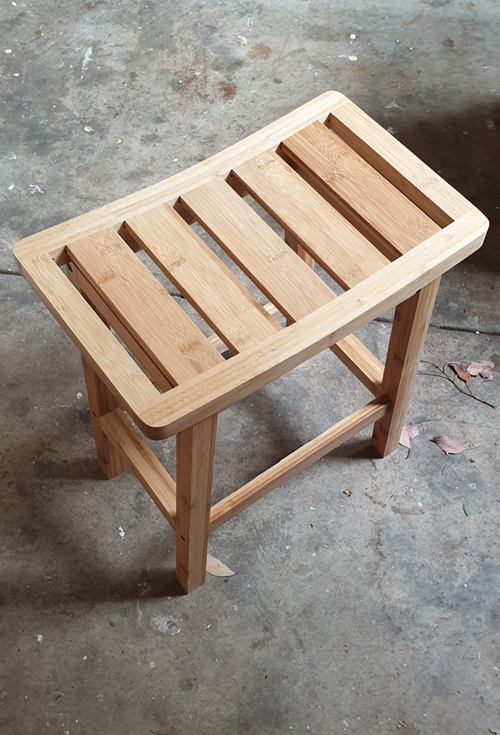 3 | CUT COVER PIECE FOR TOP
To conceal the top slats, I decided to cut a piece of thin timber to fit snugly over them. I just used basic 3mm plywood which I had left-over from a past project.
First I positioned the plywood on top of the stool, pressed it into the shape of the curve (this is important), then marked out a template on the base of the ply by tracing around the stool top with a pencil.
TIP: Line up a corner of your plywood sheet with the stool edge so you have two nice straight lines to begin with. I know it sounds like a no brainer, though it can be an easy thing to forget.
Then I simply used a jigsaw to cut out the shape.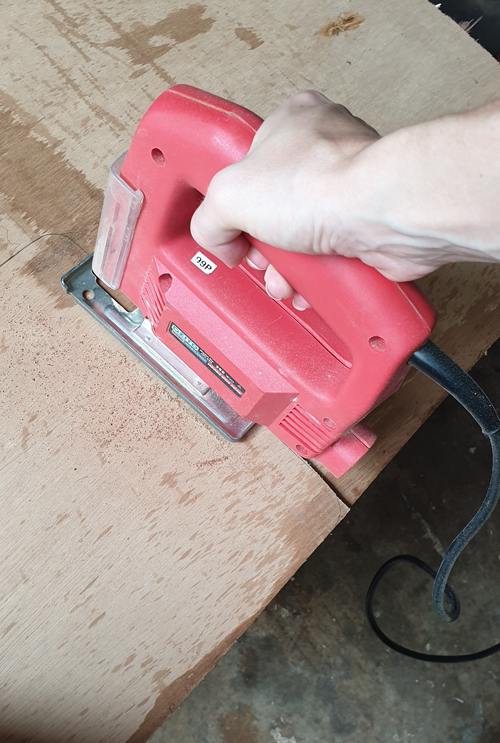 Please ignore the mankiness of my plywood. It's been sitting in the shed for a loooong time.
Although you want to be somewhat accurate with this step, you can always finesse things once the top is attached. If in doubt, always go slightly larger. You can easily trim or sand back excess timber though you can't add more!
4 | ATTACH STOOL TOP
To attach the top I applied some wood glue to the slats, positioned the piece of plywood in place, then hammered in a few small finishing nails to keep everything secure.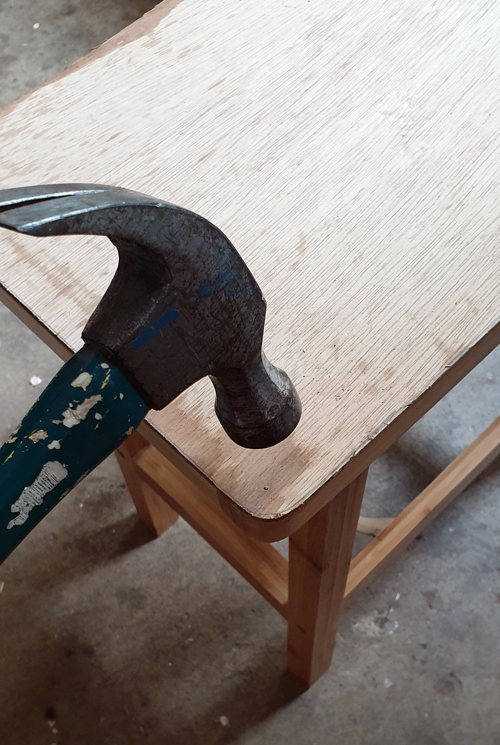 If needed, you can recess your nail heads using a prick punch.
5 | FILL & SAND
Using some wood putty, I filled my little nail holes and also the large screw holes on the legs. Filling the screw holes just helps make it look less like a flat-pack.
I also filled the little gaps in the lower rails where I had removed the slats.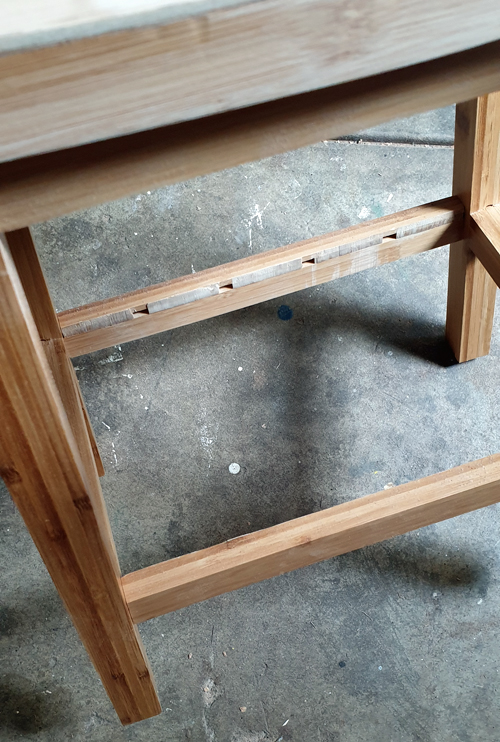 BEFORE FILL
AFTER FILL
Once the filler was dry, I sanded the excess back before sanding the stool all-over to provide a good surface for my paint.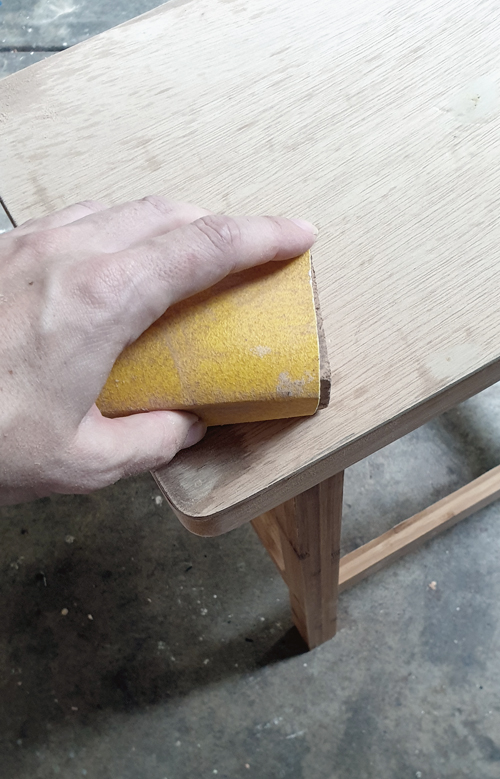 6 | PAINT
I knew I wanted my little stool to be green and settled on Dulux 'Shallot Leaf'. I simply used a sample pot then sealed it with a clear matte poly to provide some protection.
DONE!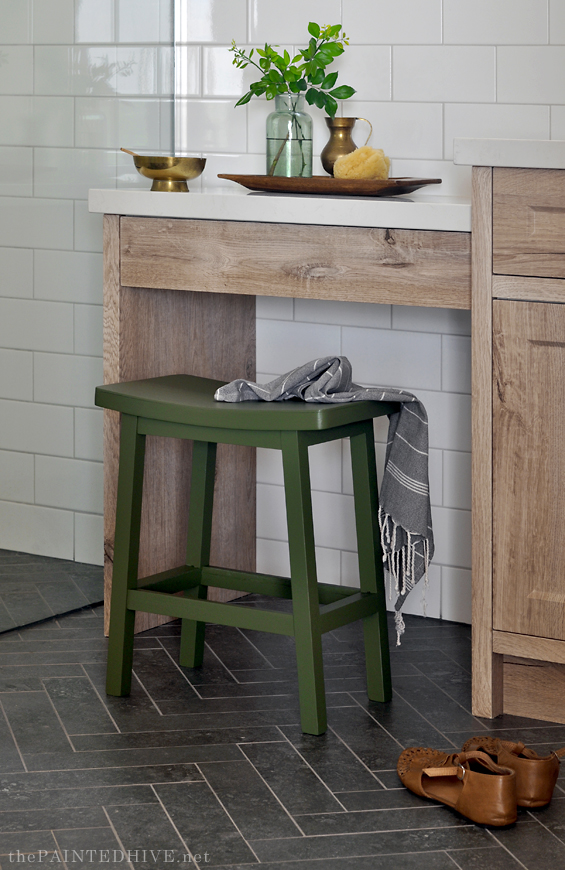 I know it's not the most earth shattering project, but it was just right for what we needed.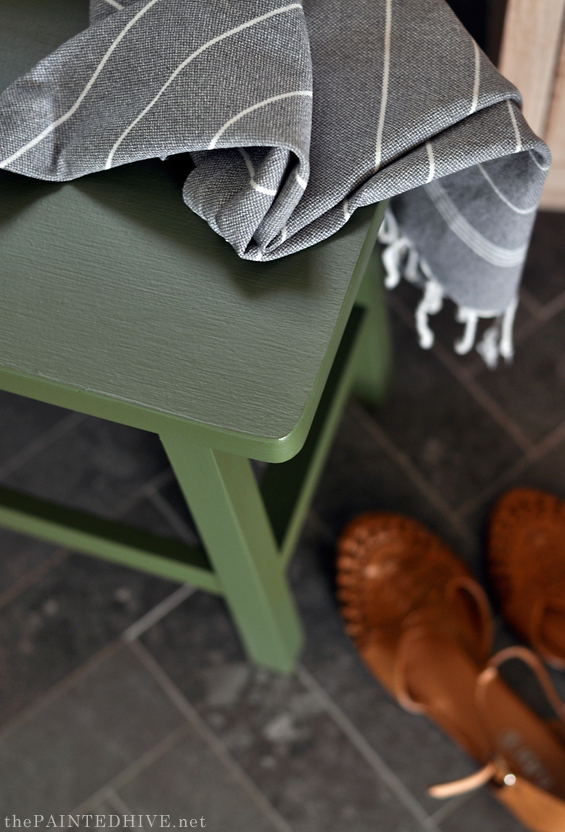 And of course, although the bathroom's still not entirely finished, it was fun to play around with some pretty styling.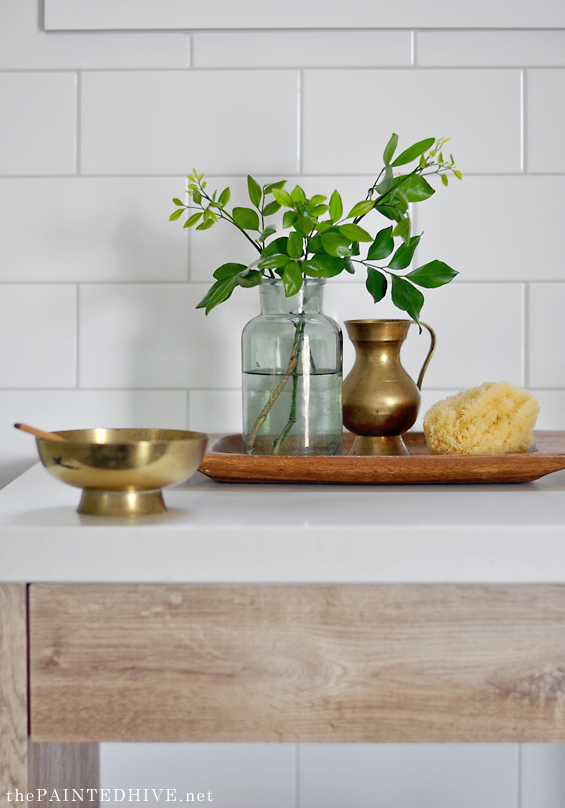 In other suite extension news, we have just been granted the COO (Certificate Of Occupancy) so can now move on to fitting out the interior. Yay!
I'll be back soon to share some of the progress.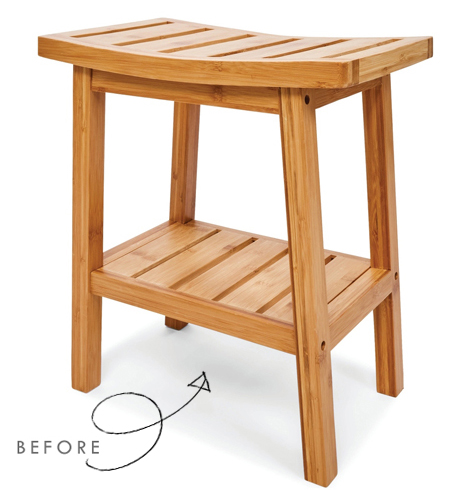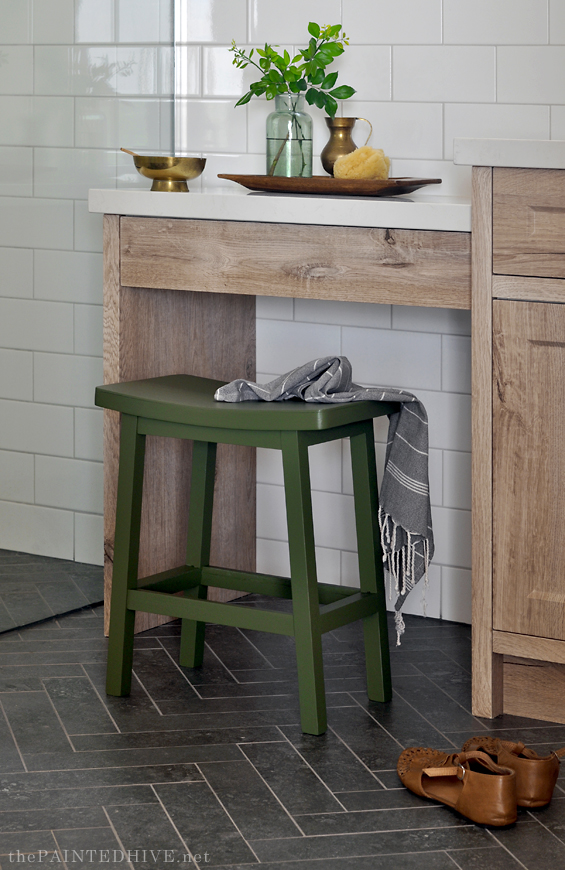 Catch up on all of the other suite extension posts HERE.