I know it's almost Christmas and everyone has better things to do than catch-up on other people's house progress, but I really wanted to share this quick update on the suite extension.
Our original plan was to have the build aspect entirely complete and signed-off (with official Certificate of Occupancy) prior to Christmas, and whilst we got super close, it didn't quite happen.
No real biggie as this extension is purely an extraneous addition to what is already a fully functioning home. It's not like my parents have been without a kitchen or bathroom for the past few months, or like there were gaping holes in their main living area walls or master bedroom ceiling (as is often the case when you're undertaking a large-scale reno).
So, as things currently stand…
STAIRS
The stairs are in!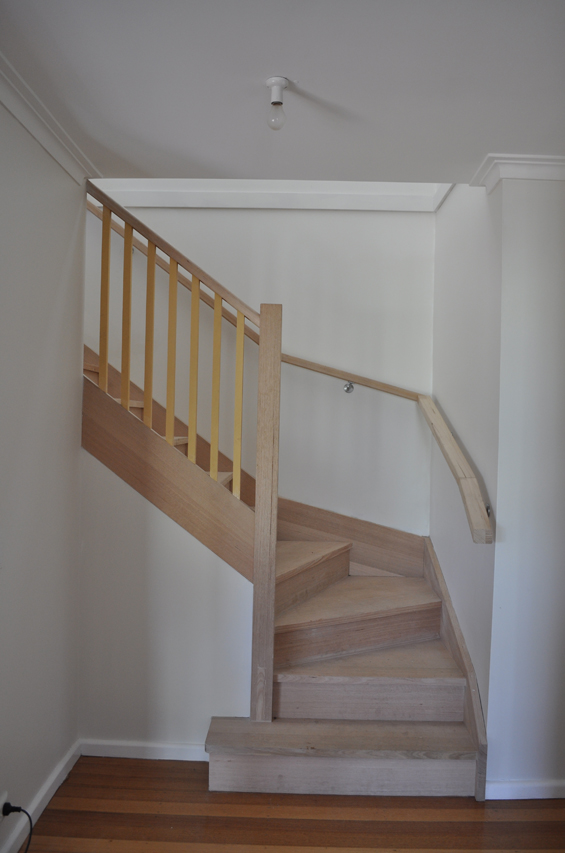 Yes, I know, probably not what you were expecting, right?
I was keen to go next level on these, though my parents wanted to keep things simple, mainly because there was already a small basic staircase off the same hallway (less than two meters away).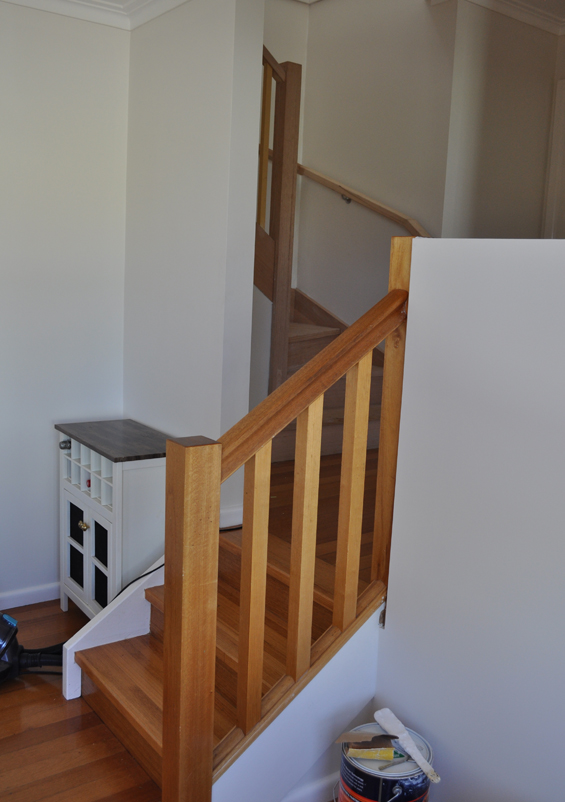 My parents had no desire to change the balustrade of the existing staircase, so it just made sense to keep the new stairs somewhat consistent.
But, we will be adding some DIY decorative trim to the newel posts, and painting the railing and risers, to help make everything look a bit more up-to-date and special. Oh, and that 'super attractive' bulky regulation handrail on the wall side just might need to come down – shhhh!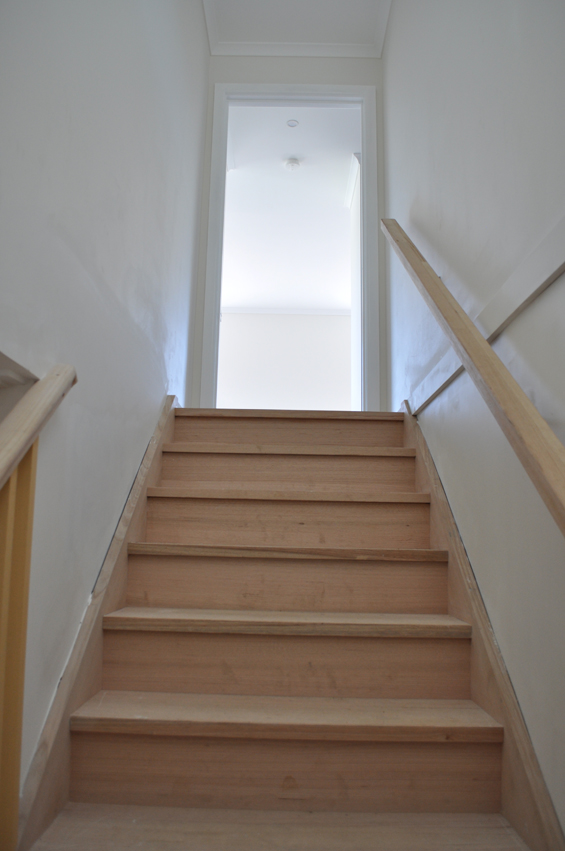 BATHROOM
The most exciting progress has undoubtedly taken place in the bathroom!
After a nervous wait, the vanity was installed last week and I'm super relieved to say it looks really great!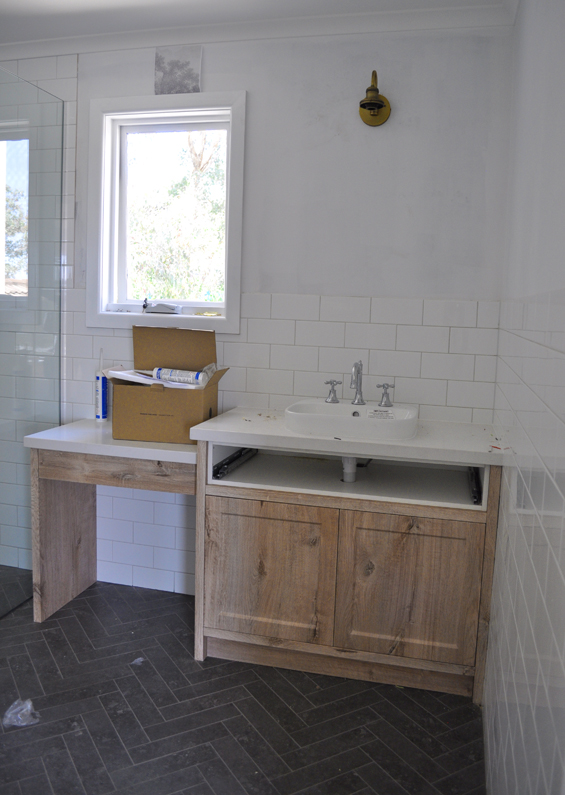 Sorry, my quick snap doesn't exactly do it any justice. And the top drawer is missing because it needs to be trimmed to accommodate the plumbing.
As nice as it would have been to have a solid timber vanity, that just wasn't on the cards, and this vinyl alternative is awesome. I actually had to touch the knots because they looked so real (of course, I realise authentic shaker doors would have the timber grain running horizontally across the top and base rails however that wasn't an option here).
As you can see the sconce light has also been installed (glass shade not yet attached). We found it on eBay a few weeks back for around $40. I always wanted mixed metals in this room (the vanity will eventually have brass hardware), though the antique gold finish on the sconce is much deeper than I expected, and granted at the moment it looks totally lost. Still, I'll wait until the room comes together before deciding whether or not to paint it.
The tapware has all been installed too!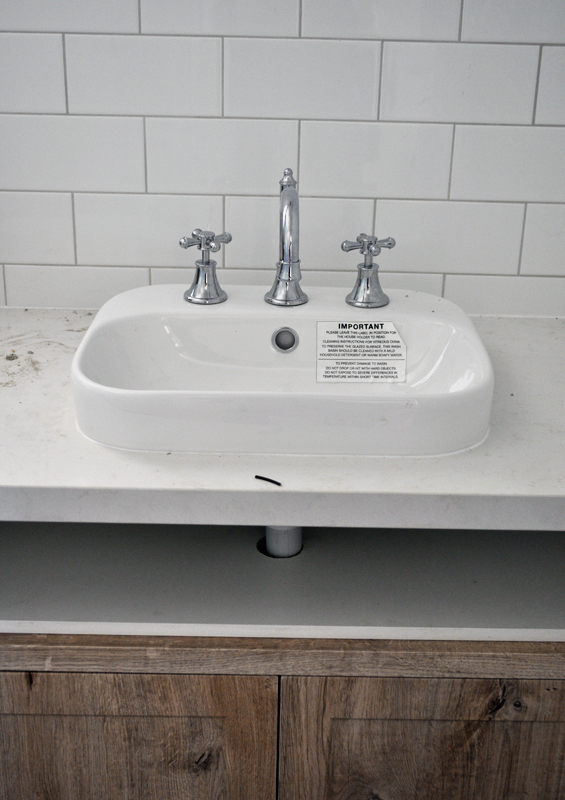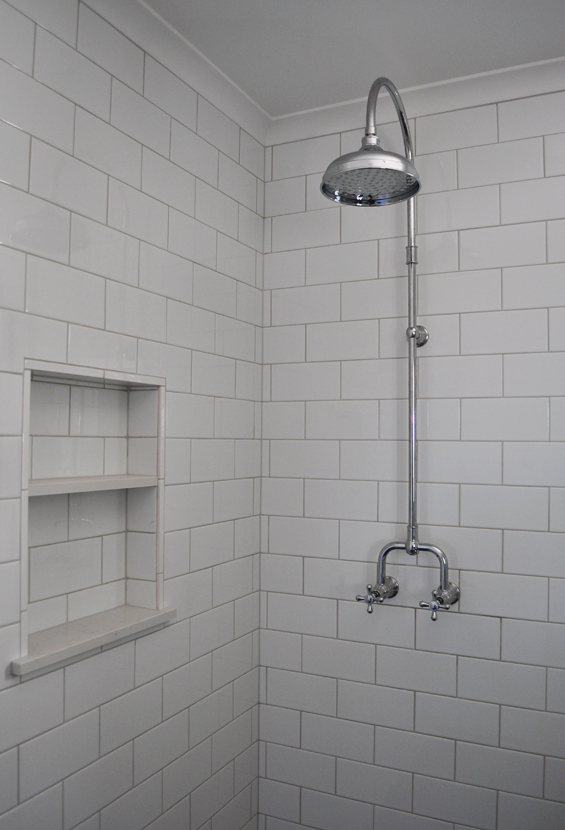 It's a little bit pretty!
And as you can see above the shower niche shelves (which match the vanity top) are in place.
Finally, the massive glass shower screen panel is in!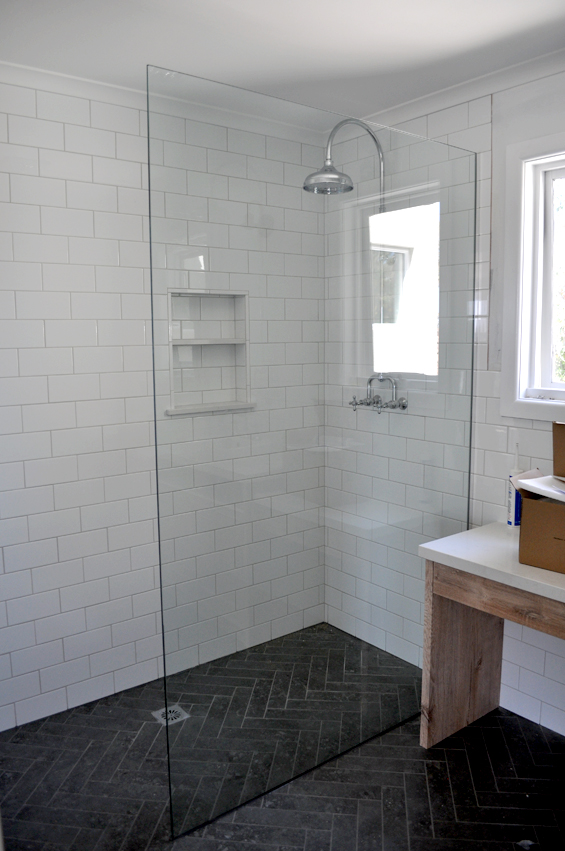 I've ordered the wallpaper and can't wait for it to arrive!
POWDER ROOM
There is a working toilet! With a glorious blue sticker.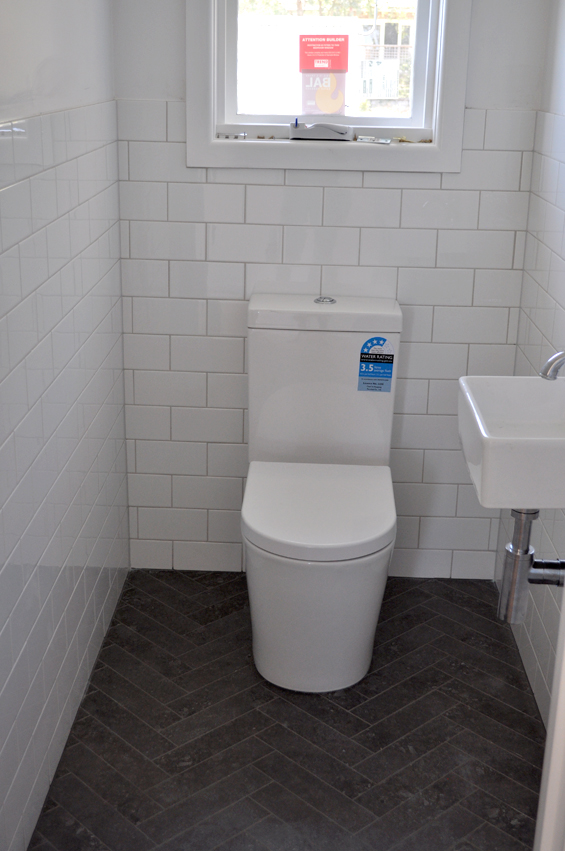 And the cute little basin my mum bought has been installed too!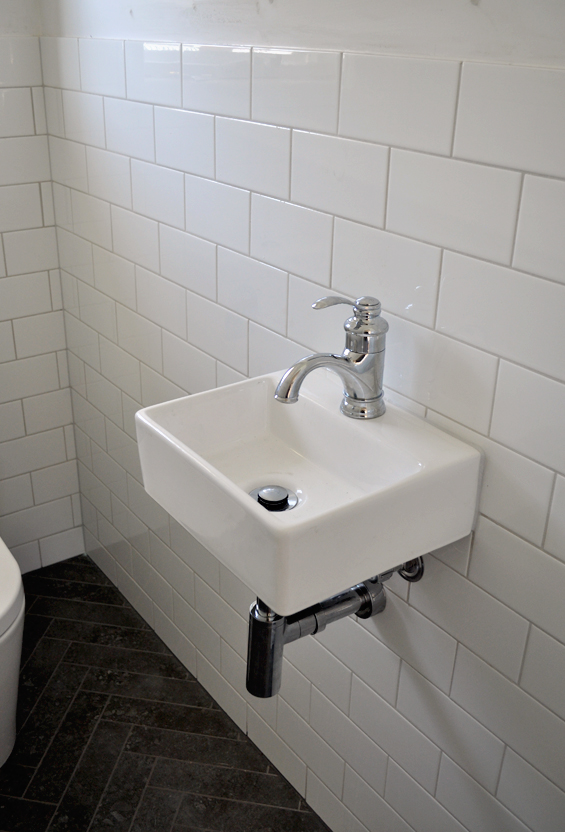 Am thinking about painting the walls a deep olive green and hanging a timber or brass mirror with an in-built shelf.
FANS & DOWNLIGHTS
The black fans have been installed and all of the downlights are in!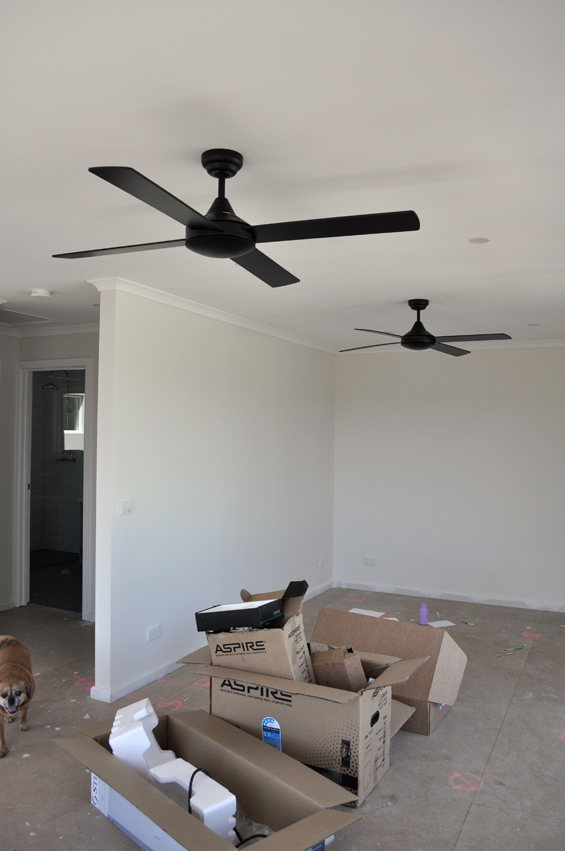 BALCONY
The little balcony is almost complete.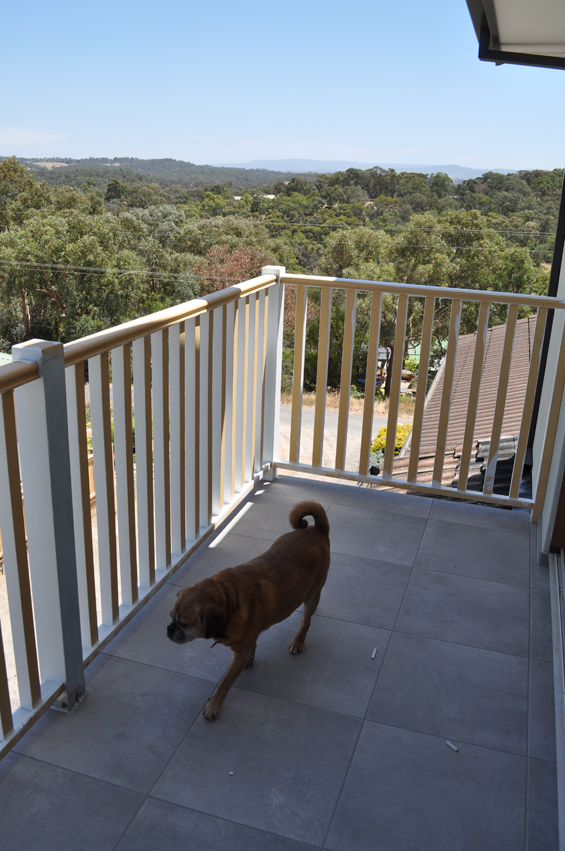 How lovely is the view?
The railing has been installed, and partially painted, and the plain concrete look tiles (which we plan to jazz up with a stencil at some stage) have been laid.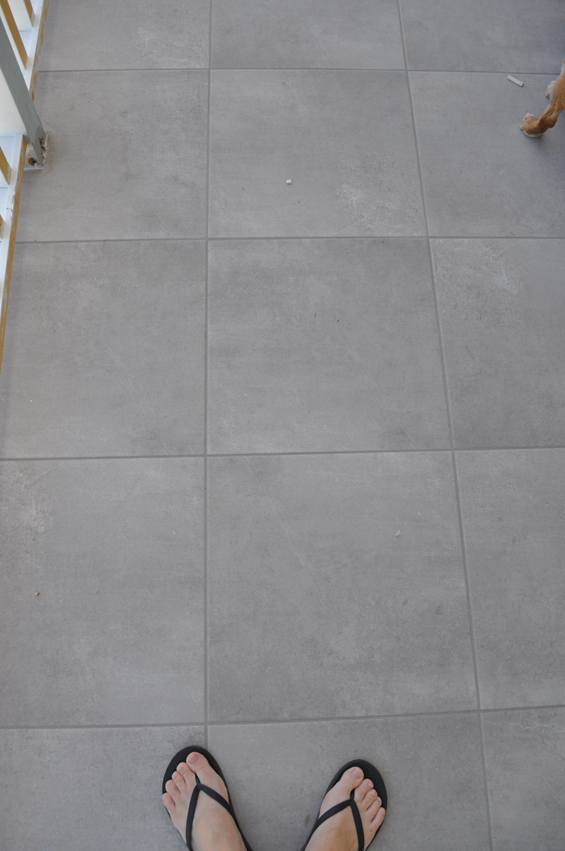 KITCHENETTE
The kitchenette was never part of the build contract so we will be ordering and installing the cabinetry ourselves.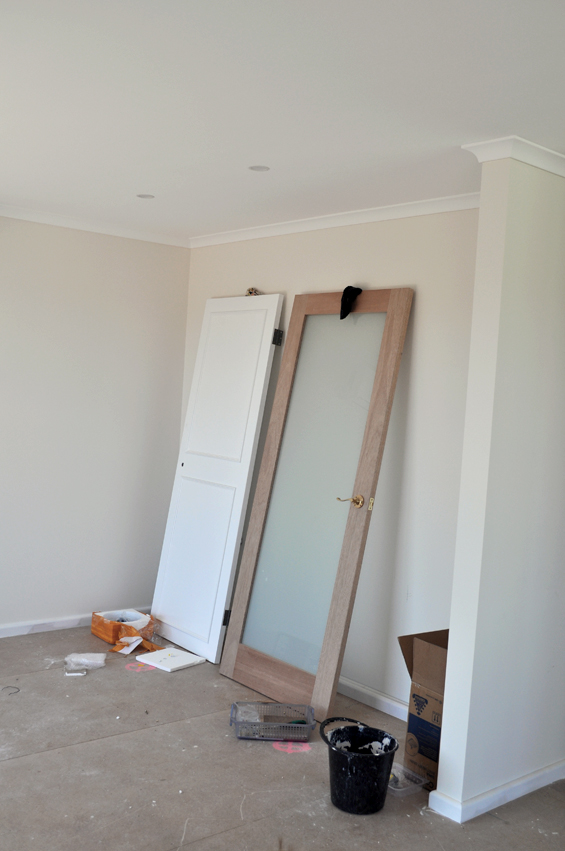 As you can see, it's currently being used for door storage! Hopefully these will be hung soon once the painting is complete.
FACADE
Whilst there is obviously still quite a bit to do for the exterior overall, the extension component itself is almost finished.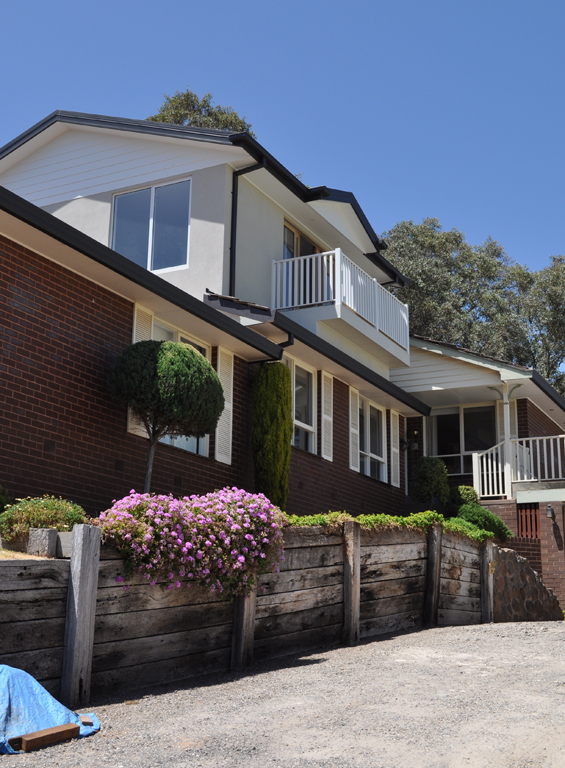 I'll be building some simple timber brackets to dress-up the underside of the balcony overhang. These will tie-in with the balcony doors (which I'm pretty sure we're going to leave natural) and also a pergola that is eventually planned for the main balcony over the garage.
FLOOR
Like the kitchenette, the flooring wasn't part of the build contract either so we will arrange and install this ourselves.
Originally we were considering vinyl planks, which are a practical and affordable option, however the rest of my parent's house is solid hardwood and using vinyl just didn't feel quite right. Lately, we have been looking into the Arbre range of engineered French oak which is just beautiful.

Have a lovely Christmas all.
Catch up on all of the other suite extension posts HERE.