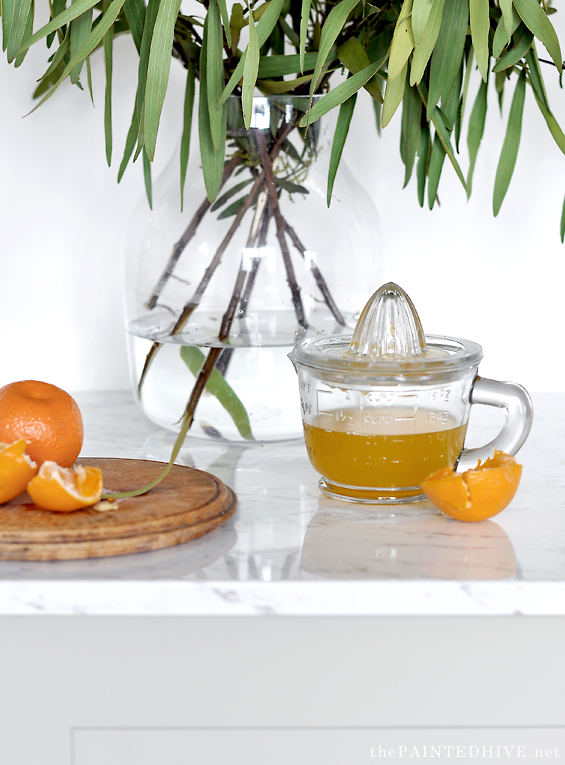 I'll be the first to admit that I've been a very bad blogger of late.
You'd think being stuck at home all day, every day, would open-up a world of spare hours, but I've actually found myself more time challenged than usual.
I know my seemingly relaxed approach to this blog might come across as indifference sometimes, though the truth is that I'm super passionate about my little slice of the web, and having shared nothing with you guys for the past few weeks has really been bugging me.
And it's not even like I have nothing to share. On the contrary there's been a bit going on, but like I said, finding time to blog amidst school holidays and remote learning and client work has been tricky, and, if I'm honest, my motivation levels haven't exactly been peaking.
So it was refreshing to drag the camera out a few days ago, scour the fruit bowl for some pretty props, and take some nice pics of my parent's new kitchenette, albeit unfinished.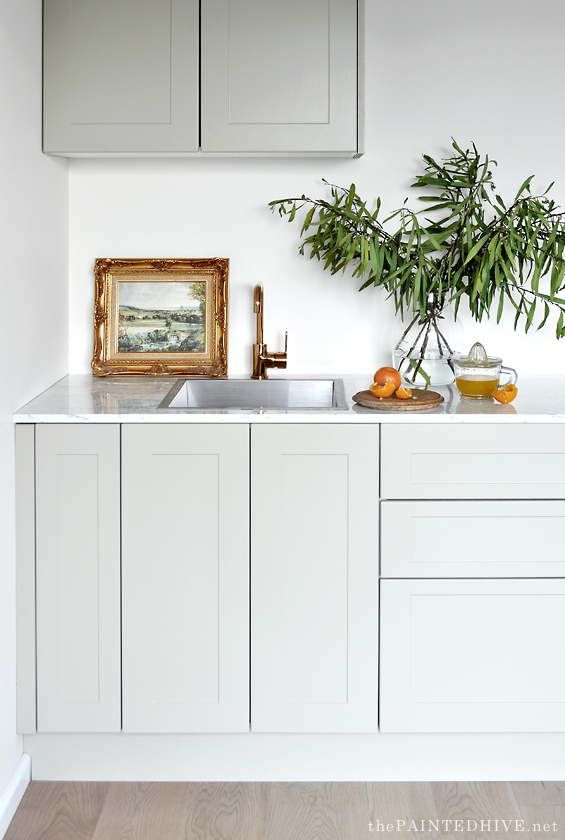 We started planning this kitchenette months ago. Some of you may remember my rough 3D renderings from February…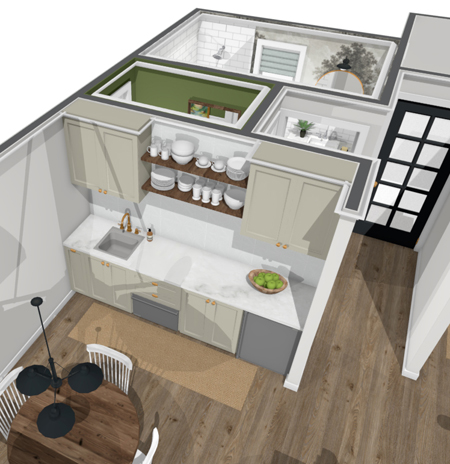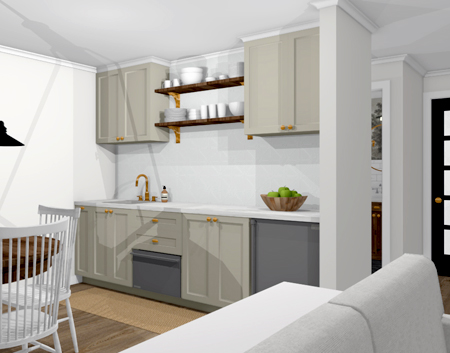 Although this was just a basic preliminary design, it's pretty much exactly what we ended up going with – however we removed the roll-out dishwasher in favour of a pot drawer, and our wall cabinets don't extend to the ceiling (which I did know was going to be the case anyway).
We chose to go through Kaboodle and have been really happy with everything. As with doing anything for the first time, some aspects of the planning phase and cabinetry install were a bit mind-bending and fiddly, though nothing was overly difficult, and it all came in at well under 2K.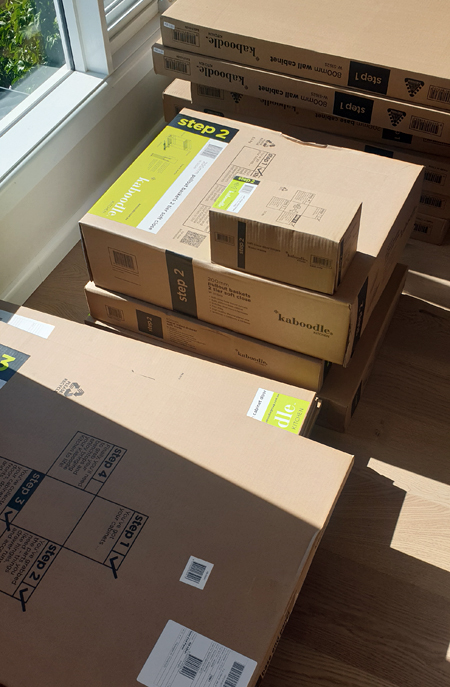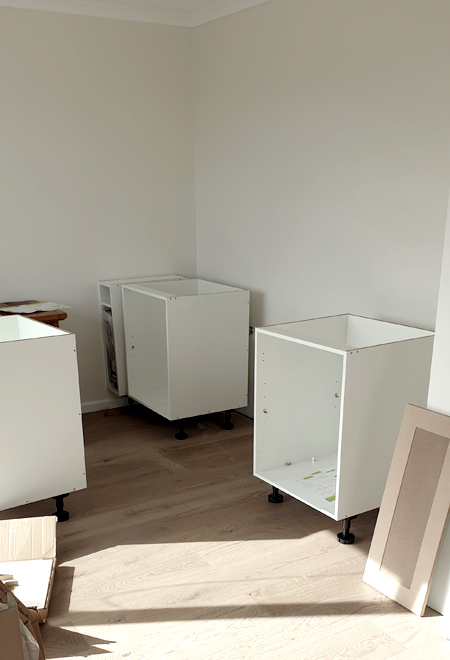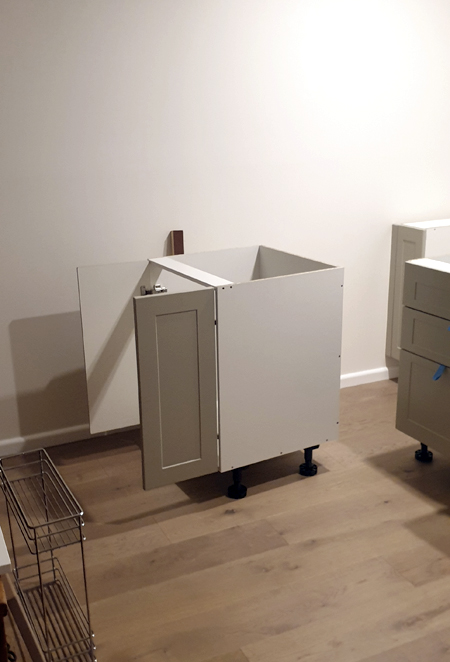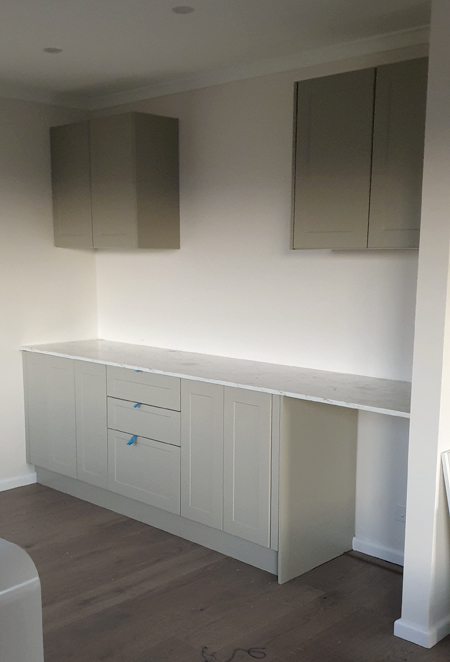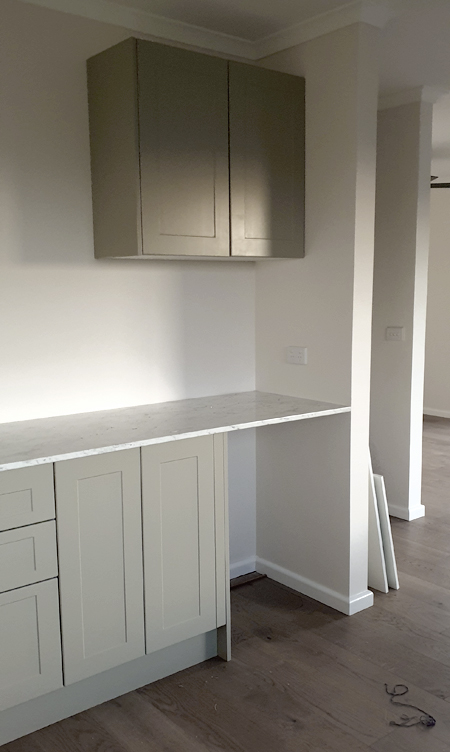 Sorry about the quality of these progress pics. Most were snapped at dusk using my phone.
We knew we wanted simple shaker style cabinetry from the start so choosing the Alpine profile was a no brainer. We also decided to go with their Raw Board 'Paint Your Own Doors' finish so we could completely customise the colour, and can also easily re-paint in the future if we ever want a change.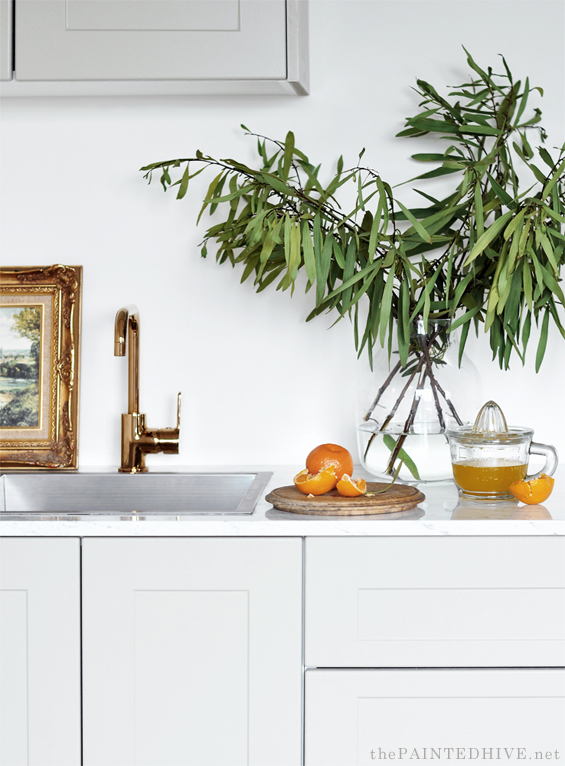 The colour is Oyster Linen by Dulux, which is actually quite a bit darker than it appears in my photos, and we used Dulux Aquanamel paint in Semi-Gloss for a hard-wearing finish.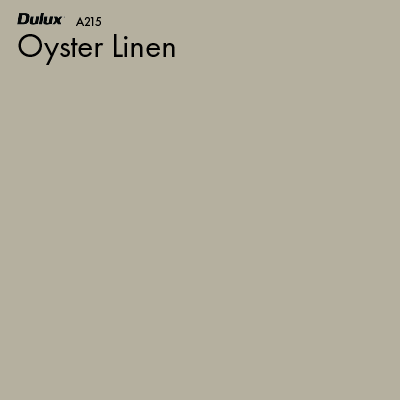 Given the amount of natural light in the space it can easily take the level of depth, and the soft beige-green compliments the wire-brushed oak floors so well!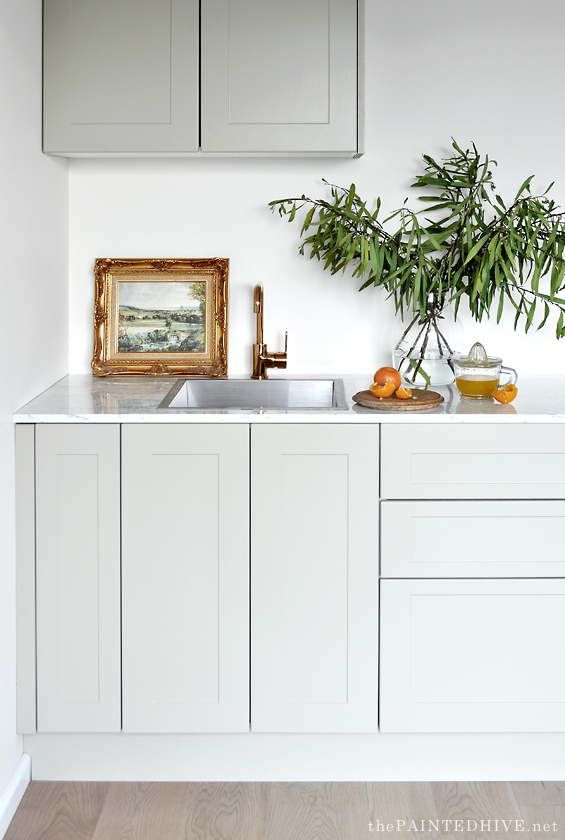 Deciding on the benchtop was less straightforward. I went back and forth between light or dark and thin or thick. After a few days we eventually settled on light and thin, then basically ordered the Calcutta Gloss, before changing our minds and switching to Mayonella.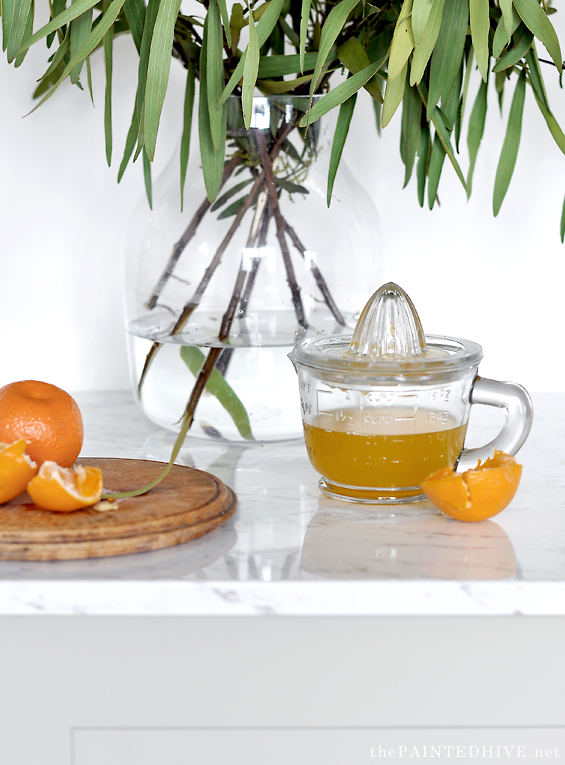 So glad we did because it's just right!
We bought the sink and mixer tap last year (because they were needed for the plumbing rough-in). They were both from Bunnings though unfortunately it looks like they no longer carry the tap in our particular finish (which is called Rose Gold however is actually more of a burnished antique brass). One of my brother-in-laws is a plumber so he installed the sink and tap last weekend.
And several months back we picked up this little retro style bar fridge (we got it from Catch for around $400 however it's no longer listed there).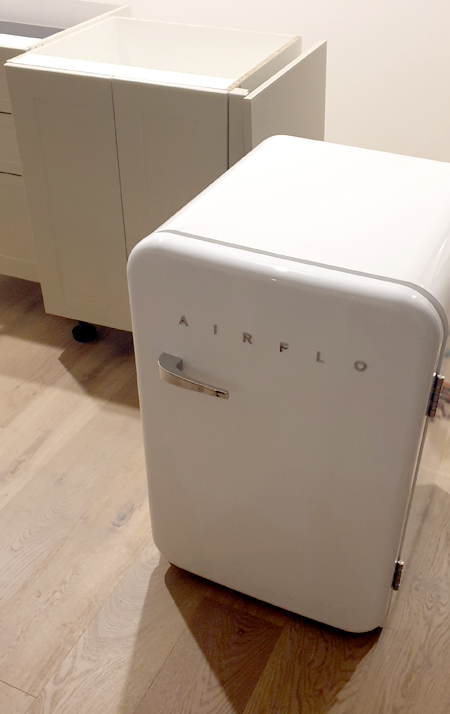 Isn't it cute?
Clearly we still need to choose cabinet hardware and decide on a splashback.
Was originally thinking we'd go with warm brass handles though due to the intense colour of the mixer tap, I'm now wondering if simple black might work better to allow the tap to pop and provide some contrast. I'm also not opposed to something different, like off-white ceramic. Either way they will have a simple heritage feel, with knobs on the uppers and probably pulls on the lower doors and drawers. This kinda style…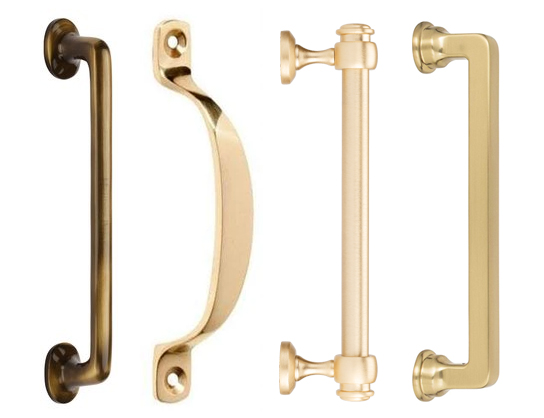 For the splashback we're planning on doing the entire wall (behind the impending shelves, and above the upper cabinets) and are almost certain about using pressed tin. Mum has loved pressed tin since forever though has never used it in her home, so this is finally her chance!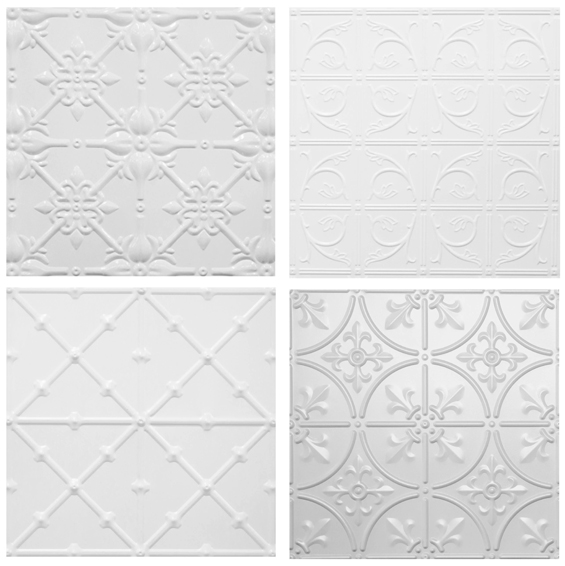 We haven't narrowed down a particular design or colour yet, though it will be something somewhat subtle in a soft white.
Of course we also need to install the wall shelves. At this stage we haven't thought too much about them, and I'm not too fussed because there are so many lovely options. Initially I liked the idea of floating live edge timber shelves. If we can find some nice timber at the right price this may be what we end up choosing.
In addition, I'd like to add some crown trim to the tops of the upper cabinets, and maybe even some kind of moulding to the bases too, just for that more tailored look. The following examples aren't perfect, though along these lines…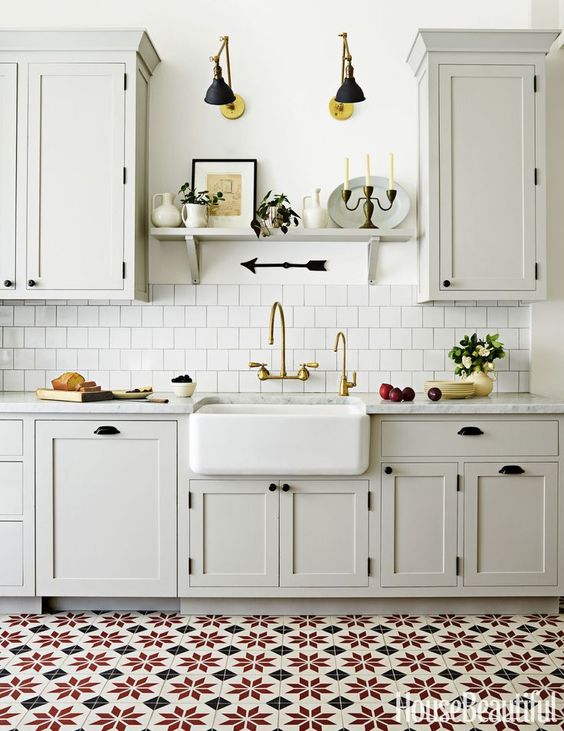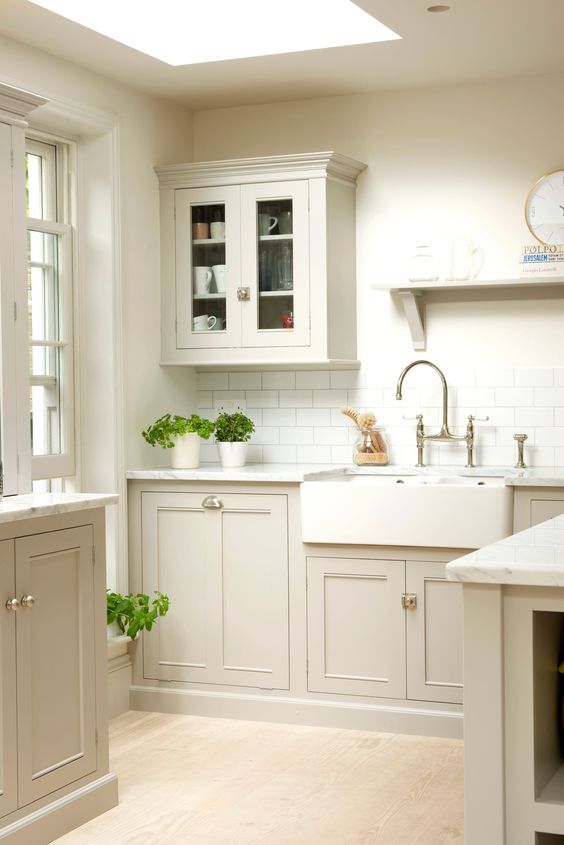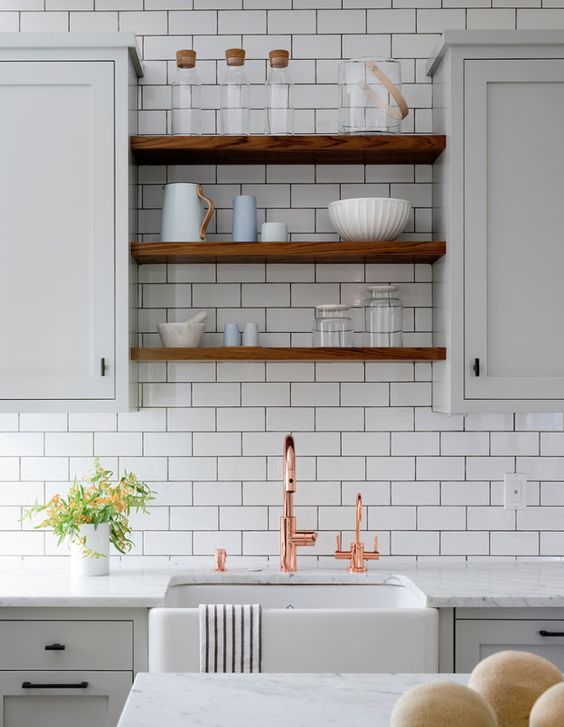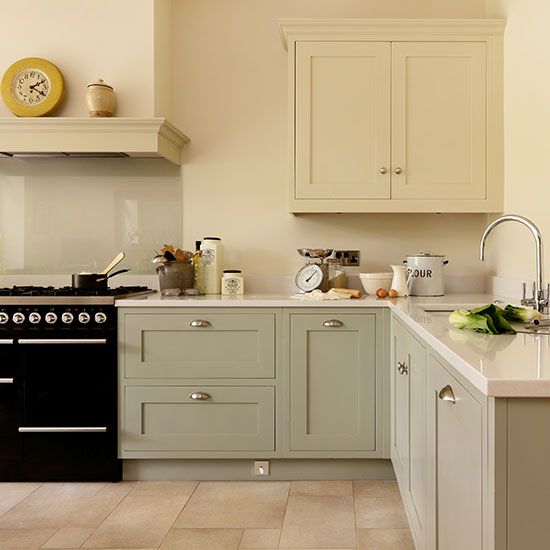 So the bulk of the hard work is already done, we just need those finishing touches to bring everything together.
Catch up on all of the other suite extension posts HERE.