It may have been a long time coming, but work on the suite extension has finally re-commenced!
With local travel distance limits being lifted, my parents were able to visit a pressed tin supplier to solidify their kitchenette backsplash choice and, much to my surprise, came home an hour later with four panels of pretty sheet metal in the boot of their car!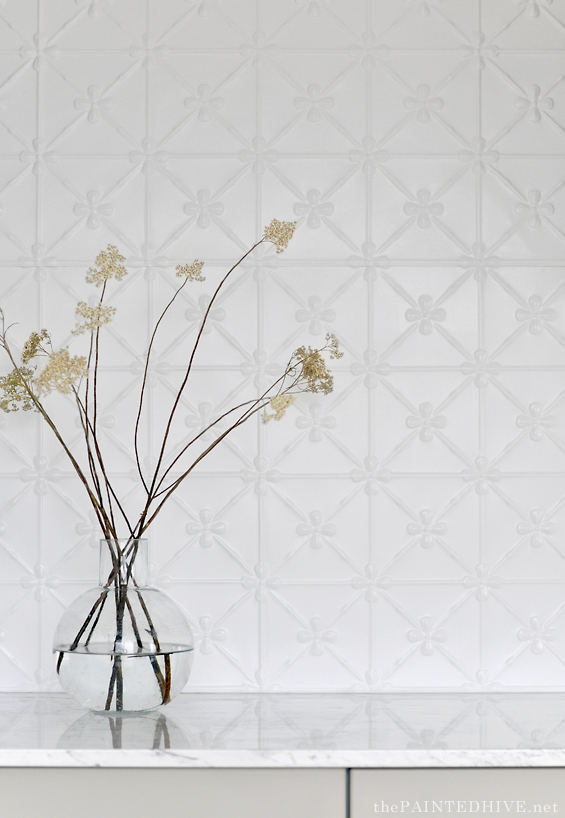 The "much to my surprise" is not because they rocked-up with something totally random (as we had already discussed what they wanted), but because they just went out and purchased it first go!
On average my mum usually requires at least a month and a half of contemplation time before committing to any major purchase (hmmm, I wonder where I get that from?).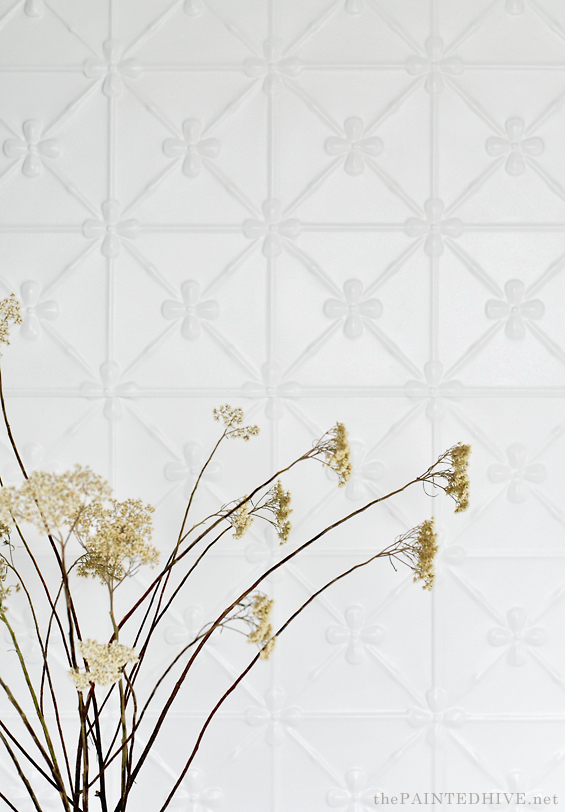 The panels are made from light-weight heat and rust resistant aluminum, and come raw. There are heaps of designs to choose from but deciding on this simple and classic pattern was pretty easy.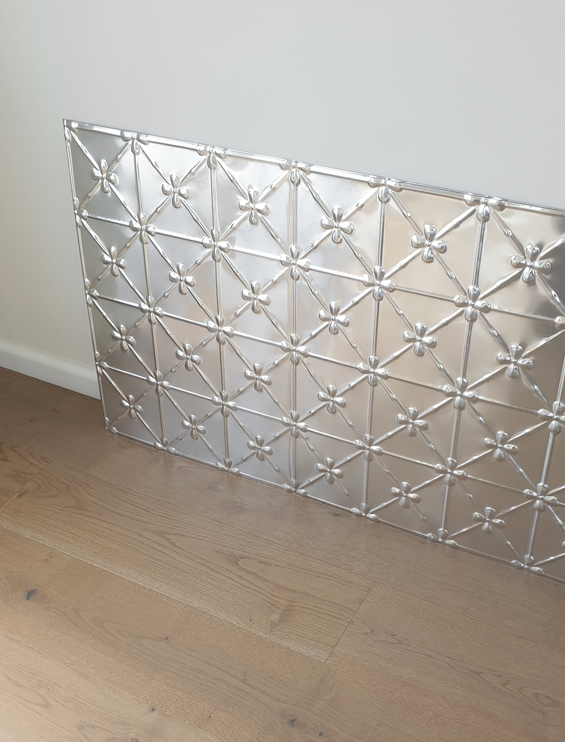 Some companies offer pre-primed or powder-coated sheets.
Powder-coating is not recommended by the supplier we used as it can apparently chip very easily during the cutting process. 
Although the preparatory and installation process isn't overly difficult, it was a bit more fiddly than anticipated.
I won't go into too much detail as there are plenty of expert guides out there, but basically all we did was first coat the panels with an etching primer before trimming them to size as needed using tin snips.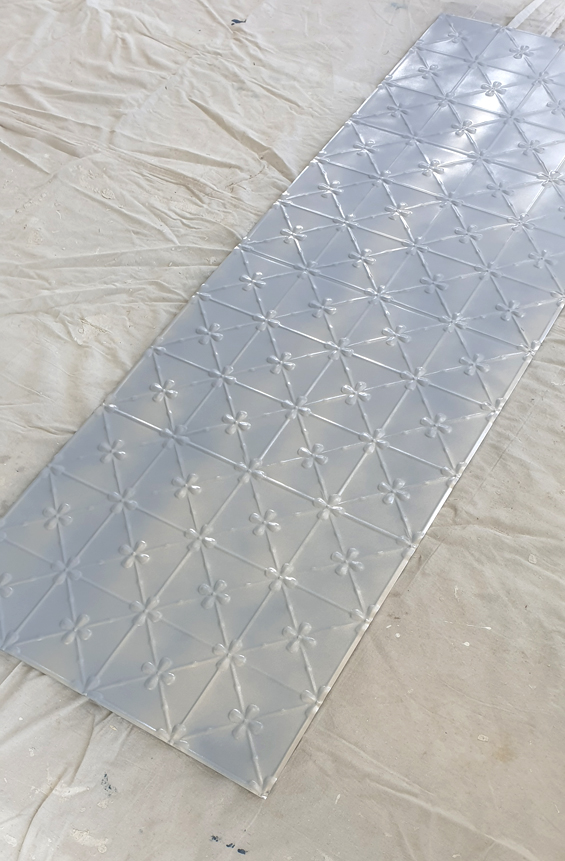 Then we attached them to the wall with adhesive, followed by some small nails (you can also use rivets).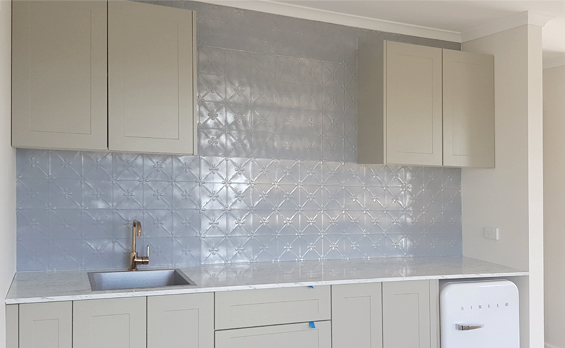 To finish we caulked all the joins then painted the tin with two coats of water-based enamel (which is the paint type recommended by the supplier – we decided on Dulux Aquanamel in the colour 'Snowy Mountains Half') using a foam roller.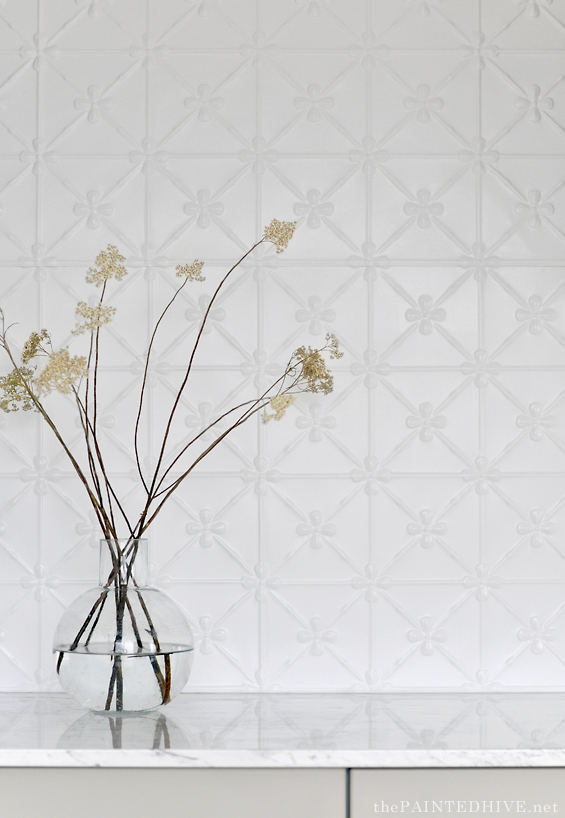 Having never done anything quite like this before I was a little nervous about the outcome but am so happy with the result! I absolutely love it and my mum is over the moon because having pressed tin somewhere in her home has been a long standing dream of hers!
You can get pressed tin look tiles too, which we did contemplate and they do also look great, but in the end we decided to stick with the real thing.
The panels cost around $100 each and we used four (with plenty left-over). Tiles would have been quite a bit more expensive.
Now that we finally have a backsplash, we can complete the kitchenette!
We've ordered cabinet pulls and knobs…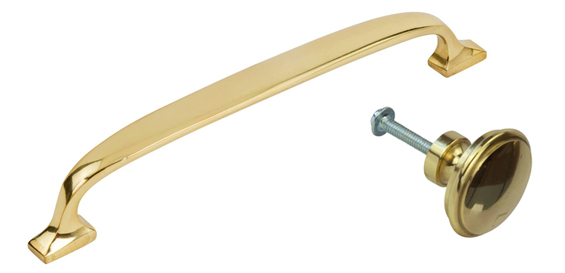 I've bought some shaker pegs to make a rail between the overheads…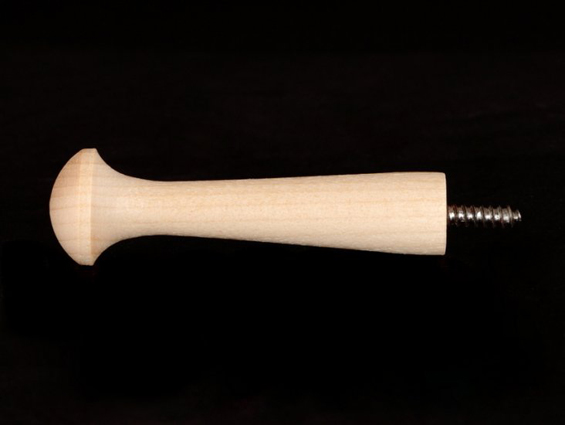 And am even at the stage of considering decor, like one of these affordable runner rugs…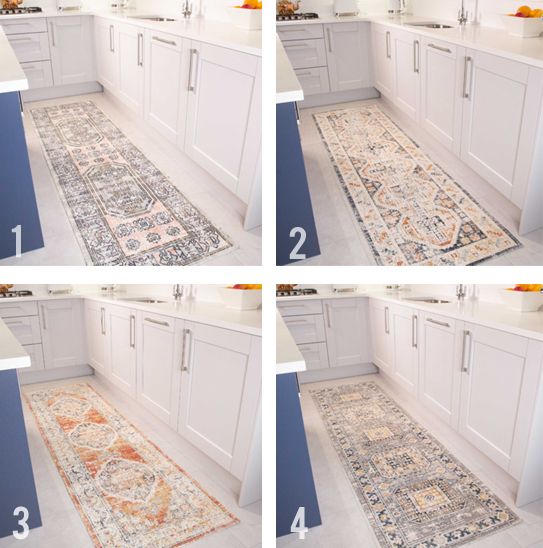 Which one would you choose?
I've seen some other really cool rugs though the standard minimum runner length is 3 meters which is too long for our space. I've also found some amazing vintage options on Etsy, but man, they aren't cheap! Plus, although I love the slightly disheveled nature of vintage rugs, imperfections aren't really my mum's thing. Which is totally fine.
In other news, my mum bought a sofa!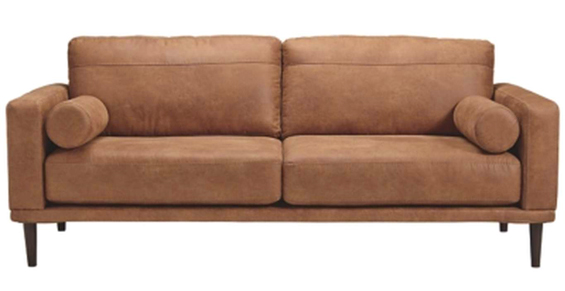 For a long time I thought we might use a white slipcovered sofa in the guest suite, but mum already has two slipcovered armchairs in her sitting room and doesn't love the up-keep. With grandkids and dogs running around like crazy, I don't blame her.
Leather was always another option, and in this case the clear best choice, and last week we came across this three seat sofa (which is actually synthetic buckskin) for under 1K. Yes please!
Mum has synthetic buckskin sofas, in a much darker finish, in her main living room (in fact, they are manufactured by the same company as the new sofa she just bought) and swears by them.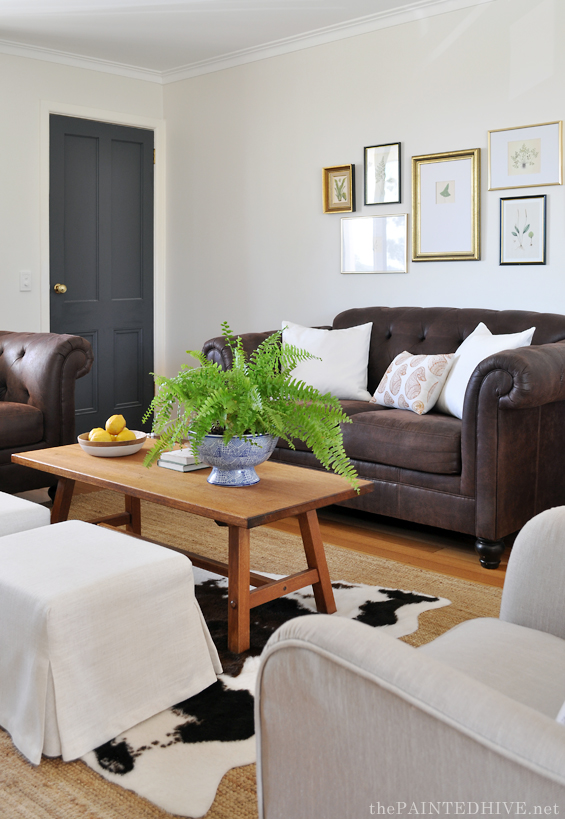 I must admit, they are almost five years old and with all the abuse they cop, they do still come up like brand new!
The new sofa hasn't been delivered yet but should arrive prior to Christmas. So perhaps we will actually be able to take a seat in the suite extension and share a glass of spiked eggnog to celebrate. Or maybe just some champagne because I really tried to like eggnog but I just don't get it!
Catch up on all of the other suite extension posts HERE.