Thank you all so much for the amazing response to my brother's bedroom reveal. I was incredibly flattered by all the lovely comments.
There were many mentions of the end-of-bed stools which I created from two old director's chairs.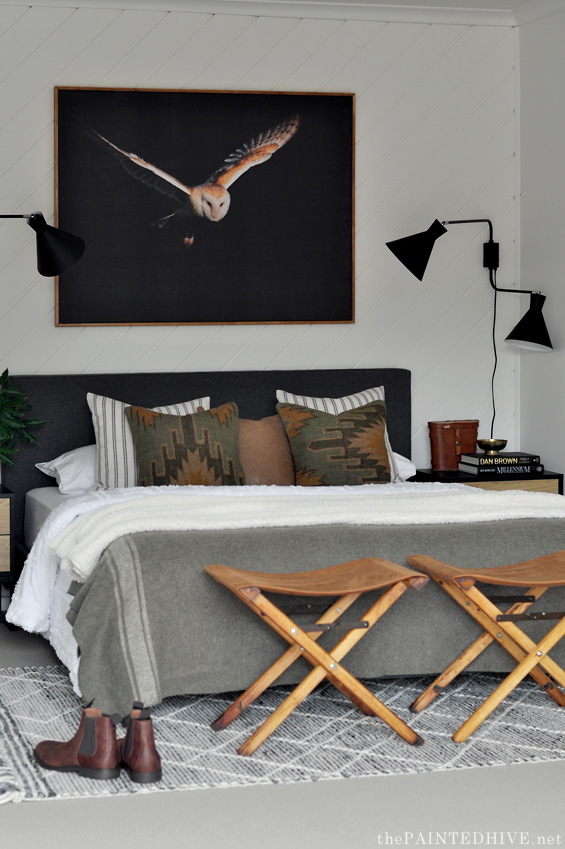 It was a really easy and affordable project and they add so much warmth and character to the space.
Here's how I did it…
STEP 1 | SOURCING
Of course the first thing I needed to do was source some inexpensive second-hand director's chairs.
The most common style have vertical supports at each corner, like this…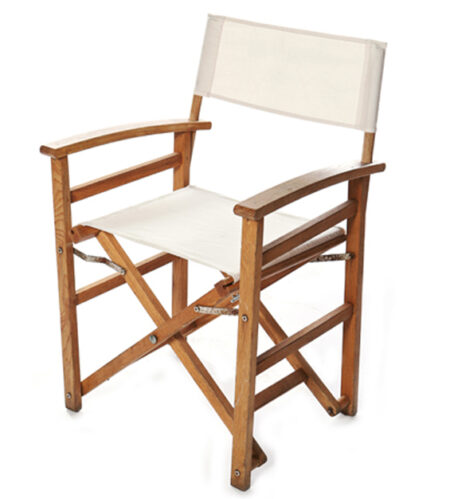 But some have a simple cross base, like this…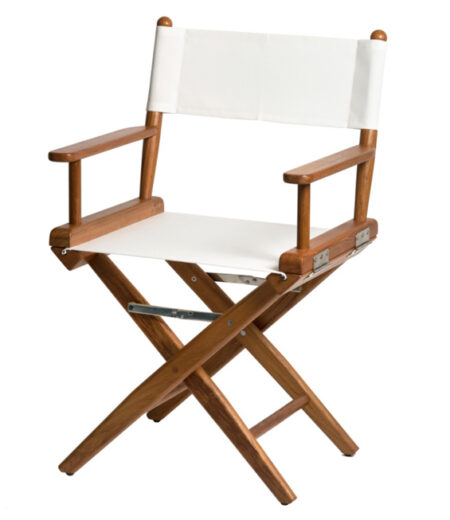 I was open to the idea of using the more common style if needed, but I didn't really want the vertical supports. I was pretty certain it would be okay to remove them and that the stools would still be sturdy, but as I didn't use them for this project I can't really say for sure.
After a little bit of hunting I was lucky to come across this pair with simple cross bases on Marketplace for just $20.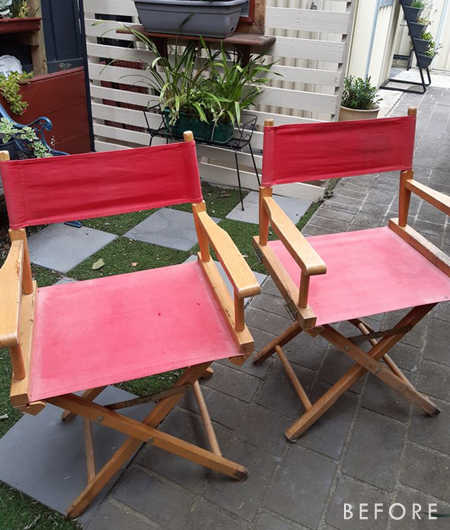 STEP 2 | DISASSEMBLING
Because these stools are designed to fold flat, the top section was merely attached with hinges so removing it was a simple matter of undoing some screws.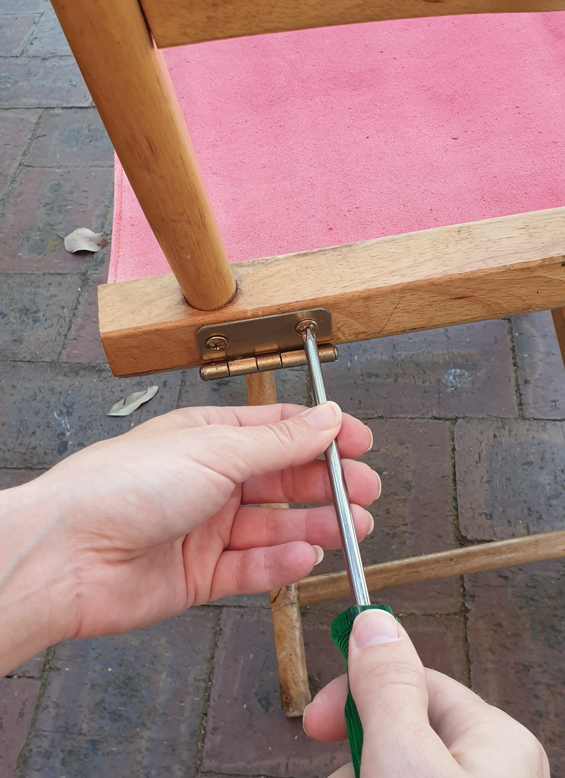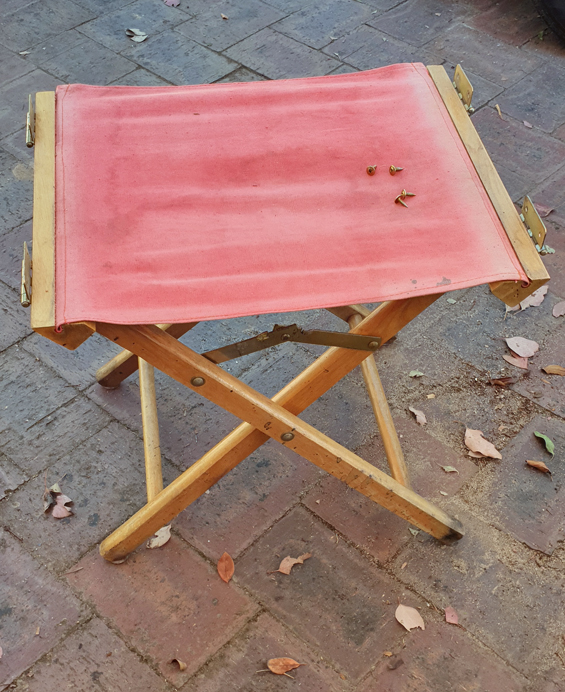 Next I removed the old seat fabric to be left with a naked frame.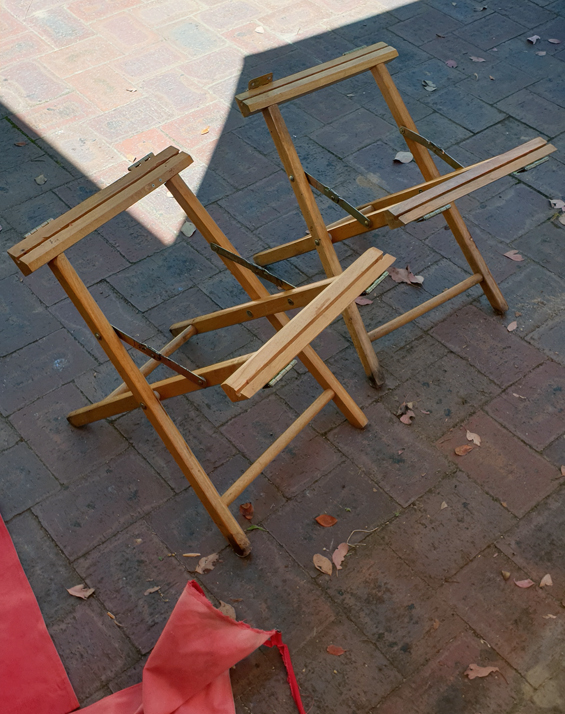 Now, in hindsight I didn't need to do this next bit. You see my original plan was to combine the stools into a campaign style bed I could use as a bench, kinda like this…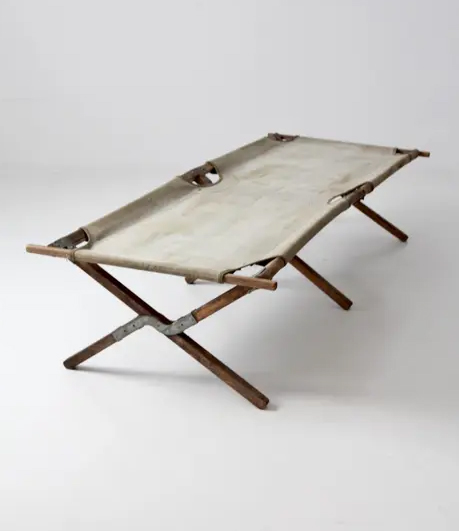 So I trimmed off the horizontal dowels because they looked too busy.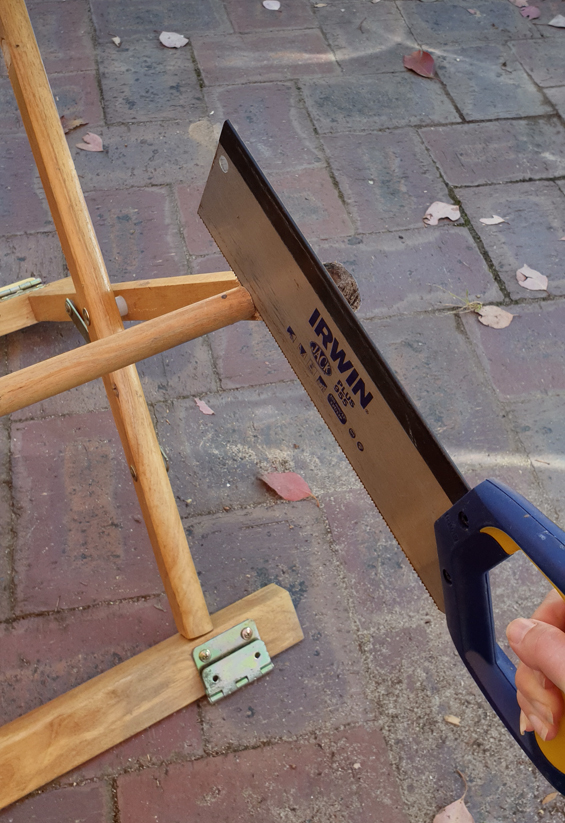 But, after playing around with some visual ideas for the bench, I decided I didn't like the scale of it so scratched that plan. Which left me with the two stools which would have been fine with the dowels still intact. But, oh well. Thankfully removing them didn't effect the stability of the stools.
STEP 3 | REFINISHING
There were quite a few knocks and dents in the timber, even some minor breaks, so I was never going to make things look brand new. Lucky I like a bit of vintage charm.
All I did was fill a few holes with wood putty (including the ends of the slots where the original fabric was embedded) then lightly sand and thoroughly clean the timber before sealing with some linseed oil lightly tinted with oak stain.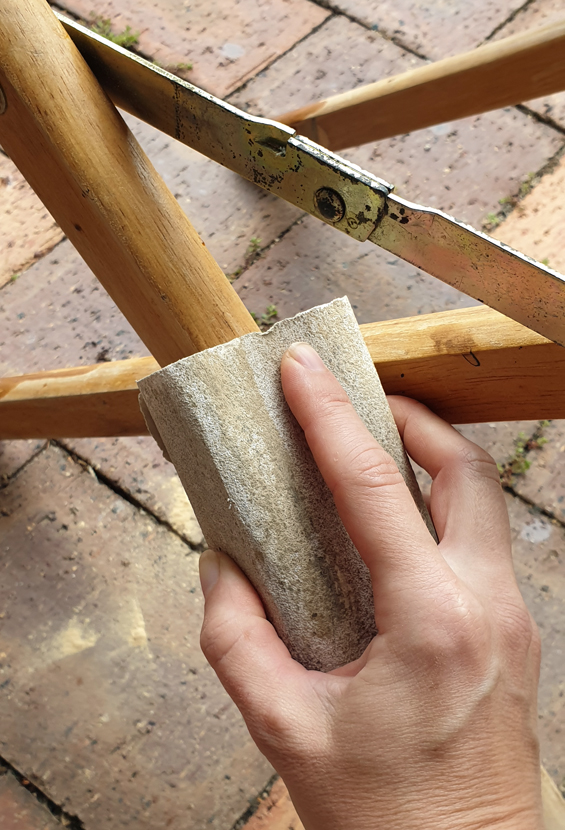 Tinted oils are great when you can't be bothered going right back to raw timber but still want to nourish and slightly deepen the wood.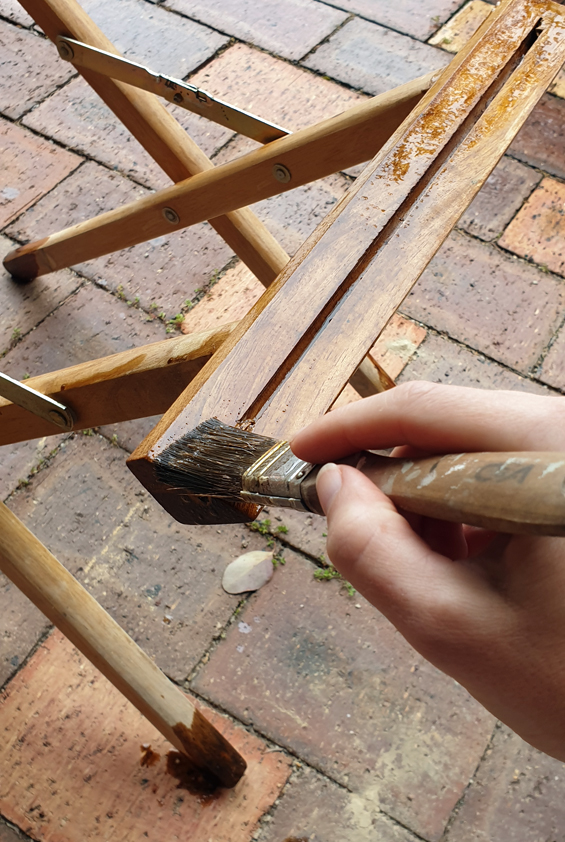 I contemplated leaving the rusty steel brackets as is, but in the end I felt they were a little too patchy so decided to paint them bronze.
The paint will likely scratch off if the stools are folded but there's no real need for that given they're being used as fixed items of furniture. Plus, it's an easy touch-up job.
STEP 4 | UPHOLSTERING
This was super easy.
I used a suede style faux leather which doesn't fray so no sewing was needed! I bought the fabric from Spotlight several months back. Sorry, I can't recall what it was called but from memory it was around $12 per meter.
Rather than upholster the stools in the same manner they were originally (where the fabric was embedded into the slots), I decided I wanted to wrap my fabric right around. Not only was this easier but there were some obvious breaks in the wood around the slots so this would ensure they were covered.
All I did was trim my fabric to size, position it on the stool (folding the long sides under to conceal the raw edge), then staple it to the underside.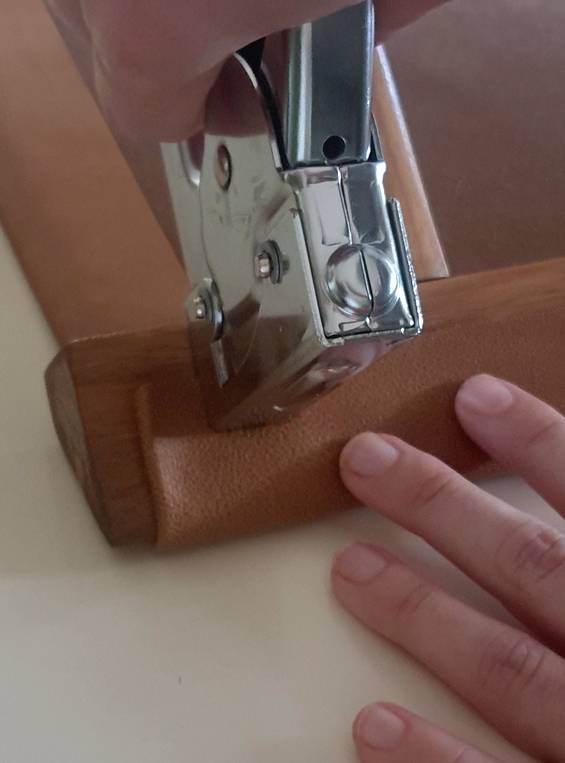 Rather than make it super taut I gave it a bit of a slouch for a relaxed look.
Of course, you need to be mindful of the weight of your fabric, using something quite strong and rigid, as anything too thin or stretchy could easily sag or tear. If you're worried you could always attach some webbing to the base first, like this…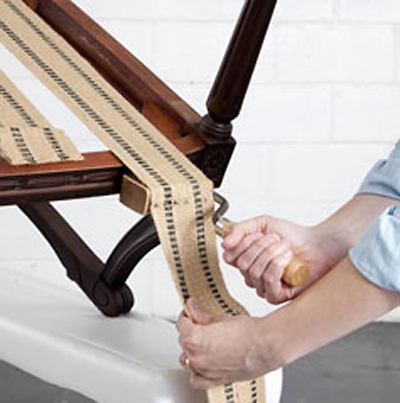 Or you can reinforce your fabric with a backing.
In addition to, or as a substitute for, the staples you could use upholstery tacks. This would definitely be a good idea if your point of attachment is somewhat visible as exposed staples don't look the greatest.
And it was as easy as that!
DONE!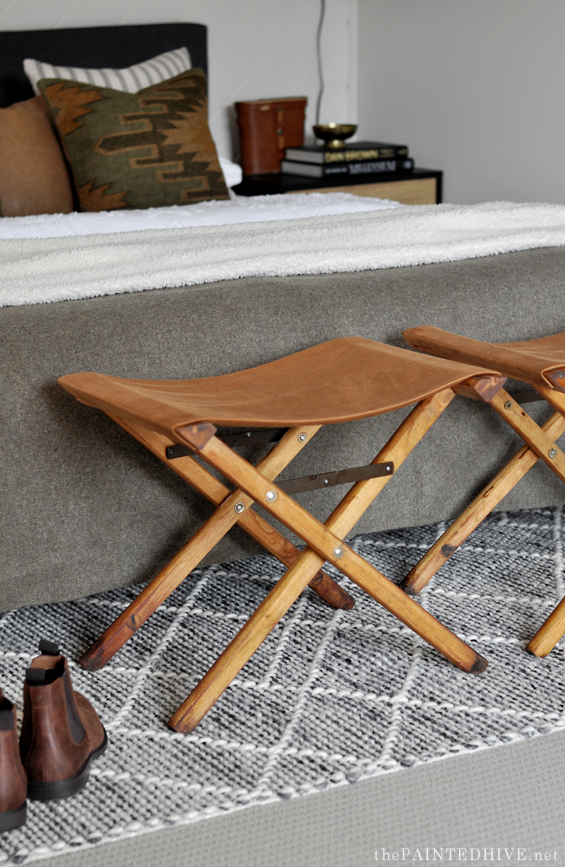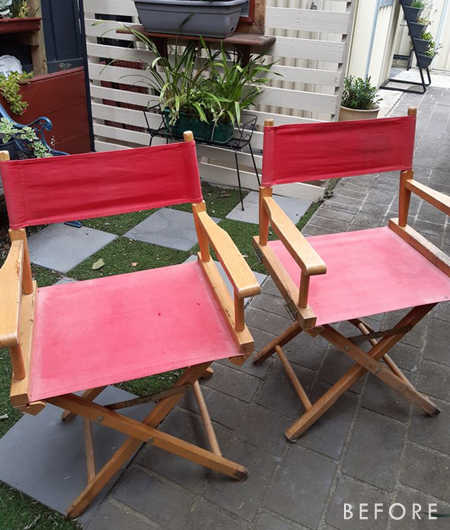 As you can see the timber is still quite "rustic" with lots of  tonal variation and imperfections, but as I mentioned earlier that's not something which bothers me. In fact, it's often something I deliberately incorporate to add character and interest to a room.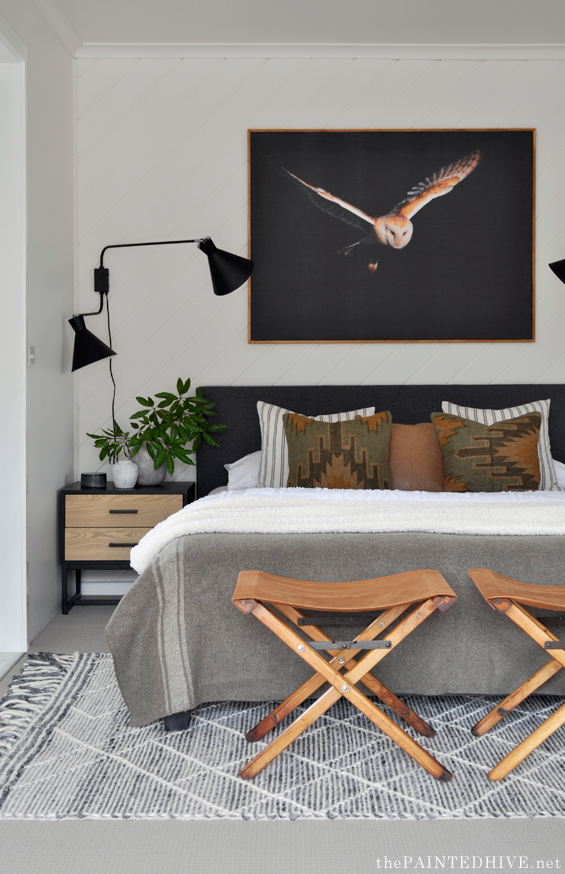 Feel free to shoot through any comments or questions.