I first, and last, shared a complete tour of my master bedroom waaaay back in 2010.
It was a time when I still ignored the kid's department in Kmart, thought 'twitter' was simply the sound a bird made, could wear a white shirt and keep it clean all day long, and had no idea how to use my DSLR camera (not that I really know how to use it now)!
Anyhoo, since then my decorating tastes, and I'd like to think my photography skills too, have evolved somewhat so over the past few months I've been refreshing my bedroom and thought it was finally time I made the bed properly and shared it already!
As with most of the spaces in my home, small proportions and some funny angles make it a little tricky to capture with a camera though hopefully you'll get the general gist :-)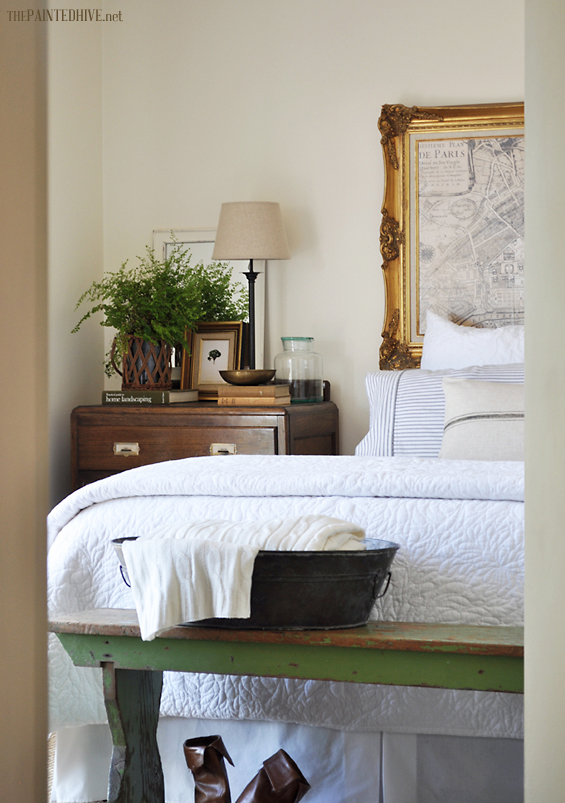 I know that to some people it's mundanely practical and somewhat boring, though throughout my home I purposefully use a predominately neutral scheme and fairly timeless main pieces for a few reasons; one) to ensure I don't tire of my surroundings too quickly, two) so things aren't out-dated in five minutes, three) to make refreshing my spaces easy, fast and affordable – some different wall art, a throw pillow or two, fresh décor accents and a new occasional piece is sometimes all that's needed to rejuvenate a room completely.
Well, my logic may just have worked in the master bedroom where I've created a renewed look with some extra depth and interest more in-keeping with my current eclectic(ish) farmhouse(y) style without touching the neutral canvas and main furnishings. I've simply added a distressed green bench seat, charcoal ticking sheets, some new décor accents and different wall art.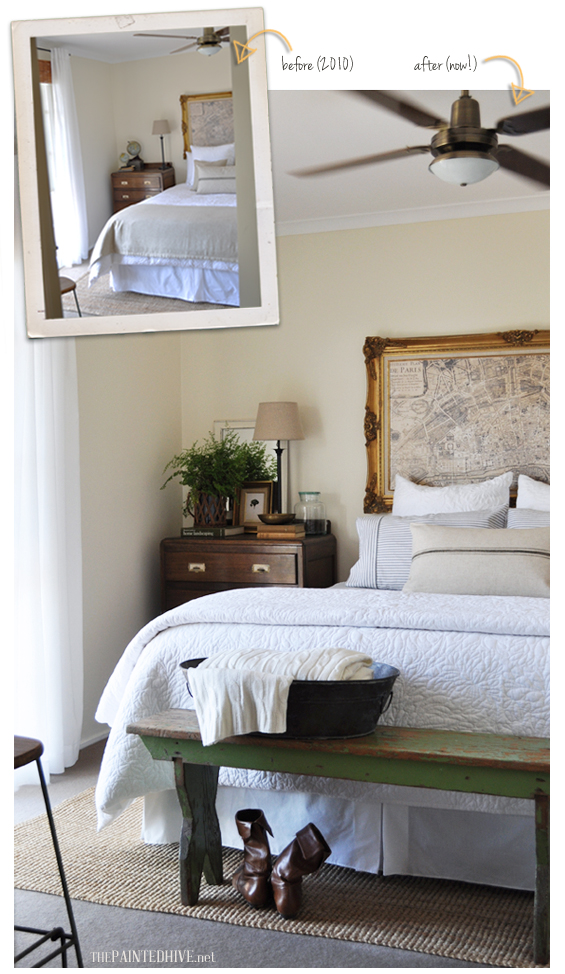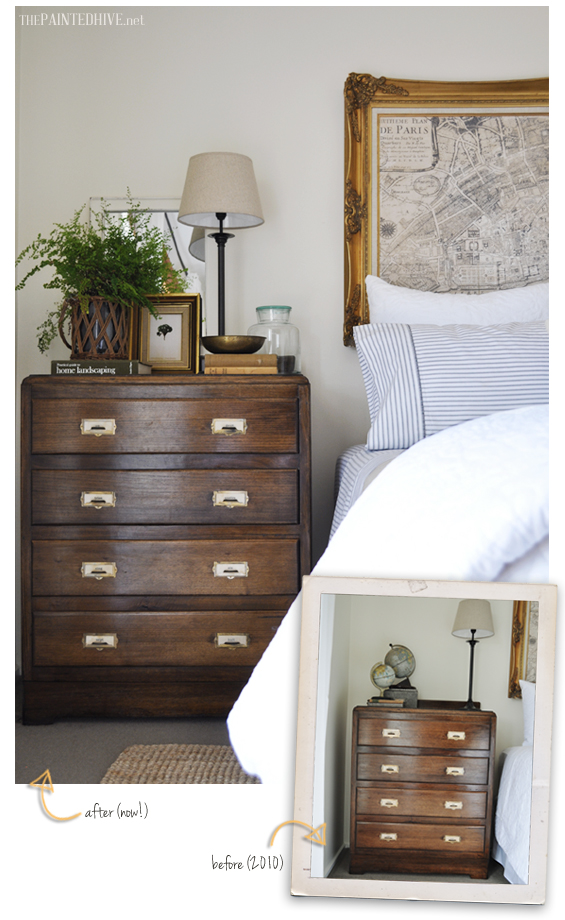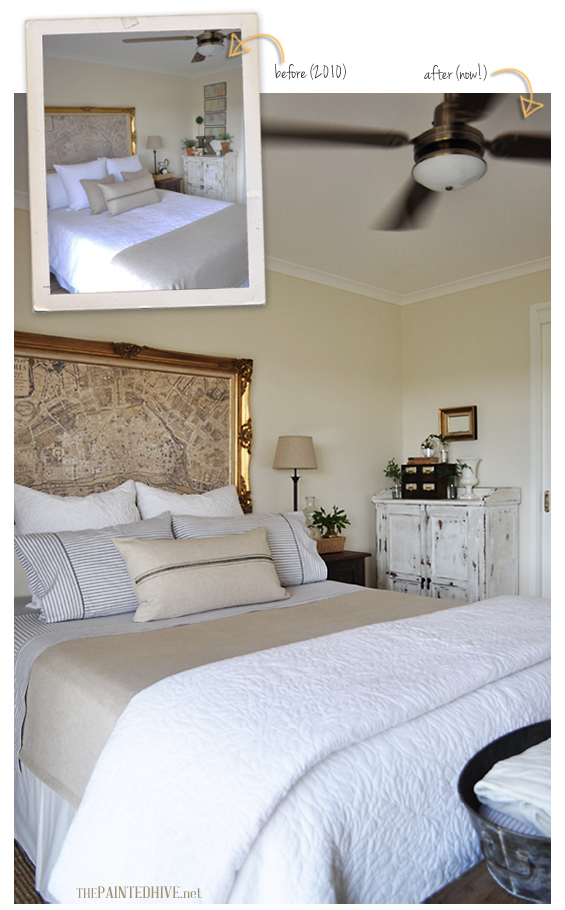 When I originally posted about my bedroom a few years ago, the framed coloured maps (which are actually sheets of gift wrap) were a pretty popular feature, and whilst I did really like them, in the overall scheme of my bedroom, to me, they always seemed a little too competitive – I wanted my framed map of Paris to be the star and set the tone. So, whilst the map gallery would make a lovely feature elsewhere, for the bedroom I decided to switch it out for something more simple and subdued.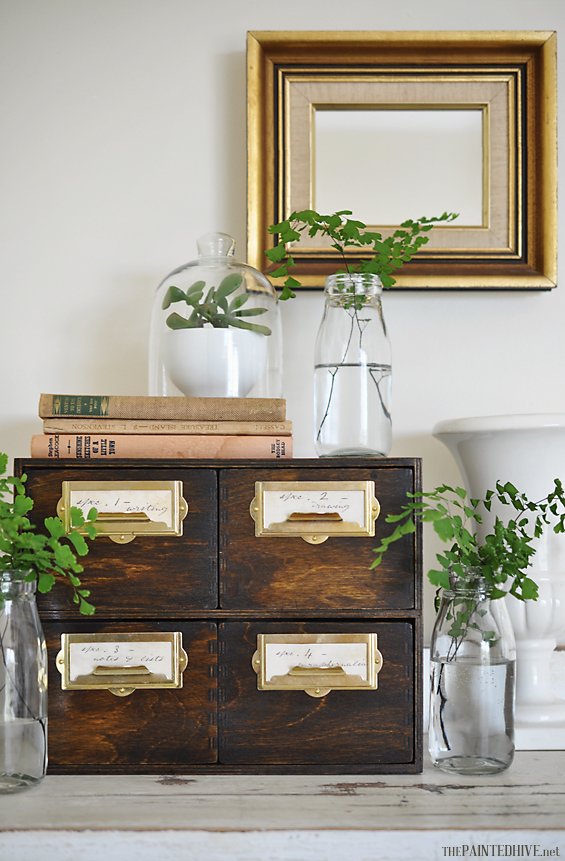 At the moment I'm kinda obsessed with indoor greenery. Ferns are my main weakness though I'm also loving the simplicity of cut fronds and foliage. For me their natural presence always imparts a fresh, homey feel, and plunged in water they can last for up to four weeks. Most people have free and easy access to at least one appropriate tree or shrub which also makes them obtainable and super thrifty!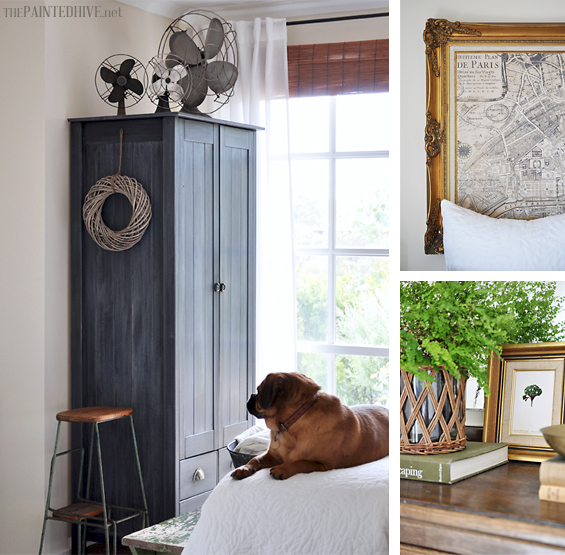 Along with the greenery I've also included more gold and brass accents to tie-in with my DIY headboardy-type thingo. And there are little clusters of vintage books and a smattering of glassware – two of my go-to décor elements…they just seem to work so well wherever they land!
I know that to many people the changes may seem fairly insignificant, though the subtle updates have contented me (for now!).
I still have plans to add some new curtains (I'm thinking either something linen-y or green-ish) and perhaps in the future even a timber framed bed, though we'll see.
If you're after information on any of my bedroom sources or DIY projects check out the 'At a Glance' section below.
Hope you like my little updates :-)