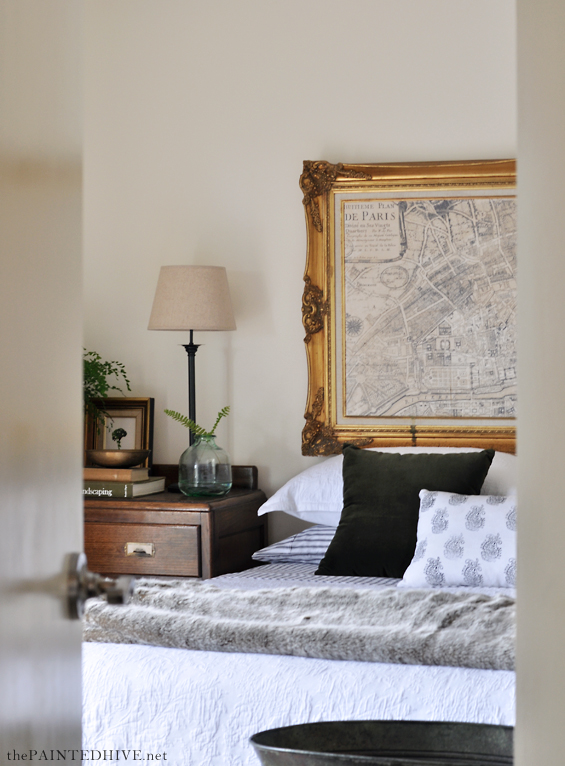 I last shared pics of my master bedroom over three and a half years ago.
Not that I think there's anything wrong with that.
In fact, there's actually lots that's very right about it.
You see, when I did share those pics, I also mentioned that creating spaces with a focus on longevity is a priority for me (don't get me wrong though, I'm not saying that three and a half years is a particularly expansive length of time, however in the world of "home" blogging having exactly the same room scheme for more than five minutes kinda equates to infinity – plus, I have had all the main pieces since 2010 and plan to have them for many more years to come).
I love the idea that my interior can stand the test of time. That it's not dictated by trends. That I don't tire of it after one day. And that if I do ever feel the need for a change, it's generally as simple as a new throw pillow and maidenhair fern (#fernobsessed)!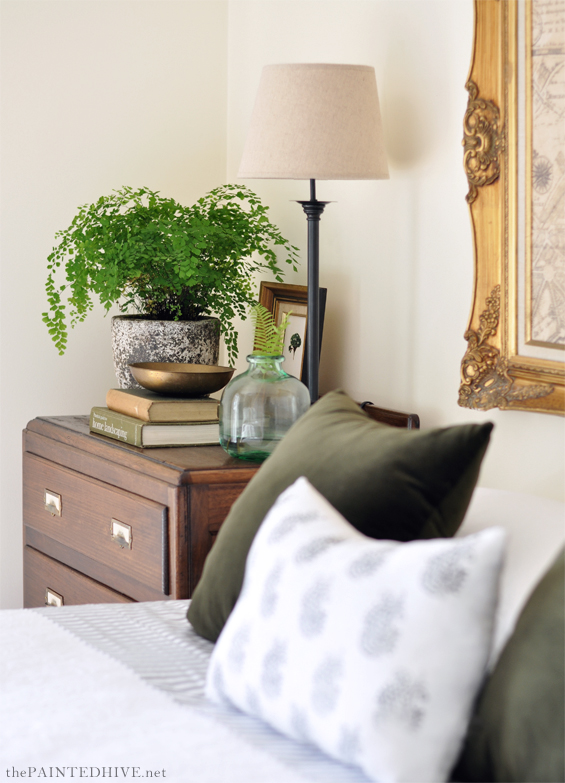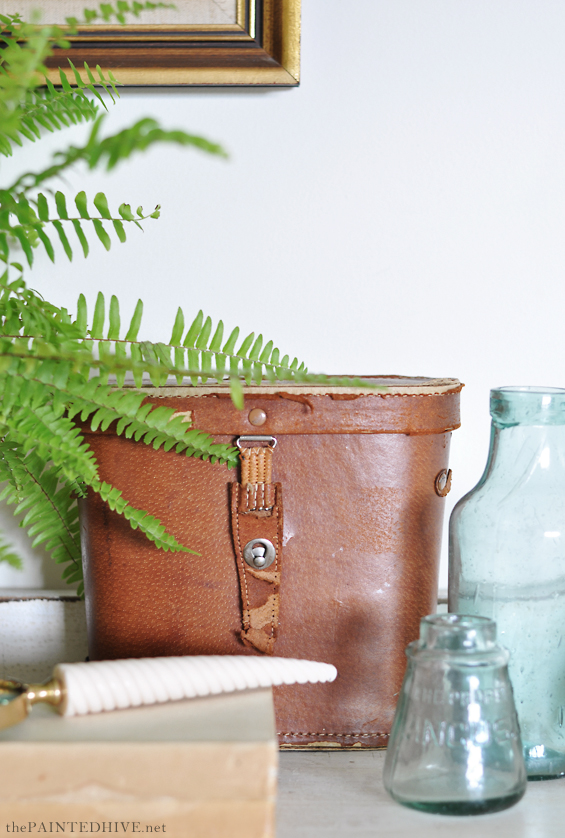 All that said though, things do wear out, get relocated, and simply fail to evolve as desired in conjunction with your vision.
And that's exactly what happened in my master bedroom.
Putting all that justifiable stuff aside however, sometimes it's just plain fun to "play house" (something I haven't done much of since having kids!).
This mini refresh was actually sparked by our need for a new mattress. A need which happened to coincide with a fortuitous offer from Super Amart.
We were super lucky to have the opportunity to review an Orthokinetic Cirrus mattress. An opportunity which also gave me the perfect excuse to zhoosh-up our decaying bedding (the six year old valance, quilt cover and linen throw were starting to fall apart at the seams – quite literally!) and collate some lovely new vignettes (my favourite past-time!).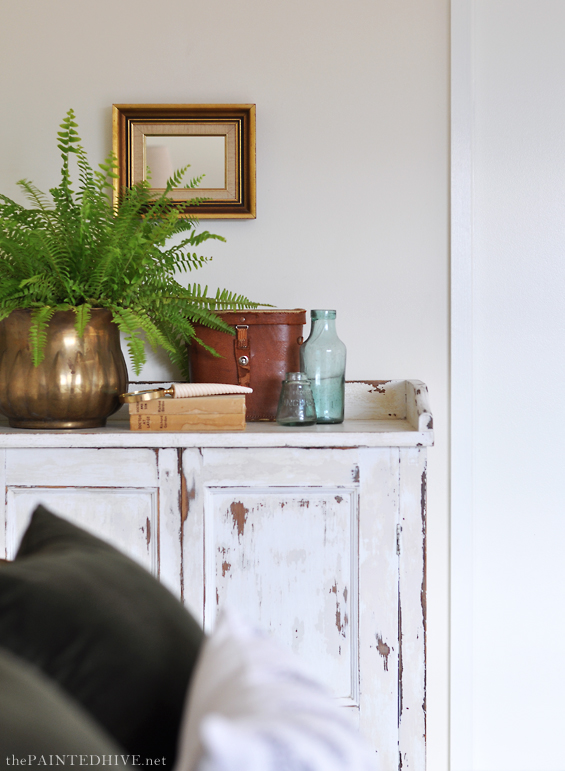 I rarely buy bedding. In fact, it's something I pretty much reserve exclusively for my birthday. Unlike decor accents, which I generally pick-up super cheap from thrift shops or department stores, I am somewhat fussy when it comes to my linen. I don't know what it is, I just seem to have specific "musts" in that realm. It's not like I go out of my way to purchase expensive (to me) bedding, or that I believe a hefty price tag always equates to better quality, it's just that Kmart doesn't seem to sell the sheets and quilt covers I really want!
Anyhoo, to dress our new bed I used a fresh valance (in the same style as the original one – just less irrevocably stained), my gorgeous new ticking sheets (again, similar to what I previously had – just less threadbare) and a new white quilt cover (once more, not unlike the preceding one – just with fewer holes).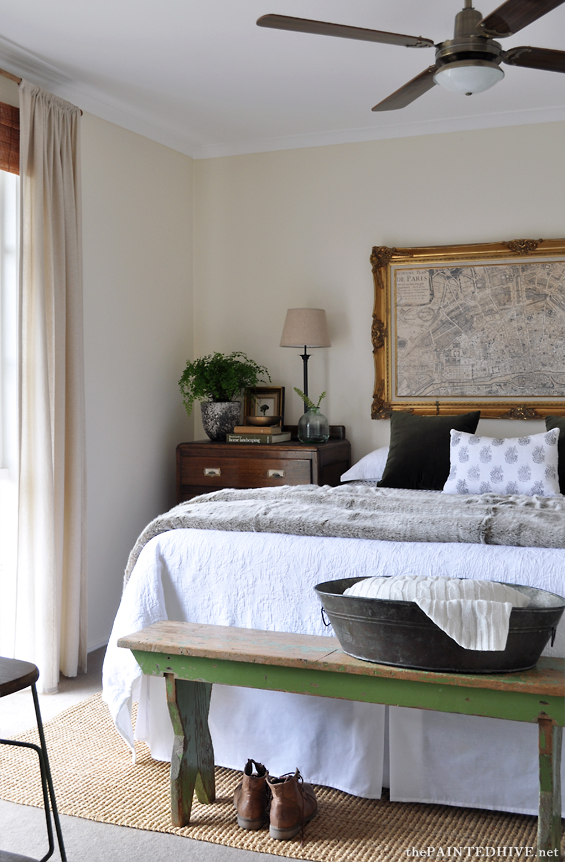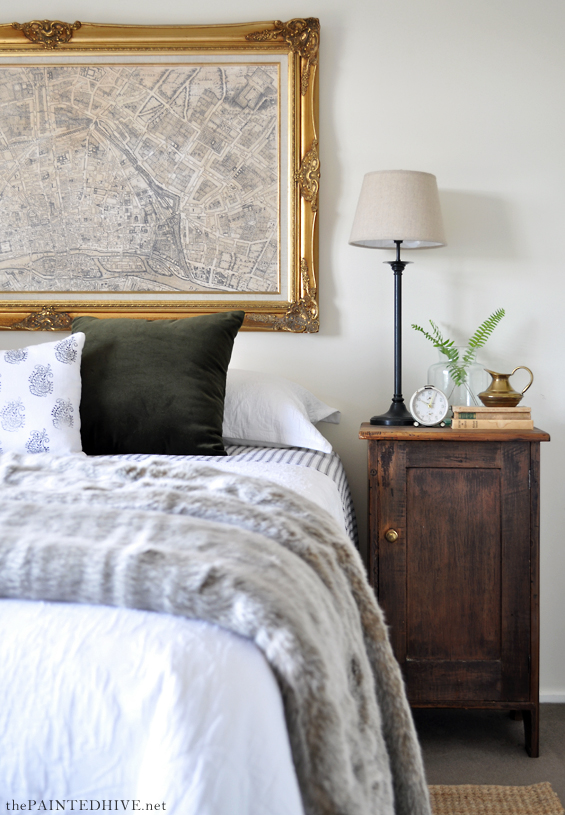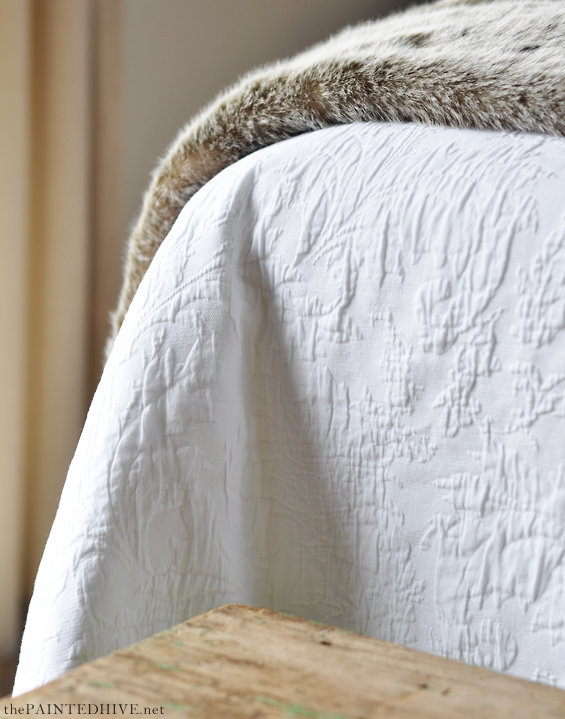 Although quilted, the doona cover is quite light-weight which is perfect for my husband, who tends to over-heat, and great for me too because I have a thing for quilted doona covers and absolutely MUST HAVE ONE – win-win! This design is really cool too. It's a pretty damask of sorts though has a slightly distressed finish which prevents it from looking overly feminine and hides all those unwanted wrinkles!
I also opted for a different pillow configuration; horizontal standard pillows, two deep green velvet throw cushions (which I made myself with fabric from Spotlight), and a block-printed lumbar pillow (again, made by myself – you can find the stamping tutorial here).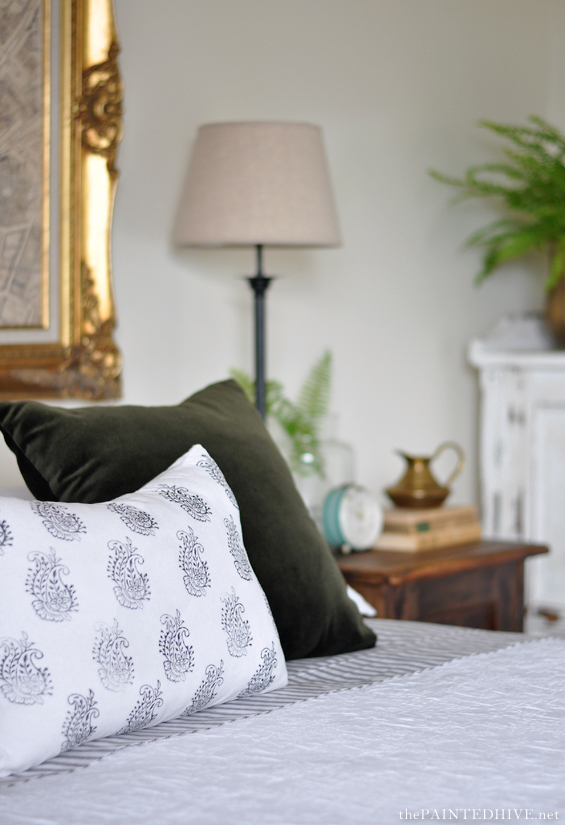 And to accent the green cushions and break-up all the white I took a slight risk on a sumptuous faux fur coverlet.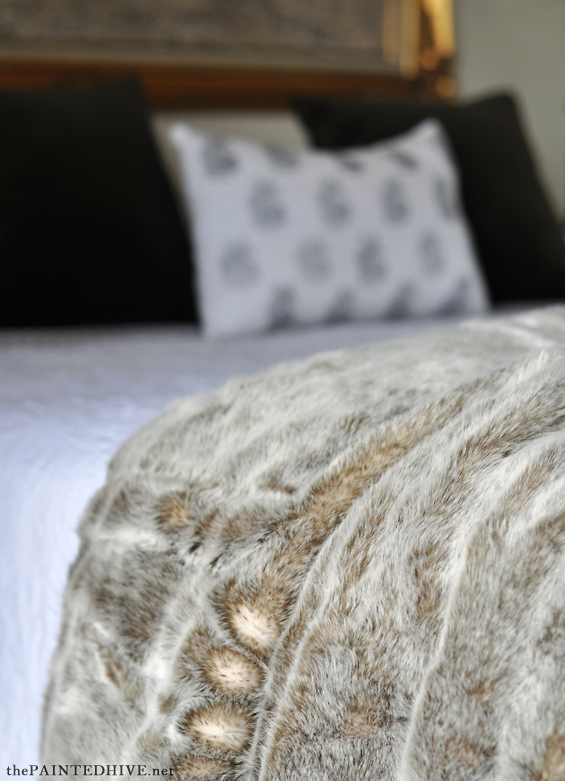 I must admit, I've been somewhat critical of faux fur in the past though I absolutely LOVE this throw! The first night we slept with it on the bed, my husband snuggled into it and said "I feel like John Snow". Ha, ha.
I played around with a few different dressing options; such as draping the coverlet over the end of the bed, stacking the pillows, forgoing the throw cushion, and tucking the quilt and sheet under the mattress. So, if you notice the bed is styled differently from pic to pic, that's why.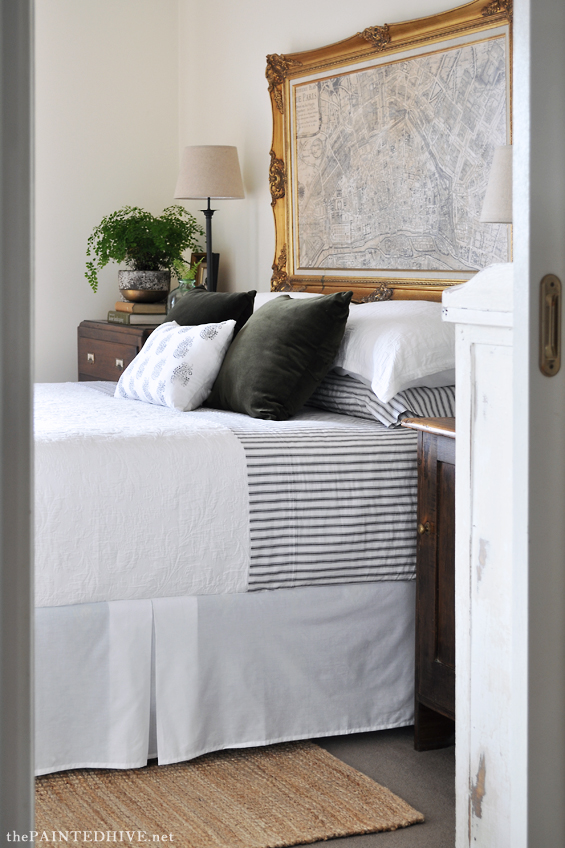 All of the bedding items were birthday gifts or purchased on sale.
I'm wrapt with the fresh look of the bed, though all the pretty trimmings don't count for much if it isn't comfy to sleep in.
So, how do we feel about the mattress…
HER VERDICT
I must admit, it took some adjusting. We've never owned a decent mattress before and compared to our ten year old blob – complete with custom body divots – it felt incredibly firm, bordering on hard even. Initially, I definitely regretted our decision to go with the 'medium' though after a few days I began to adapt and started to feel the benefits. I'm generally a pretty good sleeper though have been through a restless patch over the past few months. I don't know if I can attribute my recent improved slumber to the new mattress, though I have definitely been sleeping more soundly since its arrival. I can't say it's like sleeping on a cloud (however the price tag isn't sky high either – ha, see what I did there?). That said, it is comfy and very supportive. A massive upgrade on our previous "blob".
HIS VERDICT
I like it. Heaps better than our old mattress.
Ahyhoo, along with the subtle changes to the bedding, I've also switched out the curtains.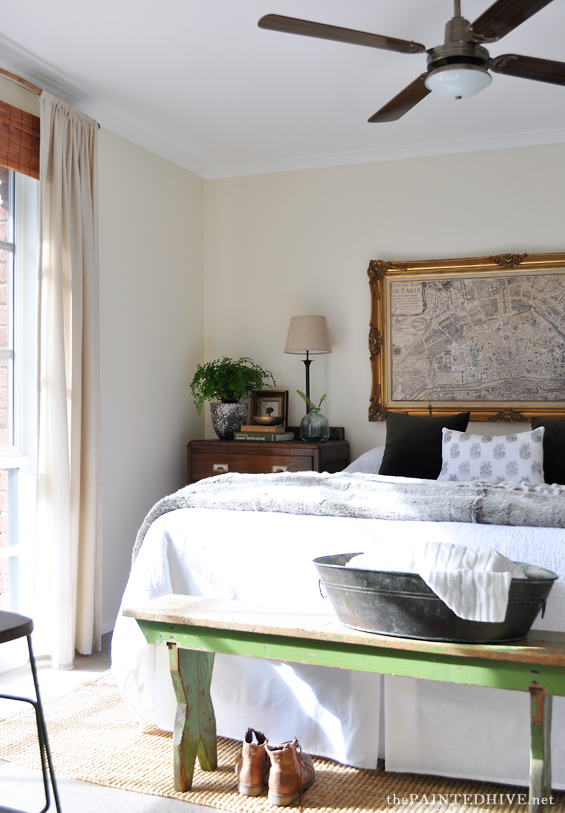 I actually did this around two years back. The original white sheers were just starting to discolour and, to be honest, the messiness of their flimsy tabs always bothered me.
I replaced the black rod and finials with a real bamboo pole and wooden drawer knobs (similar to what I did here in Charlotte's room) and the updated drapes are the LENDA from Ikea. The LENDA come with tabs – which is fine, just not my favourite – so I simply removed them and created a basic rod pocket. I realise a rod pocket isn't necessarily a step-up on tabs, nor is it the most sophisticated or tailored form of curtain heading, though something about it works for me in this room.
Finally, to freshen-up the general vibe, some re-accessorising was called for!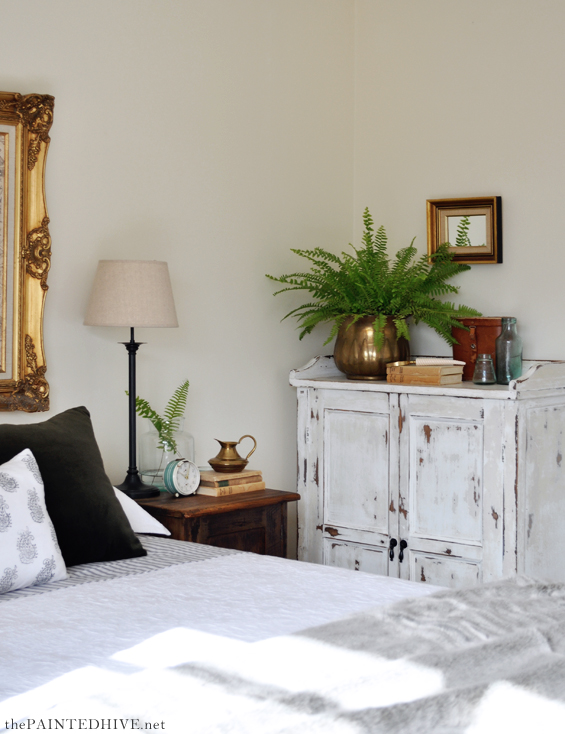 I first removed all of the existing decor pieces (which wasn't difficult given most of the accessories from the "three-and-a-half-years-ago" pics had already been relocated elsewhere in my home!).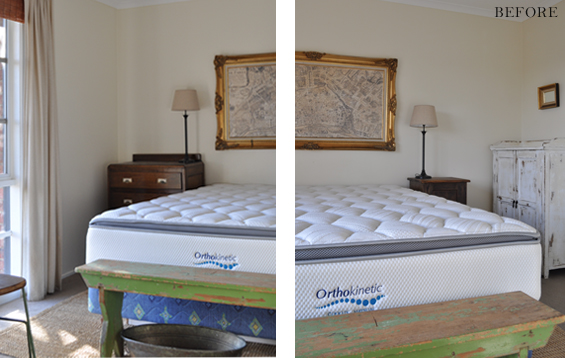 I love working from scratch when refreshing the decor in a space. Even if you plan on using some of the existing pieces (as I did), I believe it's still helpful to remove them first. There's just something therapeutic about starting with a blank canvas – for me, it offers a sense of clarity and helps open my mind to new possibilities.
I wanted to retain the room's natural, layered, slightly vintage, collected feel, so I reinstated many of the original accessories.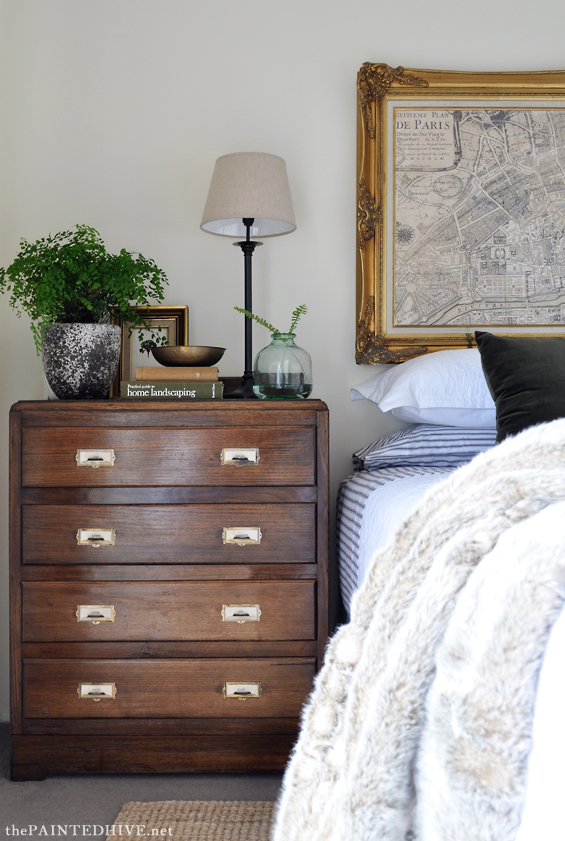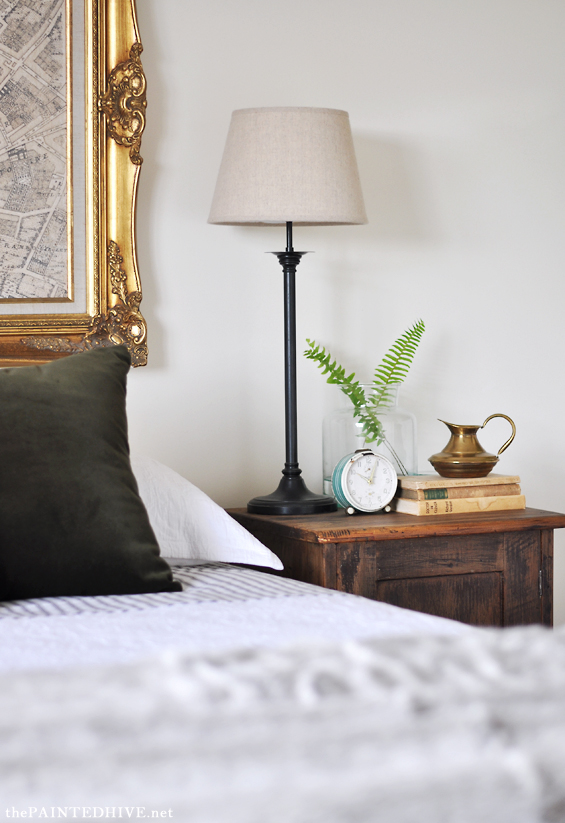 All of the "new" items are pieces I already owned. Nothing has been purchased specifically for the space and pretty much everything was originally thrifted.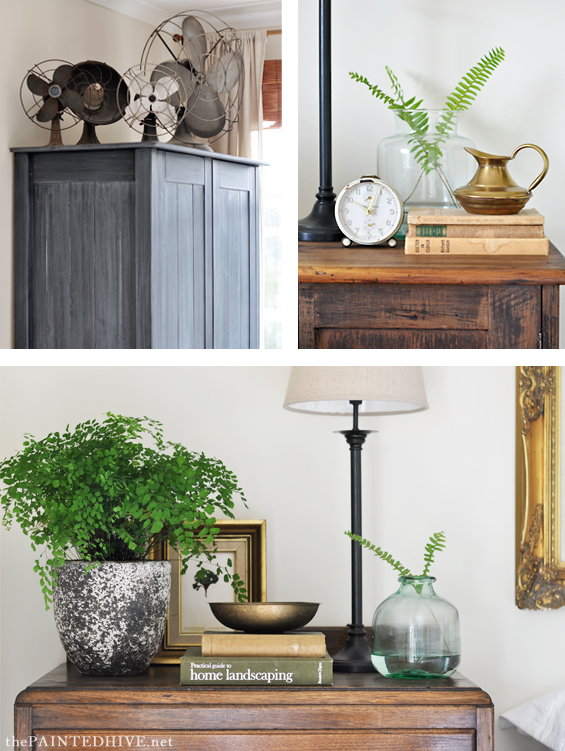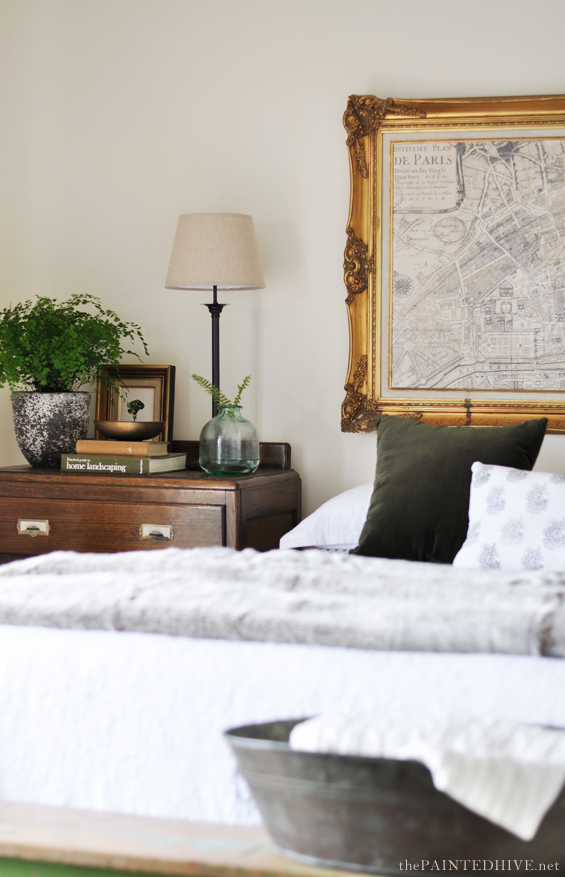 I know in comparison to my pics from three and a half years back, the changes appear to be quite subtle. As mentioned above though, since then many of the original items have worn out and moved on so for me the transformation is actually pretty substantial – and everything just feels so good!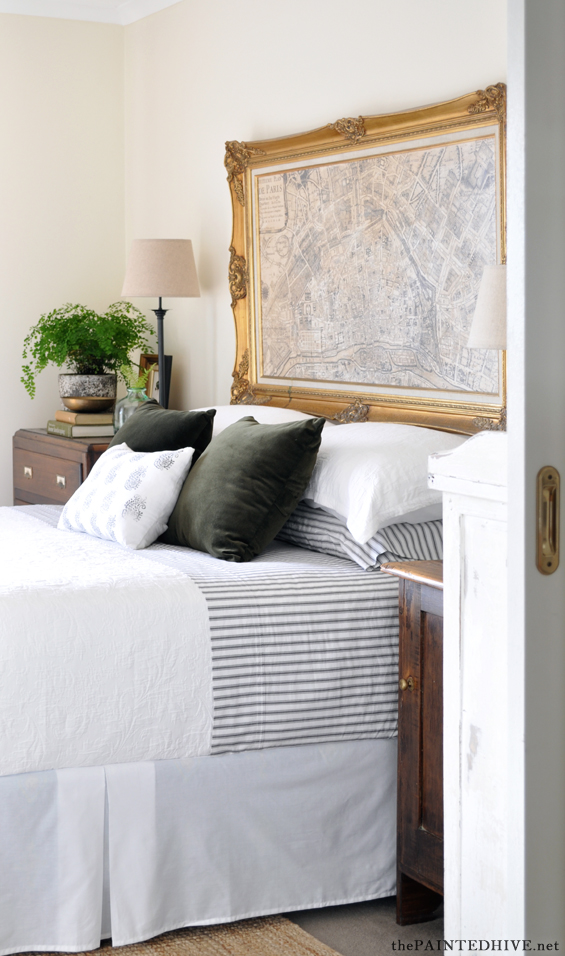 PRODUCT COSTS & SOURCES
Sheet Set: Taylor Road (Organic Ticking in Charcoal – $120 on sale)
Quilt Cover: Adairs (Botanica Matalesse in White – $140 on sale)
Faux Fur Coverlet: Bed, Bath 'n' Table (Arctic Fur in Possum – Gift)
Valance: Bed, Bath 'n' Table (Perfects Pleated – Gift)
Curtains: Ikea (LENDA in Beige – $30)
Rug: Ikea (discontinued – the LOHALS is similar)
Lamps: Early Settler (discontinued)
Green Velvet Cushions: Personal Project (fabric from Spotlight – $22 per meter on sale)
Block Printed Cushion: Personal Project (click for tutorial)
Map Headboard: Personal Project (click for tutorial)
Furniture: eBay (click to see earlier related posts)
I received no remuneration in exchange for writing this blog post however I was gifted an Orthokinetic Mattress for the purpose of a review.
All opinions are my own.