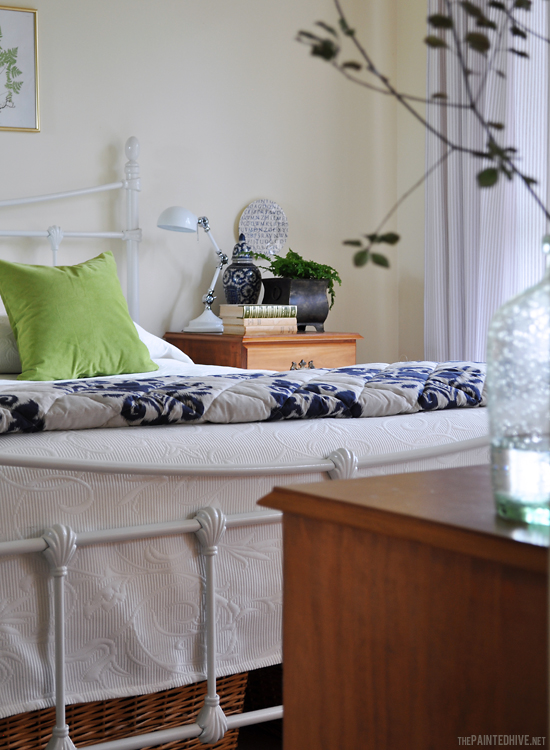 Just as promised here is the reveal of my parent's refreshed master bedroom!
I know, crazy right? I must be getting efficient or something. I hope you were sitting down.
Anyhoo, as eluded to in an earlier post, it's not one of those "full-on" kinda makeovers though the change is still pretty substantial and mum is just rapt! Just goes to show, you don't always have to go "all out" to make a major difference, and it doesn't need to be perfect to make you smile.
Here are some of the lovely before shots…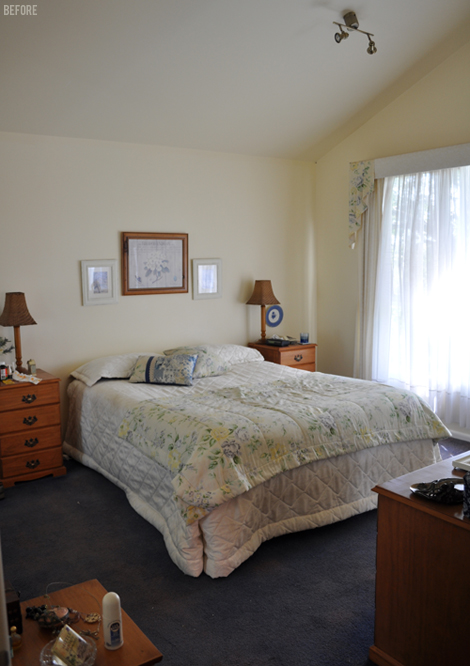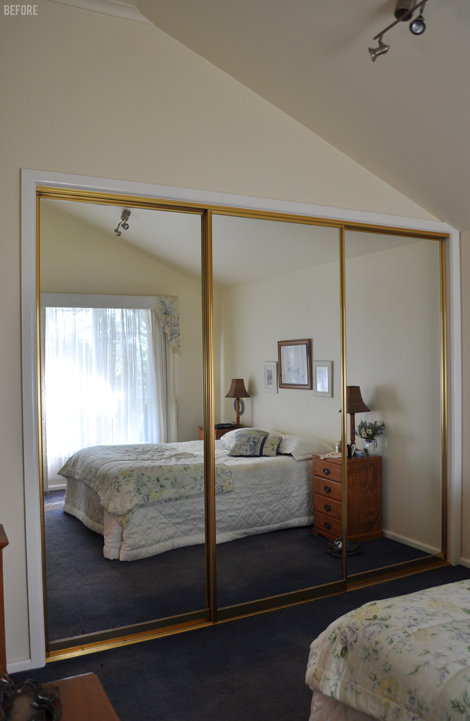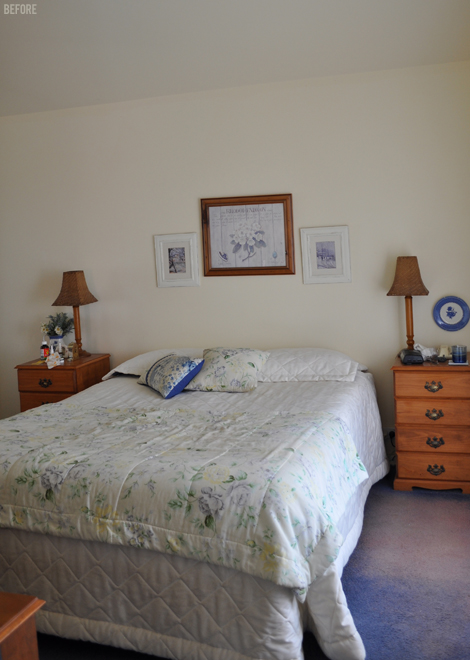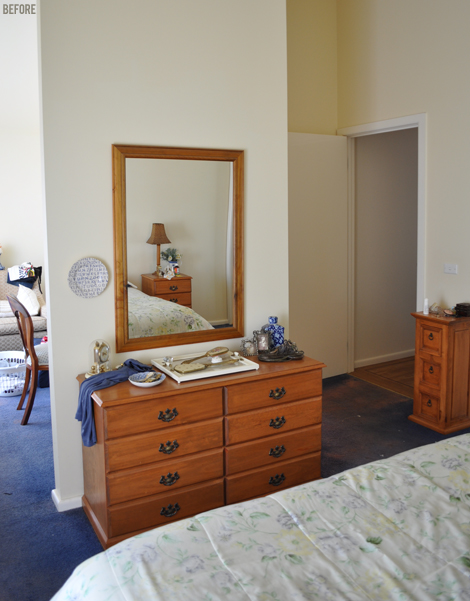 As you can see, it's a pretty great space, just neglected and out-of-date.
Aside from some new carpet (which was sorely NEEDED), a fresh DIY window treatment and the addition of an affordable iron bed, credit for the transformation can be vastly attributed to some thoughtful re-accessorising. We didn't paint any walls or furniture, change light fittings, or buy new bedside tables. We didn't transform the wardrobe doors, switch-out the dresser, or even replace the basic mirror above it. We worked with what we had (for the most part) and in doing so discovered just how rewarding the challenge, and surprisingly successful the outcome, can be.
So, was it a lazy girl's make-over? Well, I like to think of it as smart :-)
Here are the afters…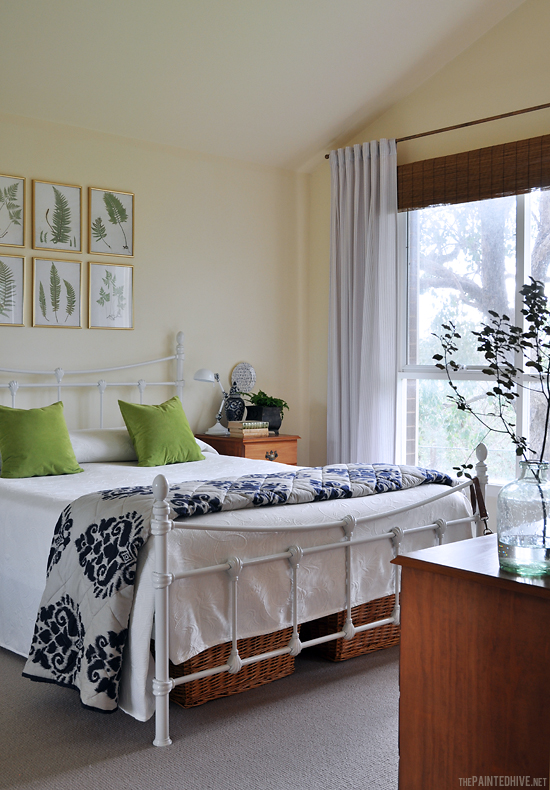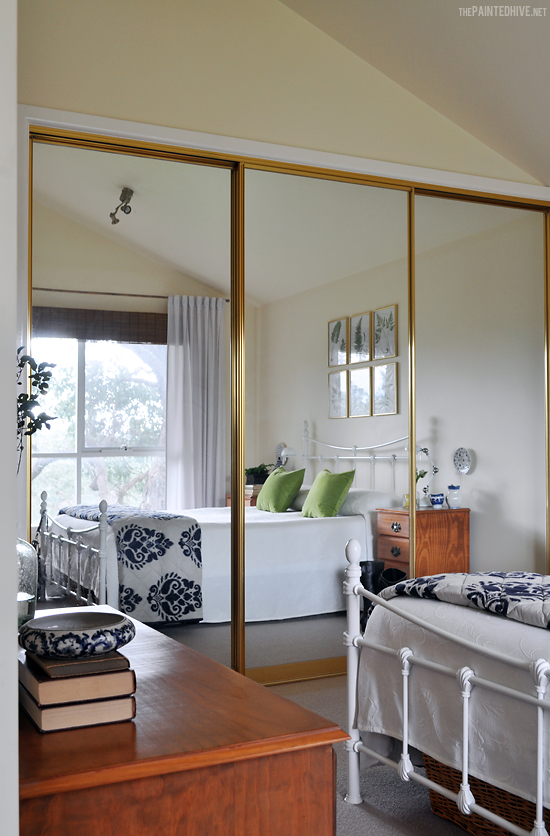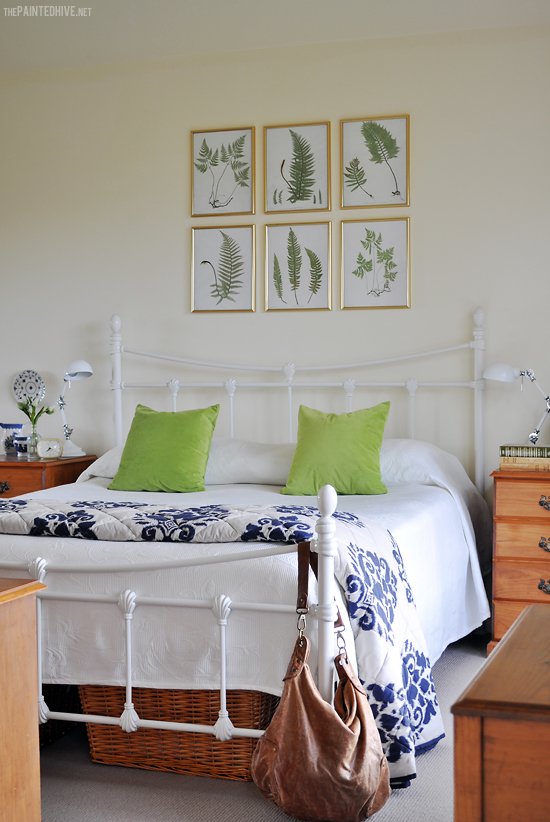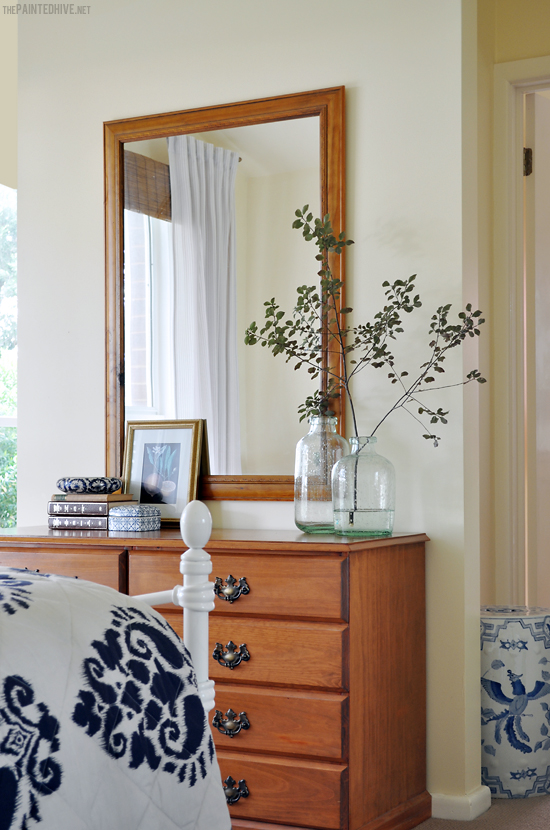 The bedside tables and dresser hold sentimental value and are still perfectly functional and in great cosmetic condition so we kept them. And although we did consider it, in the end we didn't even switch out the hardware or paint them. We've actually done a really great job of convincing ourselves that rather than being old-fashioned in a drab and out-dated kinda way, they are actually old-fashioned in a quaint and unpretentious way. And instead of the orange-toned timber being garish and dowdy, we've decided it is in fact quite fitting, playing nicely off the cool whites and earthy greens, adding needed warmth and depth (I actually quite like orange-toned timber, especially when teamed with navy blue, and think it's going to make a resurgence some time soon – if it hasn't already).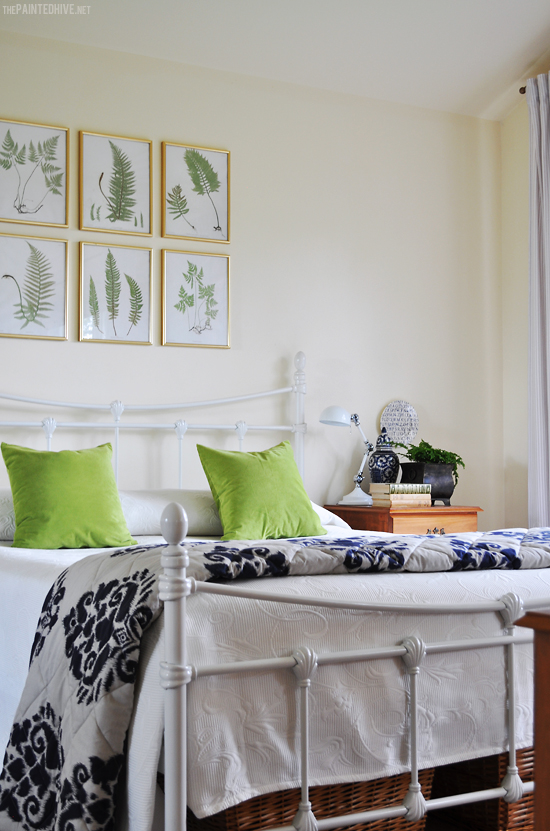 The new iron bed is from Early Settler. Mum picked it up on sale a few months ago for just $290. The white bedspread is from Spotlight and the green velvet cushions (which were just $4 each!) are from Target. The accent throw is actually a second bedspread, so mum can always switch them around if she ever feels like more punch. It features a really lovely over-sized damask ikat and adds just the right amount of pattern. And, here's a tip…if, like me, you like your bed to look as perfect each day as the first time you made it, opt for quilted or embossed bedding. It doesn't wrinkle easily and always appears fresh and plump.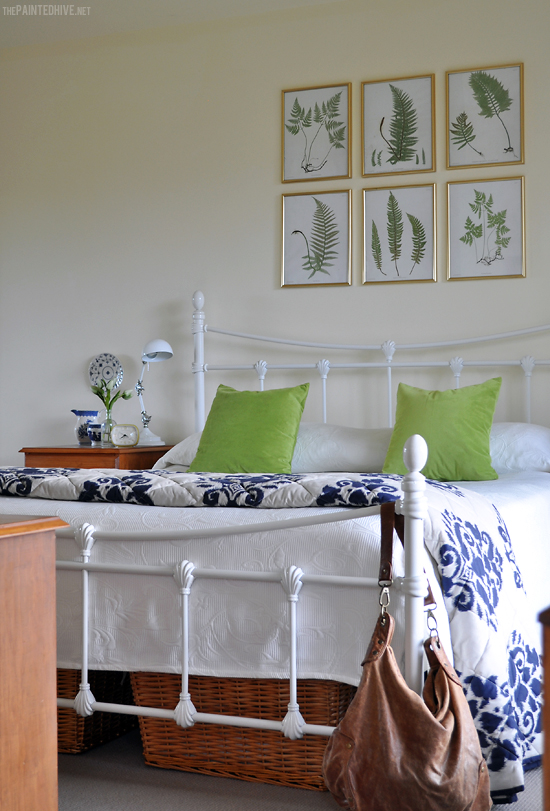 I talked about the fern prints in this previous post where I offer them for free download! The gold frames are cheapies from The Reject Shop. They echo the brass wardrobe door surrounds perfectly.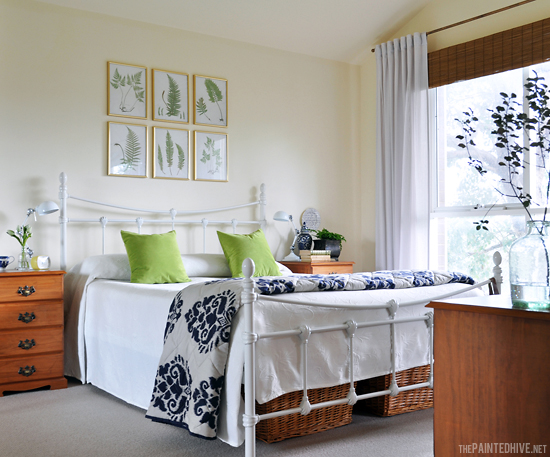 The pretty (yet not so practical) window dressing you can see is actually little more than a disguise to conceal the practical (yet not so pretty) window covering you can't see. Confused? Well, both mum and I love the look of soft curtains paired with timber blinds, though for a bedroom also like having something with a block-out capability (to help control both light and temperature). I usually find that block-out curtains hang too stiffly and block-out timber blinds are too heavy to comfortably operate on a daily basis (in fact, lots of timber blinds even come with a disclaimer stating they are not intended to be raised and lowered frequently), plus they can be pricey. So, behind the light-filtering ticking curtains (which mum made herself from inexpensive fabric found at Spotlight) and the timber 'blind' (which is really just a valance made from half a bamboo roller shade) lies a very basic though perfectly practical block-out roller blind. It is simply lowered each night, then raised each morning. Oh, I also have a simple trick for creating those perfect curtain tab folds you can see – that's coming up in a future post!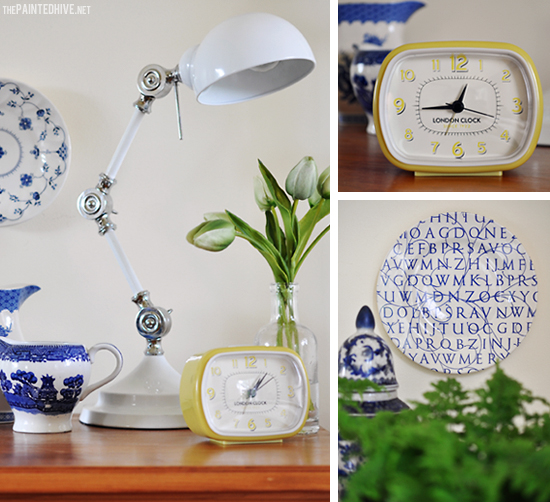 Almost all of the accessories we already had. The retro style alarm clock was a recent Mother's Day gift. The lamps mum picked up on sale from Target a few months ago. The plates are part of mum's vast collection of blue and white china and are simply attached to the wall using 3M click strips. The under-bed baskets, which provide pretty yet practical storage, are from Masters – I love a touch of cane in a space, it always adds such a nice relaxed feel and the tone of these particular baskets ties in perfectly with the timber furniture.
Although I am happy with the room and the basic-ness of the make-over, there are still a few things I'd like to add (isn't there always?). I would LOVE to install some simple faux beams to the vaulted ceiling – how awesome would that look? Mum is kinda hesitant about the idea of nailing wood to her roof. I get it, kinda. Actually, not really. It's just wood and nails, right? Maybe next time my parents are out of town some 'fairies' might make it happen (if you are my mum and you are reading this that last sentence was just a typo).
I also adore the idea of extending the botanical grid right across the wall. Adding an additional six, or even eight, prints at either end of the existing gallery would create such impact. Don't get me wrong though, the current configuration of six frames is lovely in its simplicity.
In addition, I wouldn't mind attaching some divisional trim to the mirrored wardrobe doors, making them look like huge french windows. That'd be pretty cool.
Now, here are some side-by-side before and afters just for comparisons sake…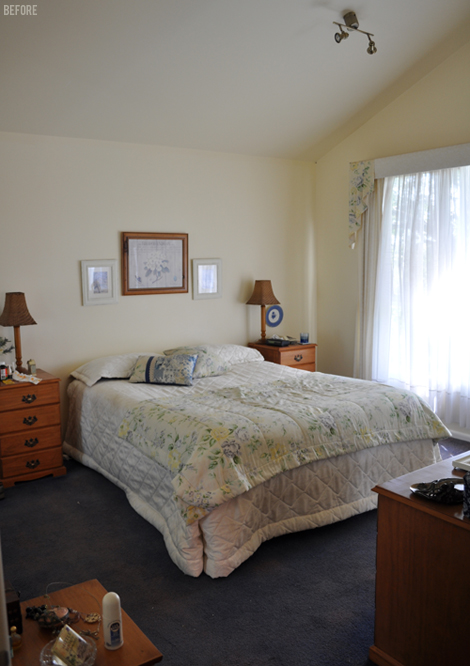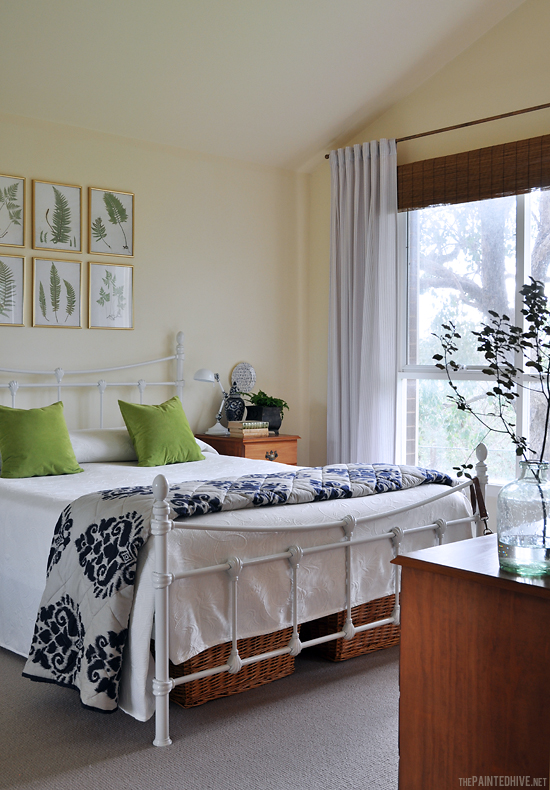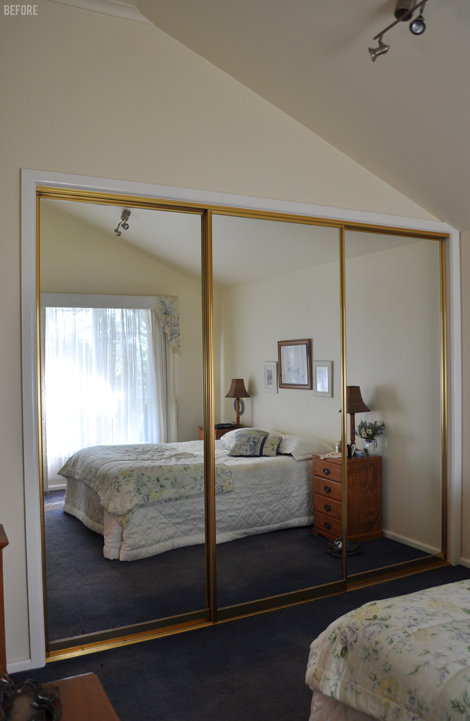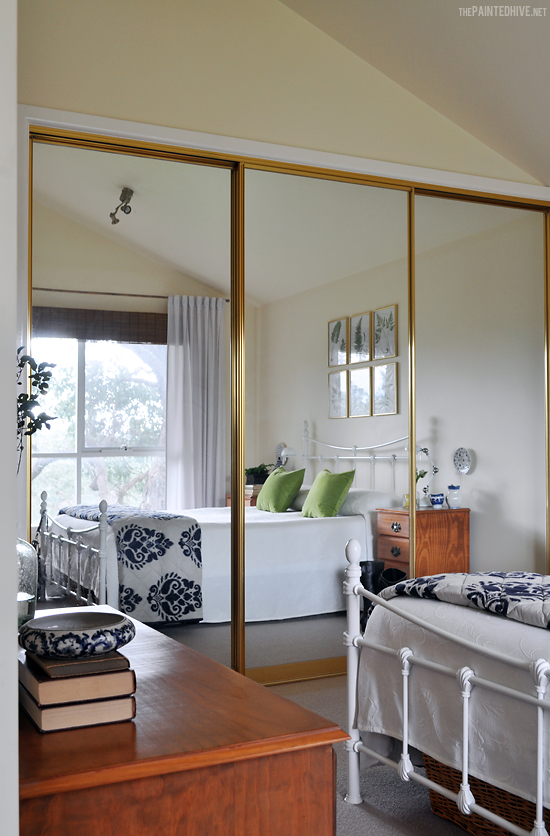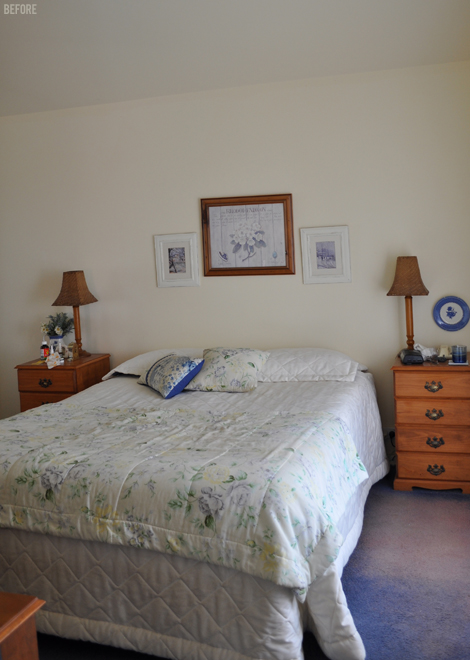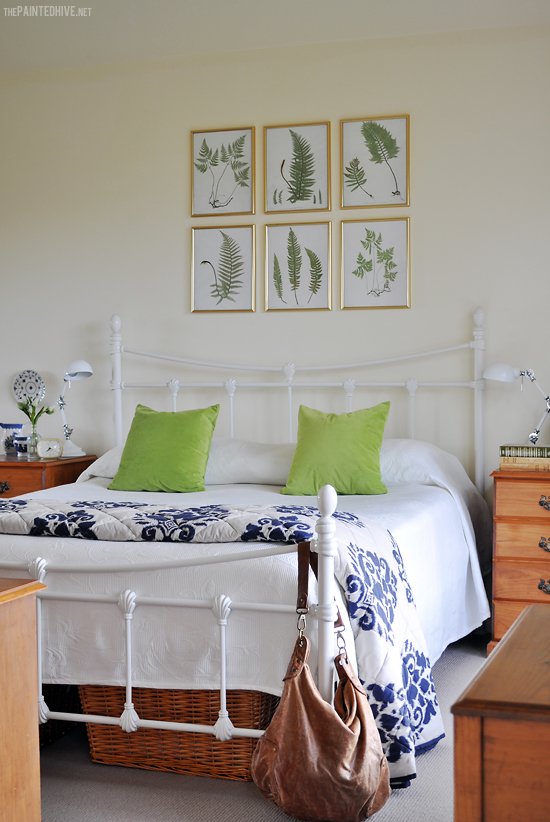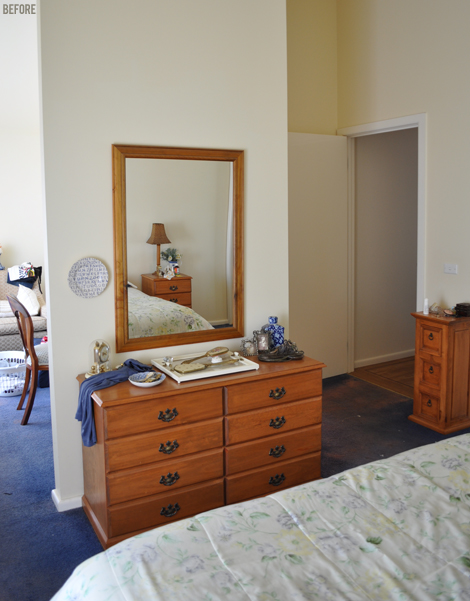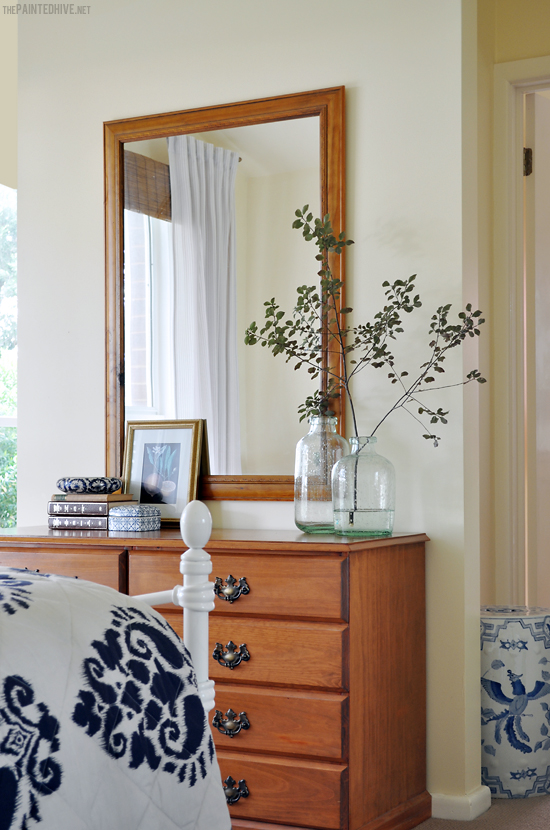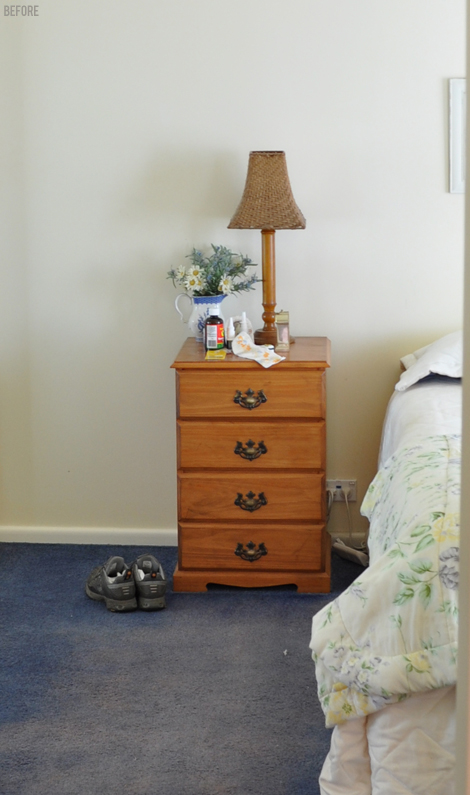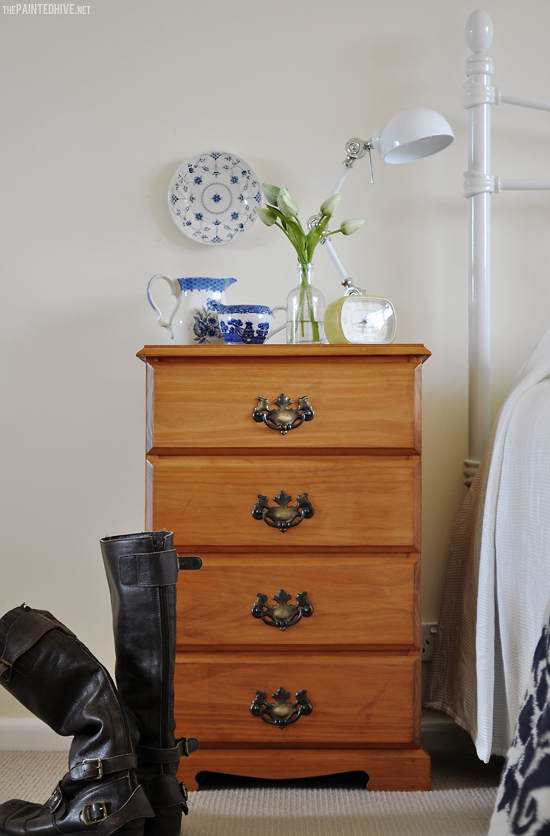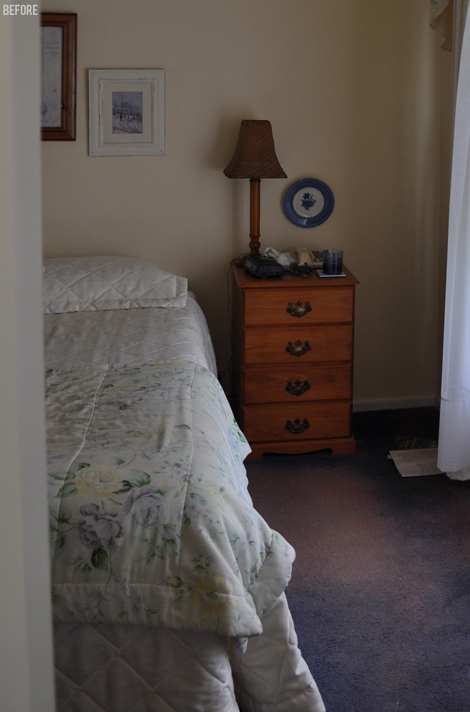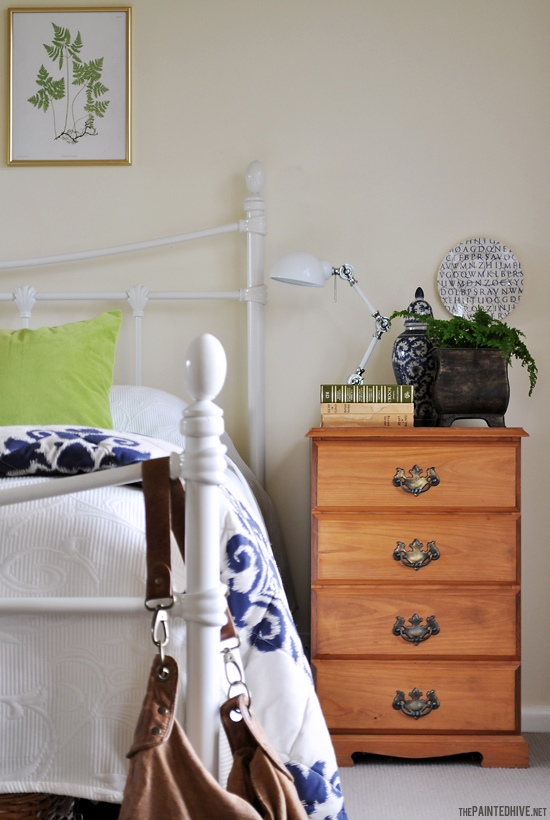 Not too bad for around only $600 total (excluding the cost of the new carpet).
Of course, we could have done lots more and created a potentially outstanding room, though sometimes isn't simple best? Maybe not from a jaw-dropping or Pin-worthy perspective, though perhaps in the interest of creating a more timeless space. I truly admire the commitment and tenacity of people who are willing to decorate boldly and re-work their spaces every other month, though mum didn't want a trendy room which would need a complete overhaul in another year or so. And, to be honest, I must admit, I do get her thinking.
Smart, not lazy, remember? ;-)