Before Charlotte actually out-grows her cot I thought I'd better finish off her room! Well, for that reason and also cause it's about time I finally shared it on my blog!
Of course it would have been completed four months ago, before she actually arrived in the world, if it hadn't been for
my pesky eight week hospital sojourn
 (giving it a sweet name derived from old French makes it sound so much more appealing!).

The nursery is predominately neutral with nothing too flashy or poppy so for those who have been waiting (far too patiently!) for the reveal, I hope its simplicity doesn't disappoint.
Here it is before….

The nursery was originally our unfinished study/junk space/I-collect-too-much-furniture-and-have-nowhere-else-to-put-it room. It's teeny tiny, which made it a tricky little space to decorate (and photograph!).
If you're new here and feel so inclined you can catch-up with all the previous nursery posts here.

To give the room some dimension, charm and crispness we dressed the walls with simple white board and batten. I didn't do a tutorial on this (mainly because there are already a squillion out there though also because we kinda just made it up as we went along). I will say however, that if you're considering a similar treatment it's actually pretty straight forward – especially if you're willing to make spak your new best friend.
To save extra painting (and because it's already nice and neutral) we decided to retain the original colour on the upper walls. It is Dulux Chalk USA as per the rest of our house.
The generic old wardrobe doors had to go though rather than trash 'em we decided to rehash 'em, offering salvation in the form of chalkboard paint and custom alphabet decals.

The process was similar to how I transformed the built-in doors in my master bedroom here.
We just removed the doors, bottom rail and fascia (which simply unscrewed) took them all outside and painted the metal beige areas with black enamel spray paint. Once dry, we gave the doors two coats of chalkboard paint. After a few days curing time I attached alphabet decals which I had custom made in Poor Richard font by Leen the Graphics Queen. They remind me of a classroom blackboard – I really love them!
I picked up the cot (crib) off eBay for just $40.
I was umming and ahhring for ages about what colour to re-finish it in though eventually settled on a warm grey.
I used organic acrylic (so it's safe when Charlotte decides to start munching on it) and mixed up the colour myself. I finished the cot with a subtle glaze and light distressing.
I also replaced the plastic castor wheels with antique porcelain ones taken from an old Edwardian chair.


For some weird reason the window in the room sits slightly to the right so I hung curtains centrally, covering the frame to create the illusion of symmetry.
I needed a blackout solution (for obvious reasons) though the linen drapes from IKEA were merely light filtering so I also used a textured blockout roller blind.

I knew from the get-go that I wanted an original antique chest of drawers to use as the change table and with some patience eventually found a reasonably priced set on eBay. I adore the patina and proportions. We keep all the change-time paraphernalia in the top drawers so it's completely accessible when needed though otherwise kept neatly hidden away.

I have previously posted about my eBay rocking chair mini makeover here. I decided to enhance it a little further with some subtle burgundy grain sack stripes.

The light fixture is a repurposed old zinc basket. You can read the full post and tutorial for that
here
.
The gallery wall was basically free. I wanted it to have a slightly quirky, vintage feel so used a mish-mash of frames (some I already owned and others are from charity stores).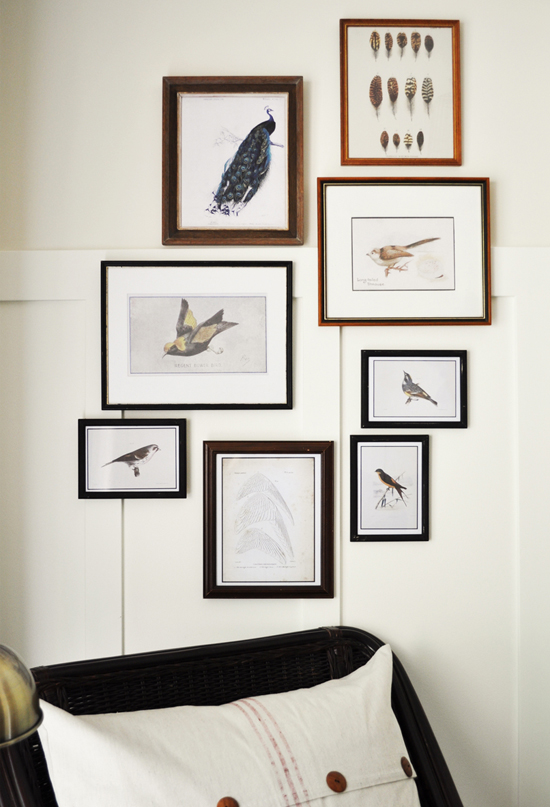 The lamp stand is actually a repurposed brake fluid drum! You can read about it in
this previous post
.
I made the mobile using hand-carved timber birds, laser-cut metal leaves and some twigs from my backyard. You can read my previous post about it
here
. I think it adds a lovely organic feel to the room.

To finish, here are a few side-by-side before and afters just for comparisons sake.