Do you guys remember this makeover from last year?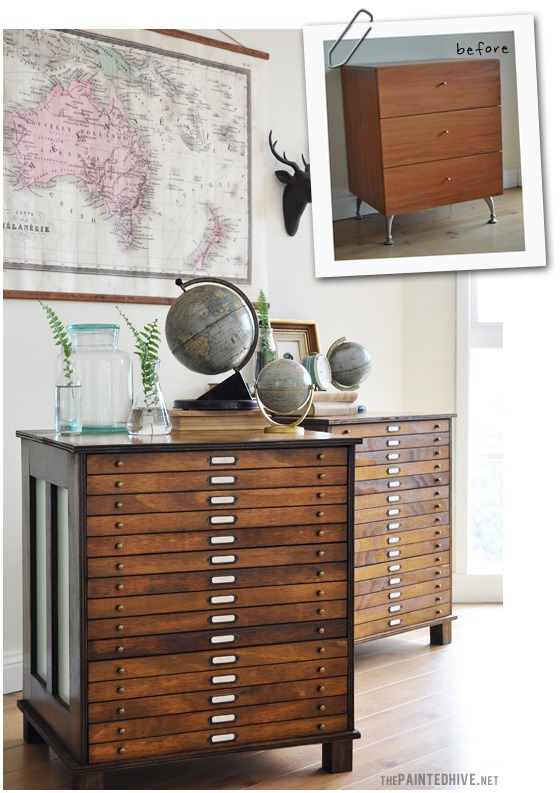 Well, I'm super excited to announce I am once again taking part in the Feast Watson Re-Love Project!
For anyone unfamiliar with the campaign, the Re-Love Project is a charitable collaboration between Feast Watson and Salvos Stores. The project follows eight design personalities as they each up-cycle an item of furniture into a unique statement piece. Things culminate in all completed pieces being auctioned for charity via eBay from 8 – 17 July.  Awesome!
It's BIGGER and BETTER than ever this year.
Also, slightly more daunting.
You see, after such a positive response to my make-over last year, I was feeling the pressure. I even considered declining. Of course, that would have been plain stupid and I'm soooo glad I didn't! On top of that though, the calibre of the designers this year is crazy good. The likes of Mark Tuckey, Tara Dennis, Deb Bibby…just to name a few. Industry icons people – gulp! As flattering as it is being named among such awesomeness, it's also a tad intimidating for little Kristine Franklin from The Painted Hive. That said, it's equally exhilarating so I'm gonna focus on that!
For those who don't know, Feast Watson specialise in premium wood finishes, so the furniture "re-loves" must center around just that; wood. This makes for a refreshing departure from paint, and provides a fun opportunity to get extra creative.
So, here's my glorious starting point…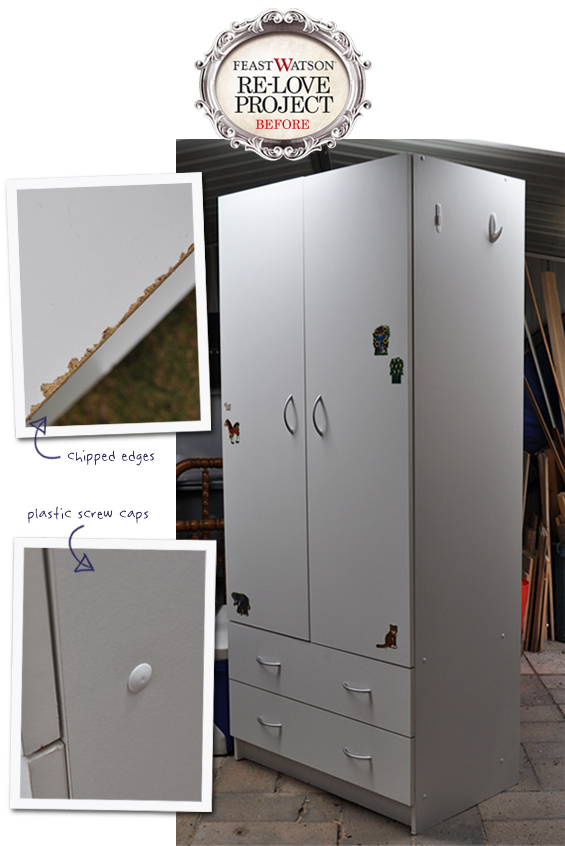 A big melamine wardrobe I picked up for just $50 (replete with some of my fave pet hate furniture traits).
What, "melamine"? Didn't you just say "wood"?
Yeah, but rest assured, I have a plan!
Rather than take on a sympathetic restoration, I want to experiment with a style of furniture I know is prevalent, affordable, and just plain meh, and completely turn it on its head! By doing so, I hope to inspire others to think a bit sideways and maybe even have a go at replicating my project (a complete tutorial will follow).
You with me?
Keep your fingers, and toes, crossed then. Who knows how this thing will end (hopefully not with me in the fetal position)!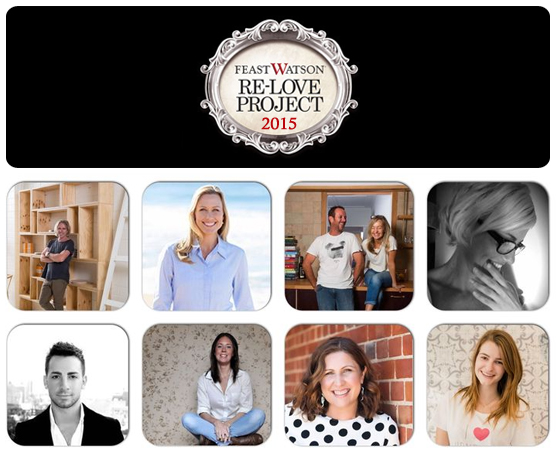 Click here to find out more about the project, read up on all the other fab designers involved and see everyone's 'before' shots!
You can also follow each designer's journey by subscribing to their respective social channels or directly through Feast Watson on Instagram or Pinterest.
UPDATE
You can see my completed piece here.

Ooh, also, I've finally just started using my Instagram account. Things are a little lonesome there at the mo' so please feel free to pop on over and follow along.