I'm super excited to announce that my Honeycomb Armoire is finally up for grabs!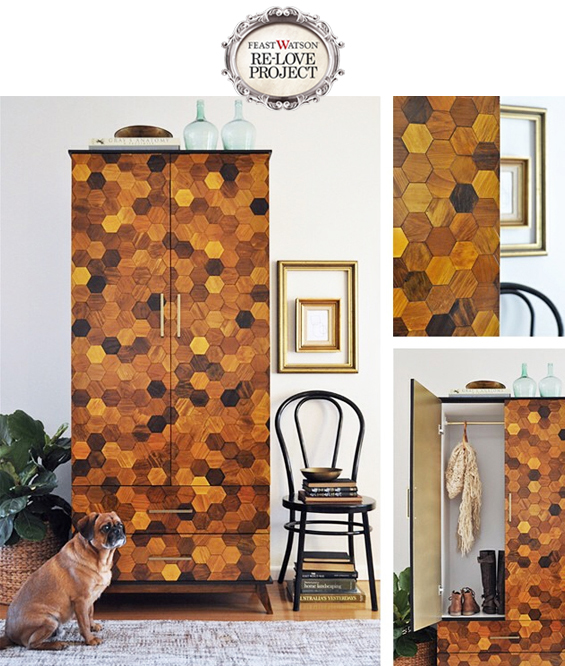 CLICK HERE TO GO TO THE LIVE AUCTION
Yup, from now up until July 17 anyone can bid for a chance to take this lovingly refurbished one-of-a-kind baby home!
Remember, all proceeds from the sale go directly to charity and bidding begins at just 99 cents! On top of that Feast Watson are offering free national shipping. Yes, people, FREE!
If ever there was a time to snaffle-up that special piece for your home, THIS IS IT!
Please hop on over and place a bid. Not only will you be supporting a great cause and giving yourself the chance to win, you just might save me from looking like a bid-less loser (you will also help ensure all these exclamation marks and shouty capitals I keep using are doing their job!).
In addition to my up-cycled wardrobe, there are seven more fabtabulous pieces being offered by the other amazing designers involved so be sure to click here and check them all out!
C'mon peeps! Let's make this thing awesome!

PS Thank you all so much for the beautiful response I have so far received for my piece. I stepped outside my comfort zone with this project and was feeling a little nervous about the whole thing. Your gracious support has been incredibly uplifting and is deeply appreciated.
PPS Oh, and please share this around with your family, friends and even colleagues (you know how much everyone loves irrelevant group office emails)! If perhaps it's not the item for you, I'm sure you must know someone who would love to have this special piece grace their home :)
UPDATE
The auction has now ended. Thank you to everyone who bid. We managed to raise a cumulative $10,000 for the Salvos!