I've been in love with beautiful block printed textiles for ages now.
I don't know what started my slight obsession (let's just blame Pinterest) though despite my adoration, up until a month or so ago, I didn't actually own anything block printed (let's just blame procrastination).
A few years back (yes, years) I started looking around for some block printed fabrics and other ready-made items, like quilt covers and throw cushions, though most of what I came across was either too pricey or just not quite right.
Note: If you are interested in purchasing block printed textiles – in favour of crafting your own – I found Etsy and eBay did have a nice and affordable range (mainly direct from India).
So, I decided to have a go at making my own! This way, not only could I completely customise my design in terms of colour, scale and pattern, I could also choose my fabric and it would be an easy, fun, affordable and rewarding DIY.
When I first starting looking for wood blocks a few years ago, finding them was a little tricky (even suitable rubber stamps were elusive). They have become much more prolific of late though and can now be found in loads of places for really great prices. Initially, I went on a mad online search, eventually narrowing down eBay as a good source. It's funny though. At the time (around four years back) I saved a heap of wood blocks to my 'Watch List' though never actually bought any. It took stumbling across some at a local homewares store recently to finally prompt me. Sometimes there's just something about buying stuff in person.
Anyhoo, let's do this thing.
You will need…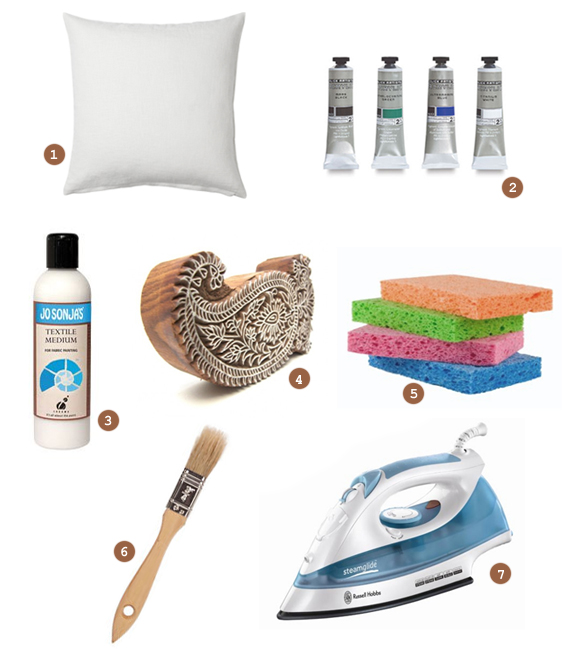 1 Fabric.
I'm totally cheating and using a ready-made plain cushion cover I found on sale ($6 from Spotlight – Ikea has some great ones too!). Of course, you can use whatever you like. From fabric off the bolt, which you can then make something from, to numerous other pre-made items, like; bed sheets, curtains, lamp shades, throw rugs, dish towels and so on.
Note: Remember, your fabric doesn't need to be light or neutral. You can stamp onto dark or vibrant colours if you use a contrasting toned paint.
2 Acrylic paint.
Any good quality water-based paint will suffice. I just used some left-over craft paints I already had to mix up a custom colour.
Note: You could use specialty fabric paint or ink instead (you then wouldn't require any textile medium). I personally prefer using standard acrylics because they are more affordable, easier to find and come in a wider variety of colours.
3 Textile medium.
This magic stuff is what makes regular acrylic paint washable. There are heaps of different brands. I used Jo Sonja's Textile Medium ($20 from Spotlight) because it was the first one I came across. This stuff isn't super cheap though you only need a really small amount (around one part medium to two parts paint).
Note: As touched-on above, if you use specialty fabric paint or ink you don't need to use any textile medium.
4 Wood blocks (or rubber stamps).
These come in all different sizes and designs. The one I used for this project measures around 7cm x 5cm (3″ x 2″) and has a simple paisley design ($6 from a local homewares store). Although I stumbled upon mine in a store, they are also easy to find online. A quick Google search will reveal loads (eBay and Etsy are two good sources).
5 Kitchen sponge.
This forms your "inkpad". You can use anything which is slightly squishy and absorbent.
Note: Alternatively, you can use a foam roller or a small portion of sponge to manually apply paint to the stamp.
6 Paint brush.
This is just for mixing-up your paint and spreading it onto your sponge.
7 Iron.
To heat set your paint and make it washable.
The process…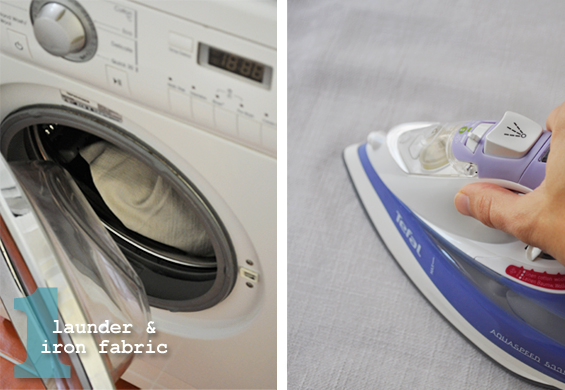 STEP 1 Launder and iron fabric.
This isn't entirely necessary though it does provide a nice clean starting point. Pre-washing your fabric ensures any factory coatings or chemicals are removed and also allows for any shrinkage. Ironing just makes your fabric neat, smooth and ready for stamping.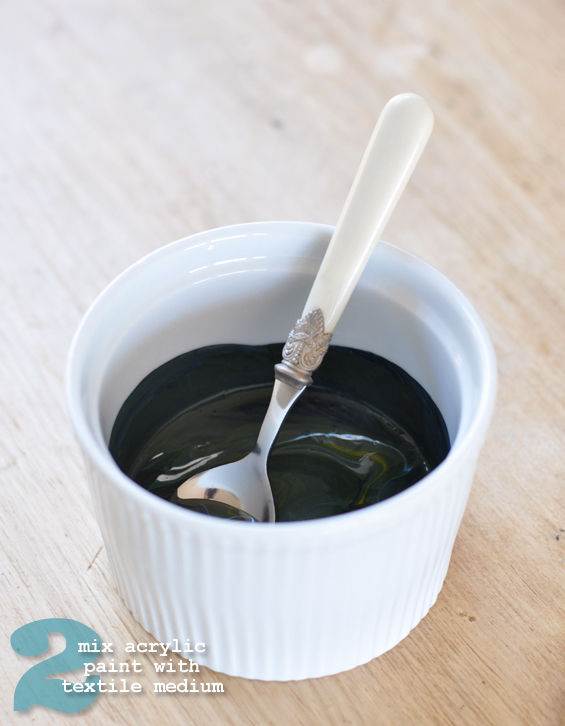 STEP 2 Mix acrylic paint with textile medium.
Pour your paint into a dish. If, like me, you're creating a custom colour (I used black, white, cobalt and cadmium to achieve a deep green-grey) ensure the paint is well combined and that you have enough for your entire stamping project. Mix your acrylic paint with the textile medium as per directed (mine was at least two parts paint to one part medium).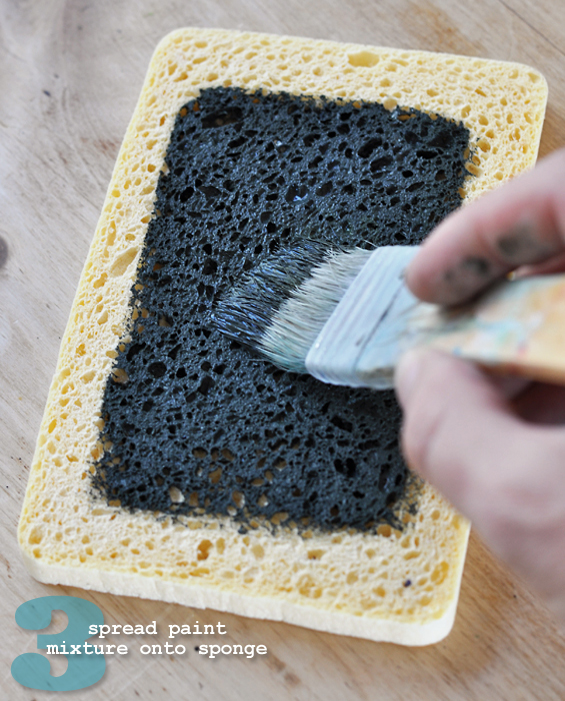 STEP 3 Spread paint mixture onto sponge.
Using a paint brush, spread a generous amount of your paint mixture onto your sponge. You now have a custom "inkpad".
Note: As mentioned above, you could instead use a foam roller or small portion of sponge to manually coat your block – I just find the inkpad method cleaner and easier.
It is tempting to forgo this step and simply dip your block straight into some paint though in my experience this produces uneven results, even when excess paint is blotted on a paper towel.
If needed, place a piece of card, wood or plastic beneath your sponge to avoid paint penetrating any underlying surface.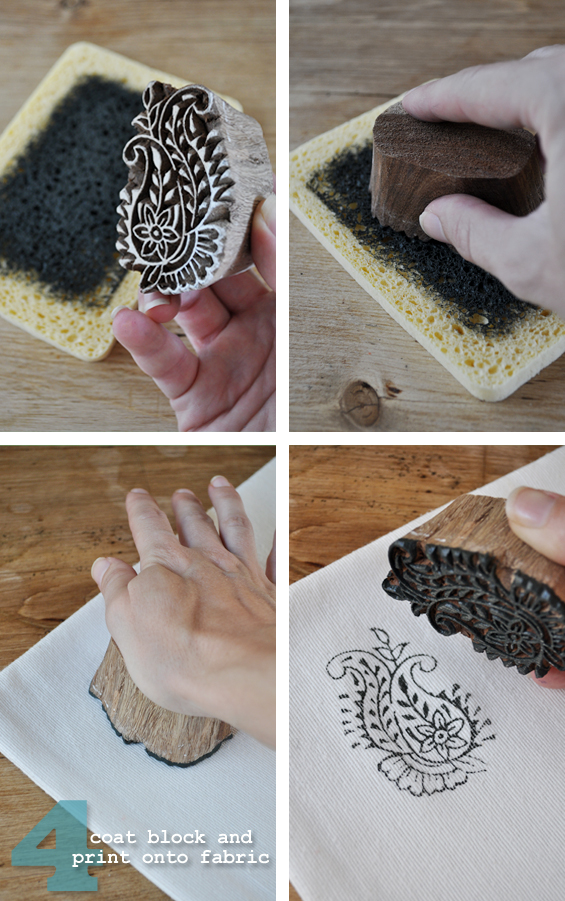 STEP 4 Coat block and print onto fabric.
First, lay your fabric on a nice, even surface which isn't too hard. If needed, use an old dropcloth (or similar) to provide a little bit of cushioning (some give is needed to produce even prints – particularly if you are using a hard wood block as opposed to a soft rubber stamp).
At this stage, think about the general look you're going for (placement/spacing/position of prints) and, if desired, measure and mark your fabric. I simply eyed mine.
Dab your stamp on the "inkpad", ensuring thorough and even coverage, then press it down firmly in place on your fabric – you can even give it a bang – before carefully lifting.
Continue with your design, re-dabbing the stamp before each new application to ensure consistent prints.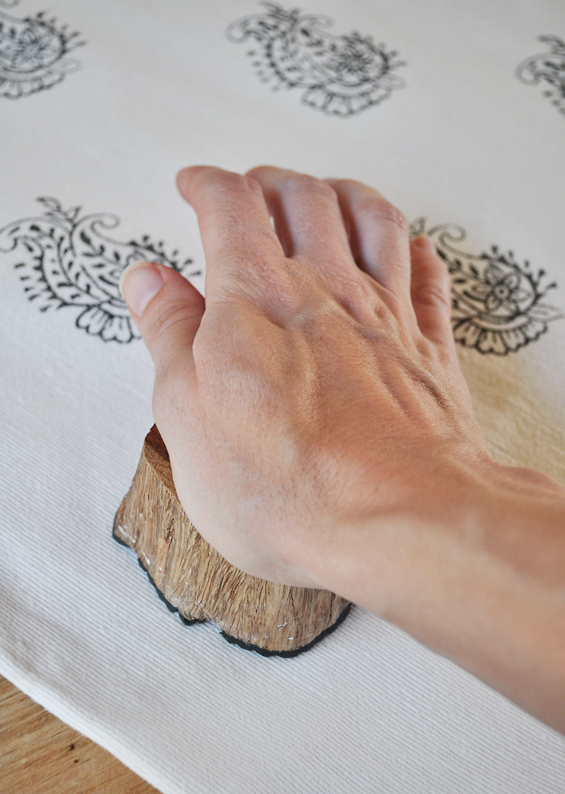 Don't forget to re-coat your "inkpad" as required too.
Allow to dry thoroughly (my textile medium directions recommended 24 hours).
Note: I recommend doing a trial stamp first on a scrap of identical or similar fabric to gauge how much paint and pressure is needed.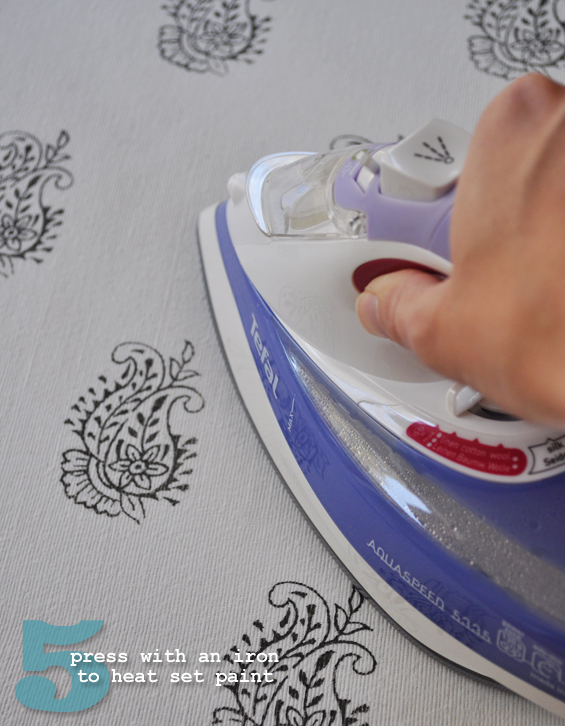 STEP 5 Press with an iron to heat set paint.
Follow the directions on your textile medium to heat set the paint. I believe the general idea is to use as hot an iron as your particular fabric will take and press your prints for a minute or so until the paint changes slightly in tone. Depending on the delicacy of your fabric you may want to use a thin cloth as a heat buffer.
Note: Although your item should be hardy enough to withstand normal laundering, I like the idea of using a gentle cycle – just in case.
And, it's as simple as that!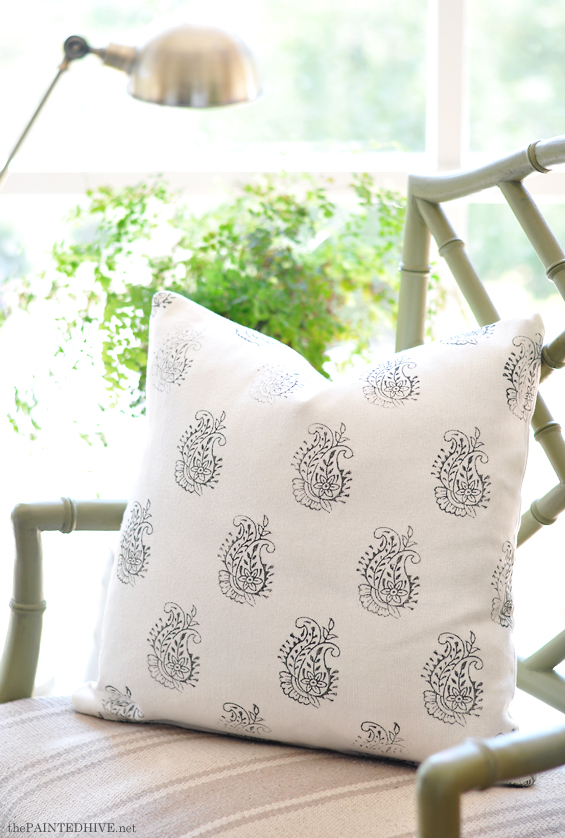 I am sooooo in love with this DIY!
As suspected, it really was easy, fun, affordable and rewarding. I may be slightly addicted!
And as mentioned earlier, I was also able to completely customise my design.
On one side of my cushion I created a sparse-ish pattern…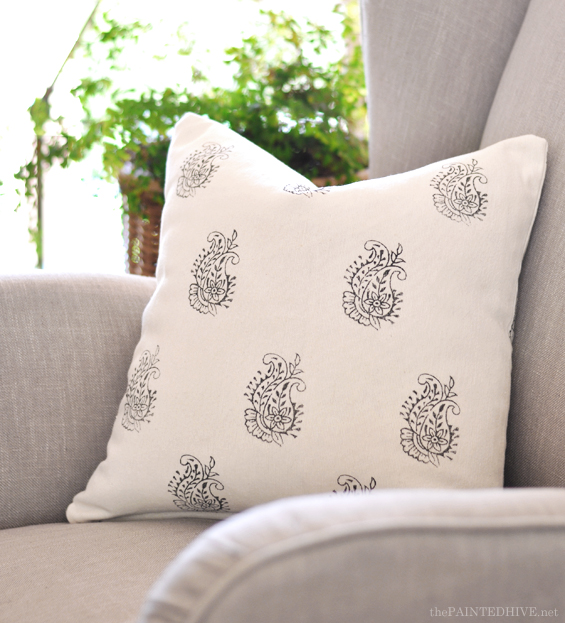 On the other I experimented with something fuller…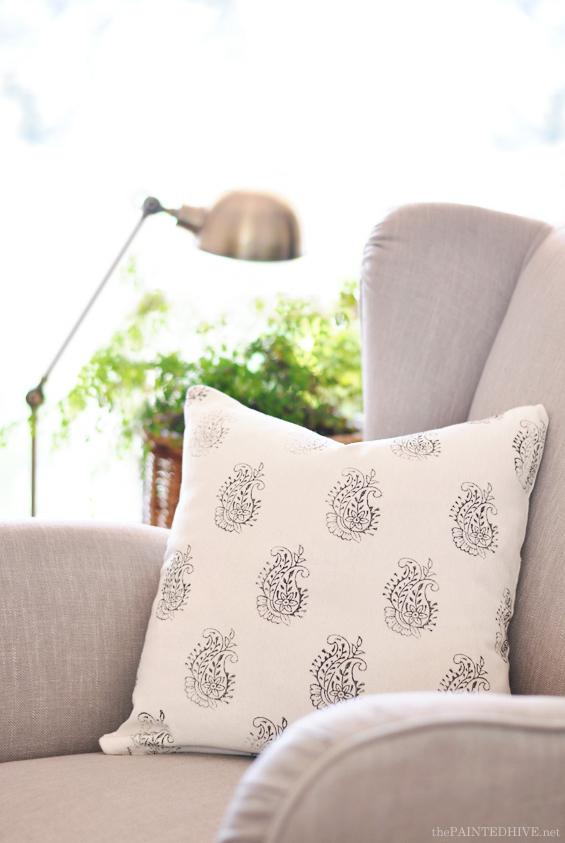 This fuller pattern was designed to make my cushion appear as though it had actually been made from a block-printed fabric, rather than having been post-printed, so I applied some partial stamps at the edges to create the illusion of a continuous pattern which had been cut through.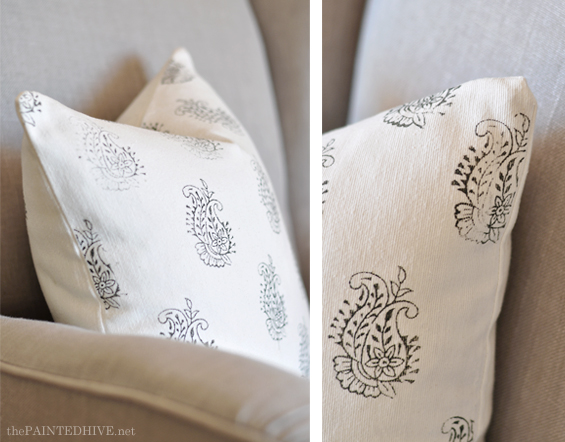 Stamping over the edges did produce some patchy prints due to uneven contact where there were seams and hems. This is something worth keeping in mind though it didn't bother me one bit.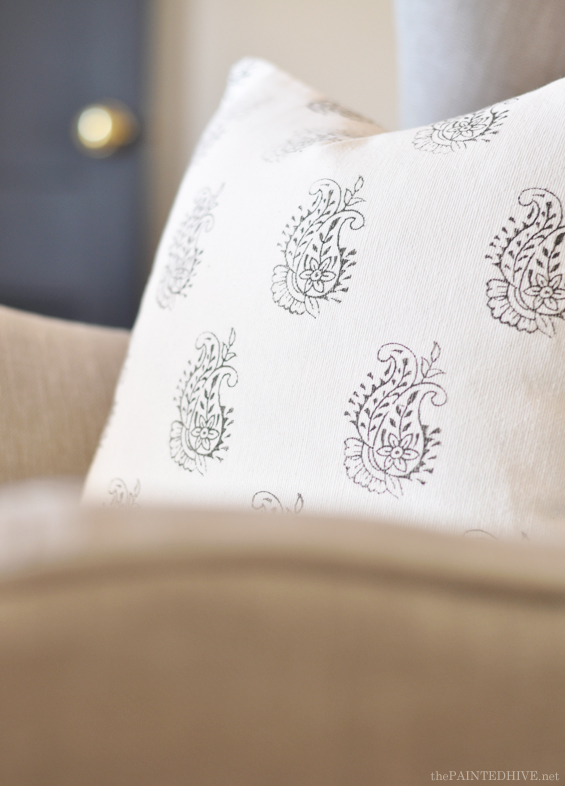 In fact, I think any imperfections and little nuances communicate that this is a lovingly hand-made item, and make it all the more charming!
Have a great end to the week all :)