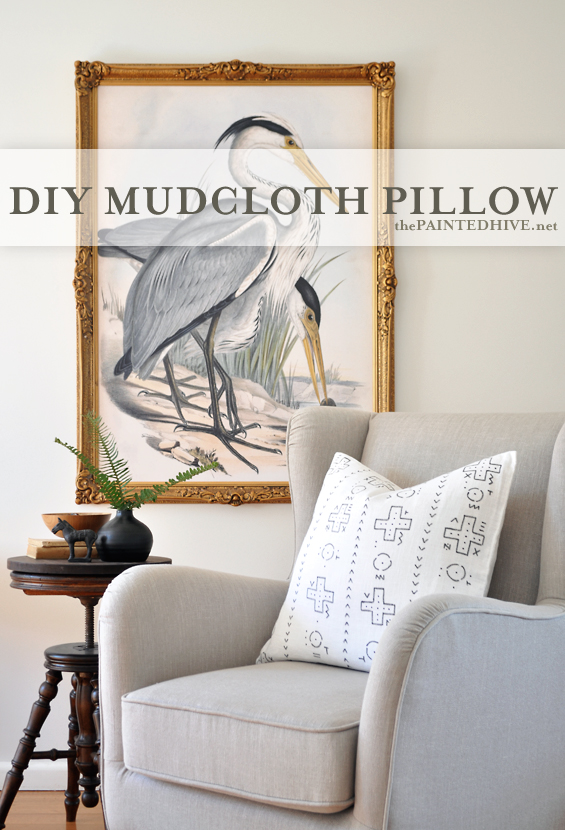 Has anyone else been crushing on mudcloth lately?
Well, just in case you've missed seeing it (absolutely everywhere!), and are yet to learn about its origin, mudcloth (also know as bogolanfini or bogolan) is a traditional African textile characterised by relaxed geometric symbols in predominantly neutral tones. It has a thick nubby texture and its subtle yet distinct patterns work well in almost any interior scheme, imparting a gentle tribal or boho hint.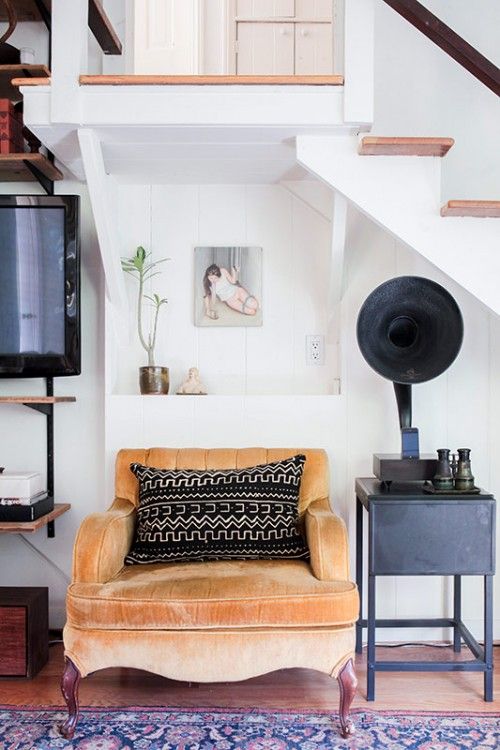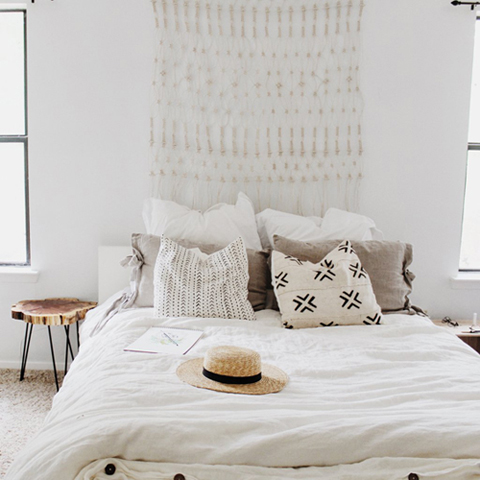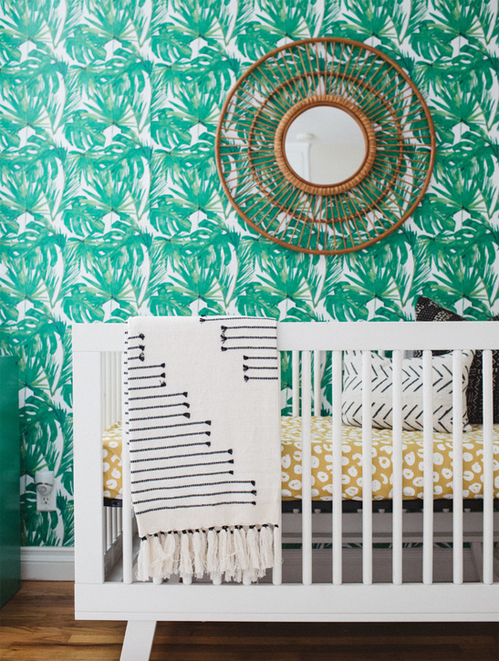 Although it has risen to mainstream popularity in the world of interiors over the past few years, it's still a little tricky to come by and in general is justifiably quite expensive.
So, whilst I would love to purchase some authentic mudcloth, and in-turn support the African artisans, sadly it's just out of my price range.
Still, despite the fact I generally shy away from trends, it seemed perfect for my parent's "new" living room.
Soooo, it was time to get DIY'ing!
This was a super easy, fun and affordable project that absolutely anyone can try.
You will need…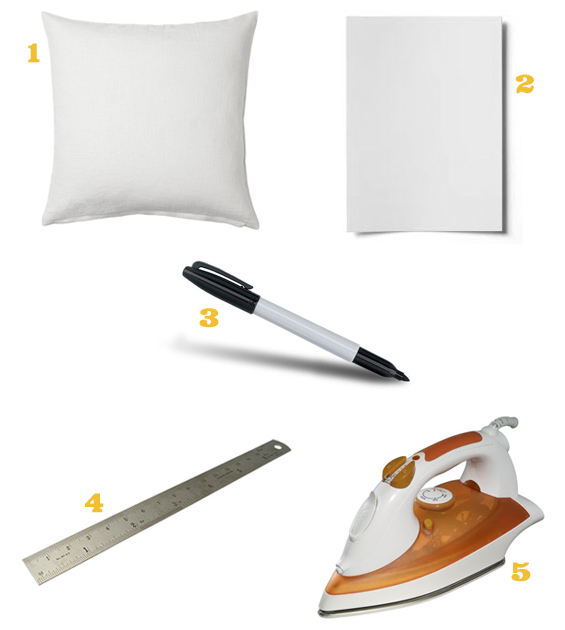 1 Cushion cover (or fabric to make your own).
I used a basic Ikea VIGDIS cushion cover. Of course, you can use whatever you like though in the interest of authenticity perhaps consider looking for something with a bit of texture in off-white or black. The VIGDIS cushion cover is made from ramie so has a nice irregular weave and although it's labelled as "white", to me it's more of a pale ivory.
2 Cardboard.
I simply used a sheet of old cardstock though you could use anything rigid and thick-ish (a cut-up old cereal box would do the trick). The cardboard is used to prevent marker bleed and help keep the fabric smooth and taut.
3 Fabric marker.
I used a dual tipped Derivan Fabric Art Marker in Black (they also come in White for use on dark fabrics) because it was the first one I spotted at the craft store. You can use whichever fabric marker you prefer.
4 Ruler/Guide Line.
Optional. Just to help with the layout of your design.
5 Iron/Clothes Dryer.
To heat set the ink.
What to do…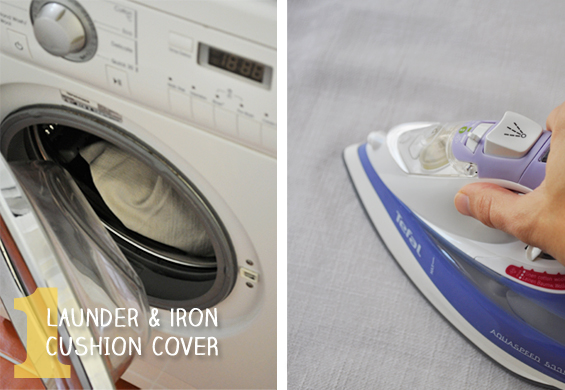 STEP 1 Launder and iron cushion cover.
This just allows for any future shrinkage and removes residual manufacturing chemicals/sizing to ensure your marker penetrates well. I always find it nice (and easier) to work with freshly ironed fabric.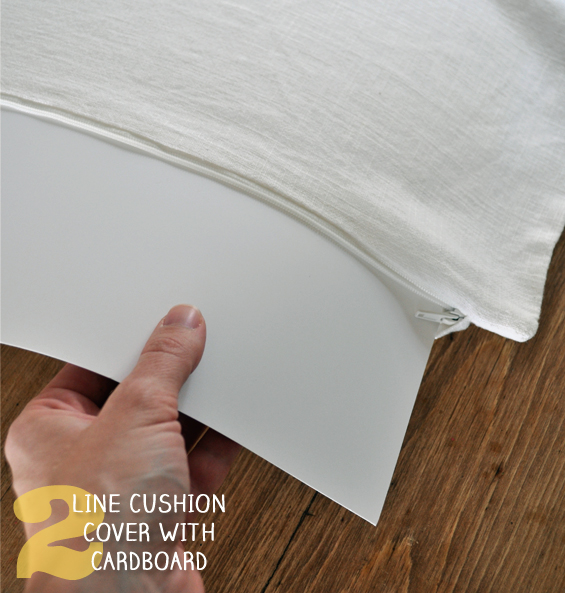 STEP 2 Line cushion cover with cardboard.
Although this isn't necessary, as mentioned above it prevents marker bleed and helps keep the fabric smooth and taut.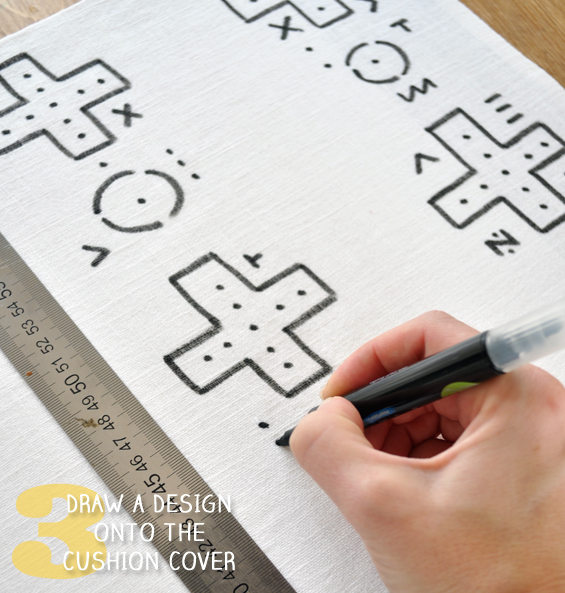 STEP 3 Draw a design onto the cushion cover.
This is the fun bit! It might seem a little daunting at first (I was somewhat hesitant) though once you get started you realise just how easy it is – absolutely anyone can draw basic symbols like this! The loose, free-hand patterns used in genuine mudcloth are what gives the textile so much character and their hand-drawn nature is very forgiving to mimic. Nothing needs to be perfect.
That said, I did find it helpful to use a long ruler (you can use anything similar) as a guide to keep my design relatively straight. Although the symbols themselves don't need to be immaculate, I didn't want my overall pattern to look too wonky, skewiff or wavy.
Start by having a look online for some inspiration, then, once you feel confident (practice on a piece of paper or fabric scrap if need be), begin marking your cushion cover!
If you're feeling particularly intimidated, you can sketch your design in pencil first. I actually tried this though quickly realised it wasn't warranted as there is so much room for adaptation and improvisation as you draw. It's actually a really fun and liberating creative process! Although I began by quite closely replicating a design I found online, after a short while I simply started making it up!
I found that the marker ink dulled a little towards the end. It wasn't running out, the tip was just becoming a little dry. Though I actually like the slightly faded look it produced.
Most of the symbols used in traditional mudcloth patterns have meaning so each design actually tells a story. If you do a bit of research you can decipher some of the symbols then use them to create a story of your own. I was too lazy this time around and simply created a design I found aesthetically pleasing, which is totally fine, however I do love the idea of decor being both pretty and poignant.
Once your cushion is complete, allow the ink to dry for an hour or so before moving on to the next step.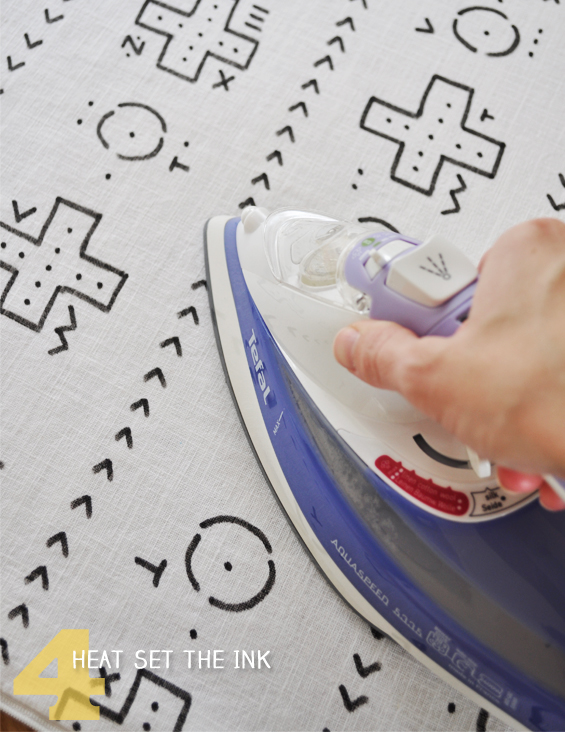 STEP 4 Heat set the ink.
Press your cushion cover with a hot iron for two-three minutes, or tumble dry for an hour or so, to set the marker ink and make it completely permanent.
To finish, I like to launder the cushion cover again. Maybe its just my imagination, though it seems to soften the ink and make it look more ingrained.
And, that's it!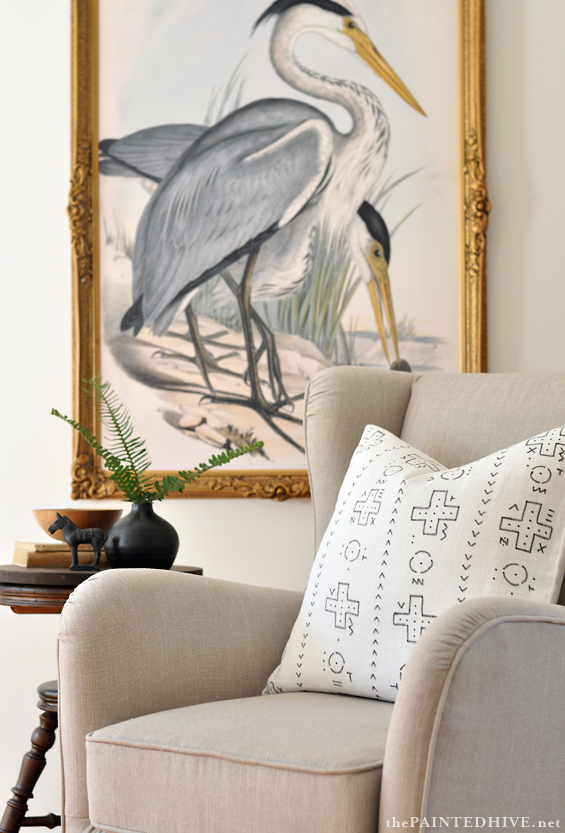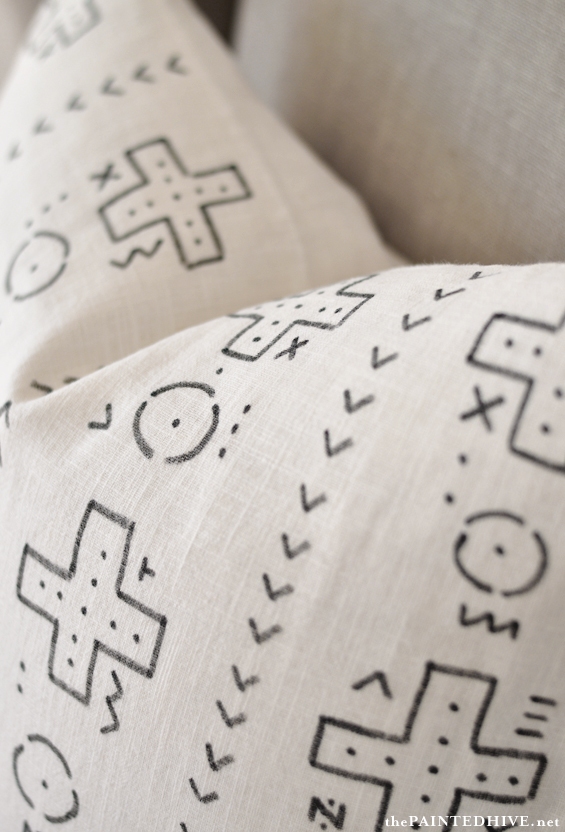 At first I was skeptical about this project. I thought it might turn out a bit amateur-ish and noticeably fake, though it actually looks really, really cool!
And it was fun to style it with a few tribal-ish accessories.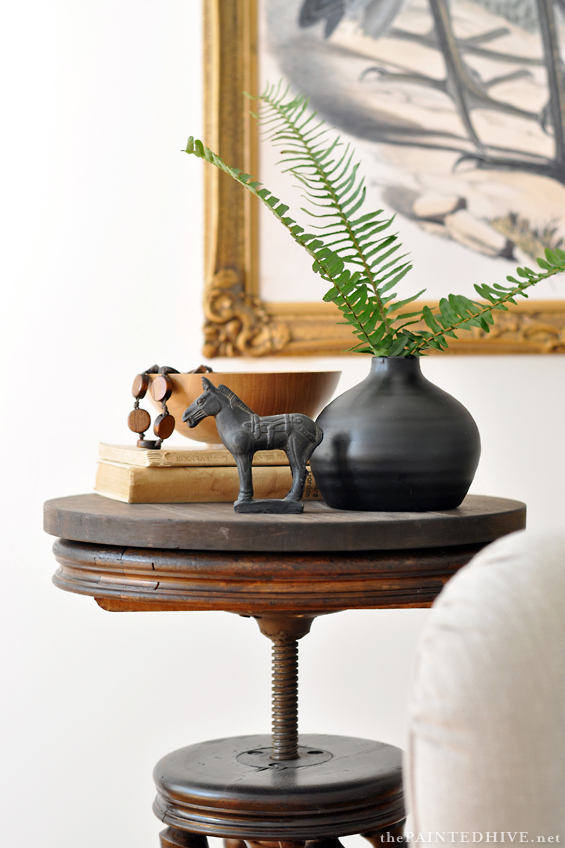 This was such a fast and easy project, I decided to create a second cushion with a more intricate design.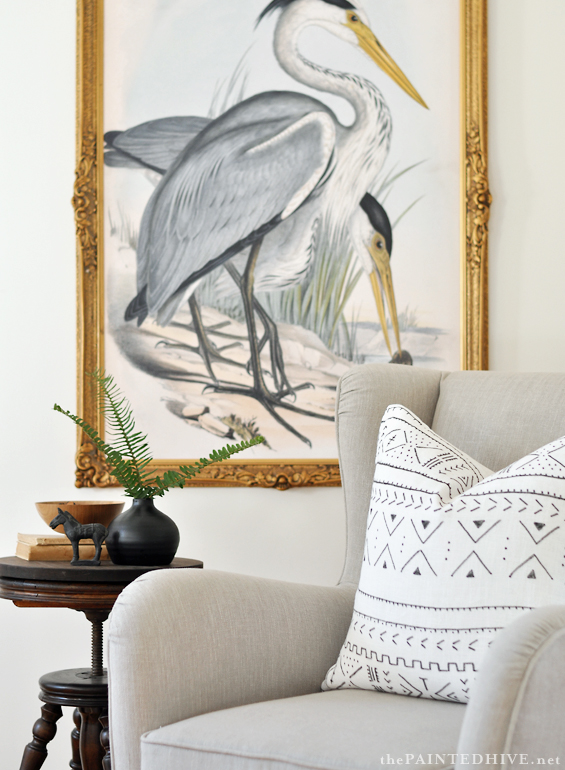 If you follow me on Instagram you may have spied this cushion in a recent pic of my living room.
I really like them both though the rudimentary crosses of my first pillow cover steal my heart.
Oh, by the way, in case you missed it previously, the lovely over-sized heron illustration is available as a free printable. You can find it here.
I know I keep promising the final reveal of this living room, and it is coming. Truly ruly. In the meantime, I hope you find this little project inspiring.
Find all the posts relating to this living room makeover here.