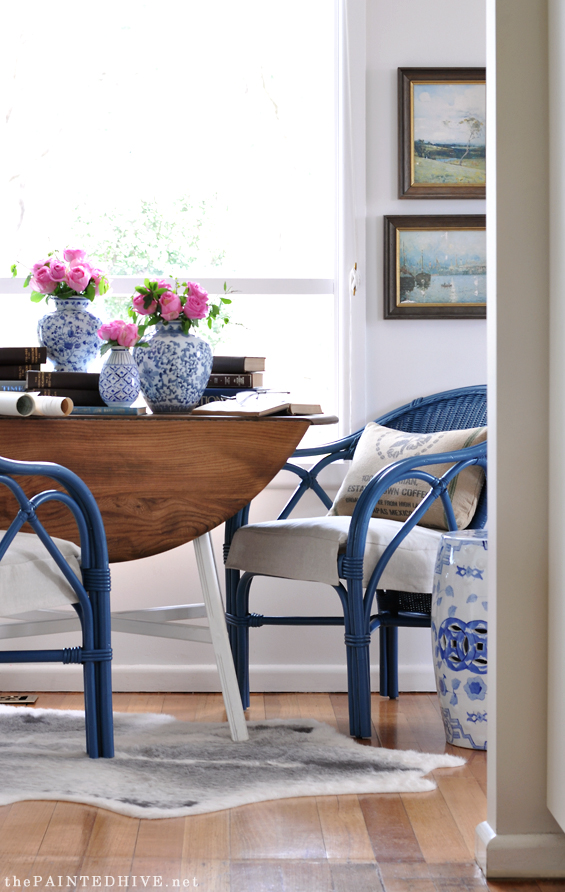 Ever since painting my Chippendale desk chair….by hand…with a brush…over the course of several hours…a paint sprayer has been high on my 'to buy' list.
Some of you may recall I have sprayed furniture in the past using our air compressor, though that big, noisy, heavy piece of equipment isn't something I like to reach for too often.
I mean, compressors are great for HUGE jobs or serious furniture refurbishers who churn out piece after piece, however for the occasional dabbler like me they can be over-kill. Call me lazy though lugging it out of the shed to complete a small or one-off project always felt too inconvenient.
My new spray system from Bosch however feels anything but inconvenient.
It's compact, quiet and light-weight. Perfect for painting large or intricate pieces, like buffets, bookcases, dining chairs, anything carved and everything made of cane.
Just like this tired old outdoor setting of my parents…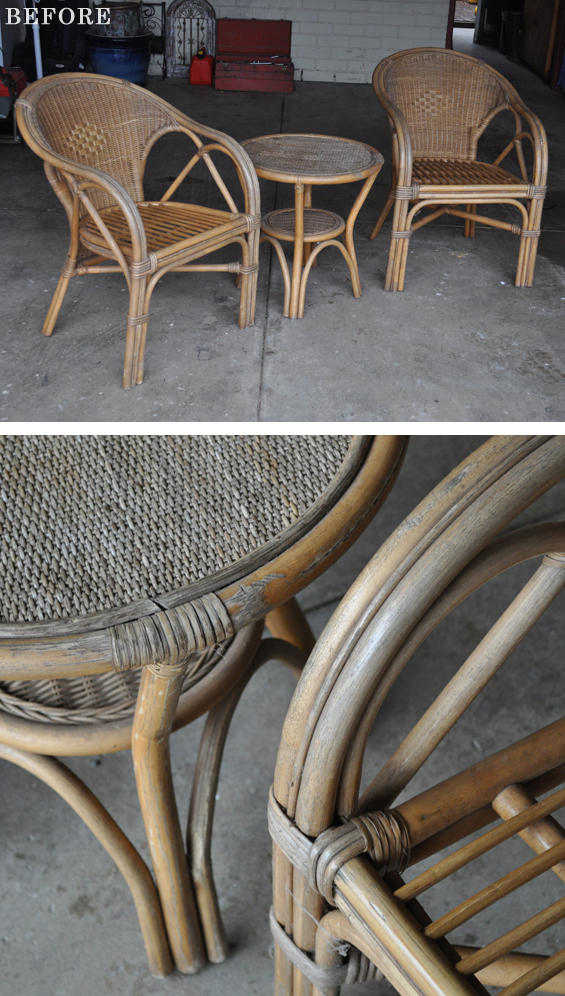 I love natural cane, and don't mind a bit of weathered charm, though these were bordering on drab. Some love was definitely called for. So, here's what went down…
STEP 1 | SAND & CLEAN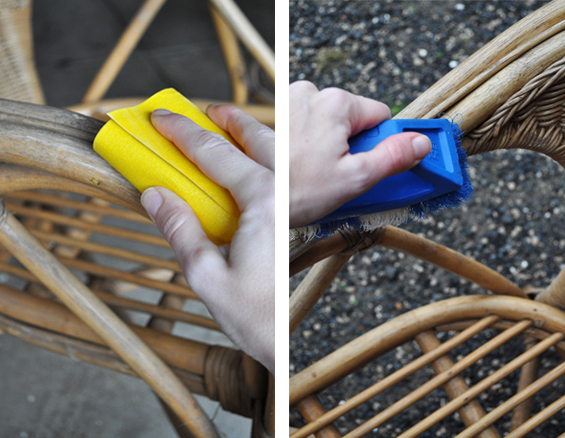 I started by giving everything a light sand then a thorough scrub with warm soapy water. This setting was covered in dust and cobwebs and was ideally suited for a good drenching with a pressure washer, though the weather was pretty cold so it would have taken way too long to dry.
Note: Remember, painting furniture with a spray gun isn't quite the same as using a brush where you almost "push" the paint into the piece. You need to take your time with any prep to ensure the surface is ready to "suck" some paint in otherwise it will merely sit on the surface and scratch off with ease.
STEP 2 | PAINT
First, let's talk about this spray system.
Basically, it's a spray gun attached to a portable motor via a flexible hose.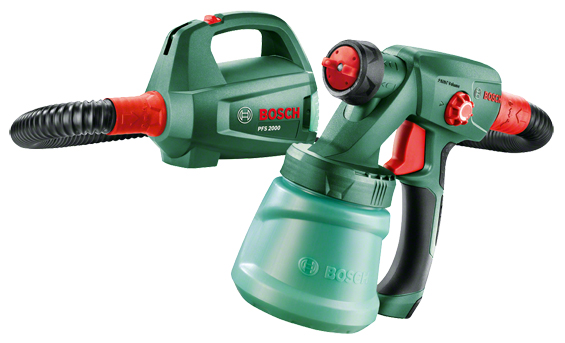 It runs off mains power so has plenty of kick and there are only two controls to worry about; paint volume (set by the dial on the side of the gun) and spray orientation (set by the dial around the nozzle of the gun). Trust me, it's a cinch and soooo good! The motor has a shoulder strap and ergonomic hand hold so is easy to carry (I preferred to hold it in my hand or rest it on the ground).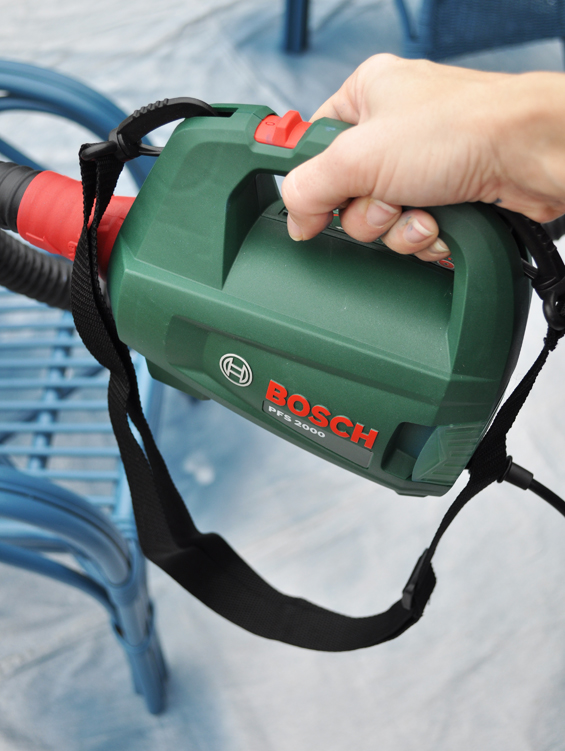 As you can see, it's very compact and easy to carry in your hand or over your shoulder.
To get started, I laid down a drop cloth (you could use one of those fandangle "spray tents" I've been seeing lately) and positioned my furniture so I could work around it with ease.
After giving my paint (see note below) a thorough stir, I decanted some into the provided container using the included sieve to ensure it was free of any large particles which might clog the spray nozzle (this is particularly important if you're working with older paint which might contain lumps and bumps).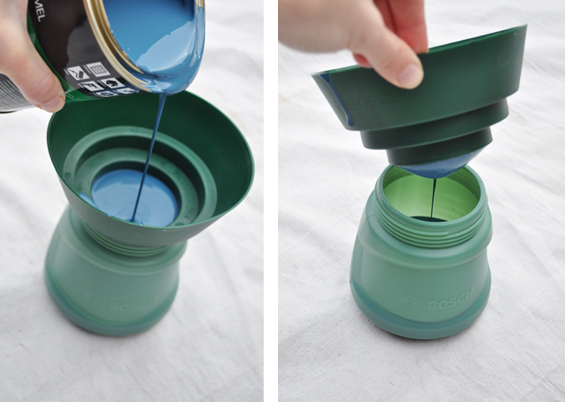 I then added around 10% water (to thin the paint slightly for smooth spraying) and stirred thoroughly again before screwing the container to the spray gun.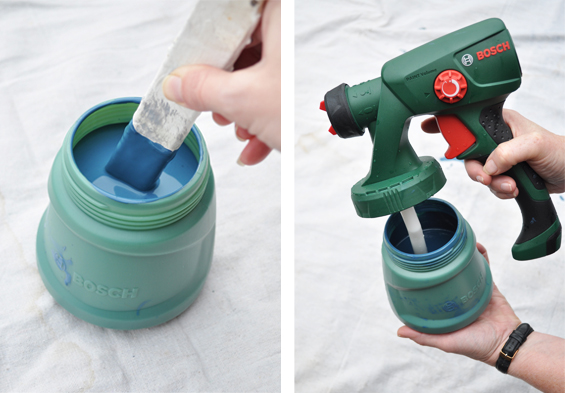 Before spraying my furniture, I pumped a small amount of paint into the air just to check spray volume and orientation and get a feel for the gun. Then I simply started painting my pieces!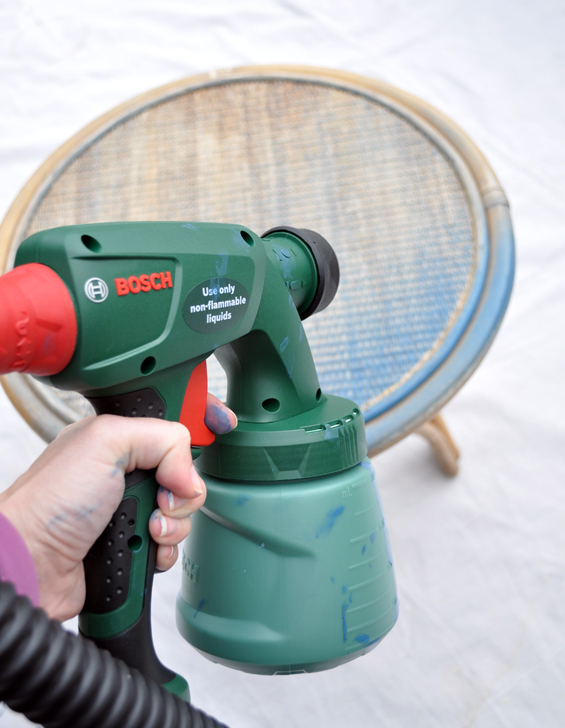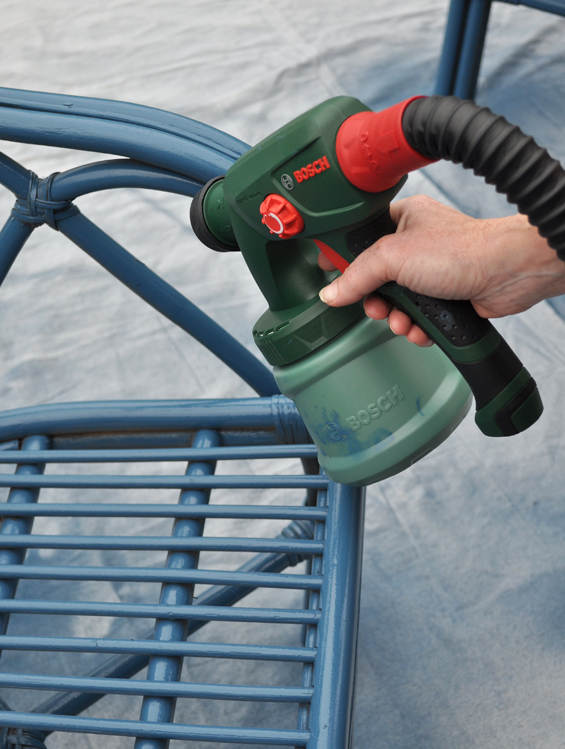 Excuse the fact I have paint all over my hands and the unit. Aside from the fine over-spray, it's actually quite a mess-free process though it is tricky to take pictures and paint at the same time! Thanks go out to my mum who stepped in to pose for some of the shots :)
I held the gun around two hand spans away and lightly coated the furniture, taking my finger off the trigger from time-to-time to adjust the controls and re-position myself as needed. I like to work in sweeping motions following the lines of the furniture rather than in random continuous swirls. And I know it goes without saying, though several light coats are much better than a few heavy coats so don't be too tempted to cover your piece entirely with the first pass.
Once I was satisfied with my coverage on the top side of my pieces, I needed to allow the paint to dry before flipping them over to complete. Rather than risk any paint drying or thickening in the gun, I decided to clean it while I waited.
I must admit, I was dreading the clean-up as I remembered it being a bit of a nightmare with our old compressor spray gun. Fortunately however, this Bosch gun was a breeze to clean! The parts unscrewed with ease and the paint washed straight off the plastic components. And to keep any left-over paint fresh between coats (or jobs), there is a container lid provided.
Once my pieces were dry, I flipped them over, prepared my gun again and then painted the undersides.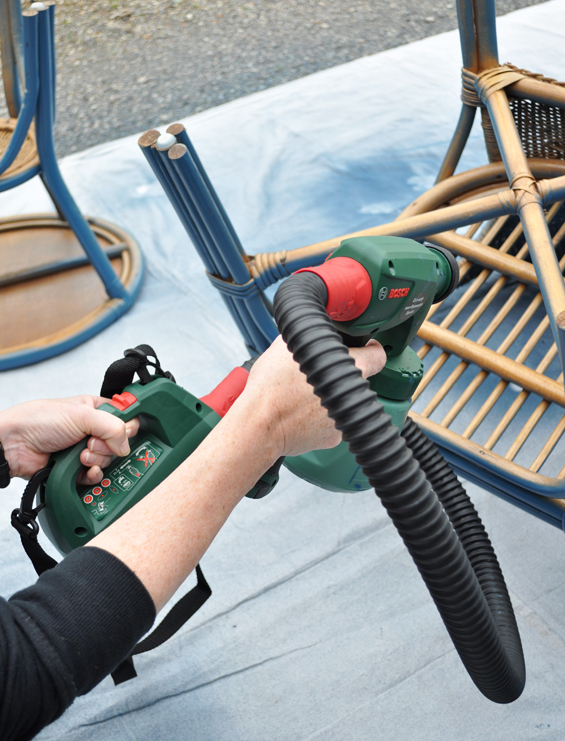 Thanks for being my hand model again mum!
Granted, it did take a few goes to get into all the nooks and crannies evenly, though it was still heaps quicker and easier than using a brush. All up, this project took me only around one hour (plus drying time). Pretty darn good.
Note: Mum had requested a bold blue so I went with 'Winner's Circle' (by Dulux) in gloss acrylic. I don't usually go for gloss though do think it works well with cane (something to do with Chinoiserie glam perhaps?).
Tip: I didn't prime my cane because it was bone dry and I was applying a dark colour. If you're working with a previously coated item which might repel your paint, or if you are attempting to cover something dark or tannin-rich with a light colour, a primer is recommended.
STEP 3 | UM, THAT'S IT!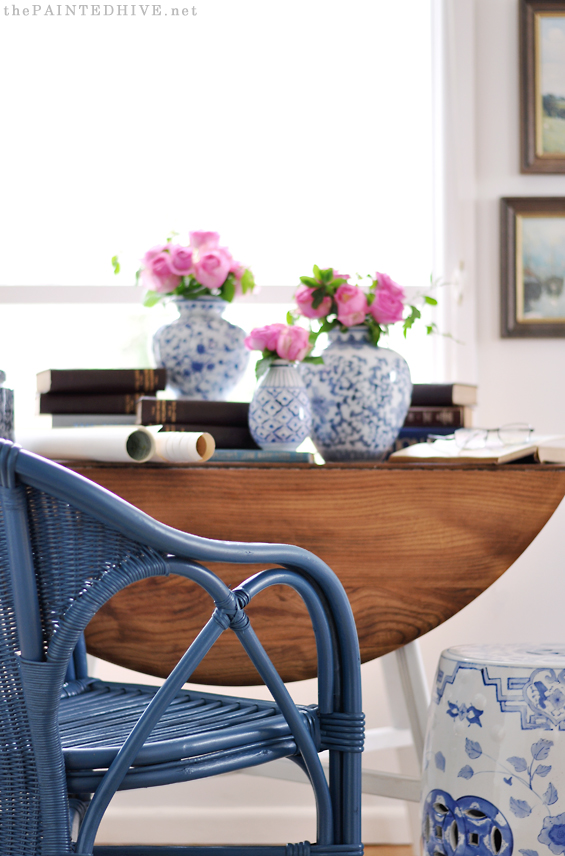 Seriously, it's that easy.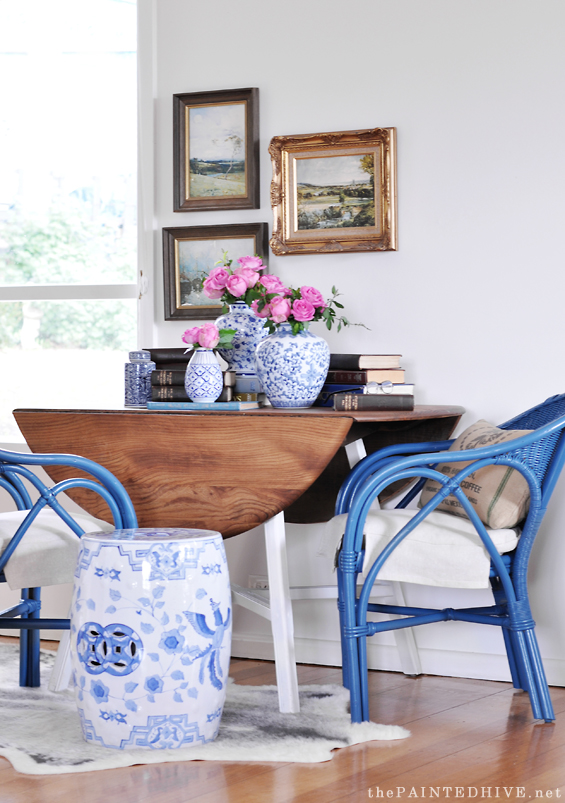 I was planning to shoot the finished setting outside (as, well, it is an outdoor setting) though the weather wasn't on my side so instead I set the chairs up in my parent's breakfast nook and styled the space like a little library of sorts.
It was fun!
To compliment the chairs my mum made some simple skirted pads using one of our left-over Ikea curtains.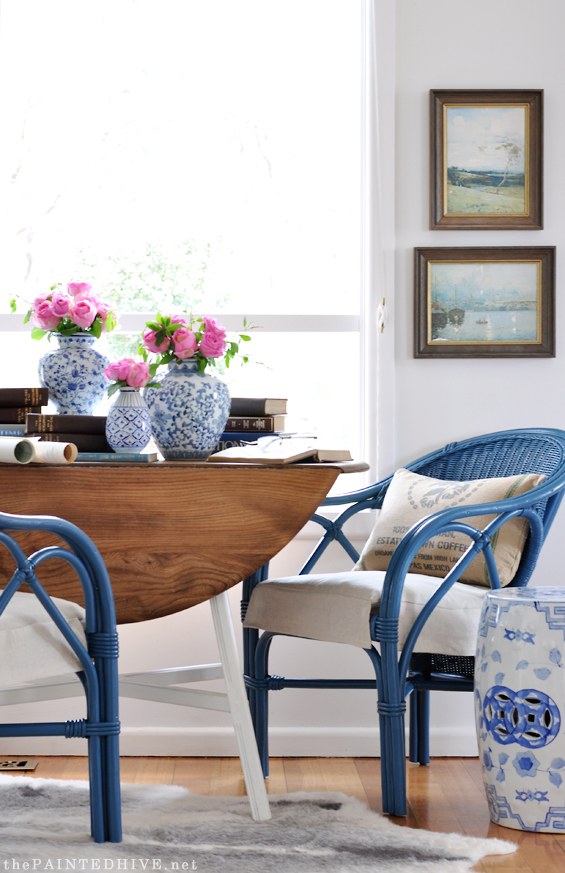 The table was a $20 eBay find I bought a year or so ago. Only just discovered last week that it's actually an original Ercol! Awesome score!
The ceramic garden stool was saved from hard rubbish and the faux fur rug is from Kmart.
All of the books are thrift store finds, as is the artwork, and we shopped mum's house for the blue and white vases. The roses are simply from the supermarket, bulked-up with some greenery from the garden.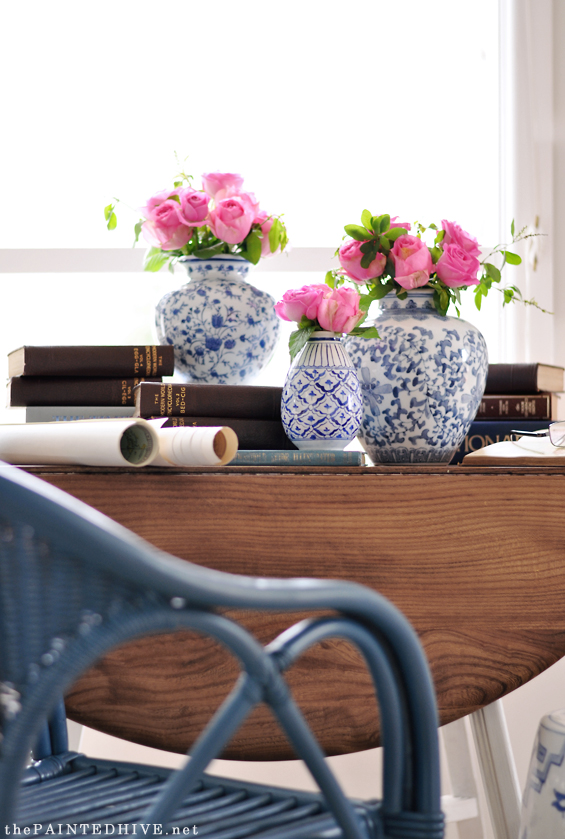 You may recognise the "coffee sack" cushion which is actually a kitchen tea towel I made into a simple lumbar pillow a few years ago.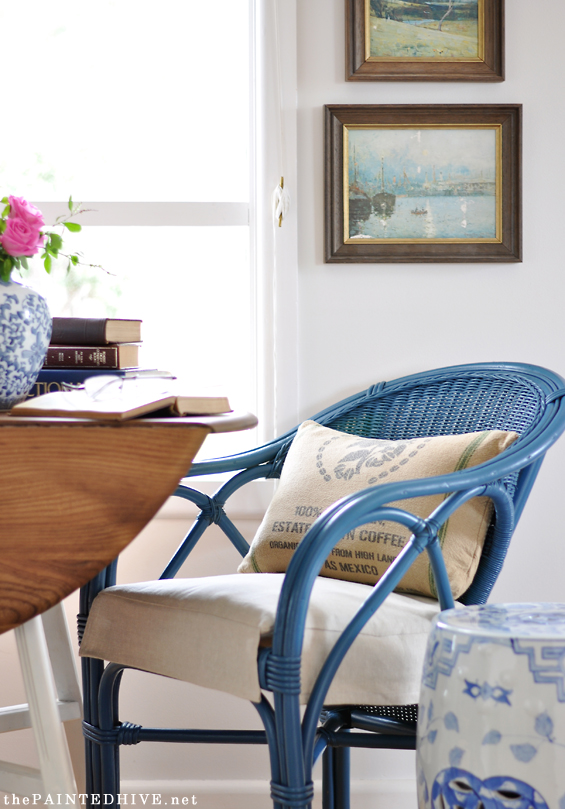 This was a fast, simple and fun project, though what I really took away from it, and what I hope I can make some of you realise too, is the potential beauty in imperfection.
I'm not talking about the charm of an old scratched dining table or the allure of a wonky primitive dresser, though the fact that things don't need to be ideal to be lovely.
"Making the most" is something I'm often able to embrace, though at times the niggle of having things "just so" does become a little hurdle.
When my mum first suggested I paint her cane setting, I was skeptical about how I could make it work for my blog.
"It's pretty generic". "It's not very special". "How am going to make it look great?".
As the project progressed, my doubt continued.
"The blue's not quite right". "The seat pads aren't tailored enough". "Is the gloss too glossy?".
It wasn't until I paired the chairs with her breakfast table and added a few pretty accessories that I began to appreciate the power in "making the most" again.
No, they're not stunning designer chairs and the blue's a touch more grey than I'd have liked and the seat pads aren't piped, though the chairs look really lovely in that breakfast nook.
In fact, they've given the space such a surprising hint of charm that mum is even going to keep them there! Had I not needed to test out my new spray gun I probably wouldn't even have looked twice at those ordinary chairs. Yet here they are.
Of course, if you have lofty decorating dreams you're determined to chase down, then by all means, go for it! However, just remember that in the meantime you don't need to sacrifice your present home happiness.
If, on the other hand, you're simply pining over the impossible, then consider welcoming the potential beauty a more realistic approach might yield.
You don't need to think of it as settling, or conceding, or failing. Why can't it be capitlising, and overcoming, and winning? And, maybe most importantly, choosing contentment?
So, visit a few thrift stores (or shop your own house), pick up a paint brush (or a spray gun!), throw some pretty foliage in a vase and have a go at "making the most" for now.
You might just be surprised!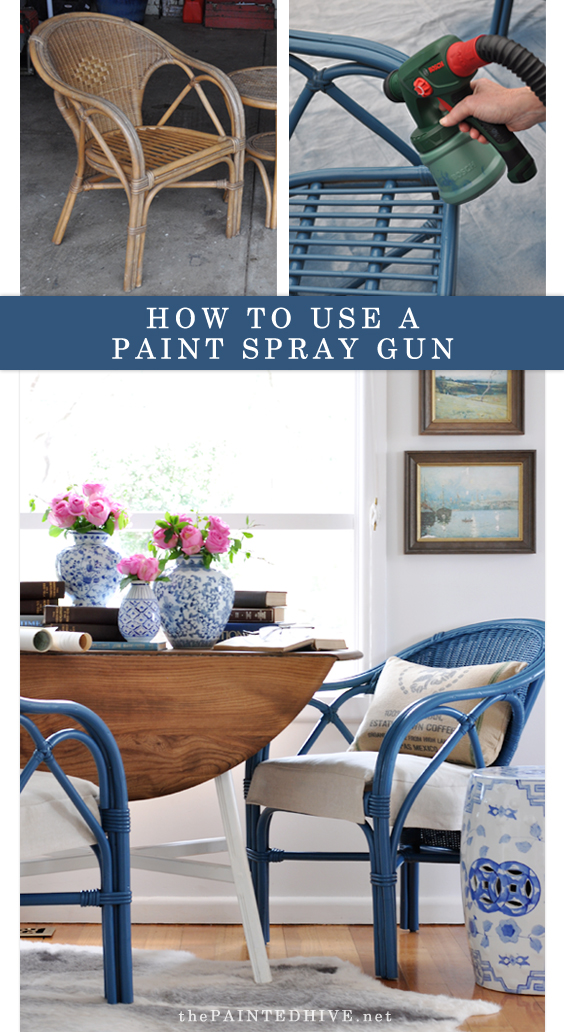 BTW Do you follow me on Instagram? I've just started my very first hashtag series all about made-over home decor! Be sure to check it out and follow along for heaps of inspiration.
  Sharing this project for the Link Party Palooza at I Heart Naptime.