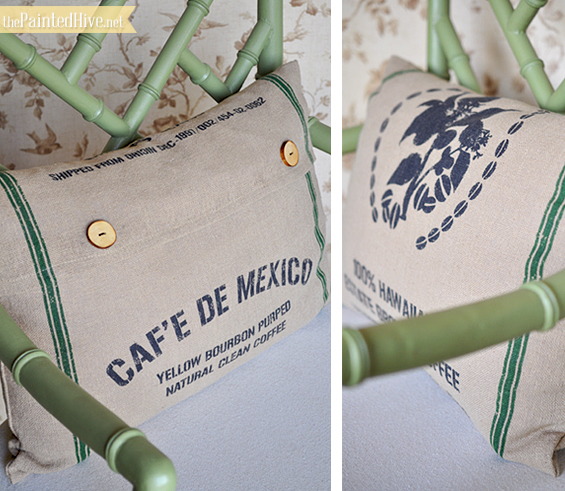 This is one of the easiest pillows you'll ever make. There's no hemming, seaming, measuring, or even cutting! And, if you use fusible tape, then there's no sewing involved either!
The trick is using a cute tea towel. I know, I know, it's not a revolutionary idea, though it's one I reckon can often be overlooked. Conveniently hemmed, perfectly sized and usually affordable (especially when compared to comparable fabrics – hmmm, is it wrong to use a differentiation of the same word twice in one sentence?), tea towels are just right for creating quick and easy folded envelope lumbar cushions.
About a year ago I was lucky to stumble upon an imitation coffee sack tea towel for just five bucks in Bed, Bath n' Table. I loved it so much I bought it with no intention of actually ever using it to dry a single dish – the rustic textured cotton and bold typographic print made it far too awesome for the kind of abuse I subject my kitchen towels to.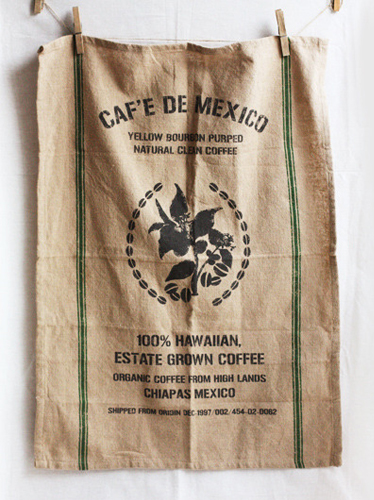 Suffice to say they no longer sell them though if you keep your eyes peeled you can find similar (or completely different though equally as cute!) tea towels in lots of places. Here are just a few I found via a quick online search…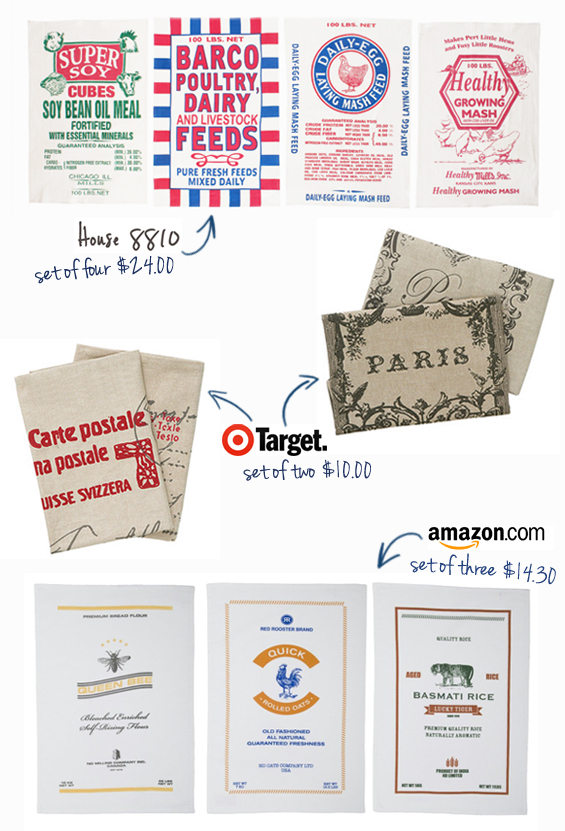 House 8810 | Target | Amazon
Of course there are loads of different methods to create pillow covers from tea towels. This is simply the lazy-girl way I decided to make mine…
1 Lay your tea towel right-side up on a flat surface.
2 Fold the top end down – around 12cm (3″) – then fold the bottom end up so it slightly overlaps the base of the top end – by around 3cm (1″) – then pin both sides in place (refer to photos).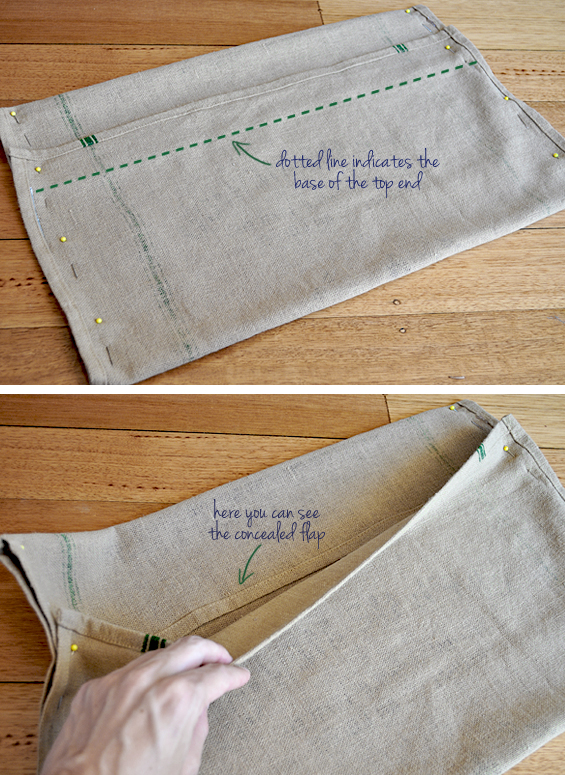 In theory this step sounds a bit convoluted though as per the photos it is actually really straight forward. Essentially you are just creating an inside-out envelope with a concealed top flap. Of course depending on the appearance (graphic size and placement) of your particular tea towel and the depth you want for your envelope flap the dimensions you use may vary. You may even want your envelope closure to be at the rear of your pillow.
3 Sew (or fuse using iron bond hemming tape) your sides together.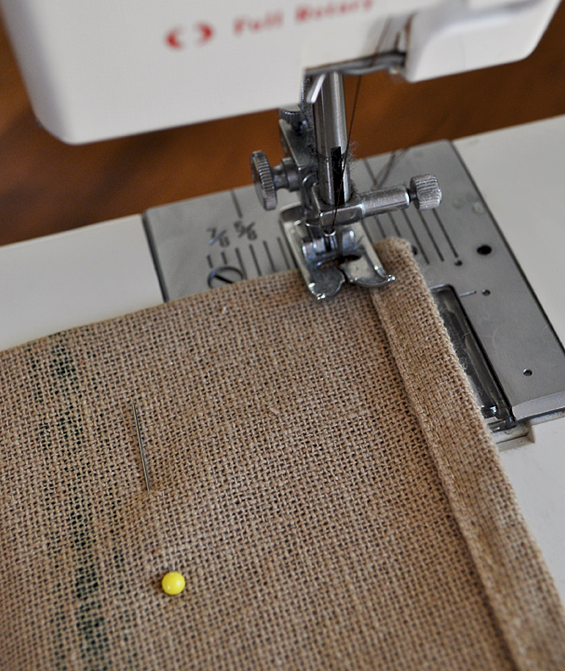 I simply ran a straight stitch line inside the existing hem. If you find your tea towel's existing hem is too bulky you can trim it off first. I didn't have a problem with it.
4 Turn your pillow in the right way, stuff it with an insert and you're done!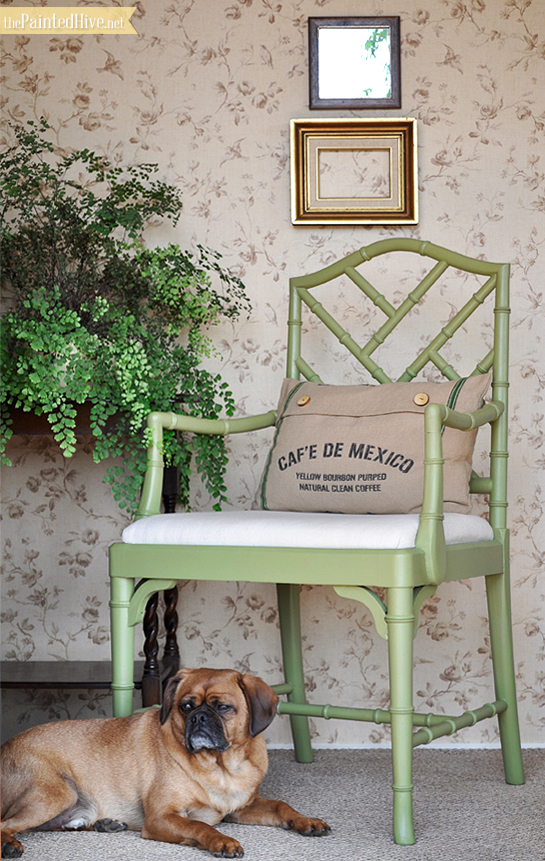 I used a toddler pillow ($5 from Kmart) as my insert because I found it was the perfect size. I also added some rustic timber buttons ($1 each from Spotlight) as embellishments (they are simply hand-sewn on to the envelope flap and are not actually functional). I am loving this style of button at the mo'. If you're interested in finding some though are having trouble there are lots available on Etsy.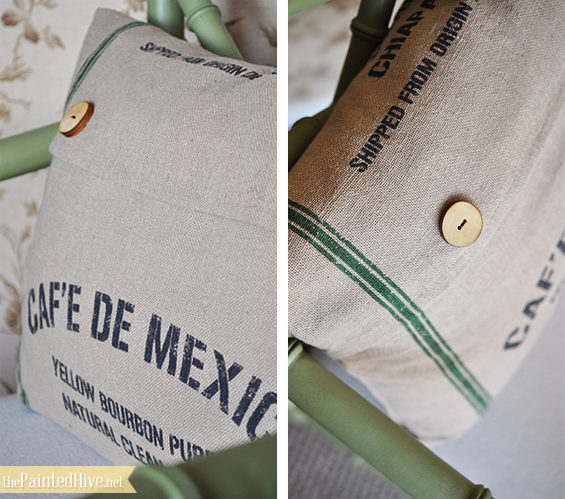 If you find the bulkiness of your insert causes your envelope flap to gape open (I didn't have this problem) you may want to use some kind of fastener to help keep it closed. Velcro dots/strips or press studs are great no-sew options though of course you can also always make proper button holes or use cute ties or loops.
I am loving the texture, interest and comfort my little lumbar pillow brings to our new Chippendale desk chair. And, given that the chair is usually tucked under our desk I am totally digging the fact that the faux bamboo fretwork means the pillow, along with its lickable grain sack graphics, peeks through the rear of the chair too!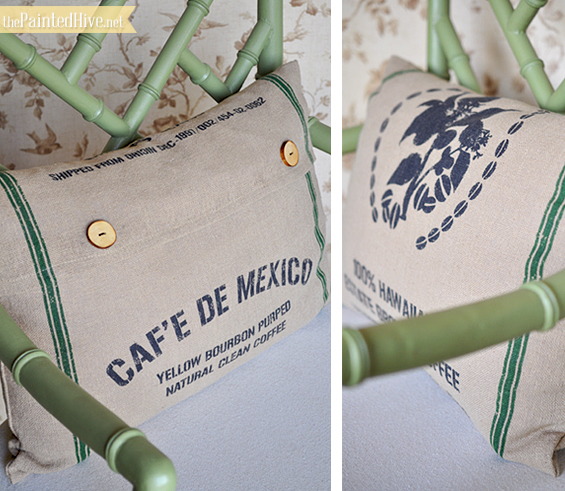 Having a decorative envelope closure at the front of the pillow (rather than a plain envelope closure in the centre of the back) makes the pillow completely reversible.
Don't ya love those happy 'accidents'?