A little while back I was contacted by Sherylee.
She wanted to make some changes in her living room though was having trouble deciding on the design because she was struggling to visualise her ideas.
In short, she was feeling confused, uncertain and overwhelmed. And, as a result, things were stagnant.
Here are some of the before pics she sent me…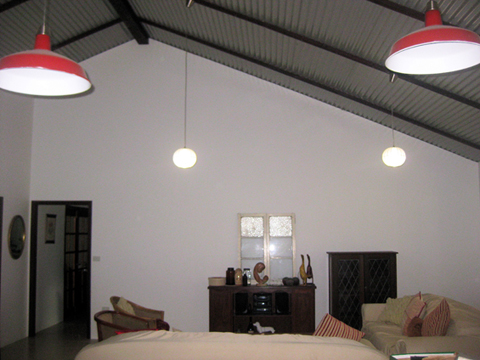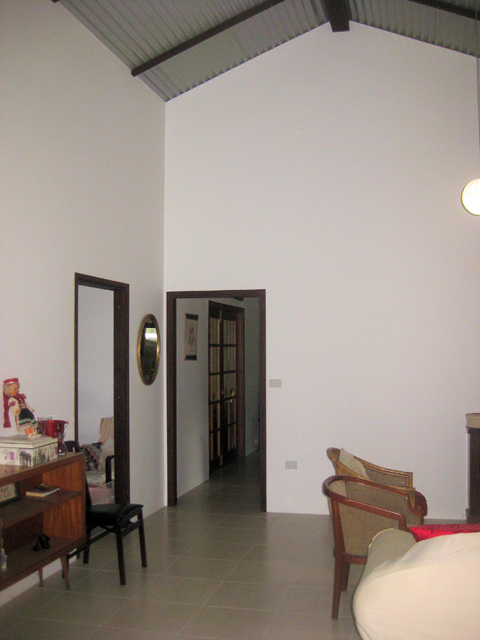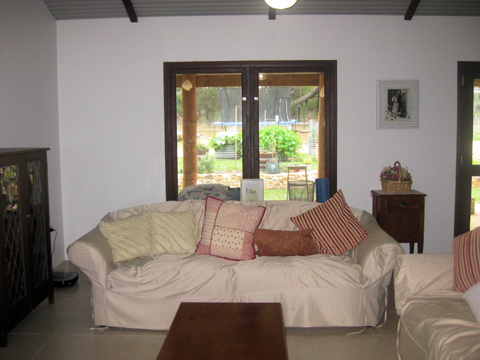 As you can see, there is a glorious vaulted ceiling, beautiful wooden beams and trim, nice neutral walls, and plenty of space.
Her "musts" list was pretty straightforward…
– Include a wood burner (she had already bought this)
– Retain wooden trim (it is solid Jarrah and she loves it)
– Include autumn toned accents (as they are used throughout the house)
– Retain storage bench beneath the window (you can't see it in the before pics though it is visible in some of the renderings)
Of course, those were just the preliminary basics. To create the perfect space for Sherylee I also needed to know her "wants".
So, after many emails back-and-forth (sharing images, ideas and dimensions), plus some plan tweaking, here's the final virtual design…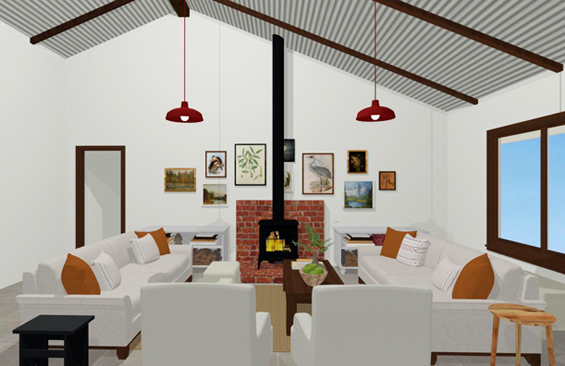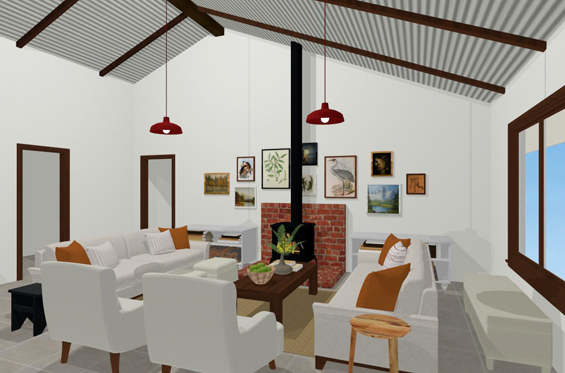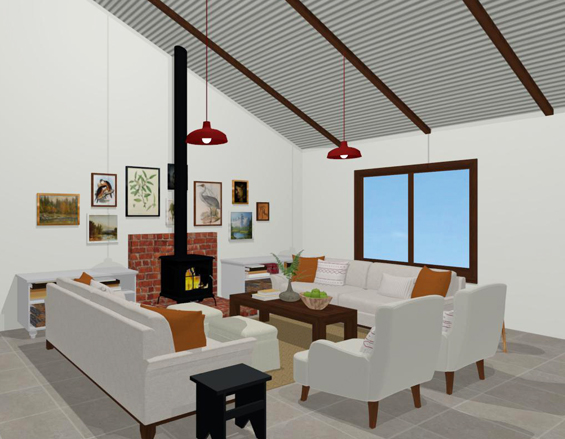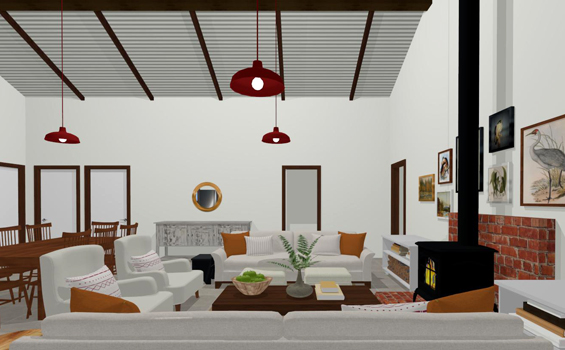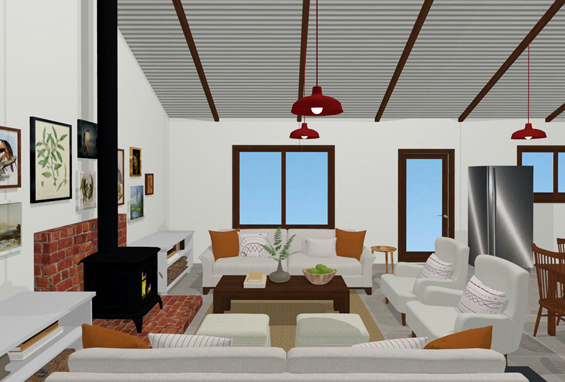 I love the way this room came together. Thankfully, so did Sherylee!
Here's a short summary of some of the design decisions…
To provide a focal point, it made sense to position the wood burner centrally on the large, clear wall. This in turn dictated the furniture layout. I love the look of two sofas positioned opposite one another, and was so excited to be able to suggest this configuration as there is no television in this space. Maybe it's just me, though I often see beautiful rooms with facing sofas and a TV which then can't be comfortably viewed from front-on and wonder "how the heck did they get that past their husbands?". LOL! Like I said, perhaps it's just me, though I personally find it a bit impractical in most cases.
As mentioned above, Sherylee had already bought the wood burner and also sent me an inspiration pic of a reclaimed brick hearth she really liked so I incorporated something similar in the plan.
One of the other ideas we played with was building-out the wall and enclosing the wood burner and flue in the style of a traditional open fireplace…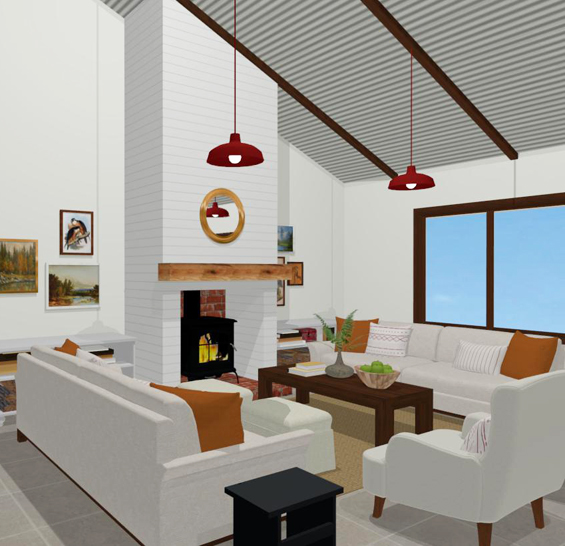 It looked really amazing, all dressed in shiplap and complete with a chunky reclaimed wooden mantel, though Sherylee wasn't quite ready to commit to that level of construction. She mentioned it was definitely something she would keep in mind for the future though.
To give continuity to the large open-plan room (the kitchen and dining reside within this space too – just behind the armchairs in the rendering), I suggested that the pendant lights over the living zone should co-ordinate with those already in the kitchen (you can spy the original red pendants in one of the before pics).
Sherylee was feeling quite lost about the placement, scale and subject of wall decor. We played with a few different ideas, though eventually settled on an eclectic gallery. They are fun and affordable to put together and can inject loads of personality and interest. Spanning the full wall and extending the art behind the flue adds to the appearance of width and helps unite the flanking cabinets as well as making a fantastic statement!
For something a bit different, and because the scale of the room allowed, I opted for one narrow coffee table and two ottomans, instead of one really large coffee table. Not only does this help provide a sense of spaciousness (as more floor area is visible), it also affords greater flexibility for reconfiguring the furniture if desired.
Here are a few doll's house pics to provide a better idea of the furniture placement…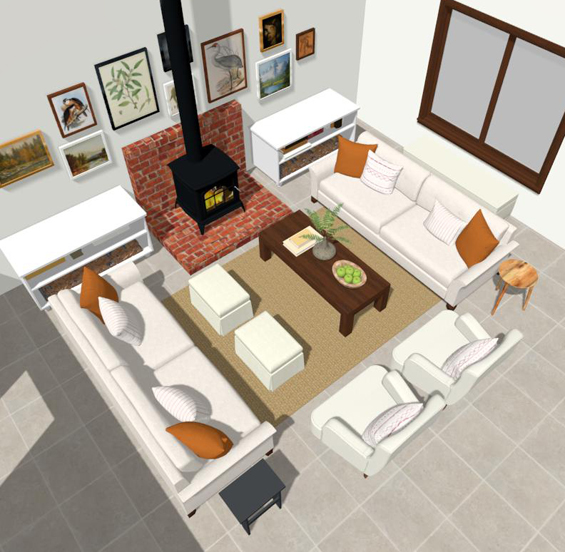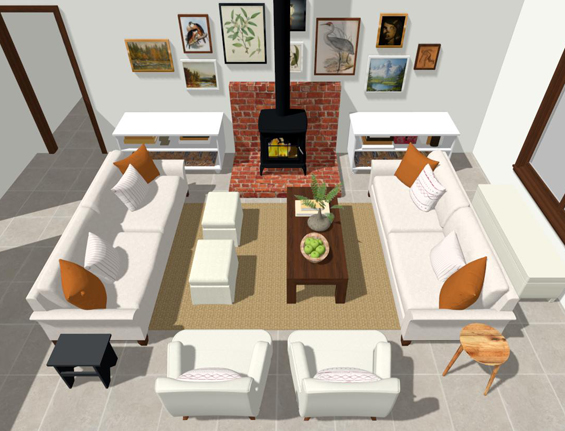 The rug could be a little larger, to anchor the armchairs too, though I've based the dimensions off the Ikea LOHALS which Sherylee already owns. And sacrificing a few inches to save a few hundred bucks is totally worth it in my eyes :)
The flanking cabinets not only offer practical storage for firewood and other items, though also help balance the wood burner. Although built-in cabinets would look fantastic, where possible I like the idea of keeping furniture free-standing so it's easy to make future changes. Painting them in a colour which mimics the walls helps them look more integrated though Sherylee could also choose to make a statement with a pop of colour or beautiful natural timber finish.
Here's a before and after collage just for comparison's sake…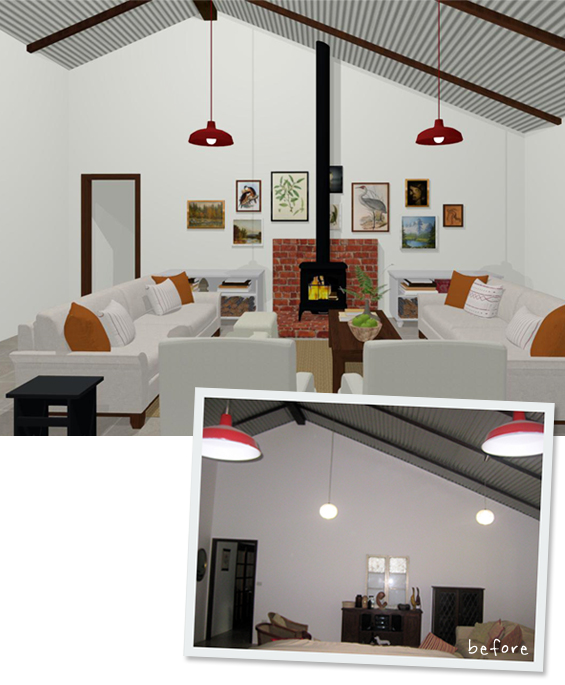 If you know me, you probably know that I like to "make the most". This generally involves working with items people already have. You might then be wondering why I haven't incorporated all of the furniture pieces you can see in the before pics. Sadly, they just weren't quite right for the new layout. Fortunately though, Sherylee is still in the process of decorating other rooms in her house, so was happy to relocate items as need be.
So, that's what I came up with. What do you think? I can't wait to see how Sherylee brings this virtual room to life!
If you'd like some design help with a room in your home, feel free to contact me about a virtual consultation.