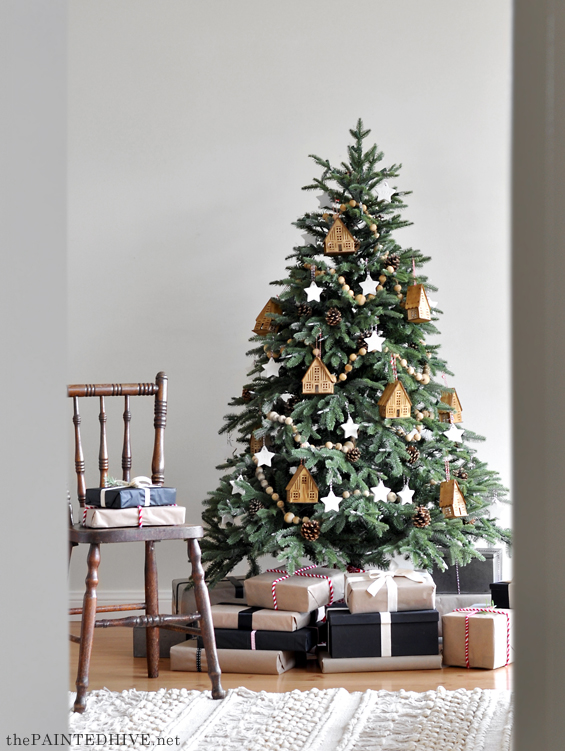 I've never had a decent Christmas tree.
The year we moved into our first home, we didn't have one at all.
The following year we bought the cheapest, nastiest faux tree from the supermarket…for $12…the night before Christmas. Needless to say, it wasn't the finest of specimens.
A few years later we 'upgraded' to another faux tree from a different supermarket. Let's just say it's not that hard to upgrade when your initial tree looked like a dried sprig of rosemary.
Even growing up, when we usually had real trees, they were always sparse, and gangly, and wonky, and somewhat peculiar. As I later discovered this was because my parents couldn't justify the expense of a farmed tree – apparently Dad used to simply head into the bush and lop the nearest dangling branch.
Of course, we didn't really care, and it doesn't really matter, and it's not hard to make the most of what you've got, though for aesthetes like me (and probably you!) isn't there just something lovely and comforting and desirable about a really beautiful Christmas tree?
So, this year when I was invited to review a tree from Balsam Hill, it seemed like the right time.
I received the Fraser Fir (Candlelight LED).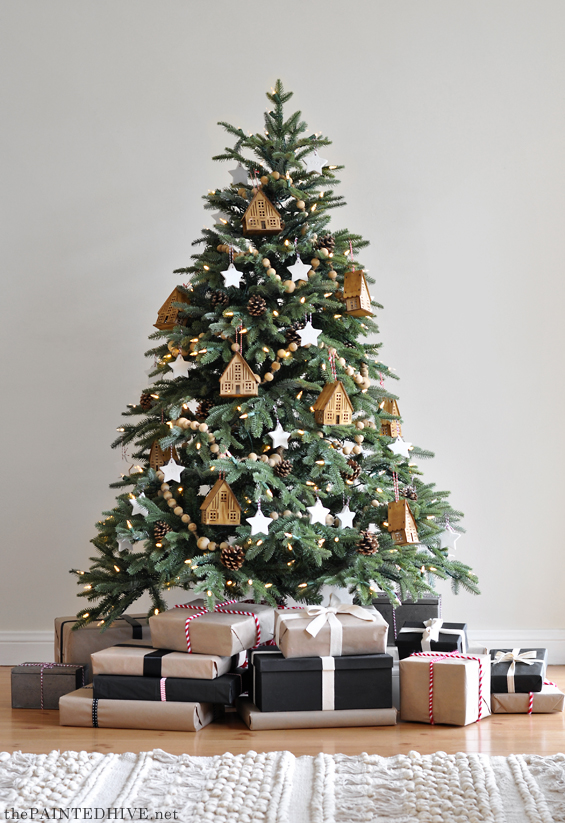 Although it's available in a range of sizes, the somewhat petite scale of the 137cm/5′ tree seemed just right for our little home.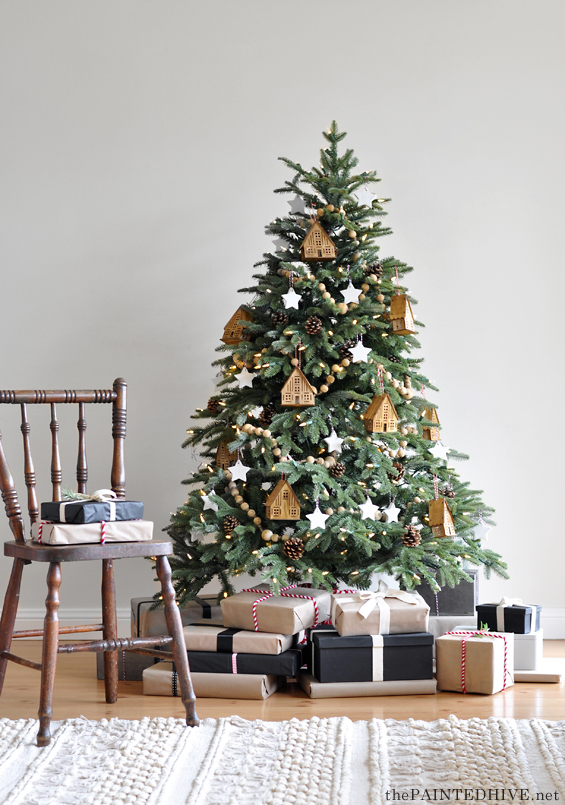 Now, I'm not gonna lie, these trees are an investment. However, from the moment it arrived the expense seemed warranted.
Something about this tree just felt special; I mean, you know it's special when it comes with its very own pair of gloves, right?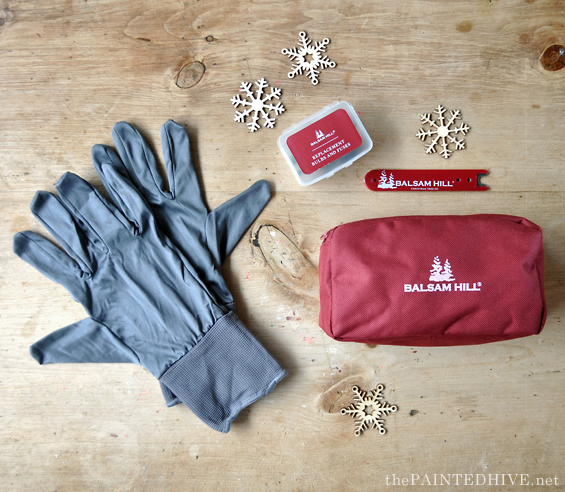 The foliage is very realistic and with some shaping (as all faux trees require) a lovely natural form can be achieved.
One of my favourite things is the integrated light system. Yes people, 'integrated light system'! No more weaving of tangled and unruly string lights!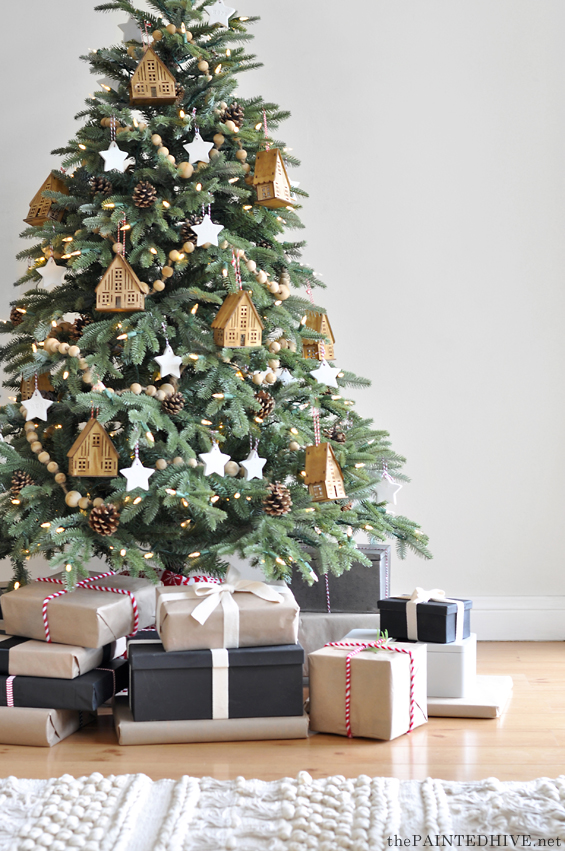 Since the kids have been old enough to care about Christmas, I've let them decorate our tree (mind you, this usually involves the hanging of three baubles before they get bored!).
So, this year, for the first time, we're having two trees.
This one is mine!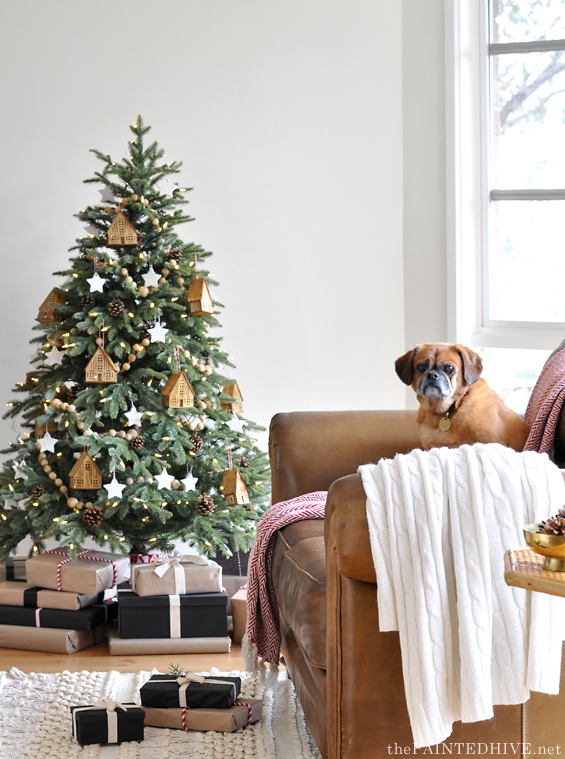 And apparently Coopers :)
I wanted a natural, neutral, home-spun scheme (surprise, surprise) with a tiny hint of red.
I used just four elements…plywood houses, hand-made clay stars, little pinecones and a wooden bead garland.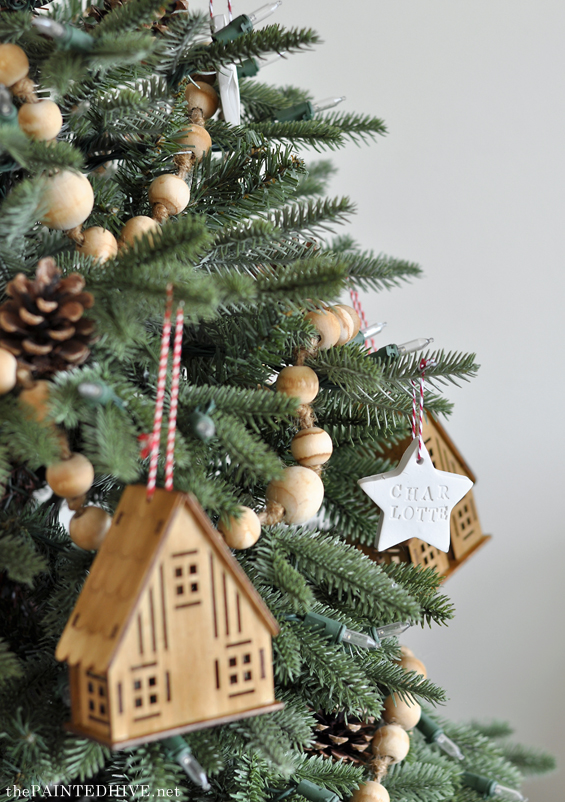 The plywood houses were just $2 each from Kmart. Originally, the wood was raw and quite blonde, which is fine though just a tad stark for the look I was going for, so I lightly stained them to give them some depth and warmth.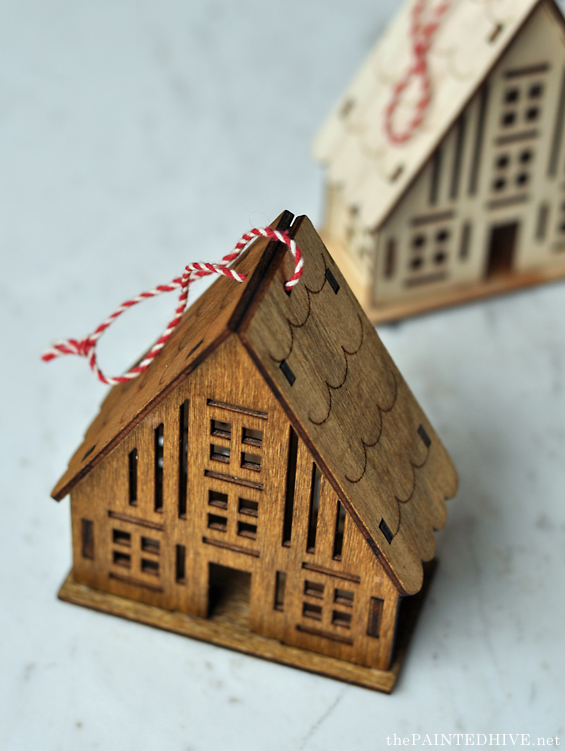 Making the clay stars was fun.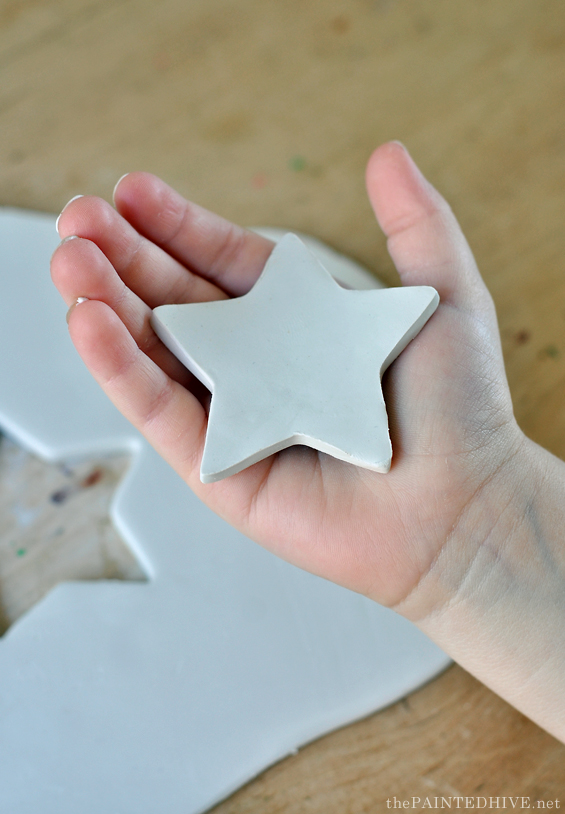 I don't do a heap of crafts though when I saw the price of shop bought clay ornaments I figured it was worth a try. And it was such a rewarding and simple project – and perfect for the kids to help with. Some of the stars are blank though many are personalised with our own words (I have a full tutorial here!).
The pinecones were free of course and add just the right hint of earthiness.
I was going to make my own wooden bead garland though I happened to stumble across this one in a local dollar-type store for cheaper than it would have cost me!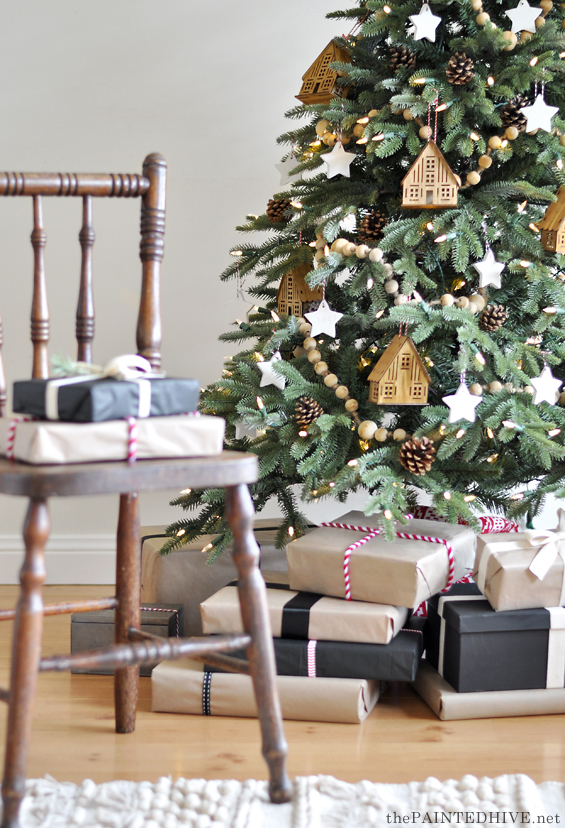 Again, the wood was originally raw so I very lightly stained it to knock-back the coolness.
To conceal the stand and add some extra festive cheer, I packed the base with a variety of wrapped "gifts". In keeping with the neutral scheme I used browns, blacks and creams with a dash of red.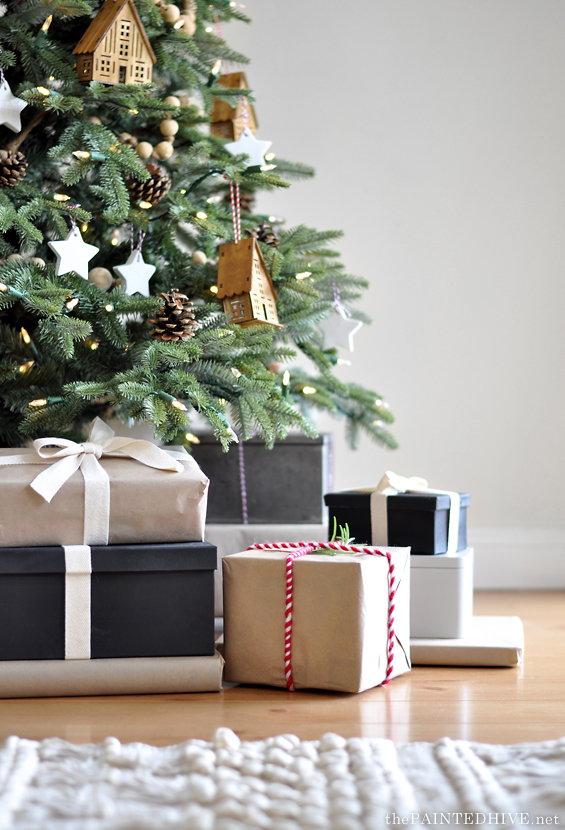 These "gifts" are mainly just appropriately shaped and sized items from around our house. It was so sweet to see how excited the kids were once they spied them, even though they are mainly just empty cereal boxes and books off our shelves.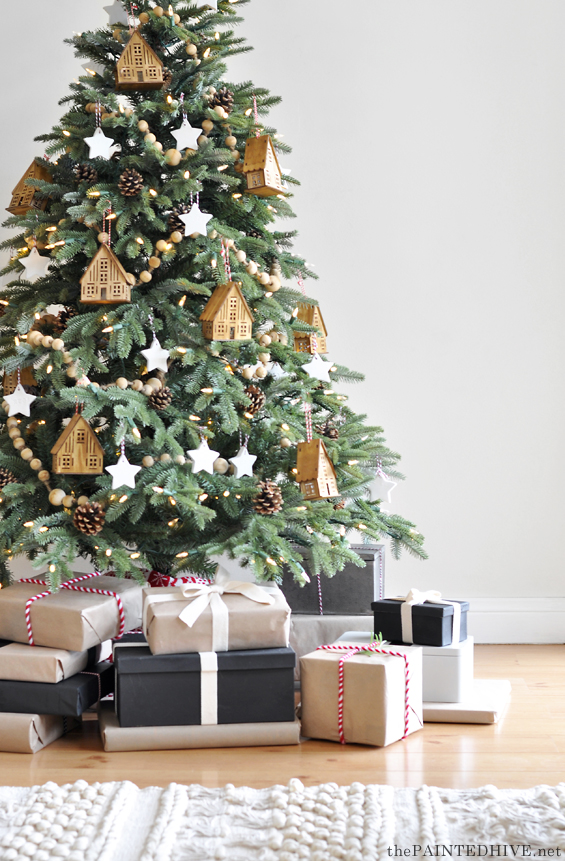 We don't usually have our tree in the living room, mainly because there's zero space, though given this is a petite tree (and the fact I wanted to take some pretty photos!) I rearranged some of the furniture to make it work.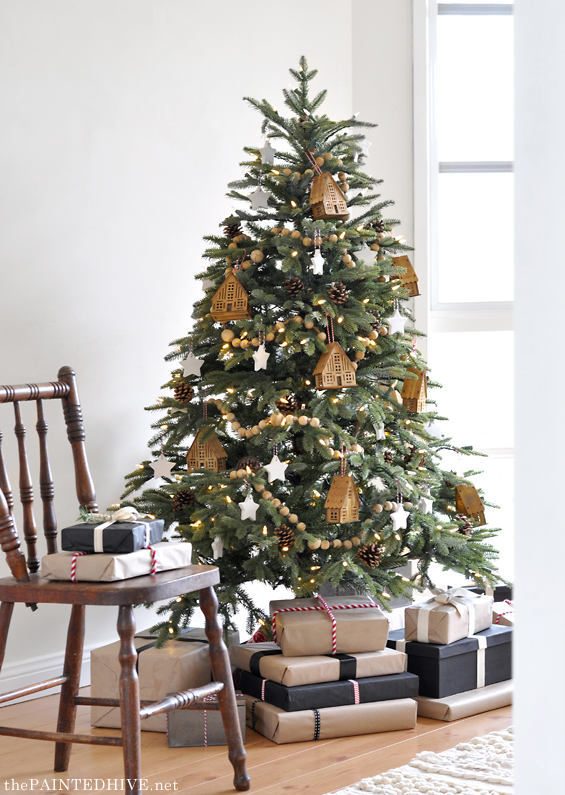 I hope you like it.
This post is in partnership with Balsam Hill.
All ideas, imagery and opinions are my own.