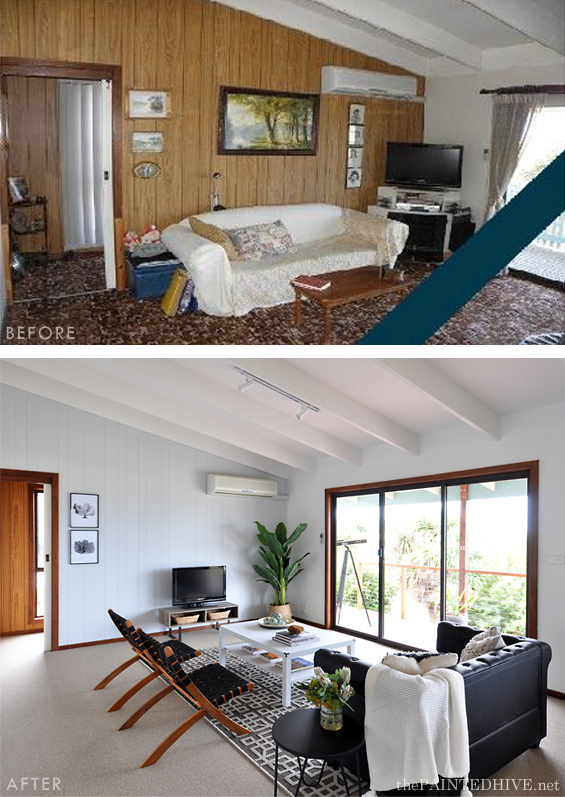 This is one post I thought I'd never publish.
If you follow me socially (on Facebook or Instagram) you may have seen a sneak peek of this makeover and read about my reservations in sharing it here.
Basically, this is my gran's house which we suddenly needed to sell after she was moved into an aged care facility a few months back. Having been on the market for several years prior with absolutely no interest, we (being mainly my parents, my aunt and myself) knew it needed to be somewhat over-hauled for sale. Though not only did we need to sell it, we needed to sell it relatively quickly, and at a certain price point (in order to avoid interest fees and cover all costs associated with the aged care facility).
The problem? Well, make that problems. We had a large and incredibly dated house, a super limited budget and my gran lives an eight hour round trip away!
I knew from the start that the budget limitations, logistical challenges and time constraints would result in a rather "make do" renovation. Hence, it was never my intention to share it here due to some reservations about how well it would reflect my expected style and standards (blogland can be a scarily lofty and judgmental place nowadays!).
Still, although it took a bit of courage, I posed the question on some of my social channels and was completely overwhelmed by the response…you wanted to see and learn more about this "real life" flip. How could I argue?
Granted, I did show the absolute best room in my social posts, and am still kinda nervous about sharing the entire 'warts-n-all' house, though I was incredibly stirred by all of the comments and have even reassessed the direction this blog should be heading in :)
Although we have specifically flipped this property for sale, many of these tactics can be used if you're simply wanting to improve the look and feel of your current home, or may help shine light on the potential in a seemingly awful house if you're looking to buy.
Anyhoo, here was our glorious starting point…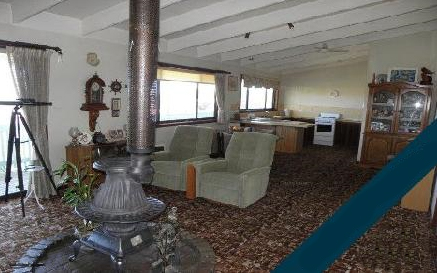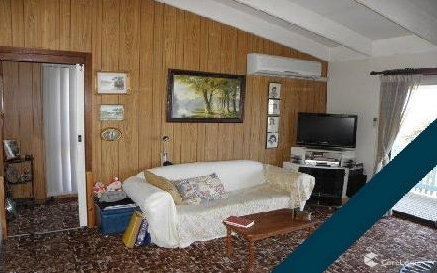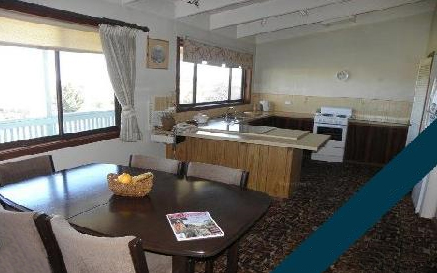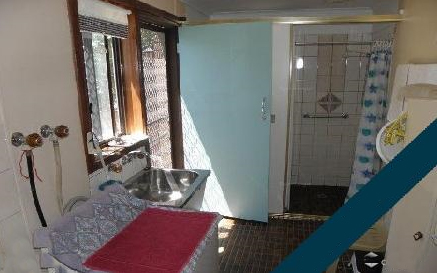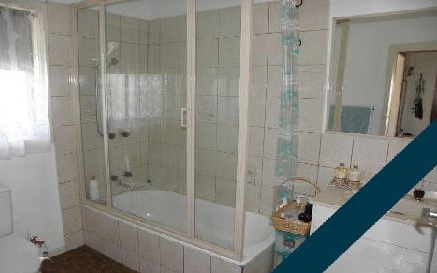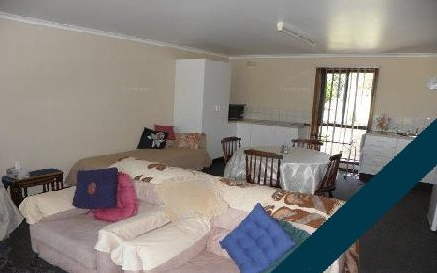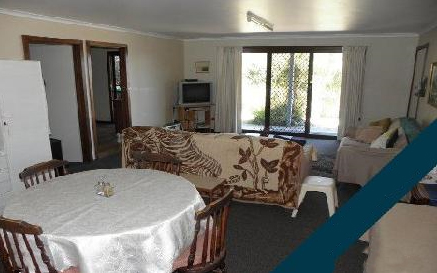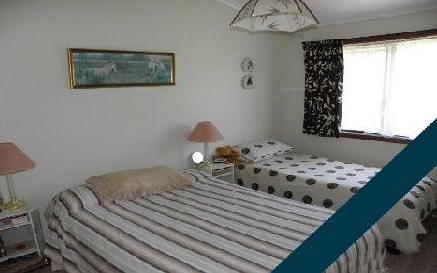 Sorry about the quality of the photos and the watermarks. Because I never intended to blog about this refresh, I didn't take proper before pics. These are some images I managed to find online from when the property was originally listed a couple of years back. Nothing much had changed.
This is a two story house comprising of a three bedroom, one bathroom main residence on the first floor, and a fully self-contained one bedroom, one bathroom unit on the ground floor.
Our initial plan was simple; de-clutter, replace the floor coverings in the main living space and make the most of the existing furnishings. As things progressed the improvement was clear, though it just didn't feel as good as it could. Any new positive changes we made only seemed to highlight all of the old negatives! I knew that with just a tad more effort, and the addition of some thrifty staging pieces, we could give it some real zing – and, in turn, better capitalise on all of the work we were investing.
As we were on a tight budget and timeline, it was important to pick our battles. A full renovation was just plain unrealistic. And rather than task ourselves with cosmetically over-hauling the entire house, we decided to make the living space our main focus. I figured if we could somewhat wow people with a nice first impression, then make the remainder of the house pleasant enough through 'dressing', it would create a good overall vibe and demonstrate the potential.
The main problem with the living space (aside from everything) was the wood burning fire.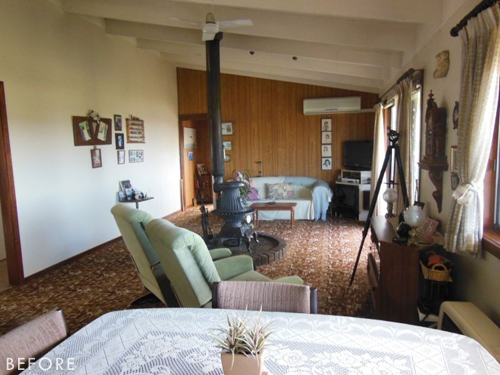 It was smack bang in the middle of the room and virtually impossible to configure furniture around – I can't count the number of times I've said "why the feck did they put it there?" Removing it seemed daunting, though after some inspection we deduced it was merely sitting on a floating brick hearth. As we were replacing the flooring anyway, all we needed to do was remove the fire and hearth, trim the flue off below the roofline then patch a basic hole in the ceiling – easy! We even managed to re-purpose the fire as an outdoor heater in one of the alfresco seating areas.
After a fresh coat of paint (Dulux "Natural White" on the walls and ceiling | Dulux "Grey Pail" quarter on the panelled wall) it felt so much crisper.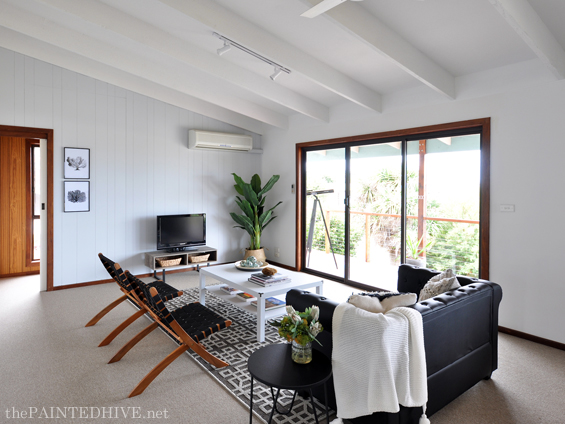 We also sprayed the existing ceiling fans and track lights white to freshen them up. New carpet was a must. We went with the most affordable option we could find, though I actually really like it! In fact, it reminds me of sisal. It has a neat loop, natural tone and nice sandy fleck which seems fitting given this is a coastal property (plus it's apparently super durable too).
One other change which made a surprisingly big difference was removing the security screen from the sliding door. This was actually a happy accident. We took it off to repair it and noticed how much more open and modern the space suddenly felt. Not to mention the way the ocean views were instantly emphasised! We went on to remove all of the security screens (and some of the old fly screens) from the entire house. A free and simple change which made a big aesthetic difference.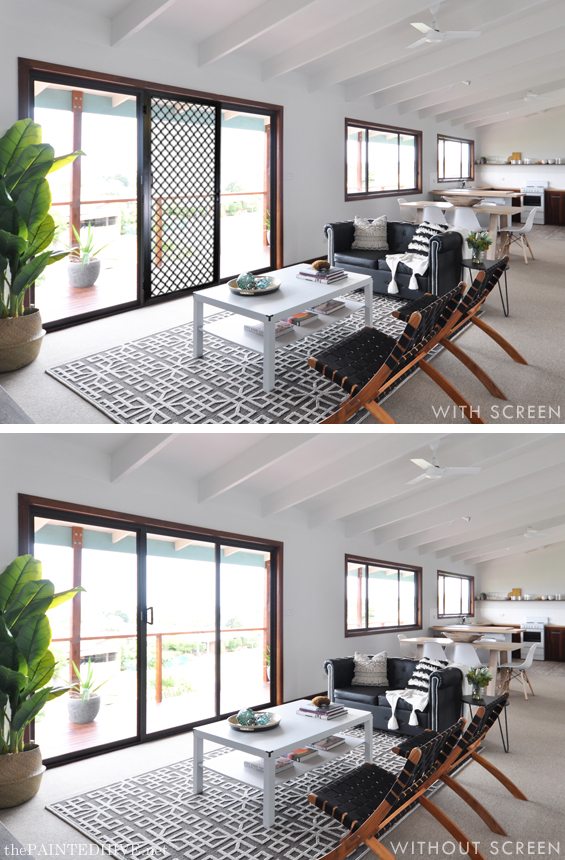 Note: I know what some of you are probably thinking: "But now people can break in more easily" or "That will effect the home insurance". Maybe so, maybe not. The fact is, security screens certainly aren't a must and many homes don't have them. It's something for the new owners to assess.
The only other thing we did in the room was dress it with some contemporary furnishings. I had my doubts about the feasibility of this. To keep costs down, I normally source second-hand furniture, though this can be a lengthy process: you need to find the right piece at the right price in the right location, then you possibly need to refurbish it – and in this case we're talking about staging an entire house! We just didn't have the time for that.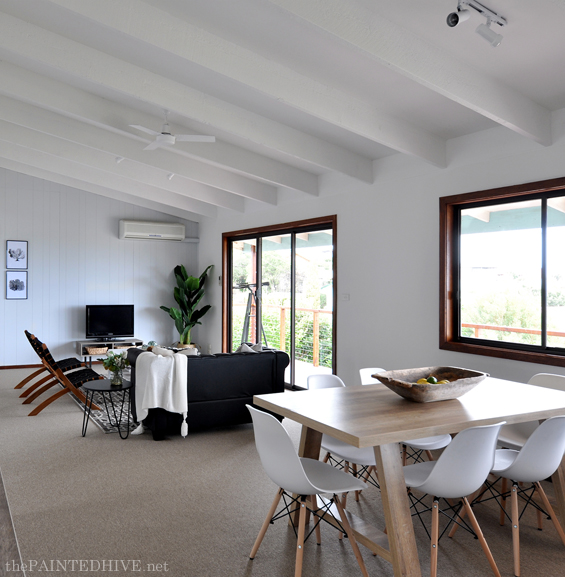 Thank god for Kmart! Accent chairs, side table, TV unit, console table and two of the dining chairs all came from Kmart. We also have three bar stools and four cube shelves in the kitchen area from Kmart. All up everything cost under $370.
Note: For my international readers, here in Australia Kmart is the current go-to store for accessible, inexpensive and on-trend furniture and home decor.
The remainder of the furniture was found on eBay. Dining table and sofa were $200 each. The set of four dining chairs was $80 and the large coffee table, which we painted blue-grey to match the panelled wall, was $30.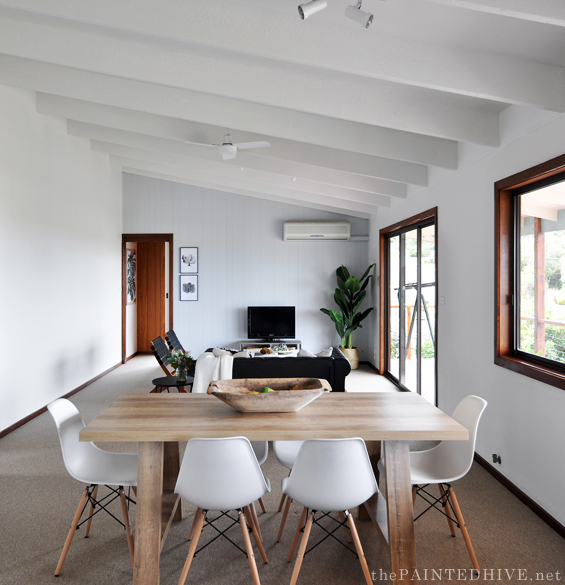 One of the trickiest things to source was an affordable large rug (I needed something at least 2×3 meters/7×10 feet). After looking in vain for something second-hand, I eventually stumbled across a rug warehouse being advertised through Marketplace on Facebook. They only had a few options in my size and price-range, and this one wasn't exactly what I had in mind, though for just $150 it would do. My other option was the LOHALS from IKEA, which I do like and have used before, though I opted for some pattern this time around.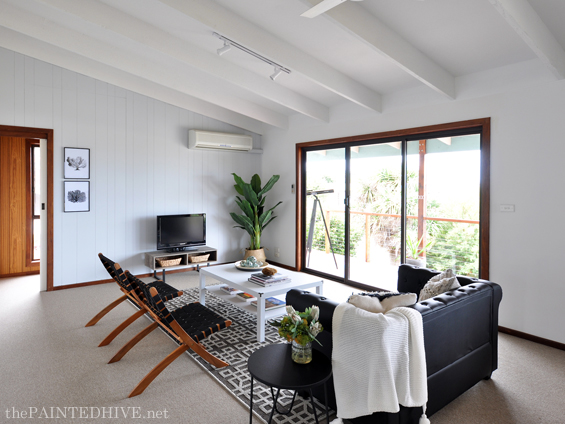 So, for just a smidge over $1,000 we had managed to furnish the entire open-plan living, dining, kitchen space. Not bad.
Most of the decor is pretty incidental. Some of it we already owned, some of it we salvaged from op shops and some of it we bought from inexpensive homeware stores. I'll spare you all the specifics given this is a looooong post, though feel free to ask about anything in particular.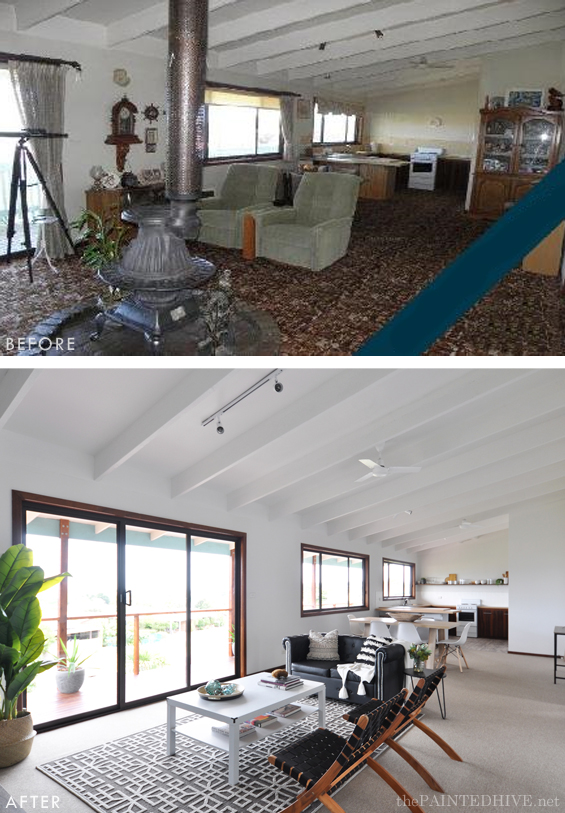 Although it would have been amazing to renovate the kitchen, as already mentioned, due to time and budget restraints we had to pick our battles. Given the kitchen was in good condition and relatively neutral we opted to simply freshen it up with a few basic changes.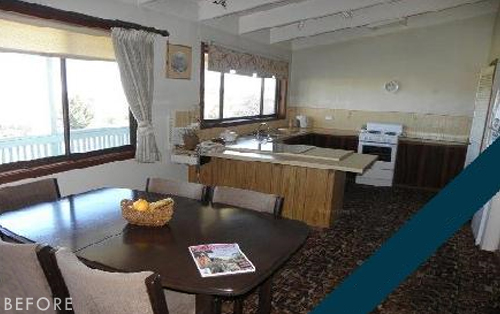 We replaced the carpet with plank sheet vinyl, painted the backsplash tiles white, added handles to the cabinet doors, changed the taps, painted the pantry door, painted the rear of the peninsula, and added a floating shelf to give purpose to the rear wall.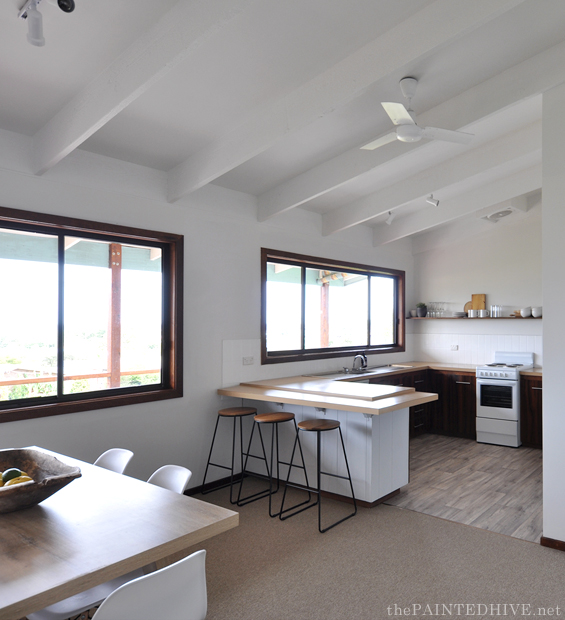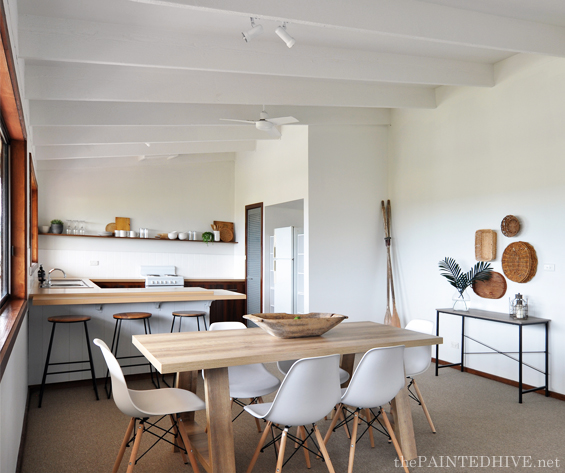 The large fridge nook was tricky. I thought it would have been cool to take up the space with side-by-side fridges – though where was I going to get matching ones from? Then I had the idea of centering the fridge and flanking it with little shelves ($15 each from Kmart). This was an easy fix which works well to make the unorthodox cavity seem intentional.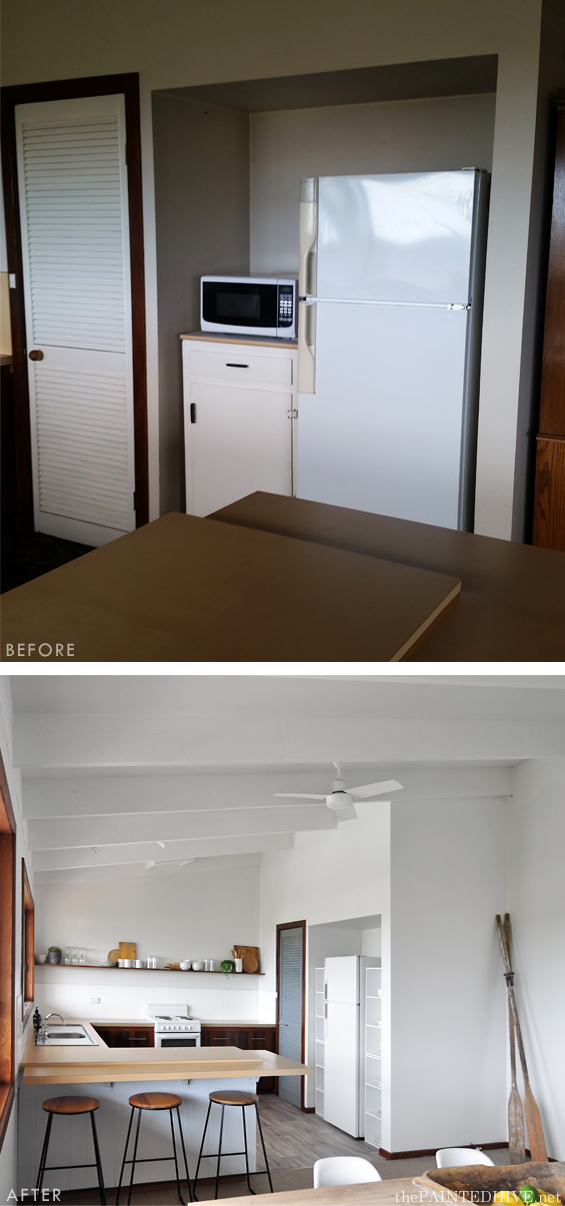 I wanted to add little feet to the cabinets to bring them up to fridge height, then maybe a shelf along the top, though we ran out of time. It's hard to see in the pic, though I've placed some simple white ceramicware in the little cubbies.
Of course, it would have been great if we'd had the opportunity to paint the cabinet doors and maybe add some moulding to them, change the countertops and install some hanging pendants over the peninsula. I even wanted to paint the fridge pastel blue and install a faux rangehood! If the house was closer all these extra jobs would have been more achievable in little bursts here and there. As things stood, we accomplished as much as possible in the limited weekends we could afford. Trust me, they were very BUSY weekends!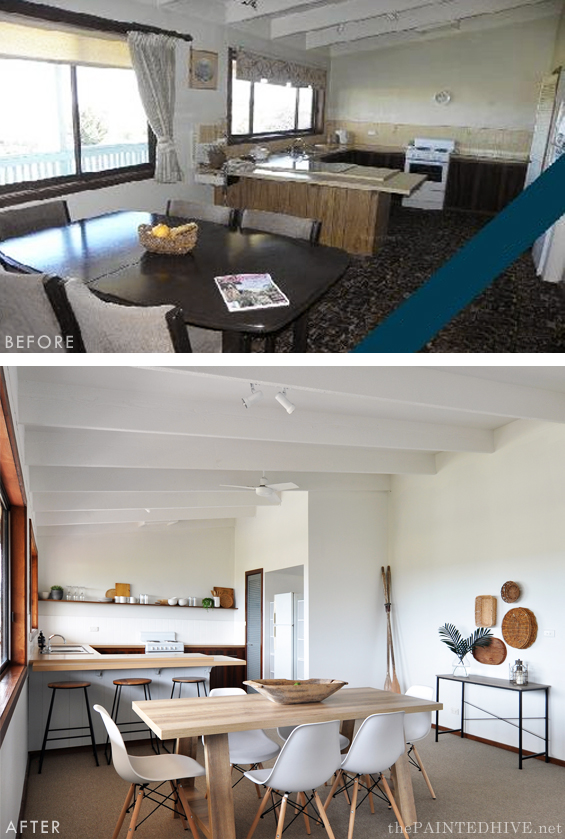 Although the bathroom, like the kitchen, could have benefited from a full renovation that was beyond our scope of works, and, like the kitchen, it was in good condition.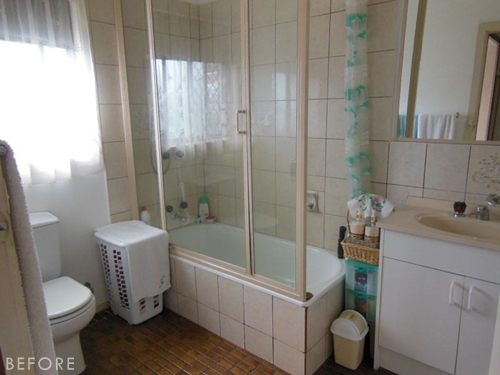 So, to neaten things up we painted the walls and ceiling (unlike the remainder of the first floor it did need a fresh coat of paint), changed the taps, framed the wall mirror with some trim, added moulding to and painted the vanity doors, changed the vanity door handles, installed a new toilet roll holder and some towel hooks, then dressed the space minimally.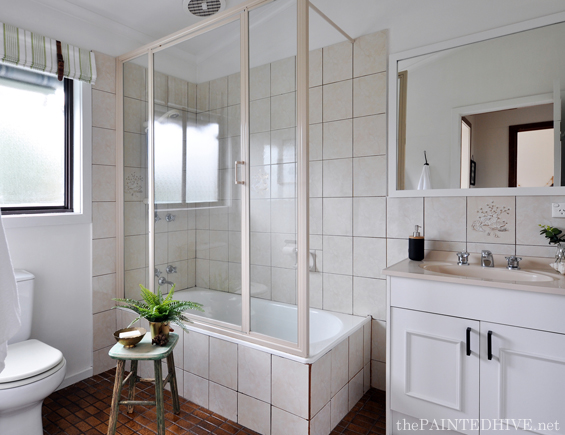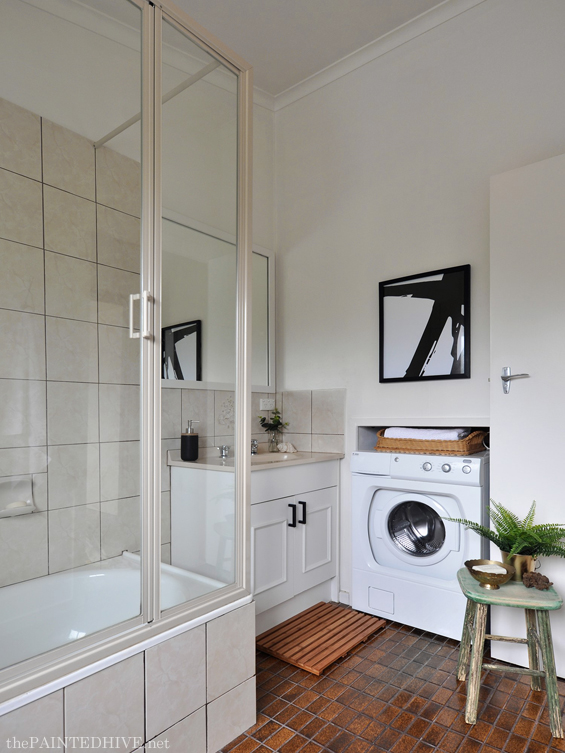 I realise these 'afters' are essentially akin to 'befores' though please be kind :)
The faux roman blind my mum made, complete with leather loops (which are actually re-purposed handbag straps!) is my favourite.
Time and budget permitting I probably would have also painted the wall tiles, clad the floor with something (maybe peel-and-stick planks), replaced the shower screen (or painted the existing frame black) and painted or replaced the basin. Nothing too extravagant, just a few simple additional updates to modernise things.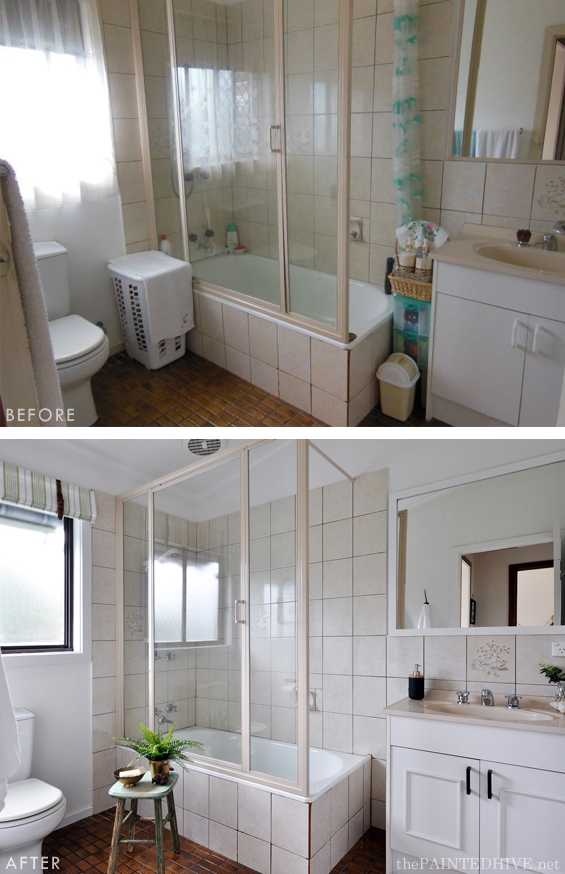 Thankfully the paint and floor coverings throughout the remainder of the first floor were relatively neutral and in good condition so we could simply concentrated on dressing things up as best we could.
The three bedrooms are nothing special. We used what we had, adding in a few new inexpensive items here and there, to make them more appealing.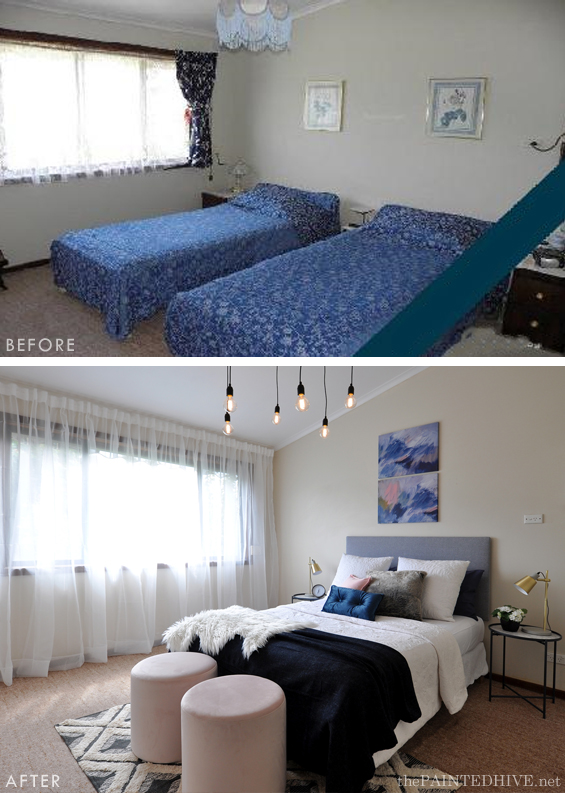 The master bedroom got a statement light fitting ($40 from eBay), sheer curtains ($30 from IKEA), new side tables and lamps ($15 each from Kmart), two end of bed ottomans ($15 each from Kmart) and an accent rug ($28 on sale from Target). The artwork and most of the bedding we already had and the bedhead was a super easy DIY.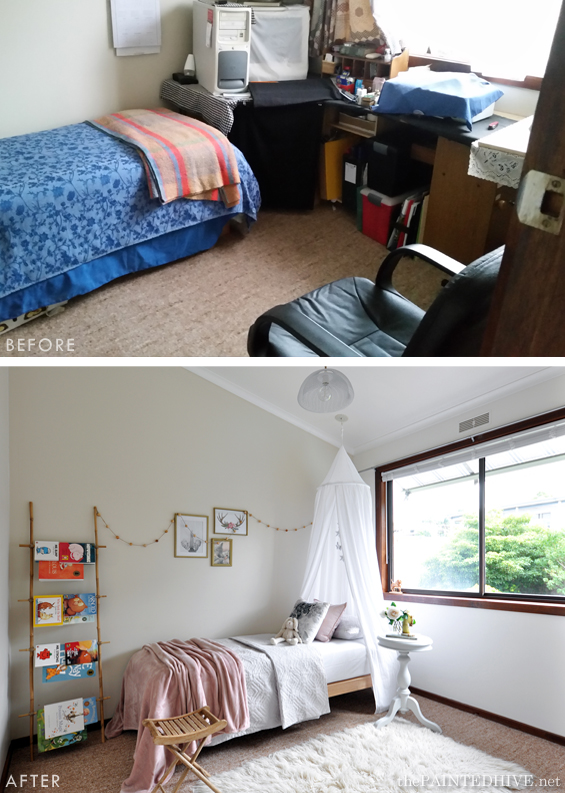 We decided to turn the smallest bedroom (which was previously gran's home office/weird guest bedroom) into a sweet little girl's room. We installed a canopy ($12 from eBay), painted a side table we already owned, created a light fixture from a mesh bowl ($8 from Kmart), made a simple bamboo ladder to hold books and printed some downloadable art to fill a few thrifted frames. The rug, stool and decor was found when we shopped the house and most of the bedding we already had.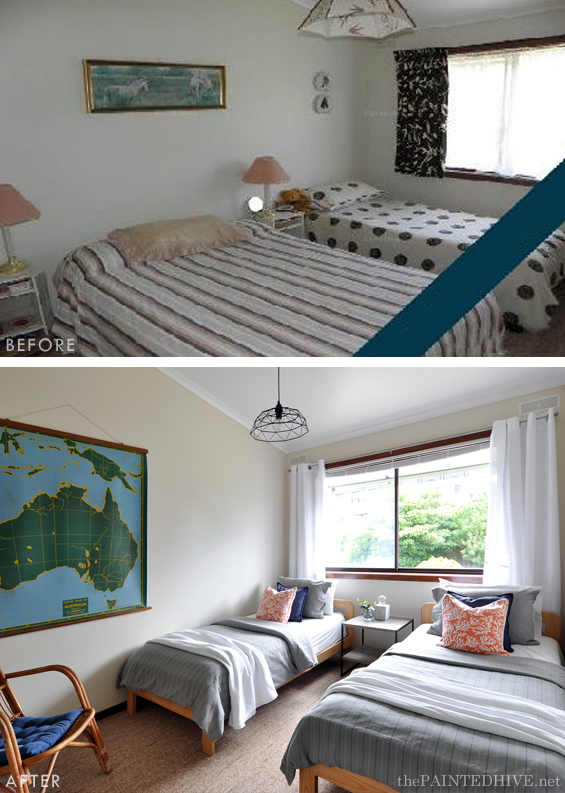 The third upstairs bedroom is quite basic. We re-orientated it to make it appear more spacious, re-purposed another bowl to form the light fixture ($6 from Kmart), hung some new simple curtains ($20 on sale from Spotlight) and added a side table ($25 from Kmart). The large wall chart and bedding we already owned (the beds themselves are the same too – you just can't see the frames in the before pic). There is also a cane chair (just in shot) and small desk on one wall which gran already had.
Note: Little details can make a difference. Use attractive light bulbs if they are visible in your fixtures. We replaced all of gran's ugly curly bulbs with pretty round edison ones.
The ground floor is actually fully self-contained. It includes an open-plan living/dining/kitchen, a bathroom/laundry and a bedroom. So, although it's attached to the main house and can be used in conjunction with it, it could also be reserved for guests, or used as an income suite or holiday rental (which is pretty cool).
Here are some of the before pics again…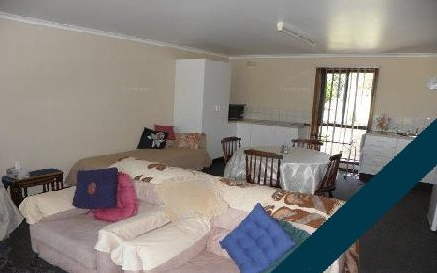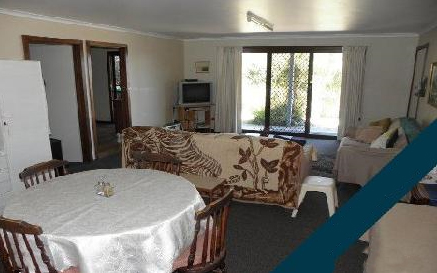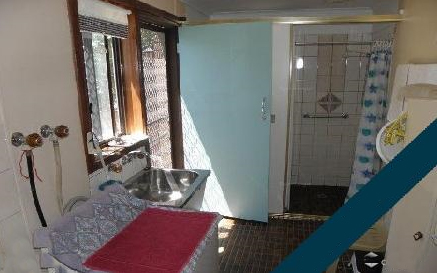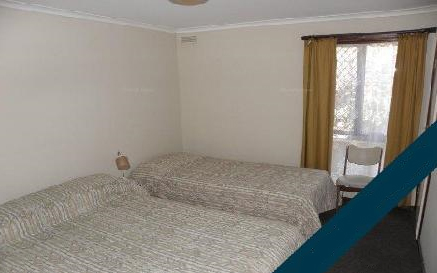 Um, yeah.
By the time we got to this area, we were pretty much out of time, energy and decor.
It would have been great to change the fluro light fittings and paint the peach walls though that wasn't going to happen – remember, our battles needed to be thoughtfully picked. One major thing we did decide to do was replace the flooring. You can't see it in the before photos, though the original carpet didn't actually extend to the walls! There was a two inch gap around the entire perimeter where you could see the concrete sub-floor (thanks to some dodgy DIY). We sourced some inexpensive second-hand floor tiles ($330 total) to re-cover the living space and bedroom. Laying these was somewhat fiddly though easy enough. For the dining and kitchen area, we installed new vinyl planks ($500).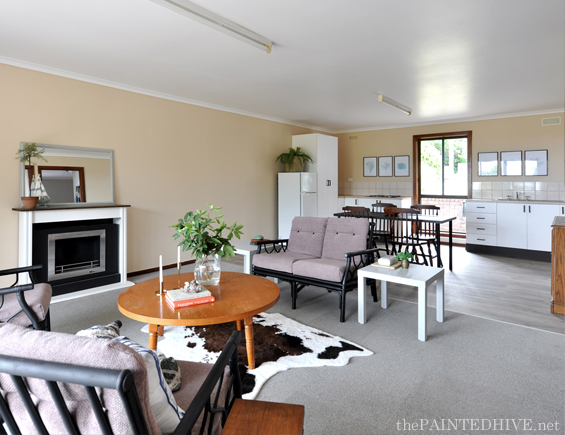 To create a focal point my aunt donated her old free-standing fuel burning fireplace for which mum and I built a simple surround using scrap timber – we were super proud of ourselves (if you want to create a similar focal point, you don't need a working fireplace, a salvaged mantel filled with candles or branches or a large plant works a treat too). The bulky old couch and armchairs were donated and replaced with a cane setting I found on the side of the road (I couldn't believe my luck – took a different route home from school one day and there they were with a 'FREE' sign on them!). The coffee table is actually the original dining table (as can be seen in the before pics) which I trimmed down.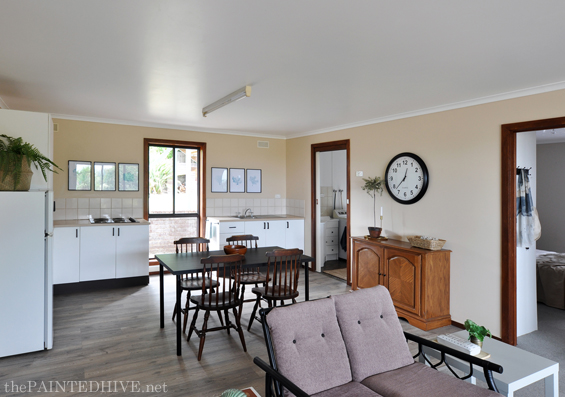 We kept the existing dining chairs and added a new rectangular table which suits the space better. The plastic kitchen pulls were replaced with new black metal ones and some simple sea fan prints give the broken wall a sense of continuity. The fridge was moved to beside the pantry and the lower portion of gran's buffet (which was originally upstairs) now acts as a dining room sideboard.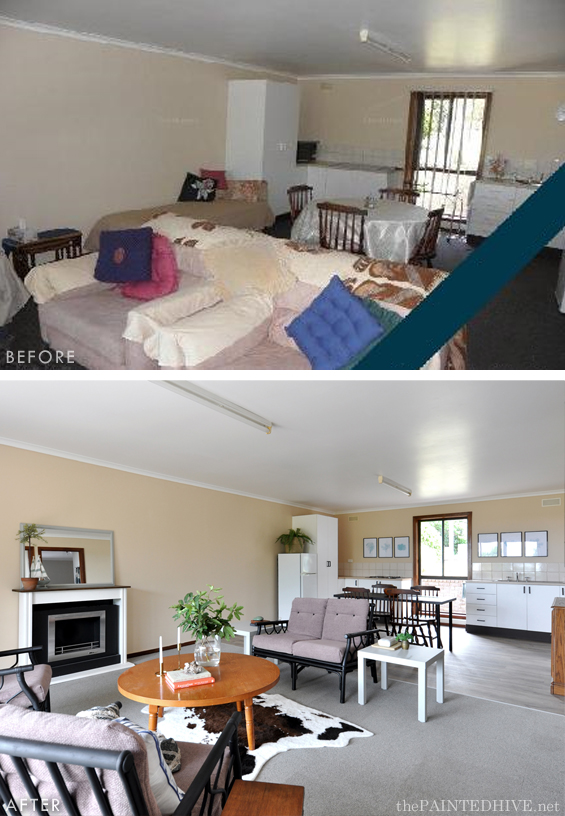 As mentioned above, we were running low on decor at this point so did the best with what we had. It's not perfect, and far from how I would ordinarily style a space, though it's fine.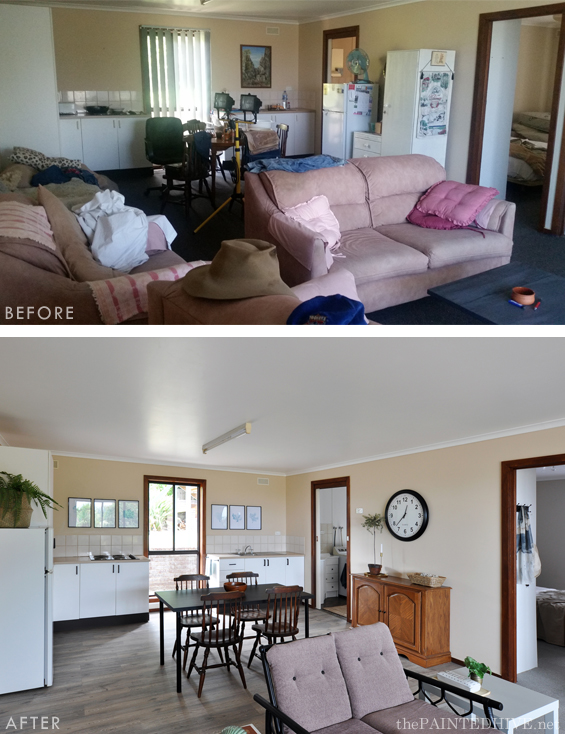 The downstairs bedroom was very last minute however I'm really happy with how it came together.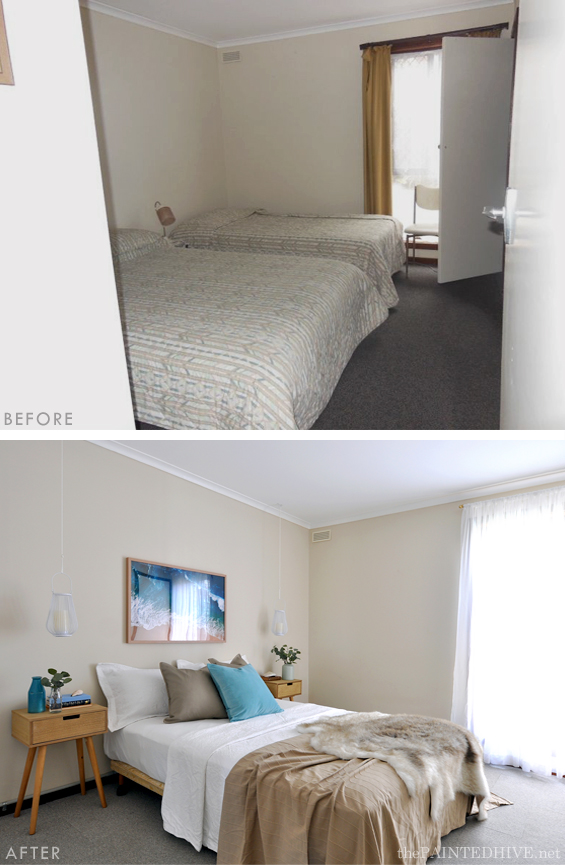 A sheer curtain (left-over from the master bedroom upstairs) adds a touch of softness and I just love the bedside lights. I wanted to do something interesting in this room to create a point of difference. Of course, installing hanging pendants was out of the question so instead I found these candle holders ($10 each on clearance from Bunnings) then attached them to the ceiling with some hooks and cord. Although they aren't wired they hold remote operated battery candles so they do actually work as a light source! The bedside tables are from Kmart ($29 each) and the artwork was a free download I printed and framed. Most of the bedding and decor we already had.
The final room is the unusual 'wet room', as we call it. It encompasses a little vanity, a laundry area, and a toilet and shower concealed behind sliding doors.
Like I said, it's unusual.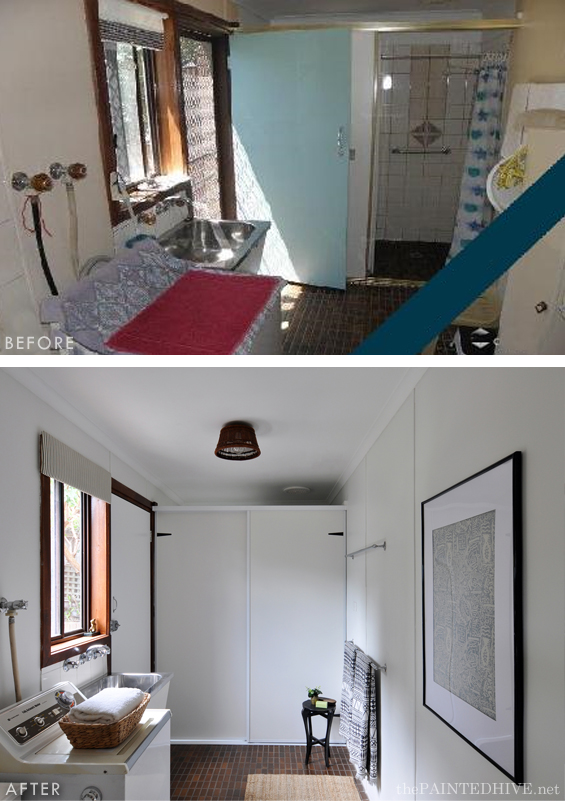 This room did get a fresh coat of paint ("Natural White" as per the upstairs living space). We also needed to replace the original sliding doors and tracks which were falling apart. I wanted to DIY this though at gran's house we just didn't have the right tools (or enough time) so we had them professionally installed ($600 – could easily have done it for half the price ourselves). I added some strap hinges to dress them up a bit.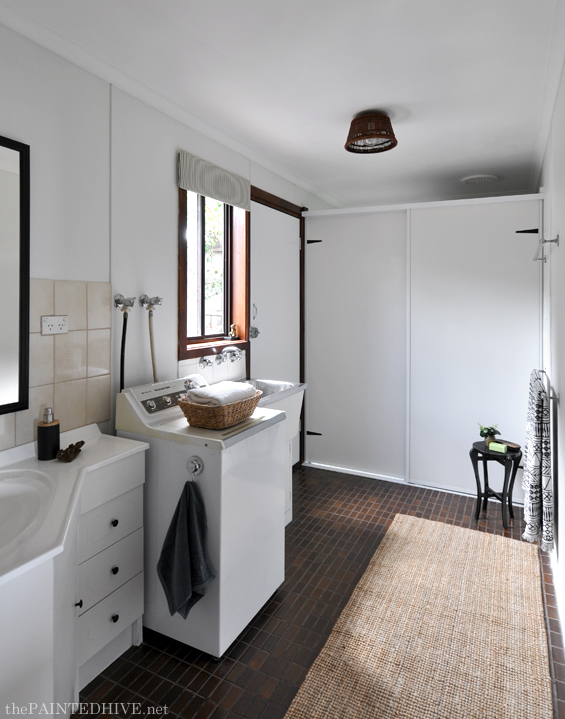 We painted the vanity, replaced the knobs and taps, hung a salvaged mirror (this is nice and long to extend down over the backsplash and cover the one dated patterned tile in the room!), installed a new shower curtain, added a basket shade to the ceiling light and framed an old pillowcase to act as wall art. An IKEA runner rug, some modern towels and a few decor accents help detract from the negatives and create a sense of comfort.

And so concludes the longest blog post in the history of blog posts! Phew!
Whether you're selling a house, buying a house, or looking to improve your existing house, there are lots of easy and effective improvements you can make on a budget.
As I mentioned at the beginning of this post, the main reason I was hesitant to share this refresh is because it doesn't necessarily reflect my personal style or standards. Although it was fun to go for a different look, and liberating not to feel confined by having everything 'just so', I do wish I'd had a bit more time to finesse things. Oh well.
Also, the photos I took were all shot for real estate purposes so they're not composed or staged anywhere nearly as prettily (or magazine-y) as usual. Again, oh well.
On the interior we spent $7,000 total – for EVERYTHING. There was an additional $13,000 spent on the exterior which can be mainly attributed to replacing a large deck (the existing one was dangerously weathered). So, all up we spent $20,000.
Four months ago, prior to the revamp, we had the property valued by two agents. One quoted $260,000, the other $280,000. Two weeks ago, with the refresh complete, we were quoted $359,000! I honestly thought the agent had got his numbers mixed up! That's a profit of around $70,000. Not bad, huh?
It was never our intention to greatly improve the value of the house. Our prerogative was simply to make it appealing for a quick sale, so the jump in price has been a major bonus!
Of course, the best thing is that gran is just thrilled.

Here are some of my tips at a glance…
DE-CLUTTER
I can't stress enough how vital this step is. And how transformative and inspiring it can be! For me, de-cluttering involves taking a room back to its bare bones, creating a blank canvas to freshly build upon. This means removing all free-standing items along with any fixtures (of course, for practicality purposes any pieces which you intend to keep can stay though I like to clear as much as possible). Light fixtures, window dressings, furniture, decor, hardware, even floor coverings or built-in cabinetry if you intend to replace them, should be removed. Up-cycle, re-purpose, sell or donate whatever you can. Sometimes it's difficult to imagine what a room can be. De-cluttering helps provide the mental and visual clarity to capitalise on its potential.
PICK YOUR BATTLES
It's not always viable to undertake a complete renovation which is when tackling the right projects becomes super important. Whether you're preparing a house for sale or refreshing your own home, creating a neat and clean environment should be priority one. Repair, replace or remove anything which is broken, damaged, or just looks plain untidy, then concentrate on renewing the most dated (or hideous!) features. If your budget won't stretch to refurbishing the entire house, choose a focus area to completely transform. This will provide impact, leave a strong impression and hint at the home's on-going potential. Sometimes, when you scatter little projects about here and there, the effect can be lost.
PRETTY OVER PRACTICAL
I know this is a big no-no ordinarily, though if you're selling there is a place for it. You may well use them everyday, though removing, hiding or reconfiguring items like bulky or excess furniture, ugly security screens, IT/AV equipment (and their visible cords), small appliances and window dressings can make your home feel bigger, cleaner and more spacious. In short, it can look much more appealing.
LEAVE SOMETHING
If you don't have the ability to undertake a full renovation, leaving some areas untouched isn't always a bad thing. Many buyers like having an excuse to add their own touch. Of course, always ensure each space is neat, clean and liveable though.
DRESS IT UP
Although it might be tempting to clear your house for sale, thoughtfully dressed homes always present better. It may seem like an empty house will feel more spacious and move-in-ready, however furniture actually helps provide scale, making rooms (especially small ones) appear larger. It also gives purpose to spaces which people may otherwise not have been able to envision. Done well, dressing will make a house sing, working to highlight all the good features whilst diminishing the bad! But where do all of these 'dressing' items come from? Of course, you don't want to spend a small fortune on furniture and decor you technically don't need, and hire companies can be incredibly expensive. Use as much of what you already have as possible, up-cycling or re-purposing as needed. Shop second-hand, keep an eye on the curb or buy from discount stores. Focus on scale, lay-out and colour to ensure rooms feel spacious, fresh and unified. If you're unsure what to do with the pieces you've acquired, considering selling furnished (that's what we've decided to do). This is especially attractive to buyers looking for income properties or holiday homes.
DON'T MAKE IT 'YOURS'
You want any prospective buyers to be able to envisage a home as 'theirs'. So, whilst it can be tempting to appease your own design sensibilities, try to keep things relatively neutral and on-trend to appeal to a wide audience. This may mean putting your personal taste aside. That said, it is still important to create a sense of homeyness, so try doing this by using different textures, inviting colours, earthy elements, interesting wall art, books and generic personal items.
AVOID TRADES
Of course, certain jobs require a professional, though tradespeople can swallow up huge chunks of your budget. Wherever possible, DIY and avoid engaging trades. When you absolutely need to use a tradesperson, keep things as quick, concise and minimal as possible. Of course, I realise this sadly isn't always in your control.

So, what are your thoughts? Is this the type of 'real life' revamp you'd like to see more of? Or were you completely underwhelmed? Feel free to leave your honest feedback – I can totally take it and will completely understand.
If anything, I hope it has given some of you inspiration :)
Given there are sooooo many different little projects, I haven't provided in-depth details for everything. Please ask if you'd like more info about anything in particular.
So, this is what I've been up to for the past several weeks. Sorry I've been absent. Hopefully I'll be able to get back into the regular swing of things now.
The house has been on the market for just over two weeks now and I'm happy to report we've already had lots of interest! If you're looking for a lovely move-in ready property on Australia's sought-after south-eastern coast, you can find the real estate listing here for further information – and to contact the agent to submit your offer ;)
UPDATE
The house is now sold! Learn more HERE.