I know it's been a long time coming, though the most protracted bathroom makeover in history is ready for its close up…or wide angle…or medium range shot…or whatever sort of photo it takes to finally get this bleeping room up on the blog!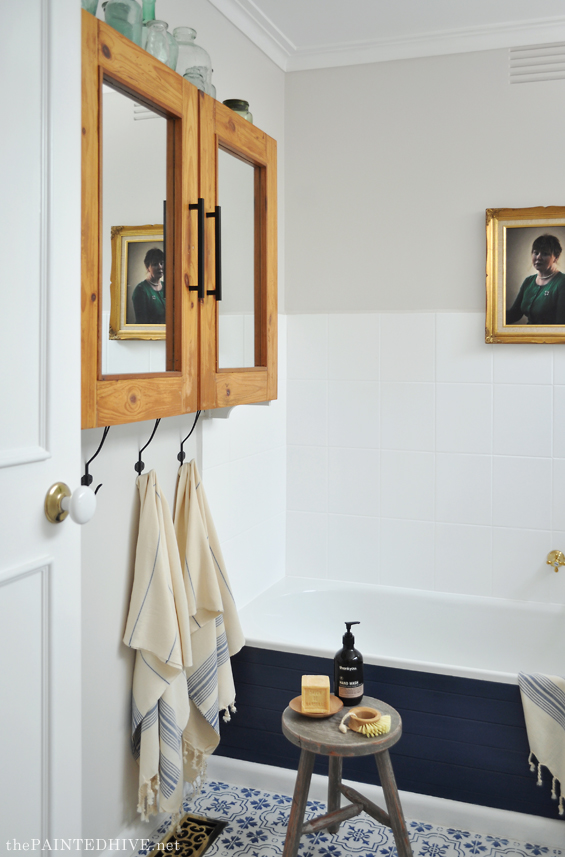 There's really no good reason it's taken me several months to complete. I mean, it's not astoundingly brilliant, we didn't run into any issues. I guess, as a low priority project, it just took as long as it took. If you've been waiting for the reveal, I'm really sorry for how bad I suck at time management, and hope the room is decent enough to somewhat make up for it.
This is the main bathroom at my parent's house (as they're now empty nesters it's rarely used – hence my lack of urgency in getting it done!). They originally renovated it around 25 years ago and, as you can clearly see, it was badly in need of an update.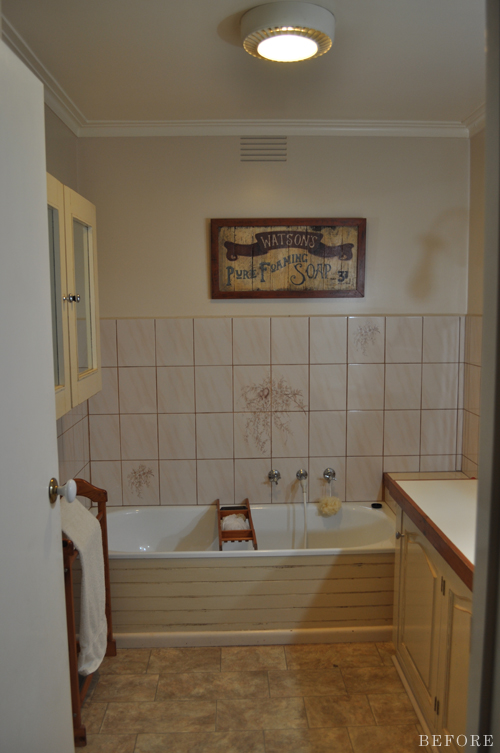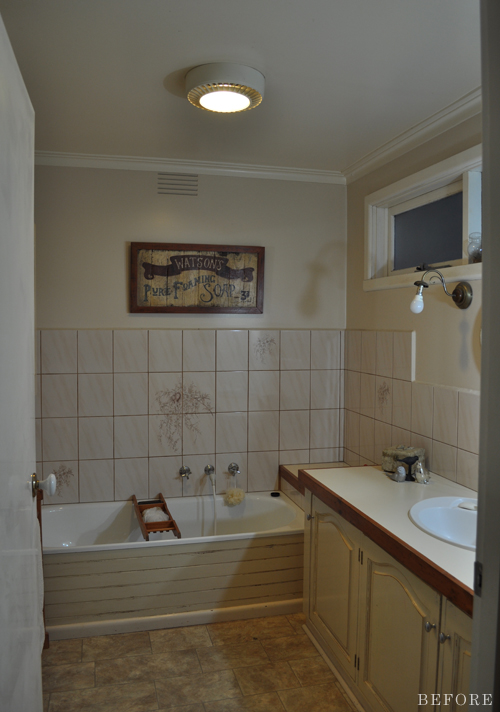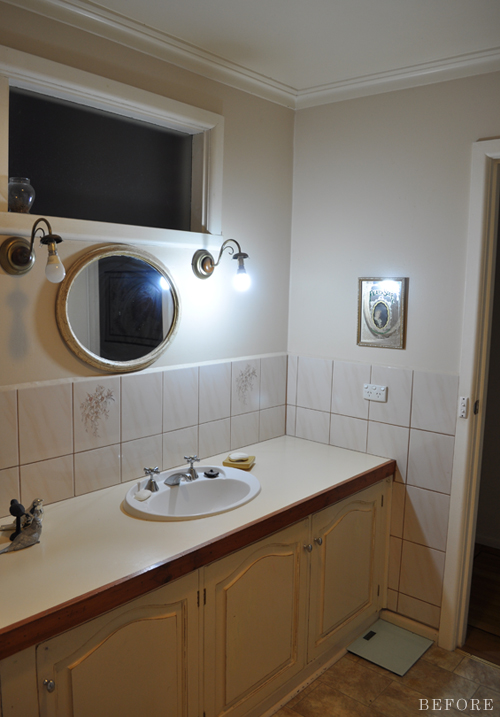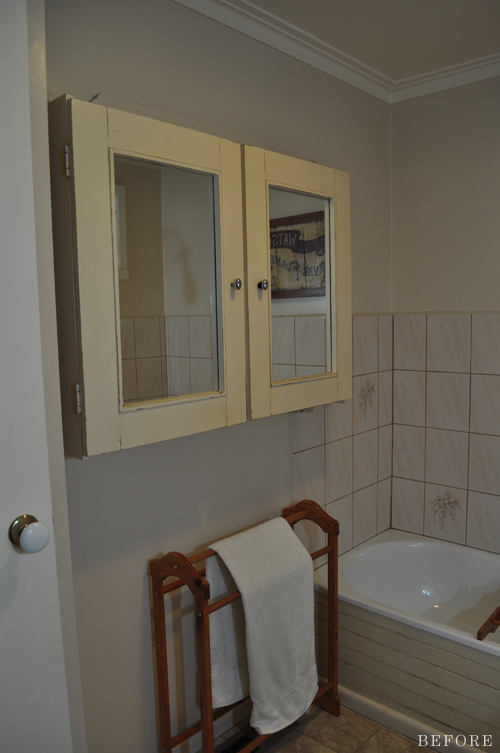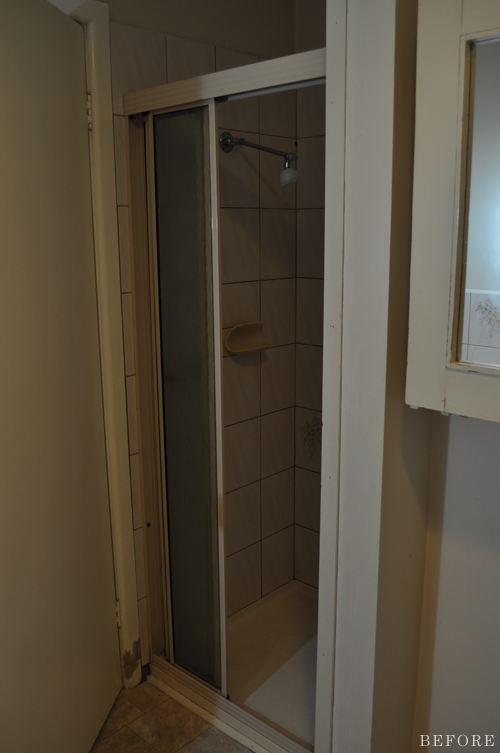 Sorry, had to take the before shots at night before we started working on it.
Hello beige and cream!
Aside from looking pretty darn ugly, there wasn't anything really 'wrong' with the space. I mean, nothing was badly broken or overly damaged, it functioned well and had everything it needed (there's a toilet in a separate room). Although a major renovation would have been nice, it also would have been unnecessary – not to mention super pricey. Besides, there's just something incredibly rewarding about transforming what you already have.
So that's what we did!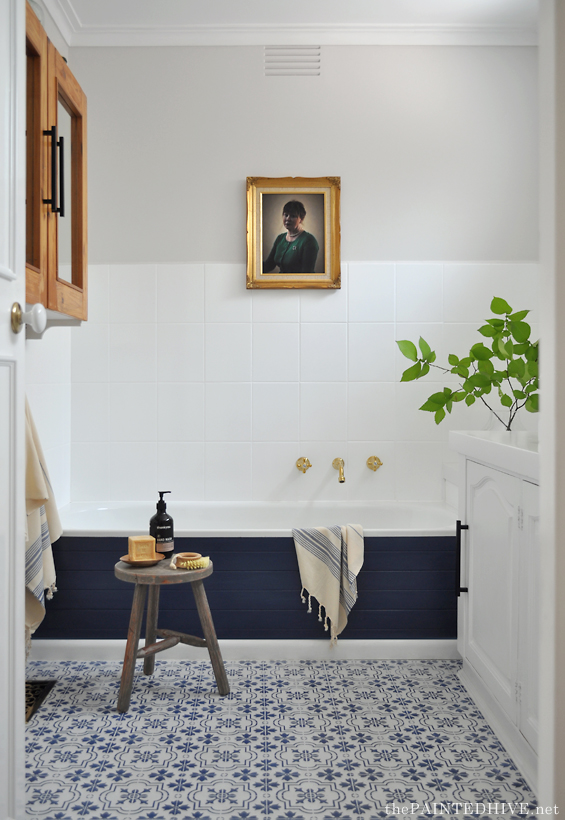 Aside from the shower base and vanity top, which mum chose to have professionally refinished, the installation of a new shower screen, and some minor plumbing and electrical work, which some friends helped with, my parents and I did everything ourselves.
It's funny, though we never had a distinct design plan. Our main objective was simply to give the room a fresh, bright, sophisticated-yet-comfortable feel.  And because mum loves blue and white we decided to start with that and go from there. Luckily, for some strange reason, she trusted me and it all seems to have worked out!
Paint was a MAJOR player in this transformation! The floor, tiles, walls, ceiling, vanity, bath panelling, door and architraves were all freshly coated.
The vinyl floor was hand-painted using a tile stencil from Etsy, Rustoleum chalk paint (in 'Coastal Blue') and Cabots CFP sealer (you can find my basic floor painting tutorial here). It was completed several months back and has held up fantastically.
Note: The faux tile sheet vinyl which can be seen in the before photos was pulled up to reveal an older layer of plain vinyl beneath. This is what we painted.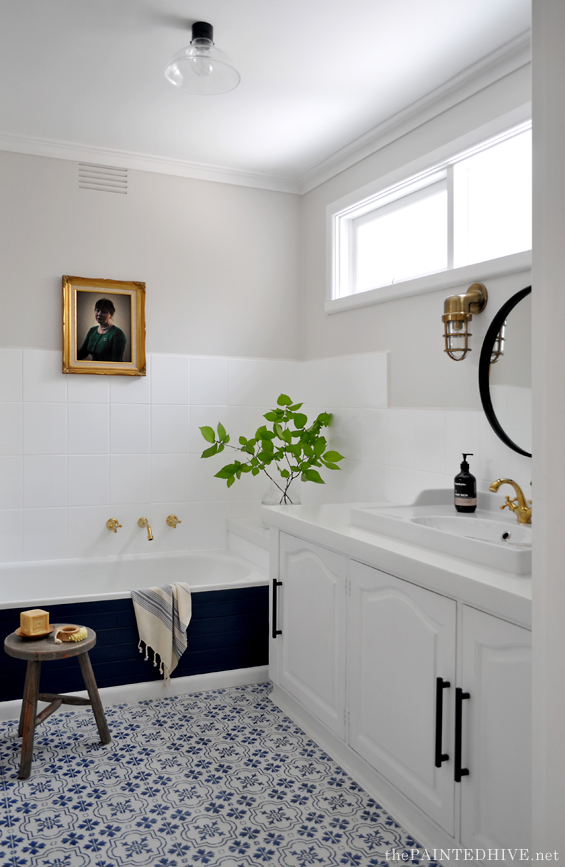 Mum painted the wall tiles using Rustoleum Tub & Tile paint. Brightening those dull tan tiles and losing the dated feature mural made a huge difference!
The vanity base was painted in a crisp white semi-gloss. As mentioned above, the top was professionally refinished and although it's hard to see in the photos, has a faint stone-like fleck (you can just make it out in the above pic – it cost around $350).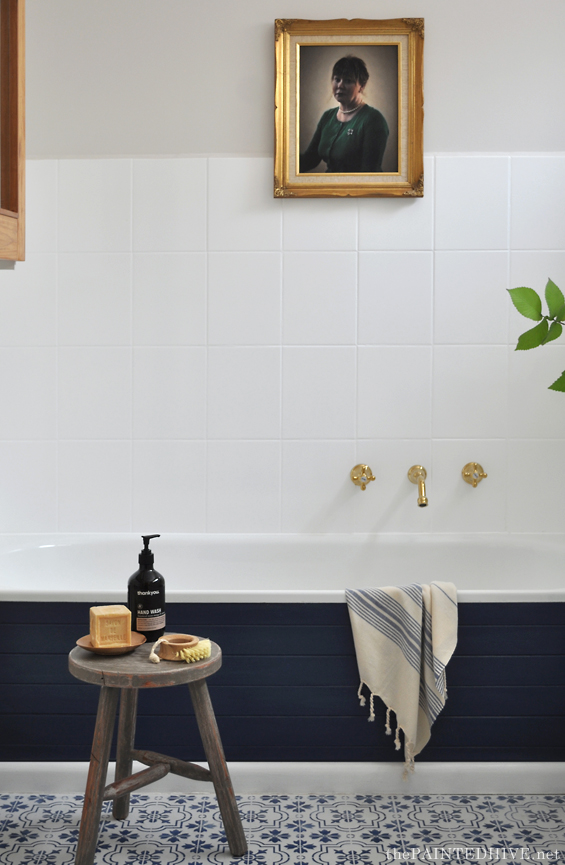 Mum wanted to paint the bathtub panelling white too though I convinced her to use the navy we had left-over from the floor (we added a bit of black to make it a tad darker and less saturated). It references the stencil, adds depth and creates a bit of drama. I think it was the right move.
The bath itself was in great condition so wasn't touched.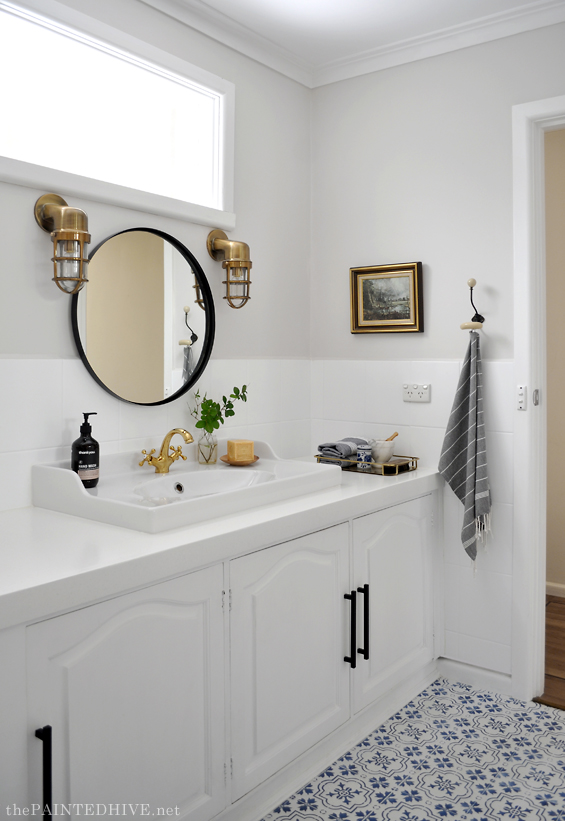 To provide a subtle contrast for all the white we went with a smokey grey (Dulux 'Limed White' Quarter) on the walls.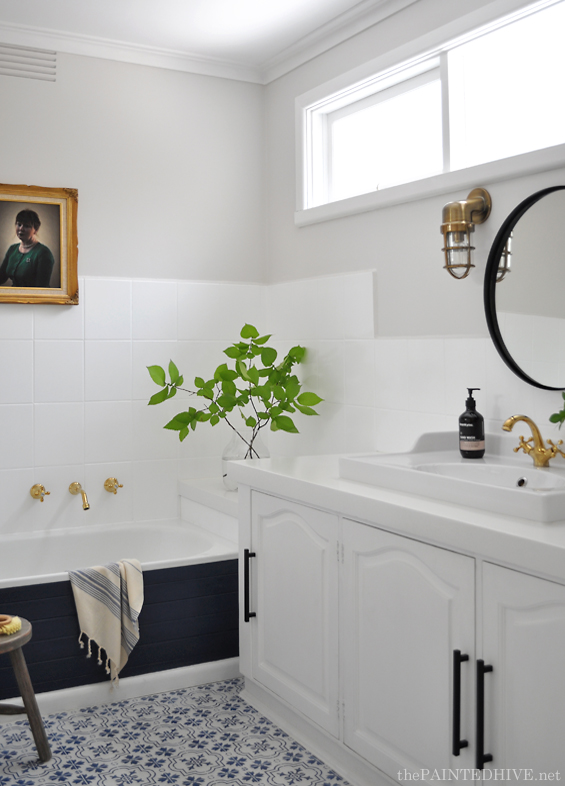 As things were coming together it became apparent to me that we needed some wood! Nothing brings warmth and depth to a space like natural timber. It took some coaxing, though I eventually convinced mum to strip the cabinet doors rather than re-paint them. Their rustic golden finish is just perfect!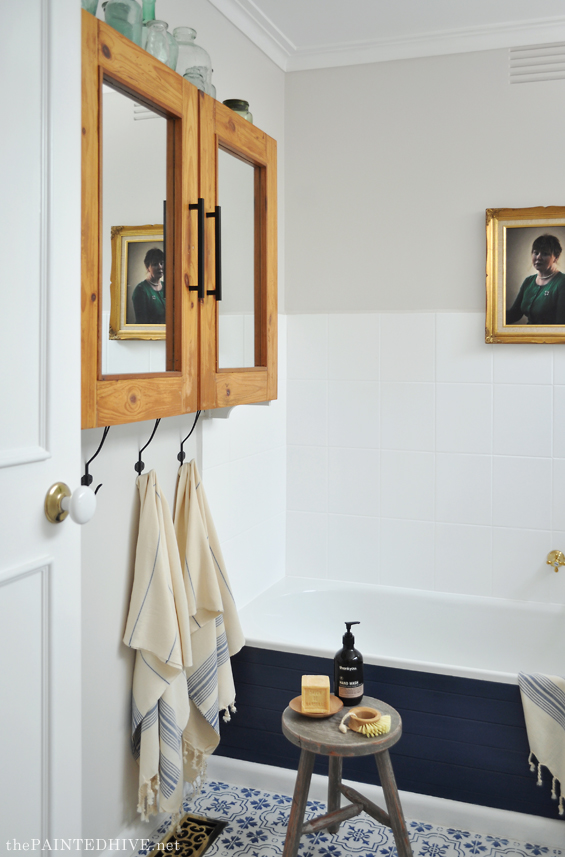 The entry door got a little makeover too with some new trim and fresh white paint (you can find my tutorial for adding trim to plain doors here).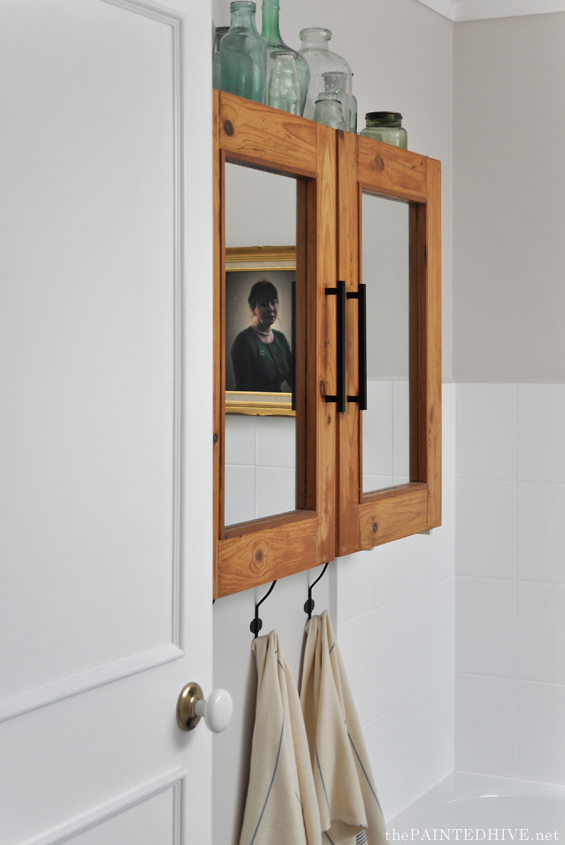 I know some people probably consider it dated, though we kept the ceramic handle. I think it's classic and understated.
As mentioned above, although I like to work with what's already in a space, there are some things which are best replaced.
The shower screen had seen better days so was switched out for a new glass door (it cost $450). It looks soooo much cleaner.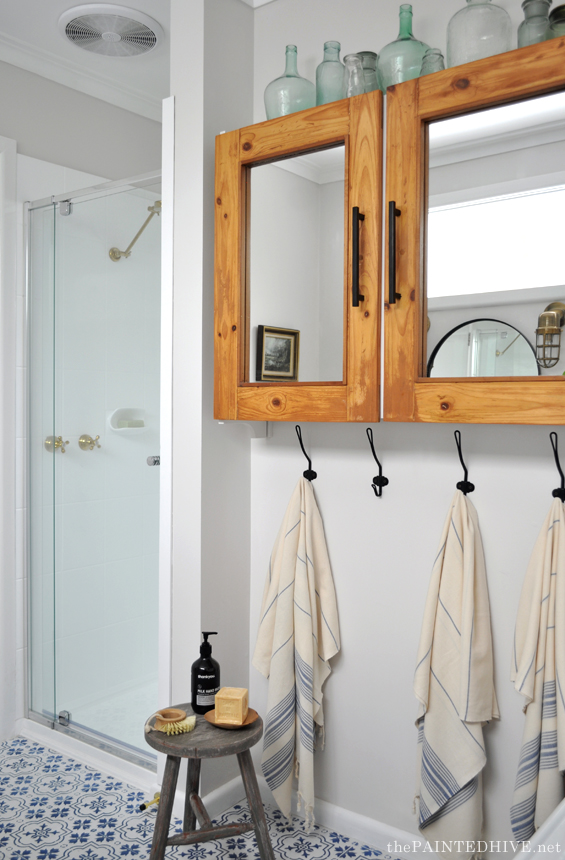 And as mentioned above, mum had the shower base professionally resurfaced for $350.
The original basin, which was pokey and off-center, was upgraded to a RATTVIKEN from Ikea.
Although these basins are really designed to sit atop a wash stand, we like the uniqueness of it on the long vanity and the character the collar provides.
All of the old chrome tapware got updated to brass which compliments the navy accents perfectly. The shower and bath fixtures are simply from Bunnings (around $80 per set – sorry, I can't see them on the website anymore) and I found the basin mixer on eBay for $60.
We toyed with lots of DIY ideas to upgrade the existing sconces though then one day I happened to stumble across these ones on eBay…for $25 each! How could I say no? I'd seen similar ones for almost $400!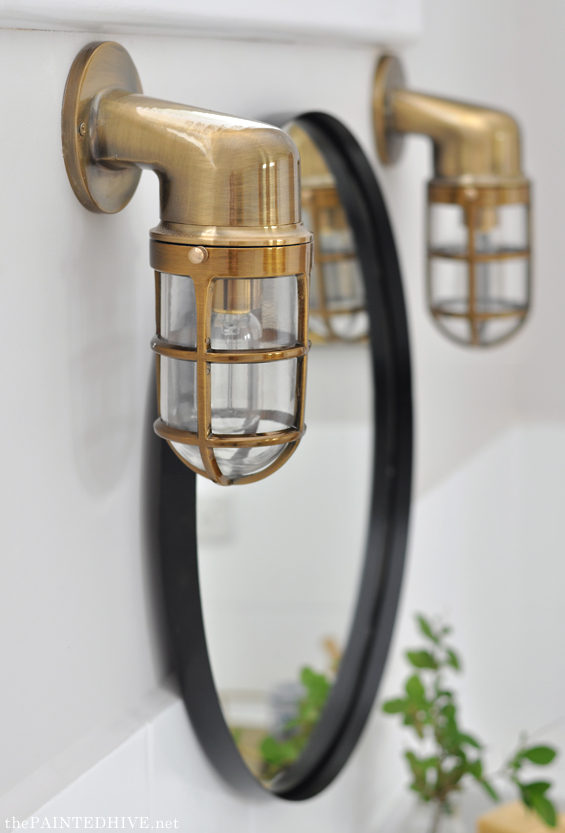 The ugly old ceiling exhaust was replaced with a simple $50 glass batton fix light from Bunnings (dad installed a new extraction fan above the shower). We considered using a fancy pendant though the ceilings aren't very high and we figured there was already enough going on in the room.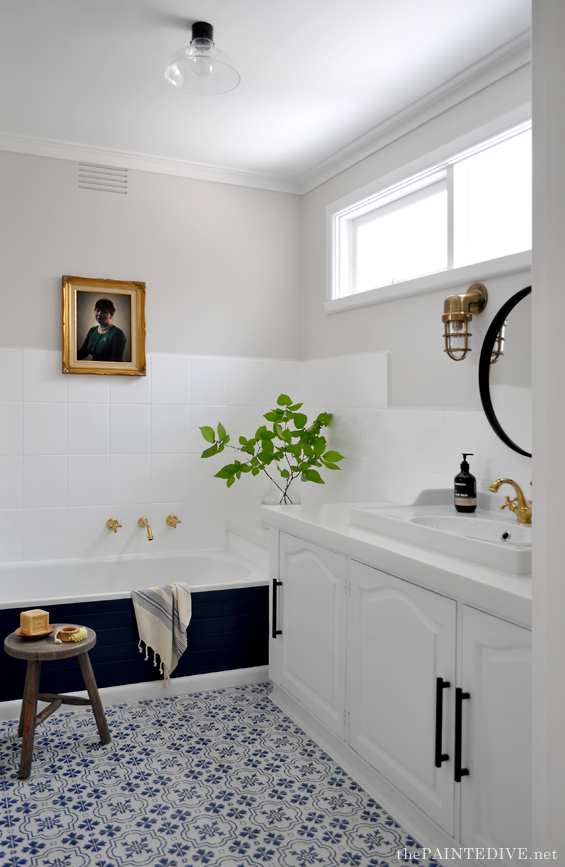 The vanity and cabinet handles were on sale from Bunnings for just $4 each! They were originally silver so we spray painted them gold. "Gold?" I hear you say, "they look pretty black to me". Well, yes, I decided I didn't like the gold so we tried matte black instead – much better!
You've actually probably noticed there's a mix of metals. It wasn't our intention to have brass, gold, black and chrome though it just kinda worked out that way – mainly due to cost and availability (for example, the shower door fittings were just offered in silver or white, and the sconces came in antique brass only). Though far from detracting from the overall scheme, I think it actually adds interest. So, if you're agonising over mixing metals, I say chill.
Everything else in the space is just 'dressing'.
The little stool is a hacked Kmart piece (find the tutorial here). All up it cost less than $20.
The lovely turkish towels, which hang on $3 SVARTSJON hooks from Ikea, were a bit of a splurge at $28 each. I justified the expense by gifting them to mum for her birthday.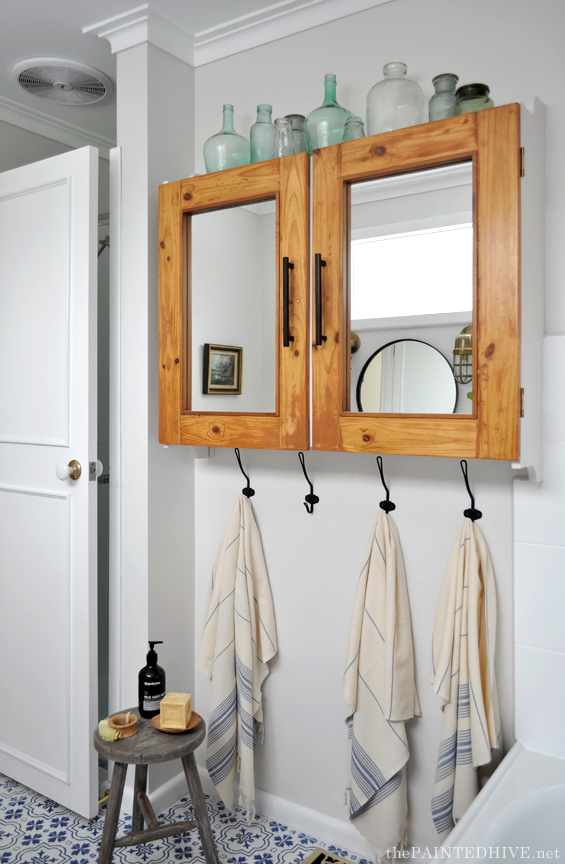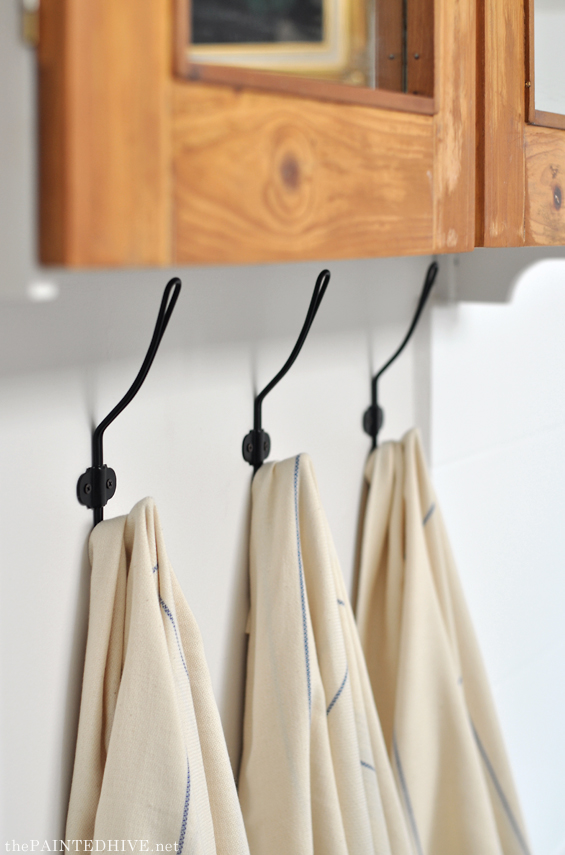 From the beginning I envisioned a single portrait on the rear wall. This one, of my mum, was a fun DIY I shared a few years back. You can find the full how to here.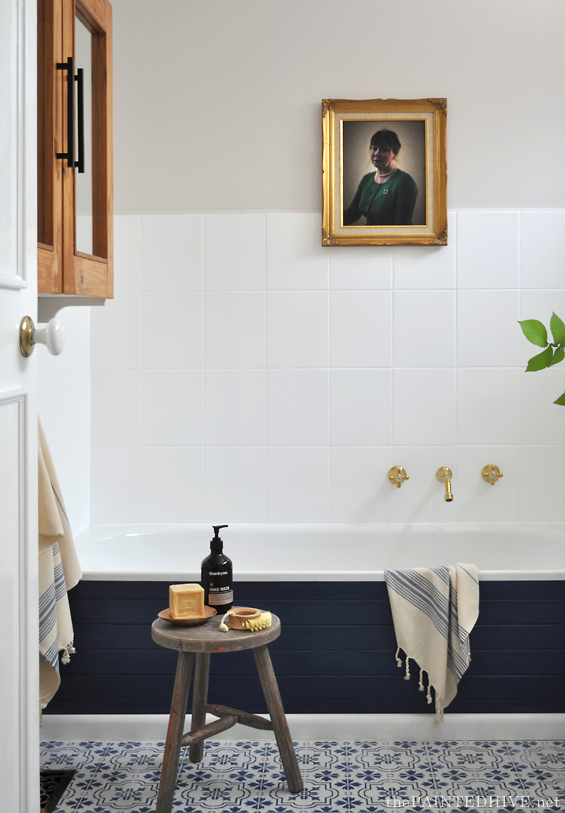 The other artwork is a sweet vintage print from the op shop.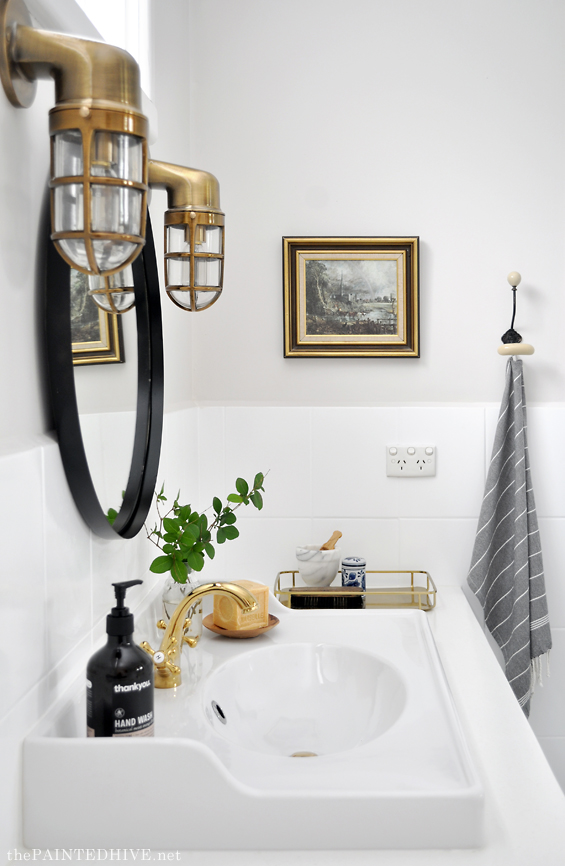 And beside it is this lovely washroom coat hook from Abodent.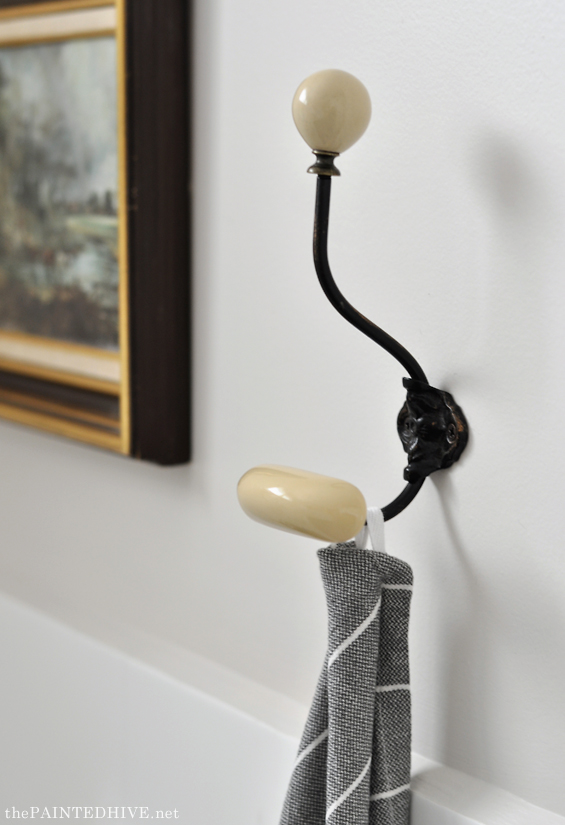 I was going to leave the top of the cabinet empty, though then I started filling it with our collection of green glassware and couldn't stop!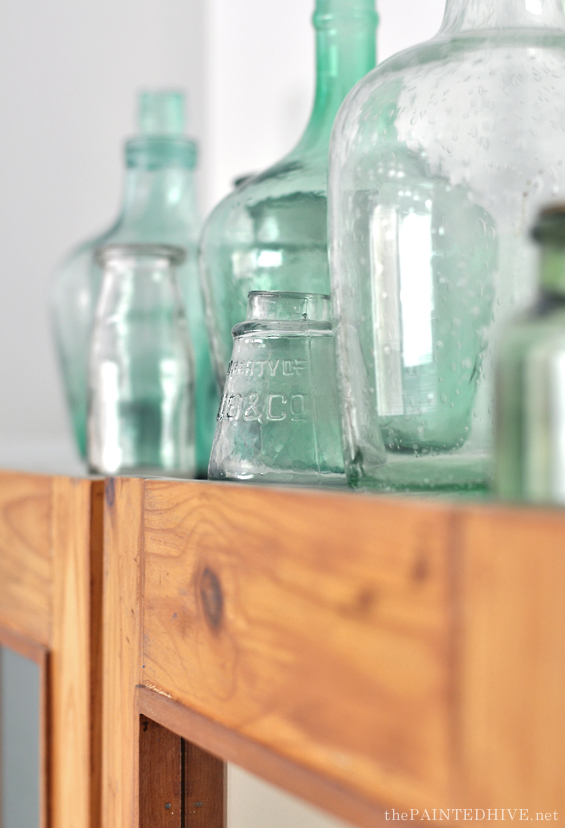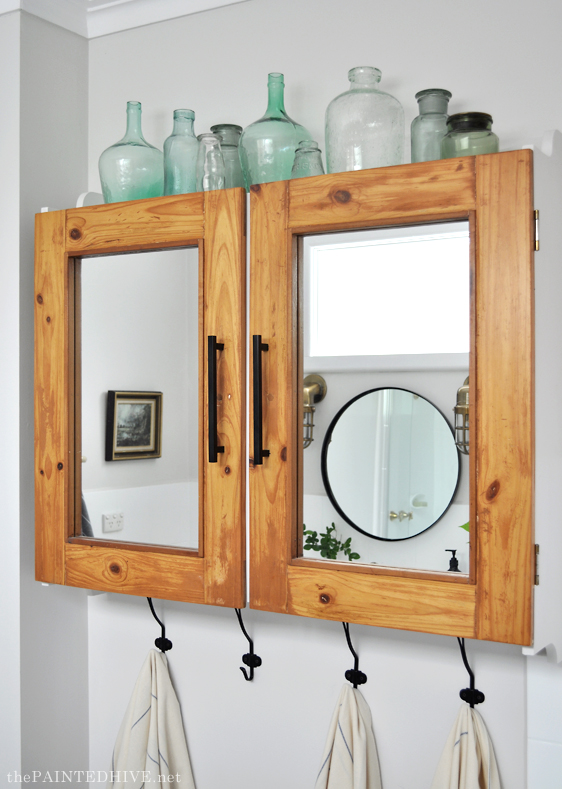 I get like that with green glassware!
The round mirror is an inexpensive Ikea piece (I can't find it on their website anymore though mirrors like this are available in lots of places nowadays). It was originally silver so we spray painted it gold. "Gold?" I hear you say, "it looks pretty black to me". Well, yes, I decided I didn't like the gold so we tried matte black instead – much better! Is anyone else having deja vu? He, he.
Finally, on the vanity a $12 gold metal tray from H&M holds a few vintage finds.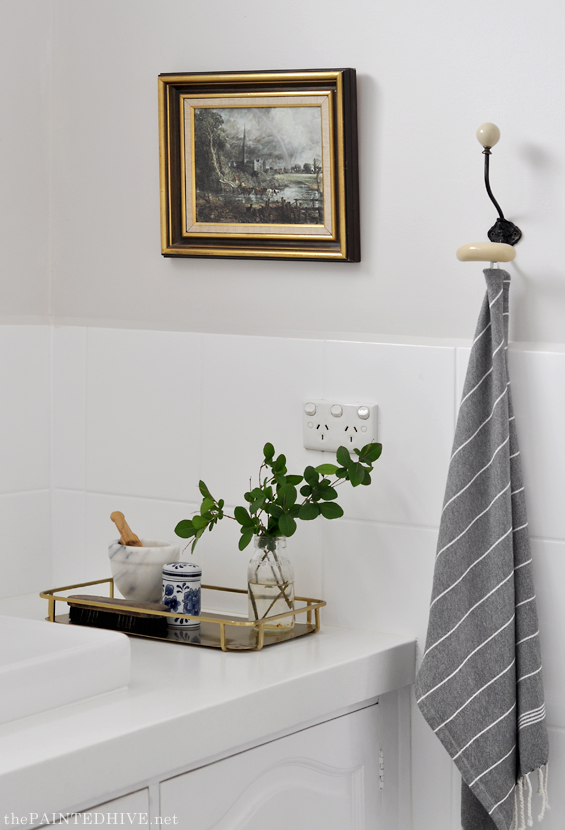 Okay, I think that's it. Man, that was a looooong post. Now I see why I procrastinated over writing it – ha, ha.
Sorry I don't have step-by-step tutorials for all of the projects though my parent's did a lot of the work whilst I was home wrangling my kidlets. If you have any questions, please ask away.
As always, I really hope this has motivated you to have a go at working with something you have. It's easy to give up on an ugly room, or to get hooked on the design minutiae, though with some imagination, adaptability and your very own hands, reinvention is totally possible.
Now, to finish, some before and after comparisons just for fun.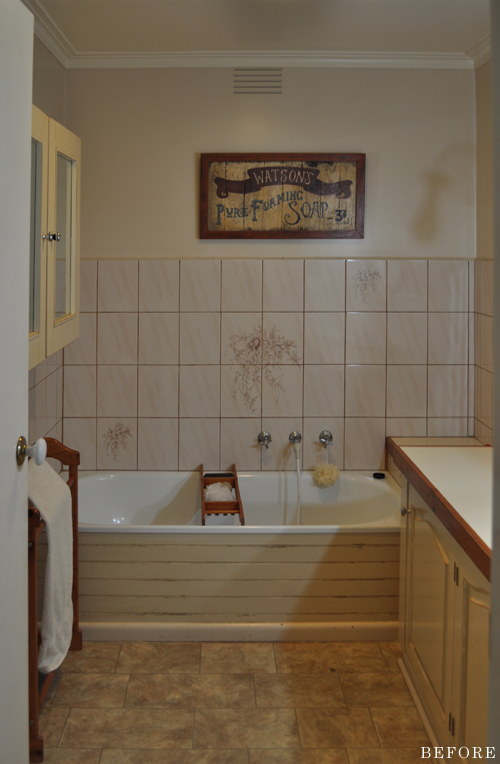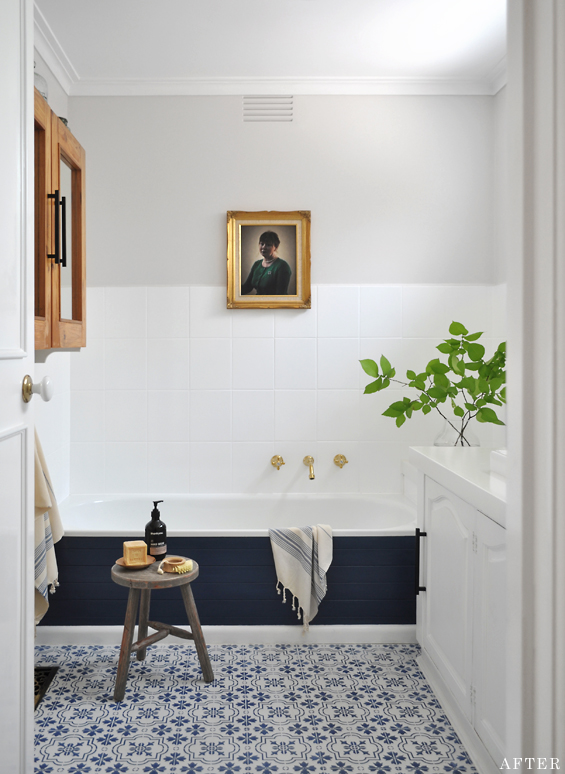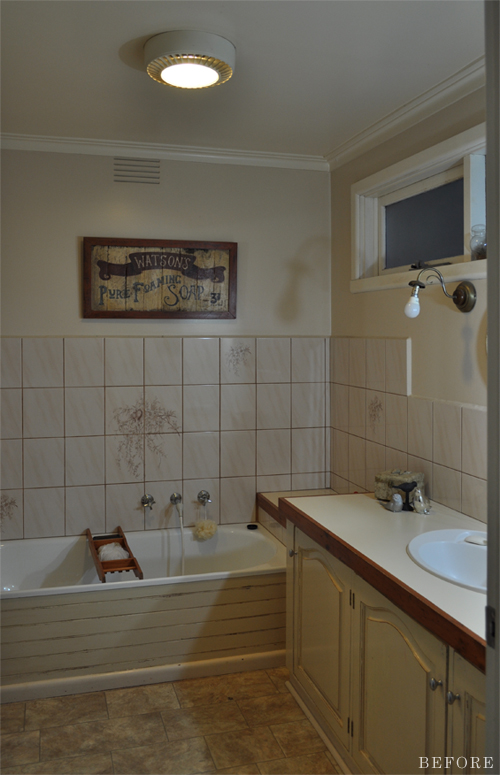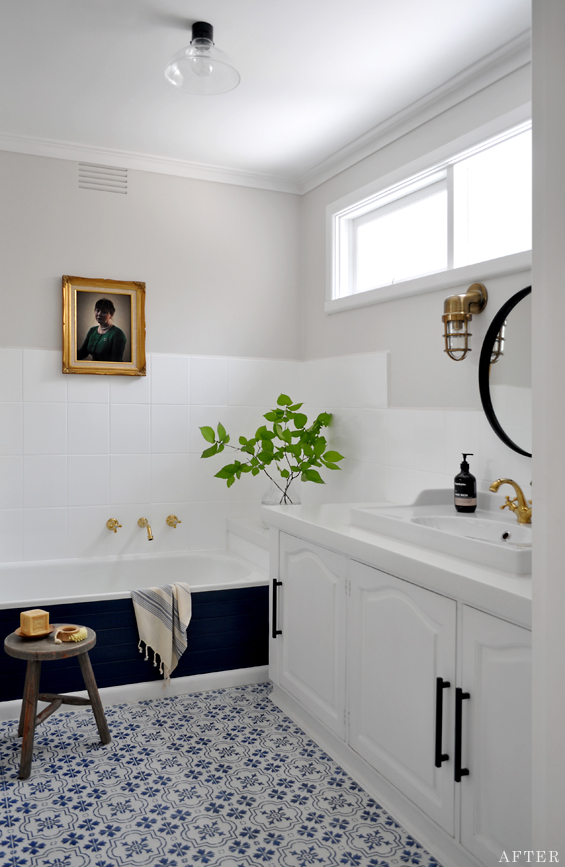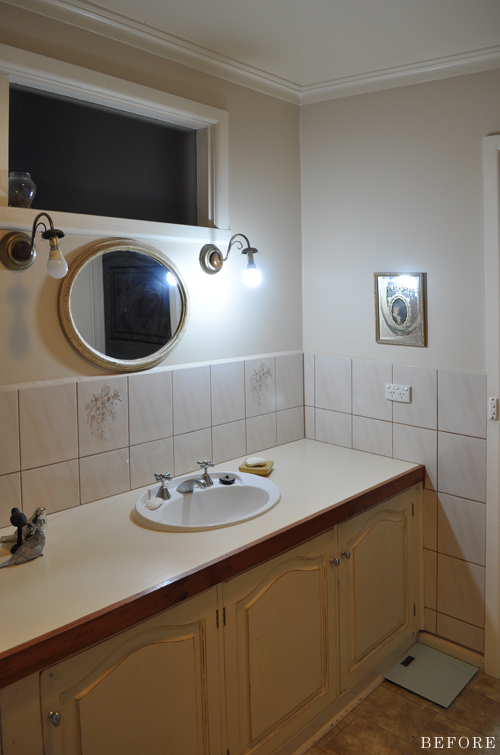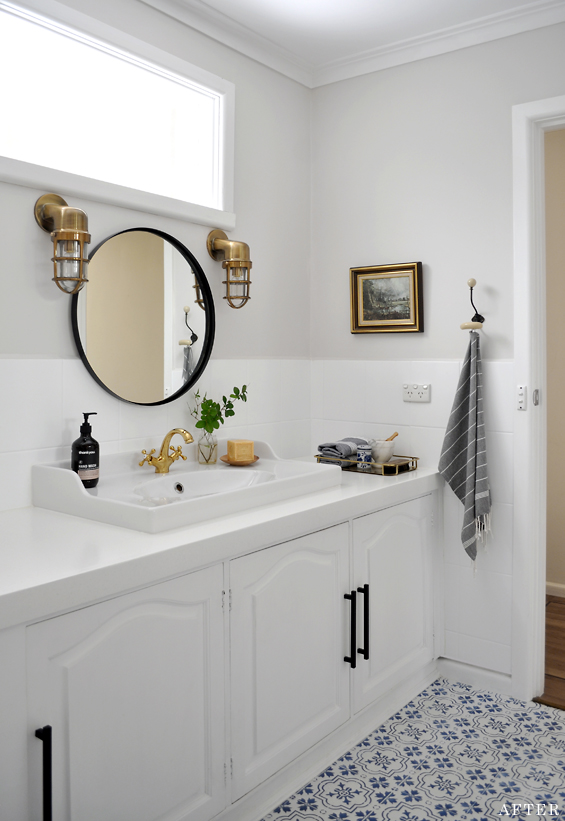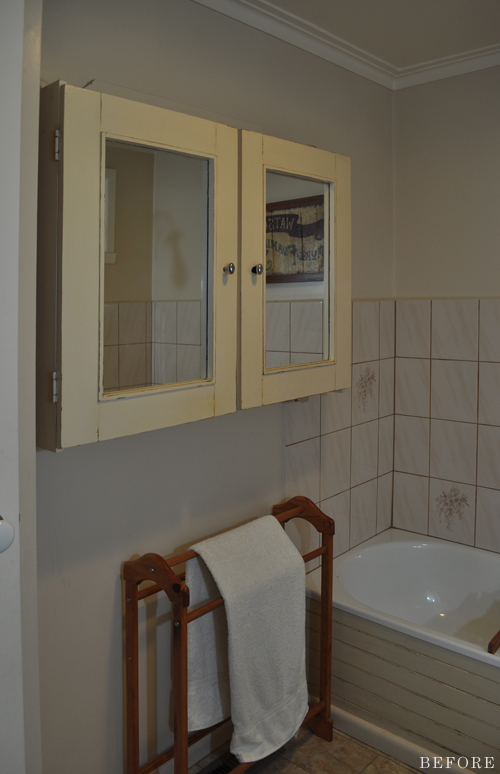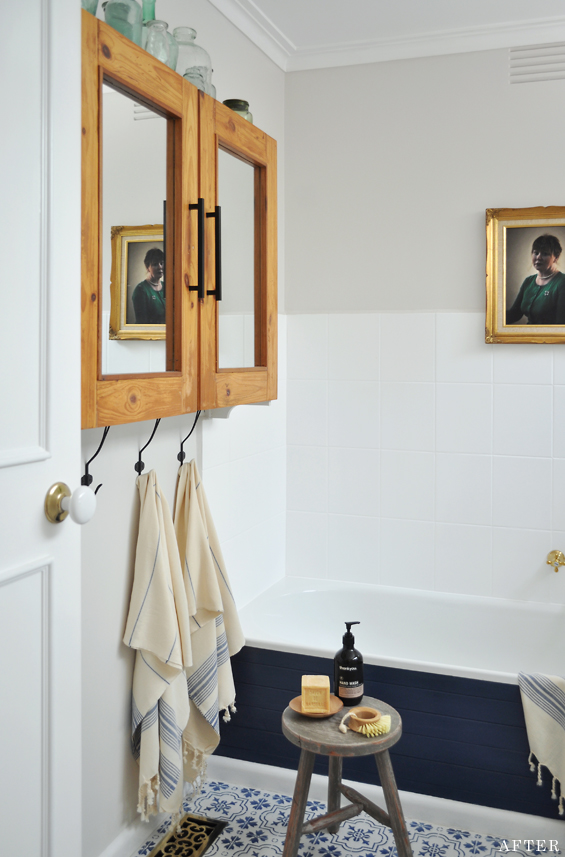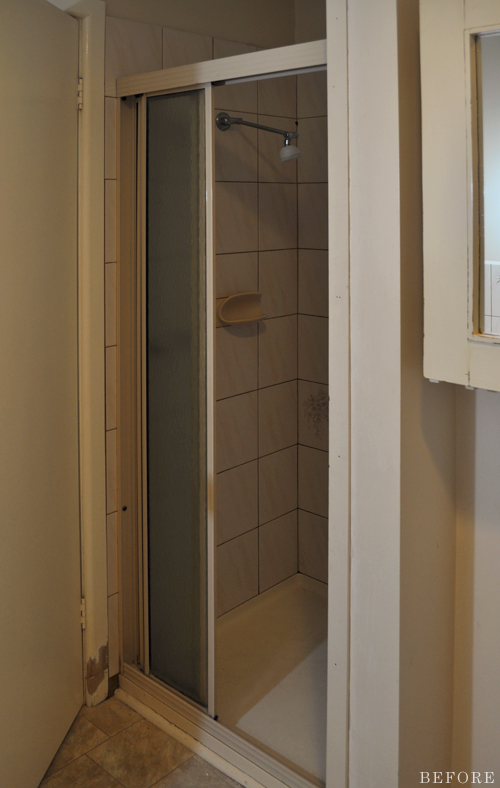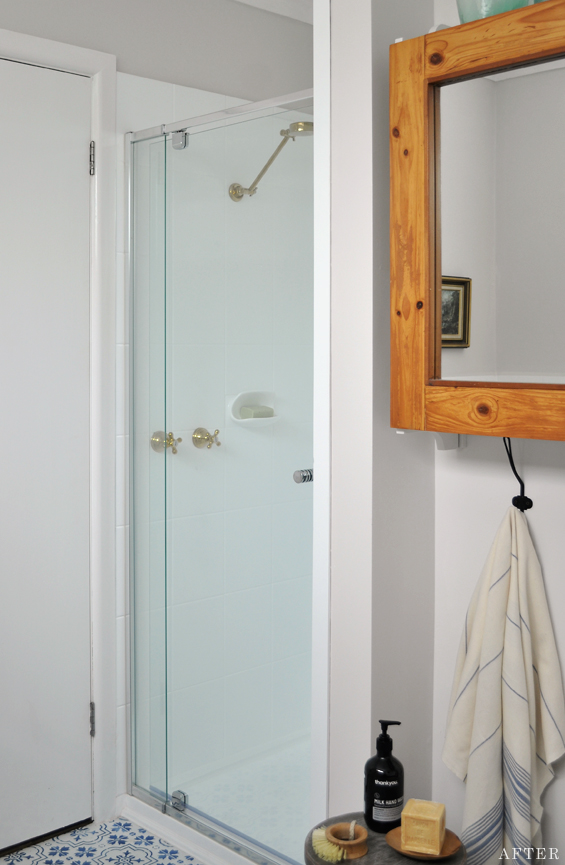 I just did some rough calculations and the ENTIRE makeover came in at well under $2,000. Not bad!
I hope you like it.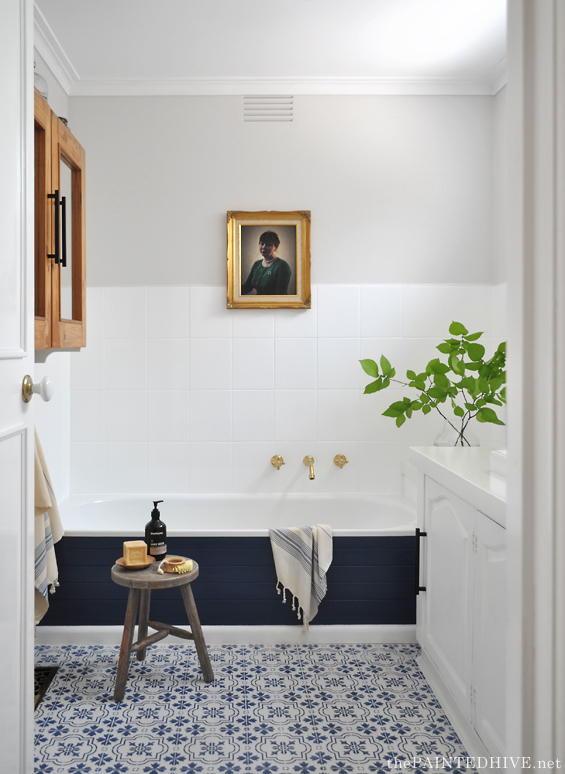 In other news, I recently started a home decorating Facebook group!
With a focus on stylish, budget-friendly, DIY interior decorating, it's a positive community of home enthusiasts designed to enlighten, encourage and empower everyone to craft a home they truly love!
You can share information and find creative ideas, ask a question or offer advice, or inspire others by showing-off your latest project or product find.
I'd love to see you there!