Hello lovely people!
Sorry I seemed to disappear for a little while back there.
With school holidays, Easter and a week-long family camping trip the flip house got put on hold for a bit.
Though I'm back in full-force now and ready to finish-off the facade!
Remember my initial vision of the black carriage-style garage door?
It was going to be so beautiful, right?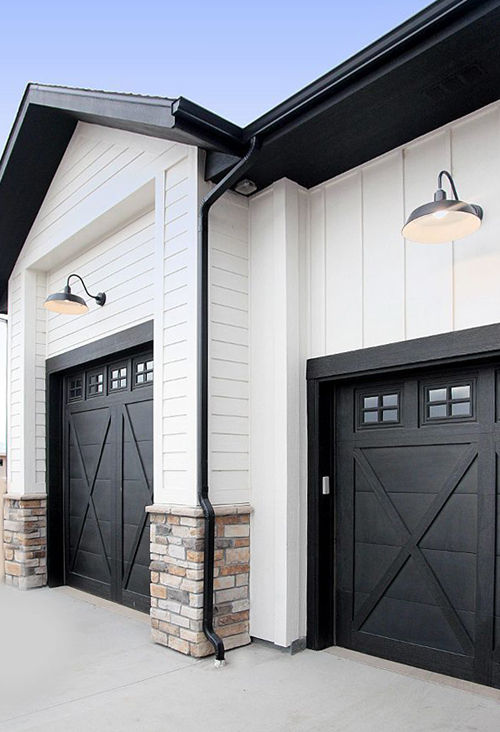 Well, some things just aren't meant to be.
After lots of research I had to weigh-up some pros and cons and have concluded that a carriage-style garage door may not be quite right for this particular project.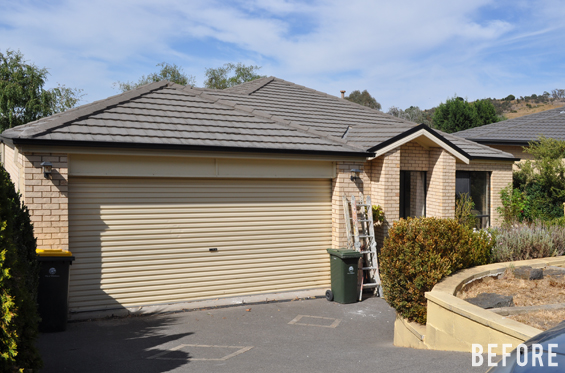 Although it's do-able, and as much as I wanted to share it to help inspire others, it just didn't feel warranted in terms of budget, ease and necessity.
I knew from the start that without some DIY a carriage-style door was going to be way over budget. Sure enough, after a few enquiries I discovered I was looking at around 7K – 10K to have one made and installed. Yikes!
My only option was to purchase a new blank door and clad it myself (I did look into second-hand doors too however compatible ones are few and far between).
Although I didn't love the idea of modifying a perfectly fine brand new door, and knew there would be warranty, load and clearance issues to consider, it felt like an achievable project.
My initial idea was to use a monolithic tilt door. Tilt doors are constructed from one single panel (hence the 'monolithic' title) and don't need to fold so I figured it would be the easiest to work with. However, after some research I learned they are one of the more expensive styles (I was looking at around 3K) and aren't ideal in all circumstances, such as where there is a ground incline or lowered lintel – both of which we have here.
Next I looked into using a sectional door (around 2.5K). As sectionals come in four or five panels which need to partially fold it would mean more work in terms of measuring, cutting and attaching the trim – which I really wasn't looking forward to. I mean sure, I could do it, though I kinda didn't want to. I know that probably sounds lazy. For my own home I wouldn't hesitate though I just wasn't sure it was worth it for this flip house. Plus, new sectional doors can look quite schmick in their own right, so altering one felt a bit excessive and self-indulgent.
Finally I checked out the Gliderol range available through Bunnings. At this stage my carriage-style door ambitions were seriously waning. I was even beginning to think that a timber finish might work better than black. Although my budget would never extend to real timber, I found that Gliderol offers faux woodgrain doors in a few different styles and colourways.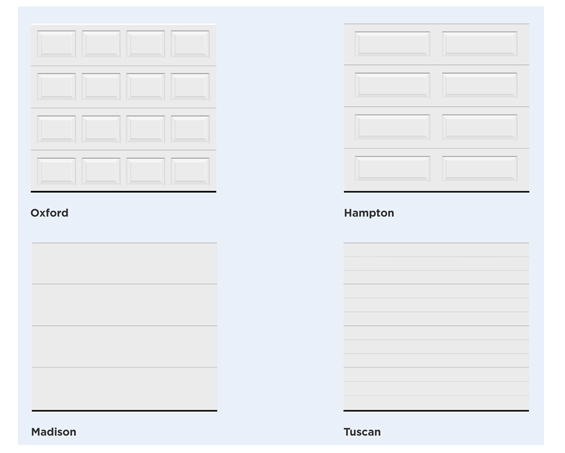 I was initially leaning towards a traditional style door, like the Hampton, though eventually determined that the Tuscan, with its simple planked design, would lend itself well to the modern cottage feel we were going for.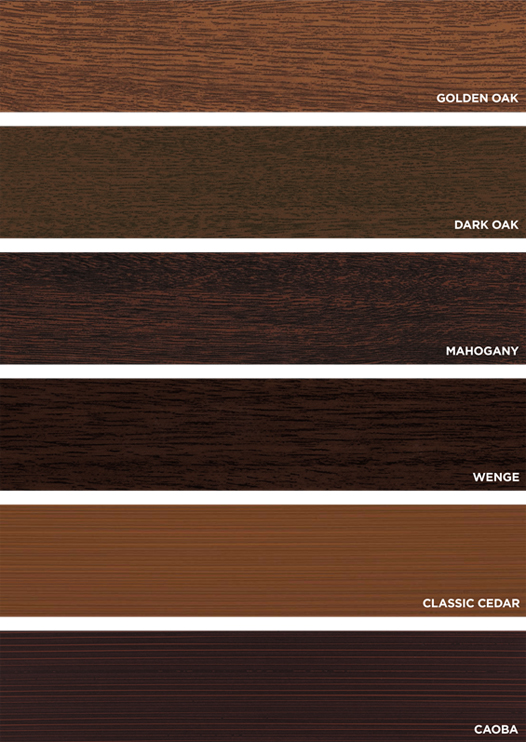 Although I'm yet to settle on a colourway at this stage I'm thinking the Golden Oak may work best.
Anyhoo, after some negotiation I was able to secure a fantastic deal (around 1.2K – usually 2.5K). Seriously, how could I say no? Not only is the price amazing though it will look fantastic and eliminates my need to do any work. SOLD!
I'm still waiting on an official 'check measure' to confirm things though am hoping it will be installed by the end of next week. Fingers crossed because, sans styling, it will mark the completion of the facade!

In other flip house news, if you follow me on Instagram or Facebook you may have seen that I painted the gable fascia black.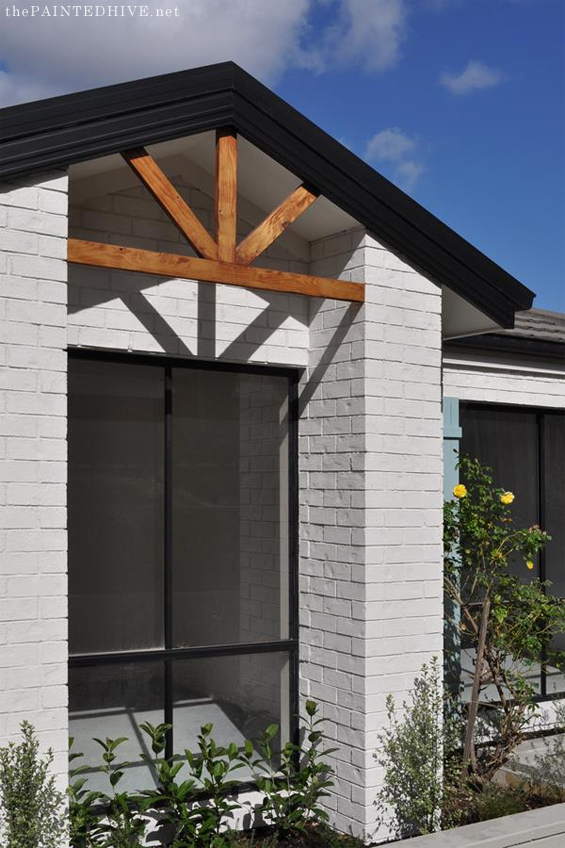 Ignore the dirty windows and unfinished garden.
It was a quick and easy change which just adds a bit more oomph and depth to the overall scheme.
Although the original white wasn't wrong, to me it just felt a bit stark and prominent given it was the only section of fascia not shadowed by guttering.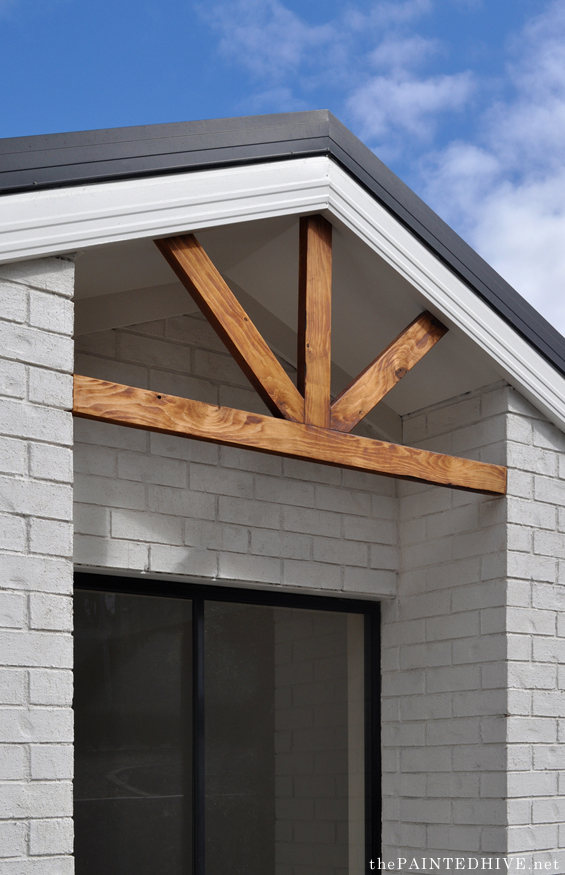 The black also allows the timber to really pop and just comes across as a tad more modern.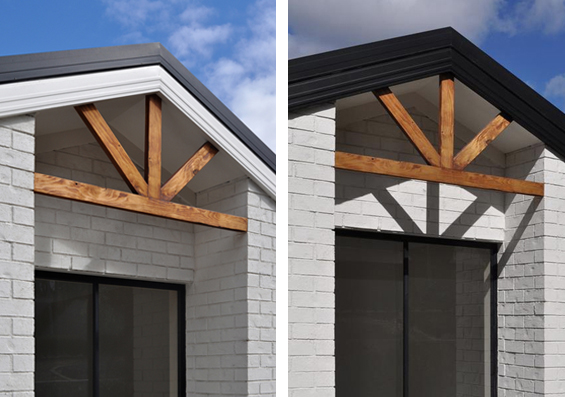 Now that the facade is almost complete we're going to begin working on some small jobs inside and I'll start thinking about furniture and decor – yay!
You can catch up on all the previous flip house posts HERE.