If you caught my last post, you may have read that a "custom" bathroom vanity was included in the extension build contract, so we assumed we could request pretty much whatever we liked (within reason of course). My initial plan was to go with solid timber, so we could then choose to stain or paint it as desired.
However, we've since come to learn that there are a few limitations, mainly due to the fact the builder uses a cabinet-making company which focuses on producing vinyl wrapped MDF. There goes my solid timber idea!
Of course, we always had the option of forgoing the contractual inclusion and buying or commissioning something ourselves, though my parents weren't fussed about making the most of what the builder had offered. And the fact is, we were never looking for some kind of amazing showpiece. We just wanted the vanity to be quite simple and classic. Plus, sticking with the vinyl wrap option is likely to be much more economical!
Also, if I'm honest, I don't have a huge problem with vinyl wrapped MDF. It's super common, durable and low-maintenance. The only real issue is that it does somewhat limit our choice of finishes, which is a bit of a shame.
So, not knowing exactly what our options were, mum and I visited the cabinet-making company a few days ago to look at swatches of the available finishes, and also see the range of door profiles.
We knew from the start we wanted shaker style cabinetry, and are currently tossing-up between these doors…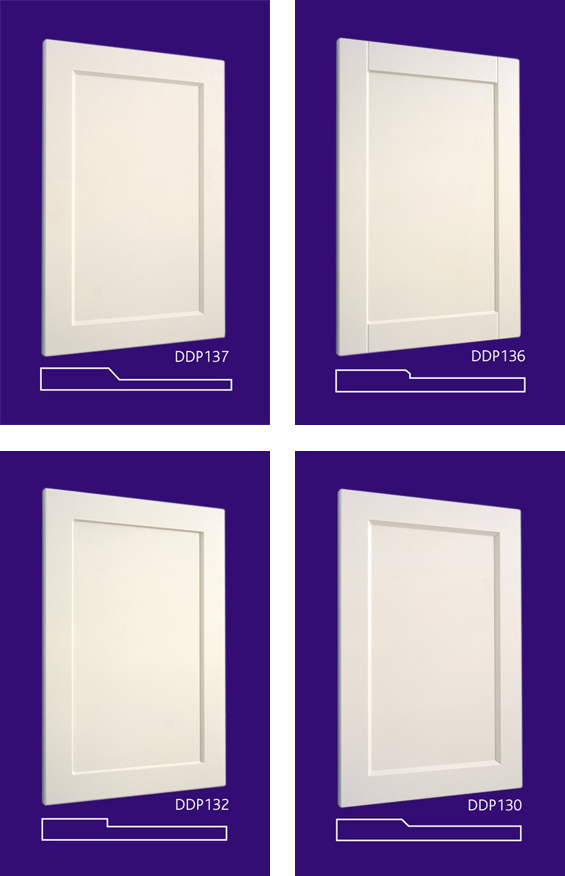 Do you have a favourite?
As for the finish, we didn't want anything glossy, and mum was keen on charcoal, duck egg, taupe, white or a nice wood-grain.
If you've been following along you may have seen that in my previous renderings I've included deep green (which I adore but my parents aren't fans of) and rustic mid-toned timber (which everyone seems to like). However both of these finishes aren't included in the vinyl selection offered by the cabinet-making company.
In fact, the choice was pretty limited. Aside from white, which came in about one million variations, there was only really one decent option in each of our chosen colours. So, here's what we're working with…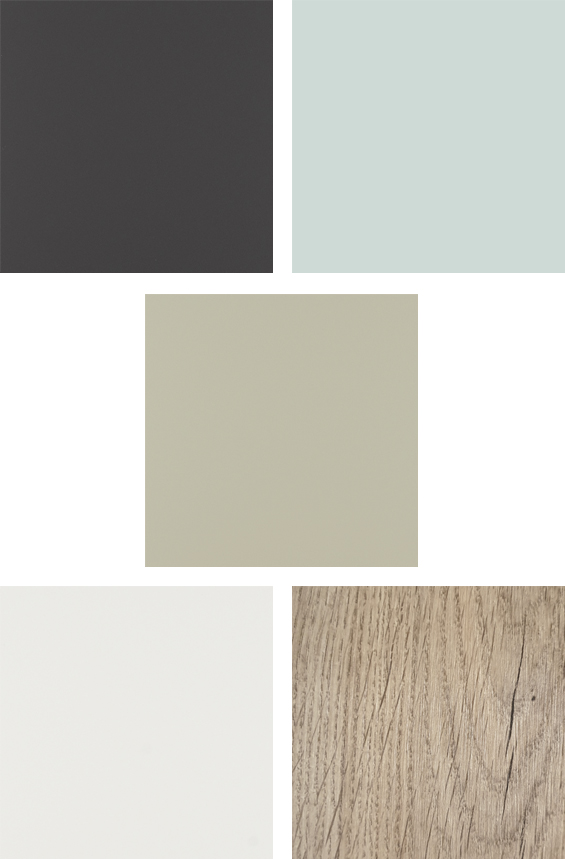 And here they are in place in my rendering…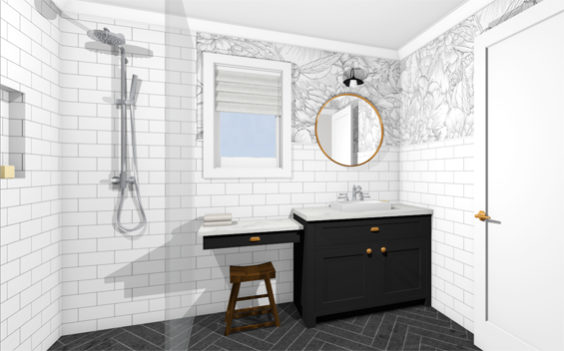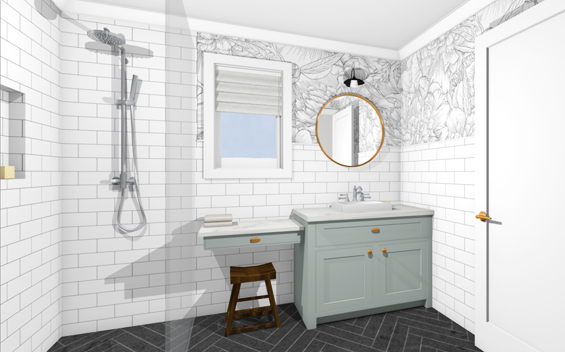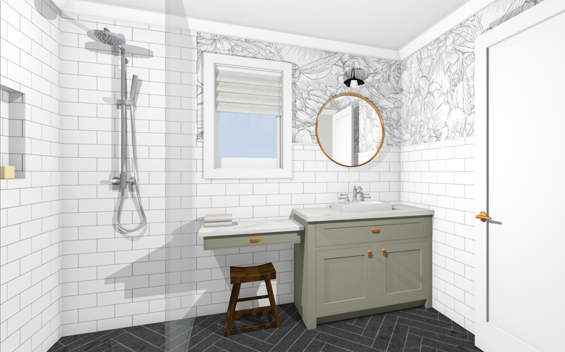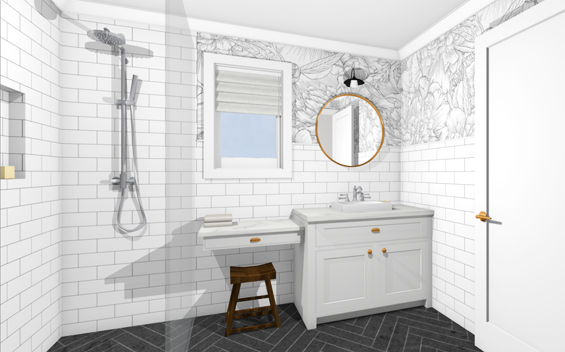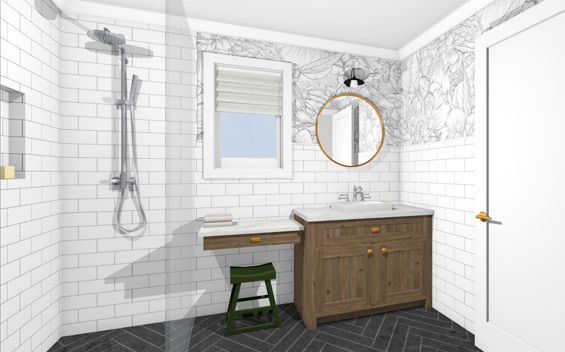 Personally, I like them all and there is really no right or wrong. It just comes down to personal preference. Still, we needed to make a decision ('cause I reckon it would just look weird having one panel of each!). So, here's how we narrowed things down…
CHARCOAL | I love the depth and pop of dark cabinetry, though here with the floor it just felt a little too much. Generally, I like dark cabinets when they're a stand-alone feature. Plus, it's not an overly bright room so the charcoal won't help lighten things up.
DUCK EGG | This is really lovely. I'm just a bit concerned that the pastel tint will define the vibe of the room (it's a little bit coastal/vintage/feminine), and limit the potential to change the general feel in the future. It will also somewhat dictate the wallpaper we can choose.
TAUPE | Nice, warm and neutral. It's nothing amazing though it's totally inoffensive, yet a tad more interesting than white, and I do really like it.
WHITE | You can't really go wrong with white, but sometimes it can just feel a little 'blah'. Don't ya think? Still, a definite classic option which can be dressed-up if needed.
WOOD GRAIN | We've been leaning toward timber from the start, as a way of injecting some warmth and texture into the space, so this option did have a bit of an advantage. My main concern is that this is faux timber and whilst it looks and feels (it's textured) great on the swatch, we haven't actually seen it used over a large surface in real life – and faux finishes can be so risky! Considering this, I left the decision up to mum (that way I can't be blamed if it looks crap!) and she was willing to take the gamble! Fingers majorly crossed!
So, it's wood grain for the win!
The top will be Caesarstone (as specified by the builder) and we've already narrowed that down to 40mm/1.5″ Frosty Carrina, which has gentle ivory tones and subtle powdery veins.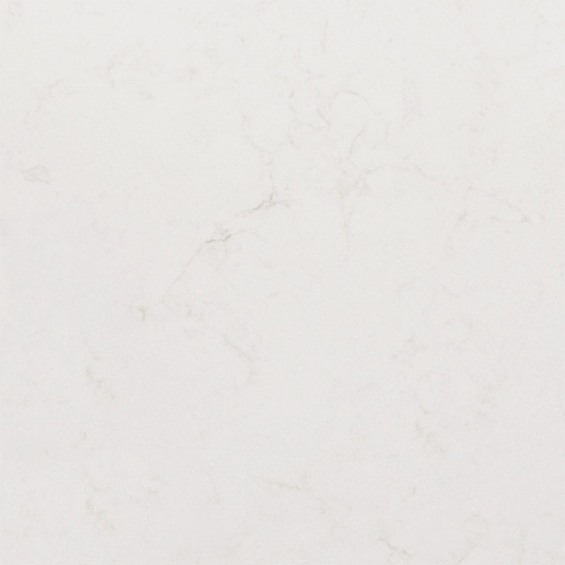 We're still refining the overall design of the cabinet, but it will more or less be along the lines as previously shown – a faux upper drawer to conceal the basin and plumbing and a two door cabinet below with a recessed sunken make-up bench to the left.
Not sure if the bench can be floating at this stage. If not, we'll need to add a panel to support it which is really no biggie.
Here are a few inspo images I found which incorporate similar-ish vanities…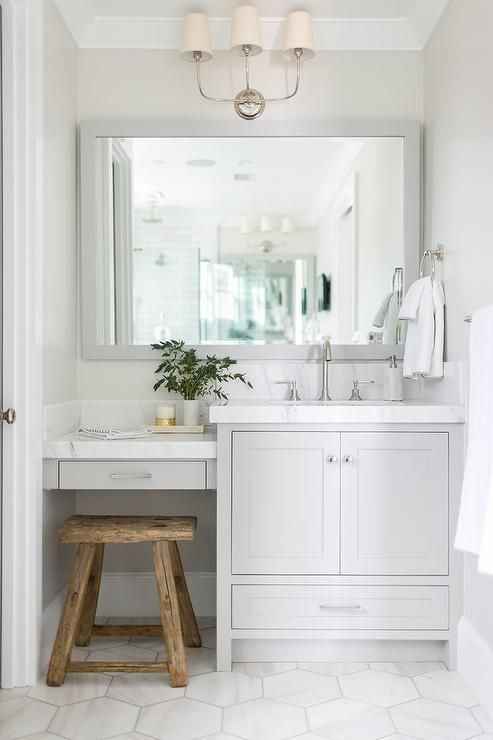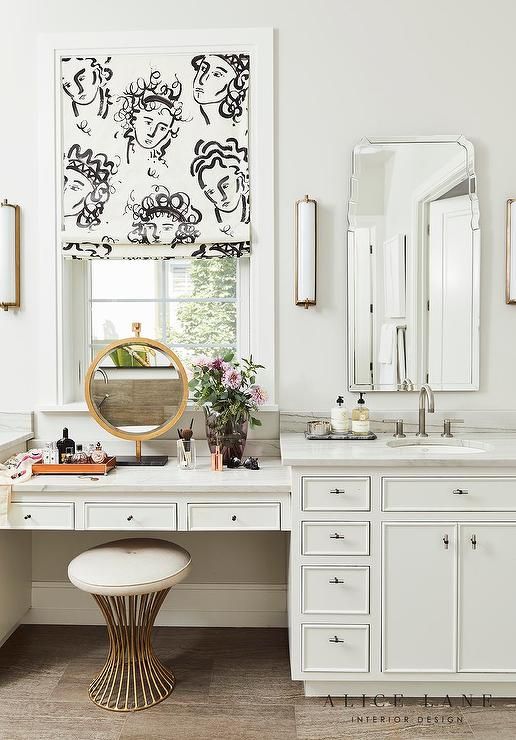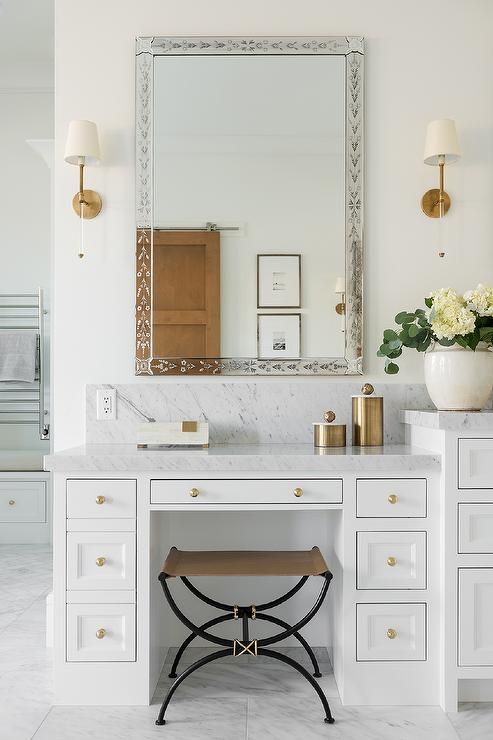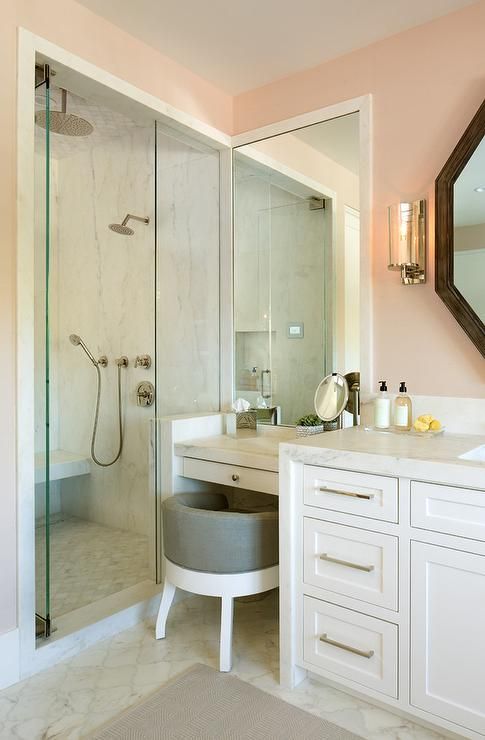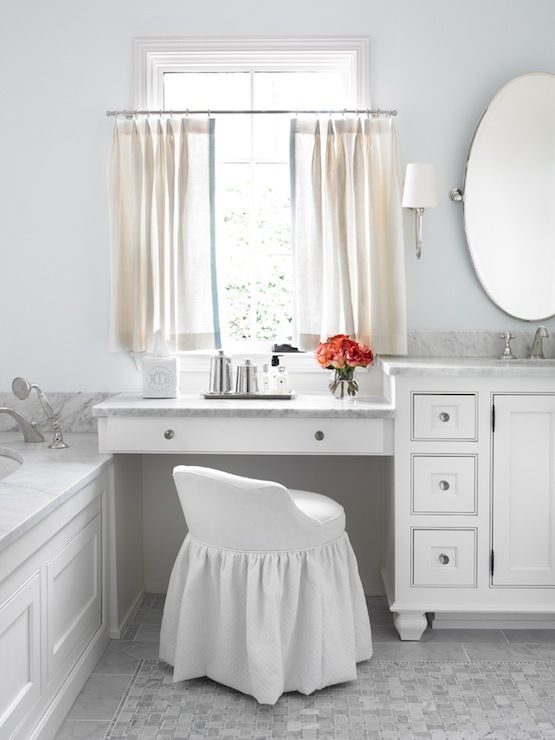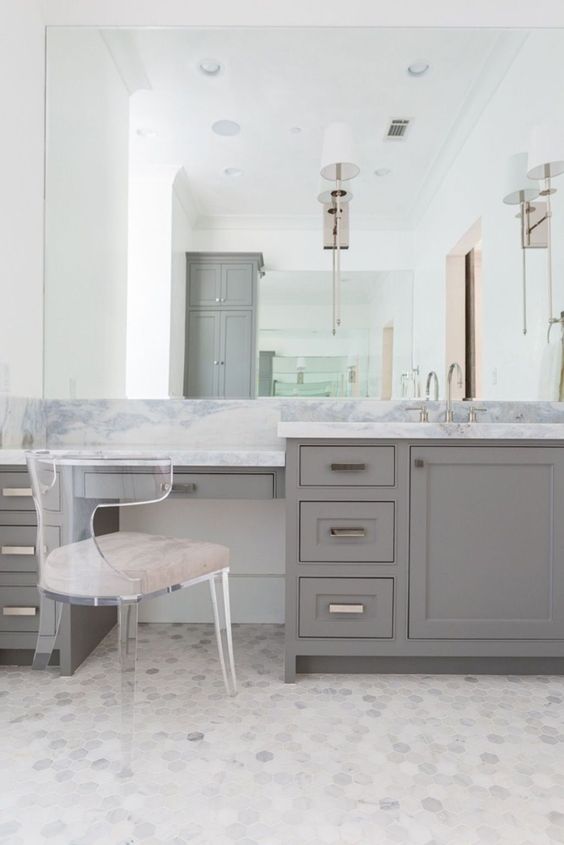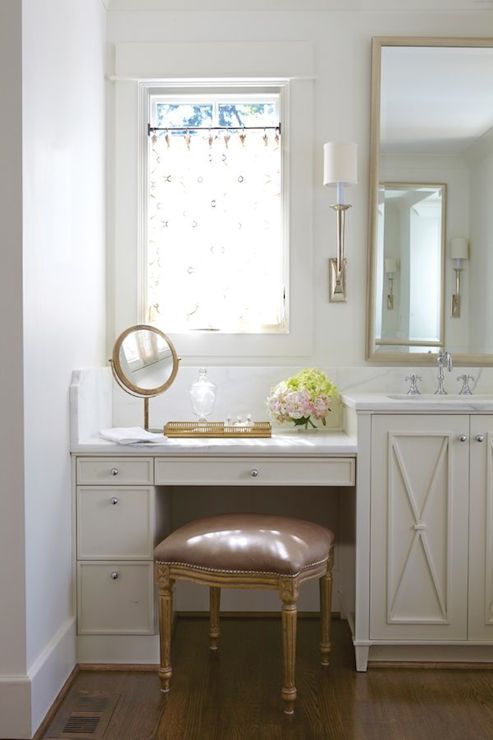 Not sure on the hardware yet. I do love the idea of brass however we'll wait and see as the room comes together.

In other extension news, we're almost at lock-up!
The final coat of render went on the exterior a few days ago and after some (okay, lots of) self-doubt, I absolutely LOVE the colour (Dulux White Duck). Sorry, it's a bit hard to see here through all the scaff and with the sun shining on it.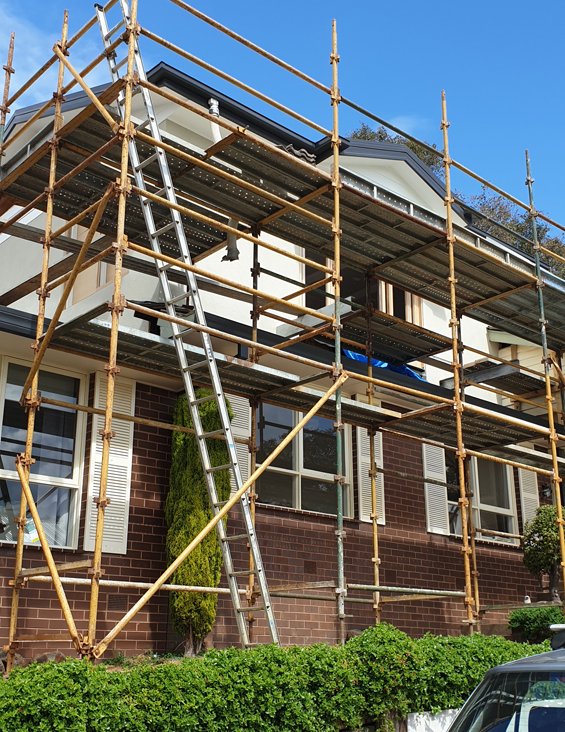 Likewise, I'm also loving the weatherboards and eaves (Dulux Snowy Mountains Half) which dad has finished. The earthy white of Snowy Mountains Half works beautifully with the greige tint of White Duck, and the roof and gutters (Colorbond Monument) provide the perfect bold contrast.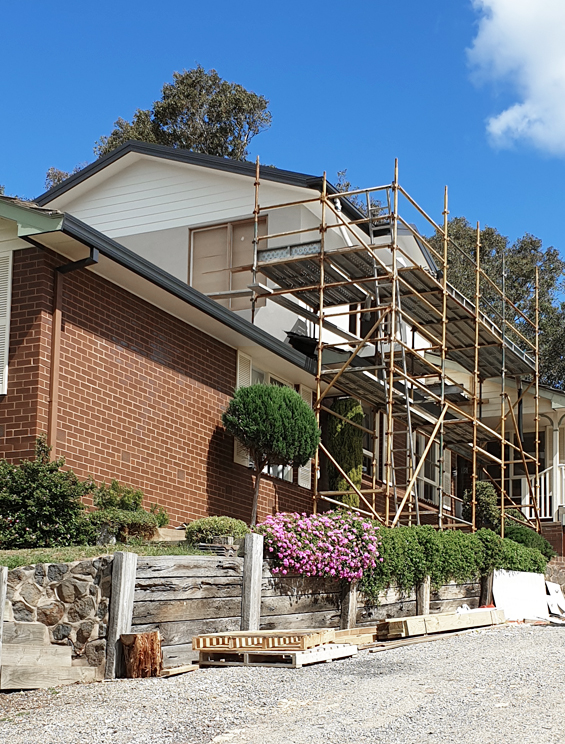 Inside, the plaster is up and the waterproofing is done!
Here's the kitchenette (it's a little dark because the windows are still sheeted up).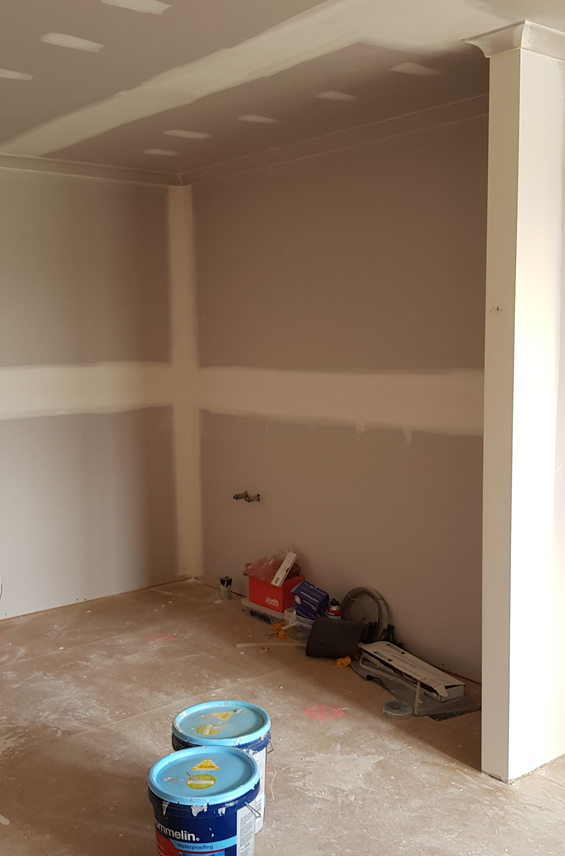 And here's the bathroom.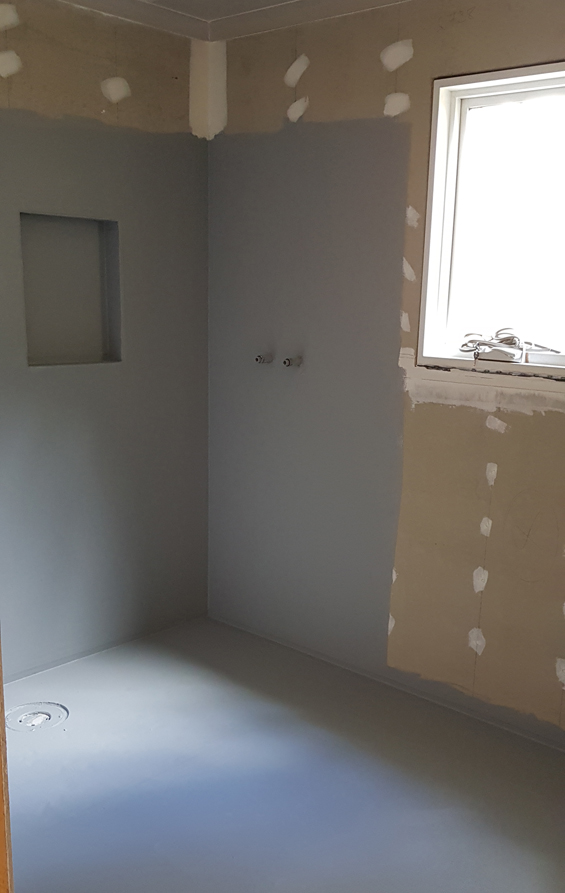 The glaziers will be installing the window glass tomorrow, and next week the tilers start!
Then onto the staircase and flooring – among other things!
Will be sure to share each stage as we go!