Last week one of my daughter's closest friends celebrated her 9th birthday.
She is obsessed with Harry Potter, and her mum is an author, so for something special I decided to make her a custom book page sign.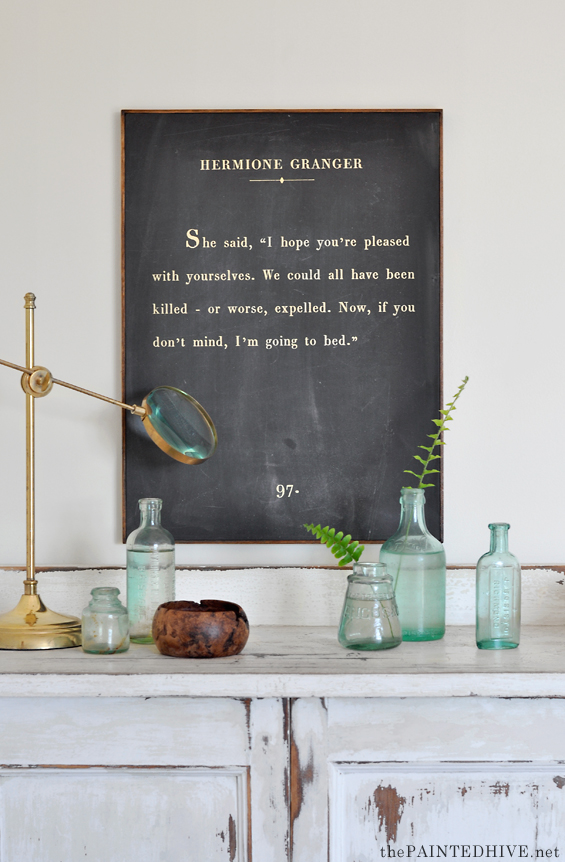 Yeah, I know it's not the funnest kids' gift in the world, though I knew she would appreciate it.
I've made a few of these signs in the past using regular poster paper, but this time around I decided to experiment with a different kind of material – self-adhesive terylene.
Not only is it more durable than regular poster paper, it has a nice canvas-like texture too, and is a bit easier to apply.
You see, although I've gotten pretty good with using regular poster paper, it still has its risks in terms of bubbling, waving, bleeding or tearing during the gluing process. Most of these issues can be avoided by using the 'dry-glue' method (where you coat your surface with adhesive, allow to completely dry, then reactivate the glue with heat – usually using an iron – to attach the paper) but it's still not fool-proof. Plus, I just wanted to try something new.
Of course, the first thing I did was decide on a quote and design the image.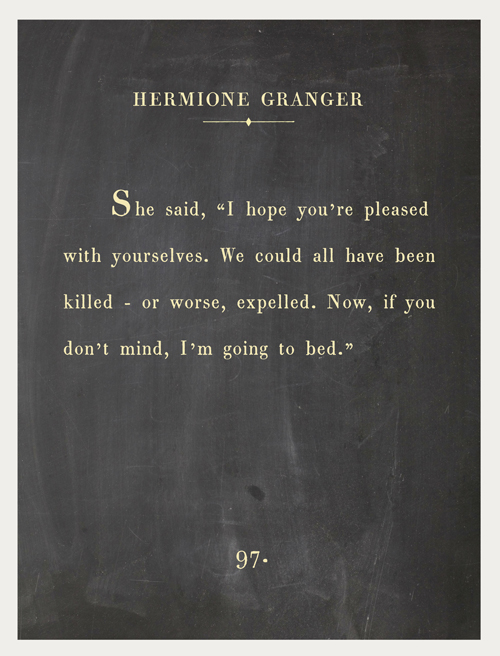 I've created a few custom Harry Potter book page signs in the past, most of them with deep and meaningful quotes, but I wanted this to be a bit fun and quirky. This Hermione quote might be a little left of center but I know it's a bit of a favourite among the kiddoes. The page number (97) represents the year the book was first published.
I used Photoshop to design the image though you can also use a basic publishing program (such as Word) or any other photo editing or graphic design software.
My original book page quote signs are large poster size (60cm x 90cm/24″ x 36″) however I decided to make this one smaller at around A2 size (42cm x 60cm/16″ x 23″). Due to the fact I planned to build my own custom frame I didn't need to size it specifically. If you intend to use an off-the-shelf frame, then be sure to design your image to fit.
Once I was happy with my image I had it printed through Officeworks using their Self Adhesive Poster option. My A2 print cost just $15 (which is actually cheaper than their satin regular poster paper!).
Note: Most print stores will provide a self-adhesive option. If you don't have an Officeworks near you, check what your local print store can offer. Or you can order online through Officeworks.
To back the print I bought a 12mm/.5″ deep MDF off-cut from my local hardware store for $2 and cut it to size. I used my trusty track saw though you could use a regular circular saw or even a jigsaw. Or, ask the hardware store to cut it for you.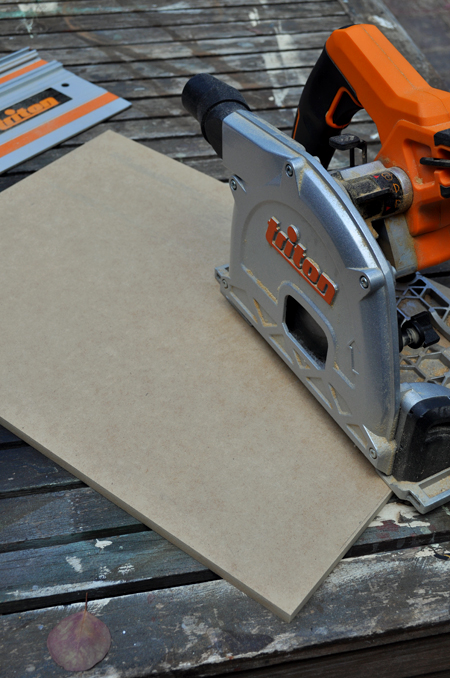 I made sure the MDF was nice and clean, positioned my print in place on top, then gradually peeled the backing away, before smoothing it down.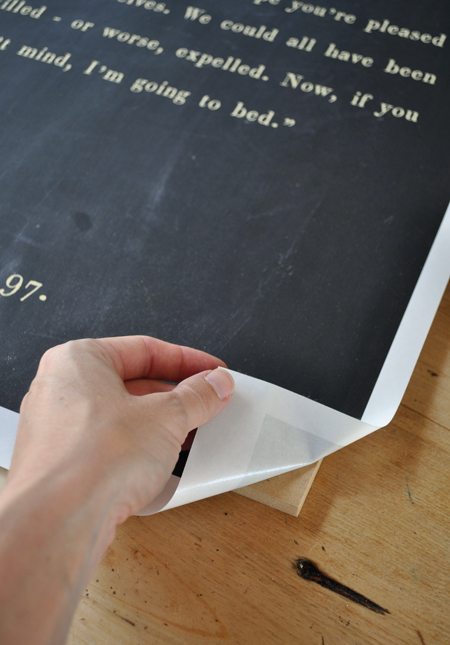 Sorry, it was a bit hard for me to take photos of this process as I needed both hands, but it was really easy. Just like peel and stick wallpaper. And unlike conventional vinyl contact, which can easily bubble and crease, I found this super forgiving.
I then trimmed off the white excess and pressed the remaining poster border around the side of the MDF backing.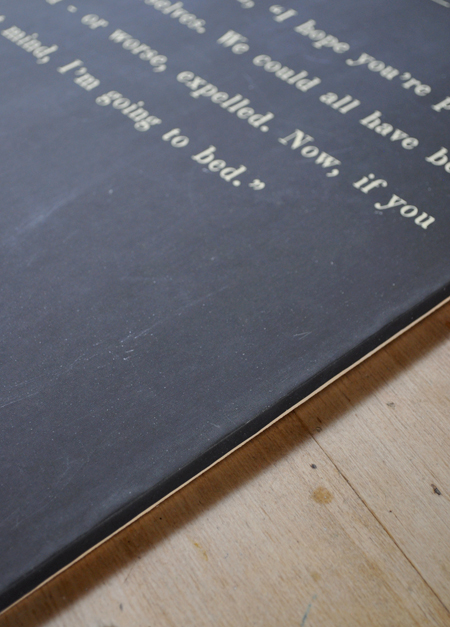 Note: Because I was making this as a gift I wanted it to look super neat and professional. As such, I didn't want any of the excess poster fabric visible from the back. Under different circumstances I wouldn't have bothered trimming it and would simply have wrapped the entire thing around the MDF.
To frame it, I used some simple pine trim ($8) which I cut to size and stained a warm walnut.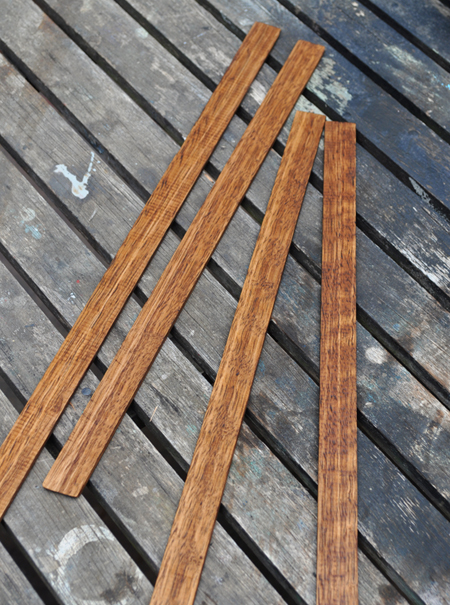 I attached it directly to the MDF backing using some wood glue and fine finishing nails, which I later countersunk and filled with co-ordinating wood putty.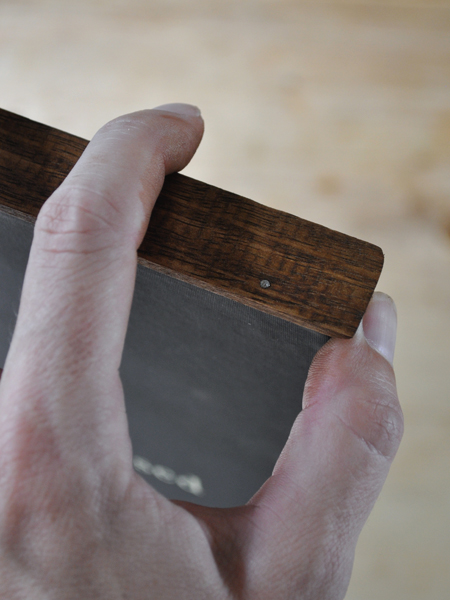 You can also simply colour the nail heads with a black or brown permanent marker and they should blend right in. The frame is supposed to be a bit rustic so there's no need to worry about making it perfect.
Note: The nail isn't centered because the trim is deeper than the backing (not because I'm ridiculously bad at lining things up – however that may also be true – LOL!).
It's that easy!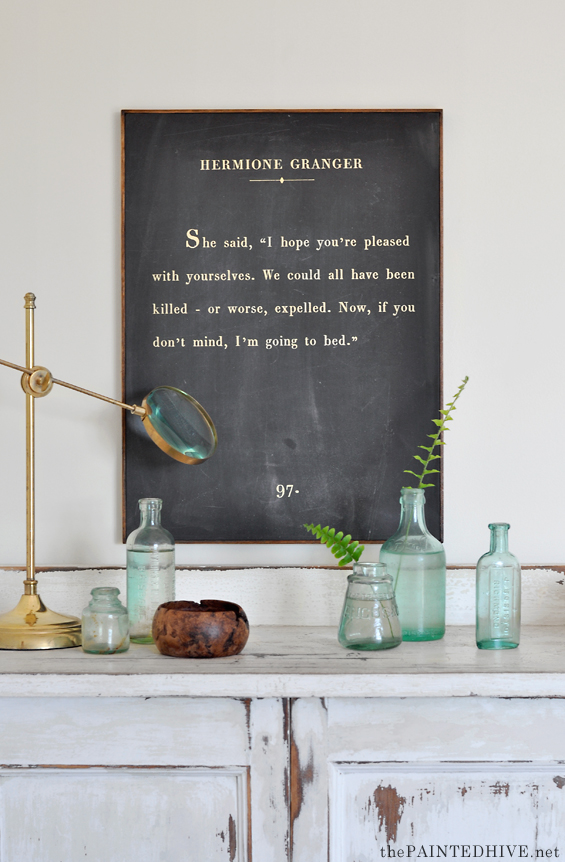 Because the frame is deeper than the backing you can simply hang it from the top piece of trim using a nail or two.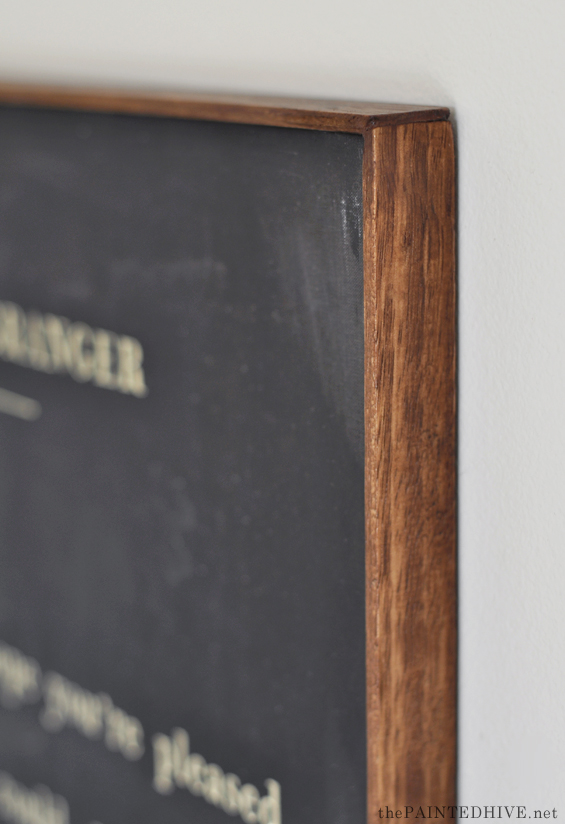 All up this custom piece of special wall art cost me only $25 and less than an hour to create! Not bad.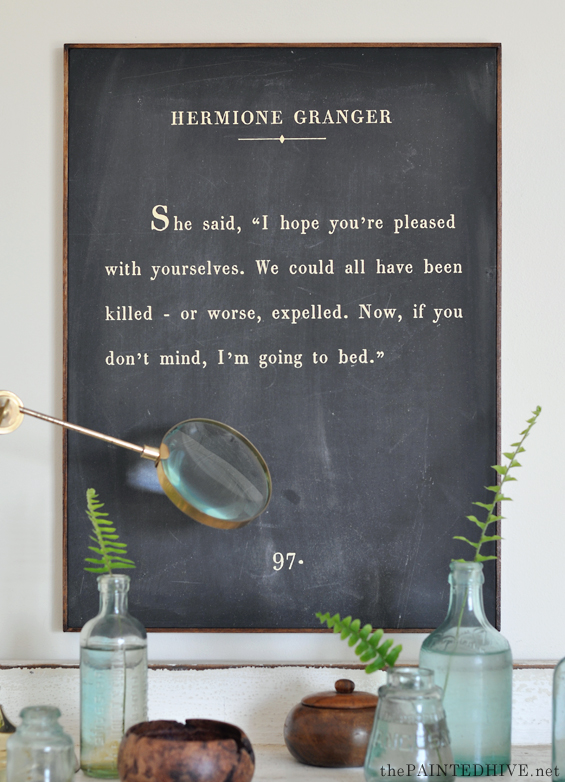 If you're looking for some artwork to try this project out with, don't forget to check out my Free Printables gallery.