I touched on this project a few posts back though wanted to re-visit it because now it's totally done!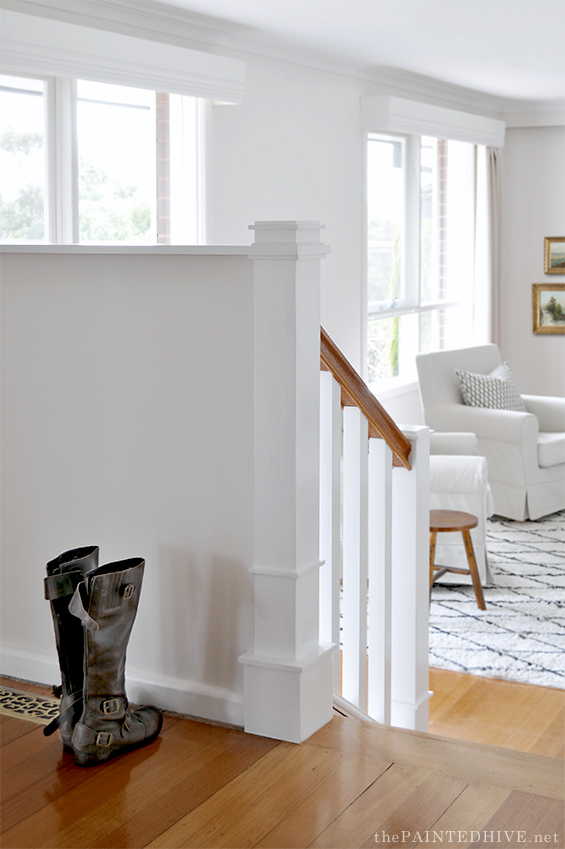 And looking pretty schmick! If I do say so myself :)
If you caught the past post, I shared how this newel-post-meets-half-wall was left in a bit of a mess after my parent's builders made some changes.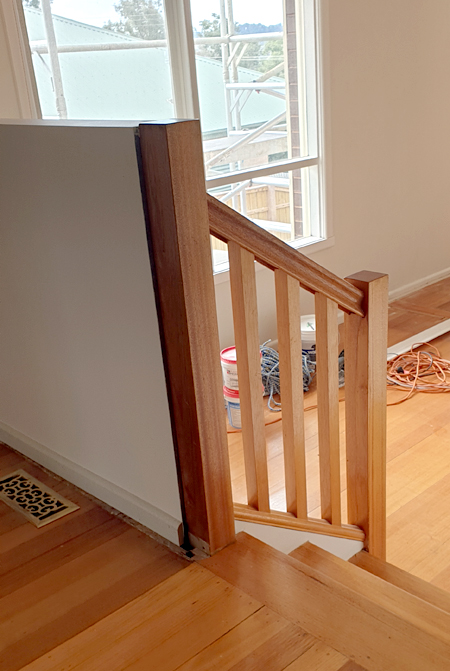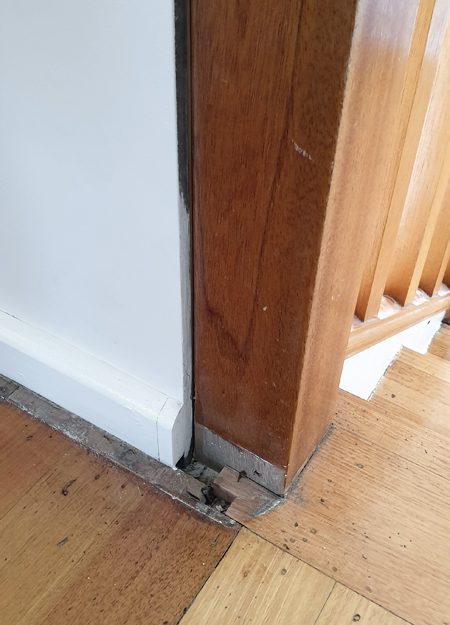 As you can see, it wasn't exactly ideal!
There was originally a balustrade where the new half wall is (which was added to conceal some structural steel needed for the new extension above) however the builders weren't quite sure how to deal with the situation, so I told them to just leave it with me.
I knew resolving things was totally doable, but I also knew it wasn't going to be super easy. Figuring out how best to tackle this was a total brain melter. There were lots of different components to work around and everything was a little off square. It took a few days and lots of playing around, but I got there in the end!
Of course, there were lots of different ways I could have tackled this. If you're after ideas or inspiration for your own staircase, be sure to check out the Paragon Stairs website, where they have loads of styles to choose from, including a huge spiral staircase collection.
I started by bulking-up the front of the newel, so it was no longer shallower than the wall, and attaching a chunky skirt.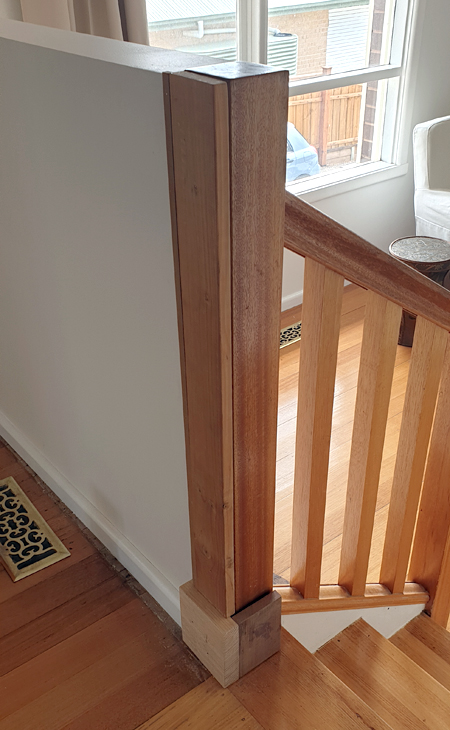 So that the skirt could extend beyond the post itself I used a multi-tool to cut down the existing skirting board a bit (you can see my pencil mark in the close-up before pic – two photos above).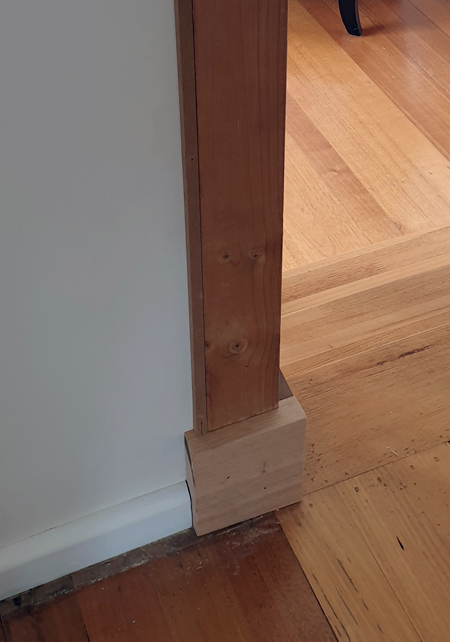 Next I added some trim, just to give it a bit more character, and filled all the joins and nail holes.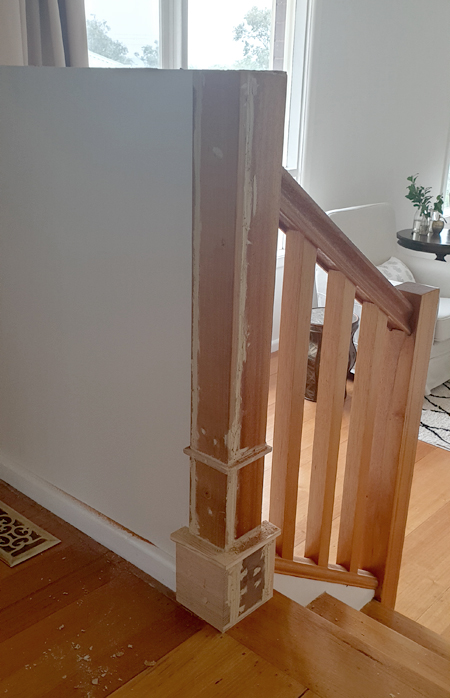 Then I sanded away until everything was nice, smooth and even.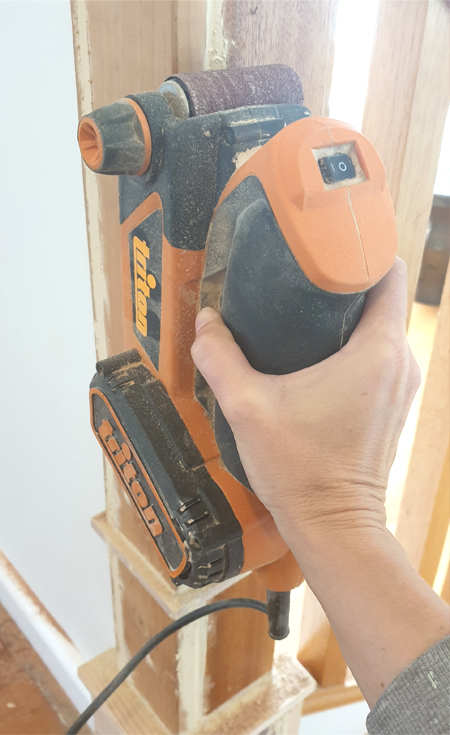 To cap the wall I thought it would be nice to add a shelf so I cut a piece of pine to fit.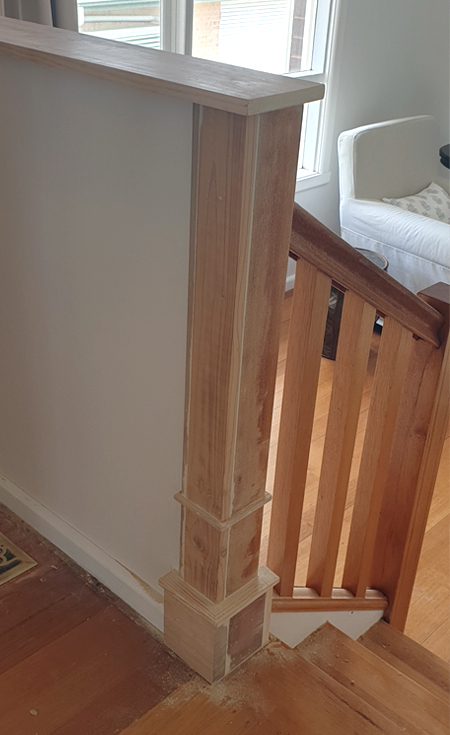 I quite liked the simplicity of this, though to finish things off I decided to build and attach a basic finial – which I liked even more! It will also tie-in better with the nearby newel post at the foot of the stairs which lead to the new extension (more on that to come!).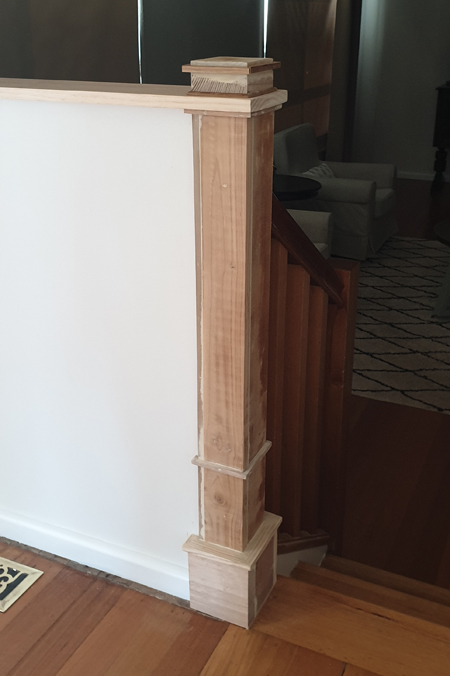 Then it was time to paint!
I contemplated leaving the shelf natural, or some of the trim around the top of the finial, however in the end I figured white would be cleaner and save the need to try and match all of the higgeldy-piggeldy wood.
I applied one coat of stain-blocking primer to prevent any bleed from the timber, and two top coats of Vivid White (standard untinted 'builder's white') in Gloss (to match all of the other trim throughout the house).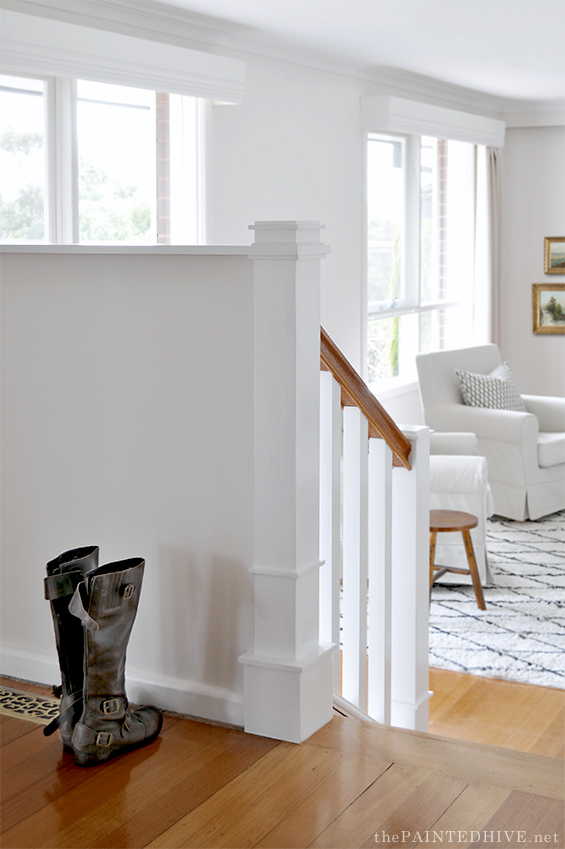 Ta-da!
I'm so happy with how it came together. It's clean and fresh and classic, and looks as though it's always been there.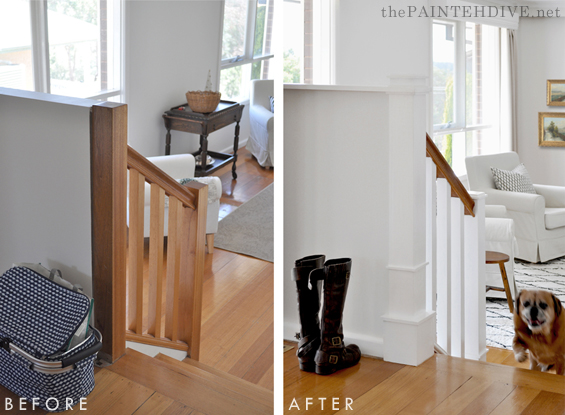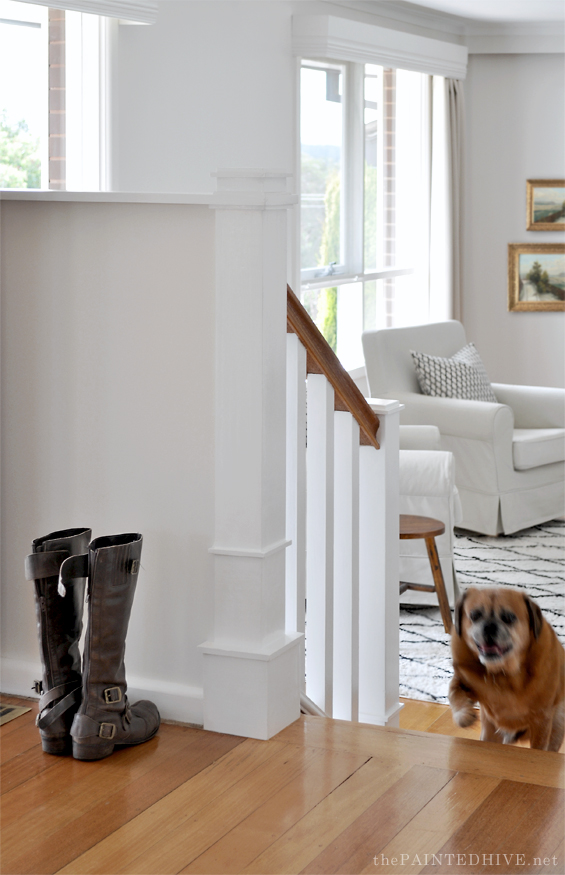 And did you notice that I also added some trim to the lower newel? It was always my intention to have the upper newel as a 'feature', so I never wanted the two posts to match, however by attaching just a few simple pieces of co-ordinating trim they tie together perfectly.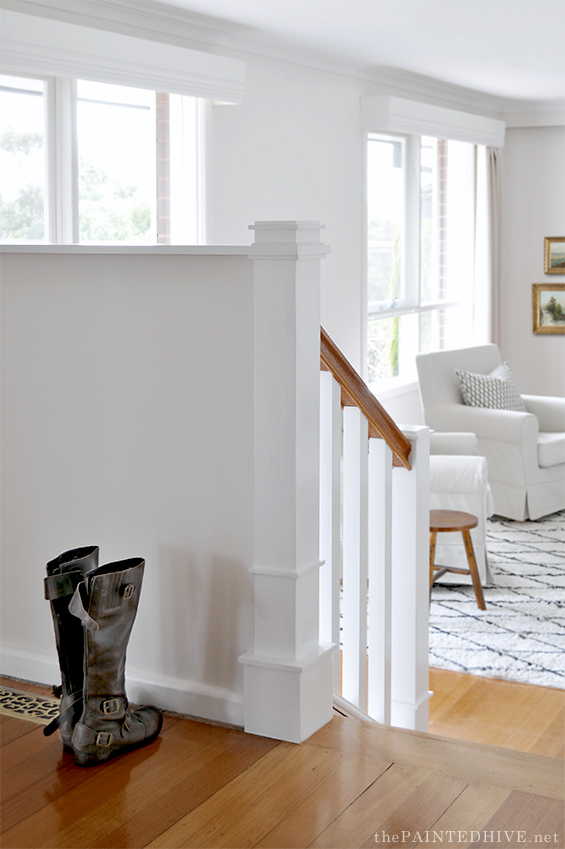 Here's a close-up of the finial. You can still see some of the timber grain through the paintwork. I know this look isn't for everyone, though I personally love it! For me, texture from things like timber grain or brushstrokes (within reason) always makes things feel more "real". Just remember, full gloss paint is pretty unforgiving in close-up photos as it accentuates light and shadows so please be kind :)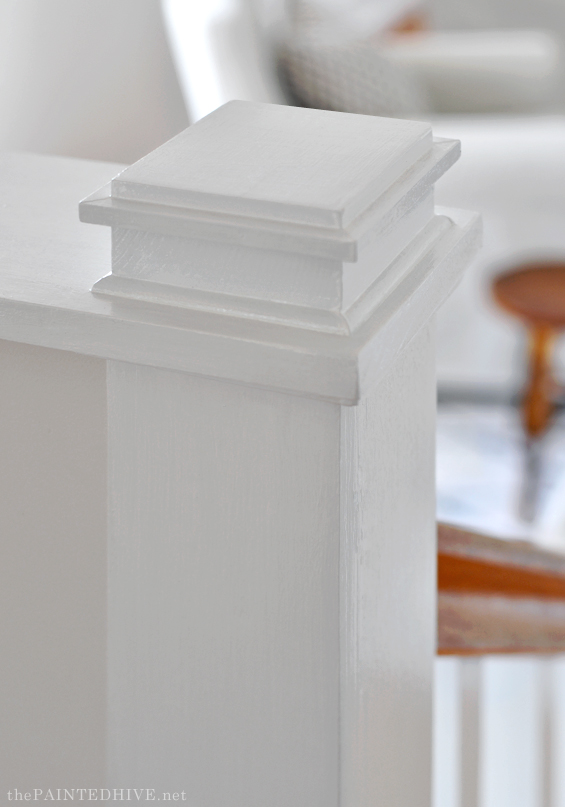 Of course, there were about a million different ways I could have tackled this project, and, if I'm honest, I really did just make things up as I went along, but sometimes that's enough. And sometimes enough can be just right.
We still need to refinish the floor (can you see the strip of raw timber in front of the skirting board where the old balustrade base used to sit?), and complete about ten thousand other things, but this is one project ticked off the list!
BEFORE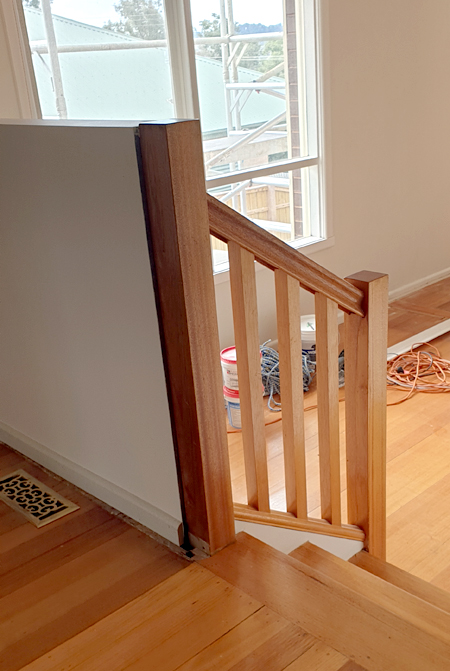 DURING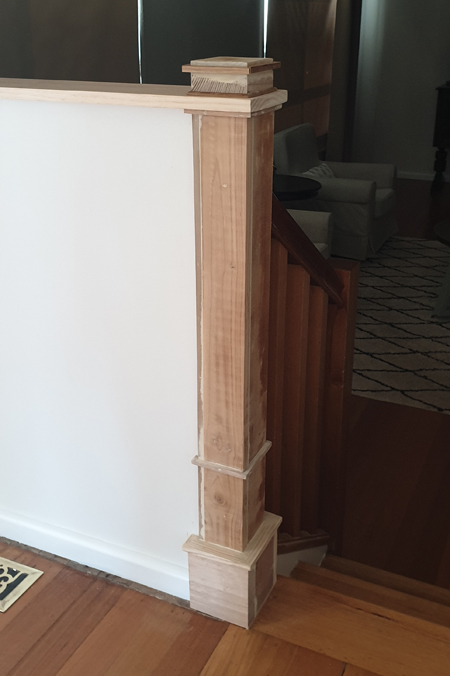 AFTER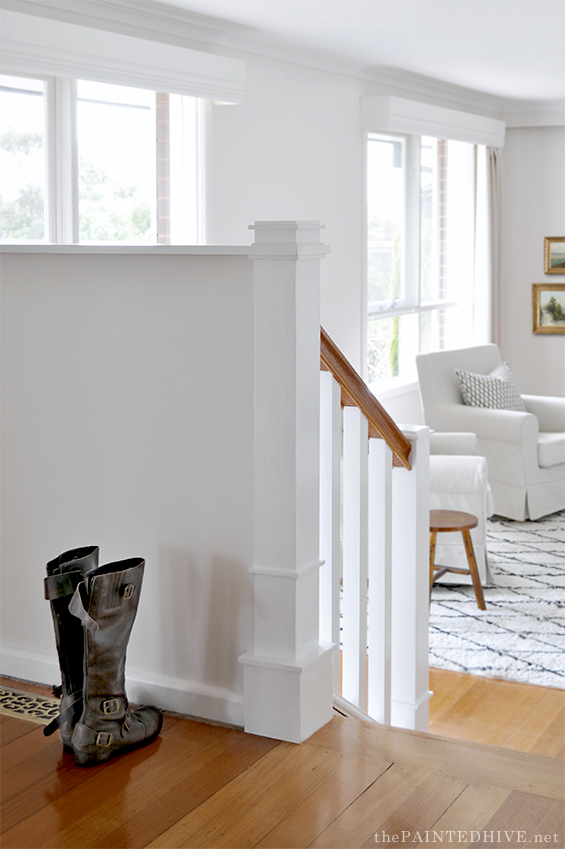 I kinda feel like this after deserves a jazz hands emoji or something – LOL!

I try and keep this blog as a dedicated 'home' space, separate from global issues we can all get enough of elsewhere, however given the unprecedented international climate, I felt I should comment.
Please don't take my continued posts (which, casual as they may be, I know are trivial given the current state of the world) as any form of a lack of compassion, acknowledgement or understanding of the severity of the unfolding situation.
I'd simply like for this blog to remain a platform of escape for all of my lovely and valued readers, along with myself.
I hope you understand. Stay safe everyone.