I'm interrupting my regular suite extension posts to share this impromptu little make-over of my master bedroom.
Not having anything pretty or finished to show you guys has been bugging me (and probably you too!), plus I've been going a little crazy with nothing to decorate or style, so yesterday I decided to play around with some of the decor left-over from the flip house in my own home.
My bedroom has been pretty much exactly the same for the past seven years, and to be honest, that doesn't bother me one bit! Though I'm getting to that point where I'd like to make a few big changes, not because I don't like things as they are, mainly just because I want to experiment with injecting a slightly different feel in the room.
For now though I'm content to simply freshen things up with just a few minor tweaks. That's the advantage of decorating in a relatively neutral and somewhat timeless manner right from the start.
One of the biggest changes was switching out the floor rug.
Originally I had an IKEA 'Tarnby' rug in here.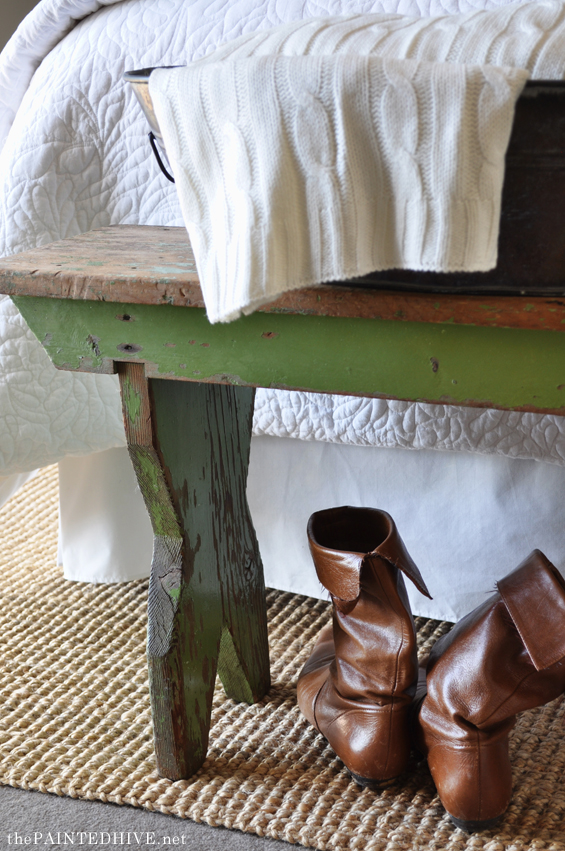 Above is the Tarnby rug in this photo of my bedroom from 2013!
I loved it but around six months ago one of the corners (which had been slowly unravelling for a few years) started to completely deteriorate. It was a shame however I figured I'd got my money's worth after almost a decade of use!
I've replaced it with this Bunnings 'Wemyss' rug which I used in the sitting room at the flip house.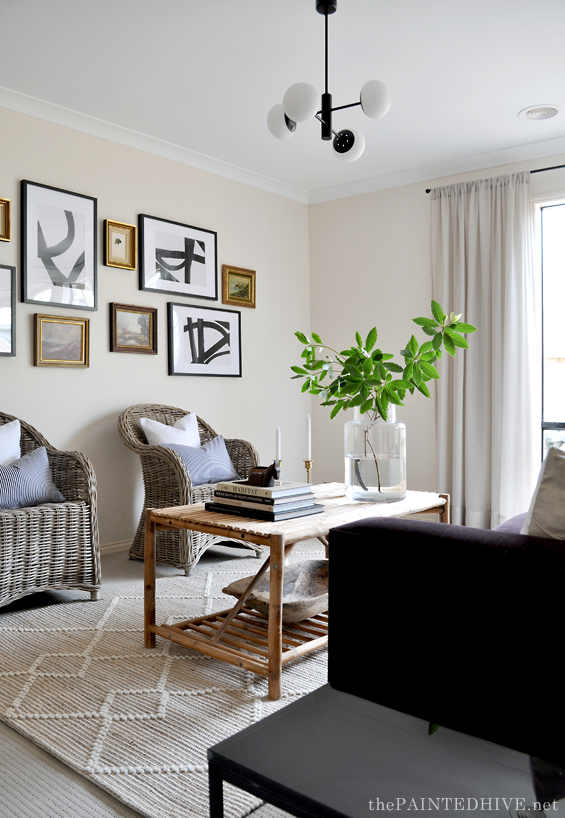 And it's pretty much perfect!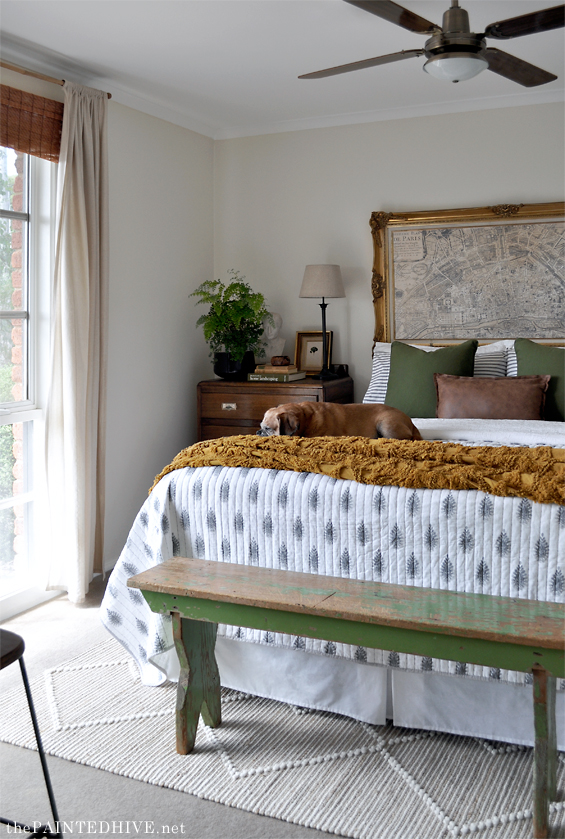 To dress my bed I used some cushions and the coverlet from the master bedroom at the flip house.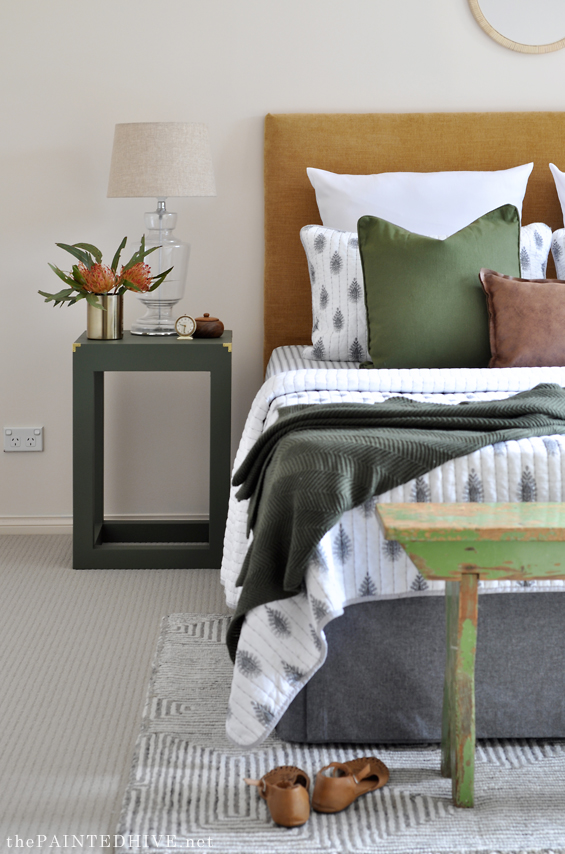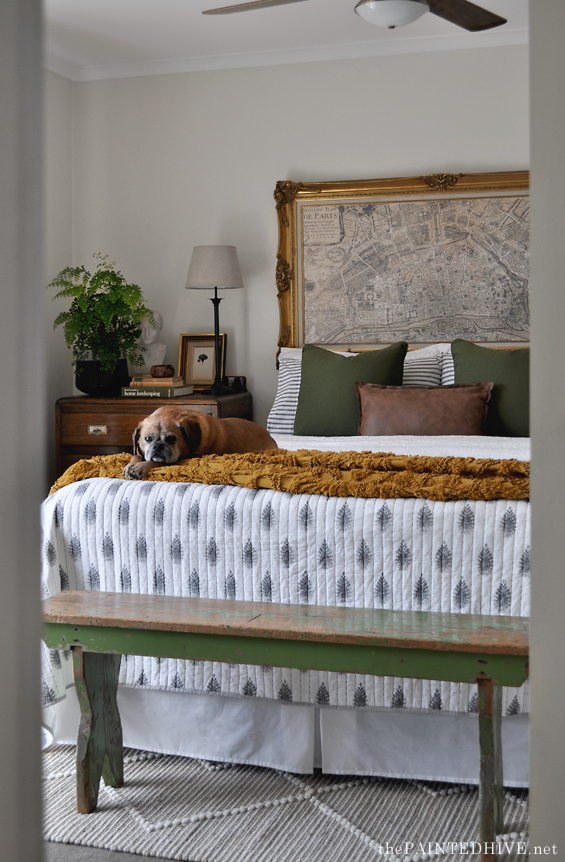 As you can see, the two rooms definitely have a similar vibe. I think it goes to show just how powerful decor alone can be.
And to bring in the mustard from the headboard I used in the flip house, I added this textured throw from Linen House.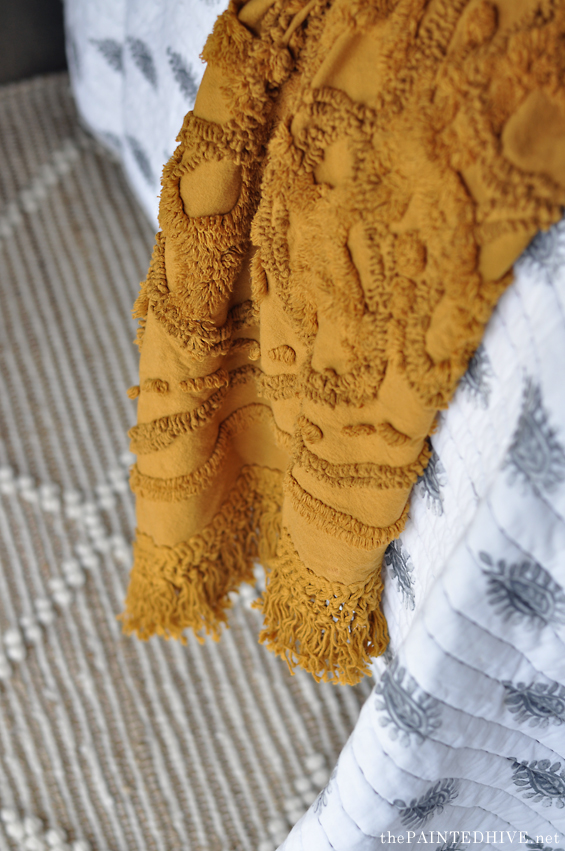 Which also works beautifully with the gold frame over the bed.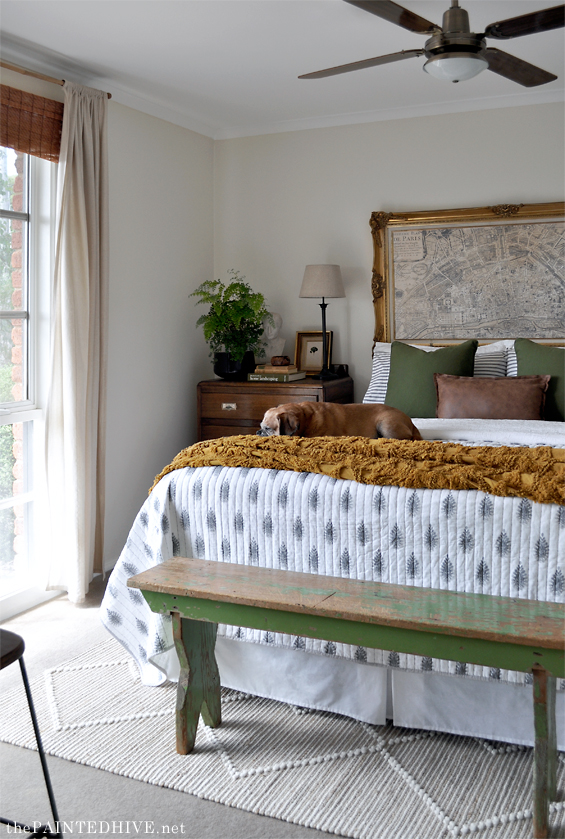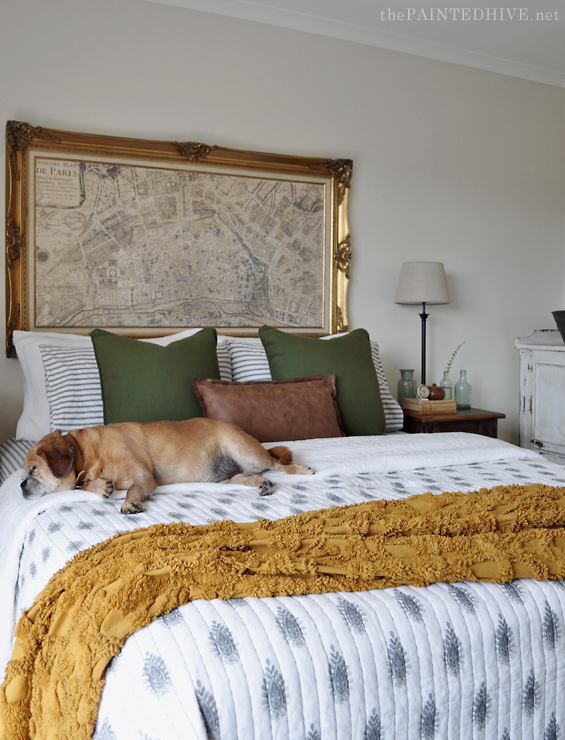 I think someone else likes it too!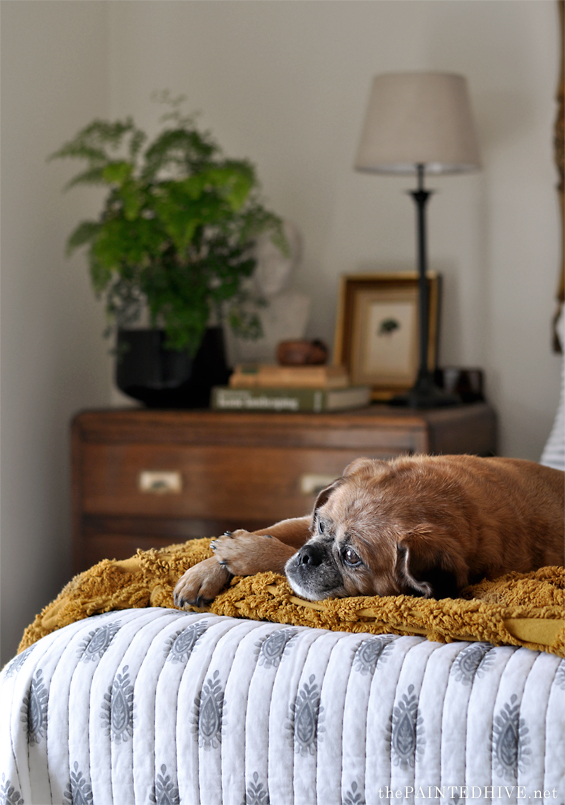 I haven't done much with the decor. Just a bit of 'house shopping' and basic rearranging.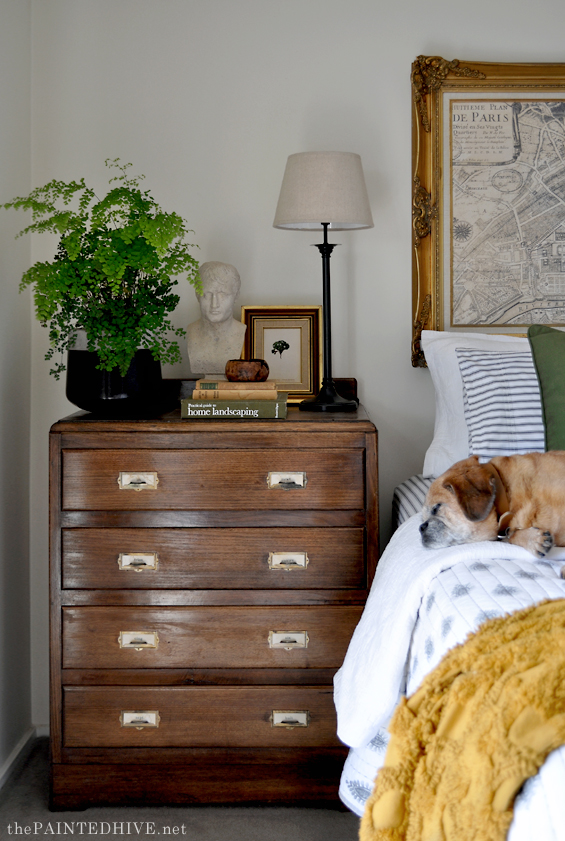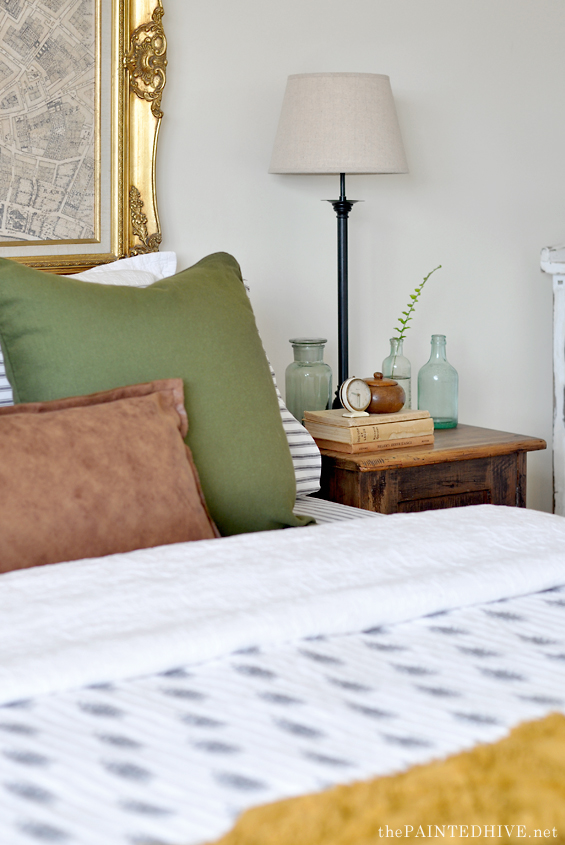 No matter what, I always come back to using layers featuring vintage books, ferns and blue-green glassware!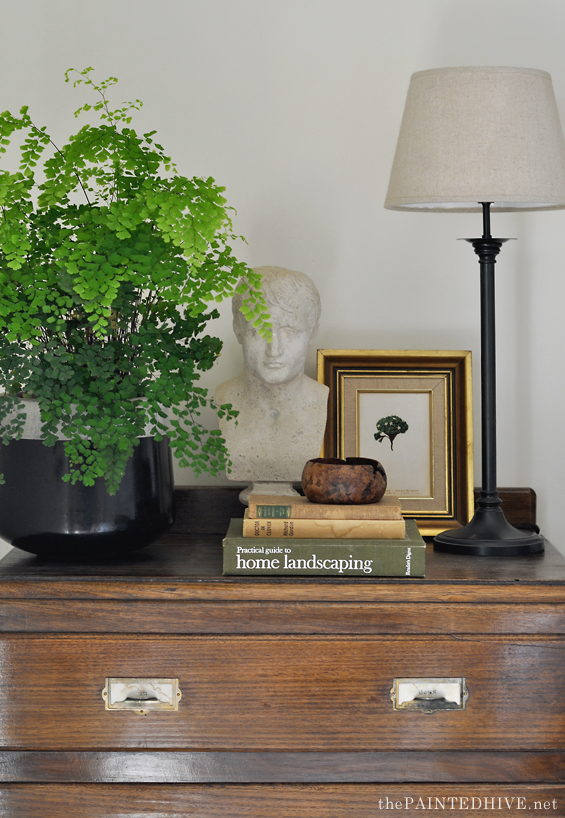 Sometimes I try to be minimal and trendy, I really do, though I just don't think it's in my genes!
I'm sure you noticed that Cooper managed to get his boof head in almost every one of my pics! I usually like to include him in the odd shot, though yesterday he had no interest in moving so I just went with it. I also managed to get a quick snap of sweet Rose (who we are dog-sitting at the moment) though she's not usually permitted on furniture so we won't tell her mum I allowed this – shhhh.
They just looked too cute together!