The dining room at my mother-in-law's house was always going to be a bit of a tricky area.
Although it's relatively large, it is divided in two by a natural thoroughfare to the kitchen. Plus there are storage doors beneath the split-level landing which limits options for that side of the room. Of course, for staging purposes furniture placement doesn't always need to be practical, but after playing with a few different options in here (my initial plan was to have a long dining table positioned horizontally) it actually worked best to retain the passage to the kitchen and allow relative ease of access to the landing cupboards.
So, here's how the room looked before…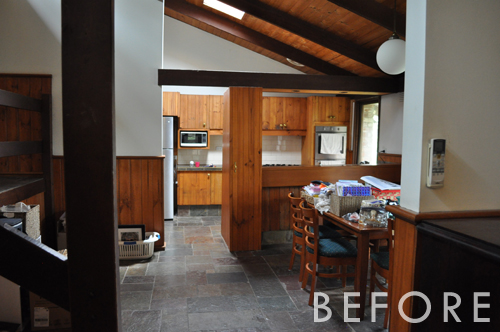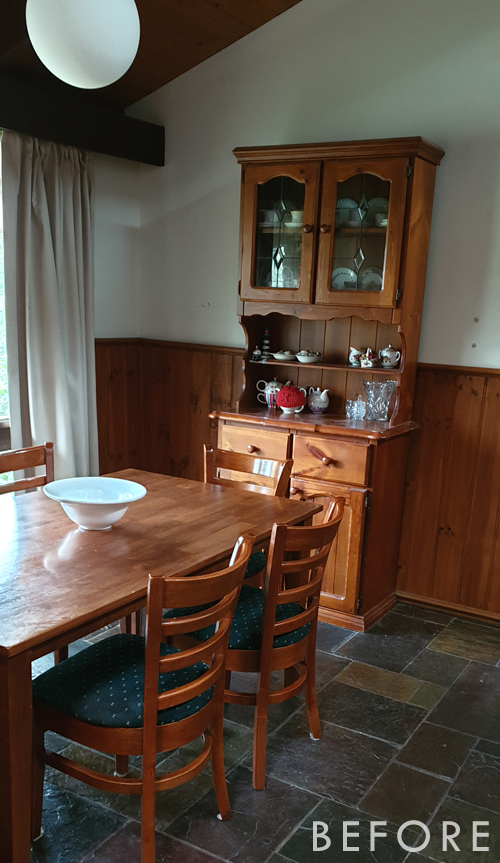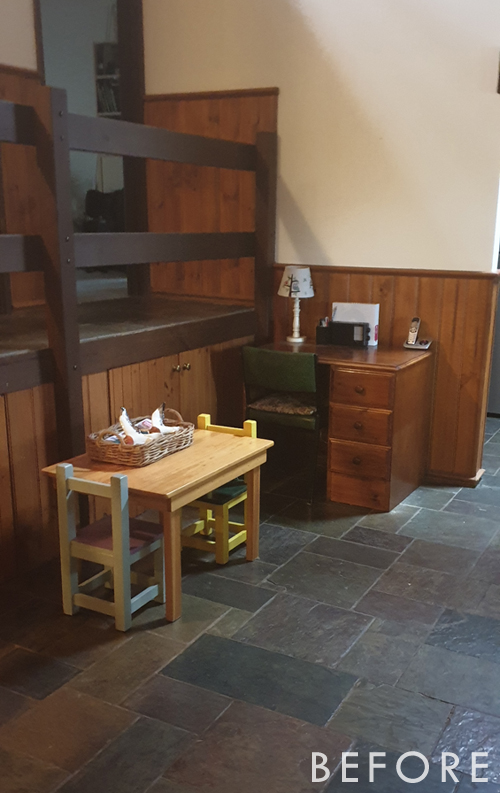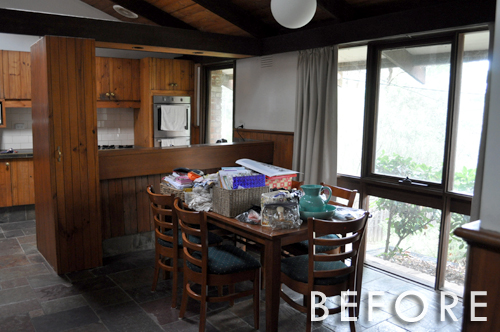 As per usual my before pics are a crappy mix of progress shots. Sorry!
As you can see, my mother-in-law had a petite dining table and buffet to the right, with a small desk and kids' setting to the left.
Aside from lightening things up, my main priority was to include a larger dining table so prospective buyers could see that the space could accommodate one.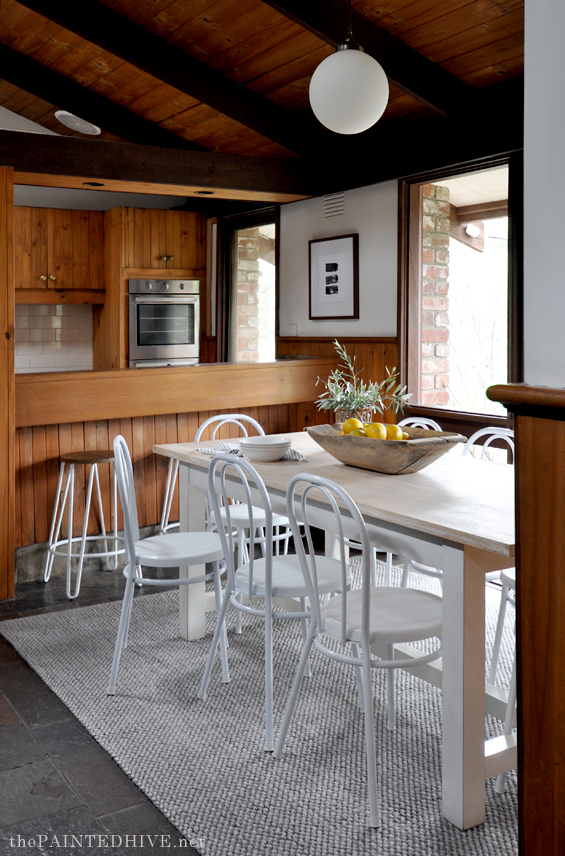 I found this great eight-seater table on Gumtree for $80 which is perfectly proportioned and lends a modern farmhouse feel which also imparts some much needed freshness.
To further the fresh vibe, I paired it with these white bentwood style chairs from Fantastic Furniture.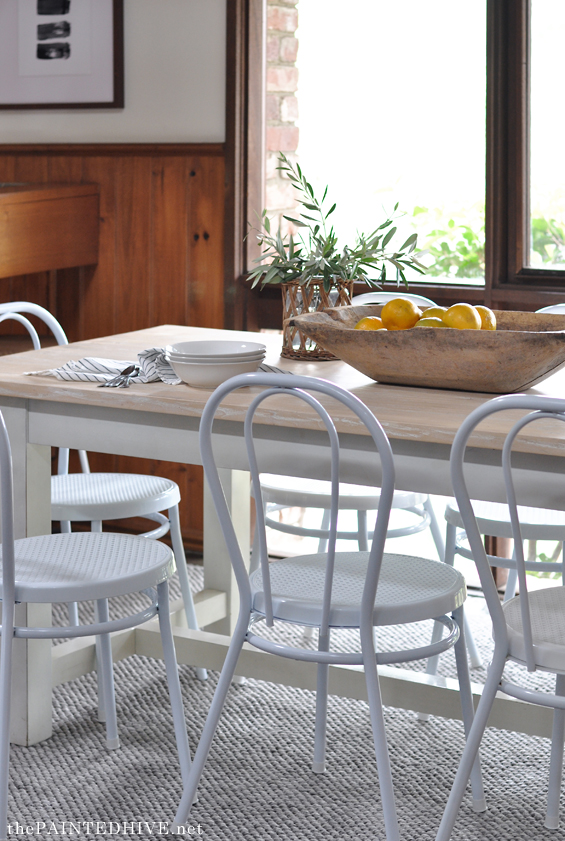 They're only $25 each brand new, but I was also lucky enough to pick up a set of four second-hand ones from Marketplace for just $50 in total.
Because the room is so dark and also a little bit "cold" (despite all the timber), I always planned on putting down a rug to break-up the slate and add some softness. My preference was for the IKEA Lohals rug – which has a lovely warm earthiness – but when I went to buy one, the size I needed was sold out…Australia wide! Instead I went with the Vokslev, which was a little more expensive and a tad greyer than I wanted, but it did the trick.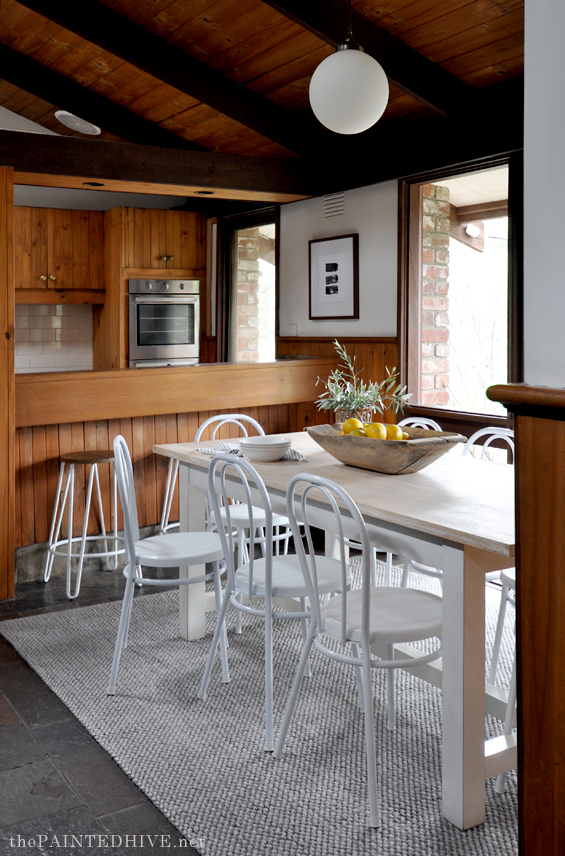 Although the kitchen bar only has a shallow overhang, I added some stools anyway just to demonstrate that it can be used for casual seating. I could have used the generic Kmart/Target/Big W stools (which, truly, would have been fine) but with just a bit of searching I managed to find these more unique, and better quality, ones on Marketplace for just $30 each. I honestly don't have a problem with using common department store products, but where possible it's nice to deviate.
Overall it's quite a simple and neutral room so to provide that bit of memorable punch I included this stunning pelican artwork which I was lucky to be gifted from Urban Road.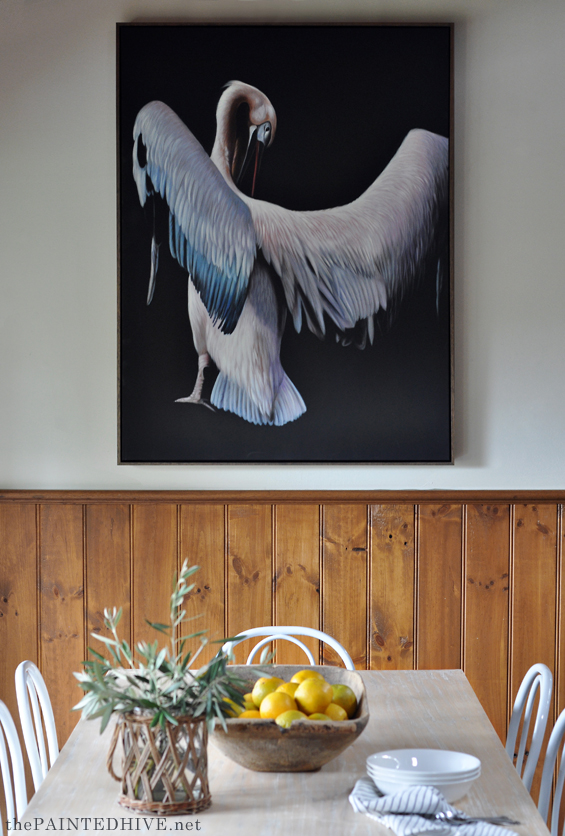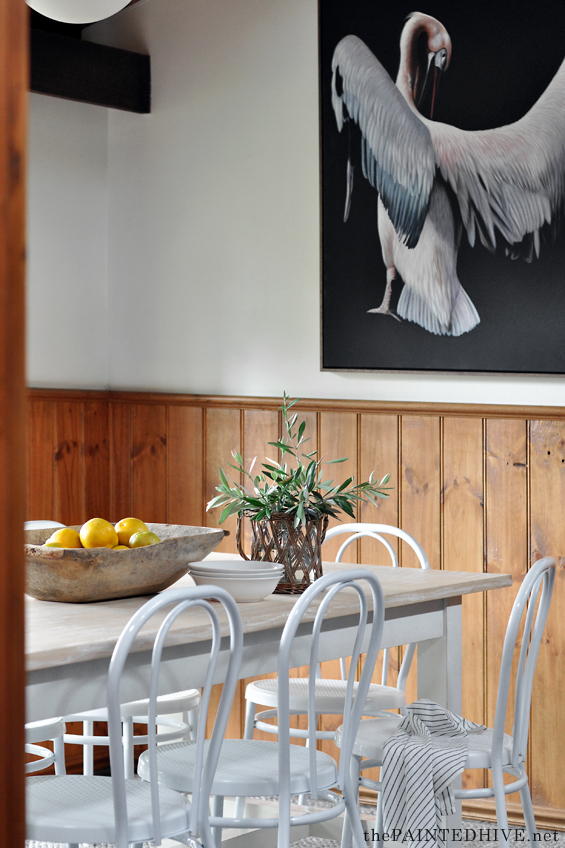 He just adds so much depth and personality!
For quite a while I wasn't sure how to best use the left side of the room.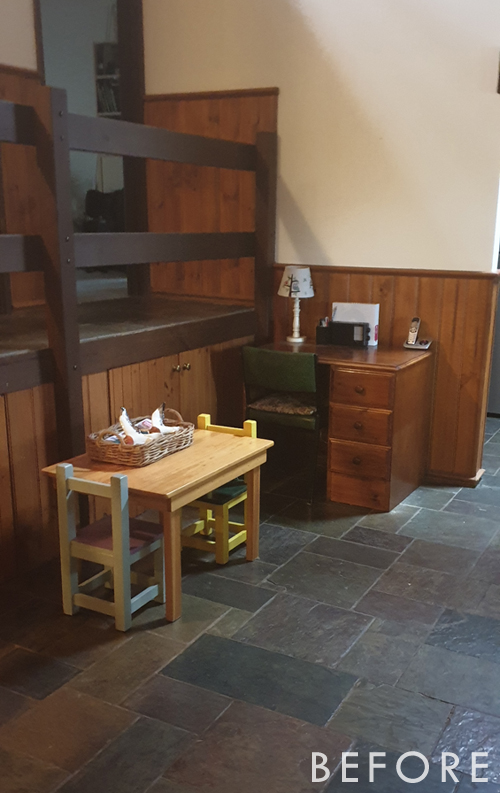 I considered retaining the desk, but decided that it might not be wise to give buyers the impression that this was the primary home office space in the house. I also contemplated leaving it bare though it just felt barren, so in the end I took a cue from some pieces I already had on hand and settled on a little sitting nook – which actually makes a lot of sense because people always seem to congregate near the kitchen.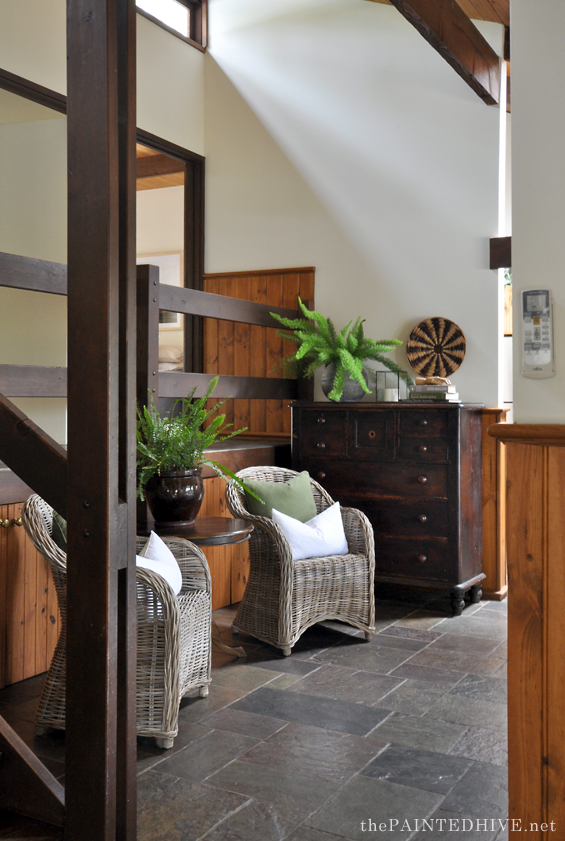 The antique chest of drawers was originally in the entry (you can see it in some of the before pics from the living room reveal). Although I didn't really need to use it in this space, it offers a nice hit of character and also provides a good surface for displaying decor in order to add interest.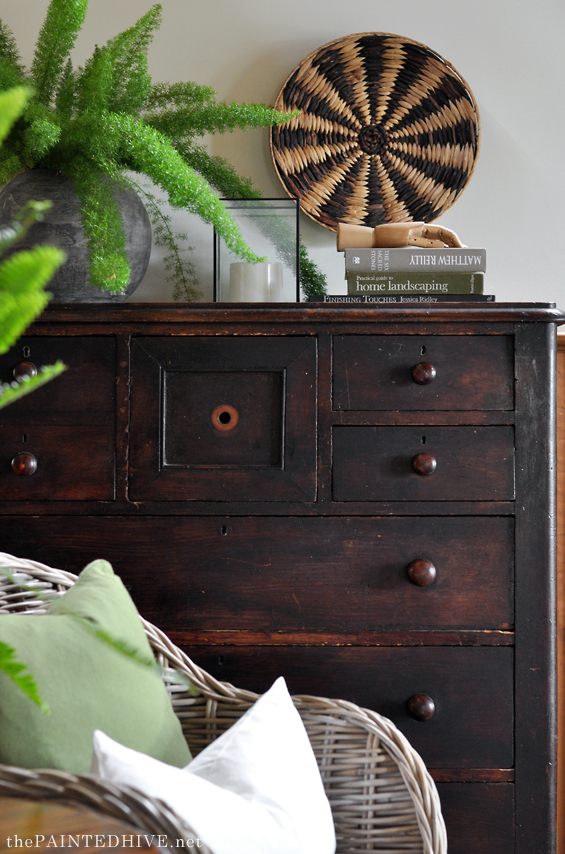 You may recognise the wicker armchairs from my friend's flip house, and the round pedestal table is simply borrowed from my parents.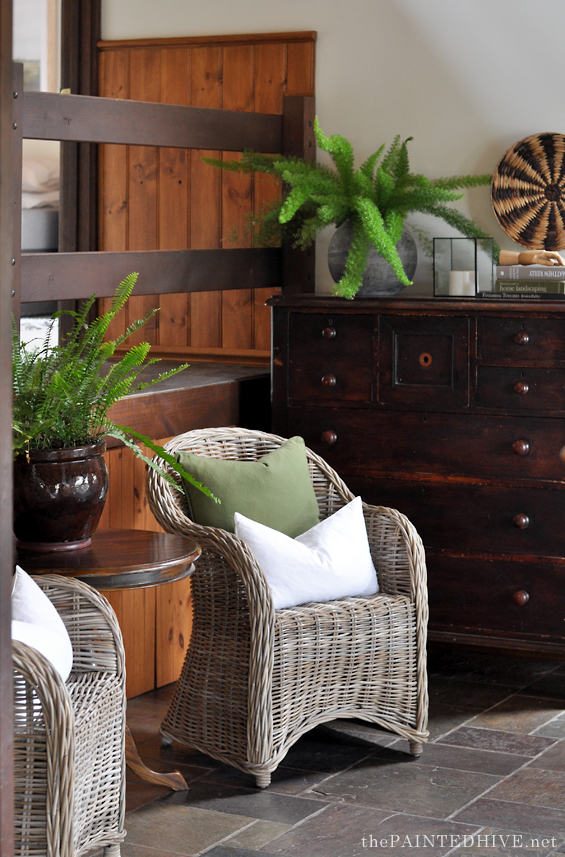 It would have been nice to use some lighter pieces in here but the drawers and table weren't candidates for a paint job, so it was just a matter of making the most of them as is.
All of the decor items are things I already owned, aside from the potted fishbone fern which I found in my mother-in-law's garden. And don't tell anyone, but the white lumbar cushions are actually naked because I totally ran out of cushion covers!
Here are the side-by-sides…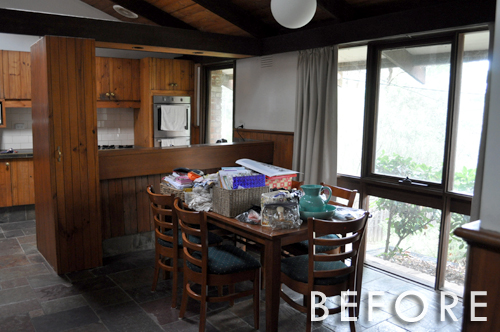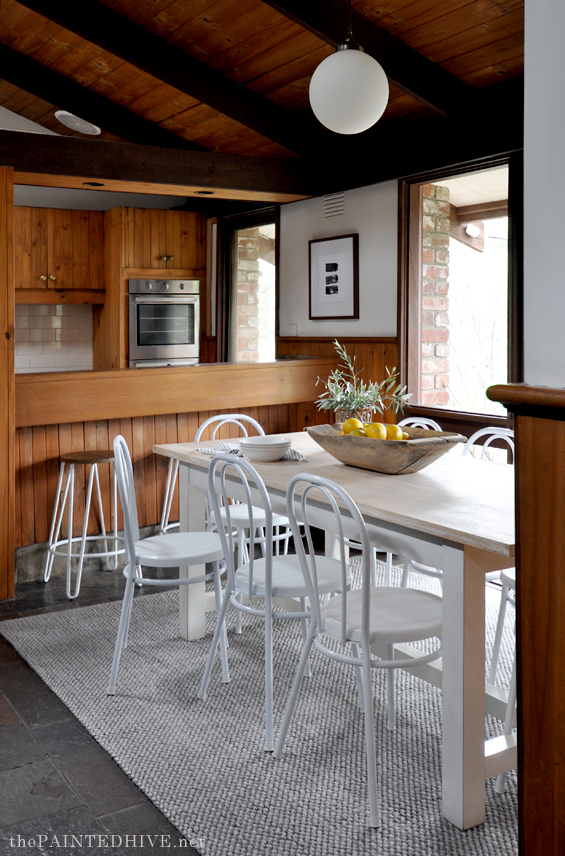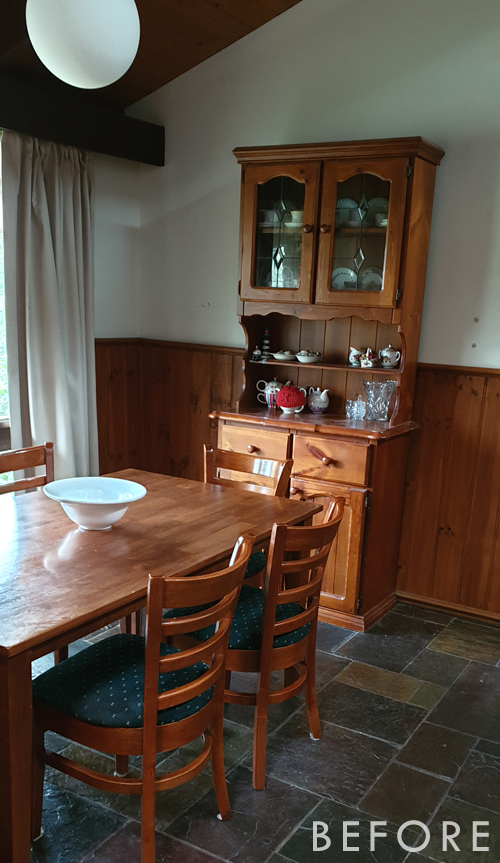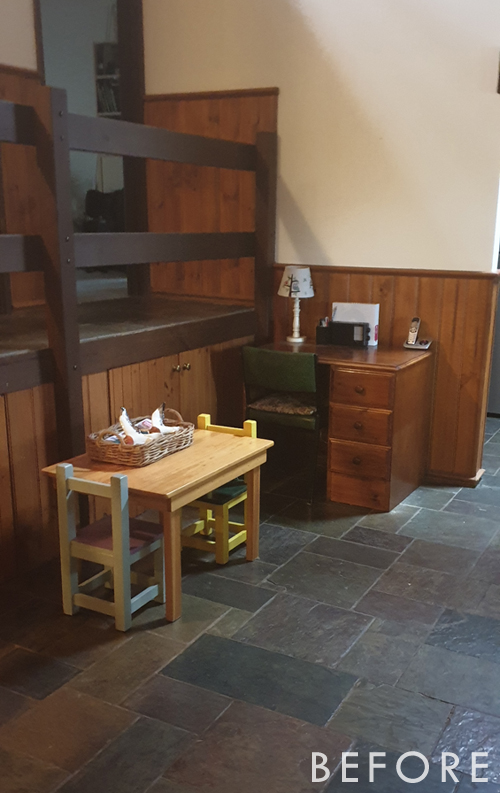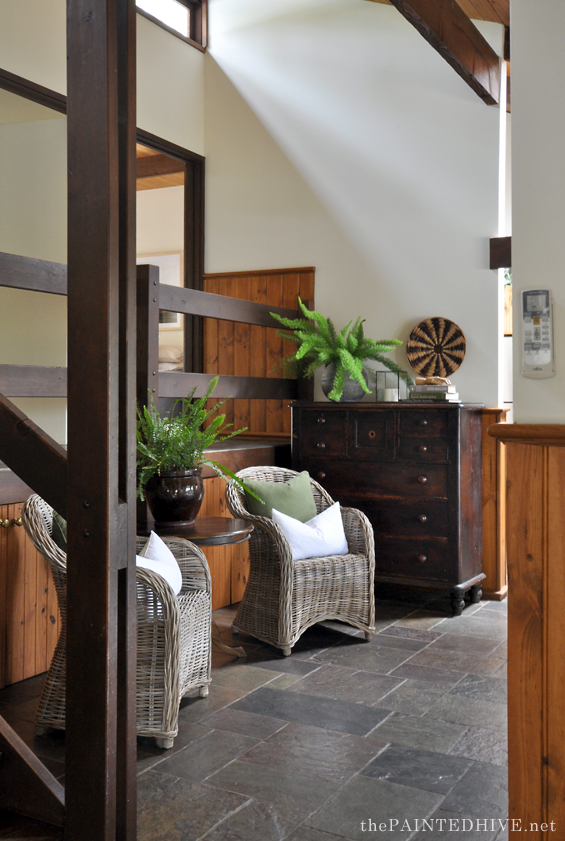 I know this room isn't anything particularly special on its own, but in conjunction with the adjoining spaces in the house it gets the job done.
PS I'm sure some of you might be wondering why we didn't update the kitchen at all. Aside from the fact this house preparedness project was purely about staging, the kitchen is actually ripe to be fully replaced so any cosmetic work would have been a bit wasted anyway.
Catch up on all the previous posts about 'The Staged House' HERE.