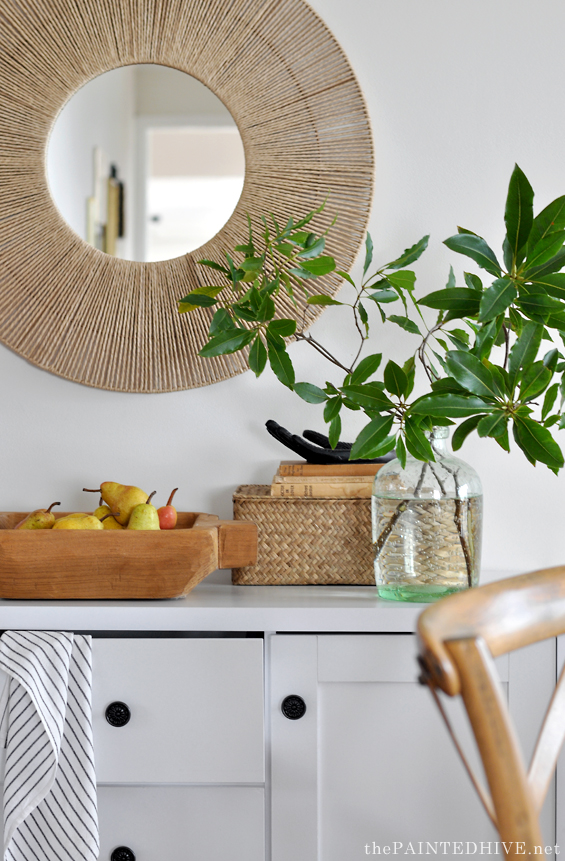 Hey guys. Just jumping in with this impromptu little post. I read once that publishing blog articles on weekends was some kind of no-no, but I think we all know I'm not exactly your typical blogger!
This new sideboard from e-Living Furniture is eventually destined for a client's house, but in the meantime it's hanging out in my parent's dining room (there's just no space in my tiny abode!) so I figured I may as well make it look at home.
I often play around with little styling projects like this which I tend not to share on my blog because I figure they're better suited for social media snippets, but maybe it's time I post about them more frequently. I know it's nothing special, though perhaps it will inspire someone.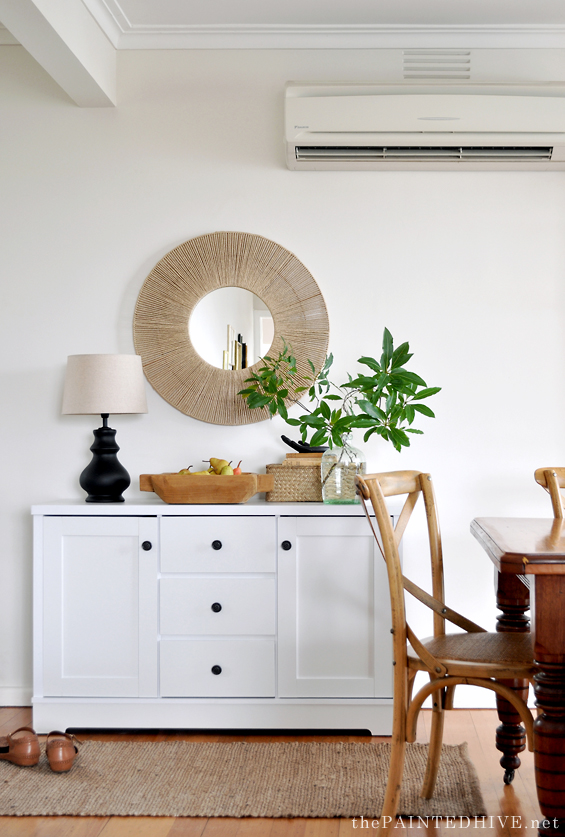 Still, it's always nice for blog content to have some depth, so given I shopped my parent's house to put this vignette together, I thought it might be interesting to look back through some of my past projects and see where else I've featured the included pieces. So often I see people buying brand new items in order to update their home, but sometimes all it takes to create a fresh feel is a smidge of reshuffling.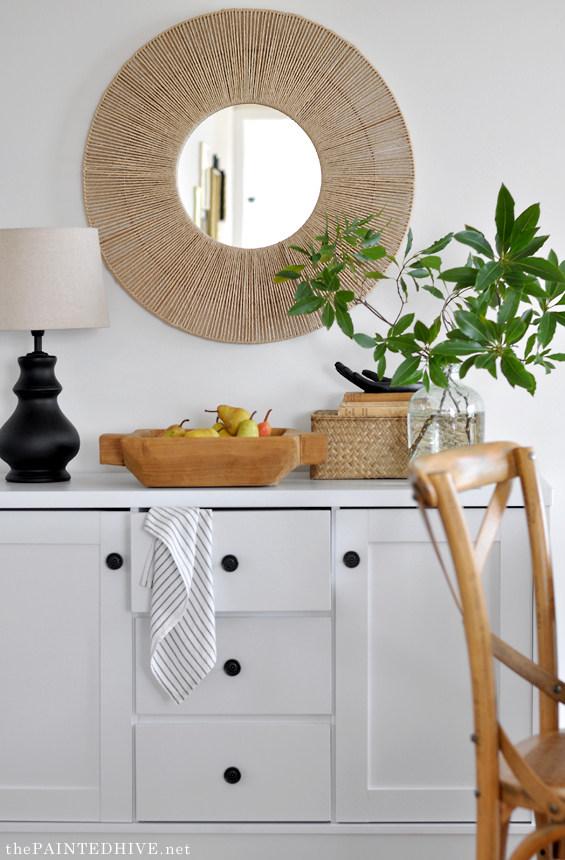 I know that probably seems easy for me to say given I'm in the interiors industry (well, kinda), but most of the items I use, and the majority of my favourites, are those which I've owned for years and years. Yes, they were initially purchased at some point, however none of them were expensive, and I've learned that sticking with timeless pieces means they will serve you well indefinitely.
Some of you may recognise the lamp which I originally bought in 2016 from a thrift store for $5 for my parent's living room.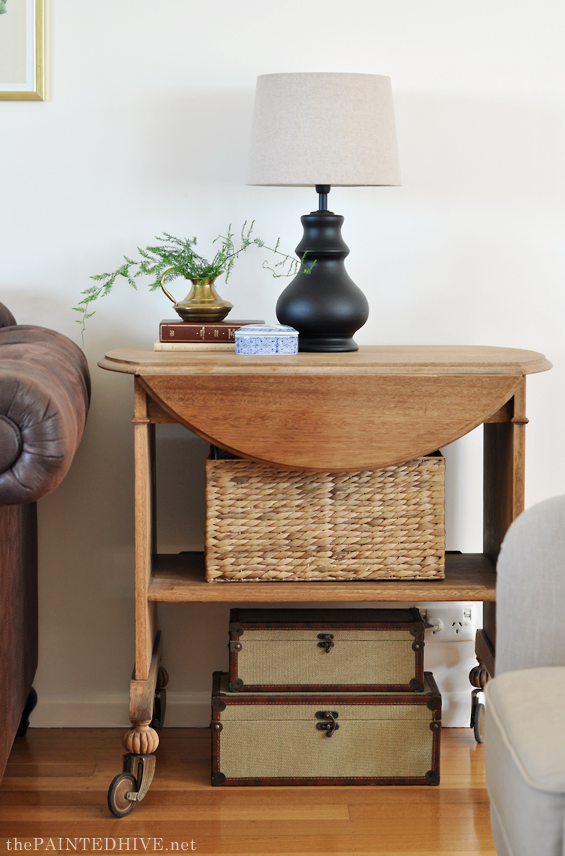 It was initially painted with a swirly apricot design, so I sprayed it matte black for a clean and modern look.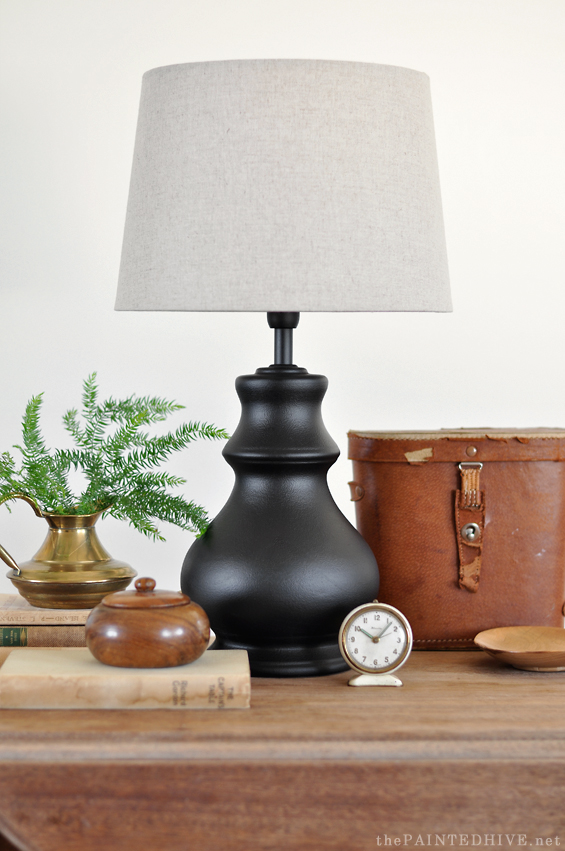 I could easily include at least ten different instances where I've used the seeded glass vase, but some of the projects which jumped out were this bathroom update from 2018.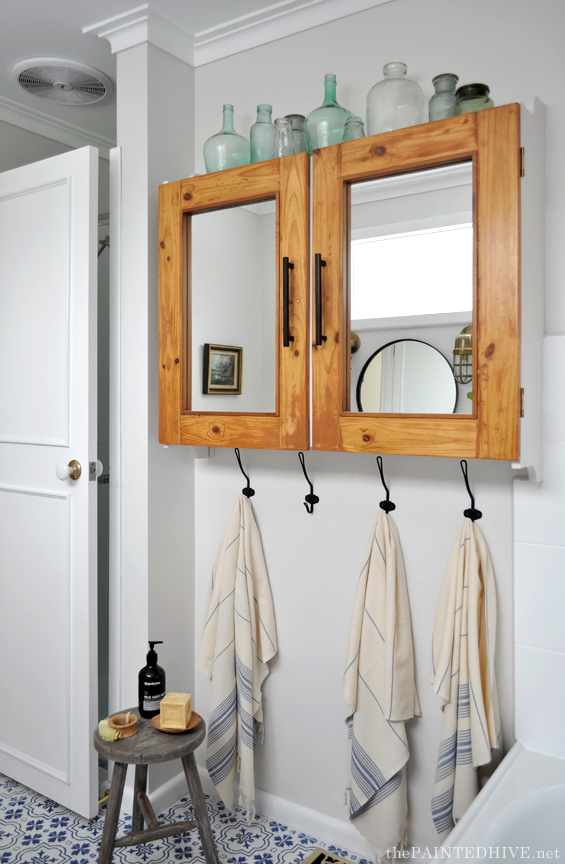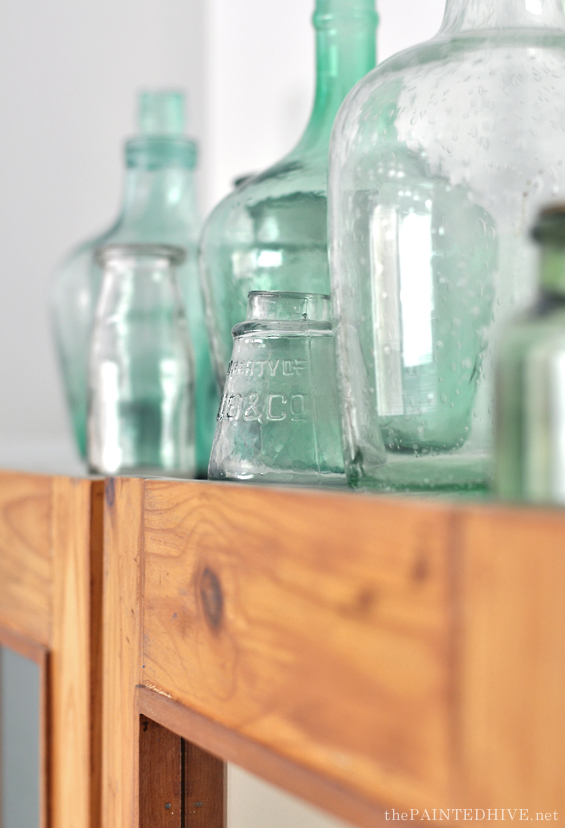 And (even though I feel a bit embarrassed re-hashing it) my parent's basic master bedroom refresh from way back in 2014!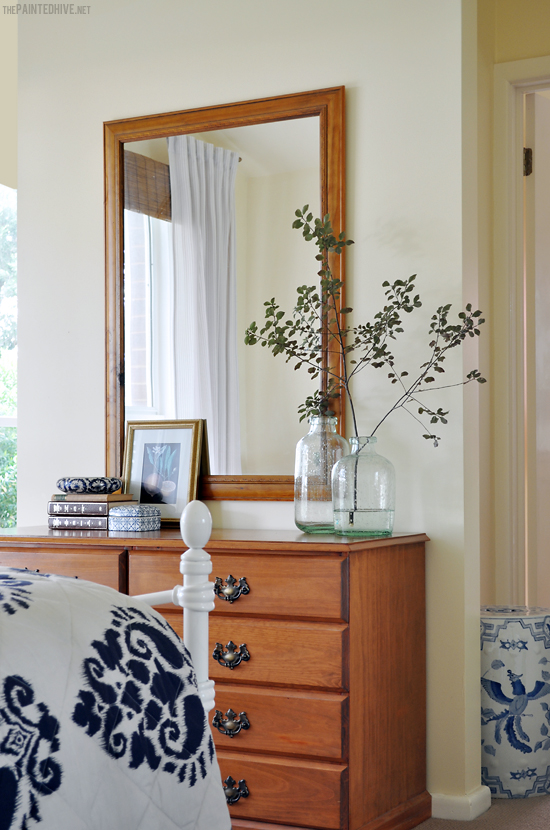 In fact, if I recall correctly, I'm pretty sure that this is the project which the vase was initially purchased for! From memory it came from Early Settler, and at the time we bought two different sized ones to form a nice collection.
As per usual I have filled it with my go-to of free live clippings from an established road-side tree.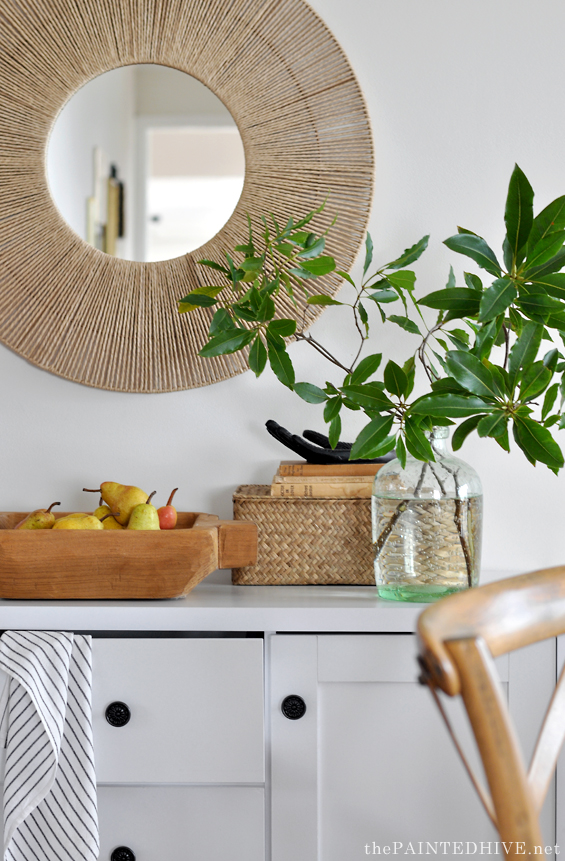 The rustic dough bowl was a more recent purchase from 2018 when it was bought on clearance from H&M for $15. I have previously included it in my friend's 2019 flip house kitchen.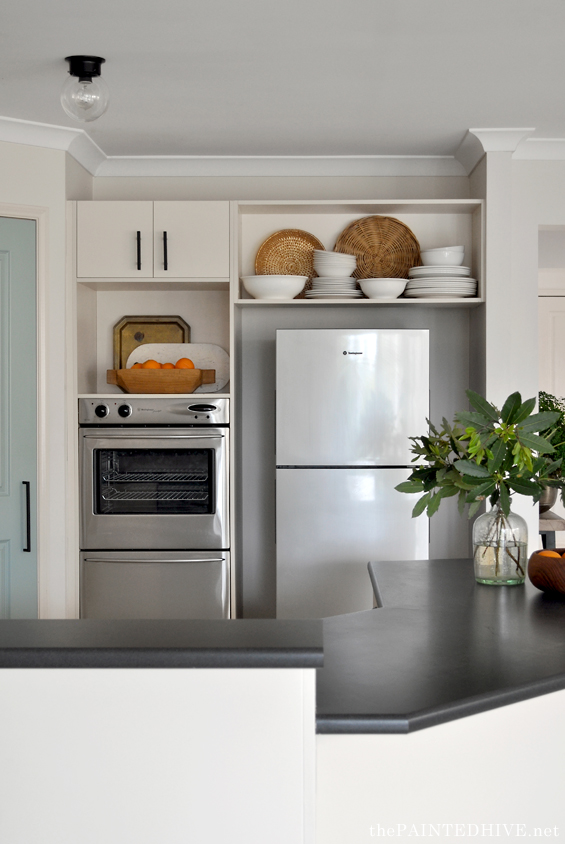 Along with my parent's $100 kitchen refresh.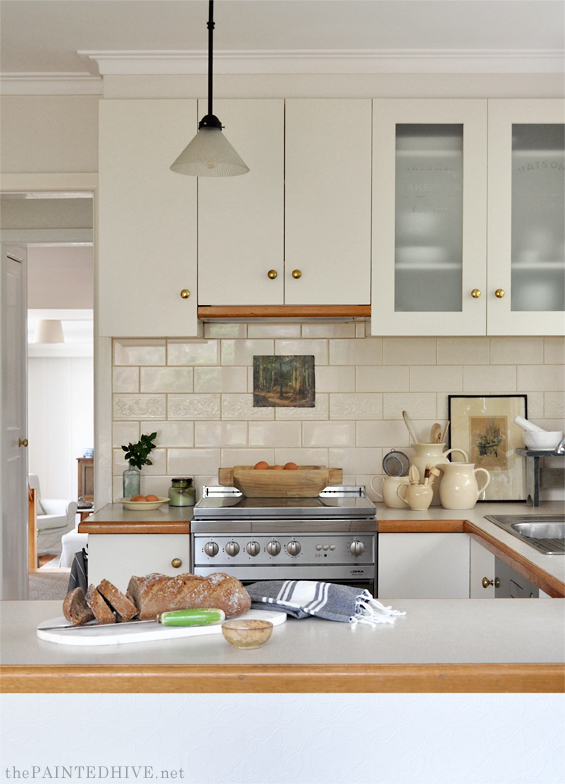 The woven bamboo case (which came in a tiered set of two) was an $8 Kmart buy from 2019.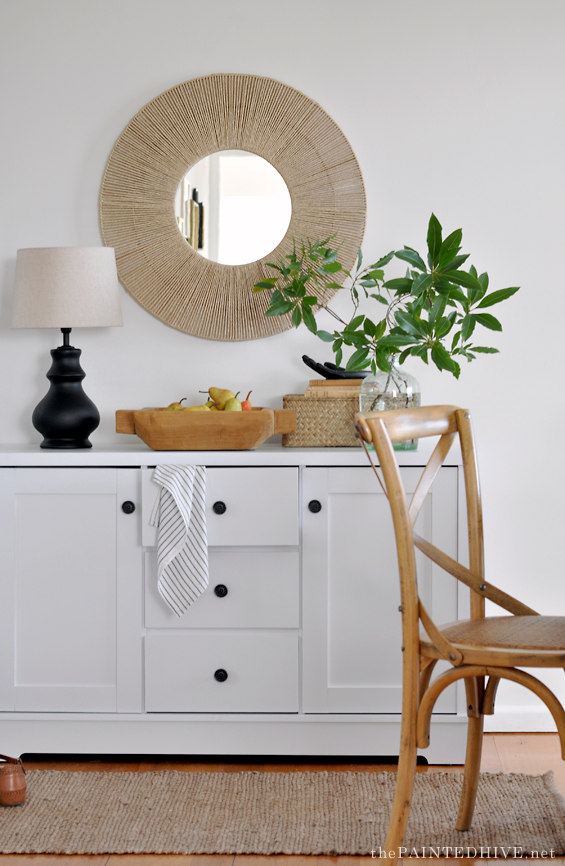 It's a lovely and flexible piece which lends itself to so many scenarios. Whether some extra storage is needed, a boost of height for a vignette, or just that hint of relaxed earthiness which the natural material lends. One past room I included it in was my friend's flip house entry where I stacked the set atop an ottoman.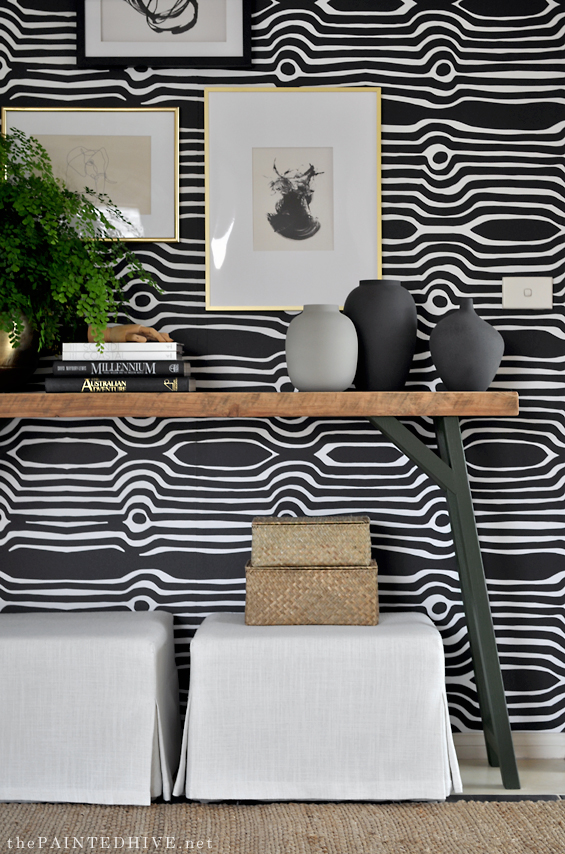 The cast iron henna hand is actually a special souvenir my parents brought home from India a few years back.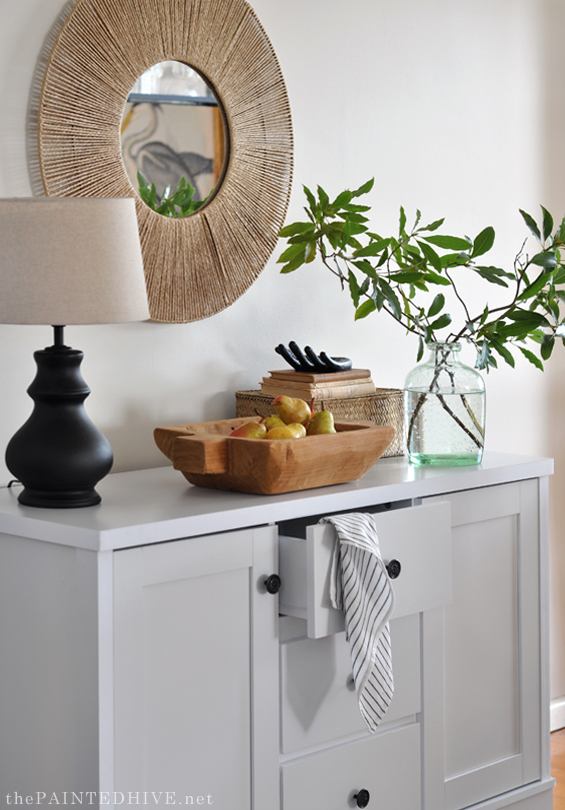 It's always nice to have a little something atop a stack of books, and small decor pieces like this are prefect for that. Especially when they have personal meaning.
It's a gorgeous item which my parents always have on display somewhere, but I haven't personally used it extensively for my projects. Here it is on the coffee table in my friend's flip house living room.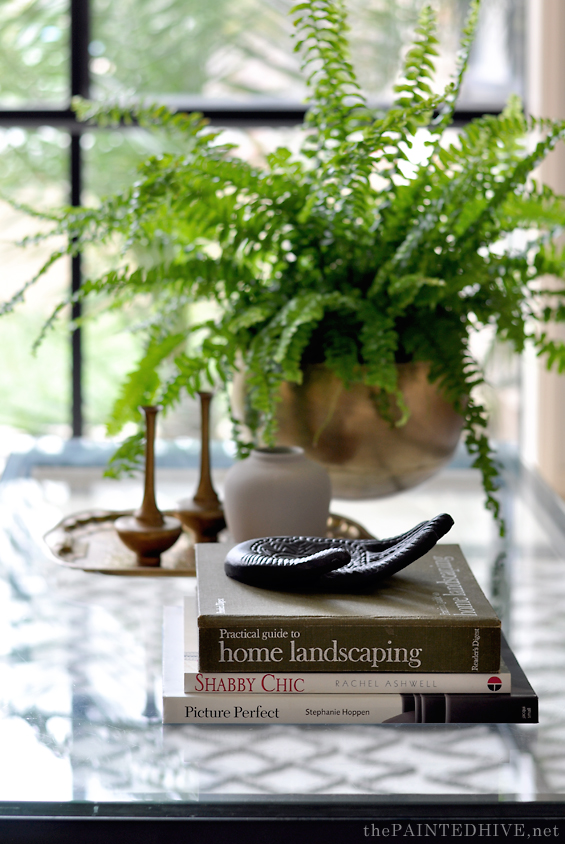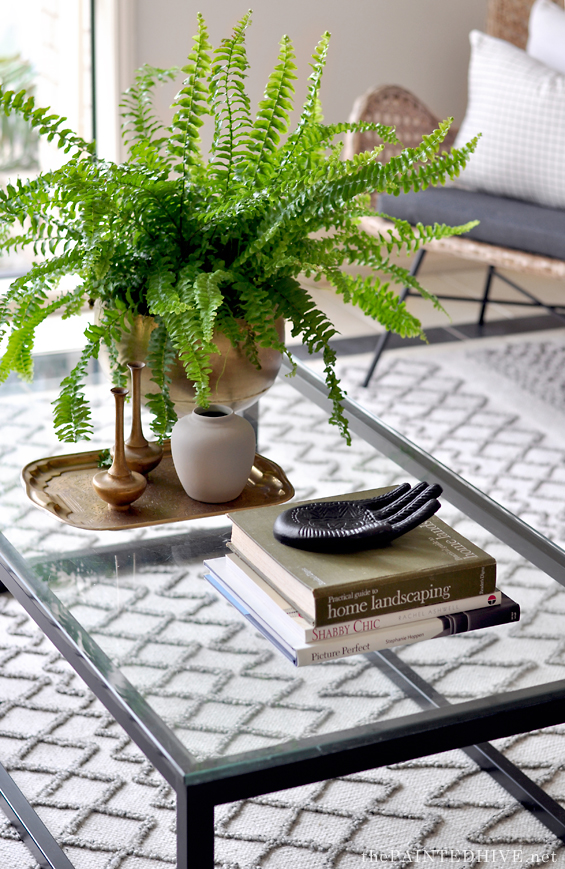 Of course, the vintage books (which I usually find for just a few dollars each from Op Shops) are one of my all-time favourite staples. If you're ever questioning the completeness of your vignette, then vintage books are most probably the perfect answer! They can add height, character, colour and help with layer building, all in one easy swoop!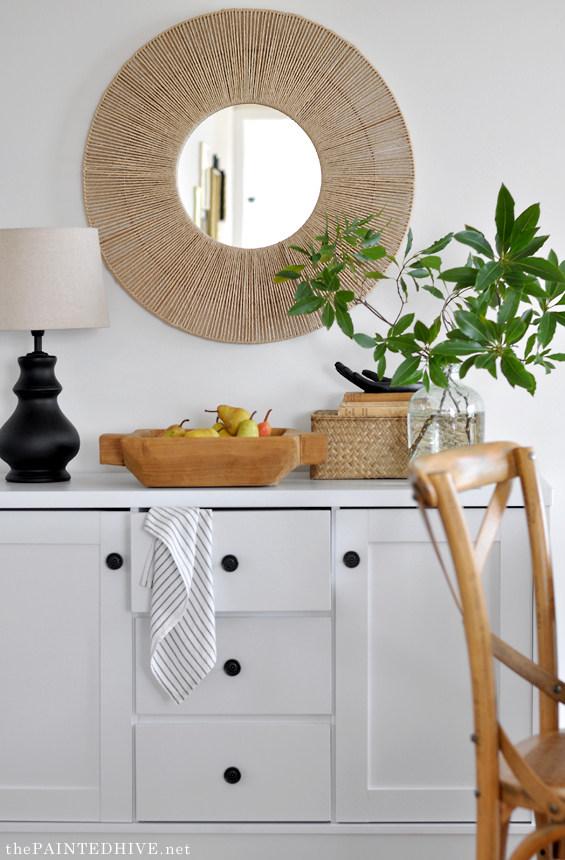 I've never counted my collection of "styling" books, but it's likely nudging the 50 mark – plus I'm still always looking for more! I use them all the time, but here are just a few examples from over the years.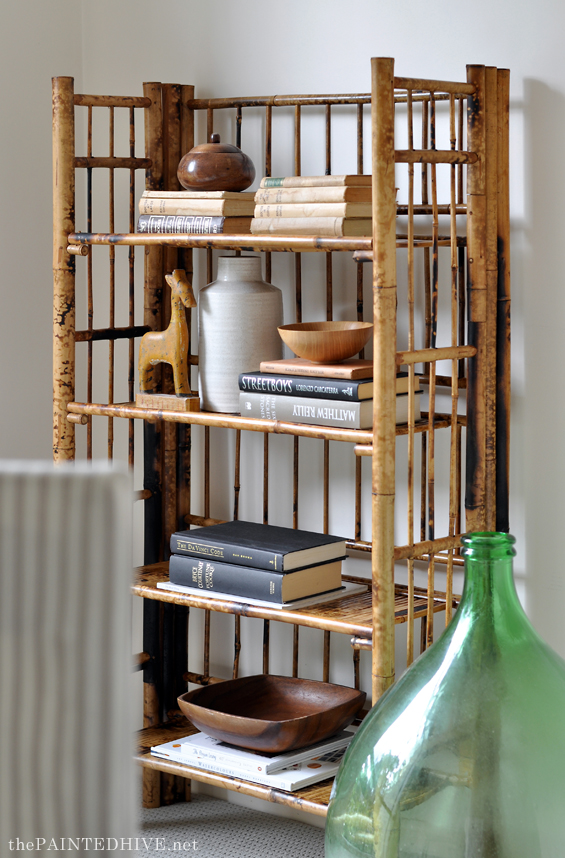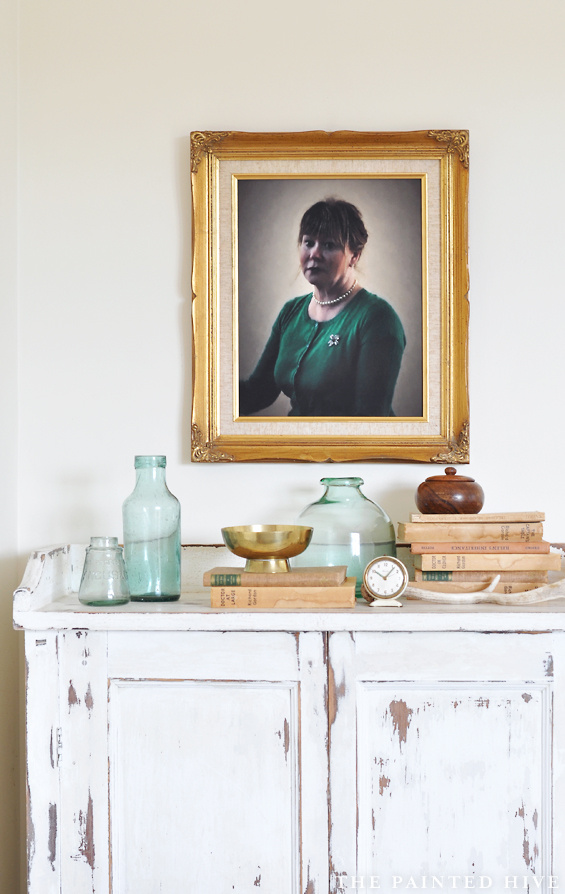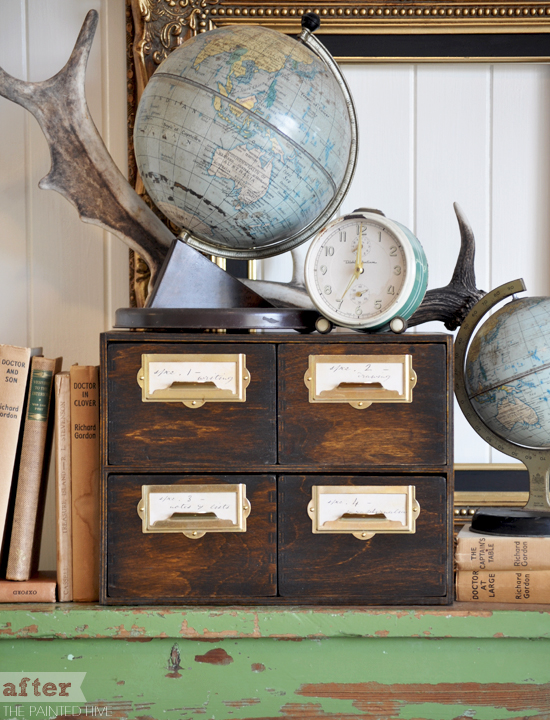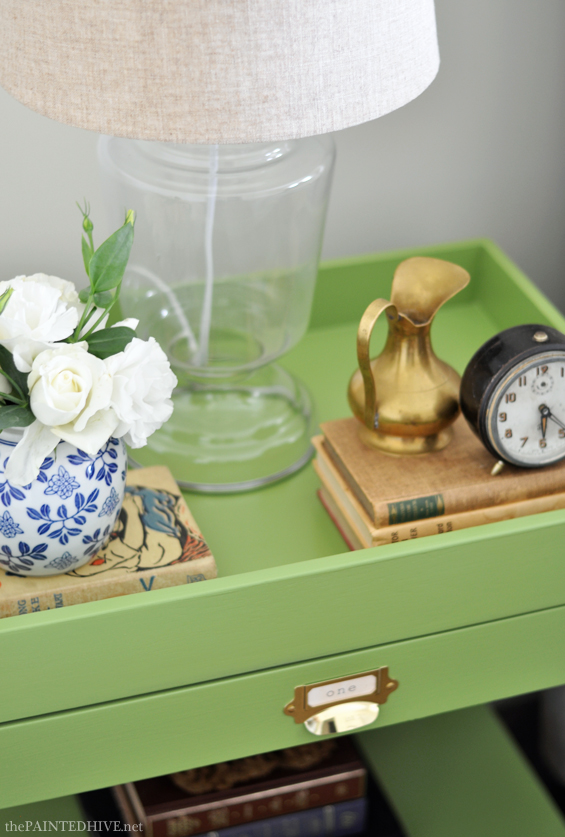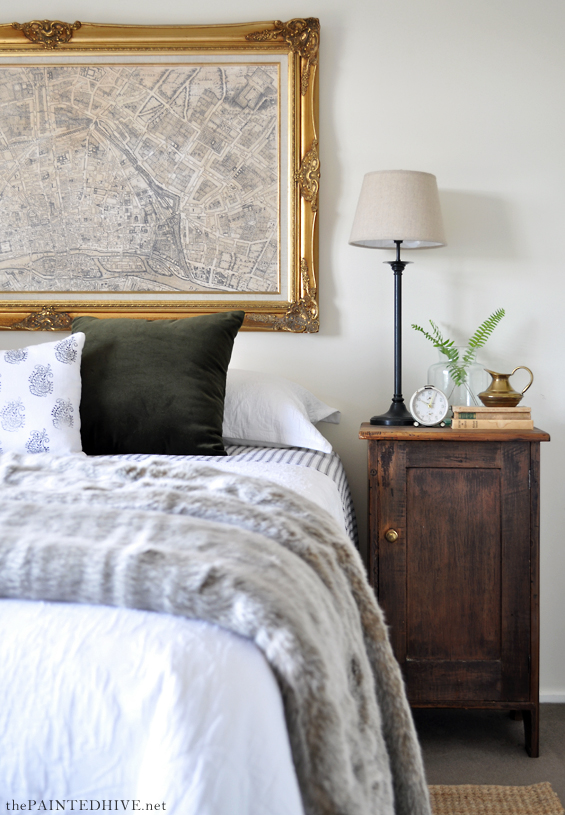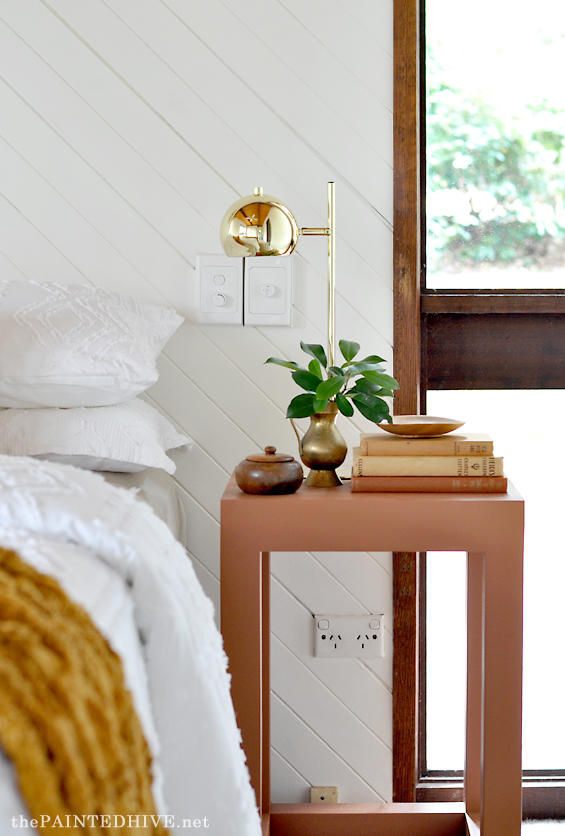 The most recent acquisition is the round mirror which I bought just a few months back from Target. It was only $40 (on sale) and I originally purchased it to stage a client's property for sale. I'm still yet to share that project (it's coming up soon!) but here's a little sneak peek.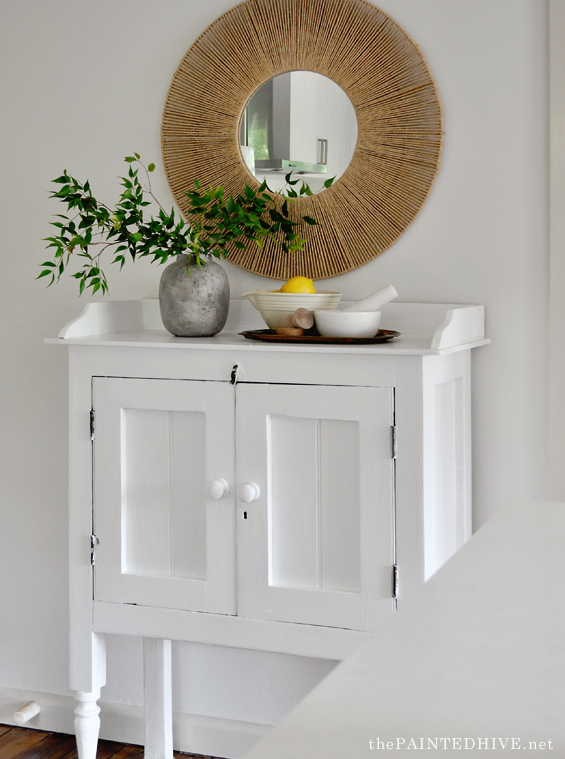 I know not everyone wants to recycle their decor over and over again, but if, like me, you're lucky enough to find the pieces which work for you, then it can be a super rewarding avenue.
Although I was lucky to be gifted the sideboard in exchange for promotion through social media, this blog post is not sponsored in any way.
For anyone worried about me breaking current lockdown restrictions here in Melbourne by visiting my parent's house, this project was actually undertaken prior.